Our favourite sun protection products have seen us through long hikes, ski trips, and everything in between, but there's something extra special about the versatility of the best Korean sunscreens in particular compared to all other options. "One of the main differences between Korean sun care and that in the States versus other countries, is that there are more advancements and innovations in sun filters in Korea," aesthetician and Soko Glam co-founder Charlotte Cho tells BAZAAR.com. "The advancement of special sun filters has allowed Korean sunscreen textures to be very lightweight and not leave a white cast, making them more versatile for a wider variety of skin types and tones."
According to Cho, many Asian countries like Korea have widely approved these sun filters to block harmful UVA and UVB rays, but some are still not approved for sale in the United States, which places limits on importing and exporting these K-beauty products in particular. Thankfully, there are a number of popular Korean sunscreens available to shop now: from top-rated mineral picks from Dr. Jart+ and Etude House, to featherweight fluids from Missha and Glow Recipe, that are staples for beauty enthusiasts with of all skin tones and types. To make it simple to upgrade your sun protection, we've pulled together 13 of the best Korean sunscreens that are definitely worth adding to your daily essentials.
Related article: BAZAAR Beauty Awards 2020: Best Sunscreen for Sensitive Skin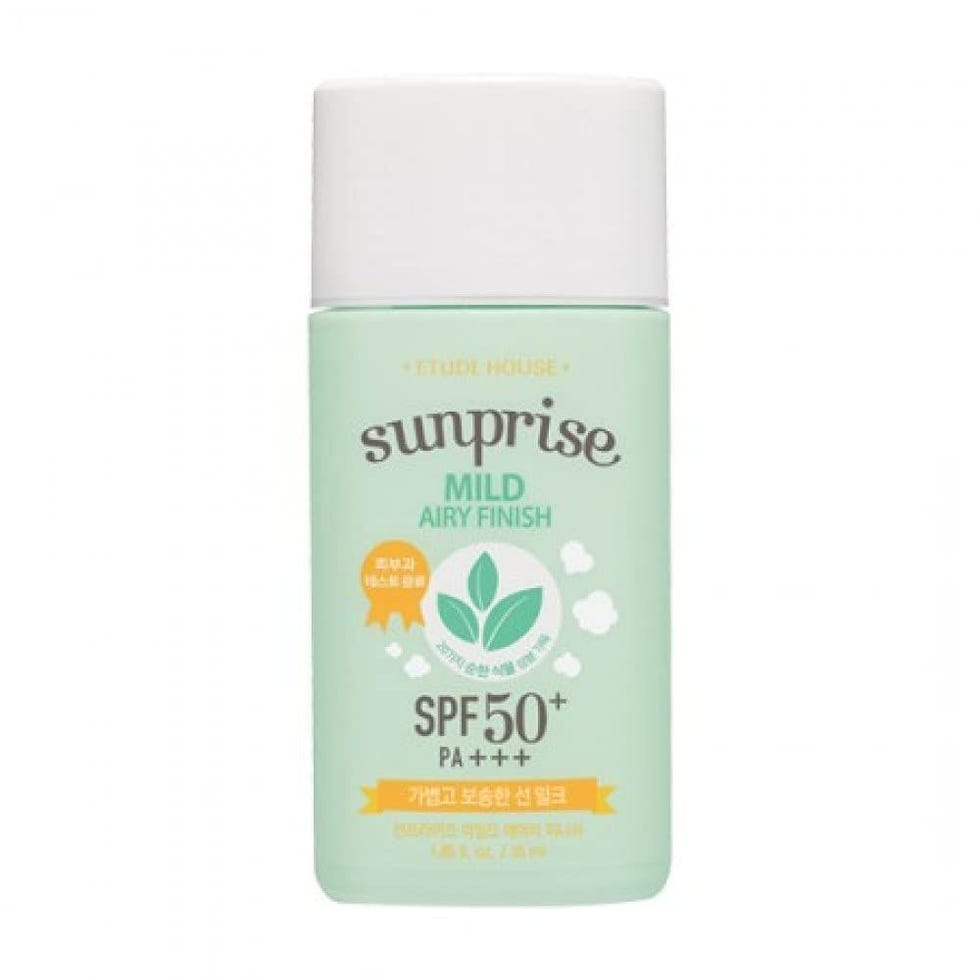 BEST MINERAL SUNSCREEN
Etude House Sunprise Mild Airy Finish Sun Milk SPF50+ PA+++
PROS
This mineral sunscreen is ideal for sensitive skin, since it uses more than 20 plant-based ingredients, including aloe vera and acai berry, to block and reflect UV rays. And if you're prone to redness, the sun milk also nicely includes centella asiatica to soothe irritation.
Customer review:
"I was hesitant to try this because my face is super picky and sensitive to lotions and creams, but I'm so glad I did. I've been searching for literal years trying to find a sunscreen moisturizer for my face that doesn't make my face feel greasy and doesn't make me break out. I've tried soooo many brands and just couldn't find anything, but this stuff is magic! It feels so light and comfortable on my skin and not greasy at all. It soaks right in and makes my skin feel really nice. I have combo skin leaning towards the greasy side of things, so to find a sun protectant that makes my skin feel great and doesn't add to the greasiness is like finding a pot of gold. I absolutely love this stuff." —Jesse G.
| | |
| --- | --- |
| Active ingredients | Centella asiatica, acai berry, aloe vera and hyaluronic acid |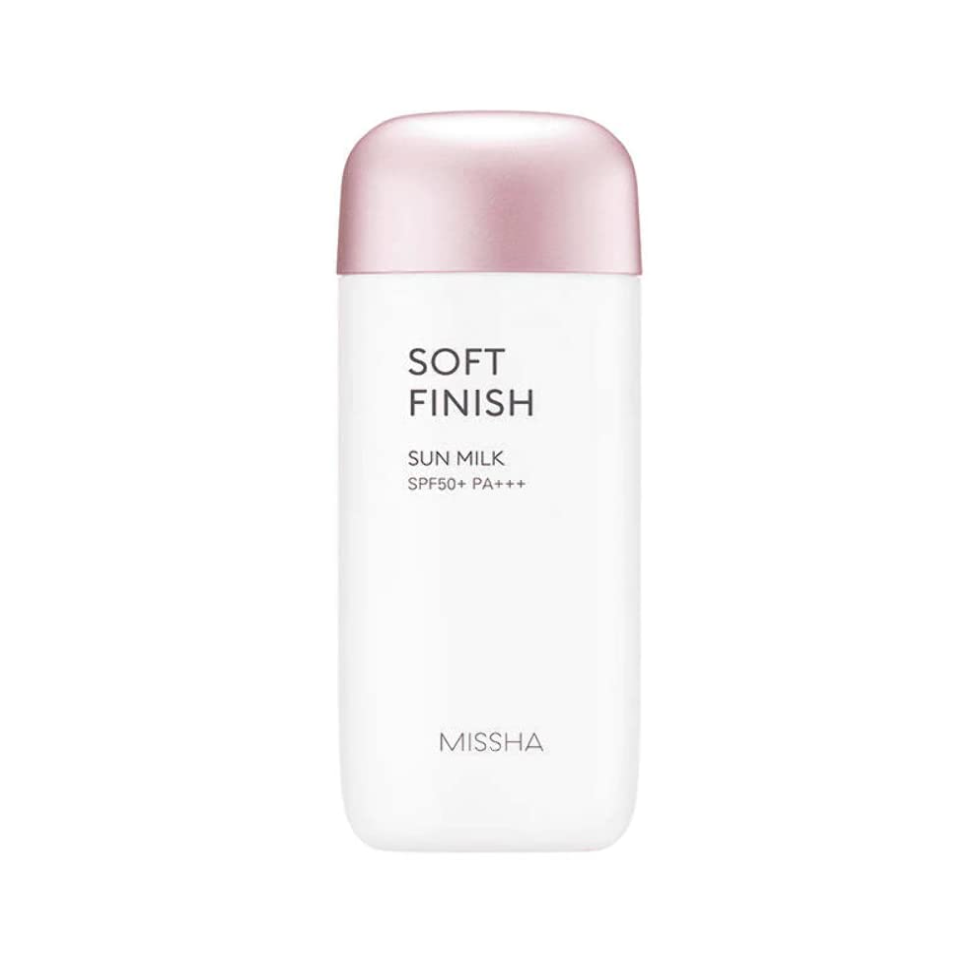 BEST LIGHTWEIGHT SUNSCREEN
Missha All-Around Safe Block Soft Finish Sun Milk EX SPF50+/PA+++
PROS
Missha's top-rated sun milk has a silky, featherweight texture that sinks into your complexion, and has special UV technology that helps guard against water and sweat.
Customer review:
"I tried this as a facial sunscreen because of the matte finish. Most facial sunscreens leave my face feeling and looking oily. This one is easily absorbed and doesn't feel or look oily. I can't even tell I have it on and it makes my skin feel great. Love it so far." —Judy@San Diego
| | |
| --- | --- |
| Active ingredient | Zinc oxide |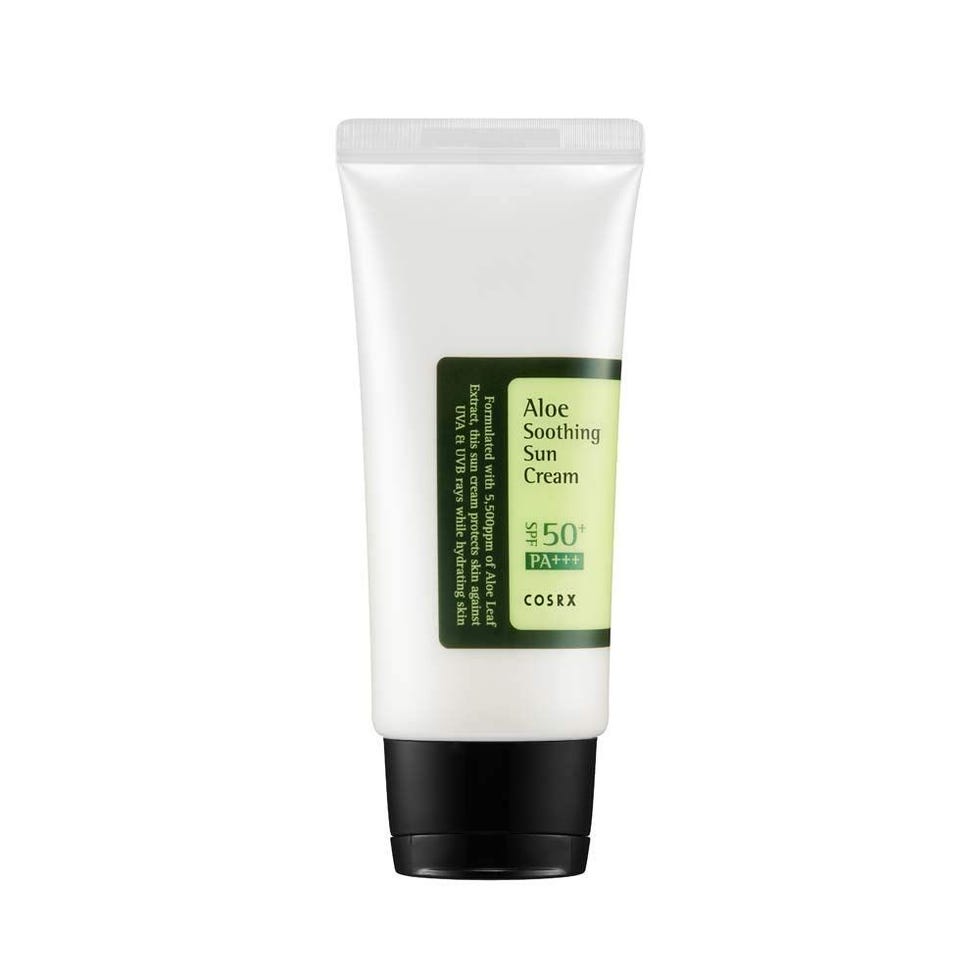 BEST ALOE SUNSCREEN
CosRx Aloe Soothing Sun Cream SPF 50 PA+++
PROS
Here's a soothing sunscreen that uses aloe as a main ingredient, and has a light, hydrating texture that won't feel greasy on your face. If you're already a fan of the brand's culty snail mucin essence, we highly suggest adding this staple to your skincare rotation.
Customer review:
"I really enjoyed this sunscreen! There was no white cast and it felt and great on the skin. Despite the sunscreen being recommended for dry skin, it worked well with my oily skin. Would definitely repurchase." —Carolina
| | |
| --- | --- |
| Active ingredient | Aloe arborescens leaf extract |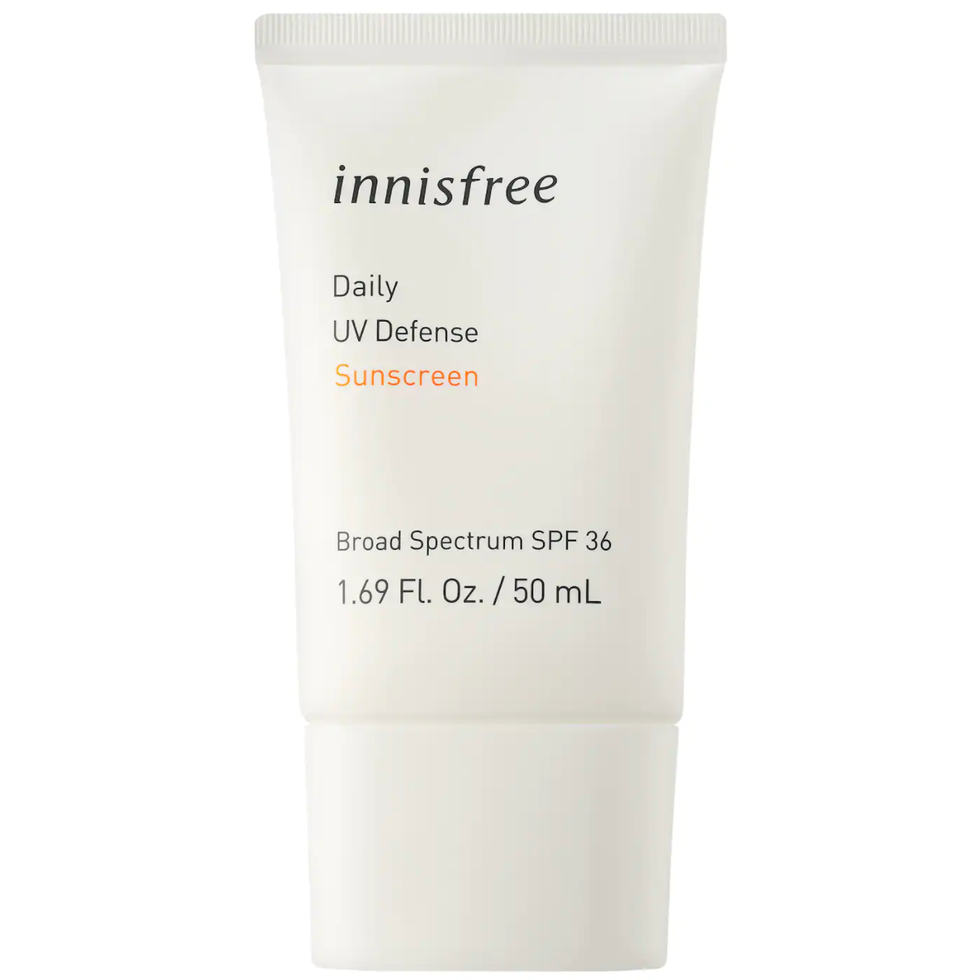 BEST ALL-AROUND SUNSCREEN
Innisfree Daily UV Defense Sunscreen SPF 36
PROS
For an every day sun care staple, look no further than this coveted SPF 36 tube from Innisfree, which over 1,300 Sephora shoppers are raving about. It also combines green tea, cica, and sunflower oil to nourish and hydrate skin while minimizing redness.
Customer review:
"I have been using this for a good 8 months. And I can say that it's an amazing sunscreen. I get this natural glow after I apply it. And my combination skin just loves it." —mkour15
| | |
| --- | --- |
| Active ingredients | Green tea, cica, sunflower seed oil |
Related article: Bad Chemistry: Why Mixing Your Own Skincare Cocktail Brings More Risk Than Reward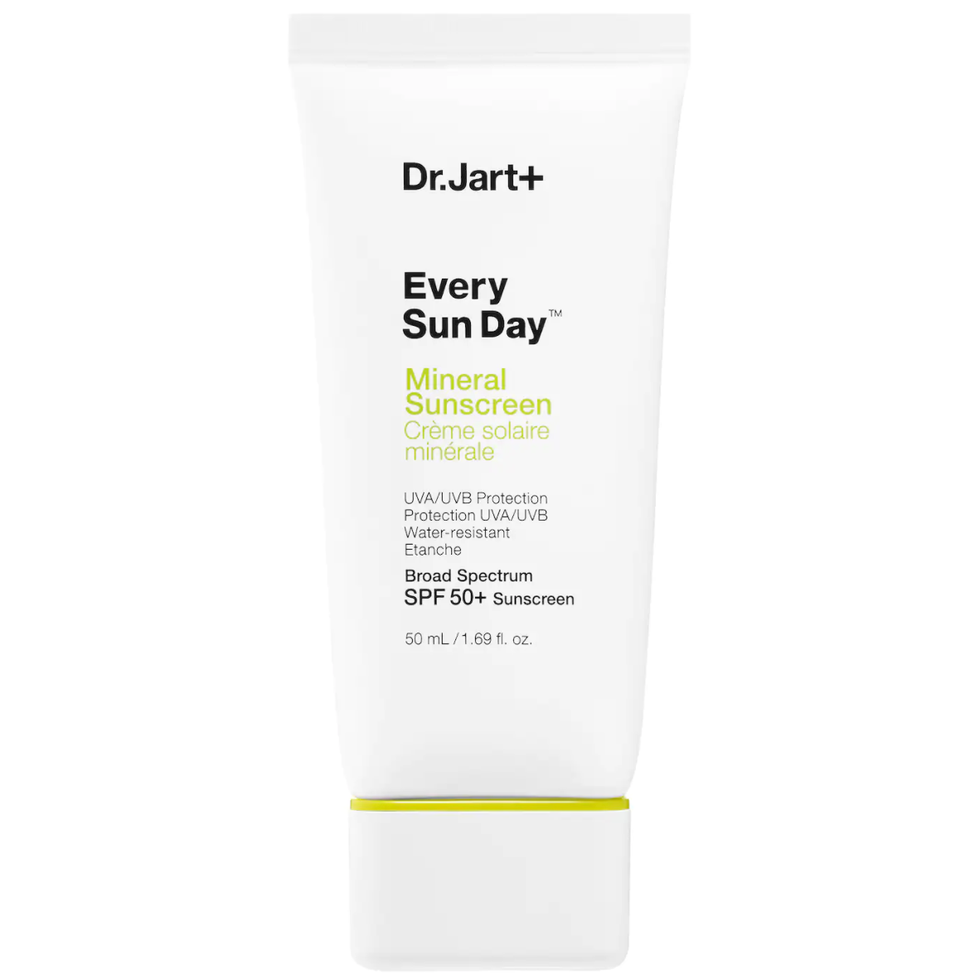 BEST MATTE MINERAL SUNSCREEN
Dr. Jart+ Every Sun Day Mineral Sunscreen SPF 50+
PROS
Here's the mineral version of Dr. Jart's SPF 50 Every Sun Day sunscreen, which has a creamy, weightless texture that's ideal for dry skin, and anyone looking to avoid chemical-based protection.
Customer review:
"I tried this sunscreen because I have been looking for a mineral sunscreen for a while and I've heard great things about the Dr Jart brand. I'm very happy that I tried this sunscreen! It is so blendable and it just melts into the skin so easily." —Milaaaaaaaaa
| | |
| --- | --- |
| Active ingredients | Zinc oxide and titanium dioxide |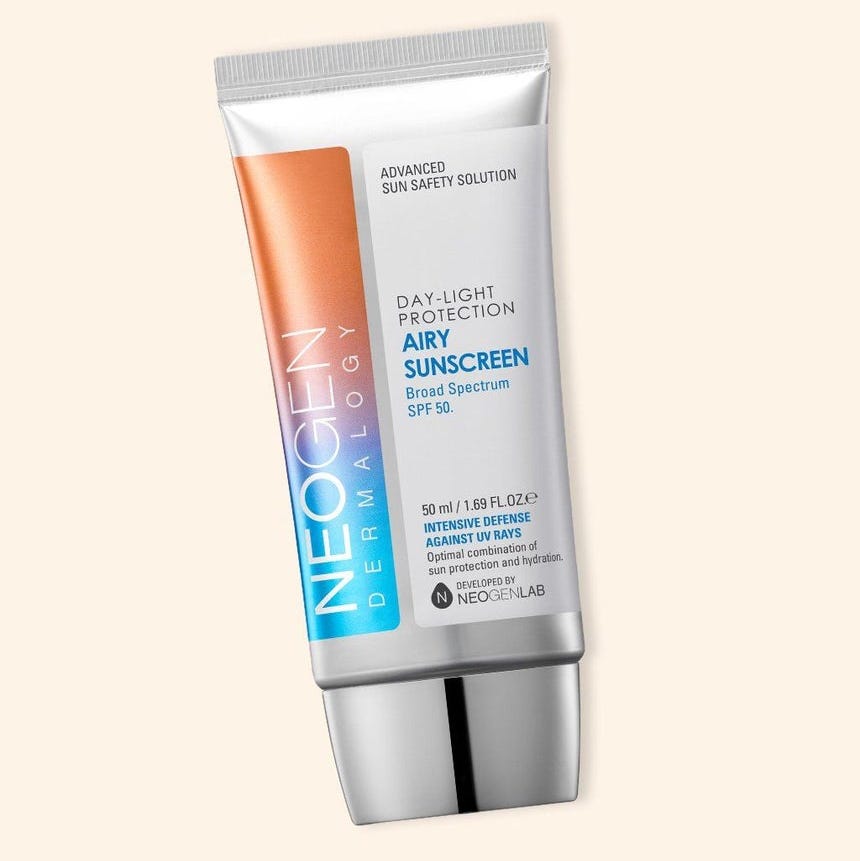 BEST NONGREASY SUNSCREEN
Neogen Day-Light Protection Airy Sunscreen
PROS
One of Soko Glam's best-sellers, this lightweight SPF 50 sunscreen uses nourishing plant extracts like aloe, avocado, acai, and hibiscus moisturize and calm skin.
Customer review:
"I cannot recommend this enough! I'm an esthetician that was on the hunt for the perfect sunscreen, and I think I found it. Applies like a dream, leaves absolutely no white cast even on deeper Fitzpatrick types, smells nice and light, and best of all, contains no pore clogging ingredients! Neogen thank you for creating such a stellar product. I cannot recommend this enough!" —Elise
| | |
| --- | --- |
| Active ingredients | Aloe, avocado, acai, and hibiscus |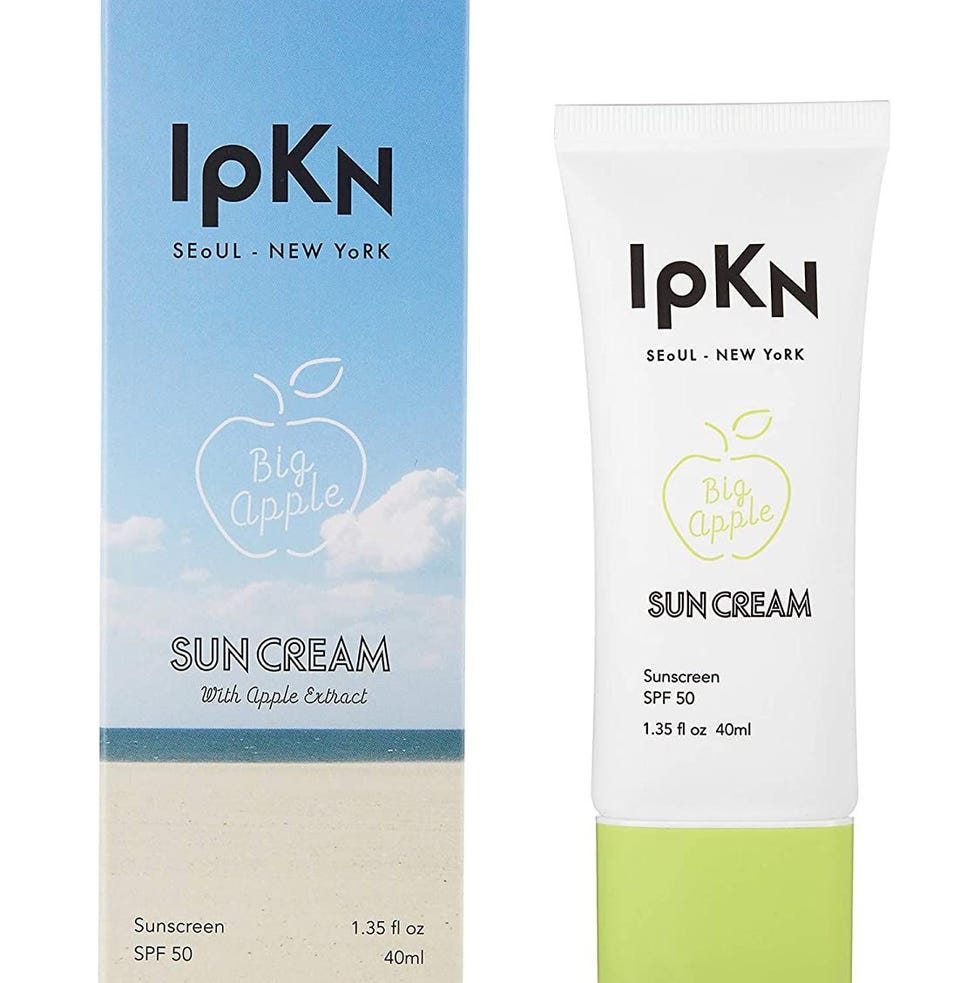 BEST SUNSCREEN FOR REDNESS
Ipkn Big Apple Sun Cream SPF 50
PROS
CONS
Slight green tint not ideal for those who don't experience redness
Don't let the color of this apple-scented SPF 50 sunscreen scare you: it uses a slight green tint to correct redness, plus niacinamide to calm and soothe your complexion.
Customer review:
"This sunscreen is delightful. I look forward to putting it on everyday. It smells wonderful and fresh and it absorbs quickly and completely. I have found my forever sunscreen (cue sentimental music). But seriously, you won't be disappointed. I think I'll be trying their CC cream next!" —Sarah L.
| | |
| --- | --- |
| Active ingredients | Niacinamide, apple extract |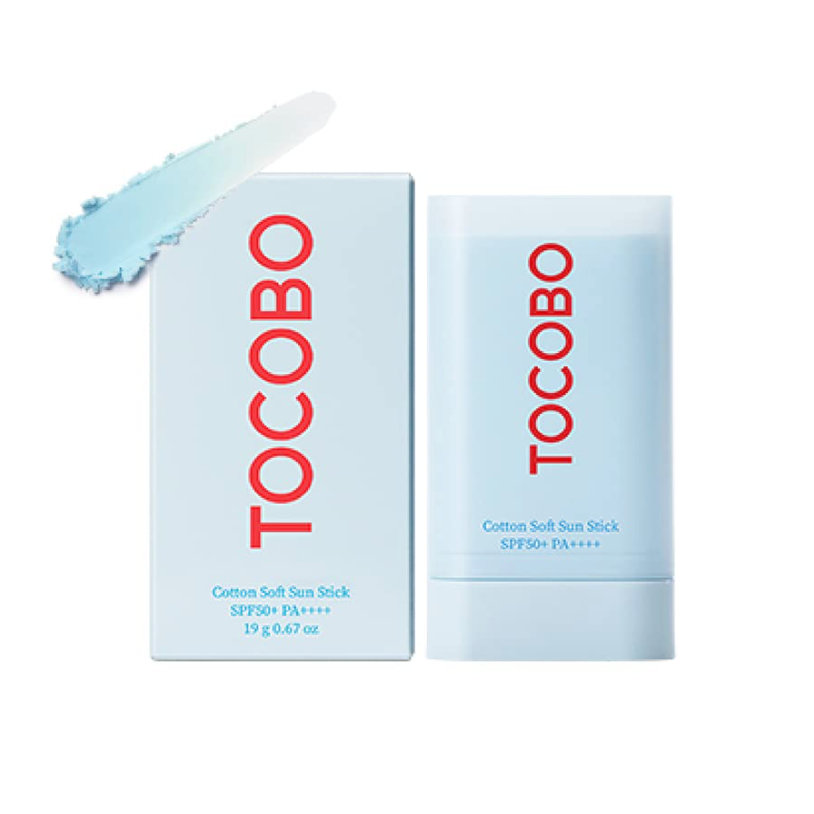 BEST SUNSCREEN STICK
Tocobo Cotton Soft Sun Stick SPF 50+ PA++++
PROS
CONS
Matte finish not ideal for dry skin
You'll get precise and seamless application using this twist-up sunscreen stick that fits easily in a bag or carry-on to use while on-the-go.
Customer review:
"Perfect to keep in my purse without worrying about spills. Easy-to-apply stick makes it so my hands stay clean. Super lightweight with a very light smell unlike typical sunscreens. Love this." —Shiao L.
| | |
| --- | --- |
| Active ingredients | Cotton extract, herb AC complex, sundrops |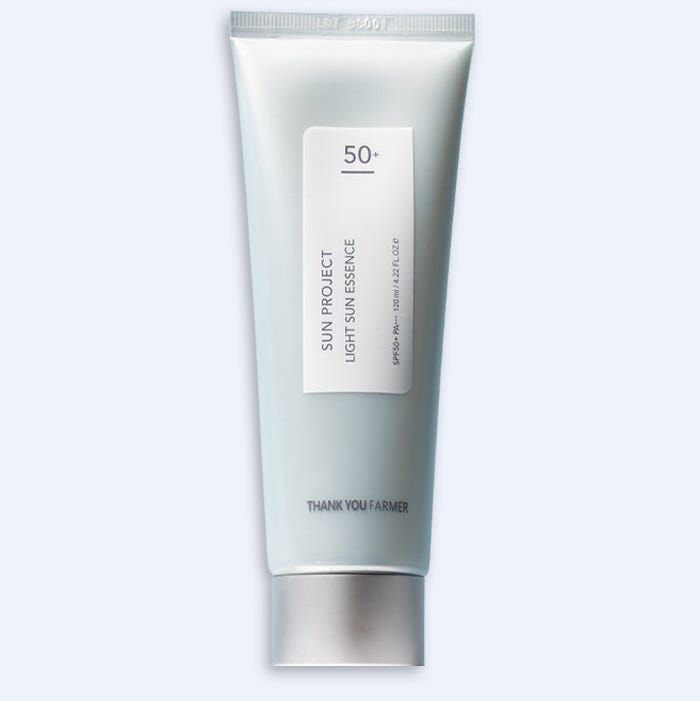 BEST SUNSCREEN FOR SKIN BARRIER REPAIR
Thank You Farmer Sun Project Light Sun Essence
PROS
CONS
Apricot scent may be off-putting to sensitive noses
Another of Soko Glam's most beloved essentials, this popular broad-spectrum sunscreen from Thank You Farmer absorbs quickly as it hydrates skin, and leaves behind a semi-matte finish and subtle apricot scent once it's rubbed in.
Customer review:
"Best sunscreen I've ever tried. It really is lightweight doesn't leave white marks on the skin and feels amazing. I sincerely recommend this." —Isabelle
| | |
| --- | --- |
| Active ingredients | Nelumbo nucifera flower water, aloe barbadensis leaf extract, althaea rosea flower extract |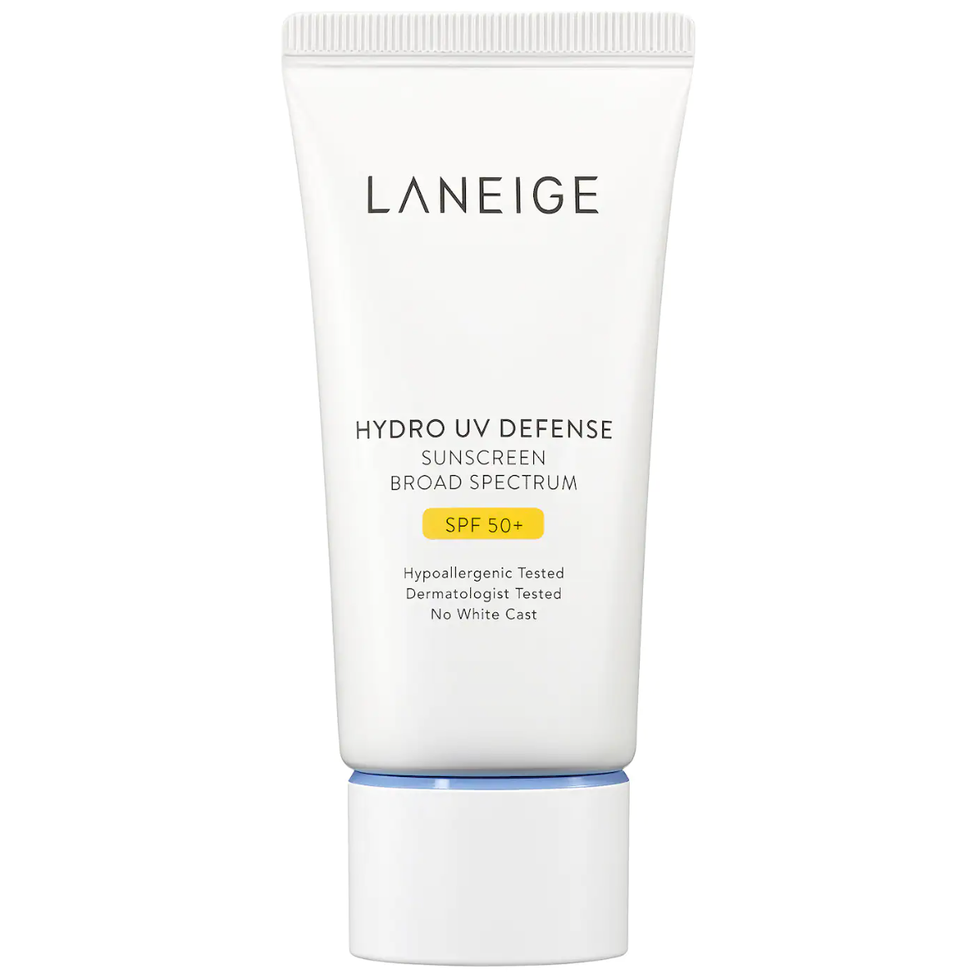 BEST HYPOALLERGENIC SUNSCREEN
Laneige Hydro UV Defense Sunscreen Broad Spectrum SPF 50+
PROS
Won't leave behind a white cast
This dermatologist-tested essential from Laneige is safe for all skin types, and includes centella asiatica to soothe sun irritation, plus, ionized mineral water for supreme hydration.
Customer review:
"I have very oily skin and this is the only sunscreen I've found that doesn't leave me greasy and make me breakout. Goes on smooth, doesn't pill, and no white cast!" —Ejh77
| | |
| --- | --- |
| Active ingredients | Centella asiatica and hydro ionized mineral water |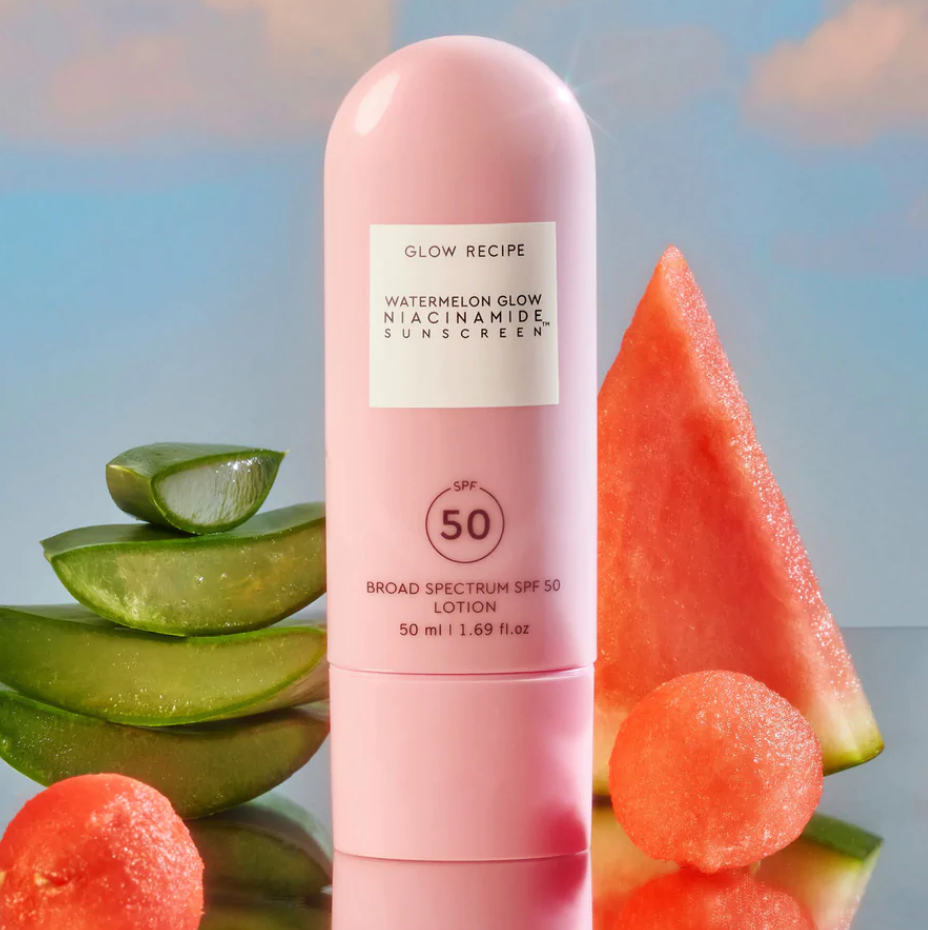 BEST GLOW-GIVING SUNSCREEN
Glow Recipe Watermelon Glow Niacinamide Sunscreen SPF 50
PROS
Both dermatologist- and ophthalmologist-tested for sensitive skin and eyes
Glow Recipe's K-Beauty-inspired SPF 50 sunscreen is one of our favourites, and uses a combination of niacinamide, hyaluronic acid, and aloe to give your skin that lit-from-within look without leaving a white cast behind.
Customer review:
"This is my all-time favorite sunscreen!!!! I love the formula. It's very lightweight, easy to apply. I love that it doesn't leave a white cast on your face. Instead you get a nice glow and it goes well under makeup. Even serves up as a primer. This is the best sunscreen I have used so far. Love it! Only negative: it comes in a small bottle. I need gallons of this stuff!!!" —Anushka J.
| | |
| --- | --- |
| Active ingredients | Niacinamide, hyaluronic acid, and aloe |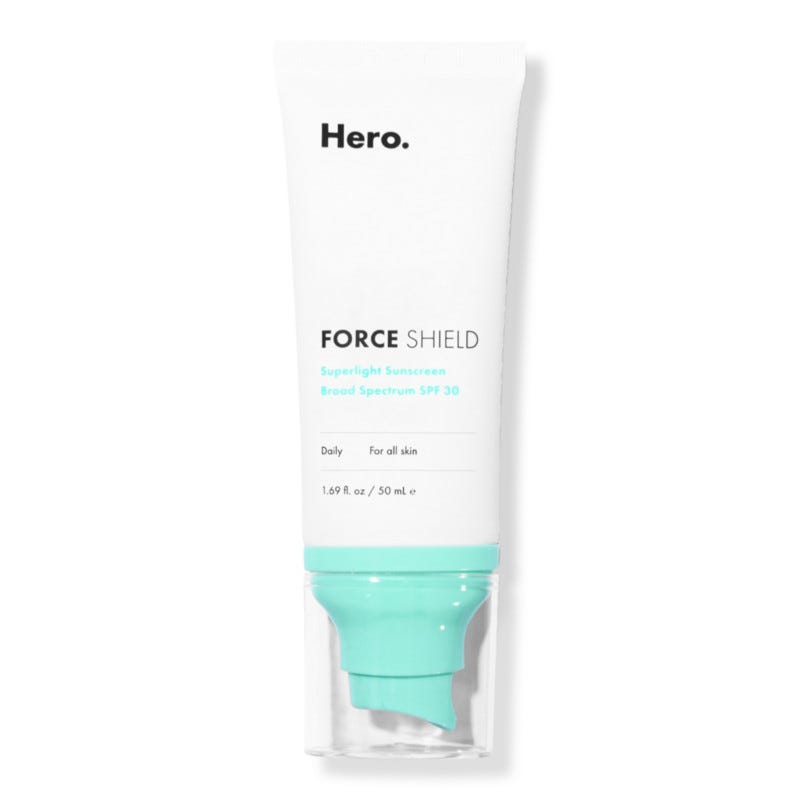 BEST ECO-CONSCIOUS SUNSCREEN
Hero Cosmetics Force Shield Superlight Sunscreen Broad Spectrum SPF 30
PROS
Great for acne-prone skin
CONS
Slight green tint not ideal for those who don't experience redness
If you deal with skin irritation on a regular basis, consider this mineral and reef-safe sunscreen from Hero Cosmetics that features a green tint to minimize the appearance of redness.
Customer review:
"This is the best mineral sunscreen!! It's the only one that doesn't irritate my skin or cause me any breakouts. It doesn't even feel like you're wearing sunscreen on your face! This just works so well with the chemistry of my skin. I notice zero peeling or dryness from sun damage anymore, no rashes or breakouts from clogged pores. There's nothing bad about this product. Please keep it forever and don't ever discontinue it! I can't live without it!" —Jasmine
| | |
| --- | --- |
| Active ingredient | Non-nano zinc oxide |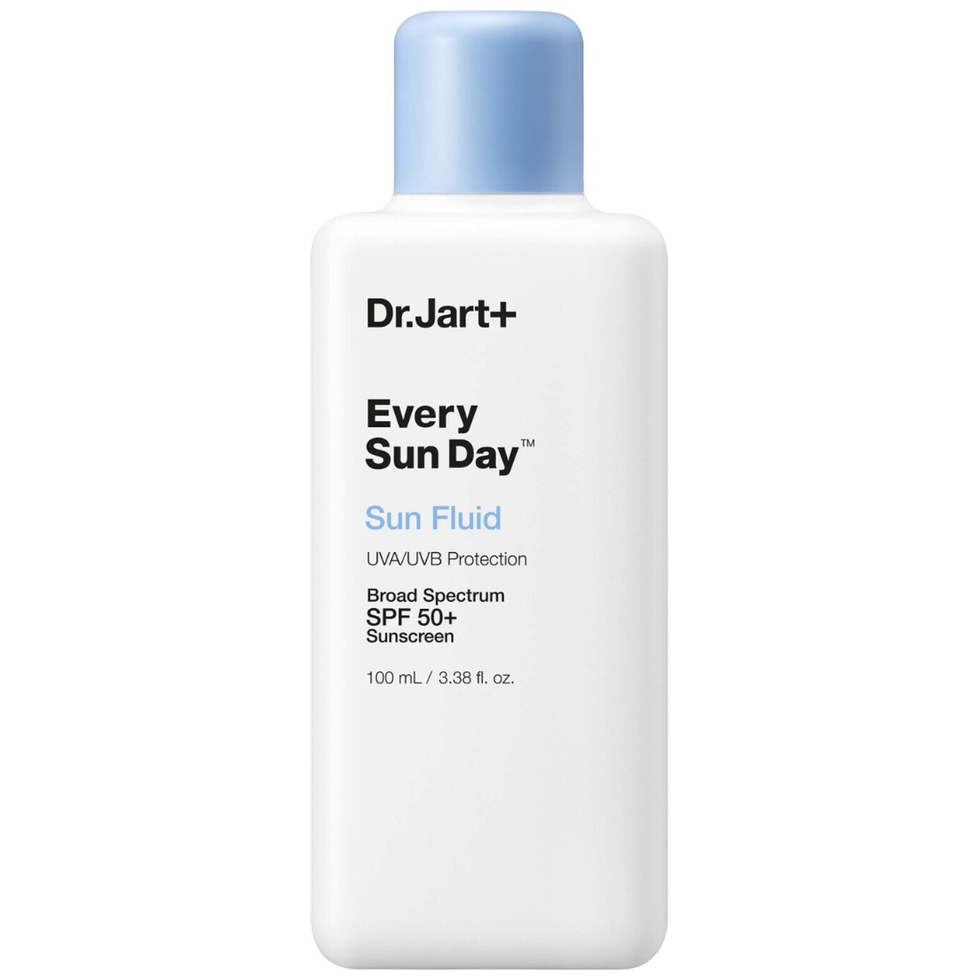 BEST COOLING SUNSCREEN
Dr. Jart+ Every Sun Day Sun Fluid SPF 50+
PROS
Features a radiant finish
Many of Dr. Jart's products are tried-and-true among K-beauty lovers and skincare enthusiasts alike, including this top-rated and broad-spectrum sun fluid. Not only does the sunscreen have a cooling sensation that counteracts the sun's heat, but it also uses vitamin E to help skin retain its moisture.
Customer review:
"Very smooth, soaks into skin, not sticky or greasy. No white cast after it's absorbed and works great under makeup. Slight chemical sunscreen smell dissipates quickly. No irritation to sensitive skin and eyes. My go-to sunscreen when wearing makeup." —Cleophatra
| | |
| --- | --- |
| Formulation | Lightweight Liquid |
| Active ingredient | Vitamin E |
Meet the Experts
---
Charlotte Cho is an aesthetician and the founder of K-Beauty marketplace, Soko Glam.
Why trust Harper's BAZAAR?
---
For more than 150 years, Harper's BAZAAR has been the preeminent fashion and beauty resource for women at every age. We cover what's new and what's next in beauty by working with the world's leading authorities in dermatology, plastic surgery, cosmetics, skincare, haircare, and fragrance. Every story we publish has been thoroughly researched and vetted by our team of beauty editors and industry experts.
This article originally appeared in Harper's BAZAAR US.