Shade comes in all sorts of varieties. There's the dismissive attitude, a cooling respite underneath a beach umbrella, and, most importantly for fashion people, shade otherwise known as the best black sunglasses. It doesn't matter how you dress or who your favourite designer is, black sunglasses are an absolute necessity.
Understated and chic, black sunglasses are also a multipurpose accessory. Classic styles protect your eyes while effortlessly adding a sleek finish to any outfit. Thick-framed square lenses make a statement. And polarized aviators block out harsh UV rays with a cool bent. Before settling on a shape and style, though, celebrity stylist Jenny Rodriguez says, "It's essential to look for the right frame that fits your face." Once you find your perfect pair, she suggests styling them "with a white T-shirt, jeans, a blazer, and sneakers. The glasses are the last touch—you look chic and effortless."
While shopping, look for a pair that are versatile: sunnies you can wear casually and dress up when necessary. Ahead, we have curated just that. From cat-eye frames to tinted lenses, these are the 20 best black sunglasses that have universal appeal. It's time to stop throwing shade and to start wearing it instead.
Related article: How To Pick The Best Sunglasses For Your Face Shape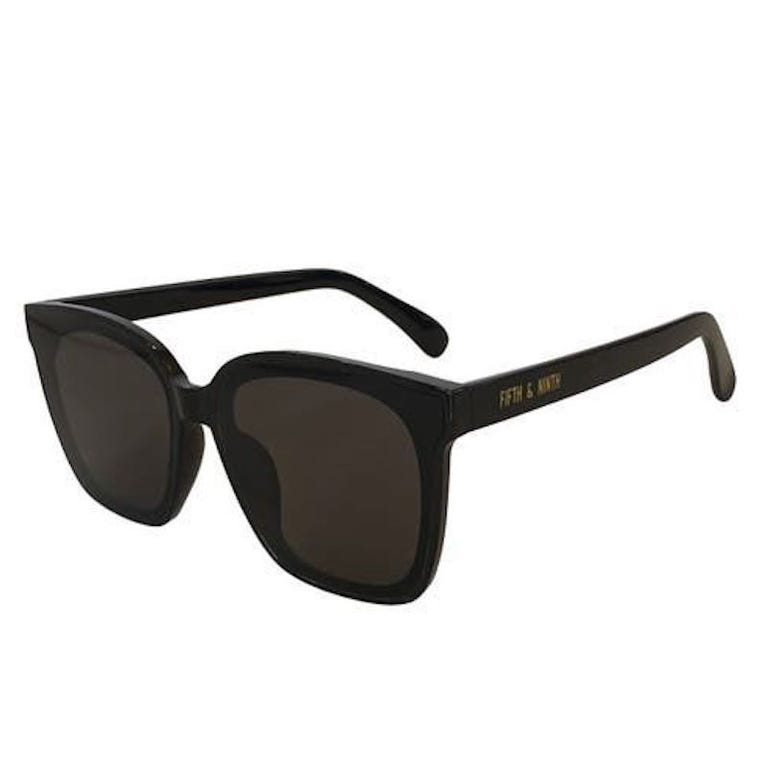 BEST AFFORDABLE BLACK SUNGLASSES
Fifth & Ninth
Carson Square Sunglasses
As reliable as it gets, these glasses don't try to do too much. Despite their lower price point, they still promise 100 percent UV protection.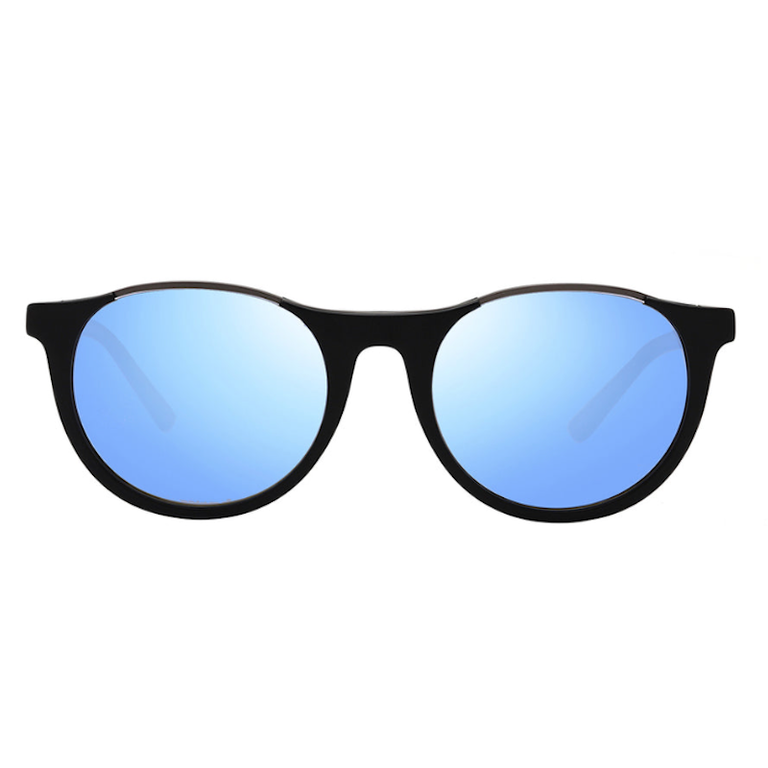 BEST BLACK SUNGLASSES FOR BEING ACTIVE
Revo
x Kendall Toole Laguna Round Sunglasses
Revo harnesses NASA-based technology to create ultimate glare reduction and polarized mirrored lenses. As part of a collab with Peloton instructor Kendall Toole, these round sunglasses are great for a day out on the water or at the beach.
Customer review: "Best sunglasses I've ever had, I get compliments everywhere I go."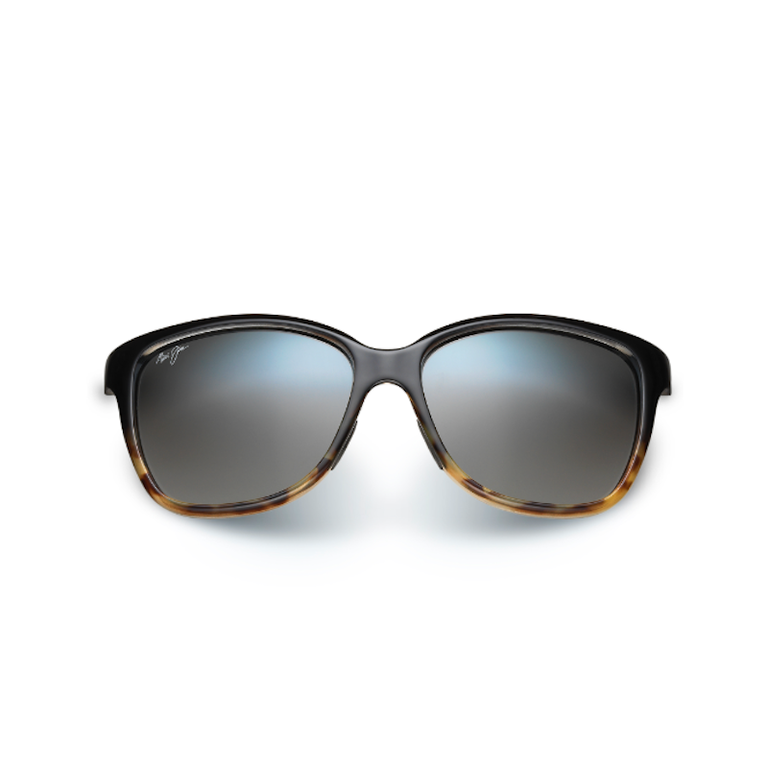 BEST POLARIZED BLACK SUNGLASSES
Maui Jim
Starfish Fashion Sunglasses
Maui Jim is delivering glasses that aren't just polarized and protective, but attractive as well. The frames are lightweight enough to wear while you run around all day.
Customer review: "They are super lightweight and are always comfortable. They also last. I still have my other two pairs, but I wanted to update my style a bit since one pair is six years old and the other is 10 years old. The polarization is amazing, and they are all I recommend."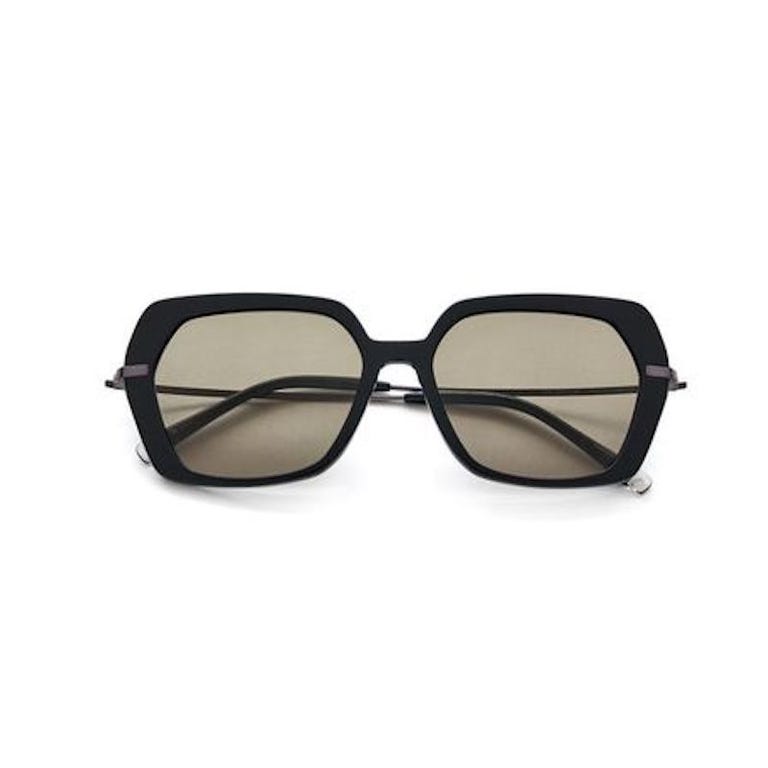 BEST ECO-FOCUSED BLACK SUNGLASSES
Paradigm
Goldie Sunglasses
A chunky rim meets thin temples to create a neo-vintage style that is bold and wearable at the same time. The brand's focus on utilizing sustainable materials also makes these a welcome choice.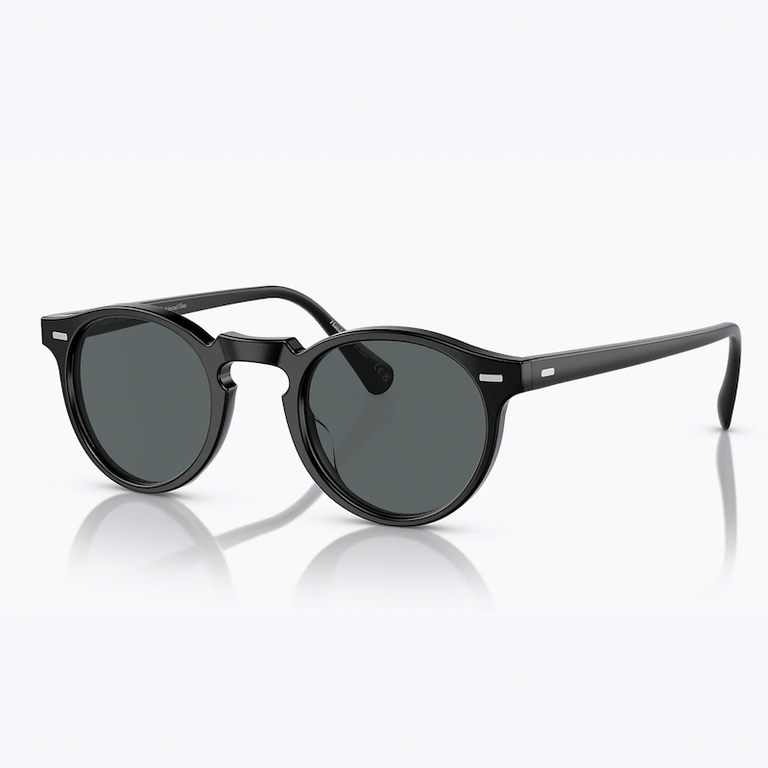 BEST ROUND BLACK SUNGLASSES
Oliver Peoples
Gregory Peck Sunglasses
Oliver Peoples produces high-quality sunglasses that will last you for years to come. Inspired by the style worn by Gregory Peck in To Kill a Mockingbird, these are a unisex classic that won't go out of style.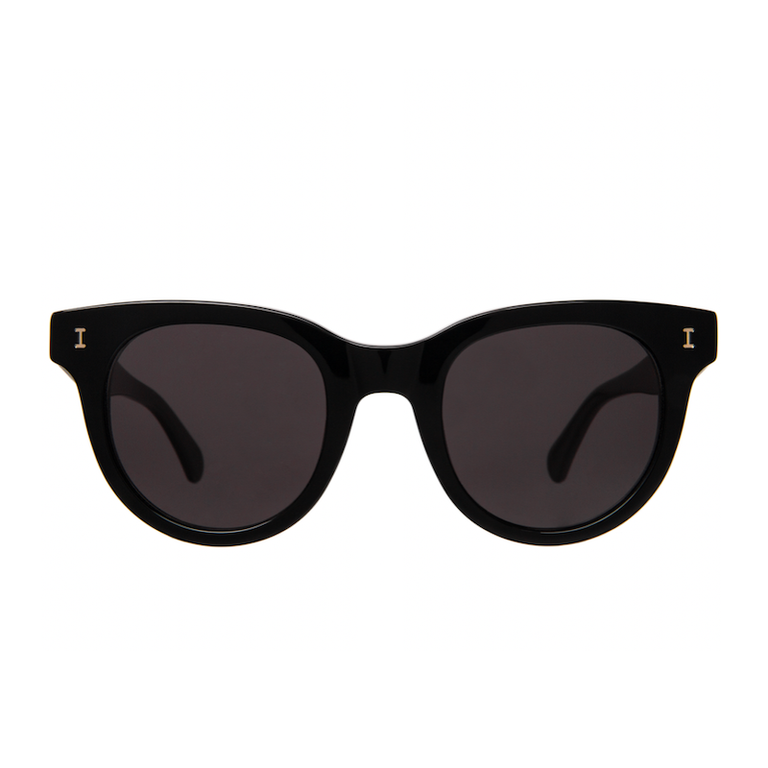 BEST BLACK SUNGLASSES FOR ROUND FACES
illesteva
Sicilia Sunglasses
A blend of classicism and modernism, illesteva produces a pair that goes seamlessly with all outfits. They are best for rounder faces, with flat lenses and oversized frames to suit.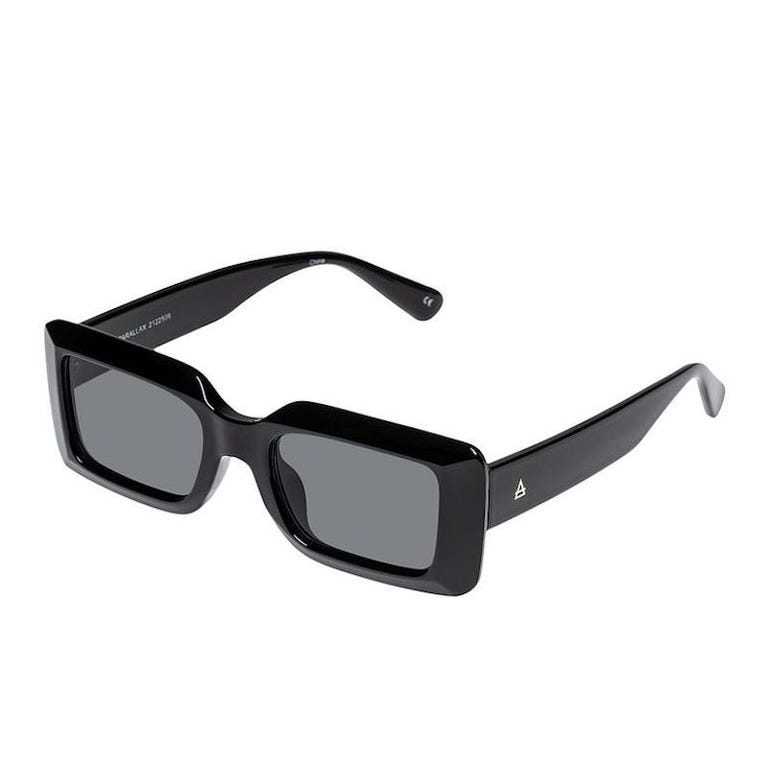 BEST RECTANGULAR BLACK SUNGLASSES
AIRE
Parallax
We like these glasses purely for the statement they make. Go on, add a bit of drama to your outfit.
Customer review: "Not too big, love the color. Really great sunglasses."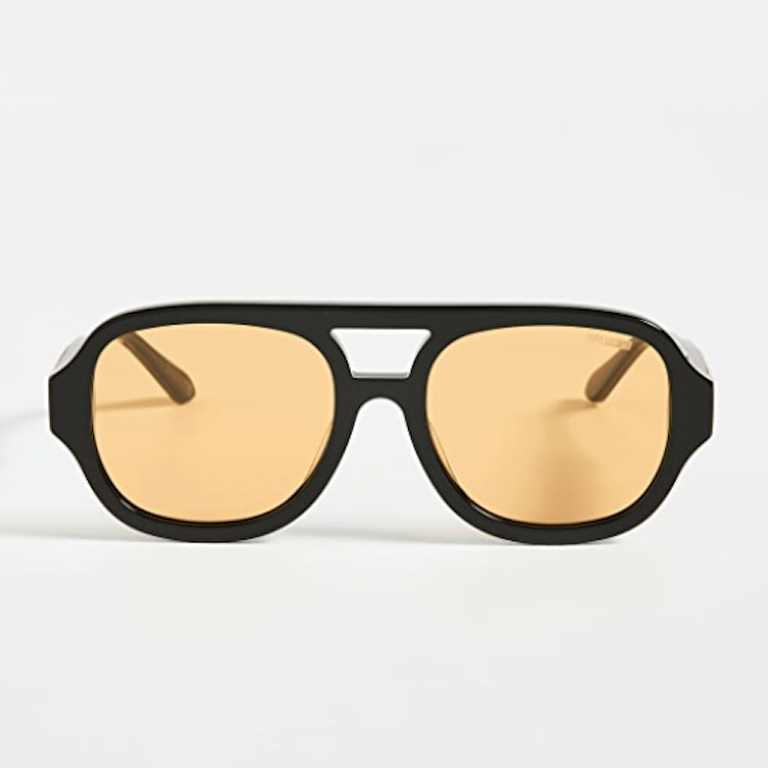 BEST BOLD BLACK SUNGLASSES
Poppy Lissiman
Jimbob Sunglasses
Somehow, these are retro and futuristic at the same time. Maybe it's the gold-tone logo or maybe it's the yellow lenses—whatever it is, we're loving the vibes.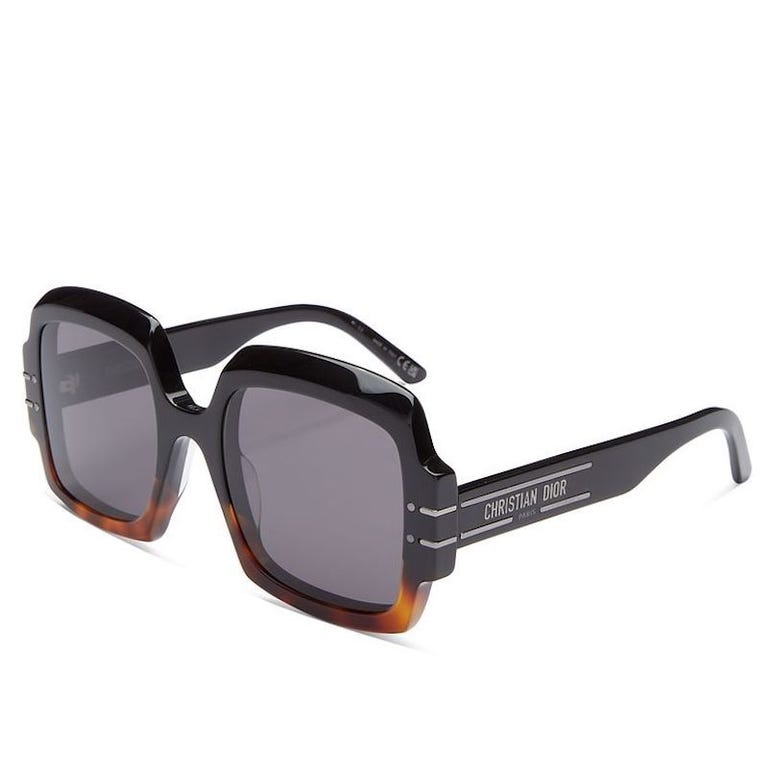 BEST BLACK (AND BROWN) SUNGLASSES
Dior
Square Sunglasses
If you can't quite commit to all-black sunnies, then Dior makes a pair that have just a little bit of brown on the rims to spare you. They also make for an easier time pairing with all sorts of outfits, if you want one pair of sunglasses that can do everything.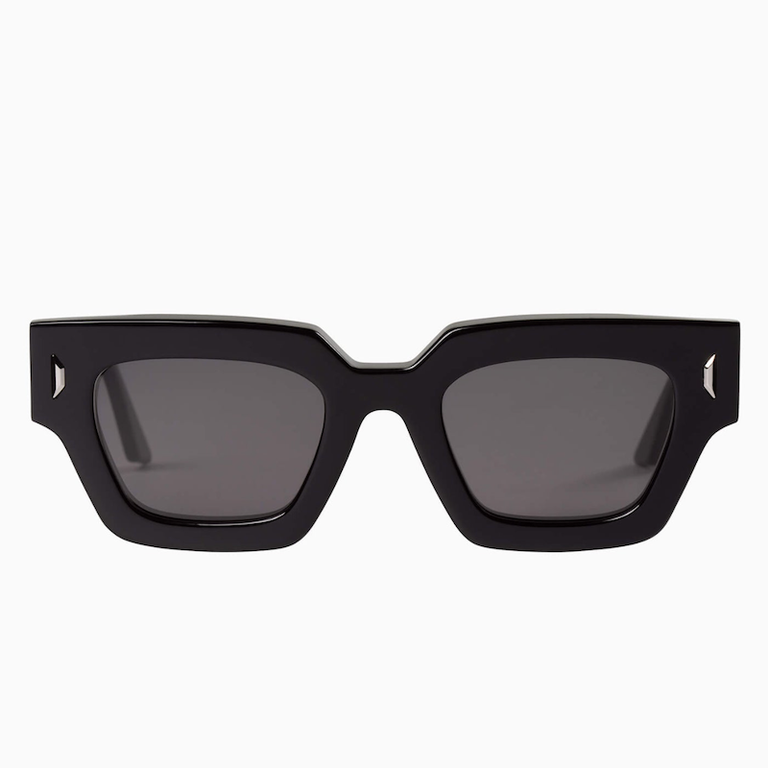 BEST HANDCRAFTED BLACK SUNGLASSES
Valley
Ghost Sunglasses
With each pair meticulously handcrafted, glasses purchased from Valley may vary slightly, meaning your shades will be entirely unique. Their thick rectangular frames and metal trim make them an accent piece.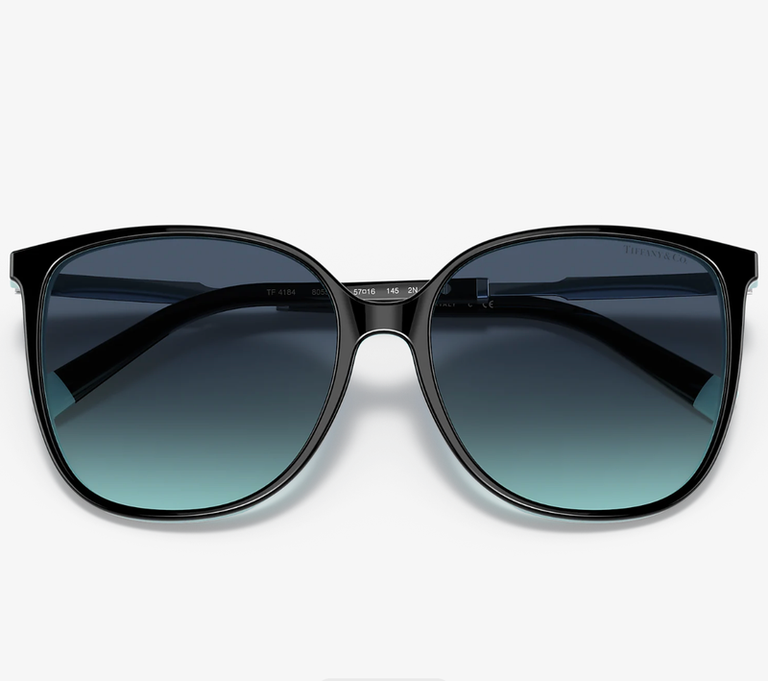 BEST NON-BLACK BLACK SUNGLASSES
Tiffany & Co.
Tiffany Eyewear Sunglasses
The Tiffany Blue isn't just limited to jewelry. If you want to bring a touch of color into your black sunglasses, the blue gradient on this pair's lenses does just that. They're designed with oval and round faces in mind, and for those with a higher nose bridge.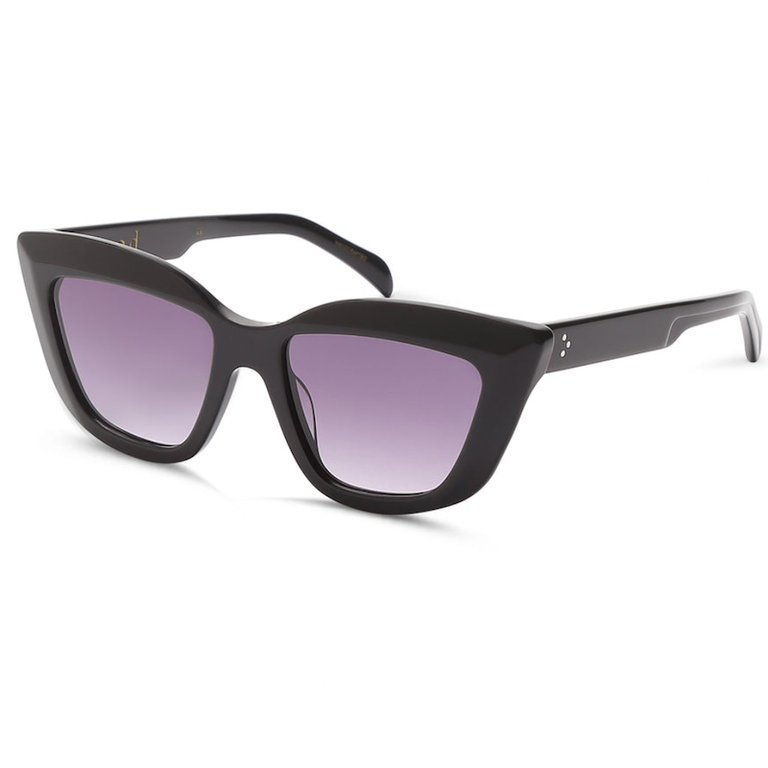 BEST EDGY BLACK SUNGLASSES
g.o.d Eyewear
Thirty Three Sunglasses
This brand's glasses are a favorite of Rodriguez, who says, "I have been obsessed with these g.o.d sunglasses, the Thirty Three frame. I can wear them with everything." Throw on a moto jacket and combat boots for an edgy look.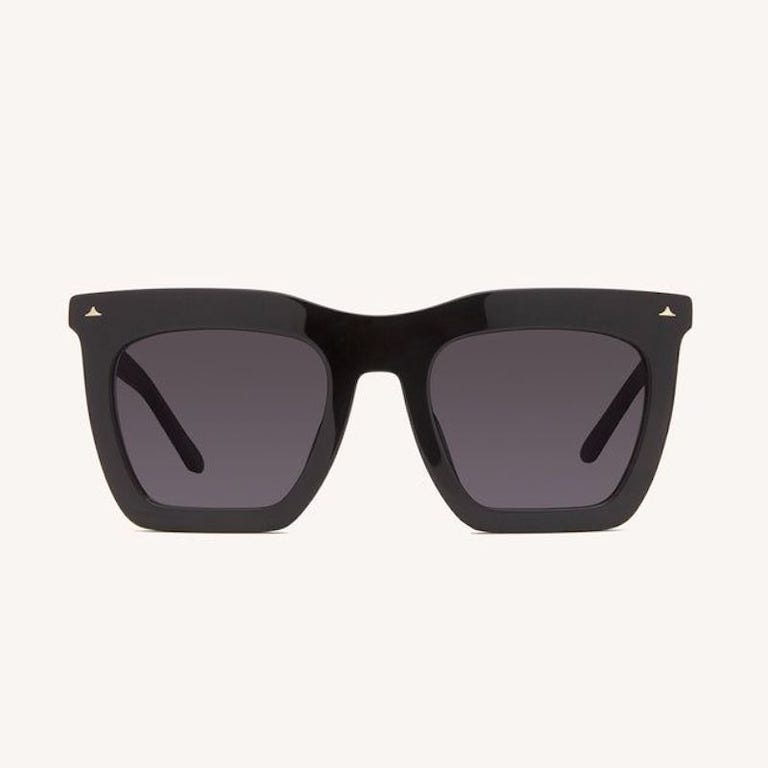 BEST CHUNKY BLACK SUNGLASSES
Dezi
Fall Back Sunglasses
This pair from Dezi is a standout because of their intuitive design. The angled brow line and thin classic temples are thoughtful touches to the square silhouette.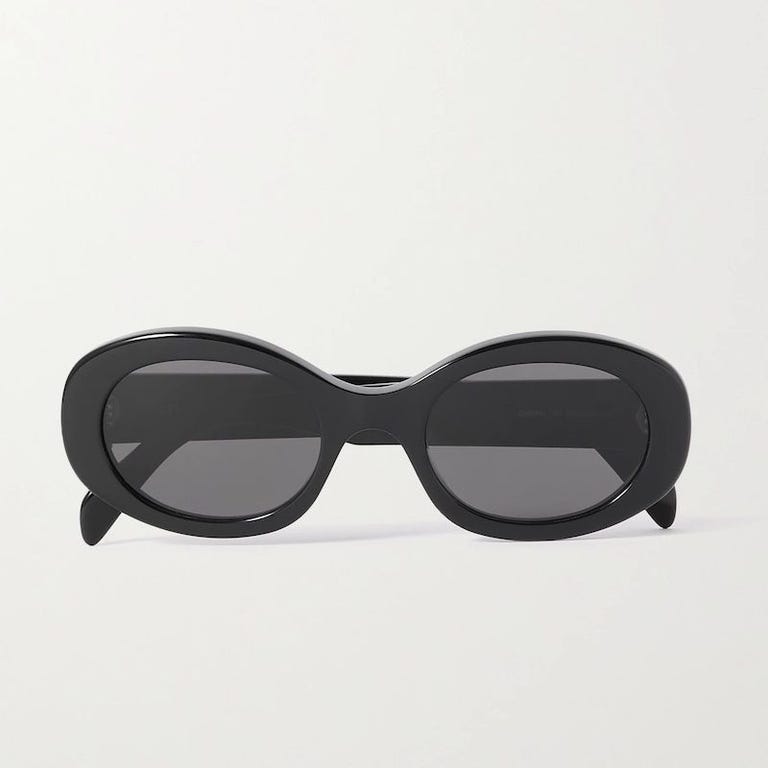 BEST ALWAYS-IN-STYLE BLACK SUNGLASSES
Celine
Triomphe Sunglasses
Fashion insiders can't get enough of these rounded Celine sunglasses—and neither can editors. They're the rare frames to land on the BAZAAR 100 for their vintage-inspired design.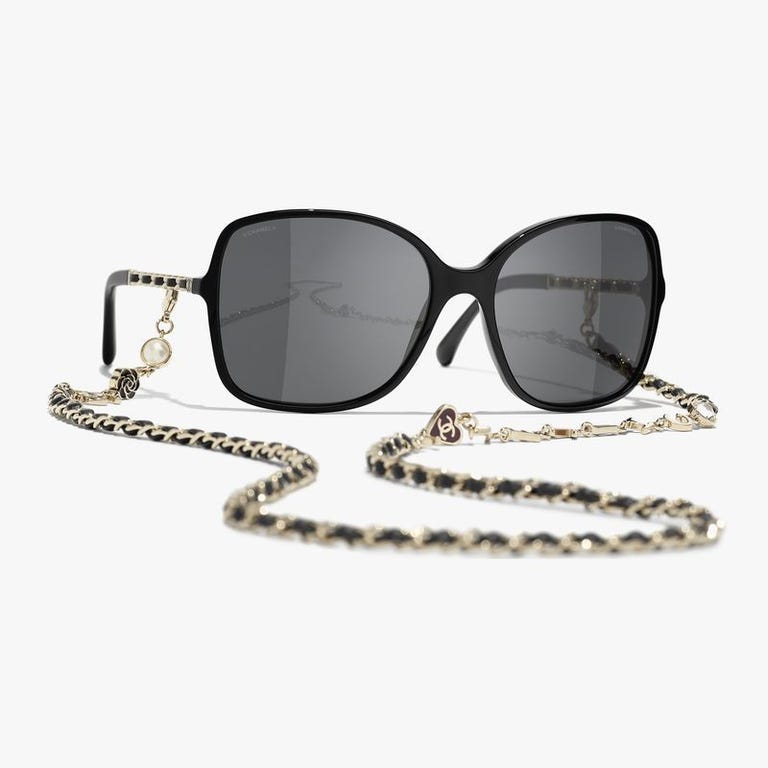 BEST DESIGNER BLACK SUNGLASSES
Chanel
Square Sunglasses
If you want your sunglasses to feel like an heirloom, there's nothing like a pair of classic Chanels. The real star of the show is the removable leather-interlaced chain, adorned with charms and the house's letters.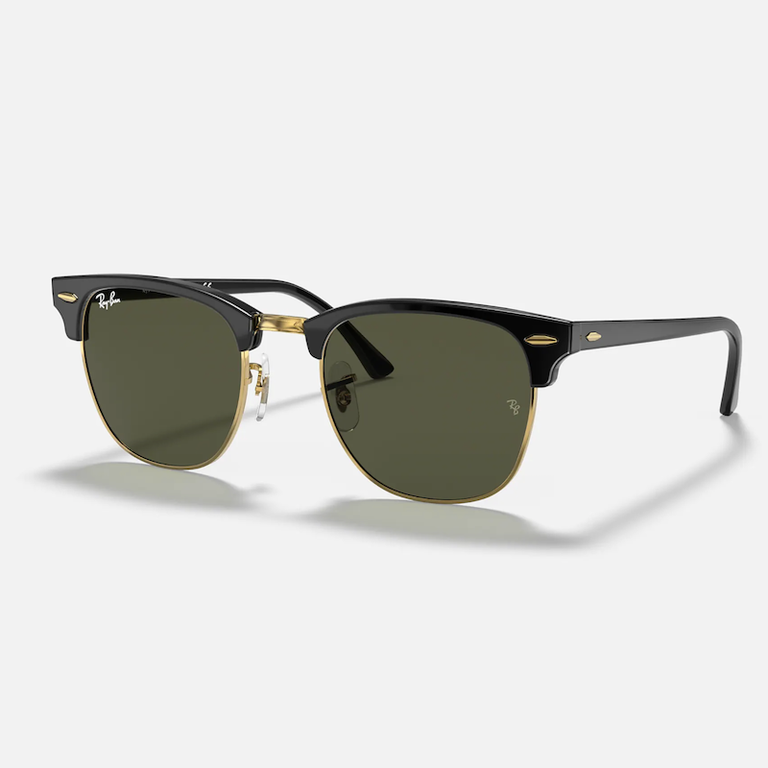 BEST OG BLACK SUNGLASSES
Ray-Ban
Clubmaster Classic Sunglasses
No sunglasses roundup is complete without some OG Ray-Bans. These are simple and sleek, high-quality, and versatile all at once. Wear them with flared denim or a leather miniskirt, whatever speaks to you.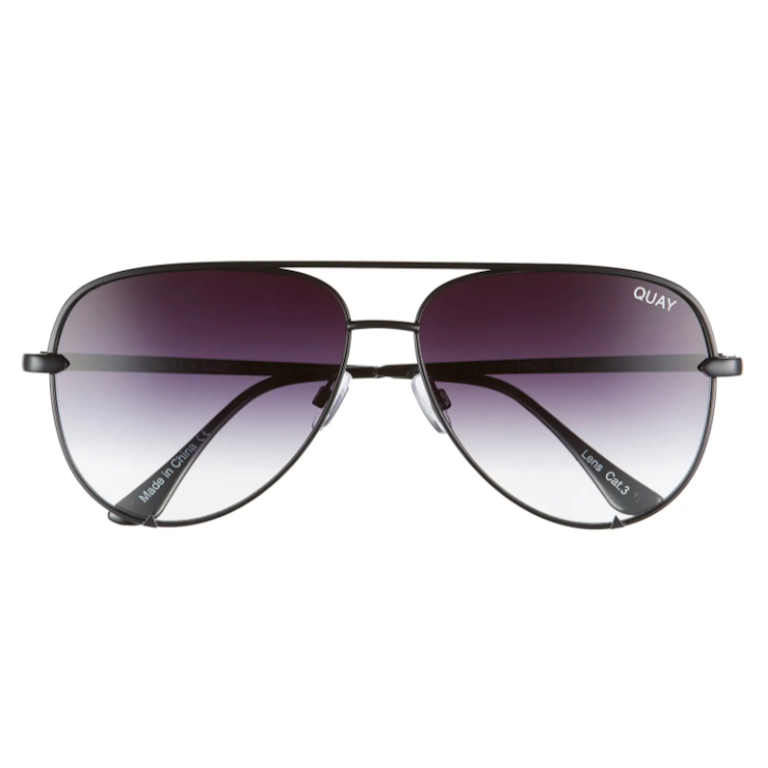 BEST BLACK AVIATOR SUNGLASSES
Quay Australia
High Key Oversize Aviator Sunglasses
Quay creates simple aviators that are just a little oversized to frame your face. The ombré of the lens puts a little twist on the traditional design.
Customer review: "I love these sunglasses, they are comfortable and look great with anything. I have several designer sunglasses, but recently I reach for these every time."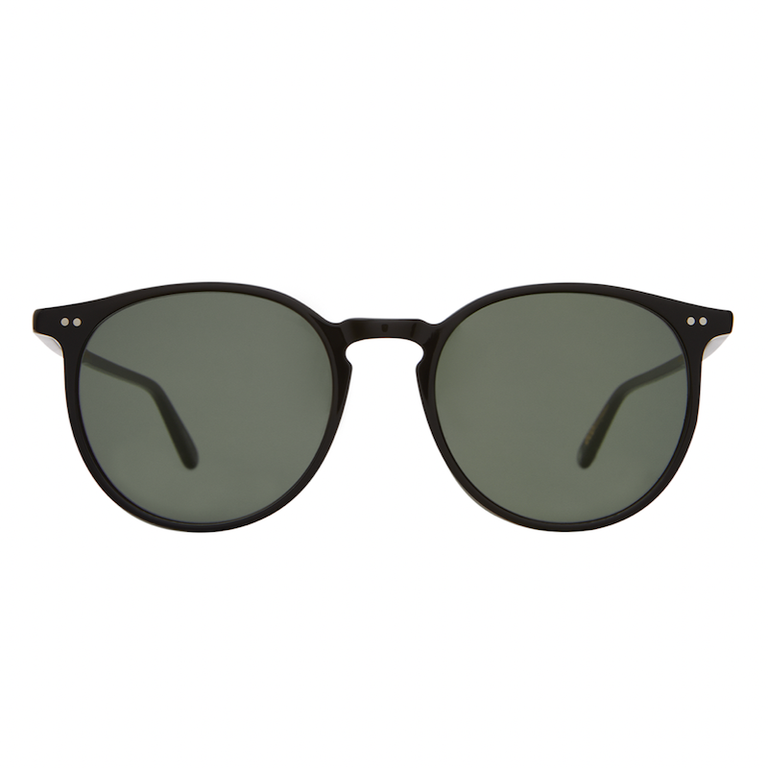 BEST MOVIE-INSPIRED BLACK SUNGLASSES
Garrett Leight
Morningside Sunglasses
These bio-friendly nylon lenses are rounded and oversized to perfection. Drawing inspiration from Lauren Hutton's look in American Gigolo, these glasses transcend decades.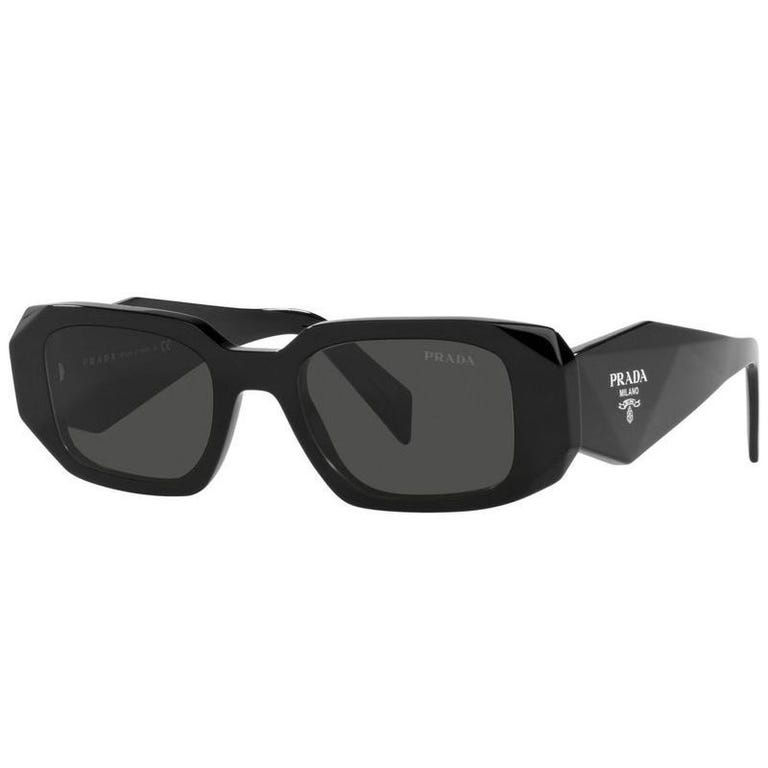 BEST STATEMENT BLACK SUNGLASSES
Prada
Sunglasses
If you prefer your sunglasses to be a bit more avant-garde, shall we say, then this pair is for you. The thick geometric temples are ultra-contemporary, drawing the focus. While these are best for round and oval face shapes, they really just need someone with confidence to wear them.
Customer review: "Absolutely stunning with great detail. Very flattering."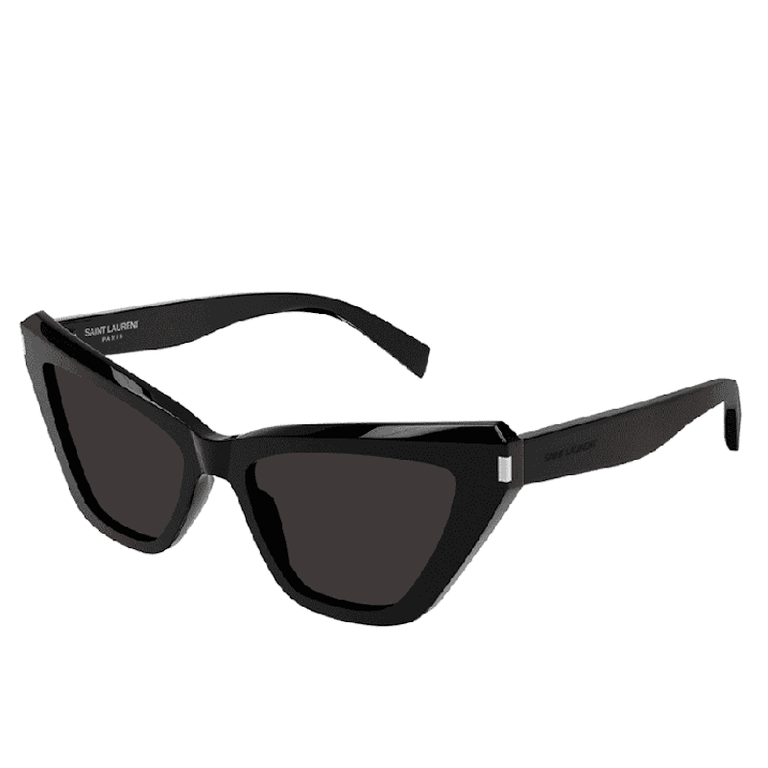 BEST CAT-EYE BLACK SUNGLASSES
Saint Laurent
Cat Eye Sunglasses
Don't worry, we didn't forget a cat-eye option. Saint Laurent makes a pair that channels peak sprezzatura with just a wool trench coat and some high boots.
This article originally appeared in Harper's BAZAAR US.