The best crossbody bags combine style, functionality, and versatility so seamlessly, I rely on them more than any other style in my fashion editor's closet. Other fashion experts often choose crossbody bags above all others when they're on the go, as season after season of fashion week street style proves. The hands-free silhouette is just downright convenient: "When I reach for a crossbody, it's because I want something light and compact that will carry me through my day with ease," agrees Karla Gallardo, co-founder and chief executive officer of Cuyana.
Slinging on the right crossbody can steer an outfit in an unexpected direction while stowing the 24/7 essentials (phone, wallet, keys). "If your style skews a bit more minimal or neutral, crossbody bags are ultimate accessory to add a bit of playfulness to your wardrobe," Gallardo adds.
Where to start? Leather crossbody bags from Bottega Veneta to Ree Projects have a proverbial pop of colour for any aesthetic. The Chanel 22 crossbody is a daydream-come-true for fashion obsessives. Straw bags from Loewe and Cesta Collective have a sun-kissed feel that's perfect for summer. And for minimalists who live the quiet luxury lifestyle, sleek leather bags from Saint Laurent, Polene, and Savette are a must.
The following guide to crossbody bags includes styles I've tested and carry constantly, plus the most covetable designer bags and top-reviewed styles from other shoppers. From classic to colourful, shop the 26 best crossbody bags ahead.
Related article: Go Hands-Free With These Stylish Crossbody And Messenger Bags
Our Favorite Crossbody Bags of 2023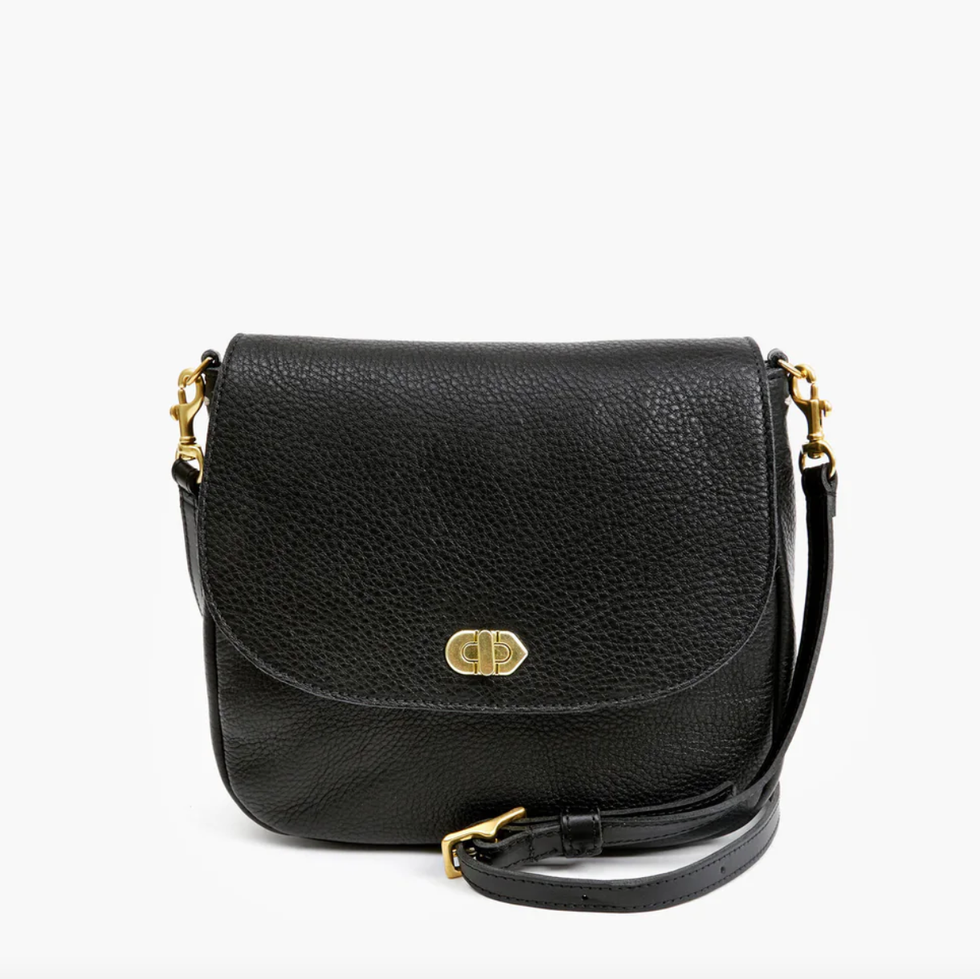 BEST CLASSIC CROSSBODY BAG
Clare V. Turnlock Louis Bag
More often than not, I'm carrying a black leather crossbody with gold hardware. It's a style that's elegant enough to carry to work and easy enough for weekend errands.
Clare V.'s Louis bag has a vintage shape with all the modern necessities. Mainly, space for an iPhone 14 and various beauty minis, plus an external pocket. While I usually carry it by the included leather strap, there are also interchangeable options in different textures and colours for a personalised touch.
Dimensions: 8.5″ W x 7.25″ H x 3.5″ D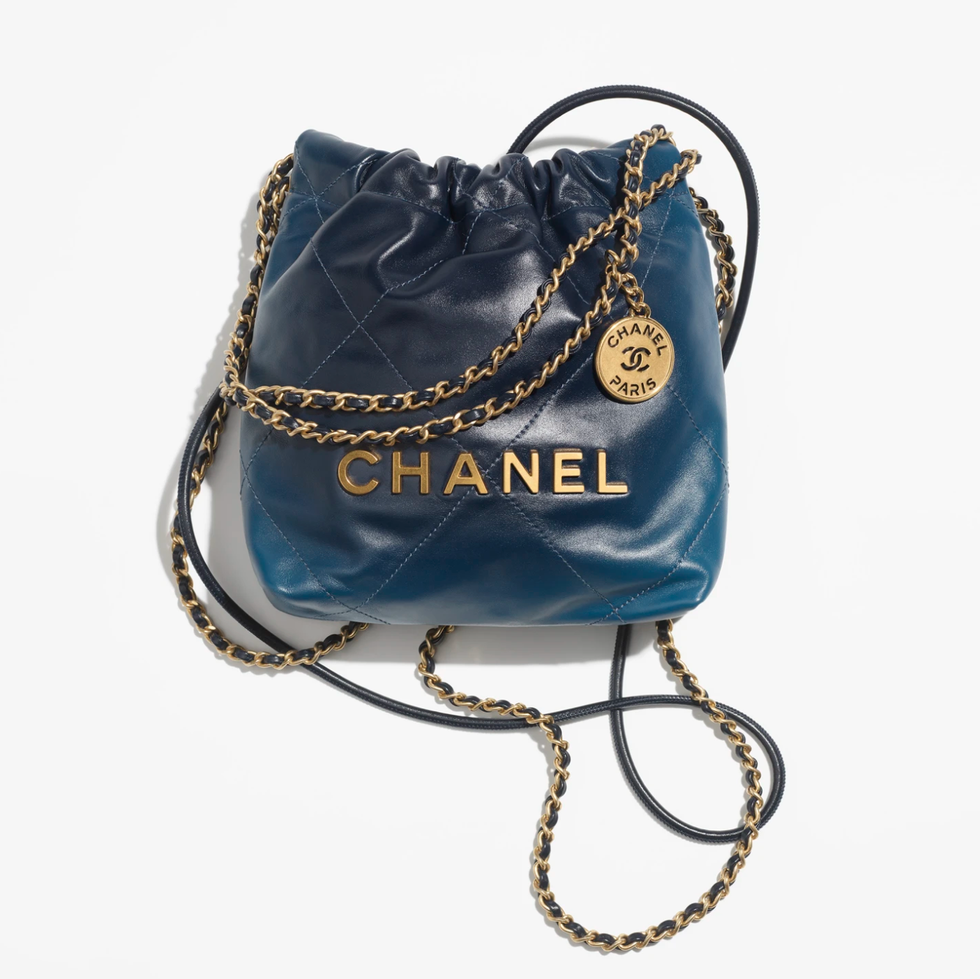 BEST LUXURY CROSSBODY BAG
Chanel Shaded Calfskin & Gold-Tone Metal
Models swung miniature Chanel 22 bags from their top handles with aspirational abandon while striding down the runway. I wanted to follow suit immediately after seeing the style up close. It combines the label's signature diamond-stitched calfskin with modern double straps, plus an attitude that makes carrying a petite crossbody bag feel so much cooler.
Dimensions: 7.8 × 7.4 × 2.3 in
Materials: Shaded Calfskin & Gold-Tone Metal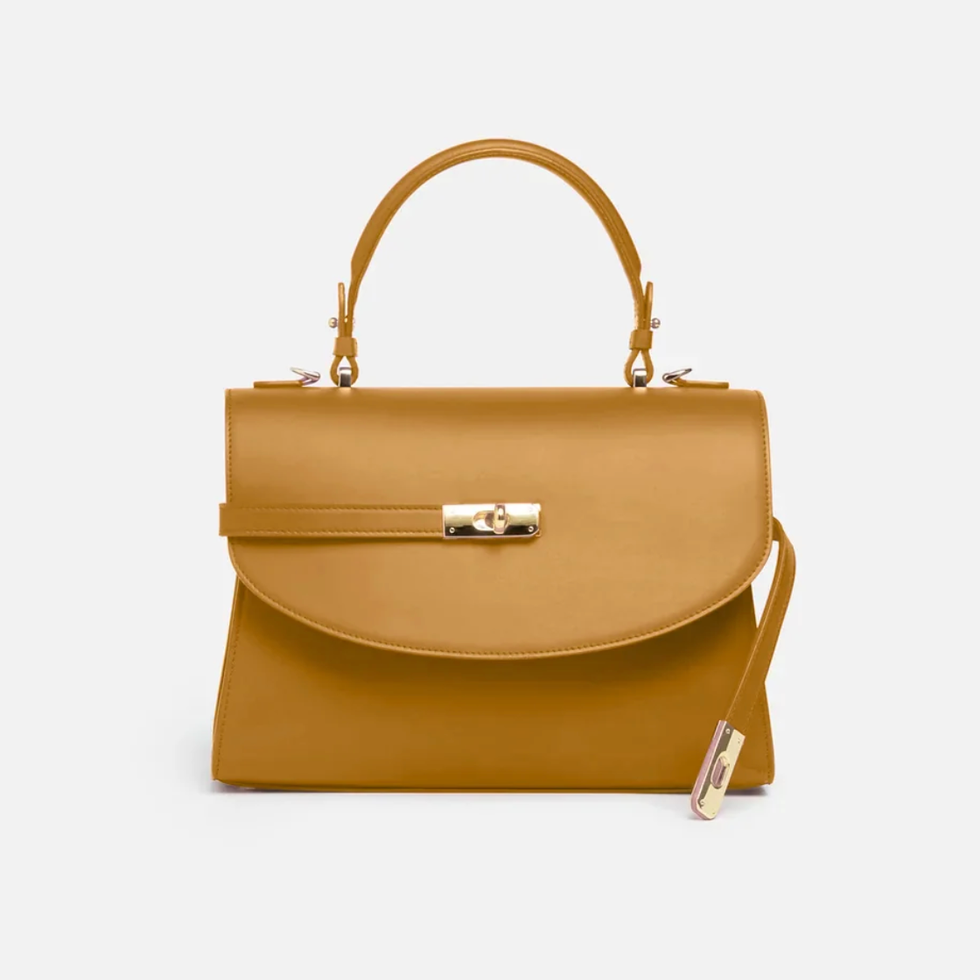 BEST TOP HANDLE CROSSBODY BAG
Silver & Riley New Yorker Bag
I named this Silver & Riley style my best everyday bag and I still stand by it. The leather is buttery soft and supple, the shape is beyond elegant, and the proportions are ideally sized. I have enough room inside to carry a paperback book alongside my phone, wallet, keys, and makeup when I'm commuting.
Dimensions: 11″W x 8″H x 5.5″D
Materials: Leather
Shopper review: "I absolutely love this bag! Beautiful rich colour, I also checked out the red and it's just as beautiful. Even more gorgeous in person."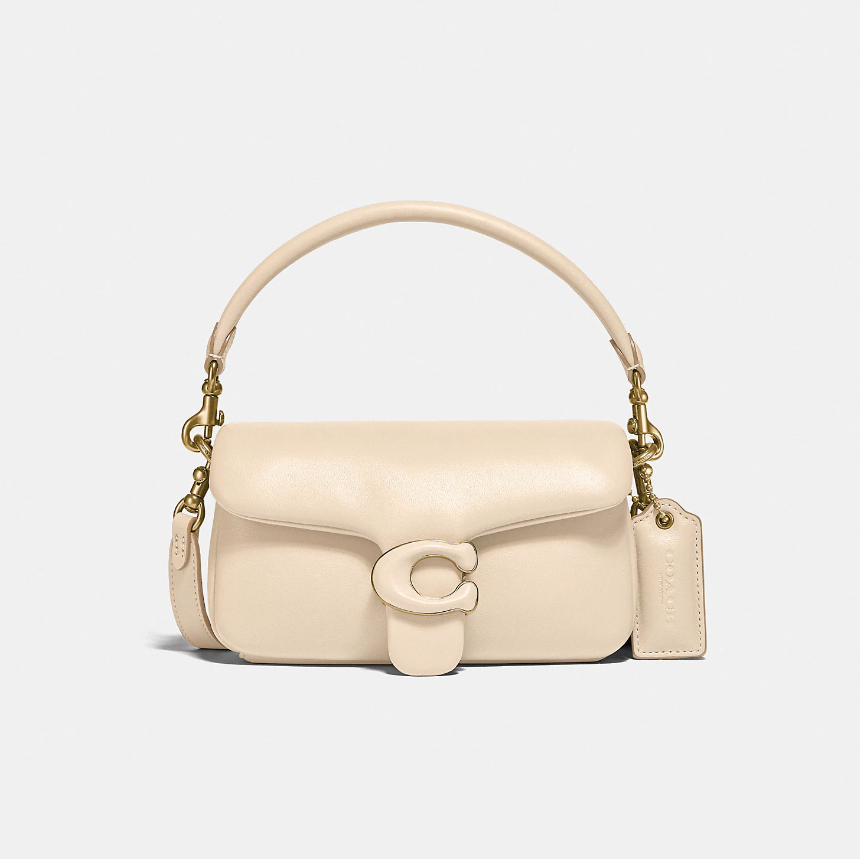 BEST PUFFY CROSSBODY BAG
Coach Pillow Tabby Shoulder Bag 18
From the sidewalks outside New York Fashion Week shows to the endless stream of videos in my TikTok feed, Coach's puffed-up Tabby bag is being carried everywhere. It'll provide a sample of fashion's obsession with all things puffy, but it's grounded in a versatile shape and colour that will outlast the trend.
Dimensions: 7 1/4″ (L) x 4″ (H) x 2 1/2″ (W)
Materials: Nappa leather
Shopper review: "So cute! Especially to make quick trips to the store etc. It holds more than what you'd think. I managed to fit my lipstick, deodorant, perfume, lotion, pills, cards, iPhone 12 pro and keys with some space left! Closes just fine. I love it!"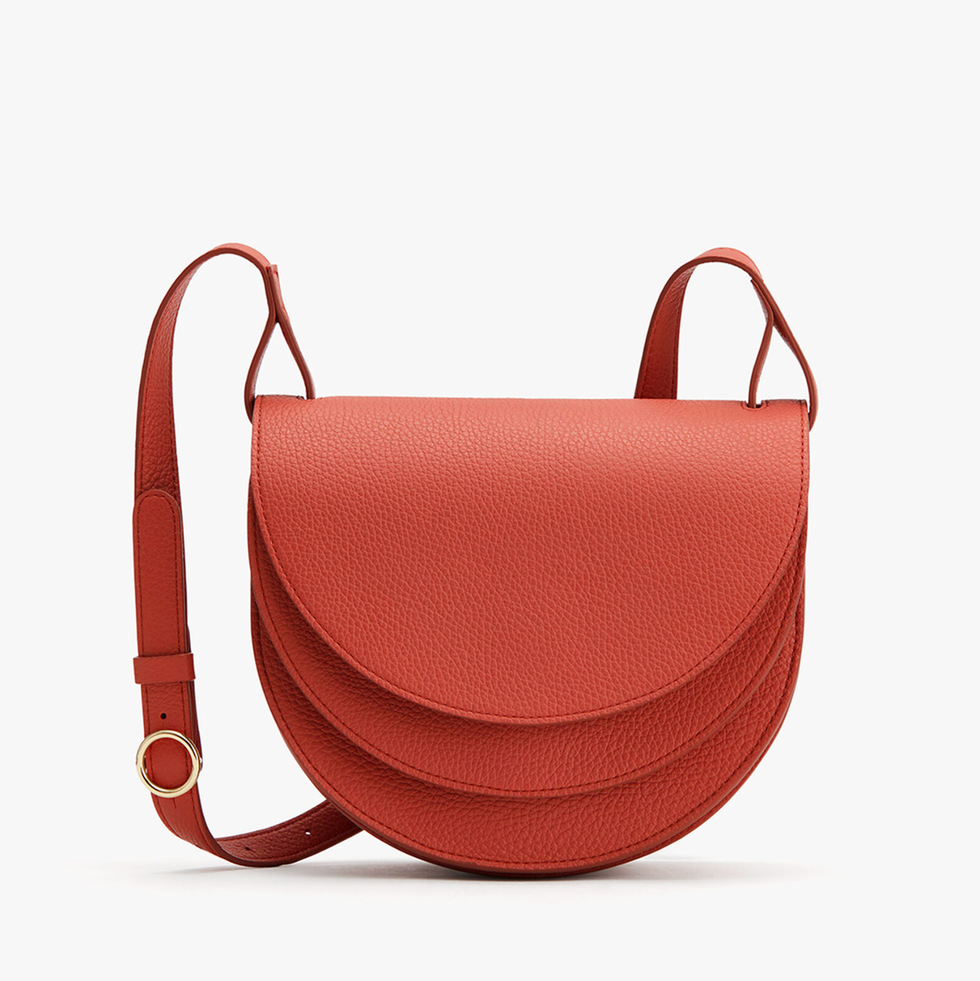 BEST CRESCENT CROSSBODY BAG
Cuyana Double Moon Saddle Bag
Crescent bags are having a moment; Cuyana's double moon bag is the best entry point. Even when bag trends move in another direction, this one will stay in rotation with its arched layered pockets and roomy interior.
Dimensions: H 7 in. x W 8.5 in. x D 3.5 in.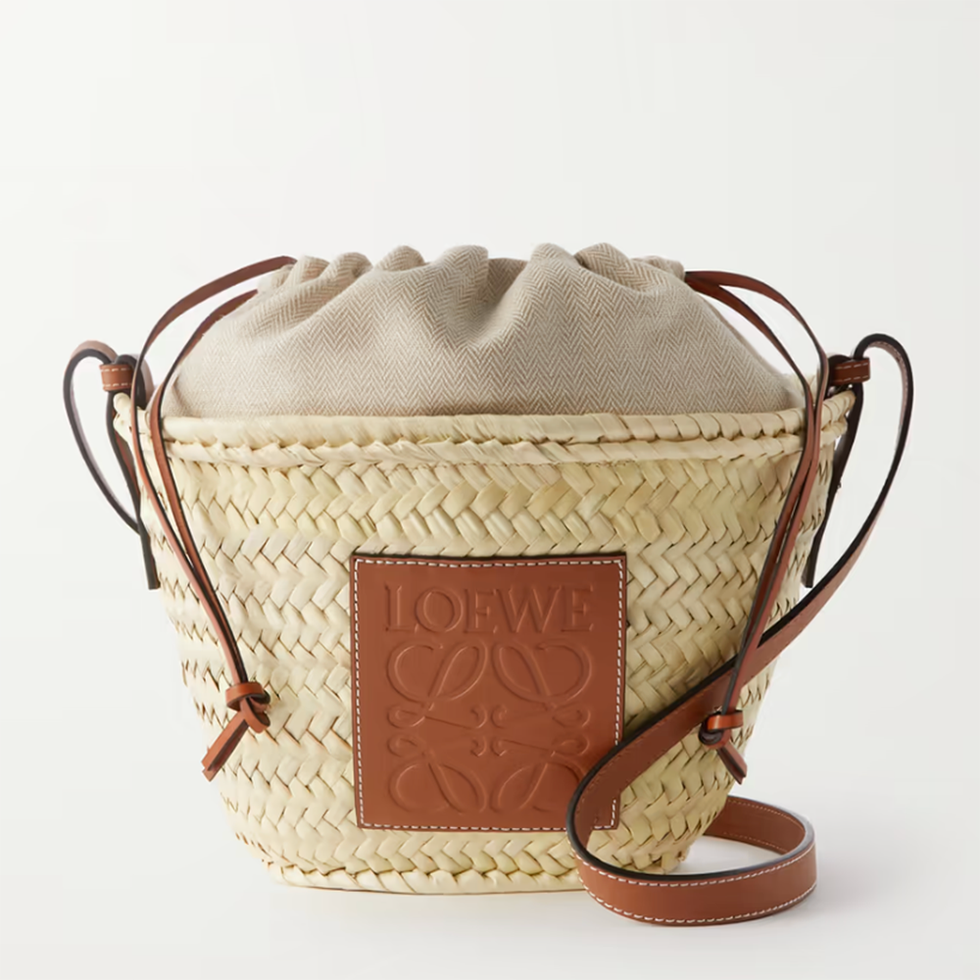 BEST BASKET CROSSBODY BAG
Loewe + Paula's Ibiza Leather-Trimmed Raffia Bag
I've texted every friend with a beach trip on the horizon a link to shop this bag. The canvas and raffia combination looks like summer. I also appreciate the practical addition of a drawstring closure to keep sunglasses, SPF, and a beach read safe from the sand.
Dimensions: D 4.7in x L 7.5in x W 6.3in
Materials: Beige raffia, brown leather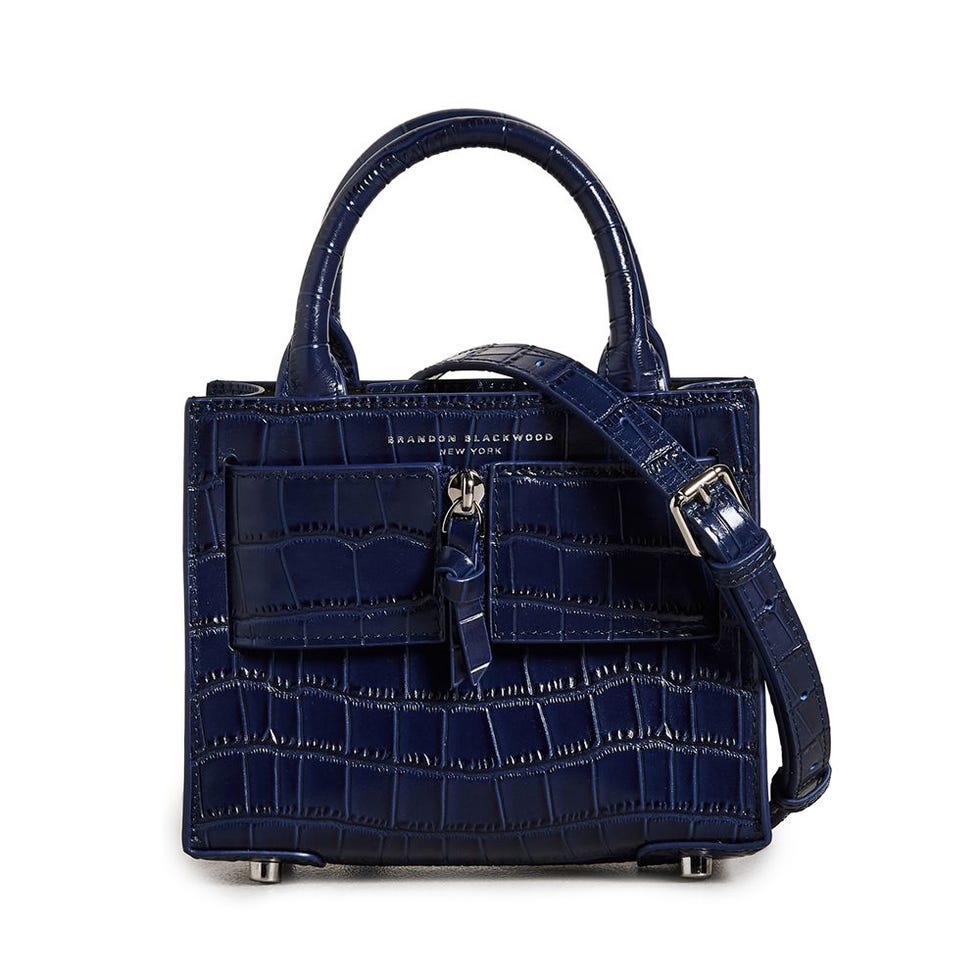 BEST SQUARE CROSSBODY BAG
Brandon Blackwood Kuei Bag
I appreciate how this bite-sized Brandon Blackwood crossbody has metal feet to keep it upright—not that I'd ever want to put it down. The croc-embossed navy also feels like a neutral with personality.
Dimensions: H 6″ x L 7″ x D 3.25″
Materials: Croc-embossed leather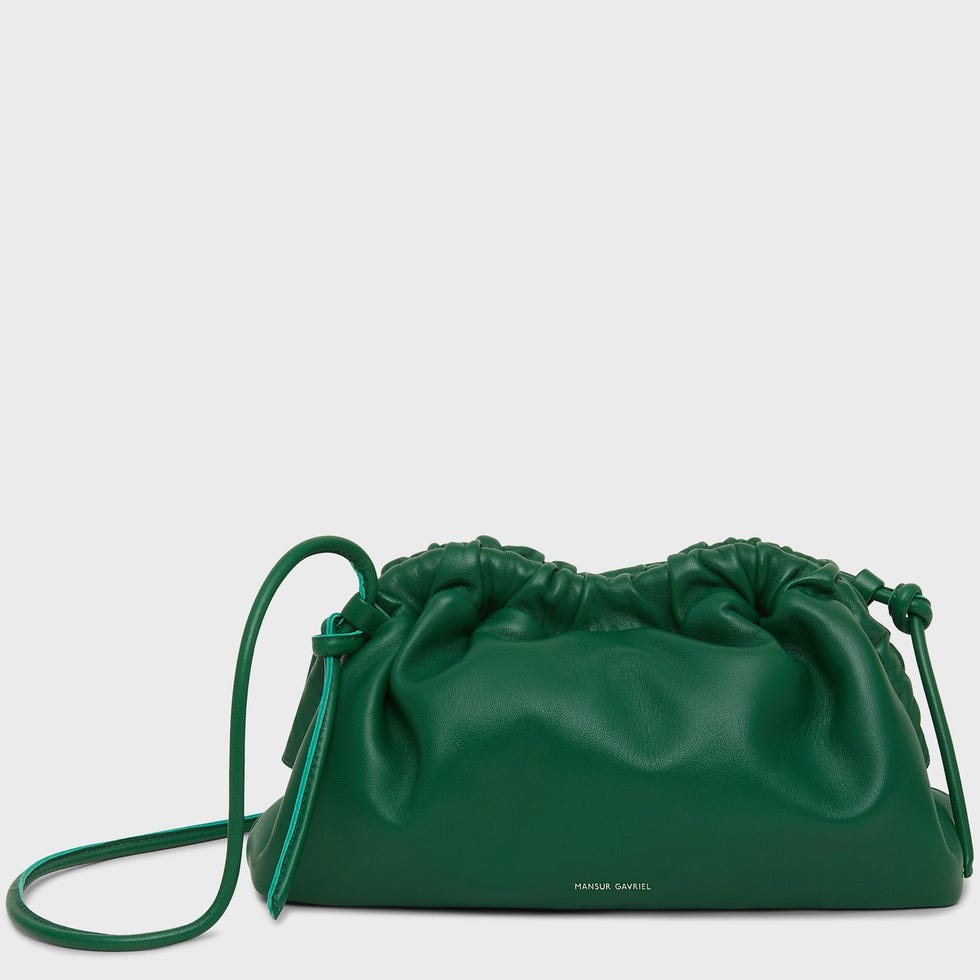 BEST CROSSBODY CLUTCH BAG
Mansur Gavriel Mini Cloud Clutch
A little soft, a little structured, Mansur's best-selling cloud clutch can also be worn as a crossbody or belt bag. "Mini" is in the name, but the brand says it can stow a phone, sunglasses, headphones, card holder, and on-the-go beauty products. Right now, it comes in nine long-lasting leathers ranging from green to pink to caramel brown—but it's known to sell out.
Dimensions: W 9.5″ x H 5″ x D 2.75″
Material: Leather
Shopper review: "Love, love this cute little bag. Super functional while being whimsical."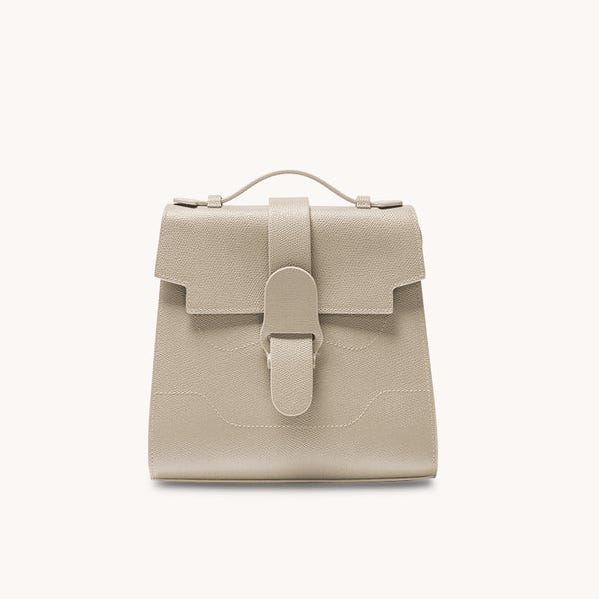 BEST CONVERTIBLE CROSSBODY BAG
Senreve Alunna Bag
This genius convertible bag is a crossbody, a top-handle, and a backpack all in one. The straps are easy to transition from style to style, and it's organized inside with two interior pockets and an exterior cardholder. In sum? Go-getters will never waste time waffling on their accessories with this bag in their closet.
Dimensions: 7.9″ x 8.3″
Materials: Leather
Shopper review: "It gives just a pop of colour to your outfits and fits everything I need and still have room just in case I want to add a bit more."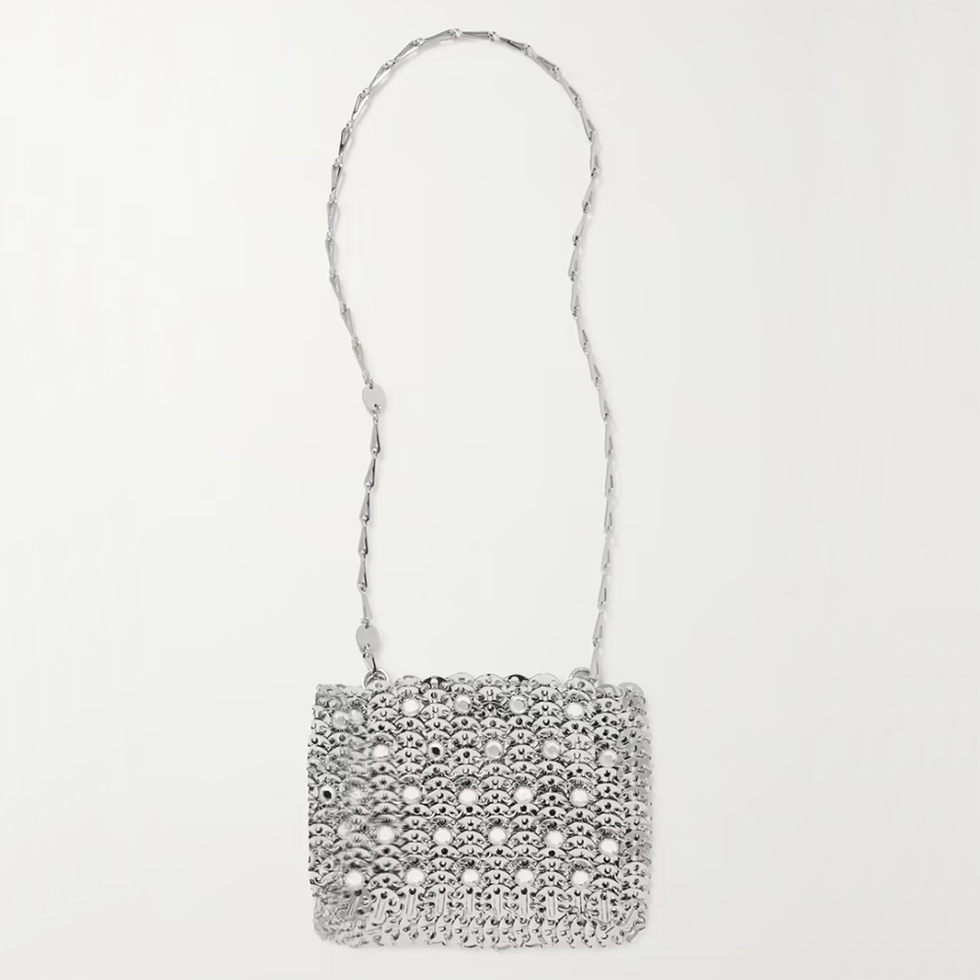 BEST GOING-OUT CROSSBODY BAG
Paco Rabanne 1969 Crystal-Embellished Chainmail Shoulder Bag
The next time I go out with friends, I plan on channeling Taylor Swift by carrying one of Paco Rabanne's chainmail bags. The entirely metallic construction can make the whole place shimmer—and stash all the small essentials for an evening out.
Dimensions: H 7.1in x W 9.4in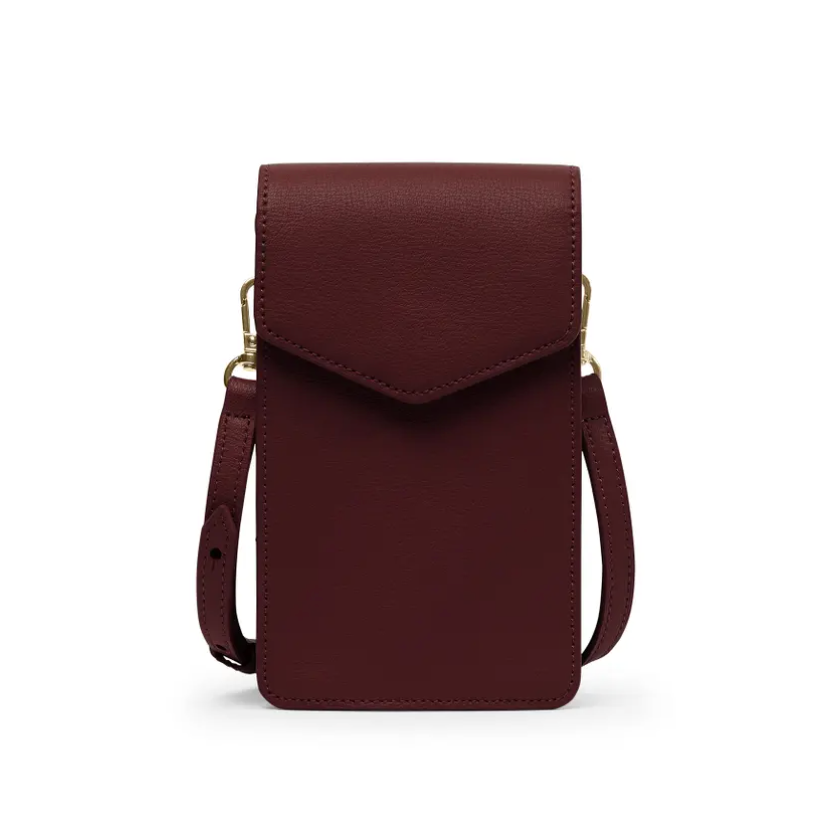 BEST CROSSBODY PHONE BAG
Leatherology Mini Willow Crossbody
Want to keep things light? The crossbody phone bag is your best bet. This one is available in eight different leathers and carries exactly what you think, with several slots for cards and another pocket for cash or receipts.
Dimensions: 4.75″W x 1.25″D x 7″H
Material: Leather
Shopper review: "It's exactly what I've been looking for in a small crossbody phone purse. Simple yet professional to carry essentials when at work. I have a case on my phone and it usually doesn't fit, but this was perfect."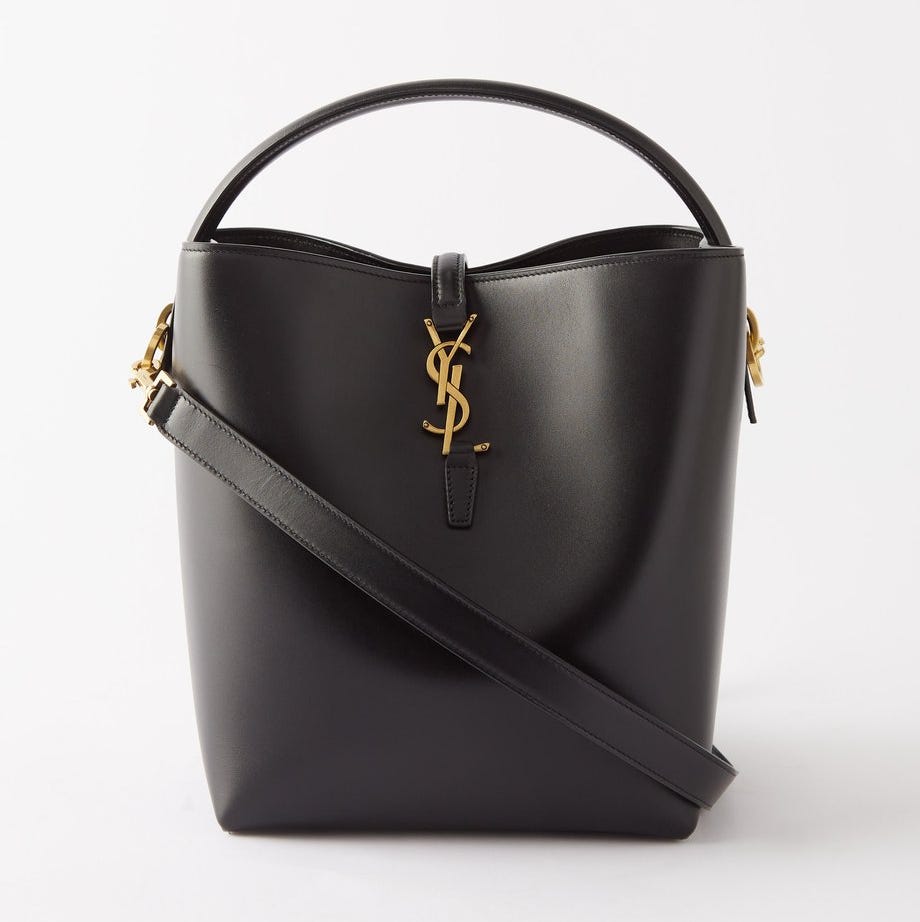 BEST CROSSBODY BUCKET BAG
Saint Laurent Le 37 Leather Bucket Bag
Saint Laurent just introduced this sleek bucket bag for summer 2023. Inside, you'll find a small zipped purse for staying organised. I have a feeling this will reach It-Bag status like the Icare tote bag before it: Blackpink's Rosé has already been spotted carrying the new style.
Dimensions: W 9.5″ x L 10″ x D 4.4″
Materials: Leather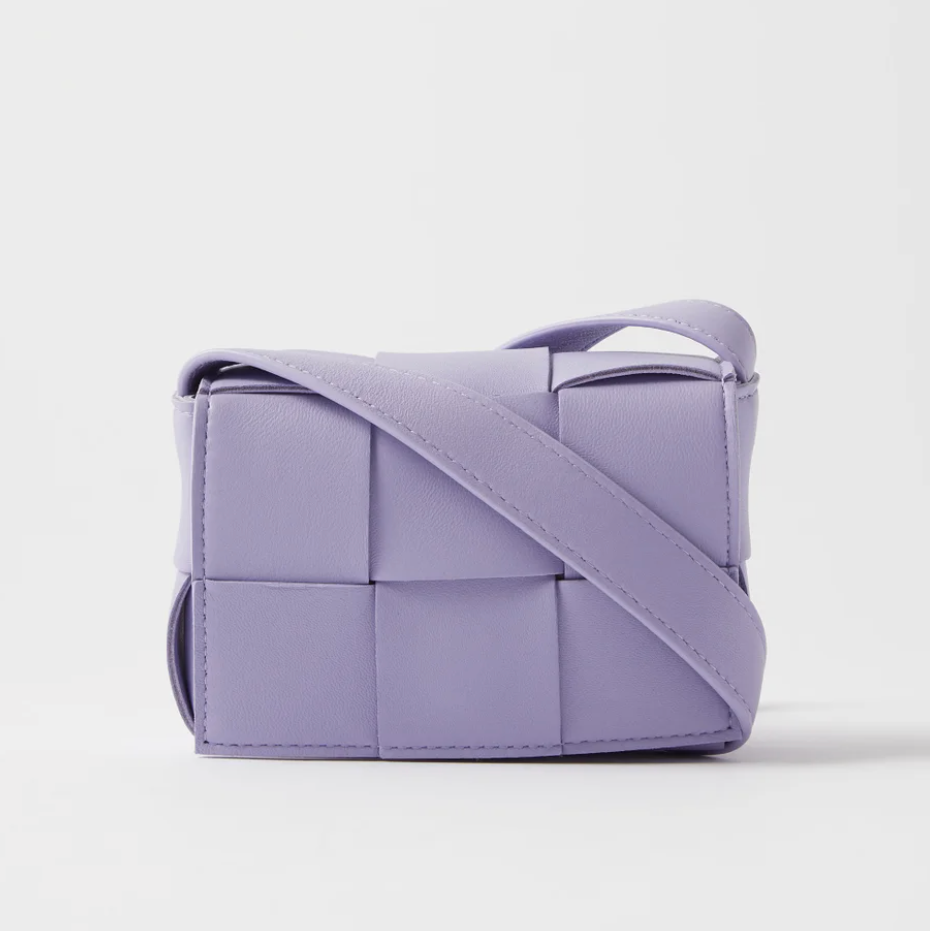 BEST WOVEN CROSSBODY BAG
Bottega Veneta Cassette Mini Intrecciato-Leather Crossbody Bag
Bottega Veneta's Intrecciato bags invite you to get colourful with your crossbody while still staying practical. Right now, their signature woven leather comes in shades like lavender, grass green, and bright white, in square crossbody silhouettes you won't second-guess on the storage front.
Dimensions: W 4.7″ x L 3.3″ x D 2″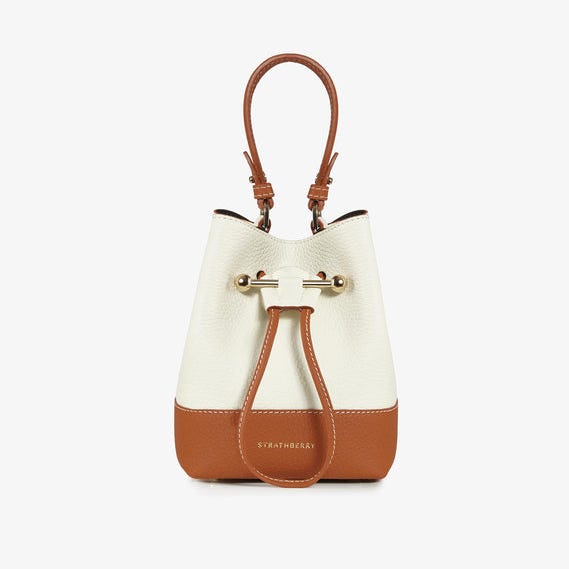 BEST MINI CROSSBODY BUCKET BAG
Strathberry Lana Osette
Whether you go for one of seven creamy leathers or a preppy tapestry jacquard, Strathberry's bucket crossbody is polished and primed for carrying all day. A discreet drawstring closure protects everything you stash inside.
Dimensions: D 5.2″ x W 5.5″ x H 6.5″
Materials: Leather, microfiber lining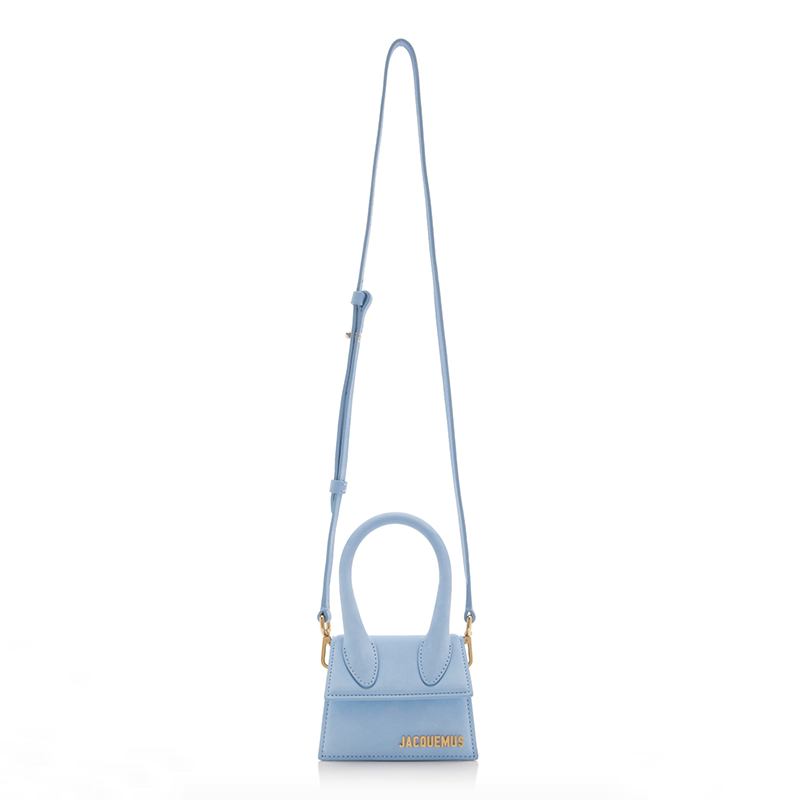 BEST MICRO MINI CROSSBODY BAG
Jacquemus Le Chiquito Leather Bag
Street style simply can't quit this teeny-tiny Jacquemus bag, even as supersized totes return to fashion proper. Whether you go for Kermit green, bubblegum pink, optic white, or periwinkle blue, this mini bag is more about styling than storage—and it pops against an oversized blazer or a spring dress. Still, it can fit your beauty minis, credit card, and keys.
Dimensions: 4.75″ x 3.5″ x 2″
Materials: Leather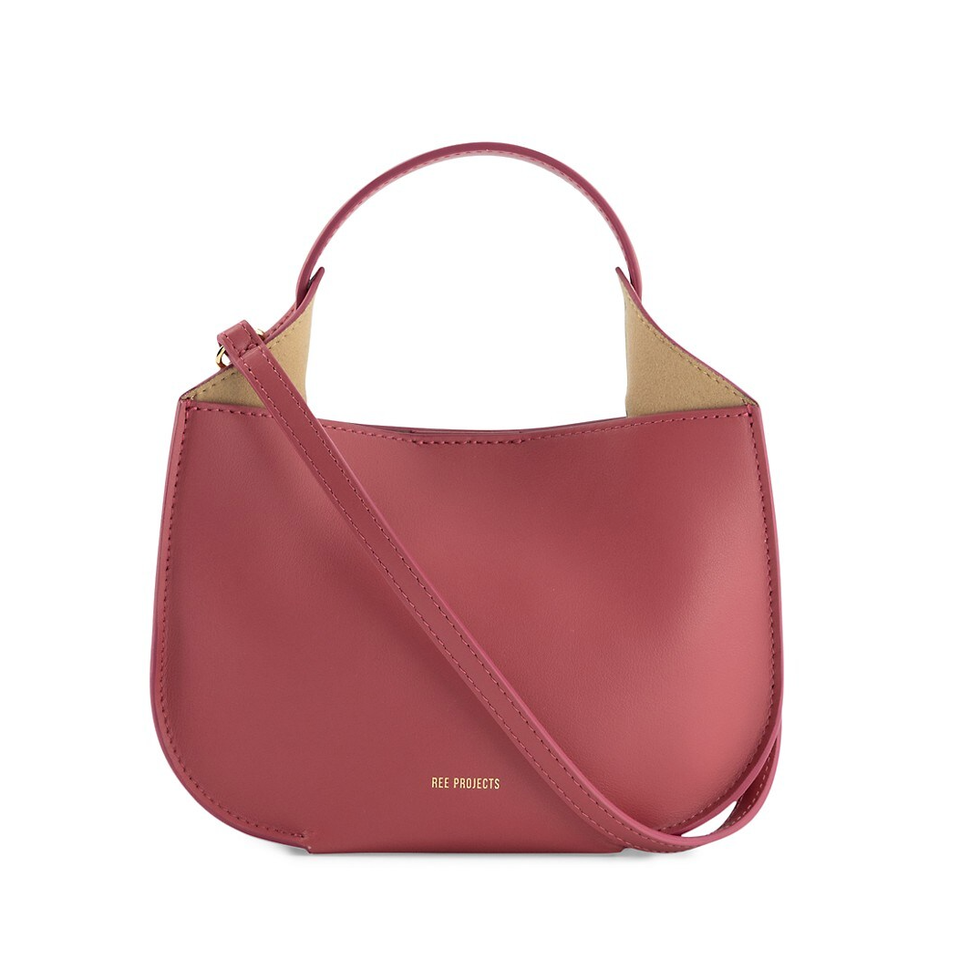 BEST CROSSBODY HOBO BAG
Ree Projects Mini Helene Leather Hobo Bag
Ree Projects' made-in-Italy bags come in minimalist, structured shapes. When you're getting dressed in a hurry, this bag can top any and all outfits. Inside, you'll find two card slots to keep you organised. And on days when you simply can't squeeze everything into a small bag, the same silhouette comes in a larger tote size. When a bag is so versatile, why not double up?
Dimensions: 7.5″W x 5.25″H x 2.25″D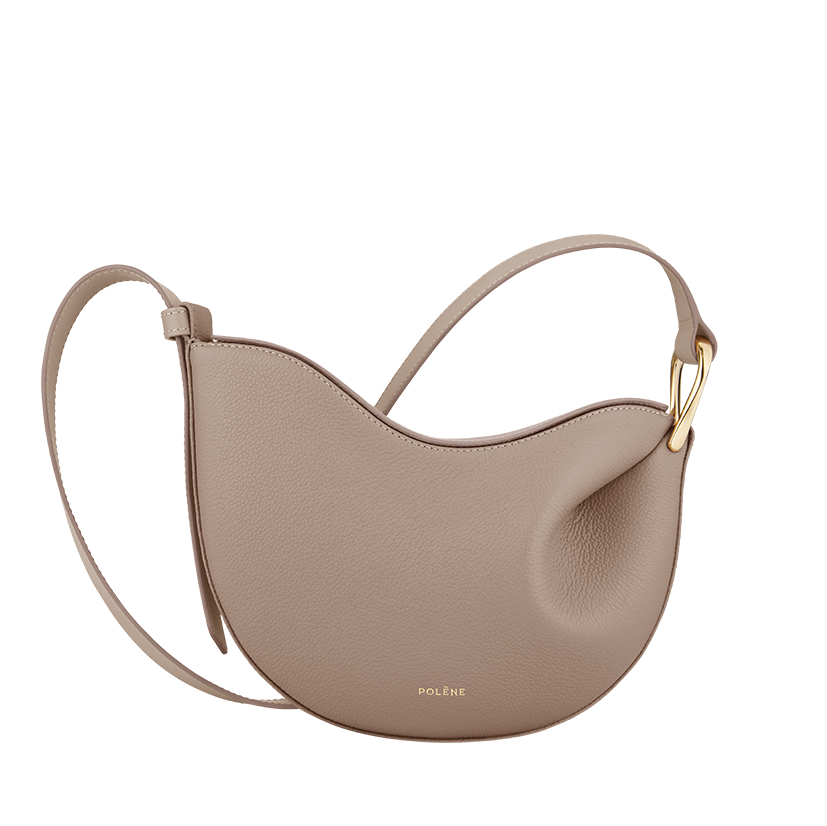 BEST CURVED CROSSBODY BAG
Polene Tonca Bag
I haven't been able to get this Polene bag out of my head since it first dropped on the site. (Other fans of the French handbag label are on the same wavelength—several colours have already sold out.) It has that neutral, wear-with-anything leather, but the asymmetric curved shape and hardware feel so unique.
Dimensions: 17 x 24 x 7cm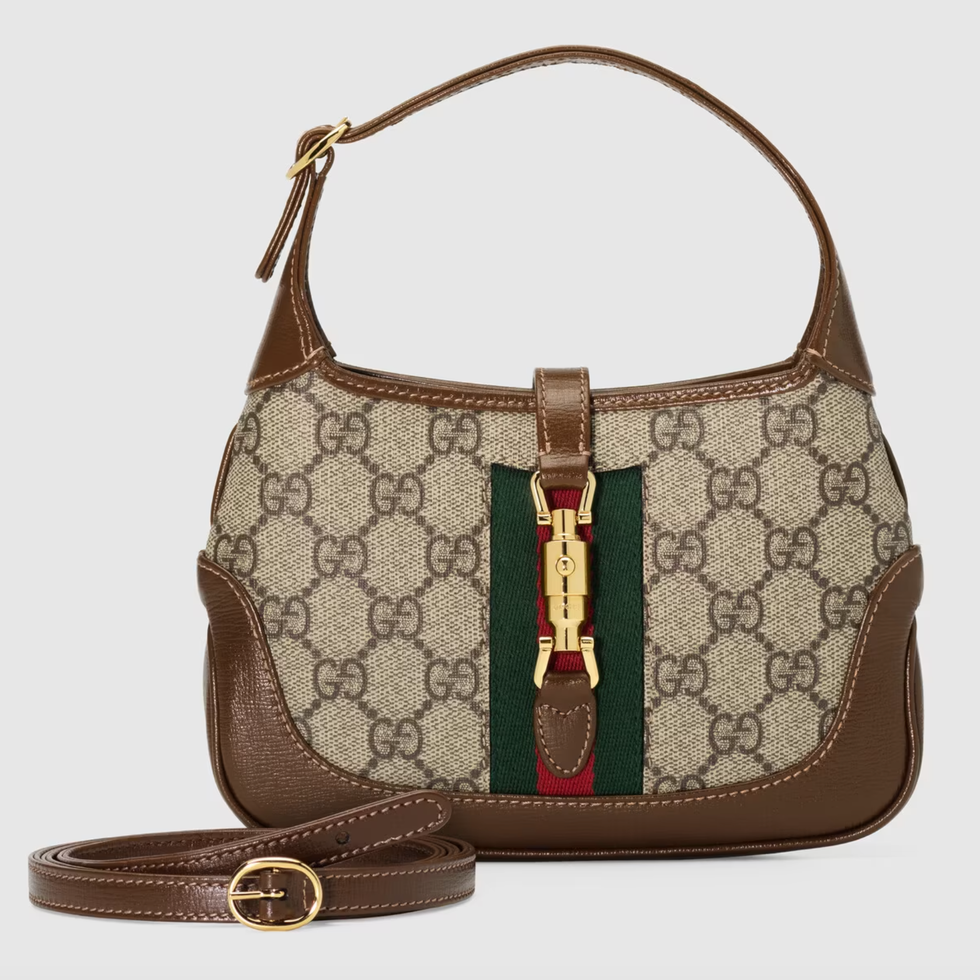 BEST MINI CROSSBODY BAG
Gucci Jackie 1961 Mini Shoulder Bag
This mini bag has the same curved shape and gold hardware as Gucci's original and widely beloved Jackie silhouette. The only differences are the scaled-down size—with space to fit your true essentials—and removable crossbody strap for hands-free carrying.
Dimensions: 7.5″W x 5.1″H x 1.2″D
Materials: Beige/ebony GG Supreme canvas, with brown leather trim
Related article: Starring Dakota Johnson, Gucci Unveils Latest Styles From Its Signature Jackie 1961 Handbag Line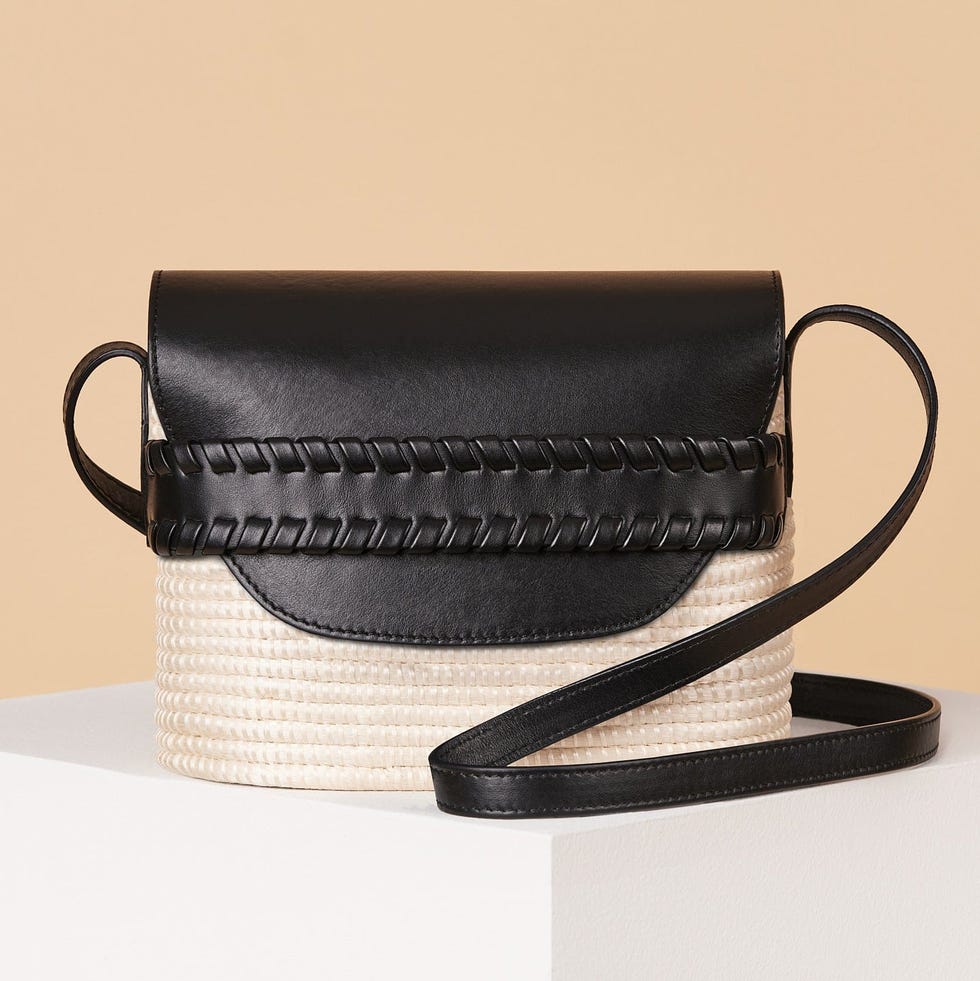 BEST STRAW CROSSBODY BAG
Cesta Collective Crossbody
Here's a straw bag for more places than vacation. Cesta Collective, whose bags are woven by Rwandan artisans with locally-sourced materials, combined a classic straw basket shape with a leather upper and crossbody strap to carry in any location.
Dimensions: D 3.5in. x H 5in. x W 7in.
Materials: Natural sisal and vegetable tanned leather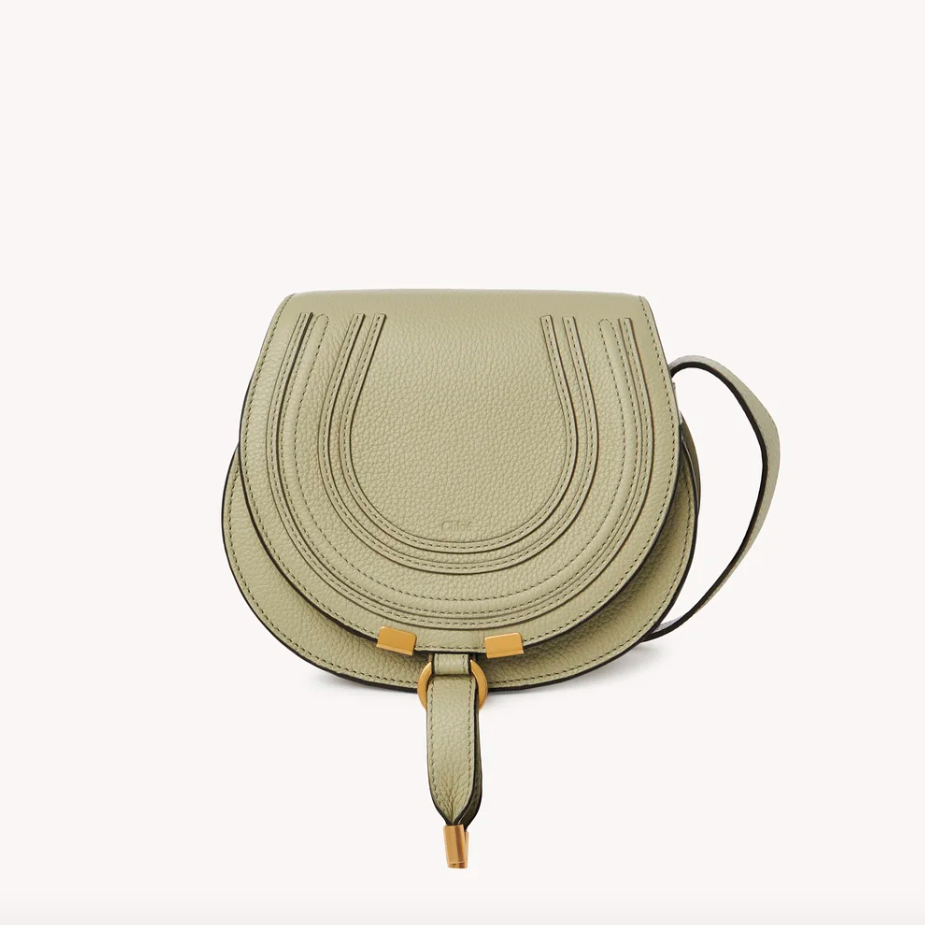 BEST SADDLE CROSSBODY BAG
Chloé Marcie Small Saddle Bag
I'm picking up the slightest Daisy Jones vibes from this seventies-inspired crossbody with a spacious, curved compartment. At the same time, the horseshoe-like detailing on the top flat and the range of leather shades feel completely modern.
Dimensions: W 7.1″ x H 6.7″ x D 3.9″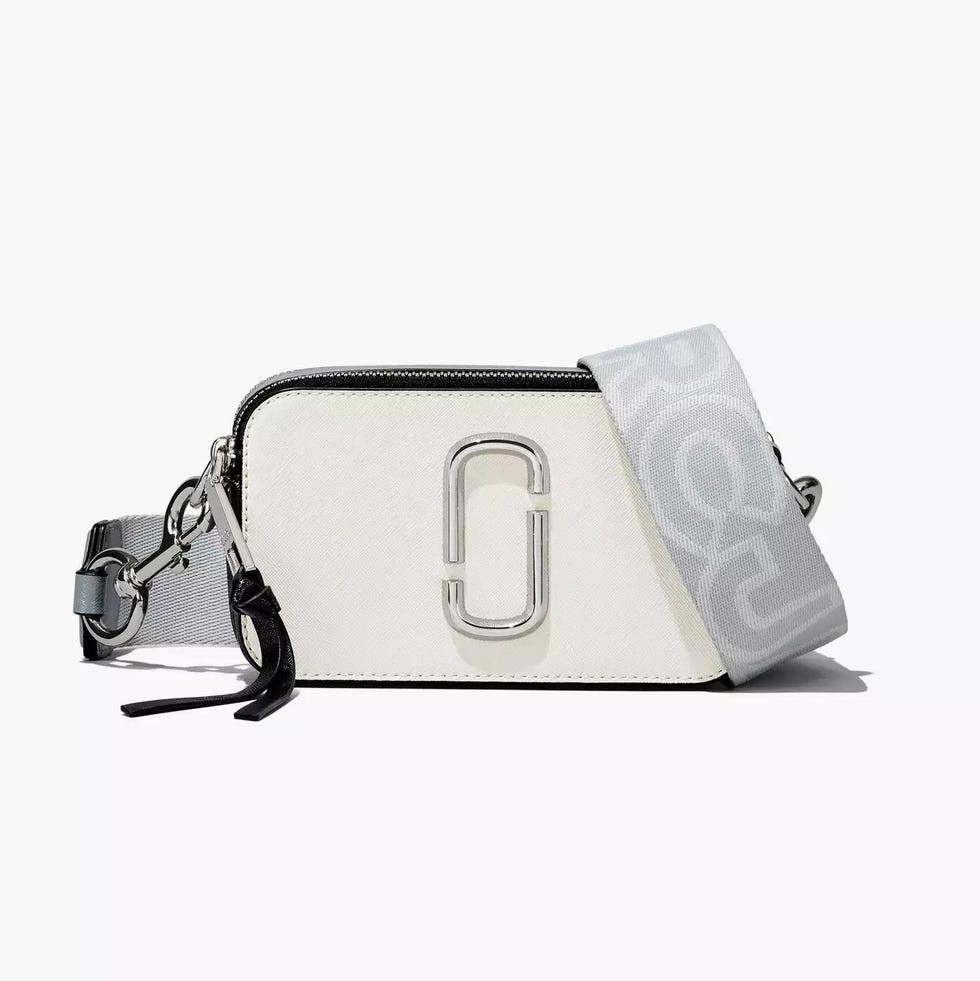 BEST CROSSBODY CAMERA BAG
Marc Jacobs The Snapshot
Dozens of designers have made their takes on the camera bag, but Marc Jacobs' is the one I love most. There's the widest variety for the outside—fifteen shades of quality leather—plus a structured interior with a pocket for stowing anything from cash to hair ties to coffee punch cards. When you're ready for something new, there's a suite of strap options to swap for the original.
Materials: Saffiano leather
Dimensions: 7in. L x 2in. D x 4in. H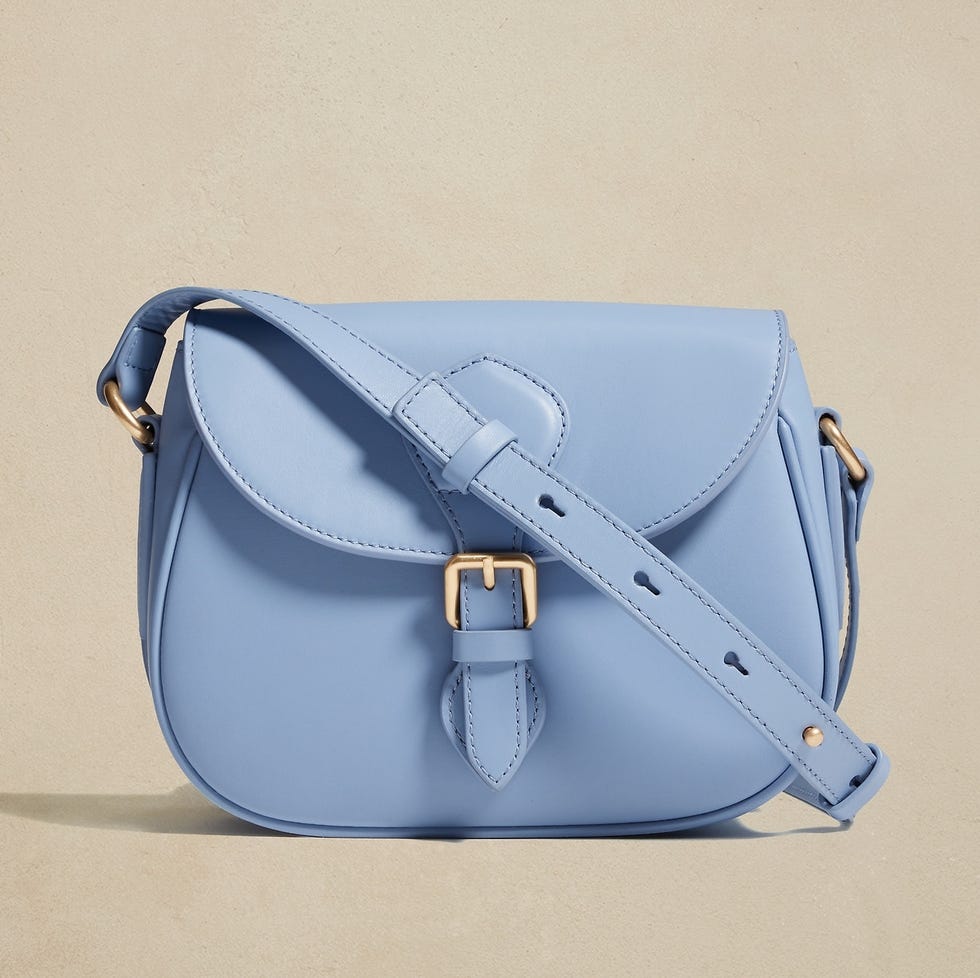 BEST CROSSBODY BAG UNDER $100
Banana Republic Leather Crossbody
Spotted: A nice save with the potential to become your most-carried bag this spring. In both this dreamy blue and a classic black leather, it has a classic look to pair with spring dresses, suit sets, and even beach cover-ups as soon as it arrives.
Dimensions: 17.5cm x 23.5cm x 6.8cm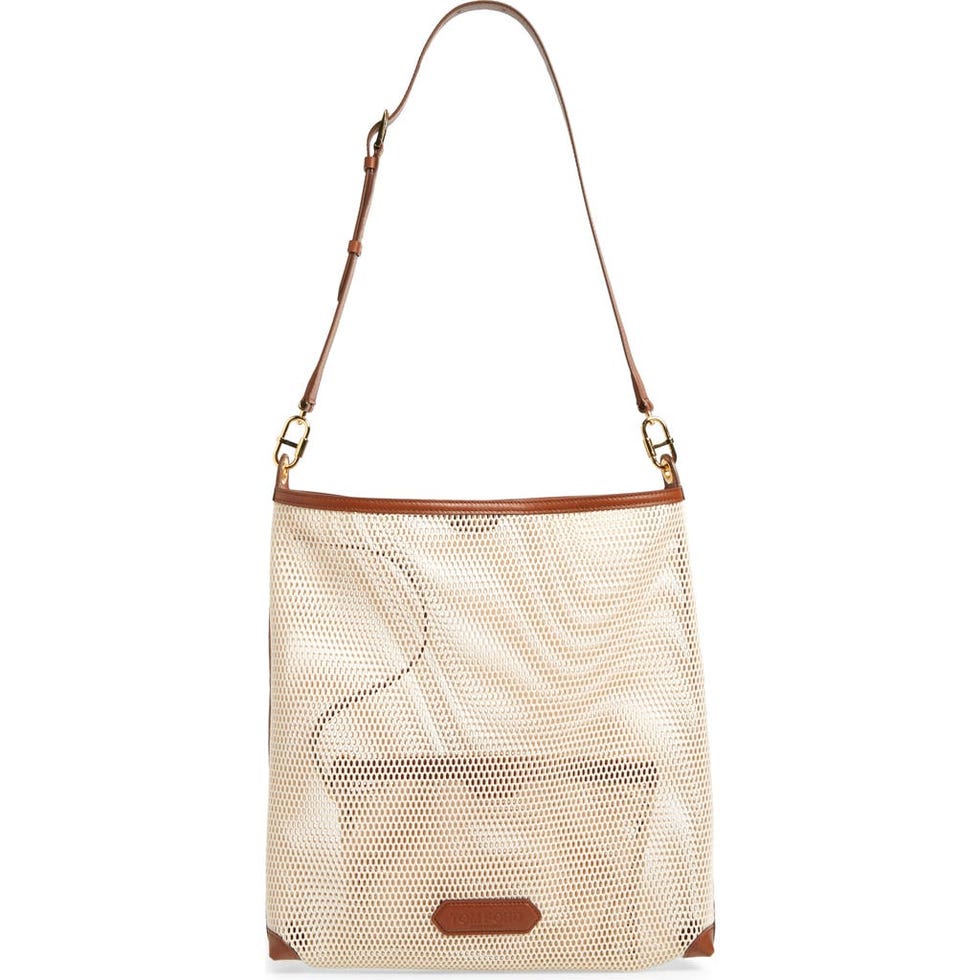 BEST MESH CROSSBODY BAG
Tom Ford Mesh Shoulder Bag
Keep things transparent with a top-handle crossbody lined in mesh and trimmed with leather. The compartment can fit a phone, keys, and small wallet as-is; or, you can switch out soft-sided pouches of different colours and patterns for a personalised touch.
Material: Textile with leather trim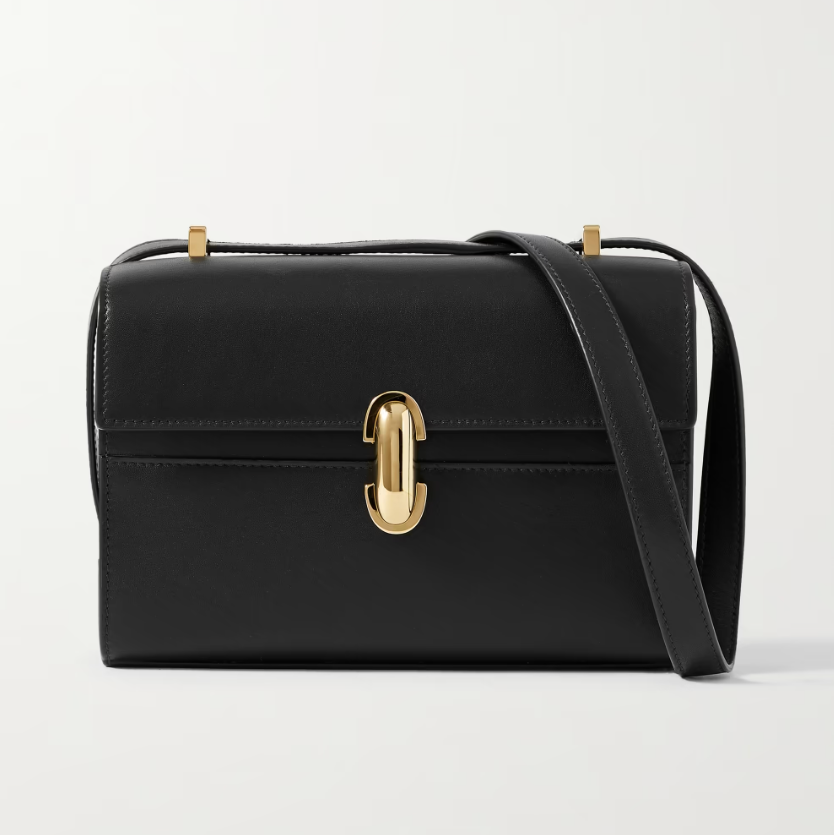 BEST CROSSBODY BOX BAG
Savette Symmetry 19 Leather Shoulder Bag
Savette is a brand BAZAAR editors can't stop talking about. Nearly every style from this new label is designed for a crossbody carry. Designer Amy Zurek perfected the rectangular, top-flap bag here, with sculptural hardware, an adjustable strap, and a spacious compartment.
Material: Leather
Dimensions: D 2.4in x H 5.3in x W 7.5in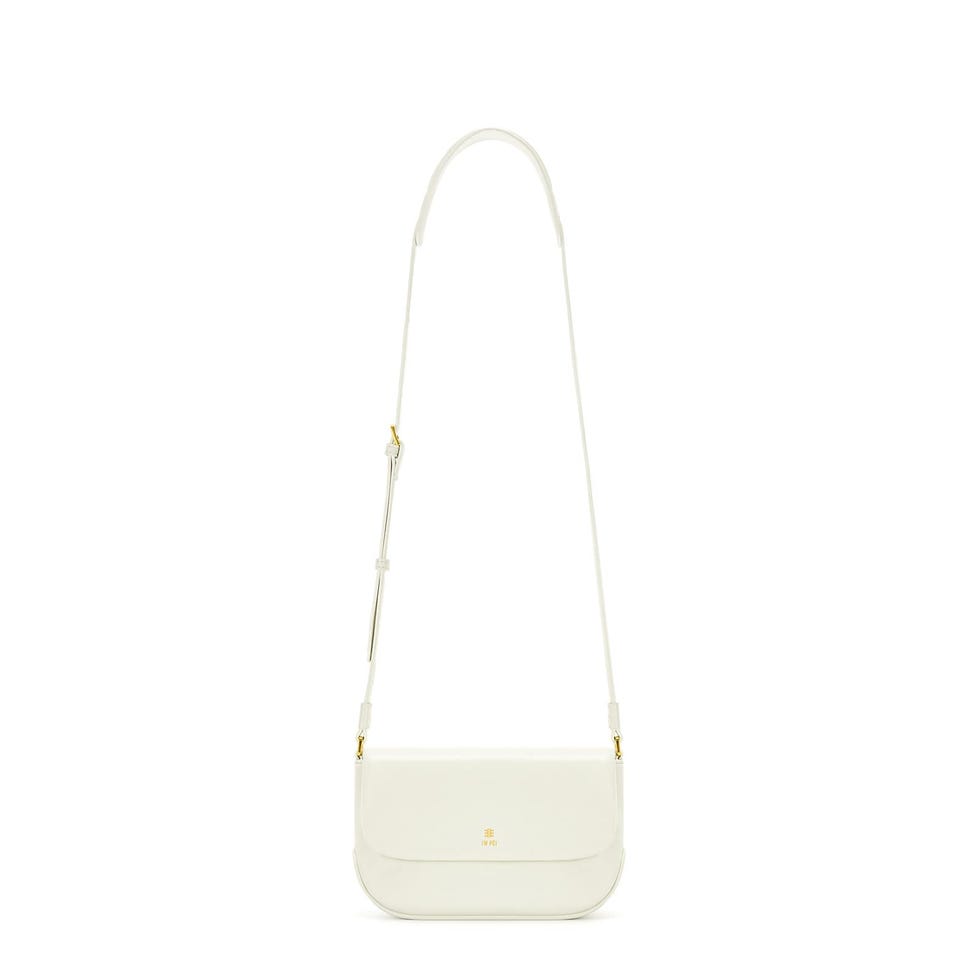 BEST CROSSBODY BAG ON AMAZON
JW PEI Debby Flap Crossbody
Sleek, compact, and delightfully minimal, this JW Pei crossbody will be in your everyday rotation from the moment it lands on your doorstep.
Dimensions: 8.65 x 2.36 x 5.31 inches
Shopper review: "Absolutely love the size of the purse and its durability. I can wear it anywhere. Will definitely recommend this brand to everyone!"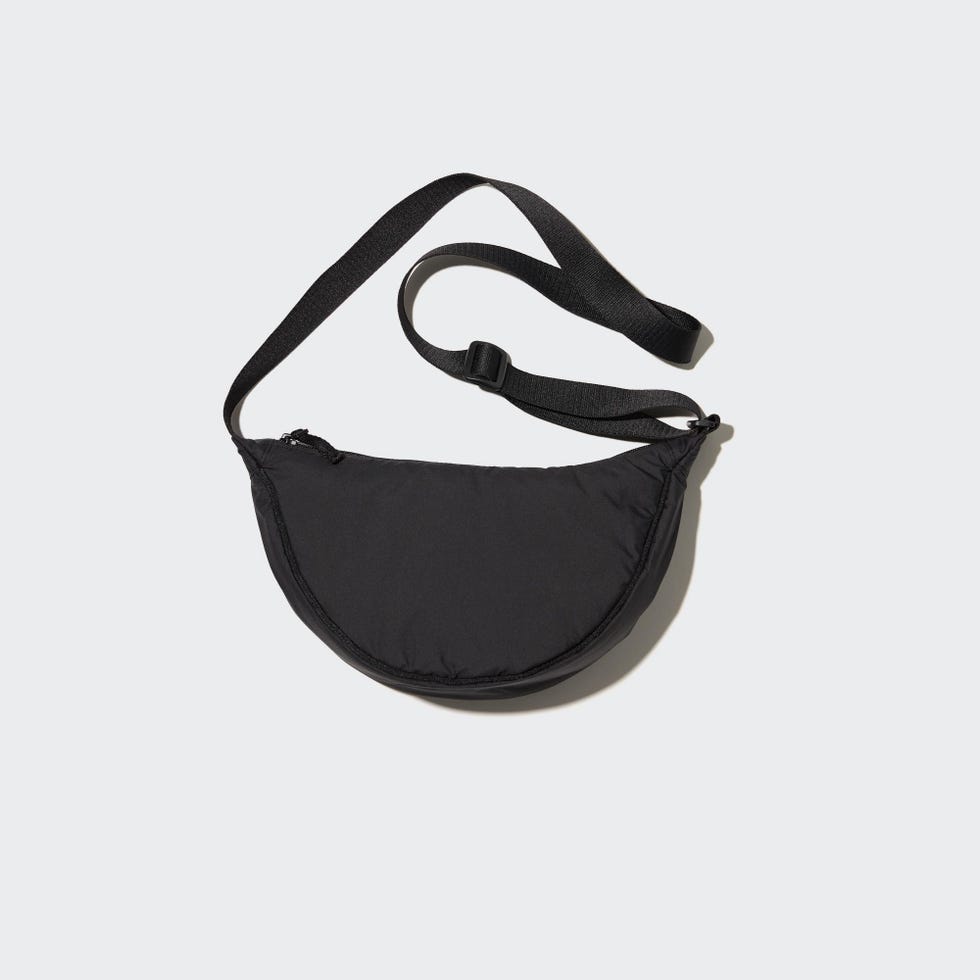 BEST CROSSBODY BAG UNDER $50
Uniqlo Round Mini Shoulder Bag
Uniqlo's mini shoulder bags were one of the most in-demand items of 2023's first quarter, according to the Lyst index. I have a feeling it'll stay in rotation for much longer, thanks to its compact design, various colours, impulse-worthy price point. I alternate between wearing it slung diagonally across my chest and clipped around my hips as a belt bag.
Dimensions: W 11"x H 6.7" x D 3.9"
Materials: Nylon
Shopper review: "It's great for people on the go. Fits a lot of small items."
Why trust Harper's BAZAAR?
---
For more than 150 years, Harper's BAZAAR has been the preeminent fashion, beauty, and lifestyle resource for women at every age. We cover what's new and what's next in fashion by working with the world's leading authorities in ready-to-wear, footwear, accessories, and more. Every story we publish has been thoroughly researched and vetted by our team of editors and industry experts.
This article originally appeared in Harper's BAZAAR US.