The best spring dresses are more about an attitude than a specific shape or color. Spring is obviously a season for shorter sleeves, breezier fabrics, and all-floral everything—and there are hundreds of dresses checking those boxes. But when a dress gives me an instant confidence boost on top of fitting the tricky transitional forecast, I know it's a winner. Fashion experts also agree that their best spring dresses come with above-average vibes. To RHODE co-founder Phoebe Vickers, the styles most worth shopping follow three cardinal rules: "My ideal spring dress is comfortable, unfussy, and will work for any occasion."
Translated into styles to shop right now, there are knit and crochet dresses that can transcend vacation for day-to-day styling; tiered poplin dresses that convey elegance and ease on the weekend; and work dresses that accentuate a prized designer tote bag for in-office days. In their expertly proportioned shapes and luxuriously comfortable fabrics, these dresses don't require overly complicated styling. "I love anything I can pair back to sneakers during the day," RHODE co-founder Purna Khatau says. Her counterpart also recommends keeping things simple with sandals and minimal jewelry—all in the service of letting the 26 best spring dresses ahead stand out for themselves.
Related article: 9 Viral TikTok Dresses Ranked, So You Know What's Worth The Hype
---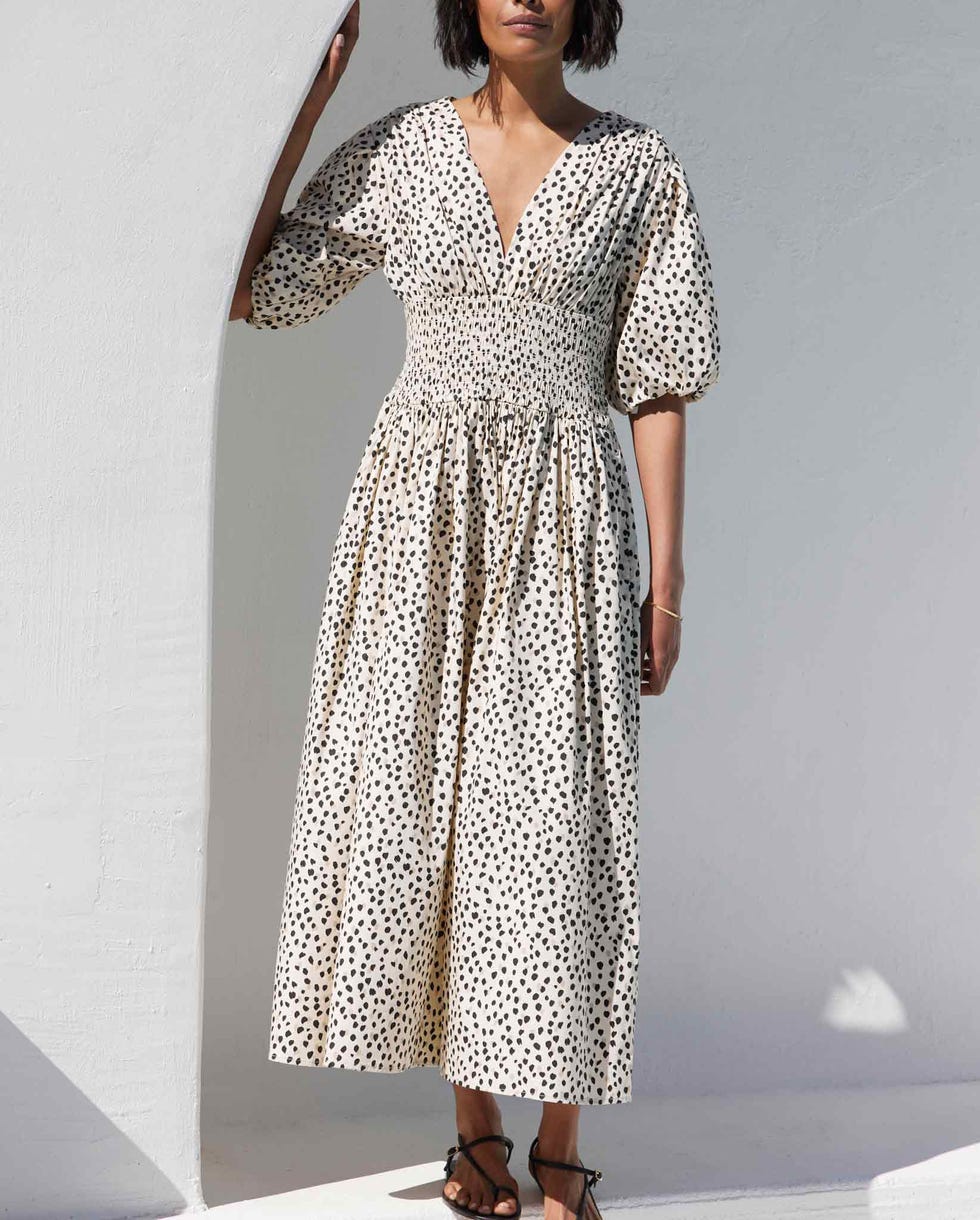 A WAIST-DEFINING MIDI DRESS
AYR The Extra Extra
AYR went from making my all-time favourite button-down shirts to designing the spring dresses I'm most excited to shop this season. The fabrics are breathable but not flimsy, and the silhouettes are structured without feeling stuffy. In other words? This dress is the ultimate comfort-meets-style balancing act, in this polka dot shade and two additional colors.
Sizes: XS–XL
Materials: 78% Cotton, 20% Nylon, 2% Spandex
Shopper review: "What a magnificent dress! I ordered the blue color way in 2 sizes. If you are undecided, go with the smaller one."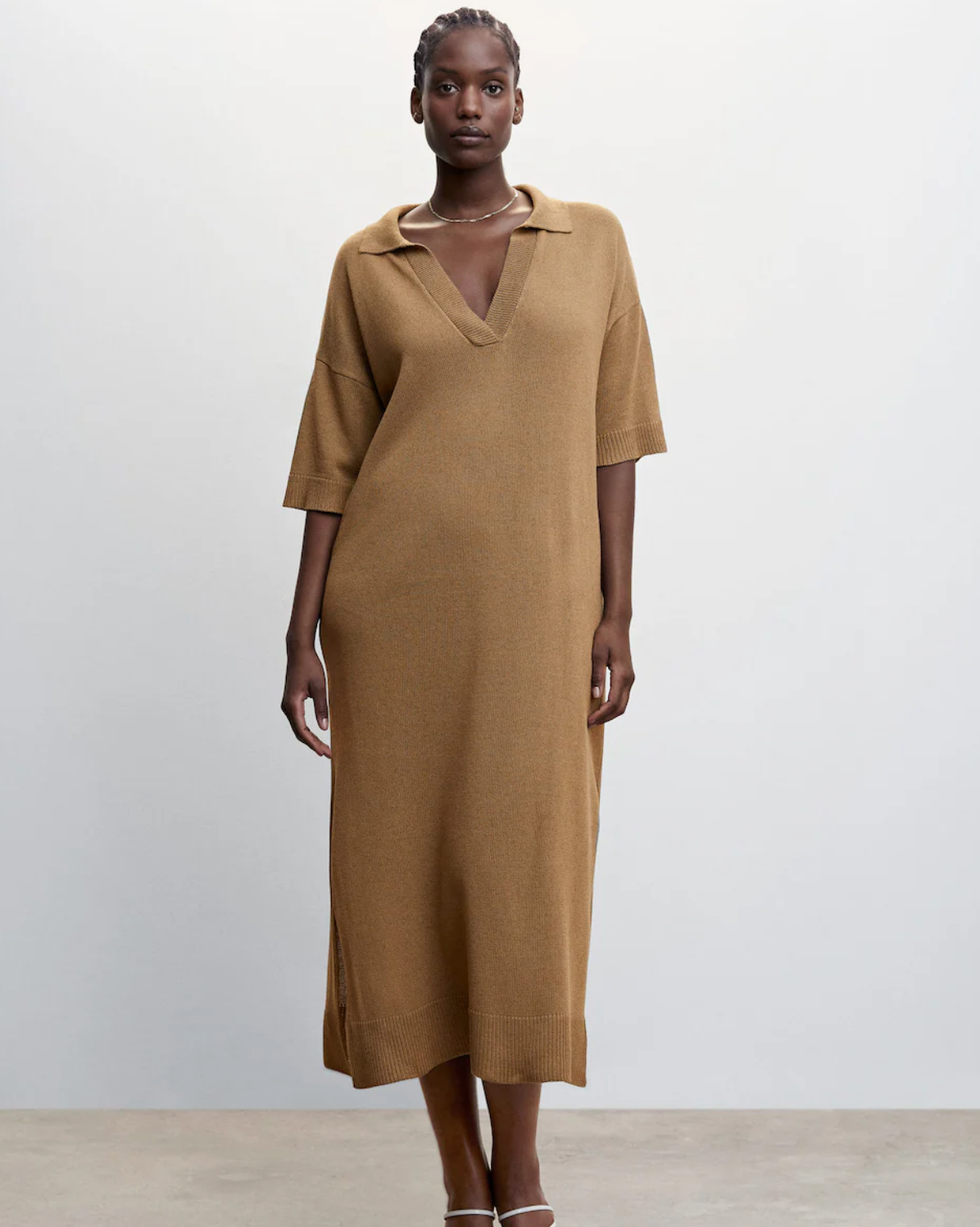 A PERFECT POLO DRESS
Mango Knitted Dress with Openings
In my experience, some of the best spring dresses are ones that go on effortlessly. With the fit of a timeless polo sweater and the feel of a weekend lounge set, this under-$100 knit dress is an automatic 'Add to Cart.'
Sizes: 0–20
Materials: 89% acrylic, 11% linen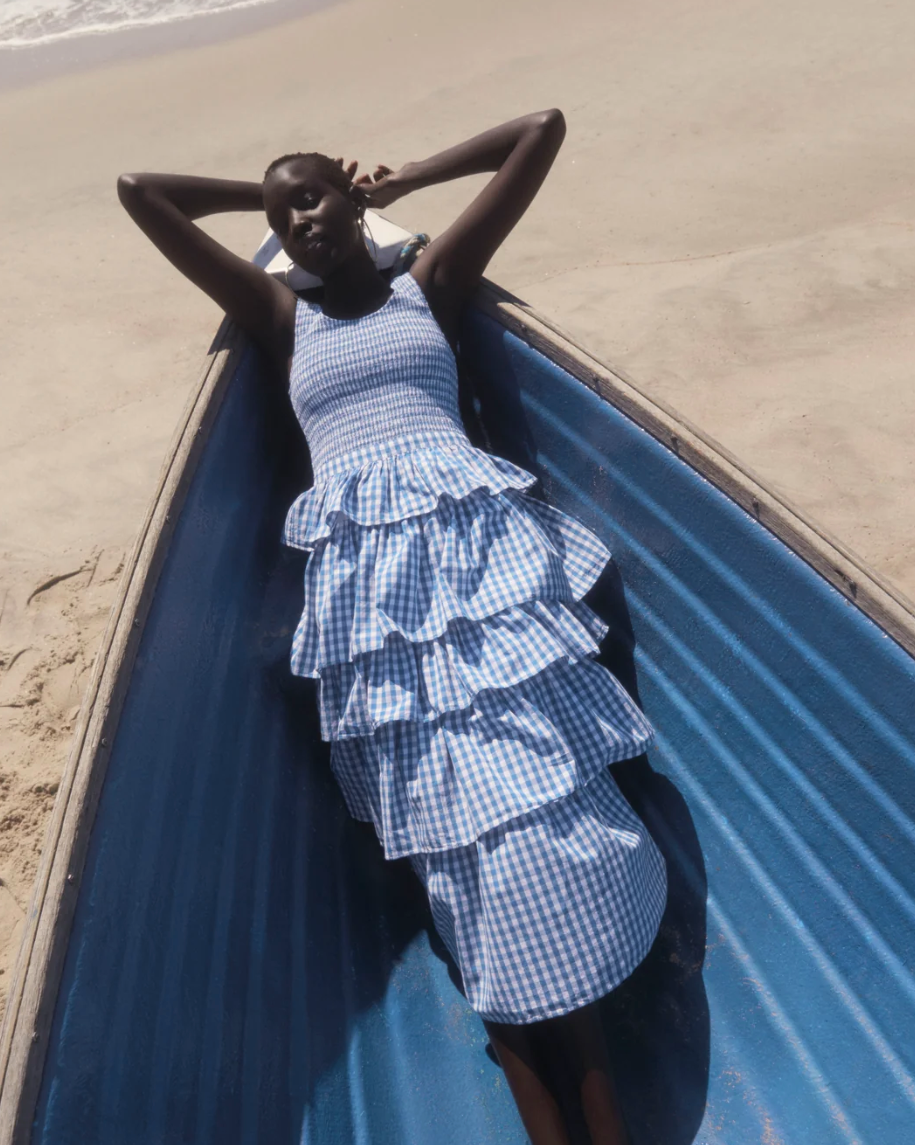 AN EXPERT-APPROVED GINGHAM DRESS
RHODE Nia Dress
RHODE co-founder Purna Khatau named this cheery dress as her favorite from the label's spring collection. "I just love a gingham for spring, and the smocking gives you a nice shape with the tiers," she explains. "It's also a new shape for us and shows the evolution of RHODE."
Sizes: 0–14
Materials: 100% Cotton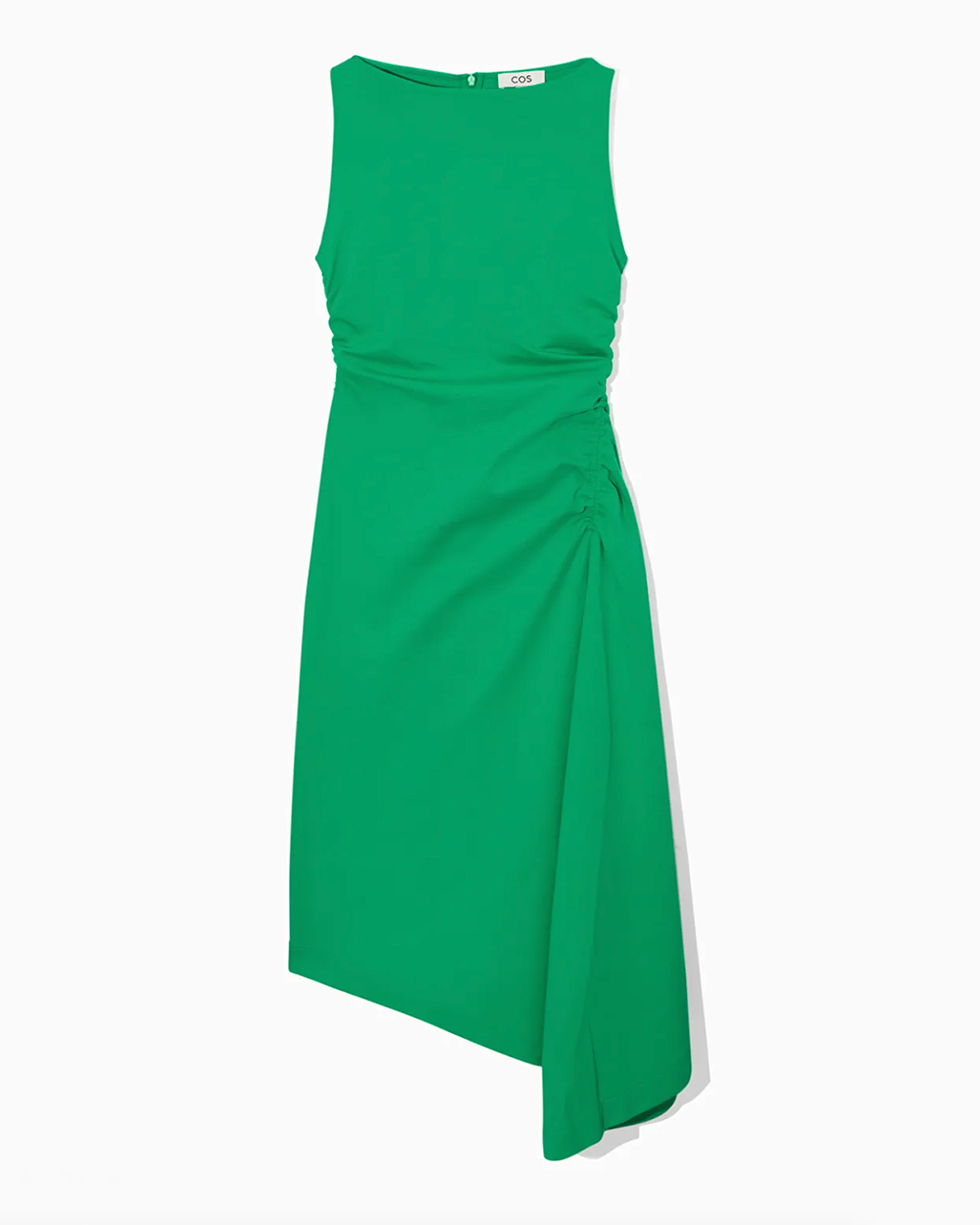 AN ASYMMETRIC TANK DRESS
COS Asymmetric Gathered Midi Dress
Searching for work dresses can feel like diving into a sea of boring short-sleeve sheaths and uninspiring colours. This dress is a jolt to the status quo, with a runway-approved asymmetric skirt and cooly gathered fabric along the side, in mood-boosting shades like pink, cobalt blue, and this shamrock green.
Sizes: XS–L
Materials: 65% Cotton, 28% Nylon, 7% Elastane
Related article: 17 Comfy Trousers You Can Wear To Work In Warm Weather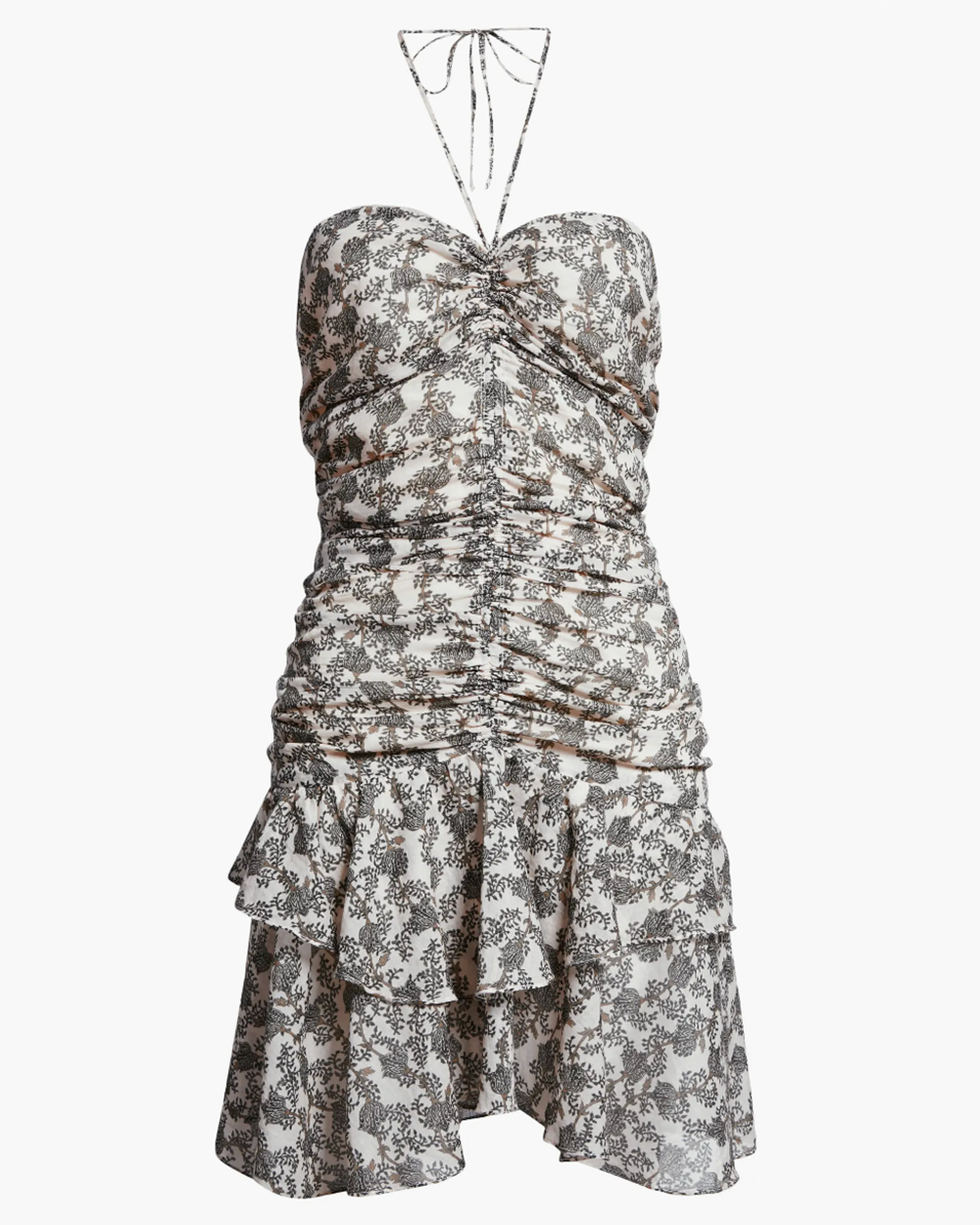 THIS WESTERN MINI DRESS
Isabel Marant Étoile Ilanka Floral Print Cotton Halter Dress
There's a coastal cowgirl essence to this Isabel Marant Étoile dress that I absolutely adore. But if going full-Western with cowboy boots doesn't quite gel with your personal style, this dress is just as covetable with wraparound sandals in a bright leather.
Sizes: 2–12
Materials: 100% cotton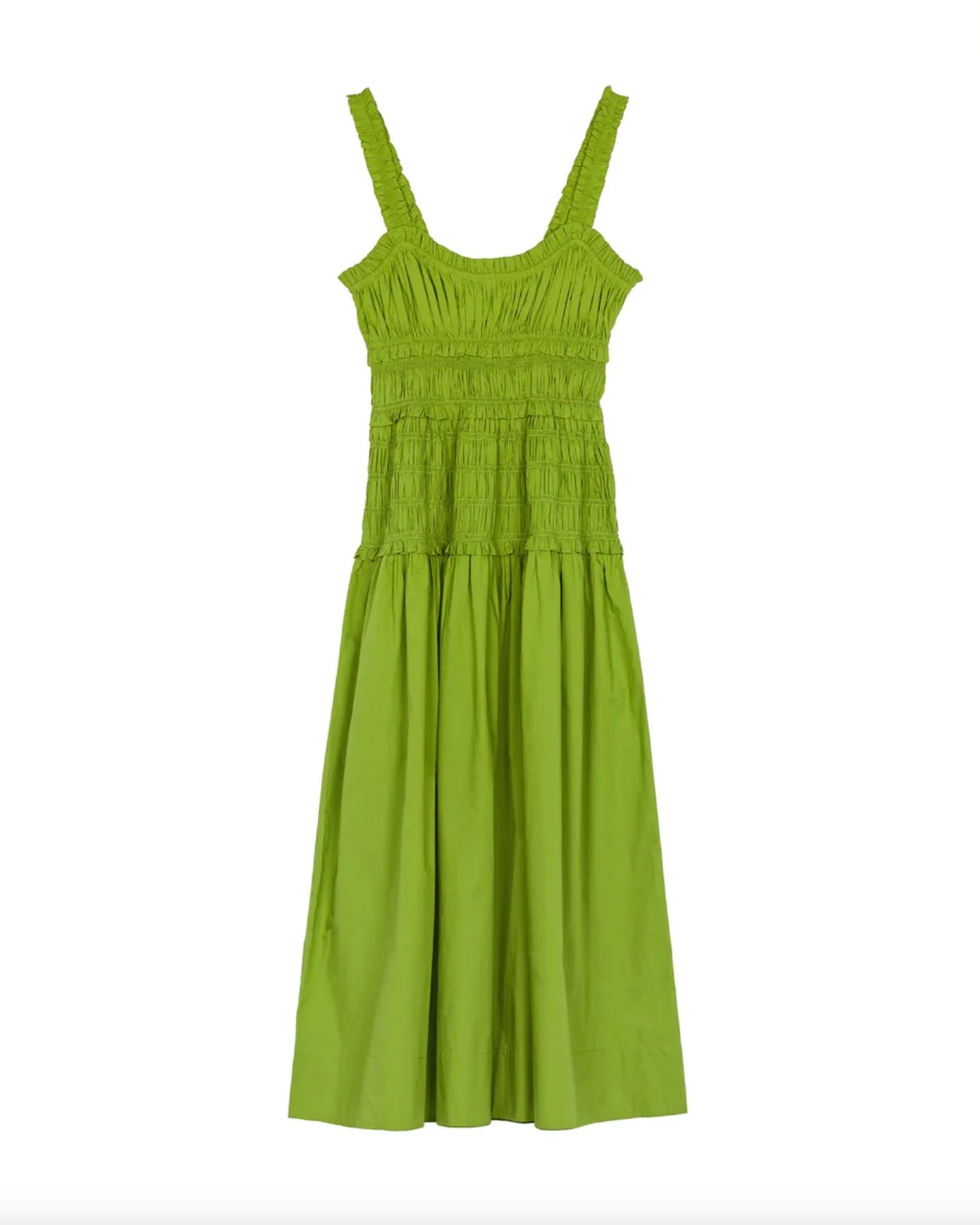 A RUCHED TANK DRESS
Dôen Marianne Dress
I look at this Dôen dress and immediately want to go bask in the sunshine with an iced coffee and the latest Emily Henry novel. From the ruffled straps to the easygoing fit, it's a dress with the aura of peak spring styling. (Minimalists, note that it also comes in black.)
Sizes: XXS–XXL
Materials: 100% Organic Cotton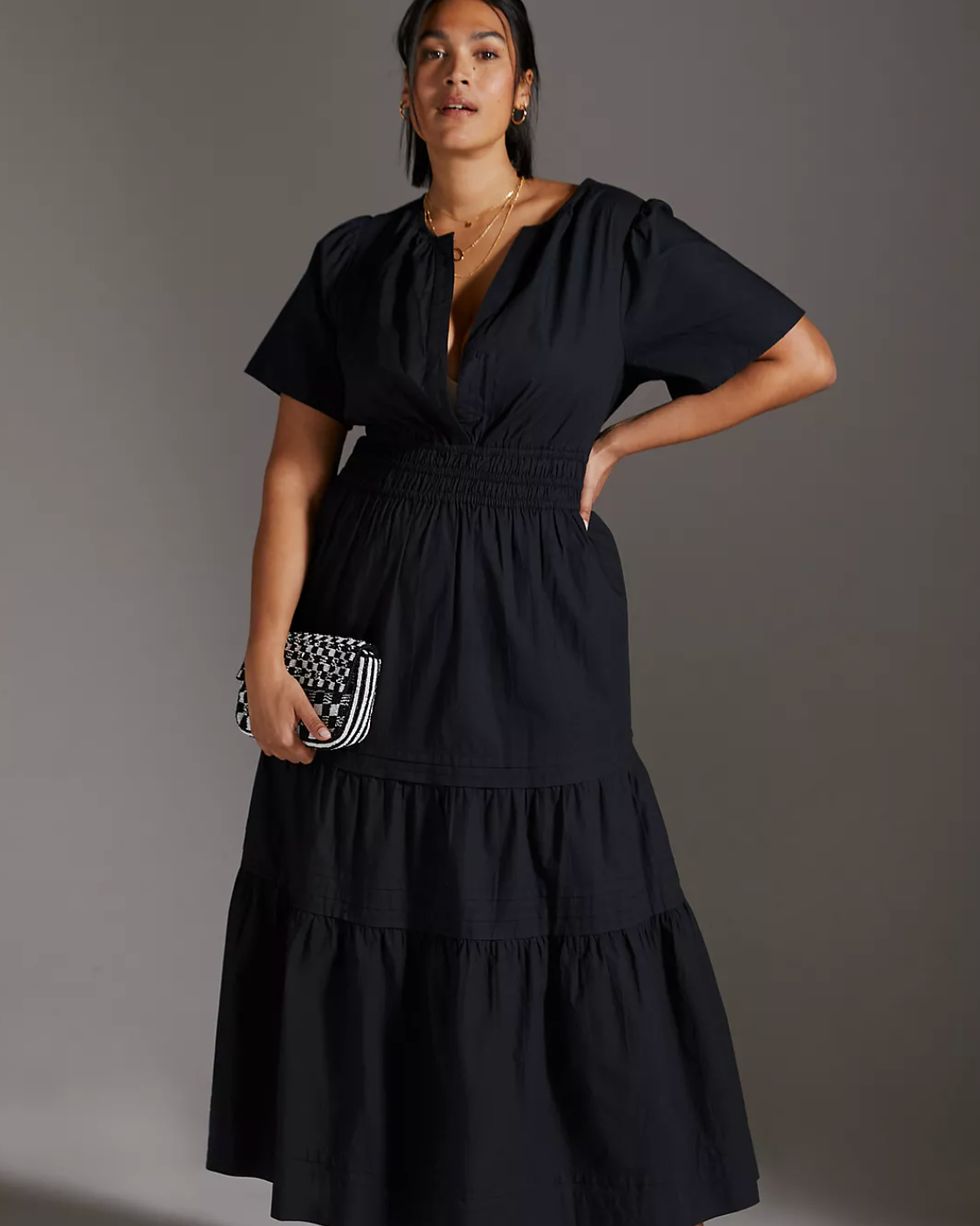 A TIERED MAXI DRESS
The Somerset Collection by Anthropologie The Somerset Maxi Dress
Another easy and breezy spring dress that comes with the added bonus of effusive praise from other shoppers. Scroll through the reviews, and you'll notice several women saying they've purchased it in multiple colors. The fit, hand-feel, and overall look are all that good.
Sizes: XXS–XL, 1X–3X
Materials: Cotton
Shopper review: "This dress is so versatile that it's perfect for any occasion, whether it's a day at the park or a day at the office. Its beauty is undeniable, and I'm in awe of its amazing design."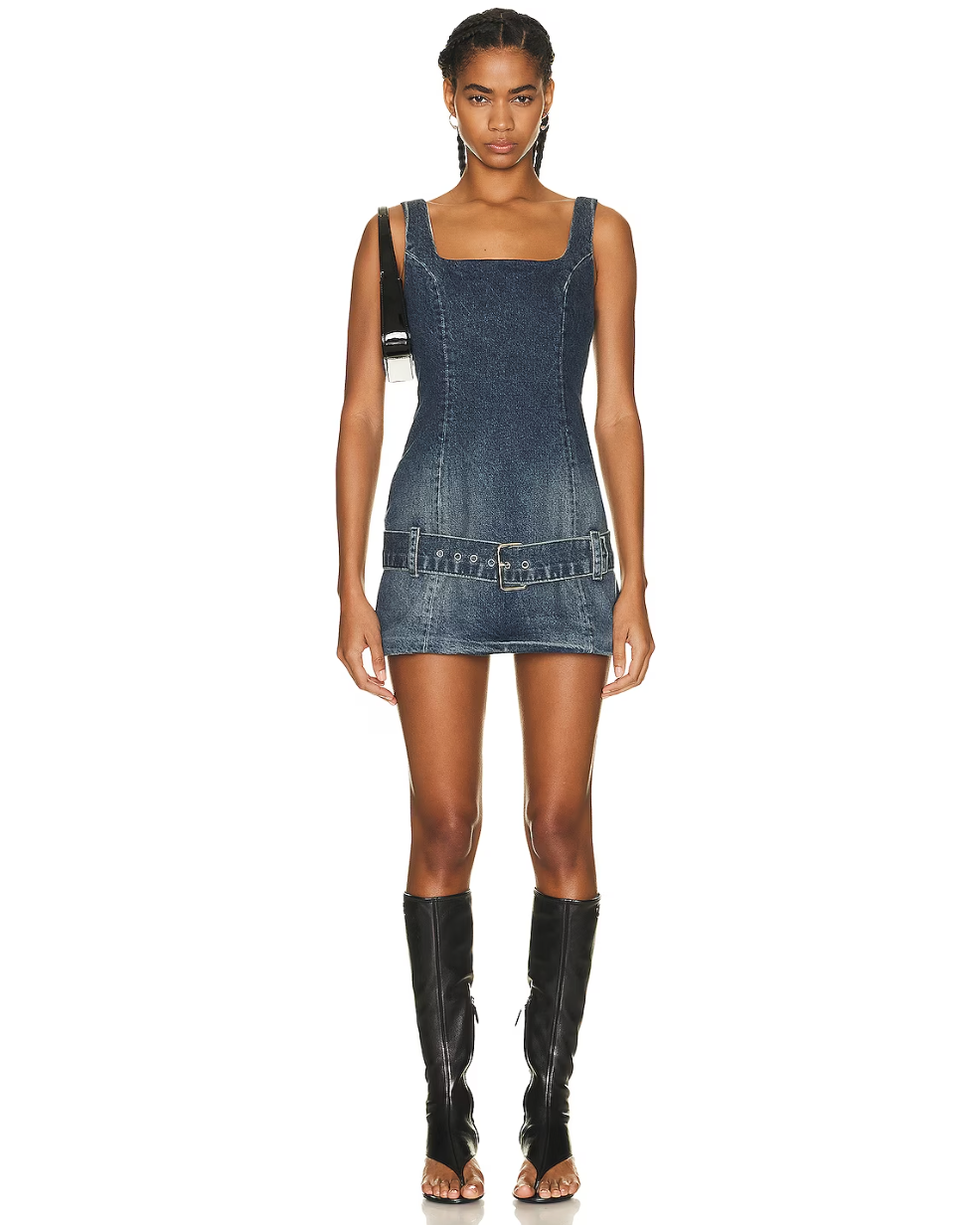 A DENIM MINI DRESS
EB Denim Firefly Dress
I'm not saying you have to swim against the denim maxi skirt current this spring. But if you'd rather feel distinct from the street style crowd instead of following it, a structured denim mini with a below-the-waist belt detail is in order.
Sizes: XS–L
Materials: 100% Cotton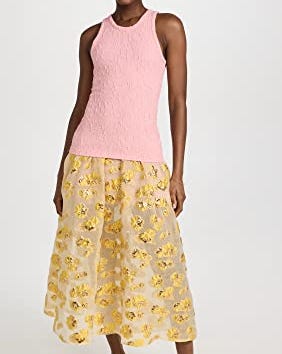 A DROP-WAIST DRESS
Rachel Comey Taurasi Dress
Rachel Comey can do no wrong in my eyes. This unconventional spring dress samples a few major ready-to-wear trends—sheer layers, hints of metallics, drop-waist silhouette—in one piece that feels totally one-of-a-kind. Bookmark this tab for when you have a last-minute wedding invite or party and need a dress in a hurry: It's available with two-day Prime shipping.
Sizes: 0–12
Materials: 54% polyester, 21% silk, 16% polyamide, 9% metallic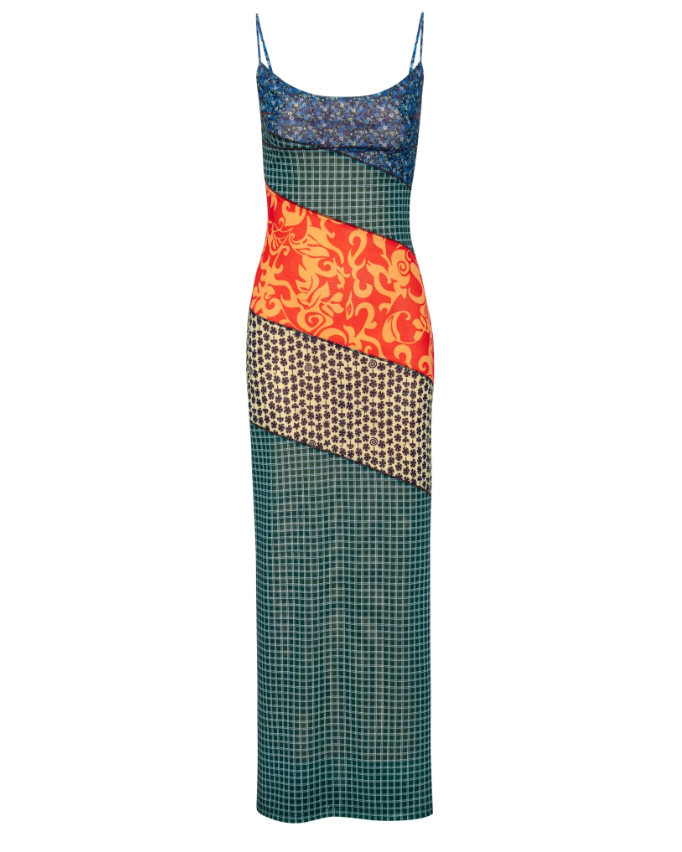 A GROWN-UP PATCHWORK DRESS
Miaou Thais Dress
The '90s slip silhouette and the juxtaposing fabrics give this dress the too-cool energy of a rare thrift store grail. But you don't have to do any searching to make it a dress you'll wear all spring—and it comes in extended sizes.
Sizes: XS–4XL
Materials: 94% Recycled Poly 6% Lycra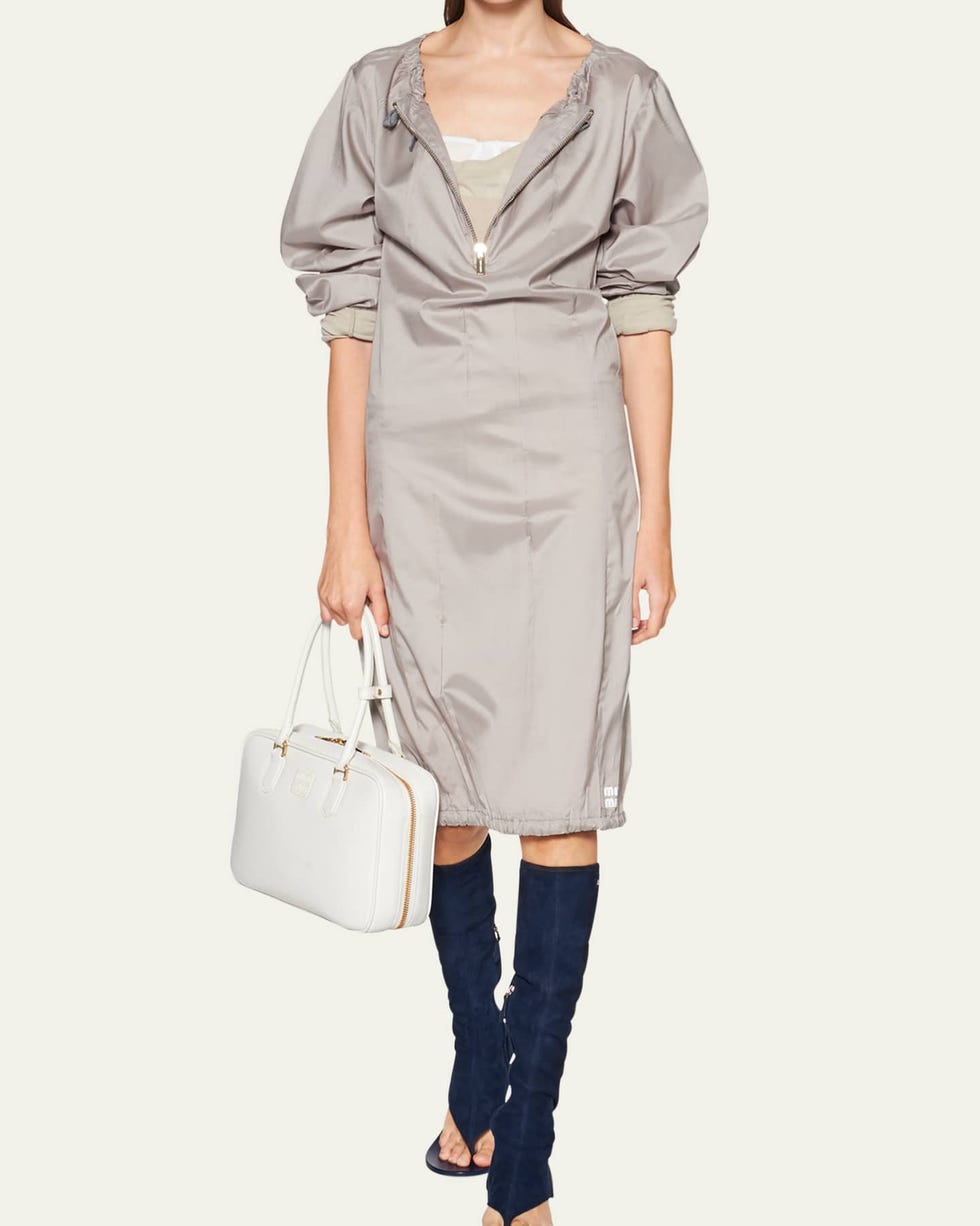 A SPORTY SPRING DRESS
Miu Miu Half-Zip Midi Dress with Drawcord Hem
We owe a lot of spring's most shop-worthy looks to the Miu Miu runway, including this zip-up dress. Part windbreaker and part panelled midi, it gives off a vibe that you just won an epic tennis match before changing into your first-place-winning dress. Unzip it all the way and let a sheer top layered over a ribbed tank top peek out from underneath to channel the runway.
Sizes: IT36–IT50
Material: Silk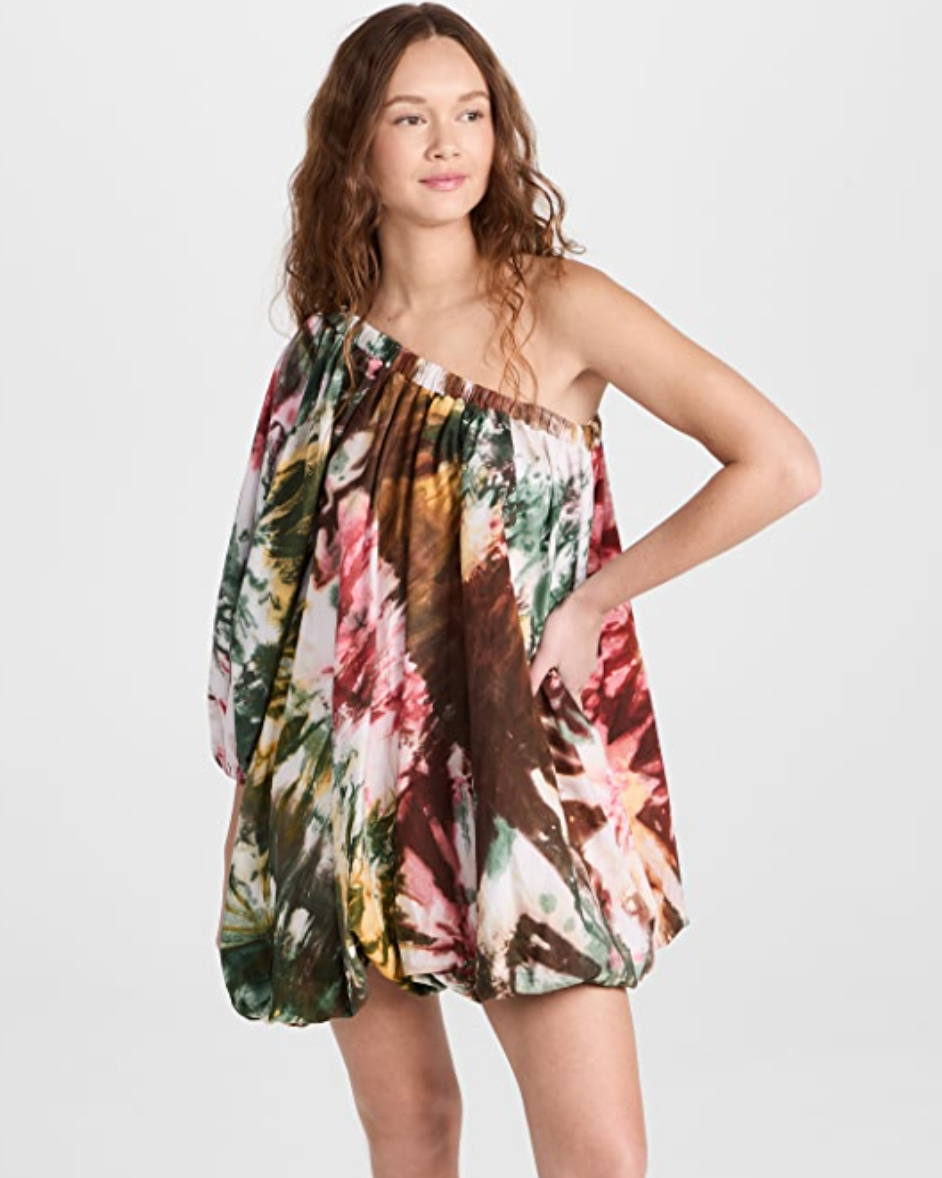 A TIE-DYED MINI DRESS
Busayo Busayo Adufe Dress
This isn't your average tie-dye dress. Busayo designs with a Yoruba dyeing technique called "adire" that originated in 20th century Nigeria. The results capture all the joy of spring dressing and feel distinctive to the label.
Sizes: XS–XXL
Materials: 100% Cotton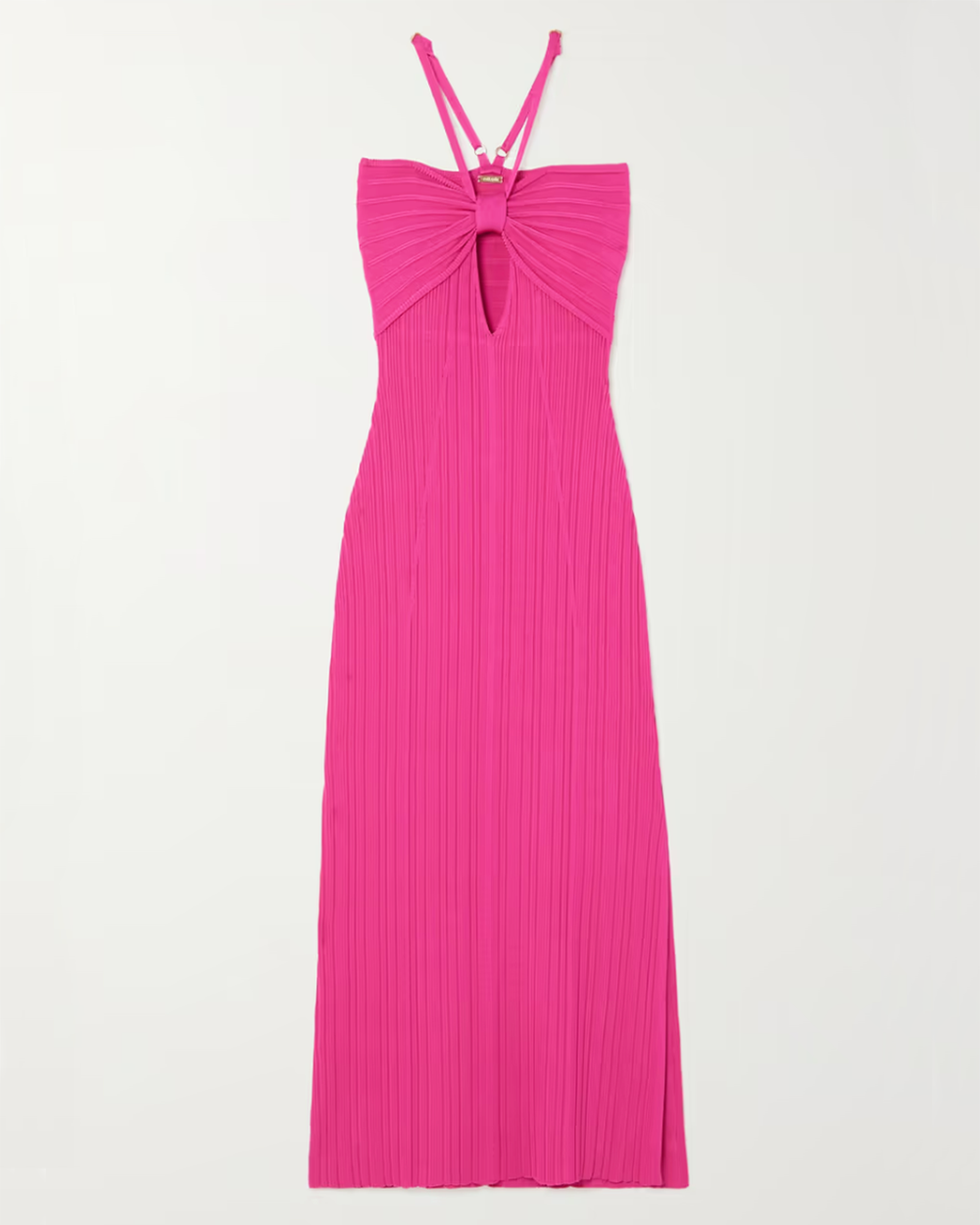 A VIBRANT CUTOUT DRESS
Cult Gaia Elfreda Cutout Dress
Cult Gaia has a proven track record for designing the dresses of the season, particularly for shoppers who like a bodycon moment. With this dress, the label is doing what it does best: form-fitting silhouette, keyhole cutout, and a strikingly bright color. My favourite detail? The way the knotted bodice creates a bow-like effect at the top.
Sizes: XS–XL
Materials: 100% viscose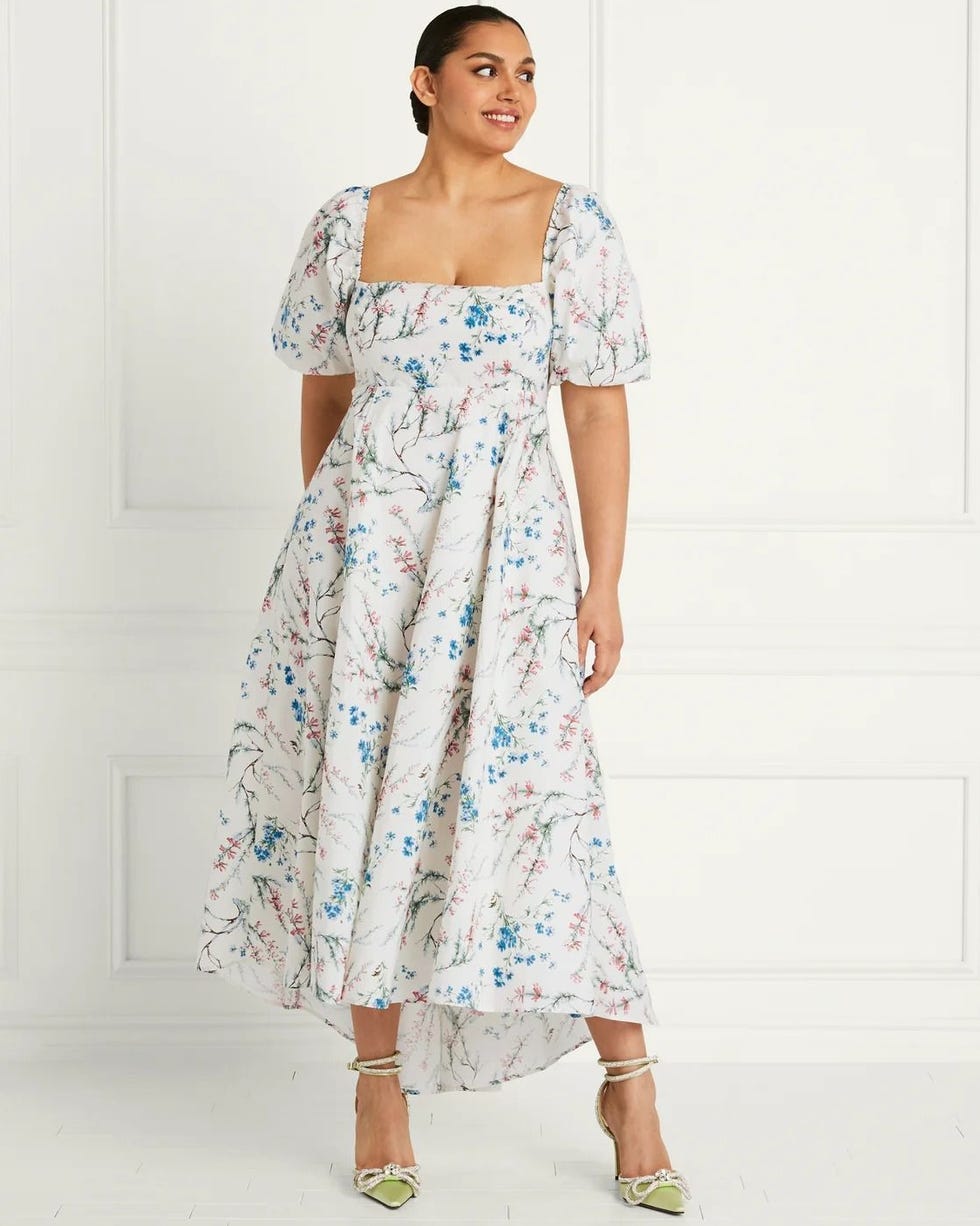 A FLOWING FLORAL DRESS
Hill House Home The Matilda Dress
A dress that's, quite simply, the epitome of springtime botanicals. I love that this dress has all the comfort Hill House fans expect from a nap dress, but the cut and fit of the skirt are elevated to an extra degree. The white canvas for the print leads me to think this dress would be so ideal for a spring bridal shower.
Sizes: XXS–XXL
Materials: 100% BCI Cotton
Shopper review: "Matilda in Spring Chintz is just so pretty. She's the big sister dress, classic, elegant, and has a flowy high-low skirt. The movement of the skirt is beautiful. It's a soft, slightly crisp off-cream cotton base. This dress, and collection, is also lined and to me, speaks to higher quality. It runs true to size, and possibly smaller on the top, so size up if you're bigger busted."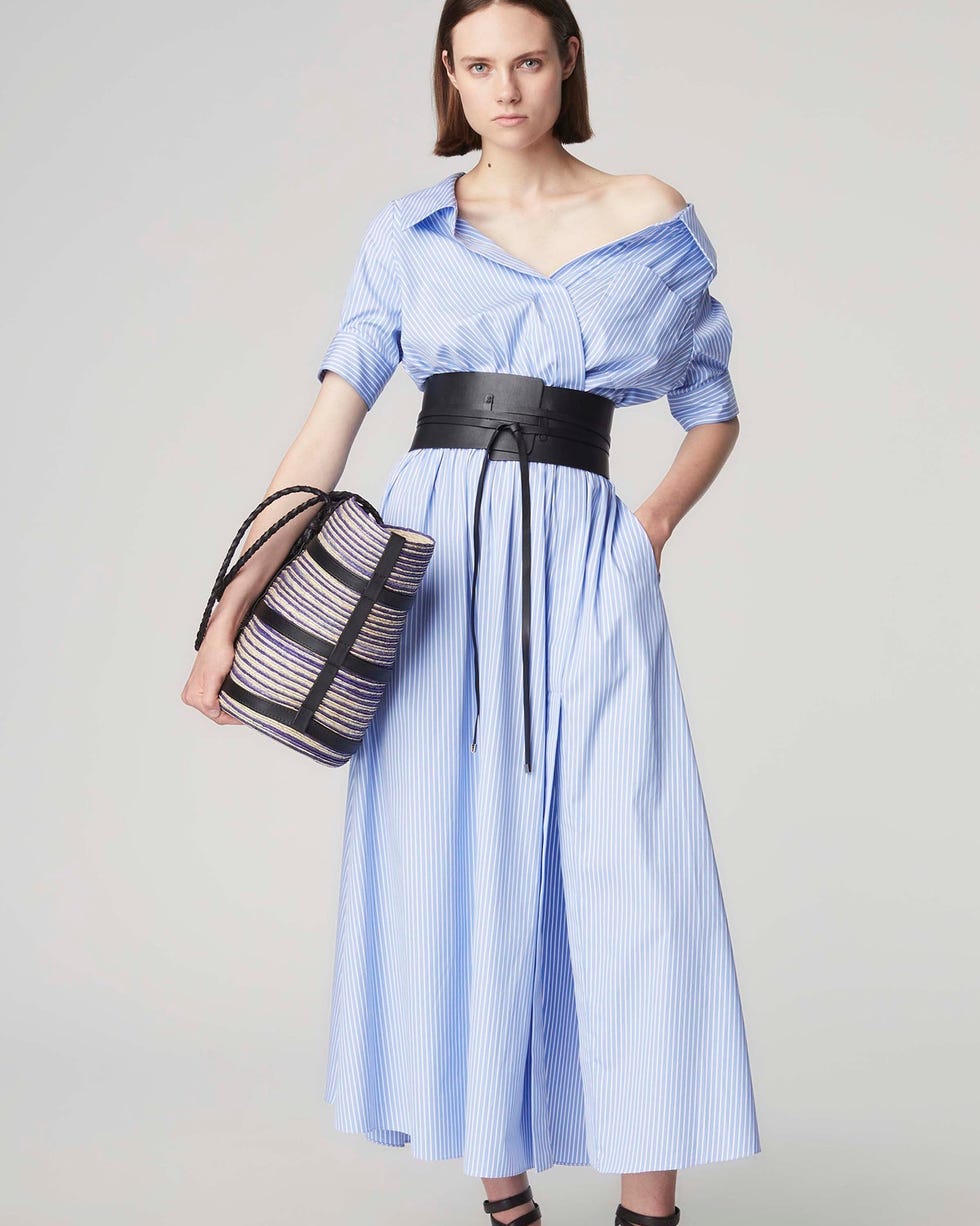 A COOLER BUTTON-DOWN DRESS
Altuzarra 'Lydia' Dress
Button-down dresses in airy poplin fabrics are a de rigueur dress style for spring. Why not go for one that feels more directional than the usual, with an elbow-length sleeve and an asymmetric neckline? It has all the polish of the classic style plus an obvious It-factor.
Sizes: 34–46
Materials: 100% Cotton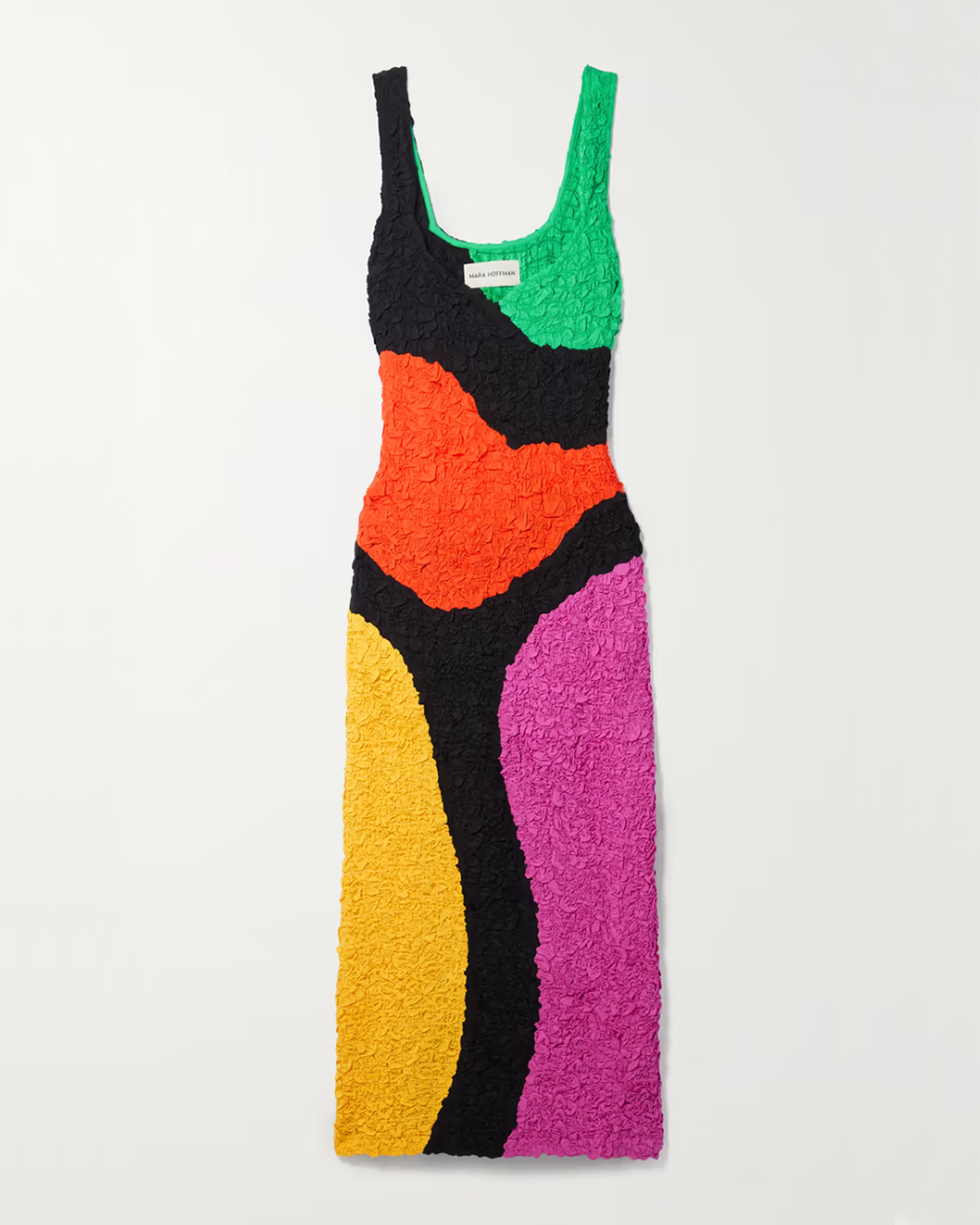 A COLORBLOCK MIDI DRESS
Mara Hoffman Ramona Printed Tencel Midi Dress
This is your sign to finally try one of Mara Hoffman's dresses in her signature popcorn fabric. Our editors can attest that they hug all the right places and are comfortable enough to wear for hours on end, whether it's to a rehearsal dinner, an evening cocktail party, or a casual spring picnic.
Sizes: XXS–3XL
Materials: 100% Tencel Modal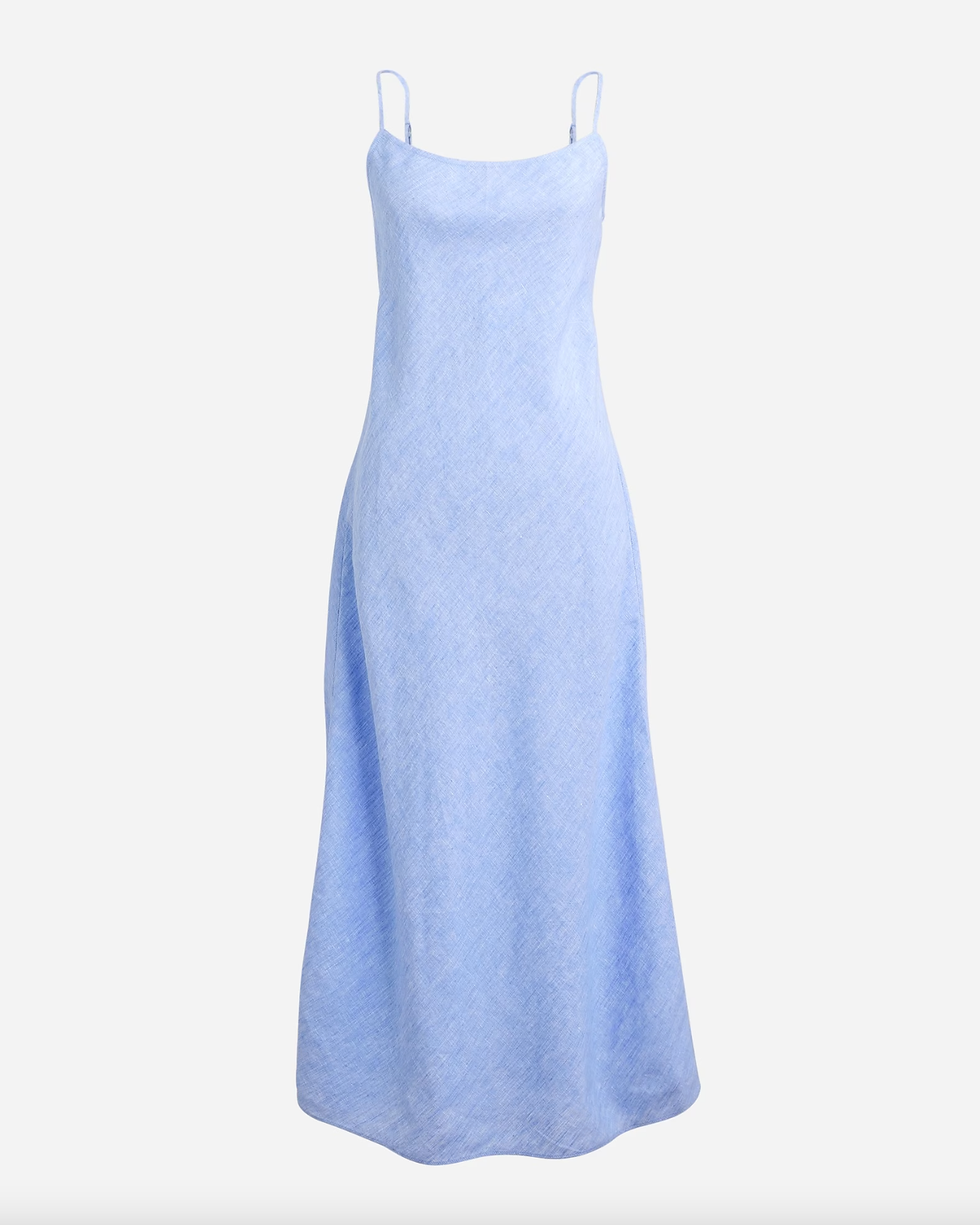 A LAID-BACK LINEN DRESS
J.Crew Gwyneth Linen Slip Dress
Breathable, fast-drying dresses are an absolute essential as days get longer and the sunshine gets warmer. I already own this exact slip dress in a cupro blend and am all-in on a second one in linen—the fit and fabrication match-up is too good to only shop once.
Sizes: 00–24
Materials: 100% Linen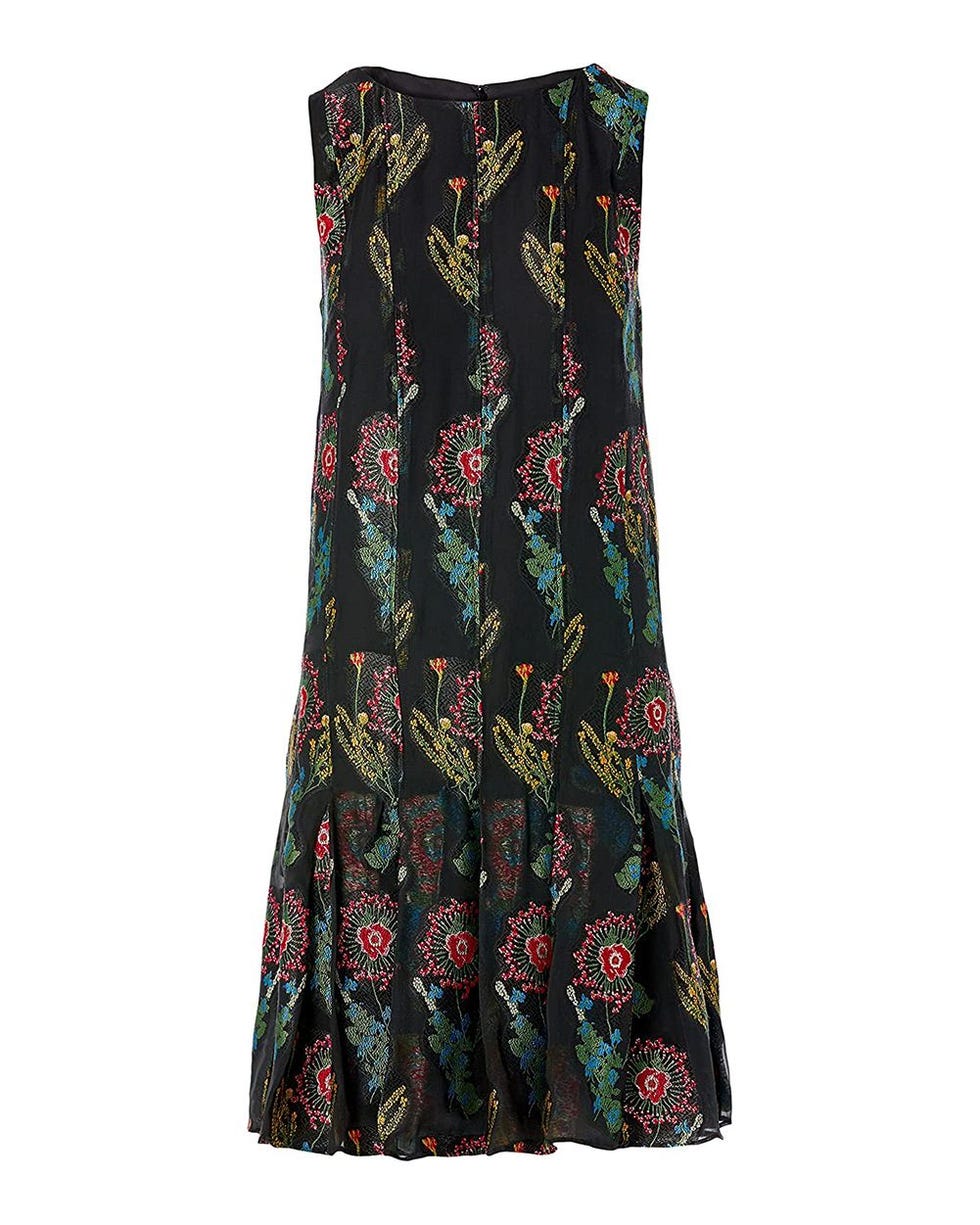 A PLEATED TANK DRESS
Jonathan Cohen Floral Filcoupe Trapeze Dress
Jonathan Cohen's florals never feel predictable, including the print on this pleated, sleeveless dress. The wispy blossoms here have the effect of being pressed and preserved—as if they were intended to be worn forever.
Sizes: XS–XL
Materials: 100% Viscose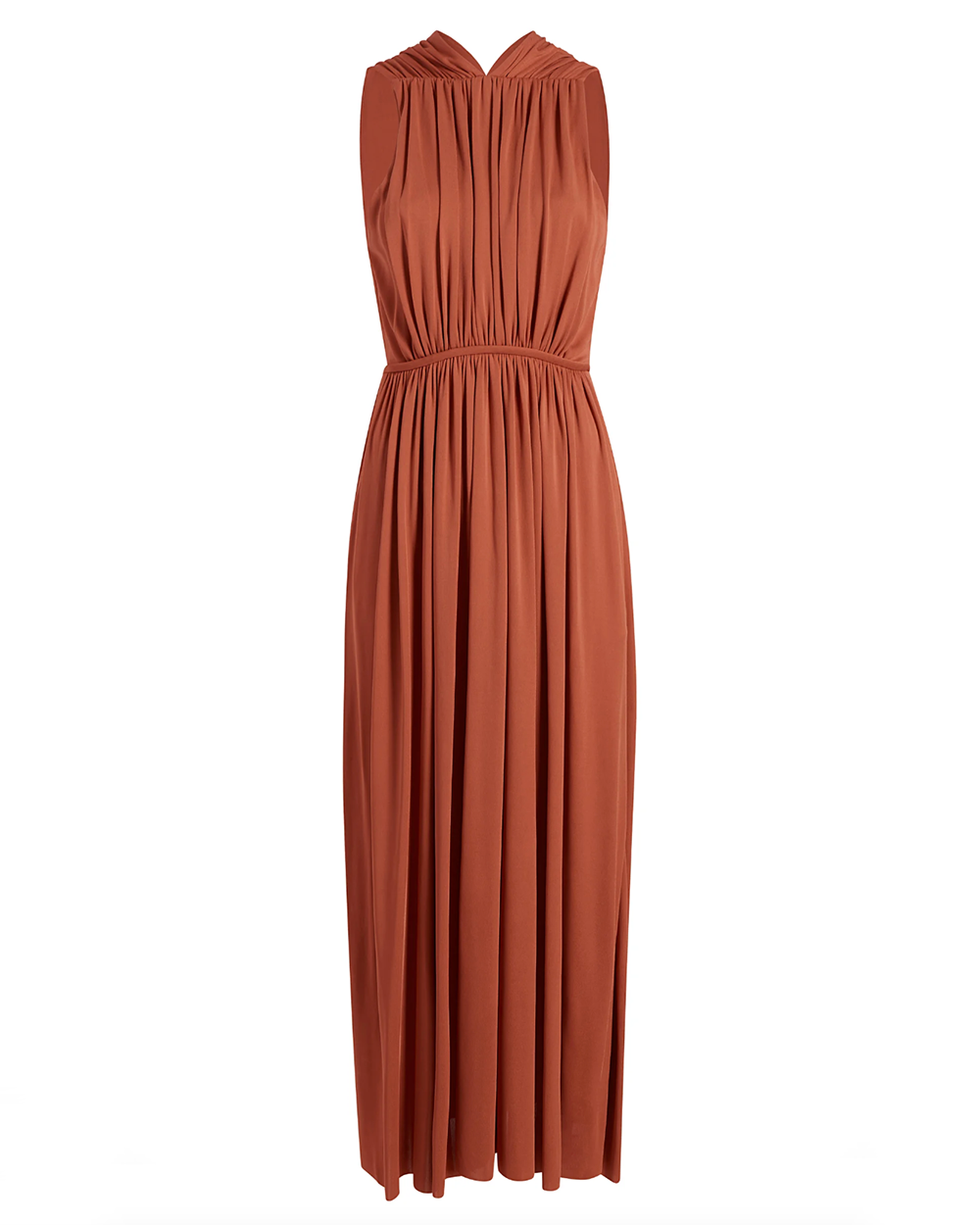 A DRESS WITH A SURPRISE
Another Tomorrow Shirred Midi Dress
This rippling column dress by Another Tomorrow is all business in the front. It's totally work-appropriate with a blazer thrown on top. Turn it around, and it reveals a cool back cutout ideal for wearing with a kitten slide sandal at a summer dinner.
Sizes: IT36–IT50
Materials: 100% Viscose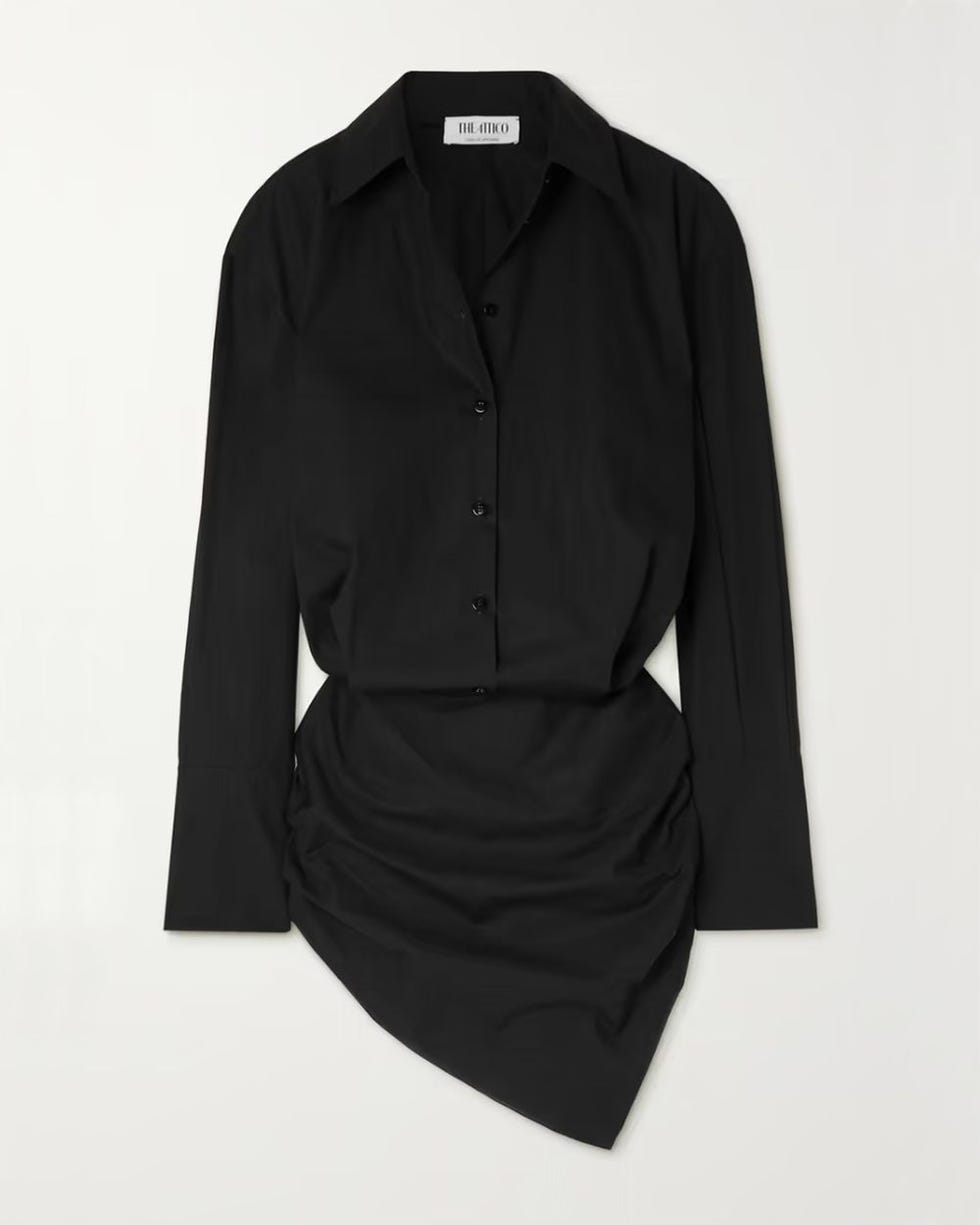 A SHIRT DRESS THAT CAN PARTY
The Attico Hatty Asymmetric Dress
What's not to love about a smart mini that you can also wear on a late night out? Whether you wear it with cowboy boots and a slicked-back bun or neon mule heels and a shimmering drop earring, it's an understatedly sexy dress.
Sizes: IT36–IT46
Materials: 100% Cotton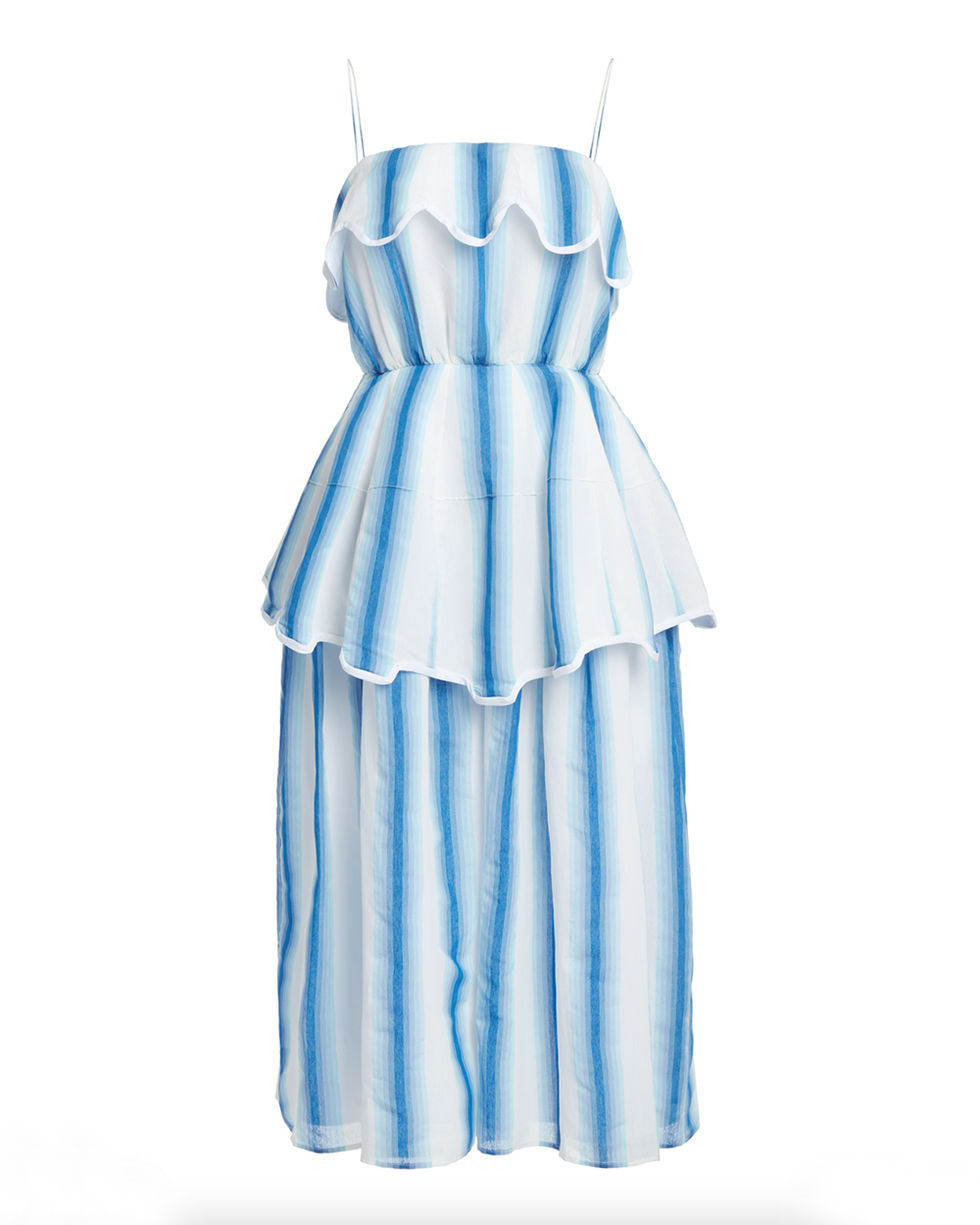 A CASCADING STRIPED DRESS
Rosie Assoulin Awning Flared Midi Dress
You'll have to try not to wear this pretty frock everywhere from birthday parties to spring brunches. It has the effect of a cool watercolor painting with stripes in gradating shades of blue.
Sizes: 0–10
Materials: Viscose cotton barre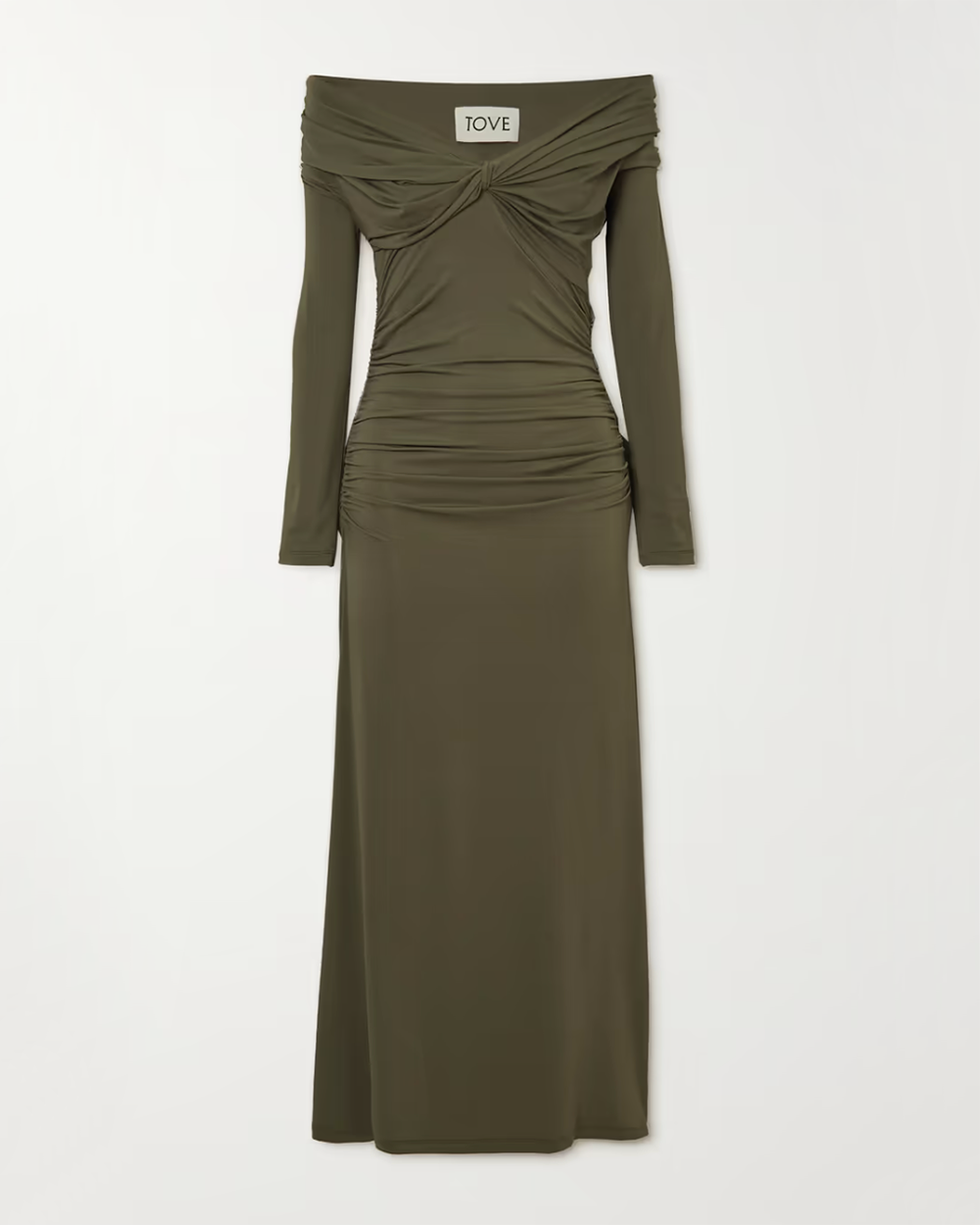 A SLINKY OFF-THE-SHOULDER DRESS
TOVE Gina Gathered Stretch-Jersey Maxi Dress
The neutral shade and easy fit of this smocked piece have "new spring staple" written all over it. Play up the neckline with a baroque pearl necklace or layers of gold chains.
Sizes: FR34–FR42
Materials: 92% viscose, 8% elastane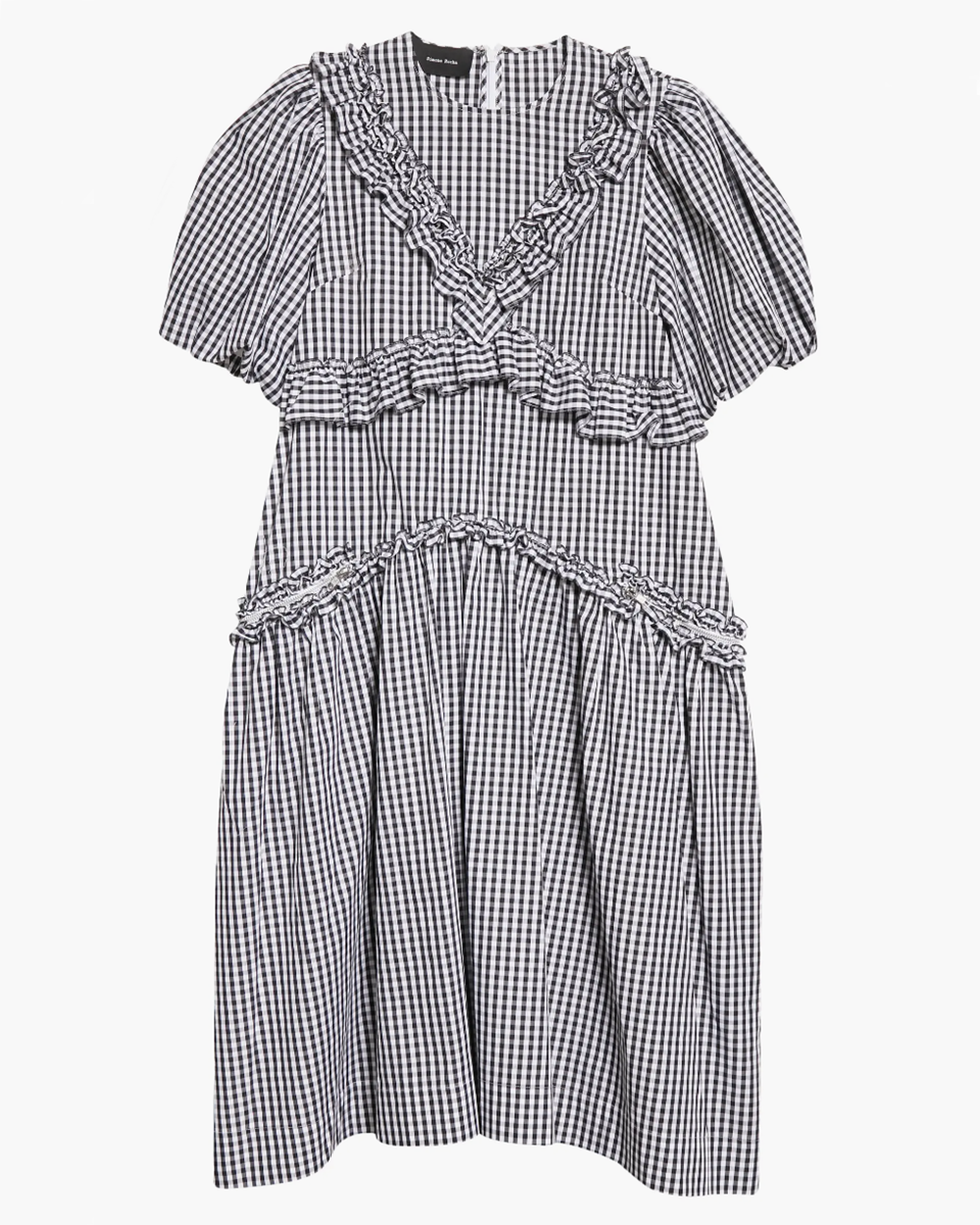 A PLAYFUL PICNIC DRESS
Simone Rocha Puff Sleeve Ruffle Trim Gingham Check Midi Dress
Simone Rocha's spring dresses are often unabashedly girly, with ruffles, puff sleeves, and bows. This gingham dress includes all three brand trademarks to wear in a straightforward, romantic fashion with ballerina flats or socks and a jelly sandal. But I may just follow the lead of Rocha's spring 2023 runway, with a tough cargo bag and chunky shoes.
Sizes: 0–10
Materials: 100% cotton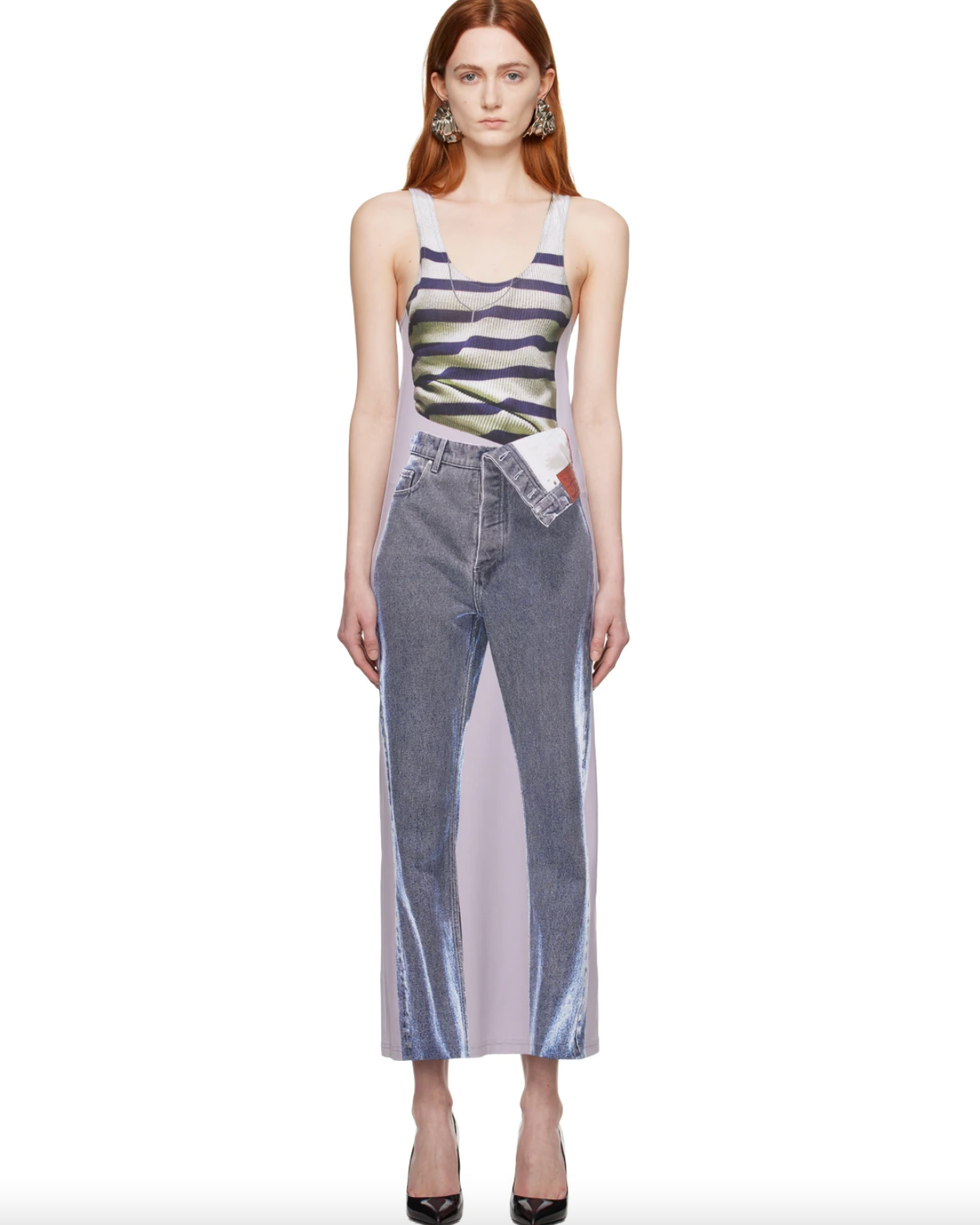 AN OPTICAL ILLUSION DRESS
Y/Project Navy Jean Paul Gaultier Edition Trompe L'Oeil Maxi Dress
This dress is double-take material: first for the trompe l'oeil print of an essential spring outfit, then for the slight sheen and body-skimming fit of the dress. It may fit like just another tank maxi, but the signature JPG mind-trick is like owning a slice of fashion history.
Sizes: XS–L
Materials: 89% polyamide, 11% elastane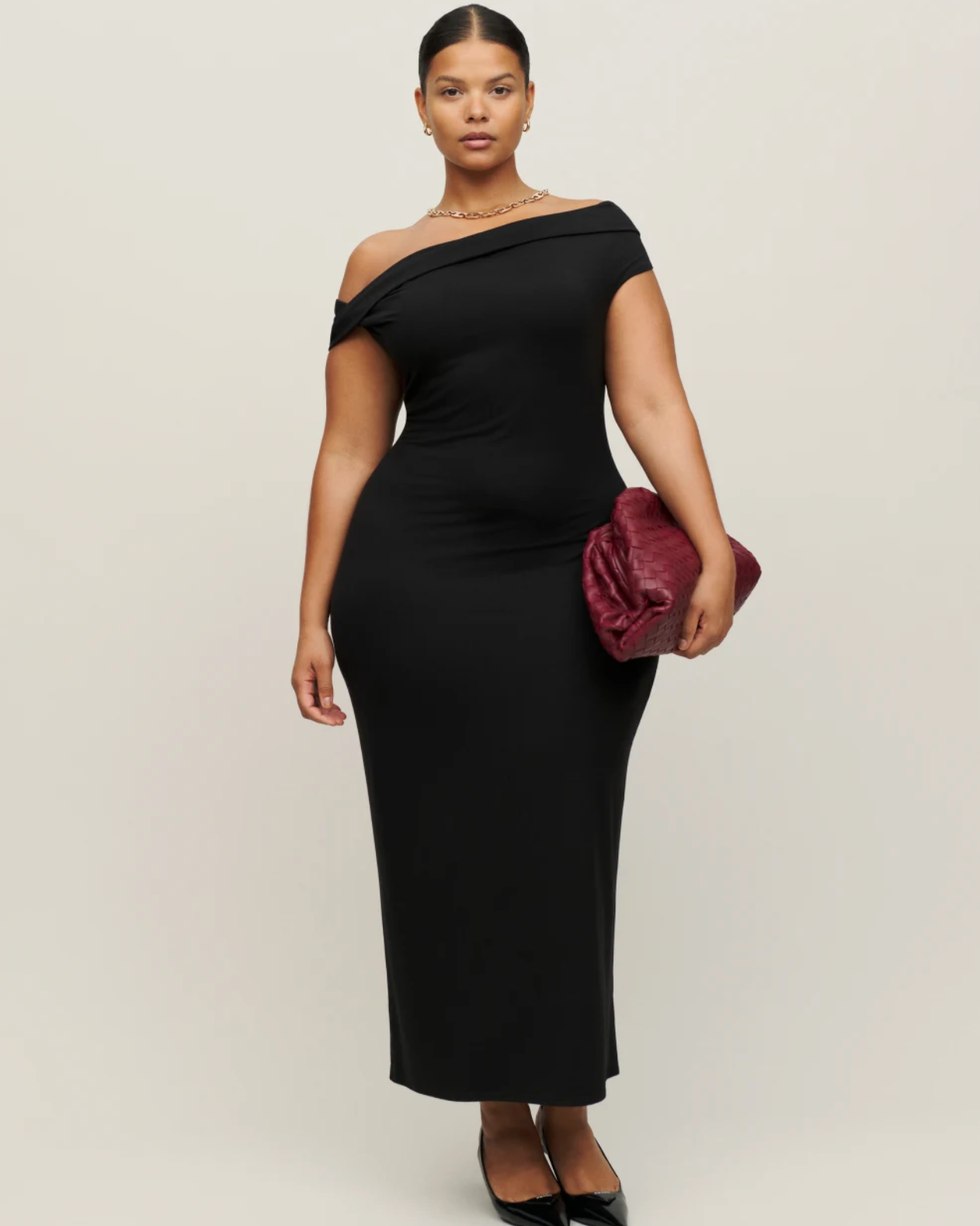 A SPRING SWEATER DRESS
Reformation Jamen Knit Dress
Each spring, I can count on Reformation for dresses that make me want to embrace short sleeves and clingy silhouettes, all in the name of taking in the sunshine. While the label has all sorts of linens and florals for spring, I'm drawn to this gem for dates on chilly April and May evenings. The asymmetric shoulder and fitted, cozy fabric are so alluring. All that's missing is one of Ref's just-debuted bags.
Sizes: XS–XL, 1X–3X
Materials: 88% TENCEL Lyocell, 12% Spandex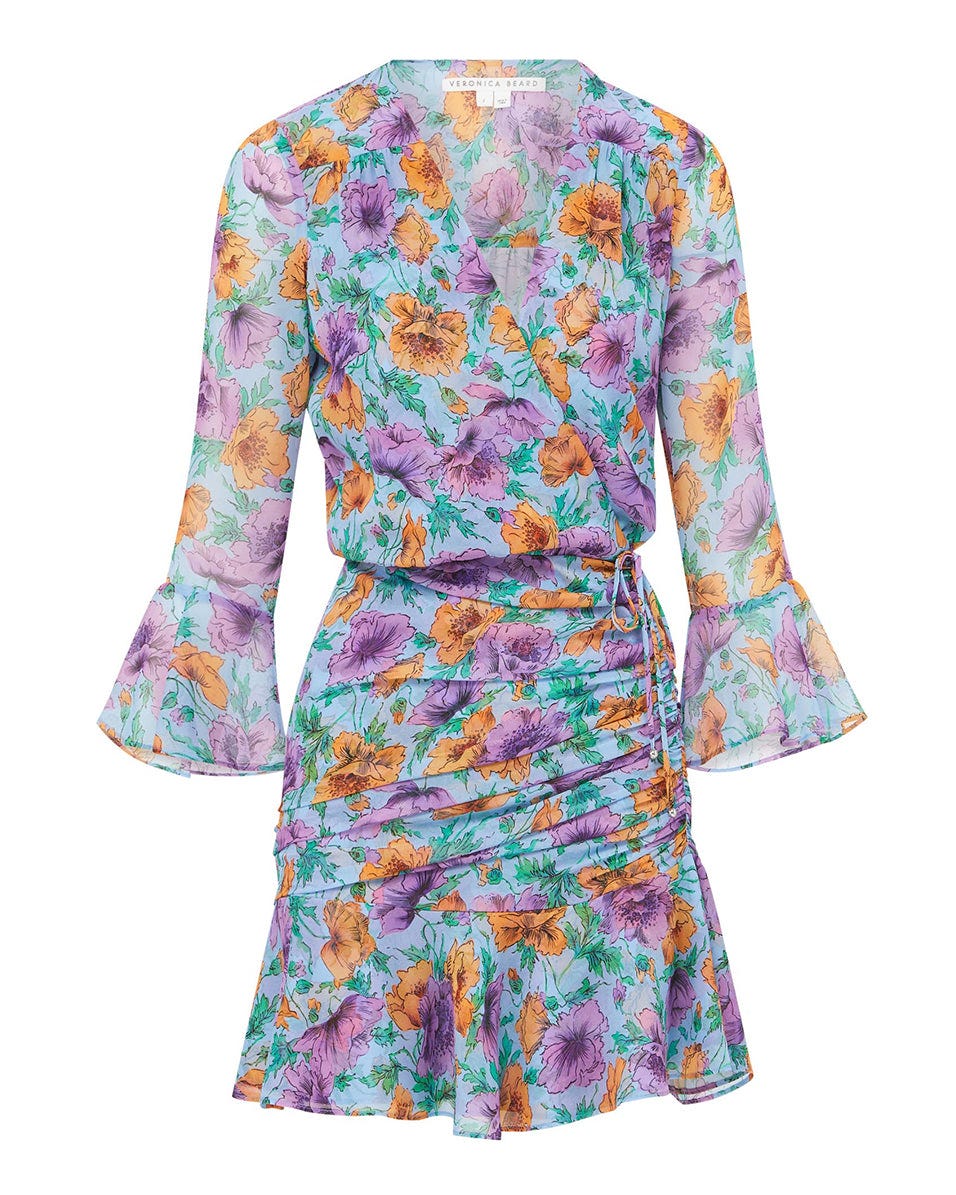 A PRINTED WRAP DRESS
Veronica Beard Sean Floral-Print Dress
Veronica Beard's best spring dresses make seasonal classics like an all-over floral feel a little edgy. Its secret? A semi-sheer silk sleeve and fitted side ruching. Just add a pair of lace-up strappy sandals.
Sizes: 00–24
Materials: 100% Silk
Why trust Harper's BAZAAR?
---
Hearst
For more than 150 years, Harper's BAZAAR has been the preeminent fashion, beauty, and lifestyle resource for women at every age. We cover what's new and what's next in fashion by working with the world's leading authorities in ready-to-wear, footwear, accessories, and more. Every story we publish has been thoroughly researched and vetted by our team of fashion editors and industry experts.
This article originally appeared in Harper's BAZAAR US.