At last, you've made it to the wedding weekend. As a close friend or family member of the bride or groom, that entails attending the main ceremony plus rehearsal dinner the night before. Rehearsal dinners allow extra time for intimate speeches and catching up with the couple's inner circle, in addition to practicing for the big day. But what to wear? If your focus has been mainly on a wedding guest dress for the ceremony, your best wedding rehearsal-dinner guest dress is one that's fuss-free. In fact, it's a great occasion to even pull from the collection of last summer's wedding guest dresses still sitting in your closet.
As bridal consultant Anny Choi explains, rehearsal dinners tend to be more relaxed than the wedding itself. That makes it the perfect occasion for an easy sundress, comfortable shoes, and potentially even a few fun accessories like a sun hat, oversize sunglasses, or trendy jewellery. The invitation may have extra outfit guidance: "A lot of weddings these days will have a theme for the welcome party and rehearsal, so make sure to double-check the invite before putting together your outfit," Choi advises. "Pay attention to the venue and the location! Is it a clambake on a beach? Or is it a more formal sit-down dinner at a hotel restaurant? Obviously, stick to the colour or theme if suggested." And if you're planning to re-wear a dress you already own, the way you choose to style it can make all the difference for the second go-round.
Ahead, shop 25 rehearsal dinner dresses for wedding guests that will allow you to toast the special couple in style.
Related article: The 20 Wedding Guest Dresses You Can Wear All Summer Long
---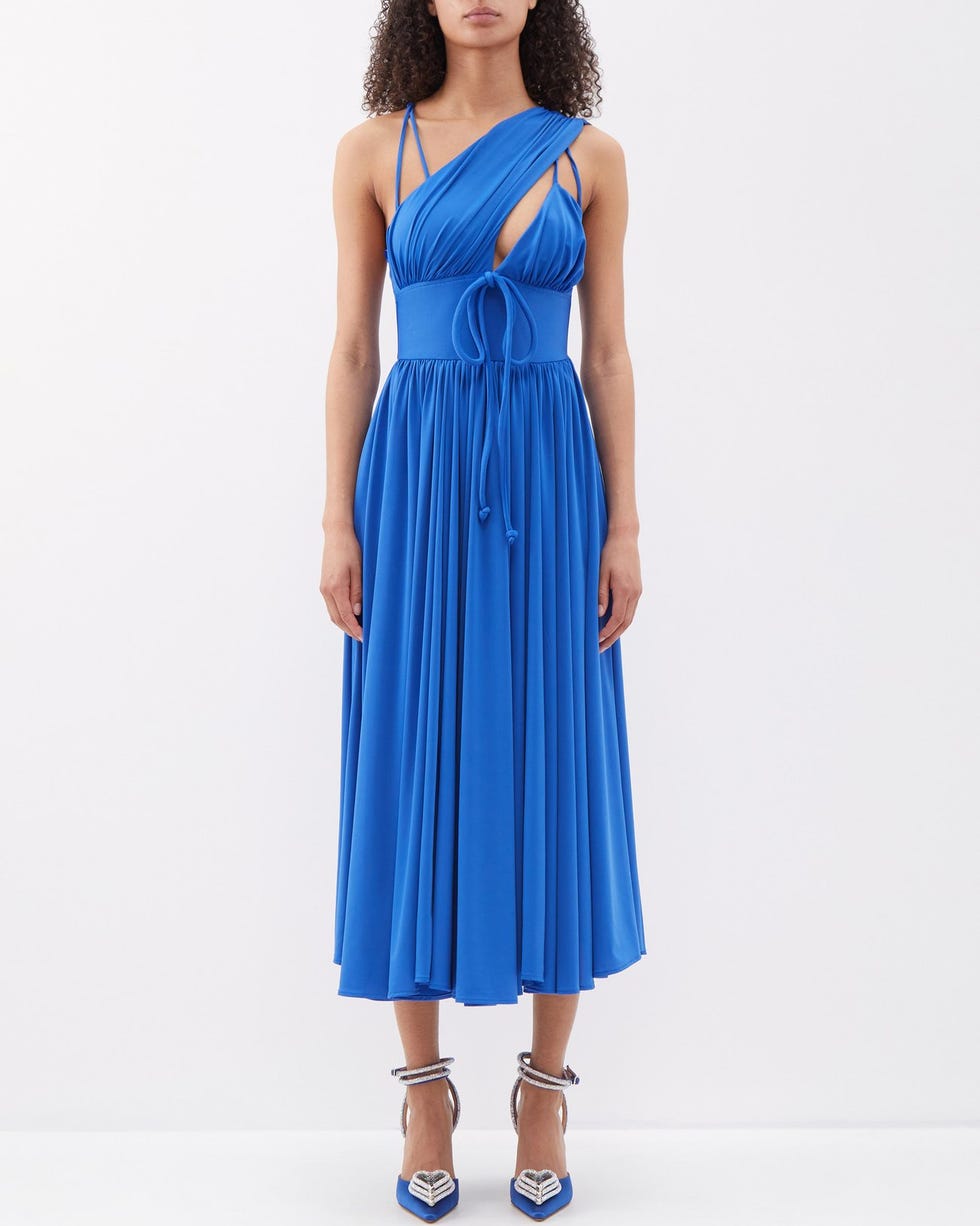 FOR AN INTIMATE CELEBRATION
Harbison Sunray Dress
A rehearsal dinner is a chance to be playful with your dressy look. The asymmetric top on this blue jersey dress is an unexpected pick that feels fresh.
Sizes: XS–XXL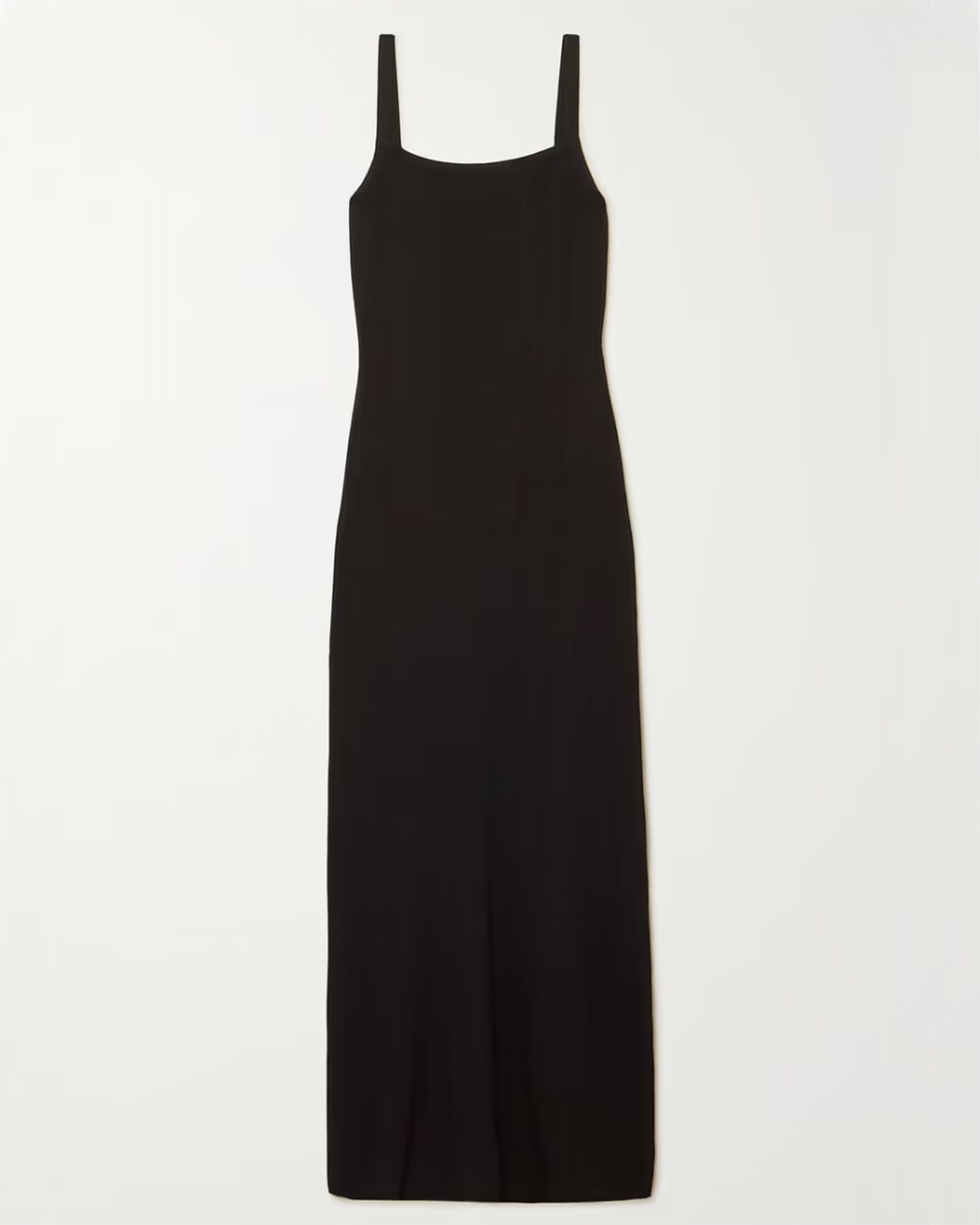 FOR A VERSATILE LBD
Matteau Open-Back Stretch-Knit Maxi Dress
"This Matteau dress is my vacation staple and a great rehearsal look for me that I've styled with casual sandals for an intimate wedding weekend in L.A.," Choi says. The style expert adds that she has also worn it to a rooftop event in Puerto Rico with dressier accessories.
Sizes: 1–5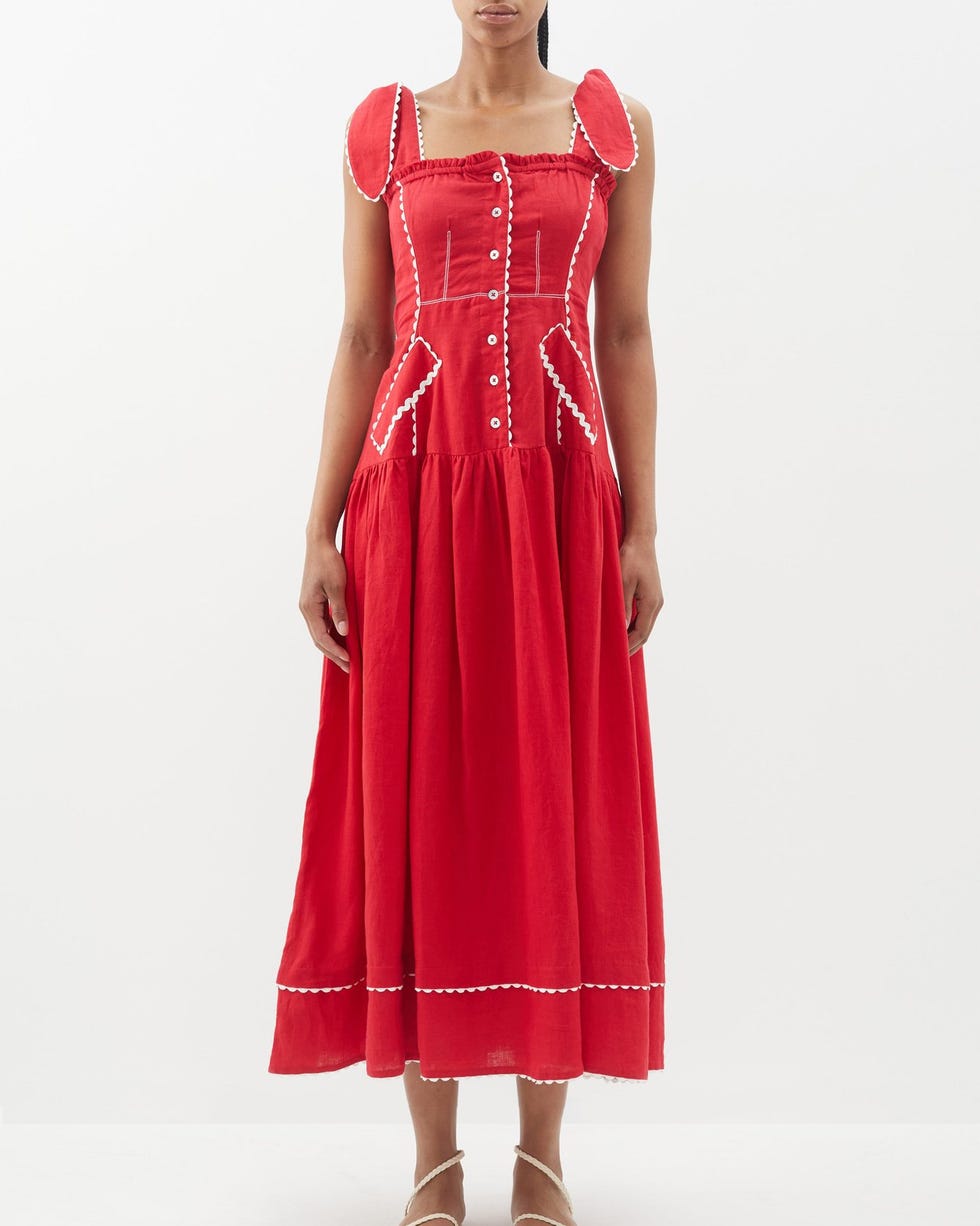 FOR A CASUAL PICNIC
Wiggy Kit Eden Dress
For an early-evening rehearsal dinner, pick something playful like this red dress trimmed with contrasting rickrack.
Sizes: XS–L
Colour: Red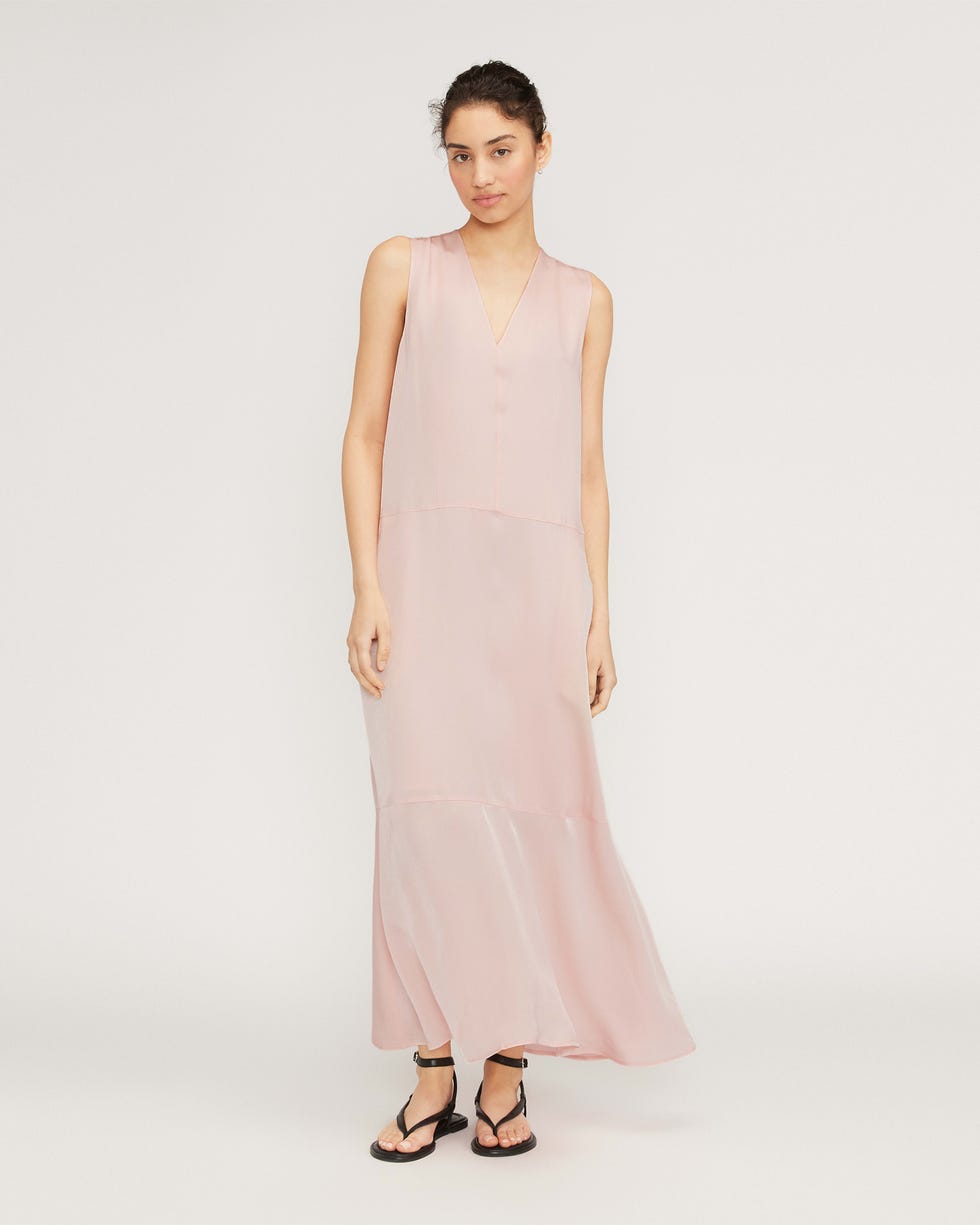 FOR AN OCCASION TO PULL OFF POCKETS
Everlane Satin V-Neck Maxi Dress
Simple, sleek, elegant. Try this Everlane dress when you're looking for a style you can easily wear over and over again with slightly different accessories.
Sizes: XS–XL
Colours: Blush, black
What reviewers are saying: "Beautiful dress that feels luxurious, soft and lightweight. My favorite parts are the back, the pockets, and the seam at the waist."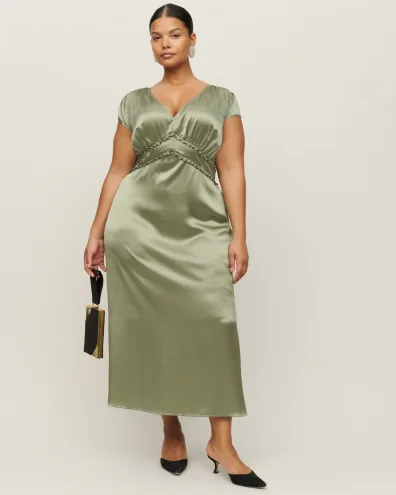 FOR A FORMAL DRESS YOU'LL WEAR AGAIN
Reformation Kaye Silk Dress
If dinner is somewhere swanky, a silky V-neck dress styled with statement jewellery is a combination that's comfortable and yet still fancy.
Sizes: 14–24
Colour: Artichoke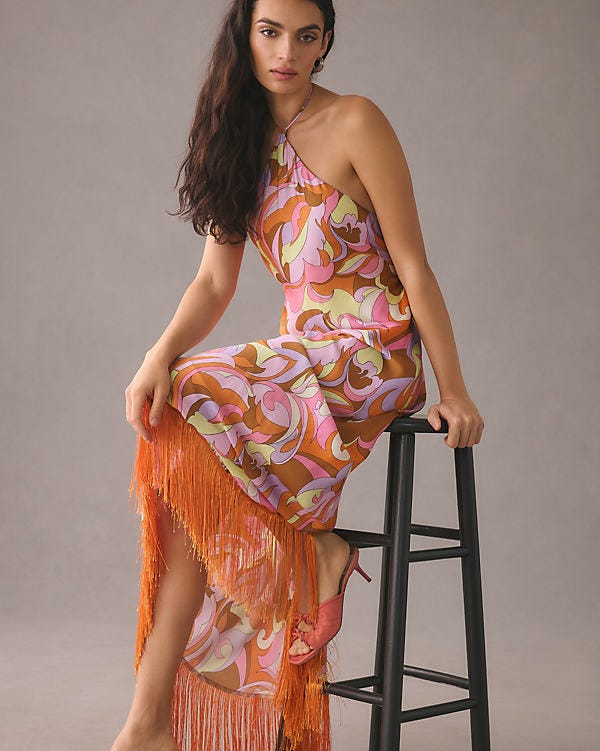 FOR A RETRO REHERSAL
Delfi Collective Halter Fringe Dress
For a retro-themed rehearsal dinner, this colourfully printed dress has a '60s flair without feeling costume-y. What we really mean is, you'll be able to wear it again.
Sizes: XS–L
Colour: Bronze
What reviewers are saying: "This dress is bright, fun, and versatile. Can be dressed down with a jean jacket and up with a blazer."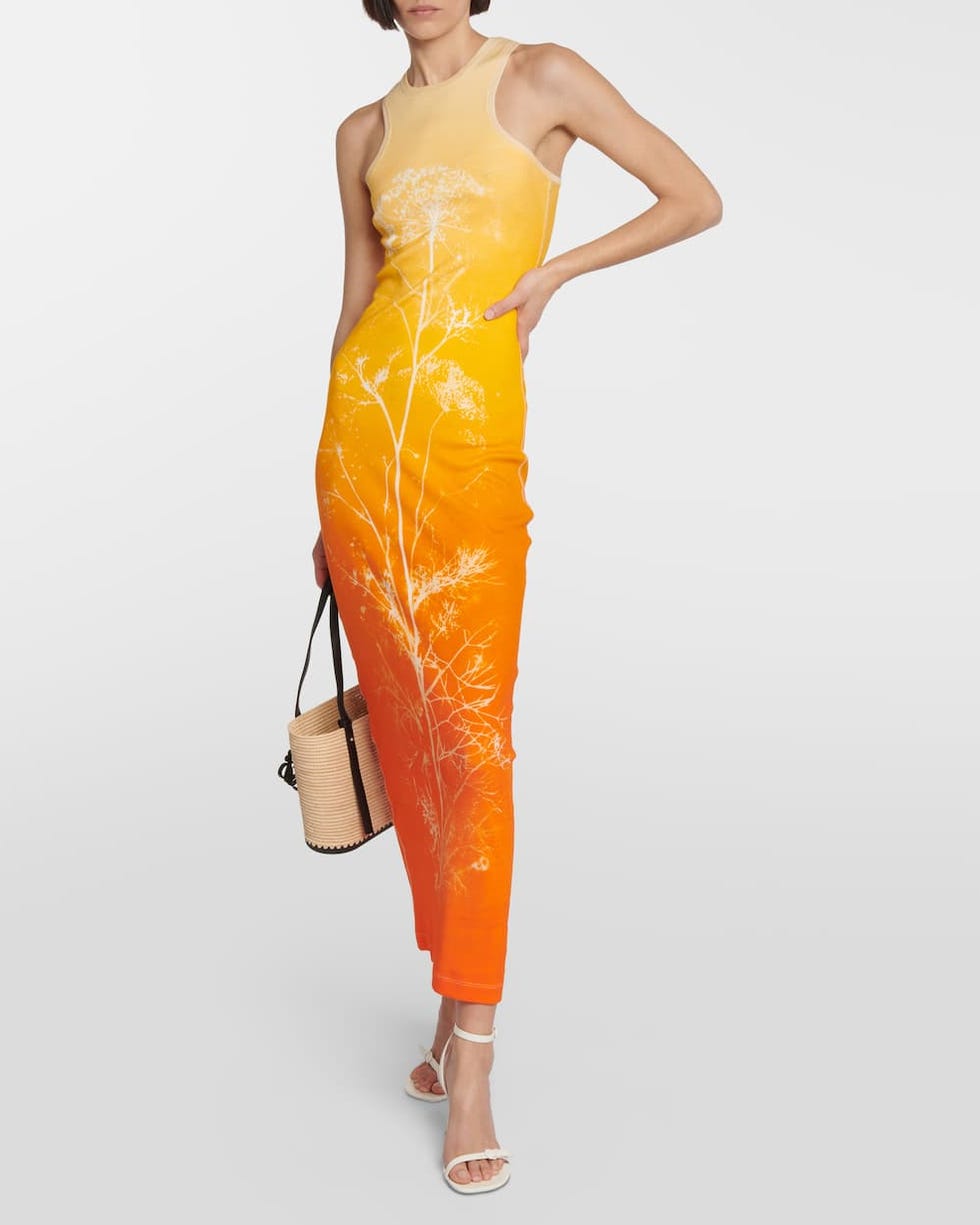 FOR STANDING OUT AT SUNSET
Loewe Paula's Ibiza Dress
For a sunset soirée, lean into the look with a dress that matches the fiery backdrop. The stretchy cotton fabric means the dress can be worn easily during the daytime.
Sizes: XS–L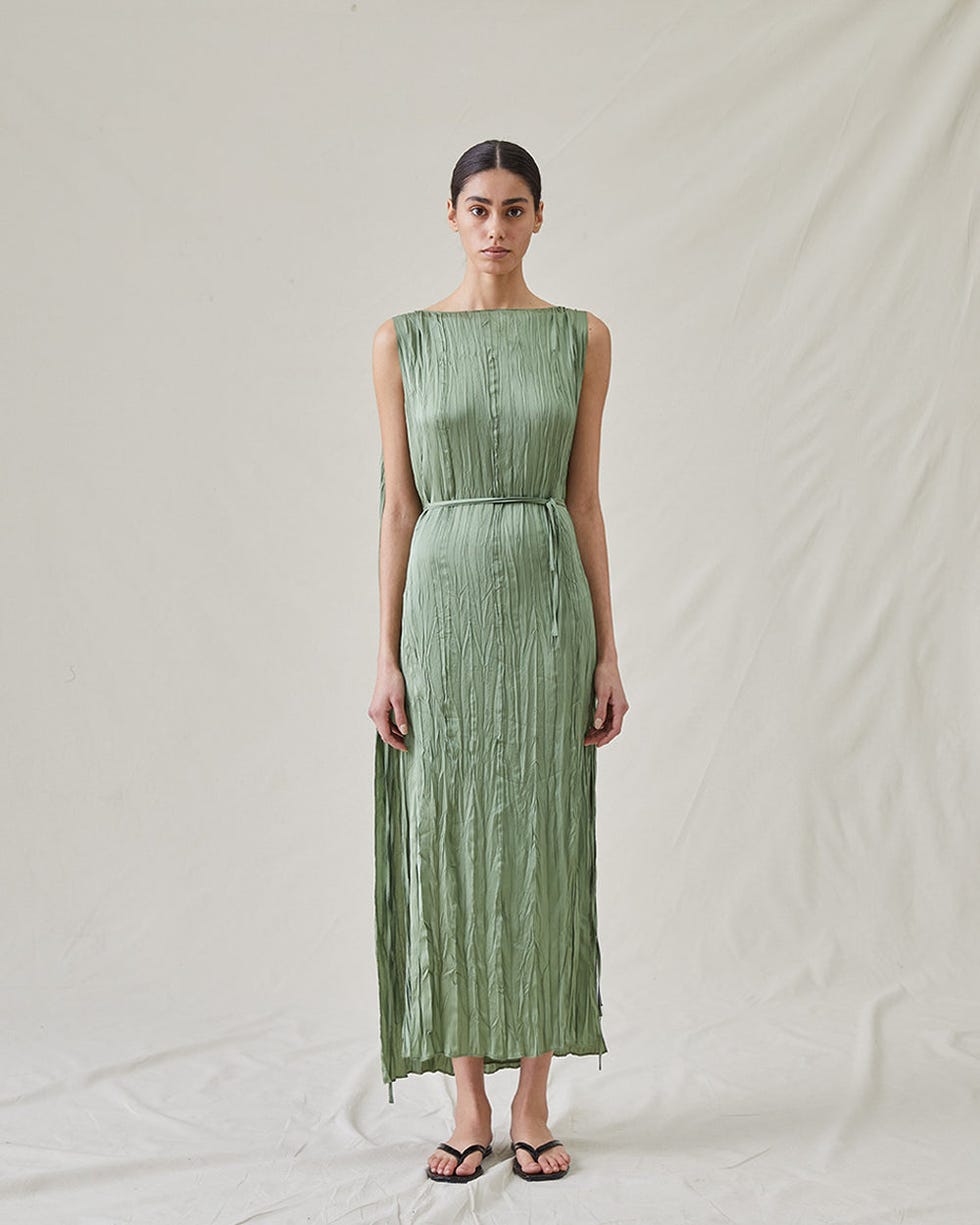 FOR A "WEAR ANY WAY" DRESS
Attersee Fluid Cape Dress
"I love this crinkle-fabric dress from Attersee," says Choi. "It's easy but formal enough for wedding events. It's a timeless silhouette that you can dress down with a pair of neutral sandals or dress up in a pair of heels and a statement clutch."
Sizes: XS–XL
Colours: Cypress, dark navy, champagne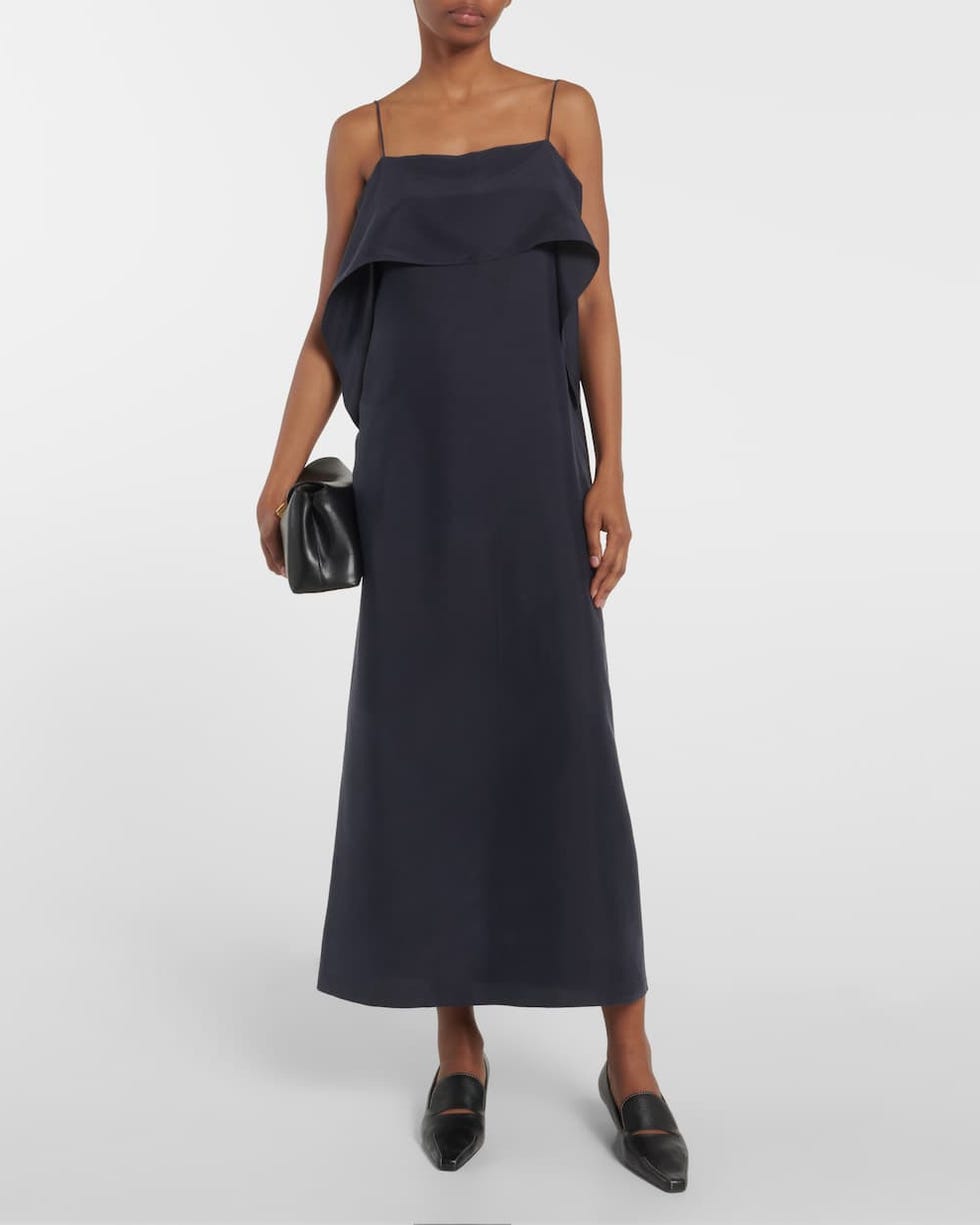 FOR KEEPING IT SIMPLE
Toteme Silk Midi Dress
Minimal and understated, Toteme's silk midi dress is for a dinner where you want to keep things minimal but elegant. Style with white or beige sandals and a sculptural clutch.
Sizes: 2–12
Colour: Navy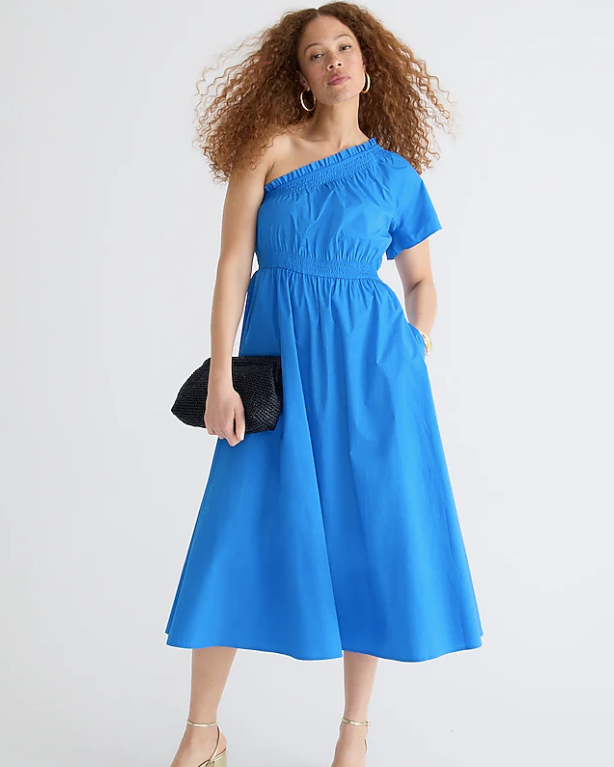 FOR A CLAMBAKE
J.Crew Smocked Poplin Dress
Show off a single shoulder with J.Crew's asymmetric cotton dress. The electric-blue hue is perfect for a seaside dinner.
Sizes: XXS–3XL
Colour: Blue
What reviewers are saying: "Lovely dress! Got this in the blue which is exactly the shade as what it appears online."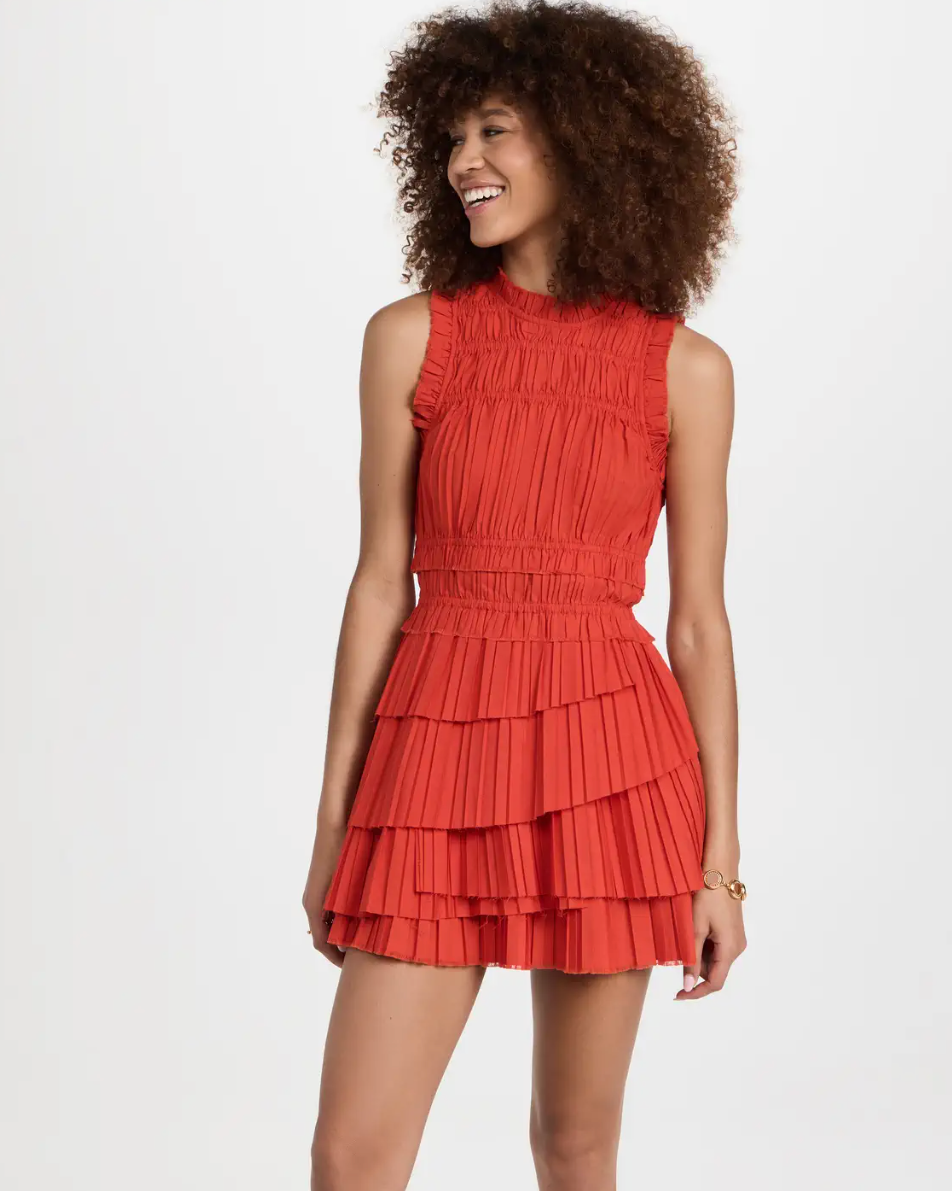 FOR AN EASYGOING EVENING
Sea Greir Pleating Dress
If you're looking for a mini silhouette, Sea's pleated dress is a choice that skews more "intimate dinner" than "night on the town."
Sizes: XS–XL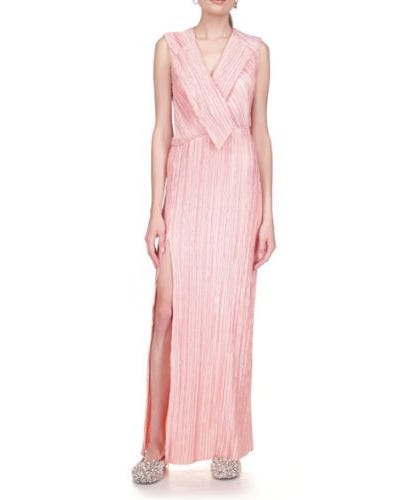 FOR A DINNER ALFRESCO
Marina Moscone Foldover Dress
Pleats, please! Satin plissé allows for easy movement if you plan on making the most of navigating your way from group to group during cocktail hour.
Sizes: 0–12
Colour: Pink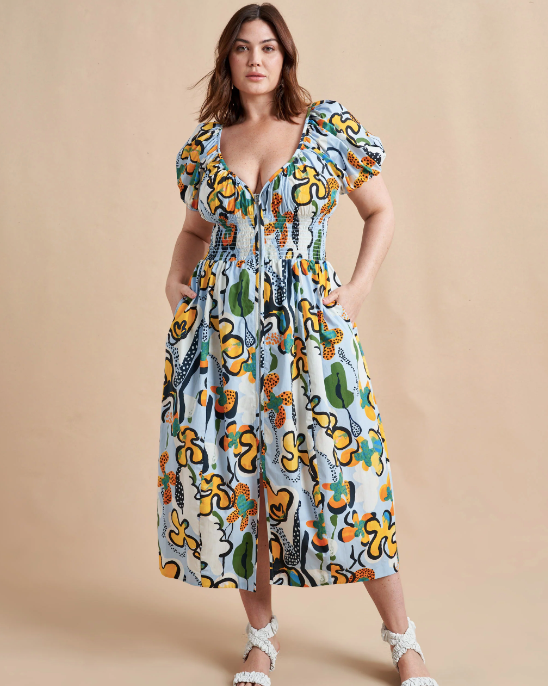 FOR A FUNKY PRINT
La Ligne Celina Dress
An abstract floral print is a fun way to put a twist on our typical spring and summer options.
Sizes: XS–3X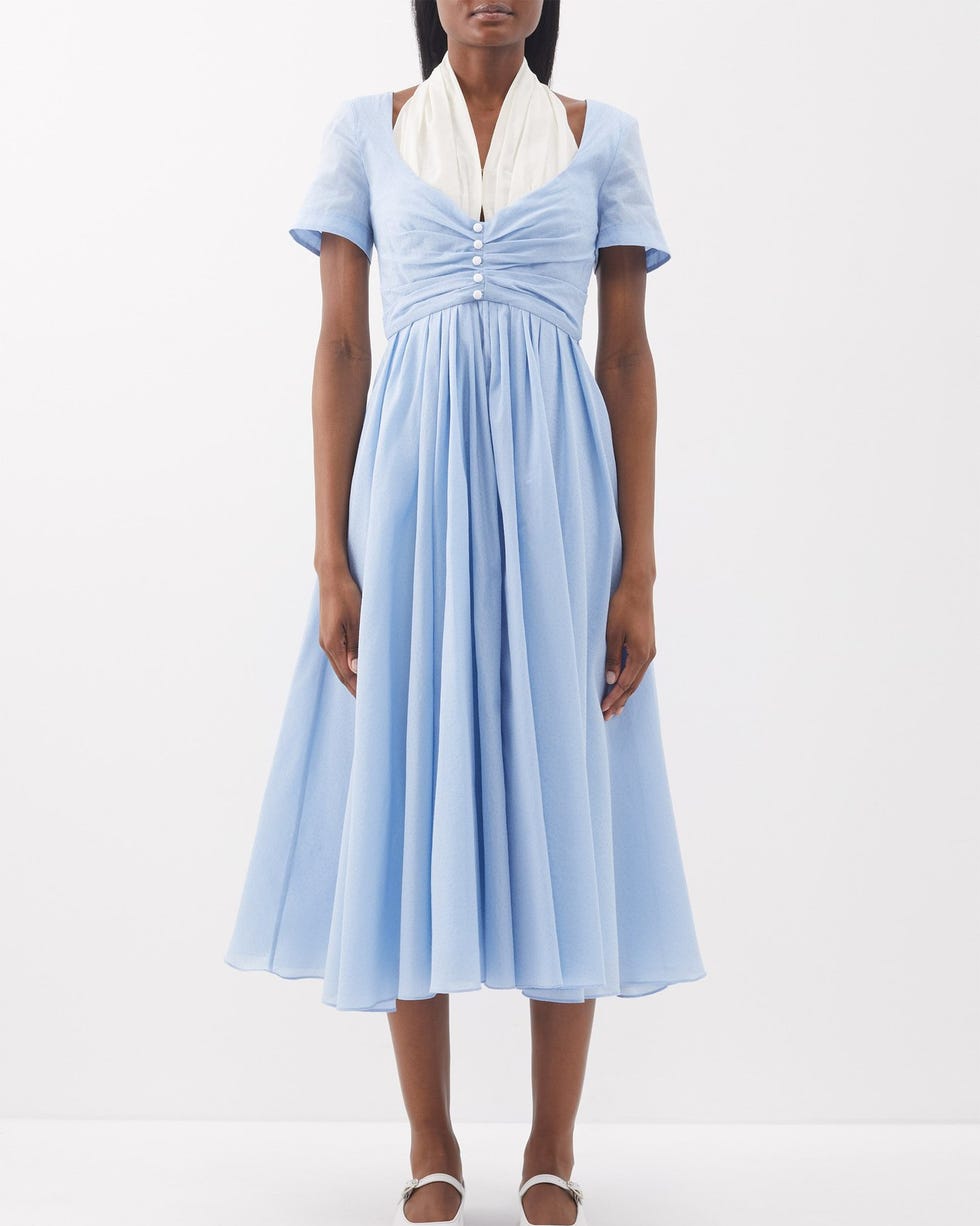 FOR A DAY-TO-NIGHT OPTION
Rosie Assoulin All Tucked In Dress
Rosie Assoulin is beloved for her quirky-cool dresses. This simple cotton piece is easy to imagine wearing to work or summer picnics in addition to your upcoming celebration.
Sizes: 0–14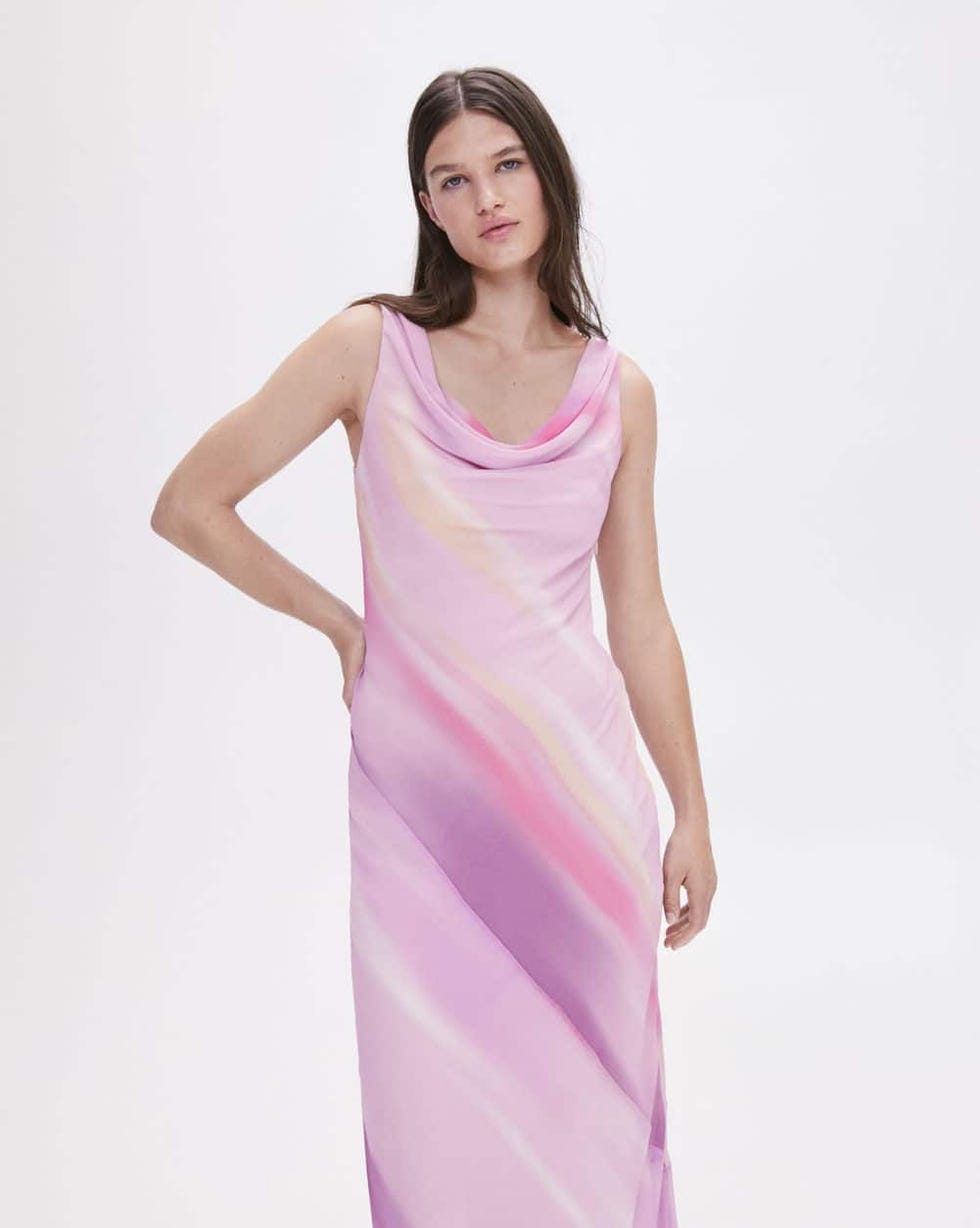 FOR A SWANKY CITY SOIRÉE
Mango Gradient Dress With Draped Neckline
This Y2K-inspired maxi dress from Mango is casual enough that despite the length, it won't take attention away from the bride.
Sizes: 2–10
Colour: Pink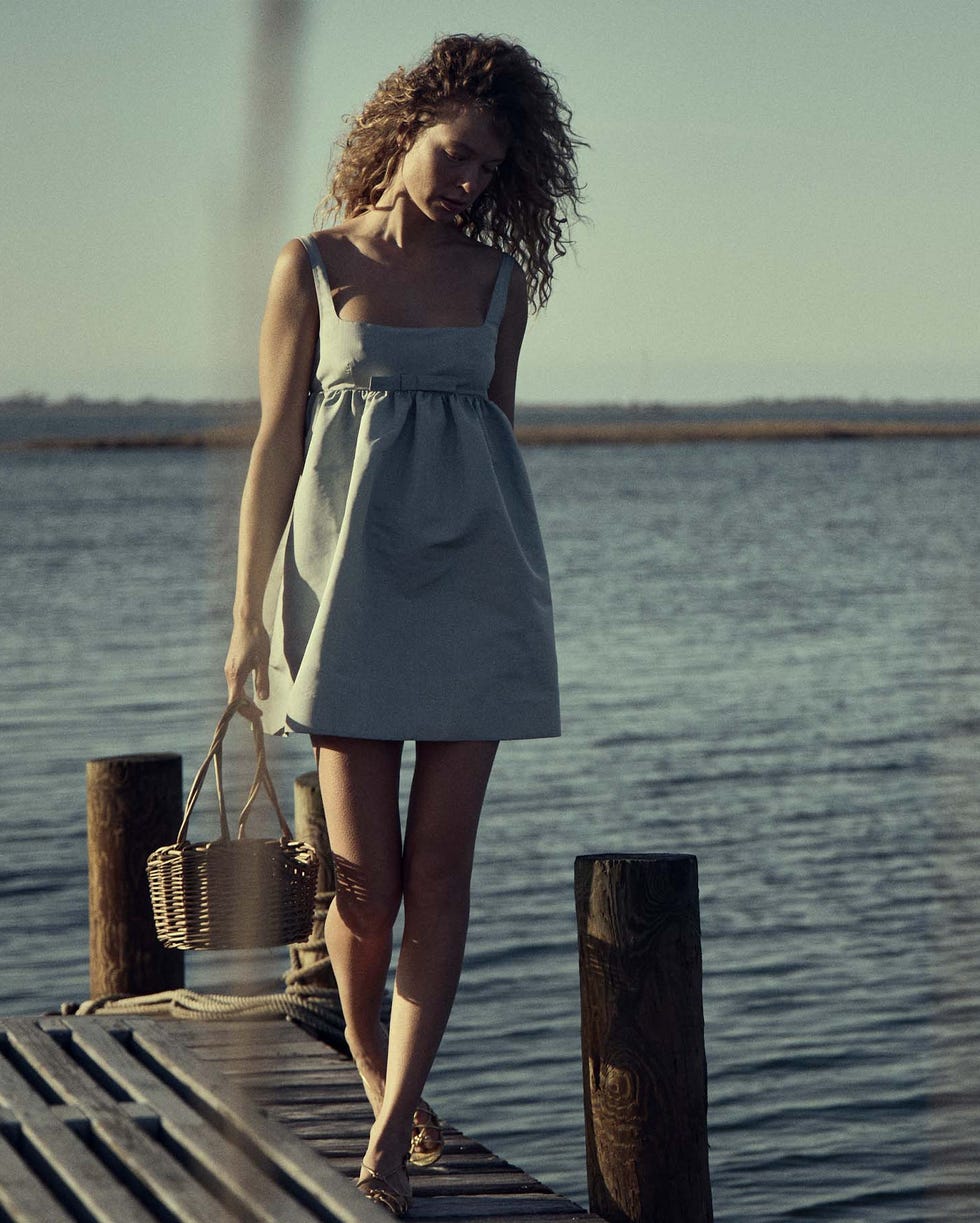 FOR A SHORT HEMLINE
Dôen Caitrin Dress
"This is such a cute silhouette if you're expecting," says Choi. "Rehearsal dinners and welcome events are also a great time to wear short dresses that you love that might not necessarily be formal enough for the main event."
Sizes: XS–XXL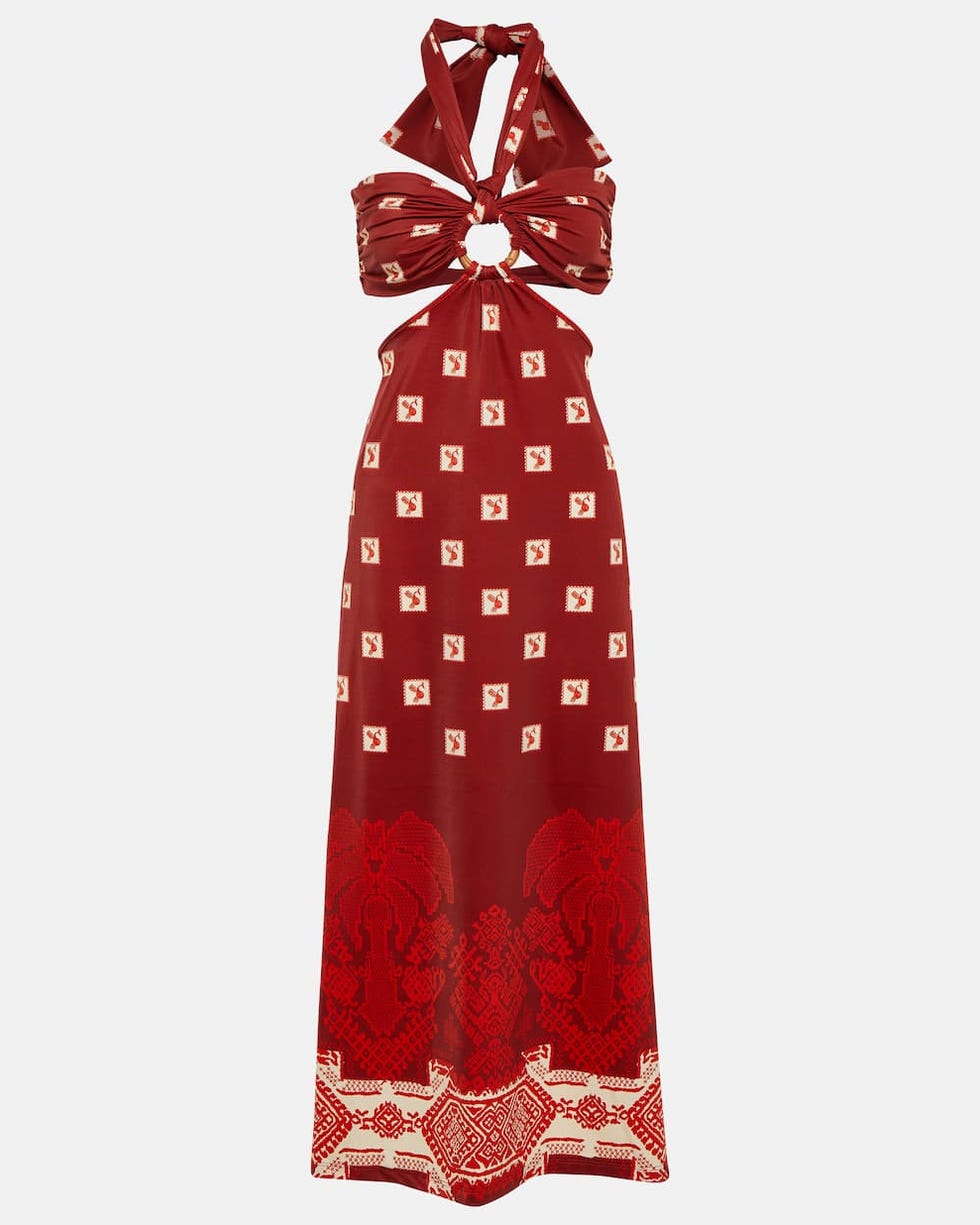 FOR DINNER ON THE BEACH
Johanna Ortiz Quechua Dress
For a beachy rehearsal dinner, choose a dress with a cutout like this light and breezy option from Johanna Ortiz. Toes in the sand, hem in the waves—you can toast the bride and groom in style.
Sizes: XS–XL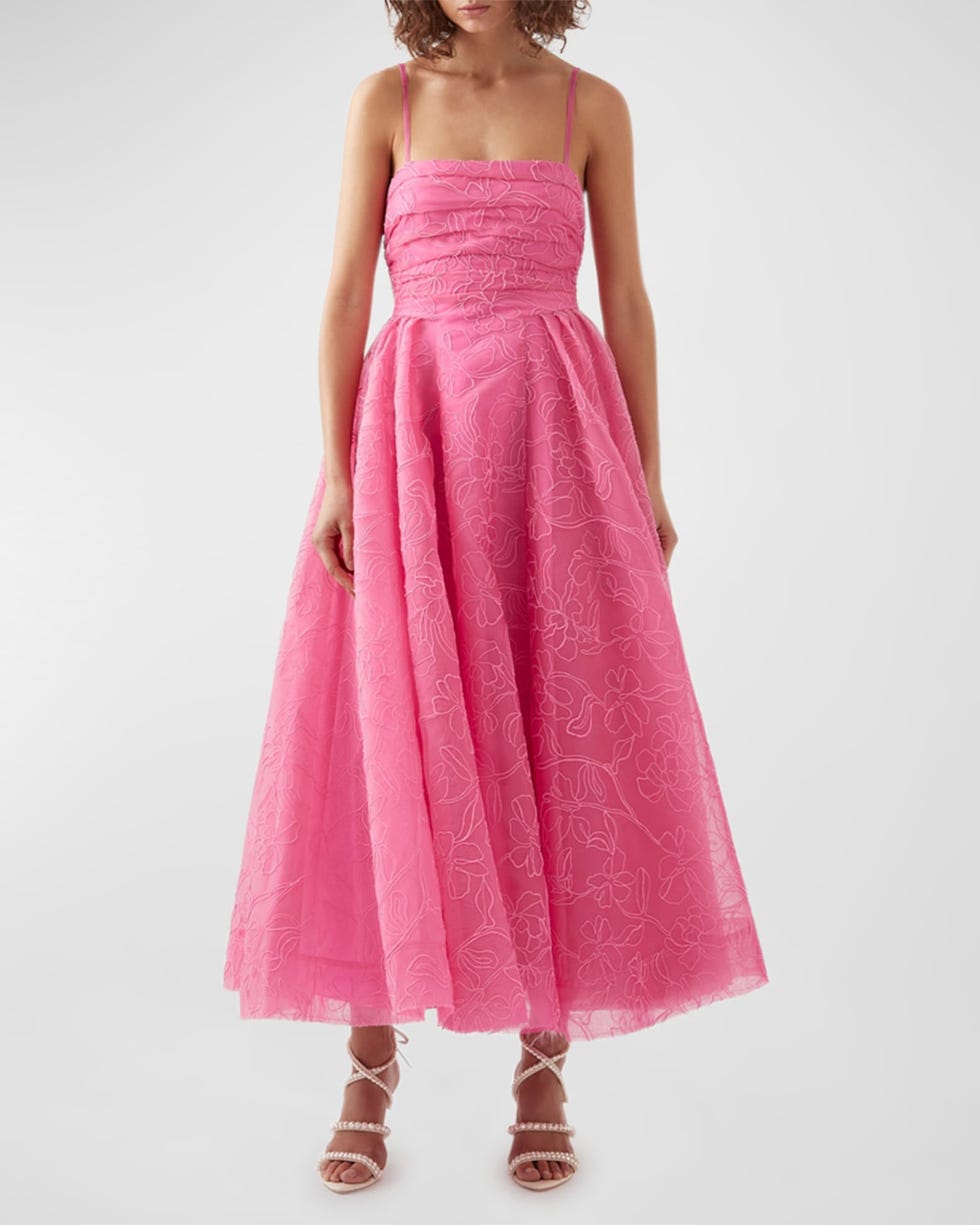 FOR A VOLUMINOUS MOMENT
Aje Evangeline Cornelli Square-Neck Chiffon Maxi Dress
While you don't want to go for something too princessy or over the top if you think it might encroach on the bride's moment, this voluminous dress is a fun choice for a '50s-inspired rehearsal dinner or one where girlier silhouettes might be encouraged.
Sizes: 0–14
Colour: Pink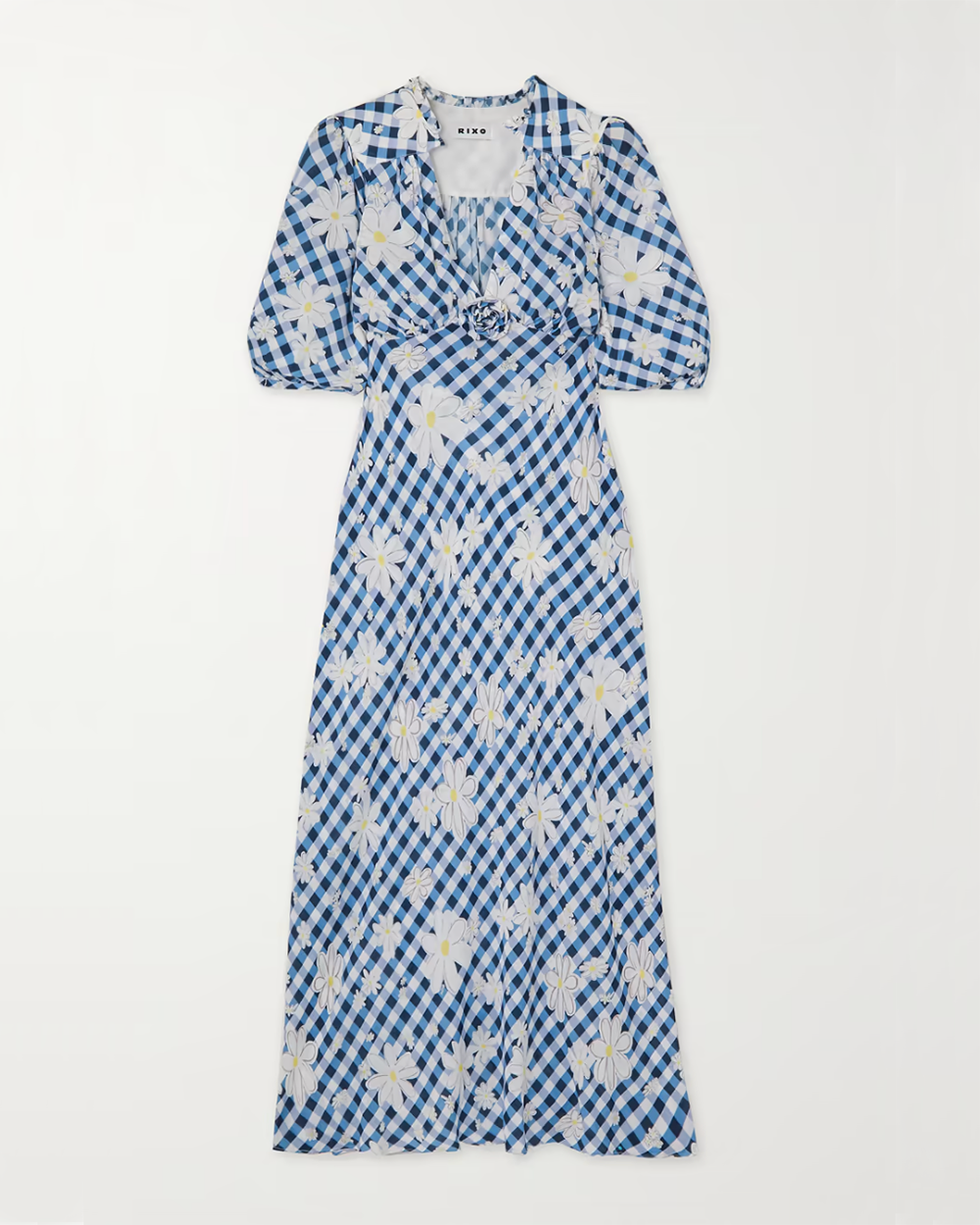 FOR A LITTLE OUTDOOR CELEBRATION
Rixo Nicolette Dress
RSVP yes to a casual outdoor rehearsal dinner, and pick up this picnic check dress as your go-to look for the evening. It's a style that's easy to transition from day to night with a block-heel sandal and denim jacket.
Sizes: UK 6–20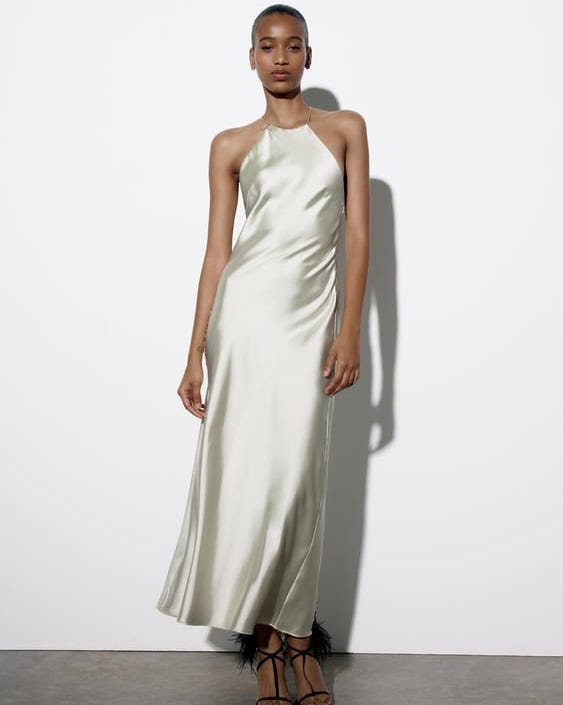 FOR THE SLEEK SOPHISTICATE
Zara Satin Slip Dress
A nod to '90s-era Calvin Klein, this silk dress has a silvery sheen, while the body-hugging silhouette is comfortable yet unassuming. For a sit-down dinner in the city, this dress is just the thing.
Sizes: XS–XXL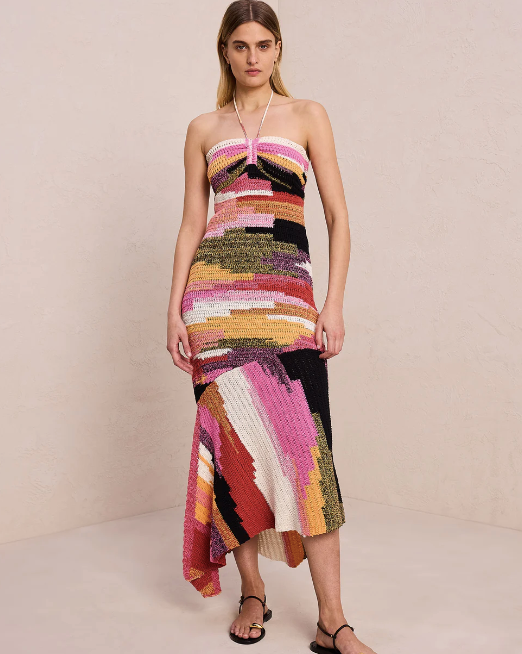 FOR A CASUAL FAMILY BUFFET
ALC Nova Halter Knit Dress
Get creative with texture and try a knit dress on for size. This multicolour style from ALC can skew beachy or western, depending on how you choose to style it.
Sizes: XS–XL
Colour: Multi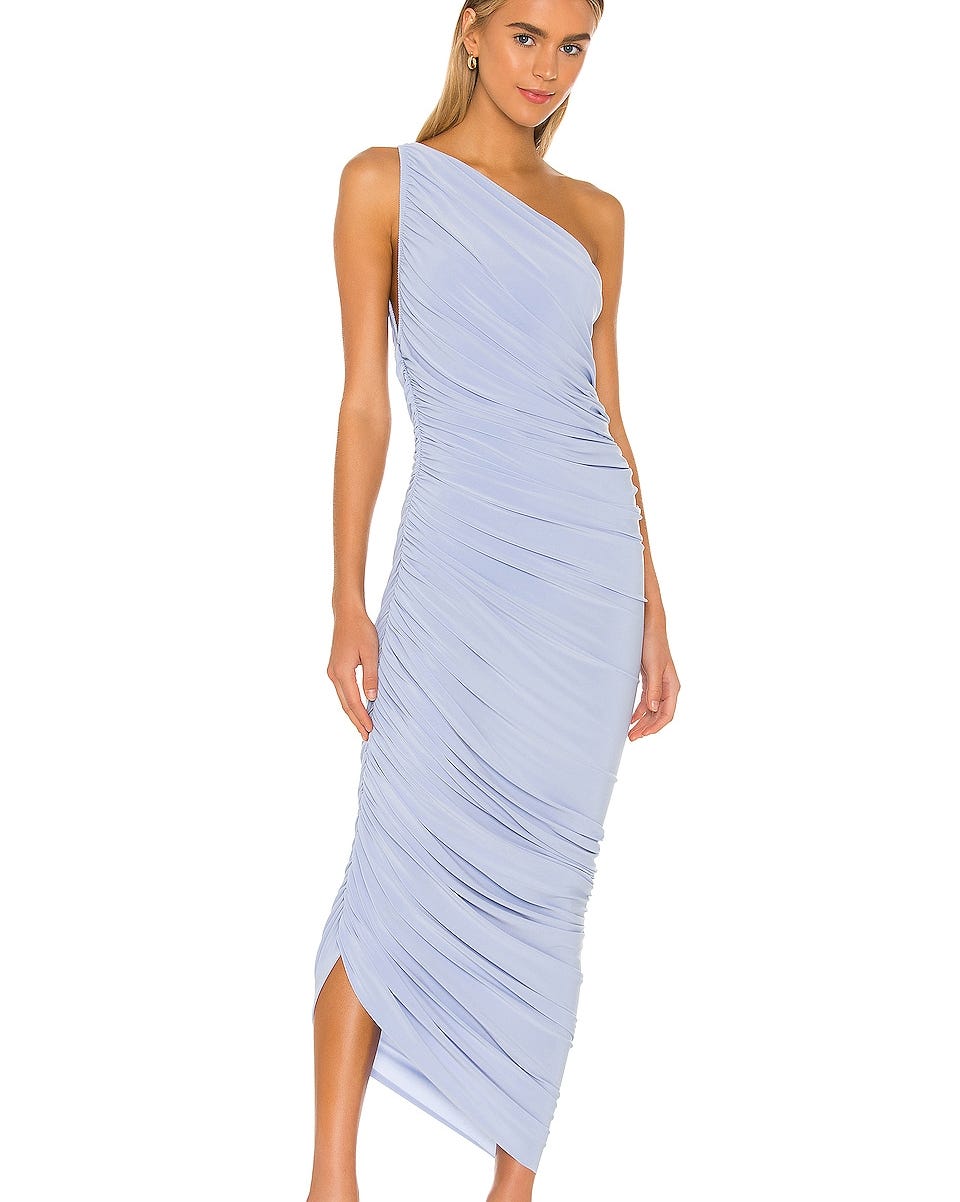 FOR SLEEK COMFORT
Norma Kamali X REVOLVE Diana Gown
Norma Kamali has mastered slinky silhouettes for decades, so trust that this pull-on dress is comfortably stretchy with a fancy feel.
Sizes: XS–XL
Colour: Blue
What reviewers are saying: "The fit and style of this dress is absolutely amazing! I got it for a summer wedding and the colour was perfect and the dress was so comfortable."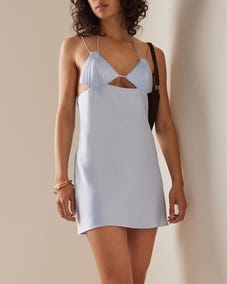 FOR A NAUTICAL NIGHT
Bevza Mermaid Mini Dress
Channel your inner Little Mermaid with this shell-motif dress from Bevza. Since it's just a slight nod to the nautical theme, it won't feel too costume-y when styled with sleek accessories.
Sizes: XS–XL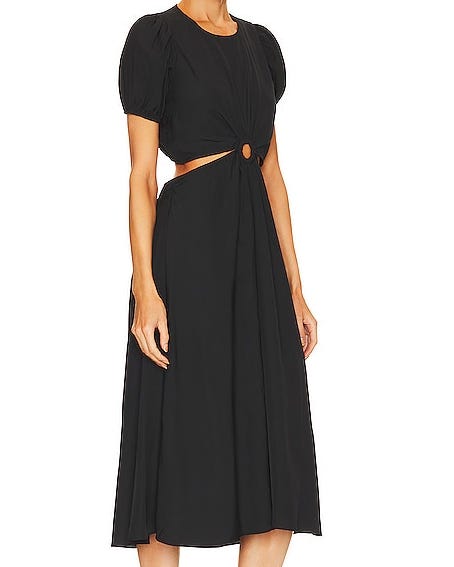 FOR AN AFFORDABLE DRESS YOU CAN WEAR AGAIN
1. State Cutout Maxi Dress
For an under-$100 option, this dress is easy to style both in a dressy way or more casually. Try flats and statement earrings for a low-key dinner.
Sizes: 0–18
Colour: Black
FOR DINNER IN SICILY
Emporio Sirenuse Alaia Smile Sun-Print Cotton Dress
Show a little skin with this strappy sunny dress that's dying to be worn on the sunny coast of Italy. If you're jet-setting somewhere warm for the wedding, make sure this dress comes along.
Sizes: IT 38–50
Colour: Yellow
Why trust Harper's BAZAAR?
---
For more than 150 years, Harper's BAZAAR has been the preeminent fashion, beauty, and lifestyle resource for women at every age. We cover what's new and what's next in fashion by working with the world's leading authorities in ready-to-wear, footwear, accessories, and more. Every story we publish has been thoroughly researched and vetted by our team of editors and industry experts.
This article originally appeared in Harper's BAZAAR US.