The best fisherman sandals made their way back into the footwear zeitgeist last year through summer collections from Prada, Max Mara, and Celine. Right now, they're still very much prevalent as one of the biggest 2023 shoe trends. Top fisherman sandal styles have a classic bent with basket-woven uppers in neutral tones, remixed by designers with heavy-duty rubber or platform soles (or both, in Prada's case). Their appeal starts with their wearability: Most fisherman sandals are cushioned and flat, and lined leather straps for walking miles in—but only if you really wanted put them to the test.
More crucially for us at BAZAAR, fisherman sandals bring a "true fashion-led edge" to warm-weather outfits, according to Net-a-Porter market director Libby Page. "I love how this nostalgic and masculine shoe has been given a minimalist makeover," she tells us, citing pairs from The Row and Roger Vivier as emblematic of the low-key nautical look.
There's one golden rule for styling the best fisherman sandals. "Keeping things simple with this chunky style is key," Page recommends. She suggests a few outfit formulas for incorporating them into your wardrobe: "They work best when styled with a white wide leg pant and a simple blue shirt, or a boxy chino short and white tank top."
Of course, you can also wear fisherman sandals with floral dresses or crochet beach cover-up. The following 15 pairs are so wearable, they'll become your go-to spring, and summer, shoe.
Related article: The 6 Most Comfortable Sandal Trends Of Summer 2020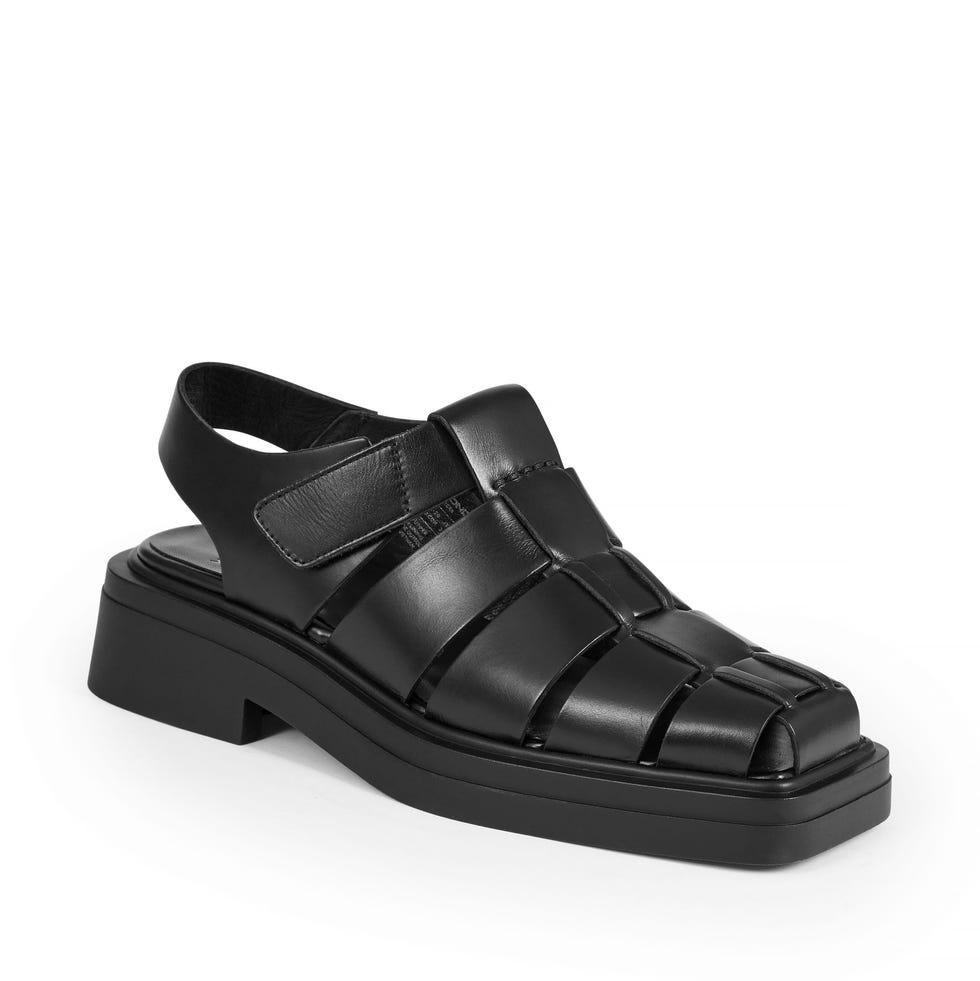 BEST EDITOR-TESTED FISHERMAN SANDALS
Vagabond Shoemakers Eyra Fisherman Platform Sandal
I've worn Vagabond's fisherman sandals everywhere from Miami press trips to weekdays at the BAZAAR office. They slip on so easily and I love the square toe. Plus, there was virtually no break-in period.
Product Details
| | |
| --- | --- |
| Sizes | 6–11 |
| Colors | Black, Cream |
| Materials | Leather |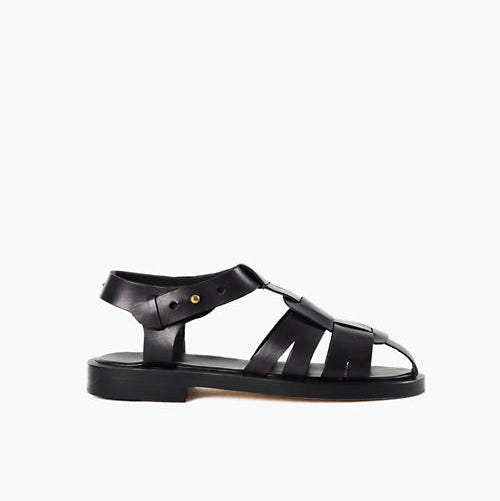 BEST MINIMALIST FISHERMAN SANDALS
Saja Fisherman Sandals
Sleek black straps and a subtly lifted heel: These fisherman sandals do the most with a pared-back design. Try them with a three-piece linen suit set on a warm day at the office.
Product Details
| | |
| --- | --- |
| Sizes | 37–44 |
| Color | Black |
| Material | Leather |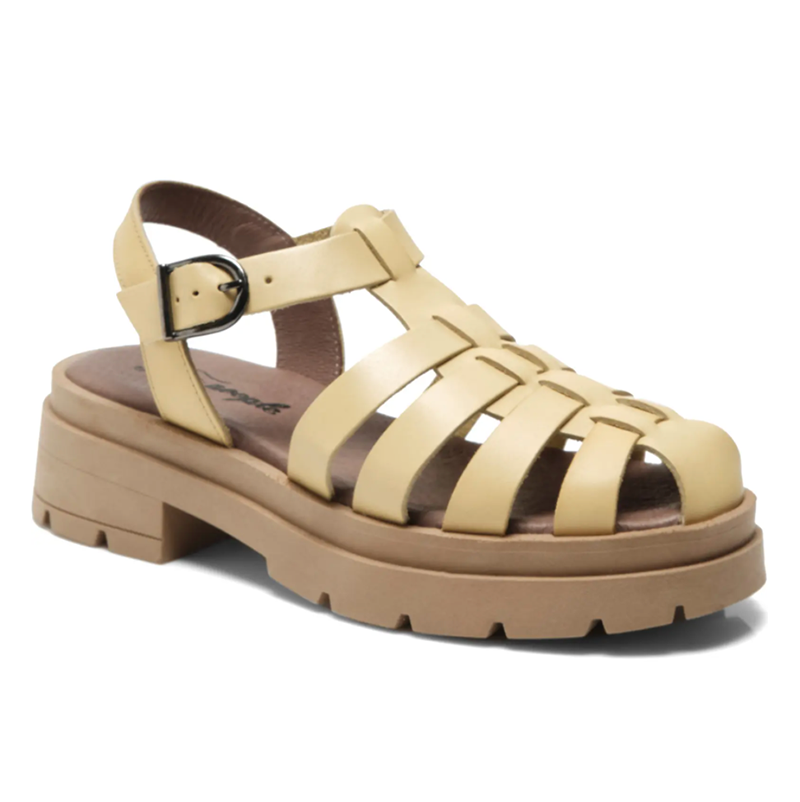 BEST REVIEWED FISHERMAN SANDALS
Free People Delaney Fisherman Platform Sandal
Reviewers only have good things to say about this highly supportive pair from Free People, which is still available in three neutral tones and some seasonal shades.
"These darling sandals are as comfortable as they are stylish. Versatile as hell on top of it all," one reviewer raves. Another adds, "I bought these in the sand. Once I tried them on I was obsessed and ordered the yellow (love!) and the black." Shoppers say they run true to size.
Product Details
| | |
| --- | --- |
| Sizes | 6–11 |
| Colors | Black, White, Teal, Marigold, Sand |
| Materials | Leather and synthetic sole |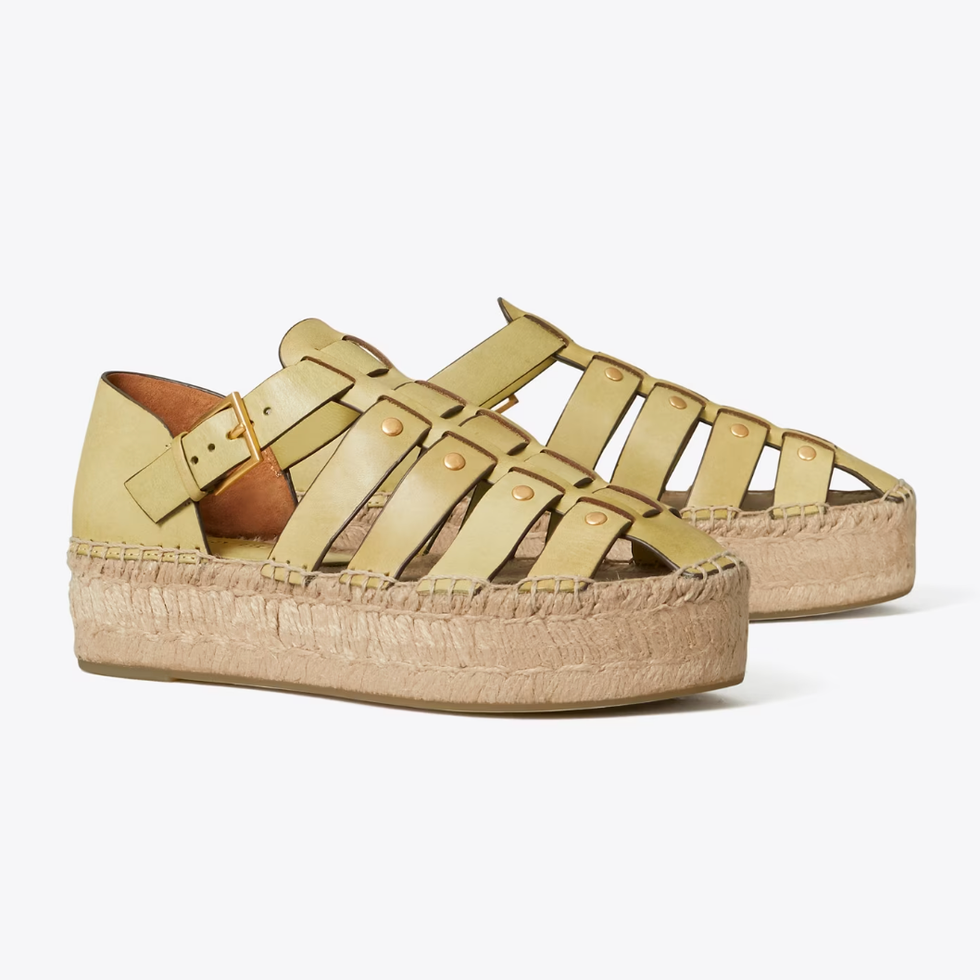 BEST ESPADRILLE FISHERMAN SANDALS
Tory Burch Fisherman Platform Espadrille
The thick jute platform! The unconventional leather shade! The retro buckle! Tory Burch's twist on the fisherman sandal feels like a modernized espadrille—and i's on sale.
Product Details
| | |
| --- | --- |
| Sizes | 6–11 |
| Color | Pistachio |
| Materials | Leather, Jute, and Rubber |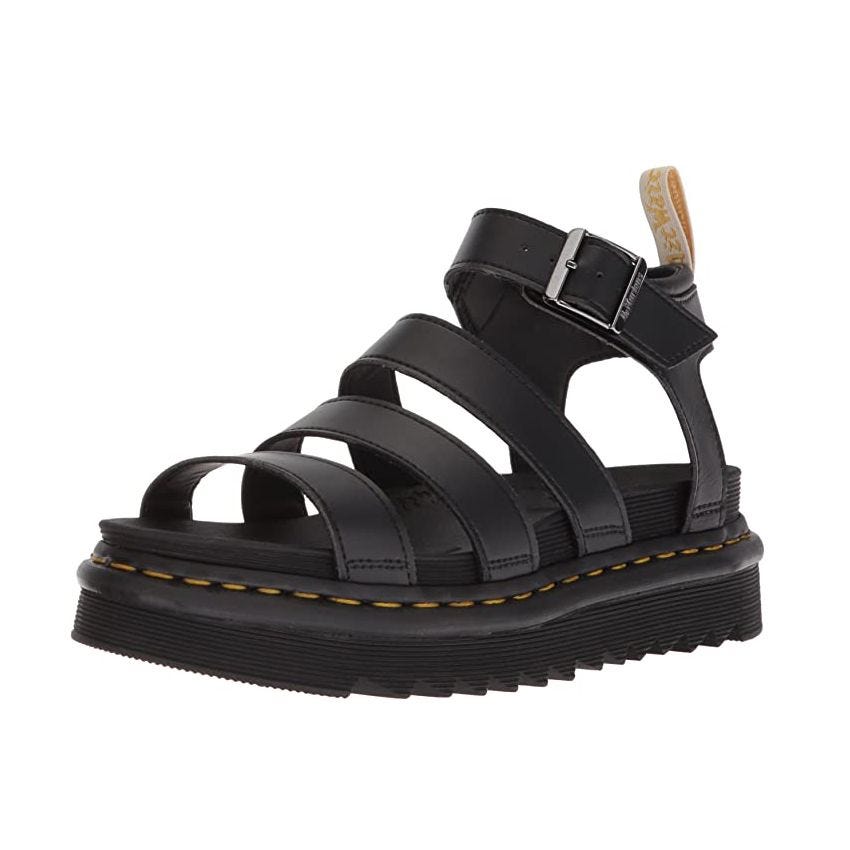 BEST FISHERMAN SANDALS ON AMAZON
Dr. Martens V Blaire Fisherman Sandal
These sandals have chunky soles with a lightweight feel and several straps for an edgier look. More than 7,000 reviewers who've tried them say the real appeal is their comfort factor.
Here's a sample of the praise from other shoppers: "Have you ever experienced love at first step? I have. In these shoes. I wear these shoes with literally EVERYTHING. They're the only shoes I wear when I'm not at work. I put them on just to clean the house because they're that comfortable. I even have tan lines stripes across the tops of my feet because these are all. I. Ever. Wear. They're stylish. They go with practically everything. I get compliments on them at least once a week. Did I say they're comfy? Even after 8+ hours of wear while walking—no complaints. "
Product Details
| | |
| --- | --- |
| Sizes | 5–11 |
| Colors | Black, White, Pink, Olive, Currant, and more |
| Material | Leather |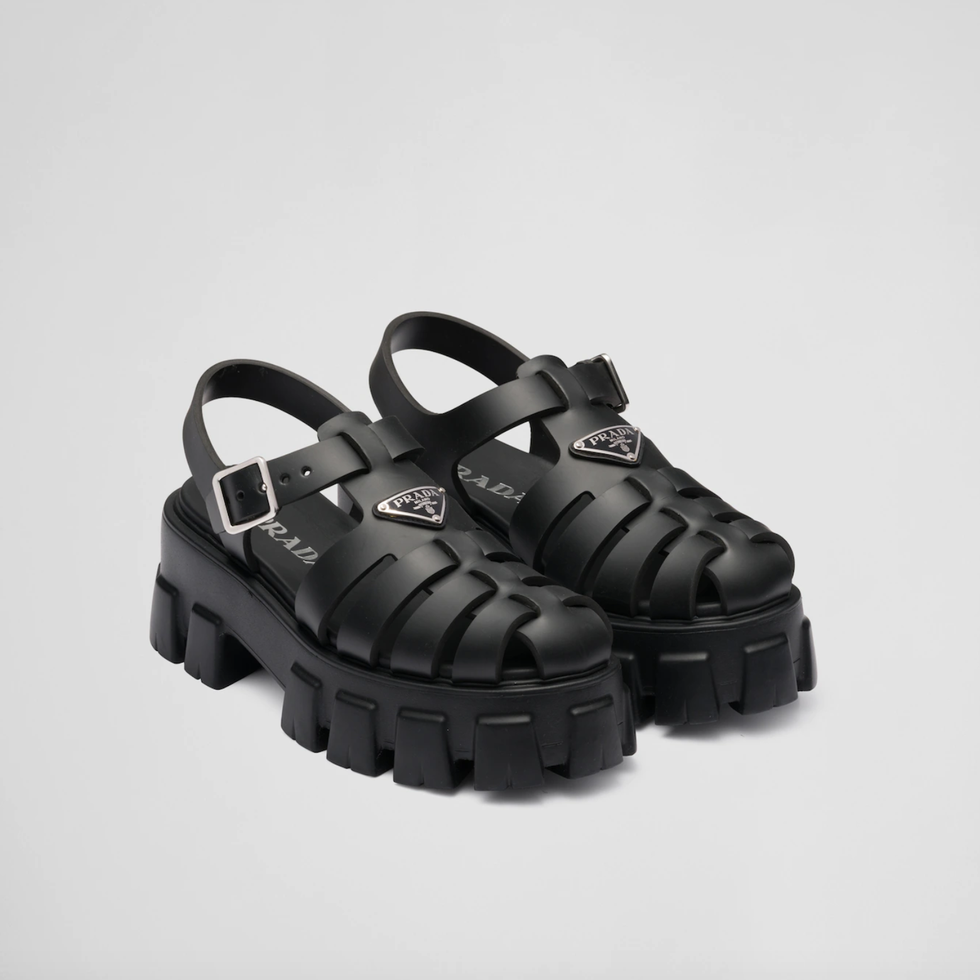 BEST CULT FAVORITE FISHERMAN SANDALS
Prada Foam Rubber Sandals
True fashion heads will only indulge the fisherman sandal trend with Prada's sky-high sandals. These riff on the house's signature Monolith sole with an open-cage upper—and the Prada logo, of course.
Product Details
| | |
| --- | --- |
| Sizes | IT35–IT40 |
| Colors | Black, White, Begonia Pink, Yellow, Blue |
| Materials | Rubber |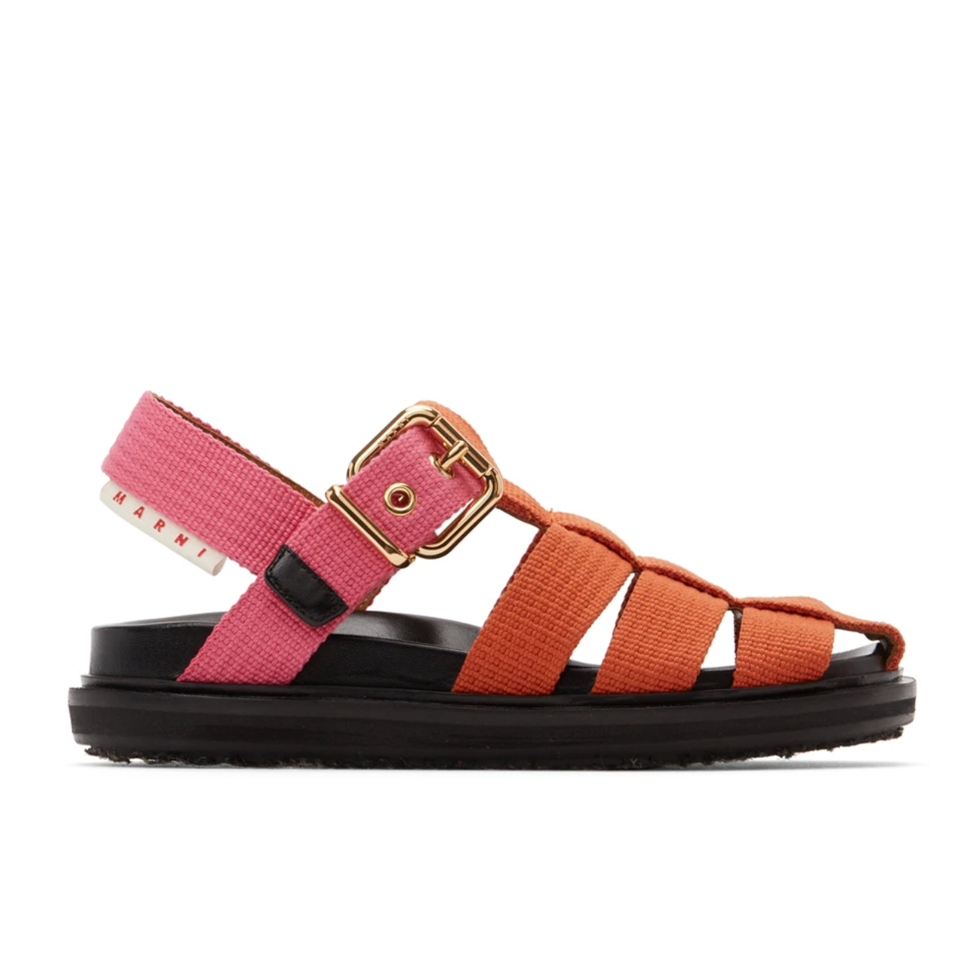 BEST FISHERMAN SANDALS FOR A POP OF COLOR
Marni Orange & Pink Fisherman Sandal
Seasoned fisherman sandal-wearers may want a step up from neutral leathers. Go for a sandal like Marni's with a playful color block to usher your shoe collection into more colorful territory.
Product Details
| | |
| --- | --- |
| Sizes | IT34–IT41 |
| Color | Black, Orange, Pink |
| Materials | Textile, Leather, Rubber |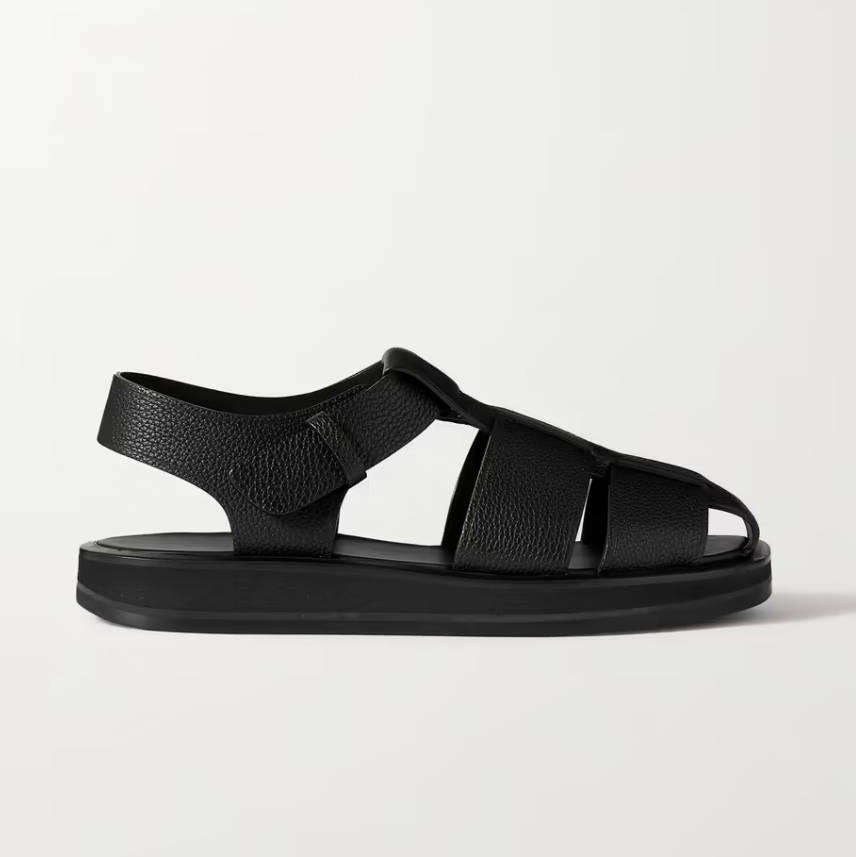 BEST EXPERT-RECOMMENDED SANDALS
The Row Gaia Woven Leather Sandals
We asked Page to send a few of her favorite fisherman sandal styles. Her list started with The Row's minimalist pair. The thick straps and chunky but not overwhelming sole are both supportive and stylish—and the pebbled leather will develop a gorgeous patina through each wear.
Product Details
| | |
| --- | --- |
| Sizes | IT35–IT42 |
| Materials | Leather |
| Colors | Black and white |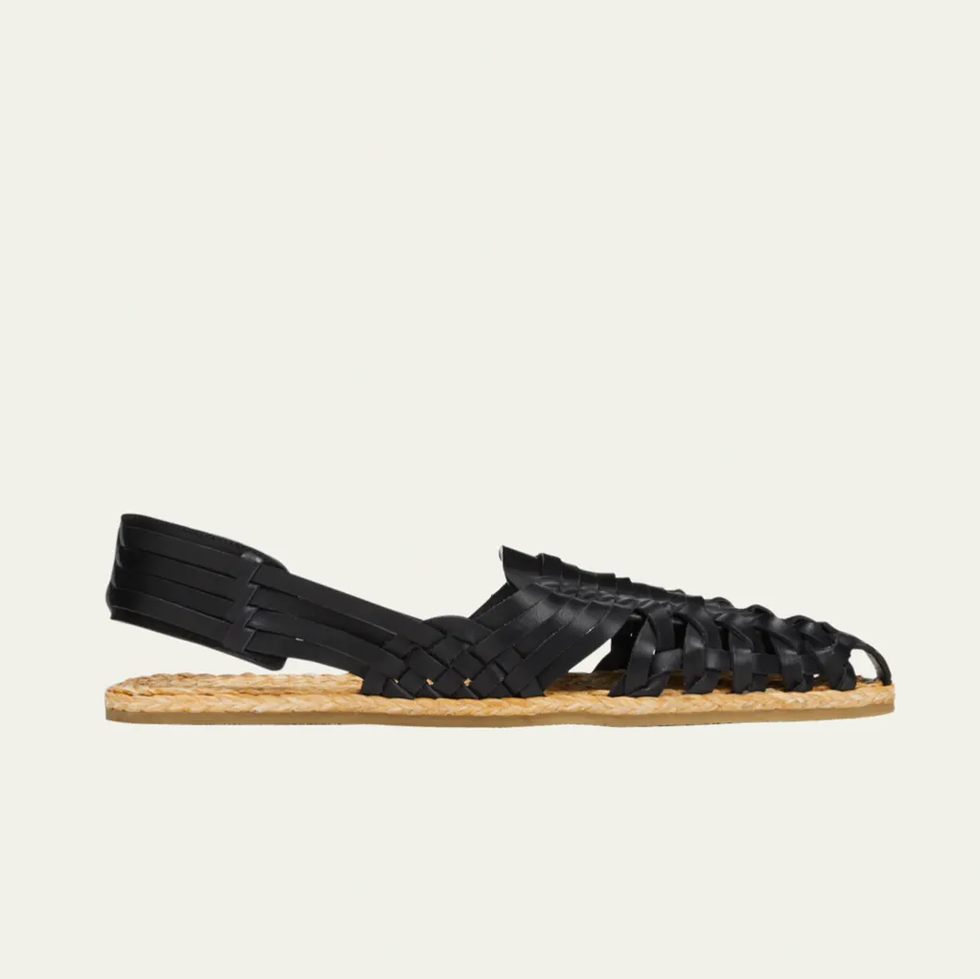 BEST WOVEN SOLE FISHERMAN SANDALS
Saint Laurent Sidi Calfskin Slingback Fisherman Sandals
This Saint Laurent fisherman sandal deserves its place in the sun—preferably, on a lounge chair in the French Riviera. The woven sole looks luxurious but feels down-to-earth on your foot. Pair it with a flowy sundress, big sunglasses, and a Saint Laurent Rive Gauche logo tote.
Product Details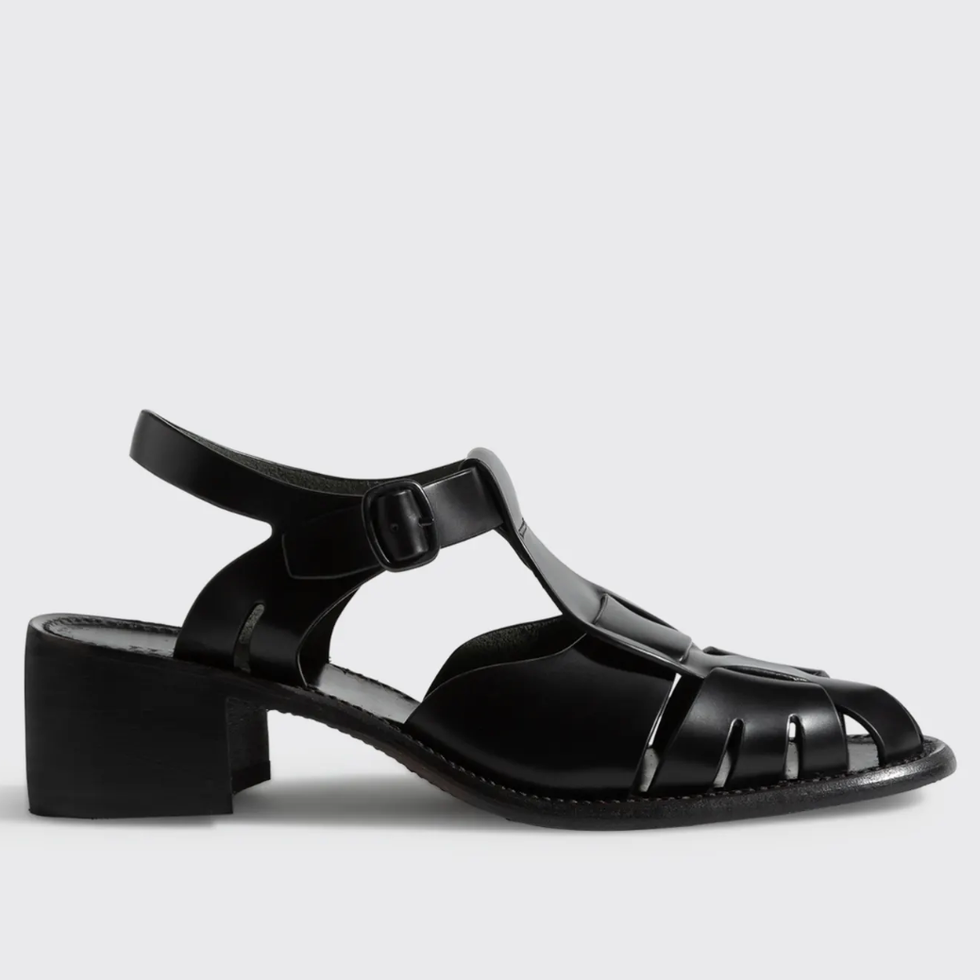 BEST DRESSY FISHERMAN SANDALS
Hereu Pesca Heeled Fisherman Sandals
When we asked stylist Vivid Wu for her warm-weather essentials, she selected Hereu's fisherman sandals. This heeled version of its Ancora sandal has the caged element that defines the trend, with a low heel for a dressed-up look. Follow Wu's example and wear them with ankle socks as part of a transitional weather outfit.
Product Details
| | |
| --- | --- |
| Sizes | 5–11 |
| Color | Black |
| Materials | Leather |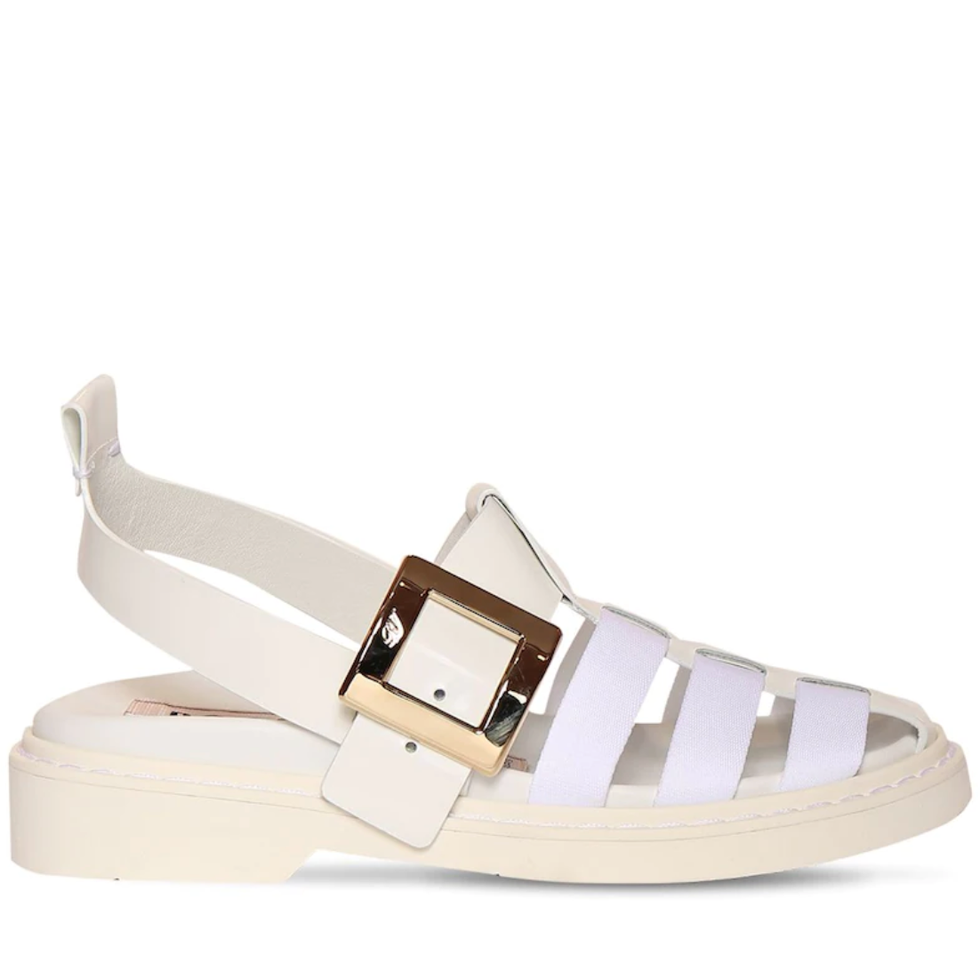 BEST EXAGGERATED BUCKLE FISHERMAN SANDALS
Roger Vivier Viv Rangers Fisherman Patent-Leather and Grosgrain Sandals
Another pair from Page's recommendations, this Roger Vivier style combines a heavy-duty look with a lighter-than-air fit. Behind the statement buckle, there's an elasticated panel that glides on (and stays on) with ease. Molded footbeds add a luxuriously comfortable fit.
Product Details
| | |
| --- | --- |
| Sizes | 5–11 |
| Colors | White, Black |
| Materials | 70% Calf, 30% Polyester |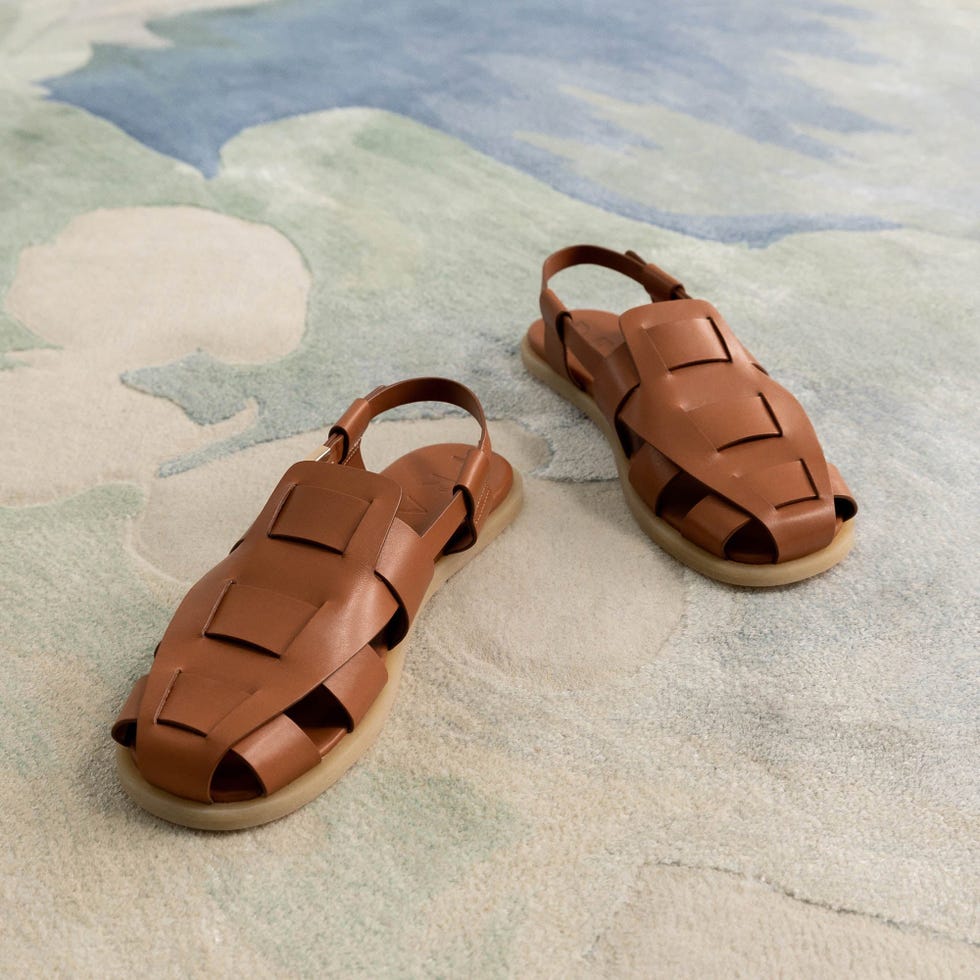 BEST EVERYDAY FISHERMAN SANDALS
Dear Frances Theo Sandal
This sandal can go anywhere, with any outfit: work with a sleek pair of wide-leg trousers, the beach with a breezy sundress, or the farmer's market with a t-shirt and jean shorts. Its versatility comes from the contoured and surprisingly comfortable footbed, paired with a full-coverage leather upper.
Product Details
| | |
| --- | --- |
| Sizes | IT35–IT41 |
| Colors | Black, Espresso, Sand, Cream |
| Materials | Leather |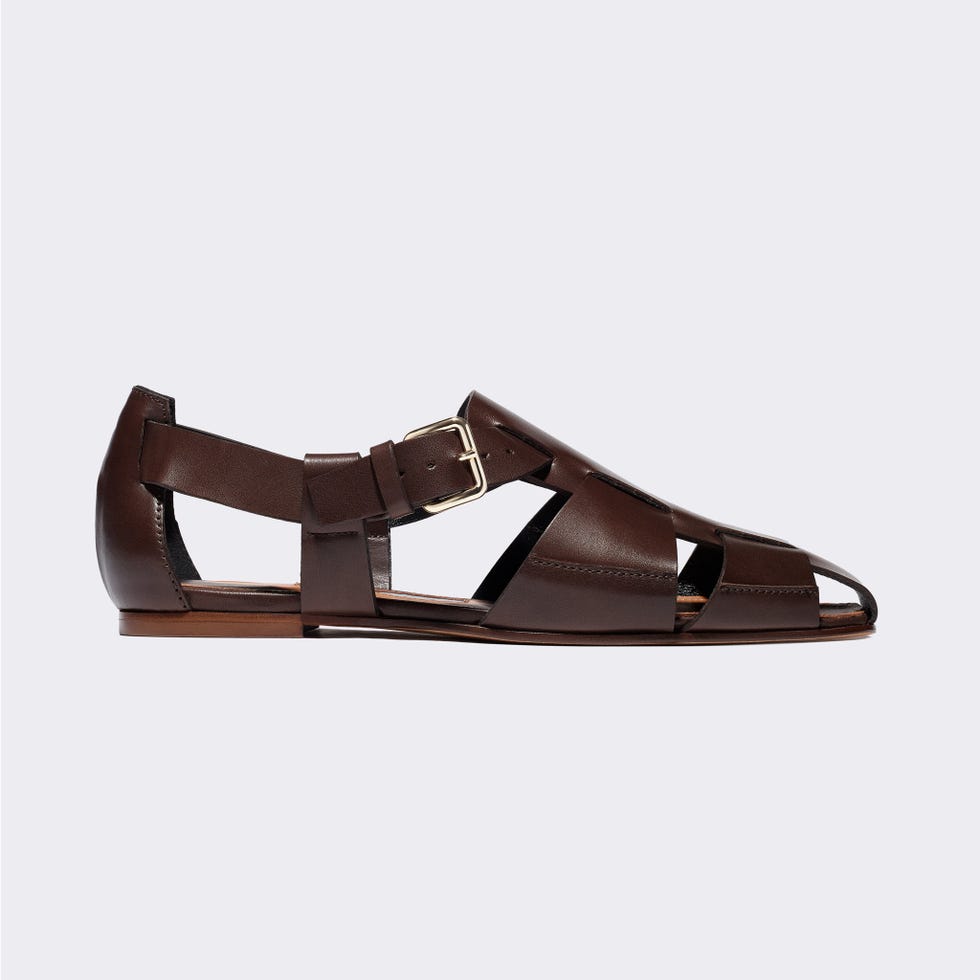 BEST FLAT FISHERMAN SANDALS
Emme Parsons Ernest Sandal
Emme Parson's take on the fisherman sandal—named for The Old Man and the Sea's author, naturally—gets better with every wear. Over time, the vegetable-tanned leather will mold to your foot for a one-of-a-kind fit.
Product Details
| | |
| --- | --- |
| Sizes | 35–42 |
| Colors | Black, Hazelwood, Espresso, Ivory, Luggage, Gold |
| Materials | Calfskin |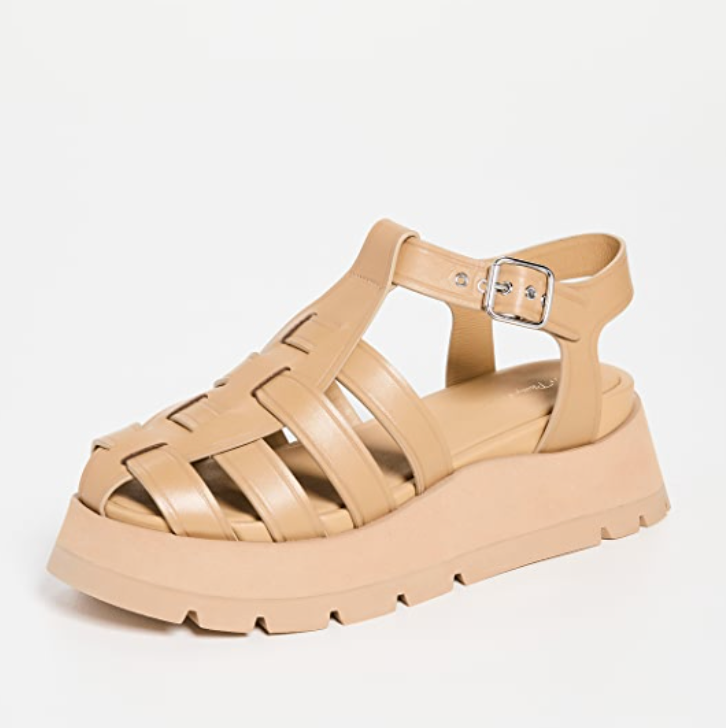 BEST PLATFORM FISHERMAN SANDALS
3.1 Phillip Lim Kate Lug Sole Fisherman Sandals
Jean shorts, floral dresses, swimsuit cover-up sets: This pumped-up pair will take them all to a new level. While you'll get extra height, you'll also be able to walk all day thanks to the gentle pitch of the sole.
Product Details
| | |
| --- | --- |
| Sizes | 35–41 |
| Materials | Leather, rubber |
| Color | Tan |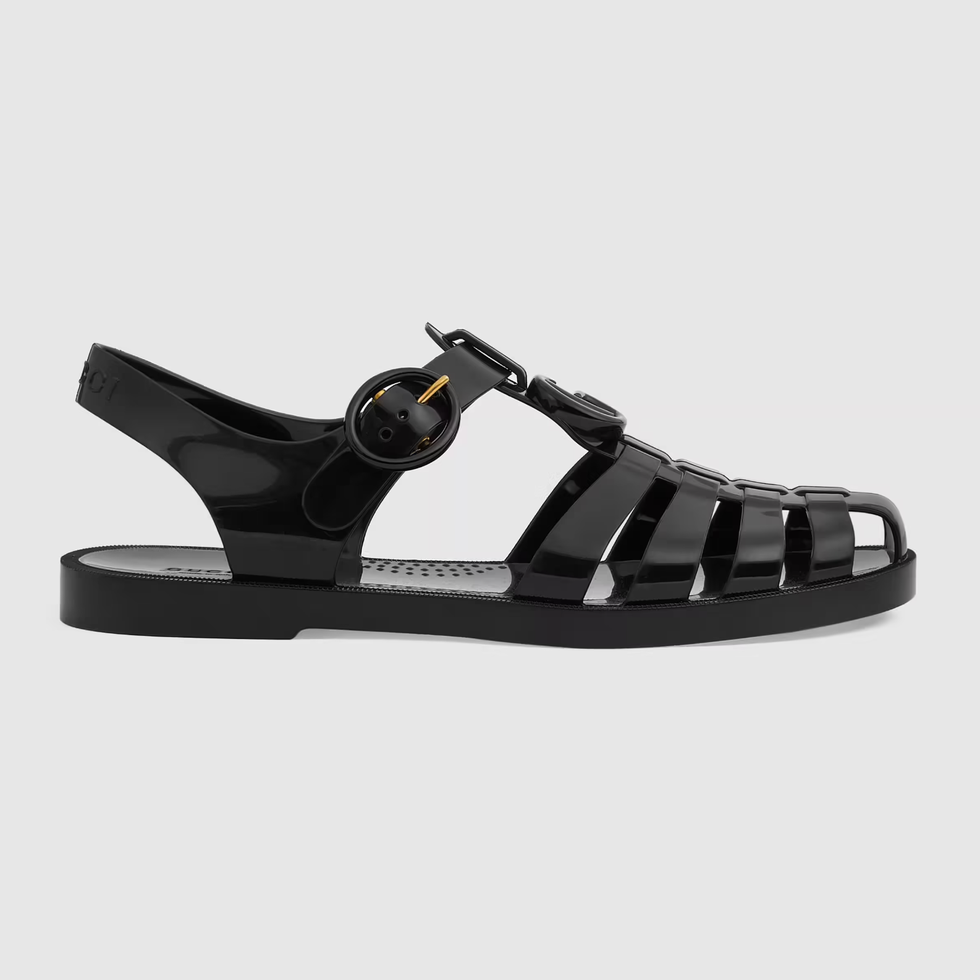 BEST JELLY FISHERMAN SANDALS
Gucci Sandal with Double G
Get your '90s style fix in sandals with a caged toe, double-G logo, and a flexible, walkable material. These will look playful and elevated even when you're dressed down in straight-leg jeans and a plain T-shirt.
Product Details
| | |
| --- | --- |
| Sizes | 4–12 |
| Colors | Black and clear |
| Materials | Rubber |
This article originally appeared in Harper's BAZAAR US.