As a fashion editor, there's nothing I love more about autumn than getting to wear my best fall dresses. The withholding nature of a draped cashmere maxi dress or a knife-pleated midi feels so refreshing after a summer full of botanical prints and SPF-required cutouts. The best fall dresses also embrace a dramatic palette—full of burgundy, deep navy, and forest green, along with staple neutrals—that speaks to my Scorpio heart. When it's time to get dressed, all a dress needs to feel complete are a pair of my best leather boots and a piece of minimalist jewellery. (Of course, maximalists know they can easily pile on more.)
I started gathering 2023's best fall dresses weeks before the leaves began to change. Really, this list began at Fashion Week in February, when designers shared their vision for the fall we're about to experience now. I took mental pictures of Ulla Johnson's orange crushed-velvet slip dress and Proenza Schouler's lipstick-red strapless leather dress when they came down their respective runways—each one channels typical fall colours into exciting new textures, in the ultimate versions of a fall wedding guest dress. Inspired by the yearlong trend of elevated capsule dressing, I also kept track of neutral sweater dresses and twisted T-shirt dresses from labels from Altuzarra to the Garment: pieces that trade bright prints for rich textures and inventive draping evoking a cozy fall blanket.
There's an undercurrent of practicality in these fall dresses and the others ahead. After all, they need to withstand dropping temperatures and layer neatly under an oversize coat. But dresses that transition from August to October can still have an element of whimsy and fun, as Jessie Loeffler Randall, creative director of Loeffler Randall, told me. She treats her plaid, puff-sleeve Gillian midi from her current collection as a transitional dress with a simple turtleneck underneath or heat tech long-sleeve underneath. "This way I can extend the life of pieces and make them work all year round," she explained.
Fall dresses are so much more than long sleeves and deep colors; to me, they're an entire attitude. Ahead, shop the 26 best fall dresses I want to wear before the season officially starts. Each one was chosen based on expert recommendations, shopper reviews, runway reporting, and my own extensive testing.
Related article: The Best Slip Dresses For A Chic Wardrobe Upgrade
Shop the Best Fall Dresses of 2023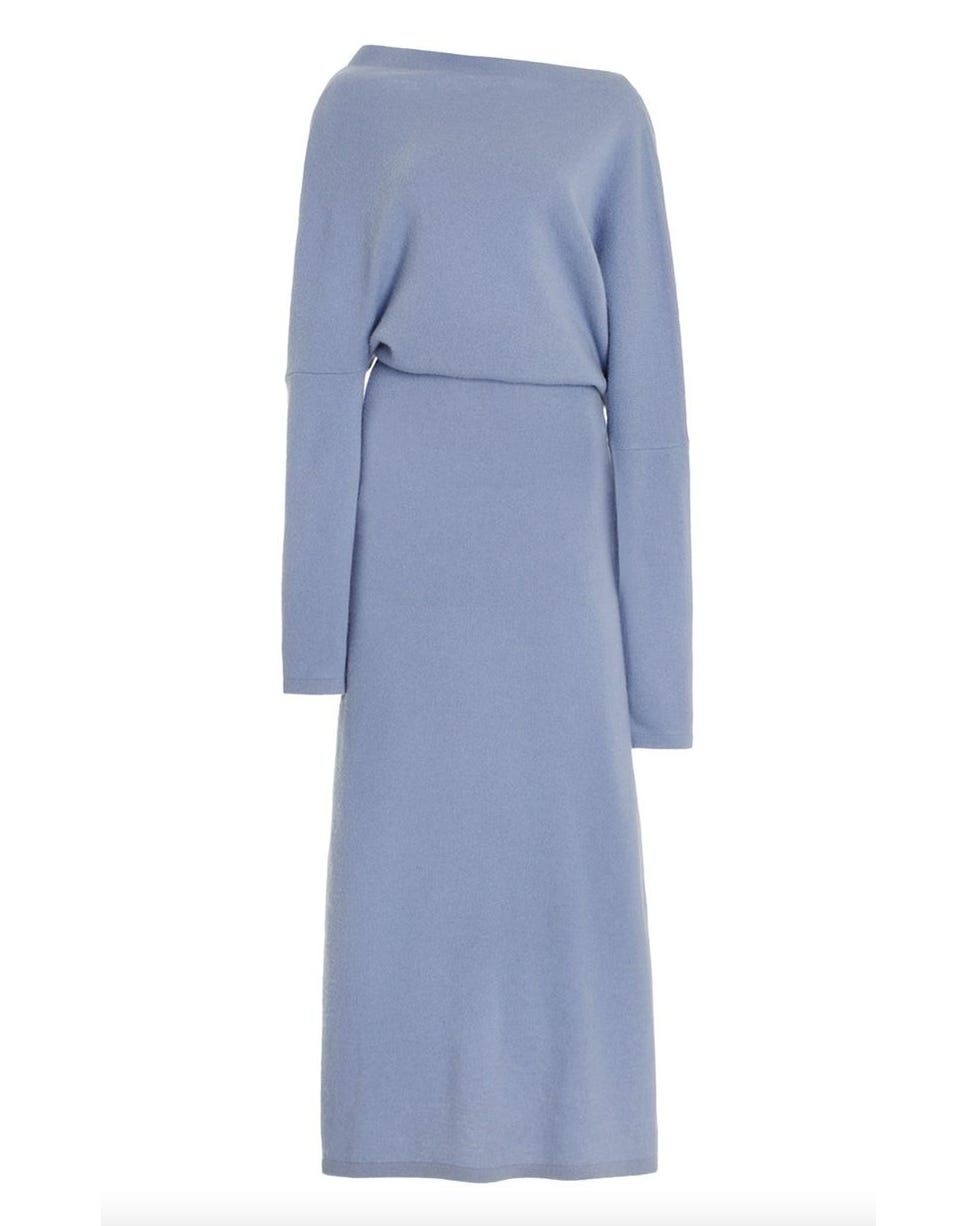 THE SLOUCHY FALL SWEATER DRESS
Altuzarra Kasos Cashmere Dress
Can a fall sweater dress be … sexy? Altuzarra says yes, with this cashmere midi that sensually drapes off one shoulder. Note that the powder blue is also a fall 2023 trend—but it's slightly more versatile than the fire-engine red resurgence happening now.
Sizes: XS–L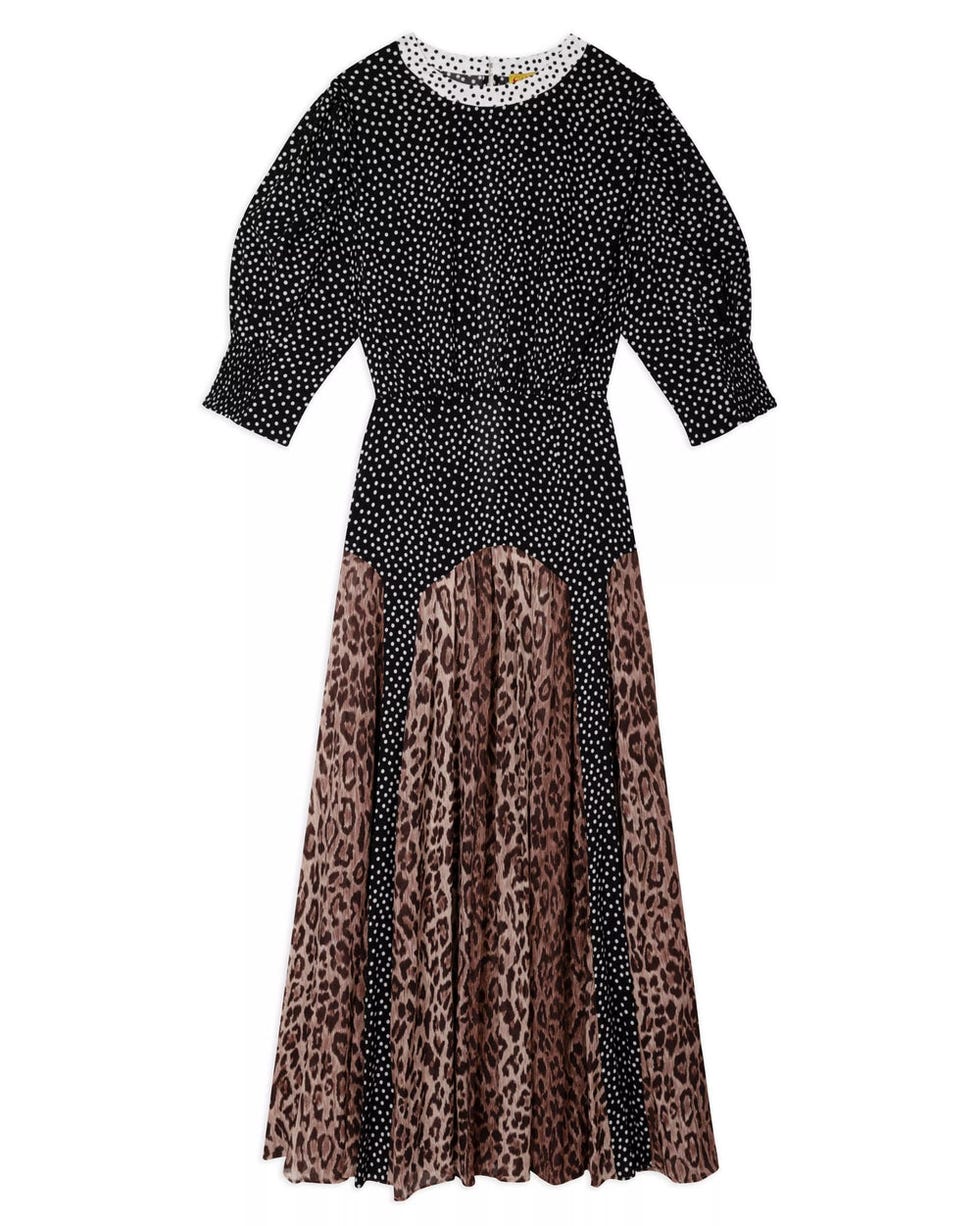 THE MIXED-PRINT FALL DRESS
Rixo Meg Dress
This Rixo dress is at the top of my personal wish list. I love how the designers inventively combined two quintessential fall prints—the basic black-white polka dot and an exaggerated leopard print—into a single dress with a layered effect.
Sizes: 2–22
Colours: Leopard/dot, startlet floral, poppy/leopard, and more
What reviewers are saying: "Absolutely adore this dress and know I'm going to get so much wear out of it, a forever dress. I sized down – I'm a 12 but was a bit big so kept the size 10."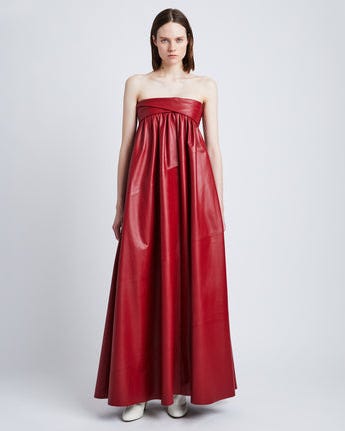 THE STANDOUT FALL RUNWAY DRESS
Proenza Schouler Nappa Leather Strapless Dress
Behold, the red leather dress that sparked a bona fide color trend and all sorts of social media chatter when it arrived on Proenza Schouler's runway. It's the sort of investment that's hard to resist: The construction and saturated color are unlike any other leather dress on the market.
Sizes: 0–12
Colours: Red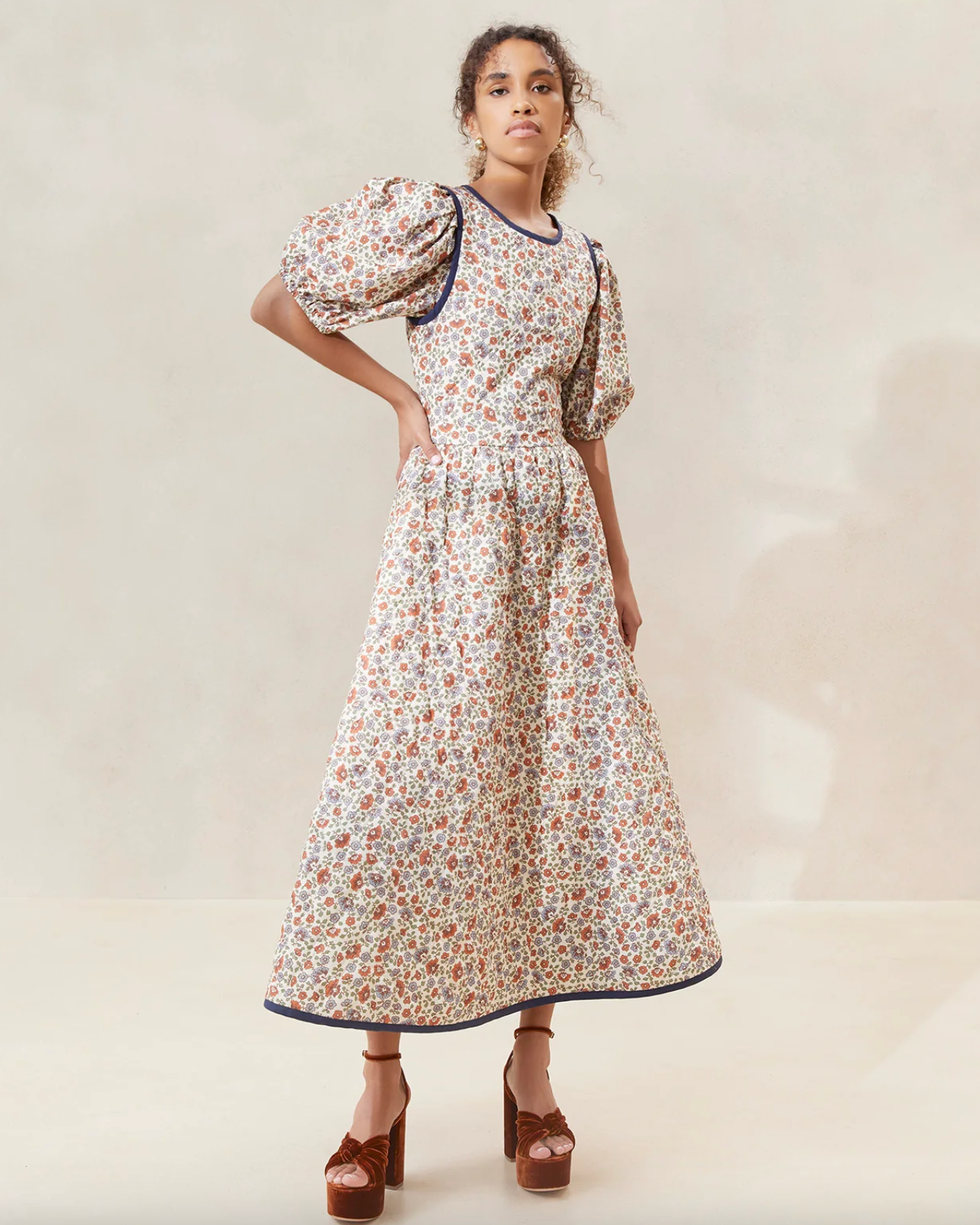 THE QUILTED FALL DRESS
Loeffler Randall Lottie Dress
Jessie Loeffler Randall said this quilted dress strikes a special balance: "It's a statement dress that also feels down to earth."
She added: "It's got the appearance of being layered and I love that! It's actually very lightweight and airy. I'll be wearing it with our tall shaft Gia boots or with some statement velvet platforms."
Sizes: XS–XL
Colours: Cream floral, blush floral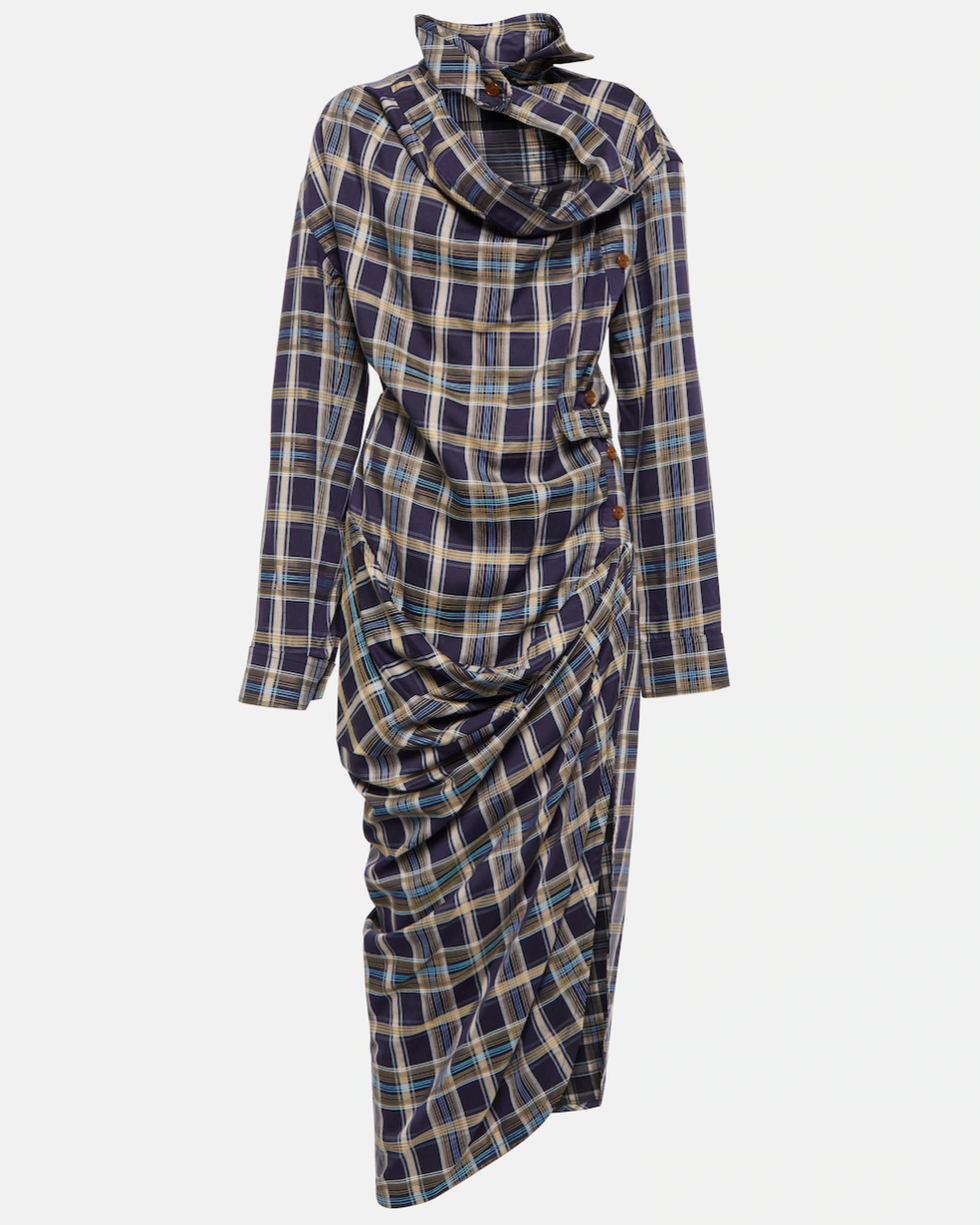 THE PUNK FALL PLAID DRESS
Vivienne Westwood Checked Midi Dress
Plaid is as essential to fall as pumpkin lattes and Nora Ephron films. This Vivienne Westwood dress takes the classic seasonal check and makes it daring, sculptural, and a little punk rock—true to the house's counterculture roots.
Sizes: 0–10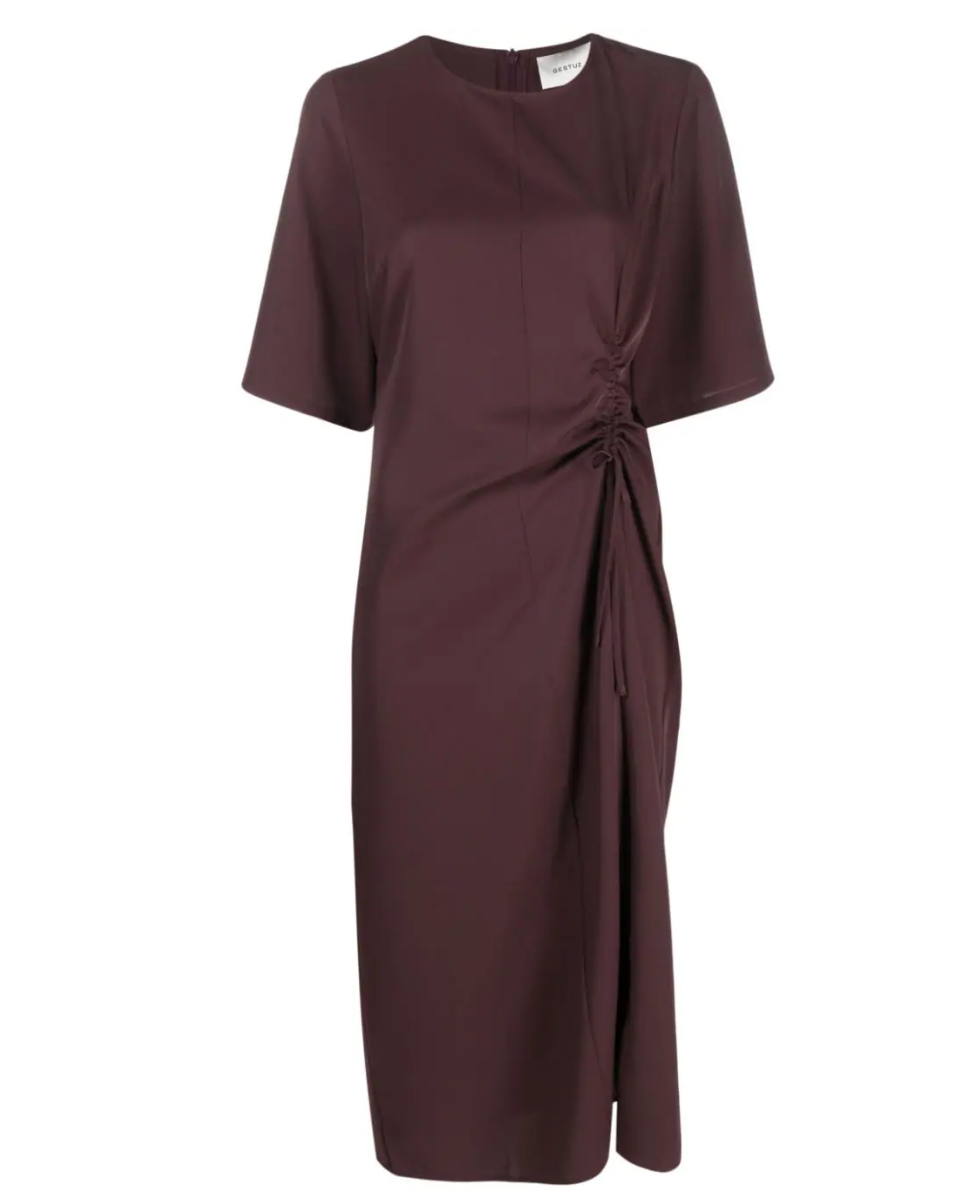 THE TWISTED T-SHIRT DRESS
Gestuz Ruched Round-Neck Midi Dress
Copenhagen-based label Gestuz has delivered the T-shirt dress I know I need for fall. The ruched, gathered waist adds an element of visual interest and creates a slit idea for showing off an over-the-knee snakeskin boot.
Colours: Chocolate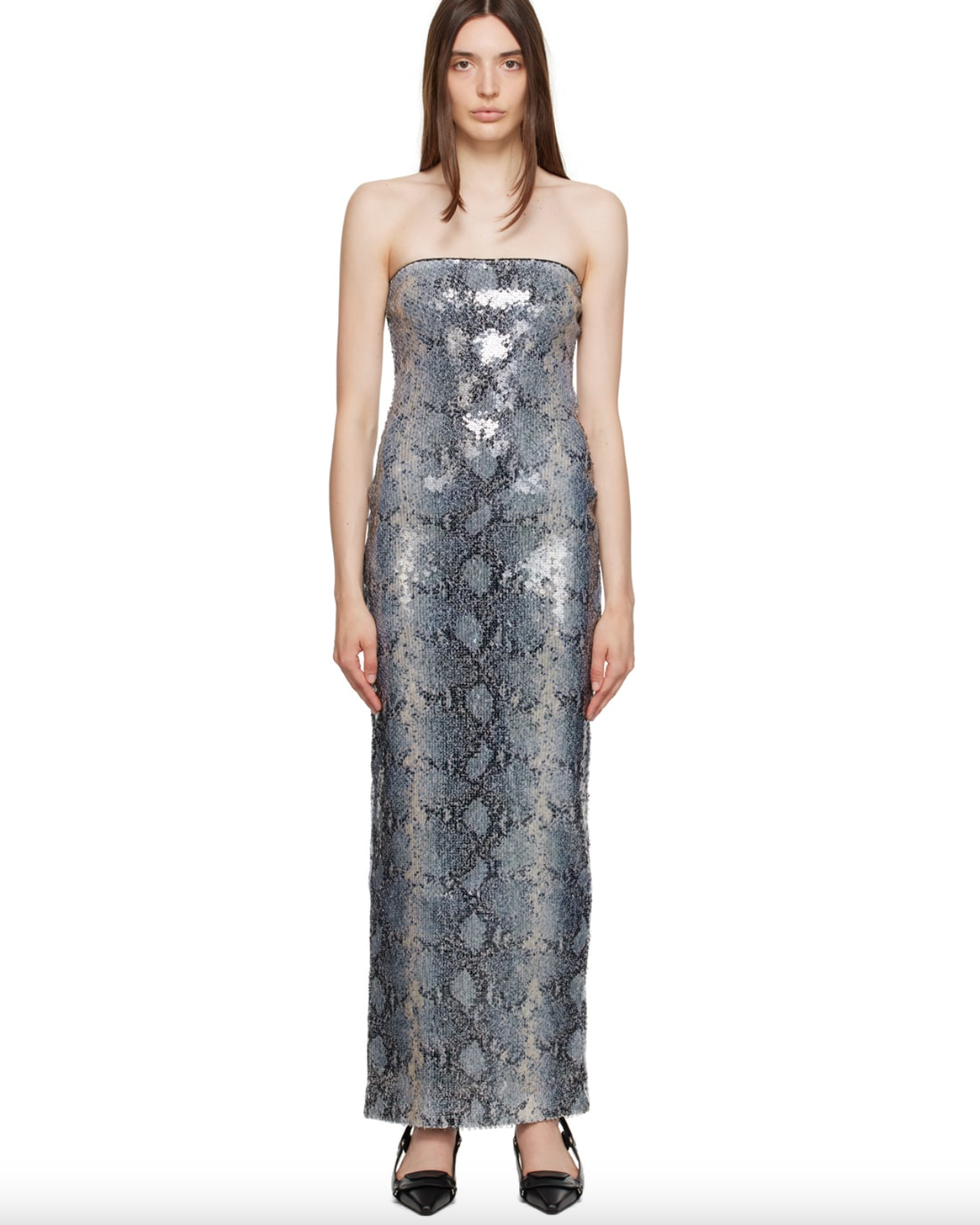 THE SNAKESKIN STRAPLESS DRESS
16Arlington Grey Althena Python Midi Dress
This going-out dress has bite. In 16Arlington's expert ateliers, a simple column gown becomes a capital-M moment when it's coated in sequins to replicate python skin. Pointed-toe shoes and a dramatic jacket are musts to bring the look together.
Sizes: XS–XL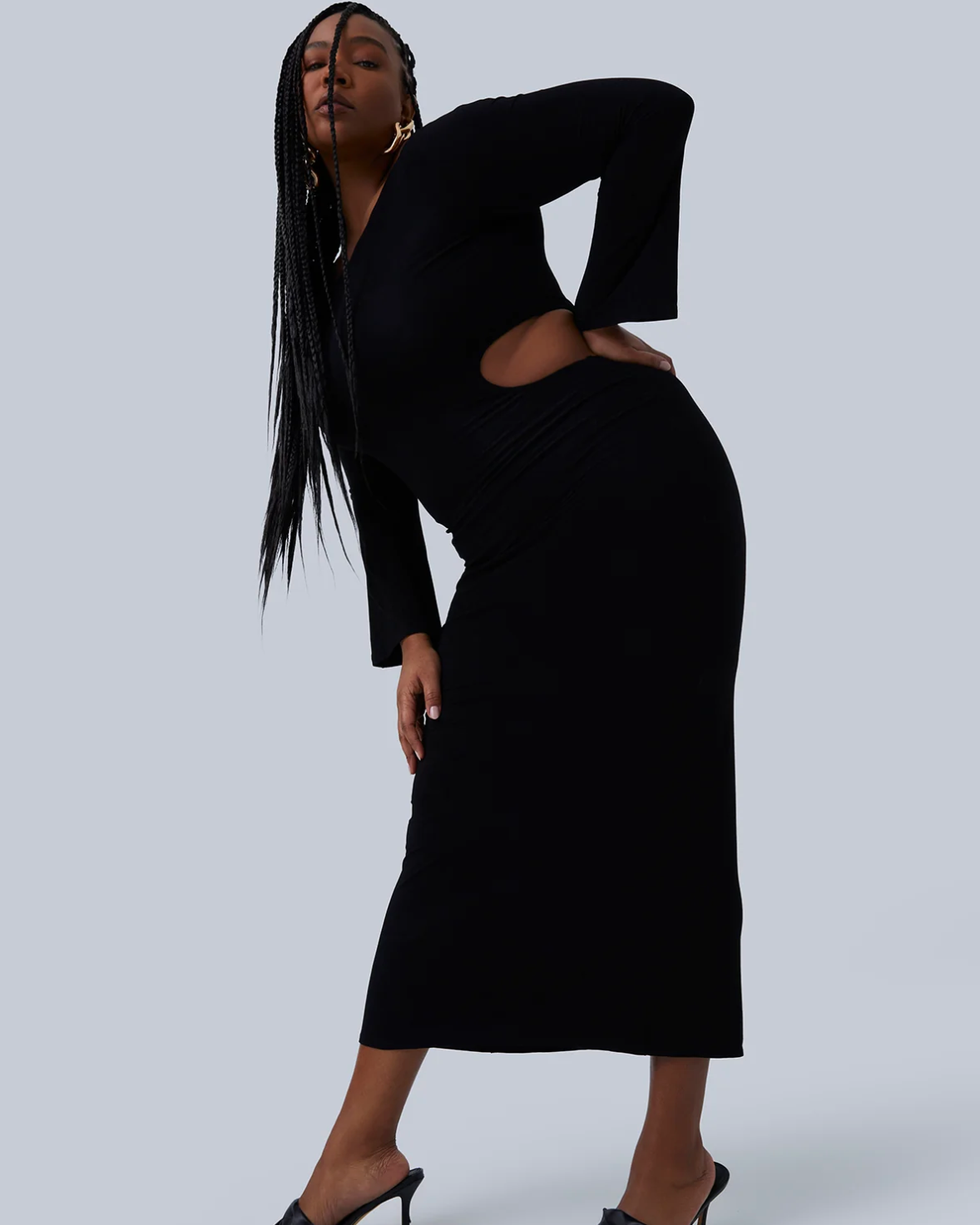 THE FALL CUTOUT DRESS
GIA/irl Gabrielle Dress
Sexy, streamlined, and so classic: This modal maxi dress is the sort that you never stop wearing once it arrives.
Sizes: 12–26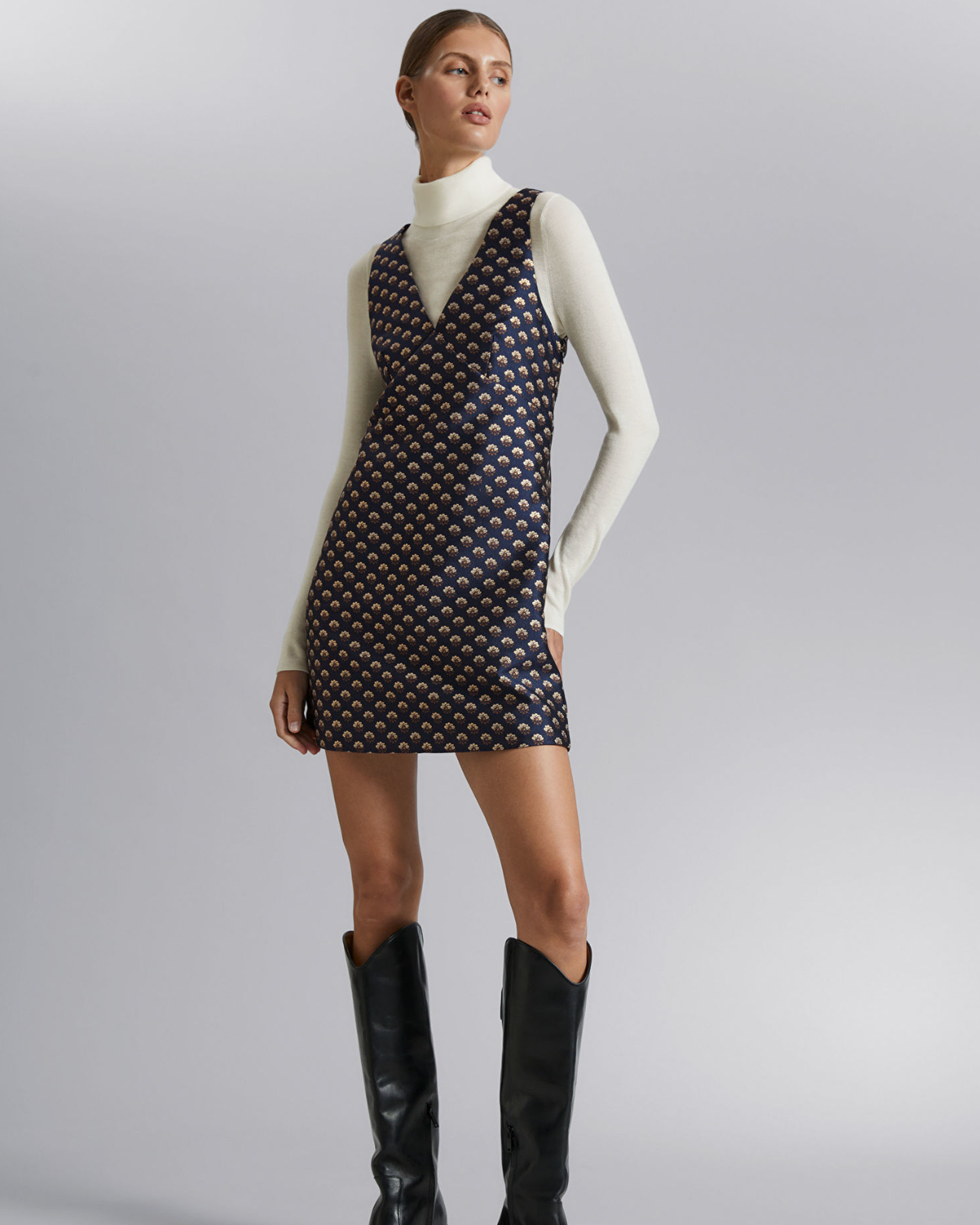 THE '70S PRINT DRESS
& Other Stories Mini Jacquard Dress
This little mini feels expressly designed for layering with a tissue-thin turtleneck, a pair of leather boots, and a Penny Lane coat. With a big hair bow and a demure kitten slingback, it transforms into holiday party material.
Sizes: 0–12
Colours: Blue jacquard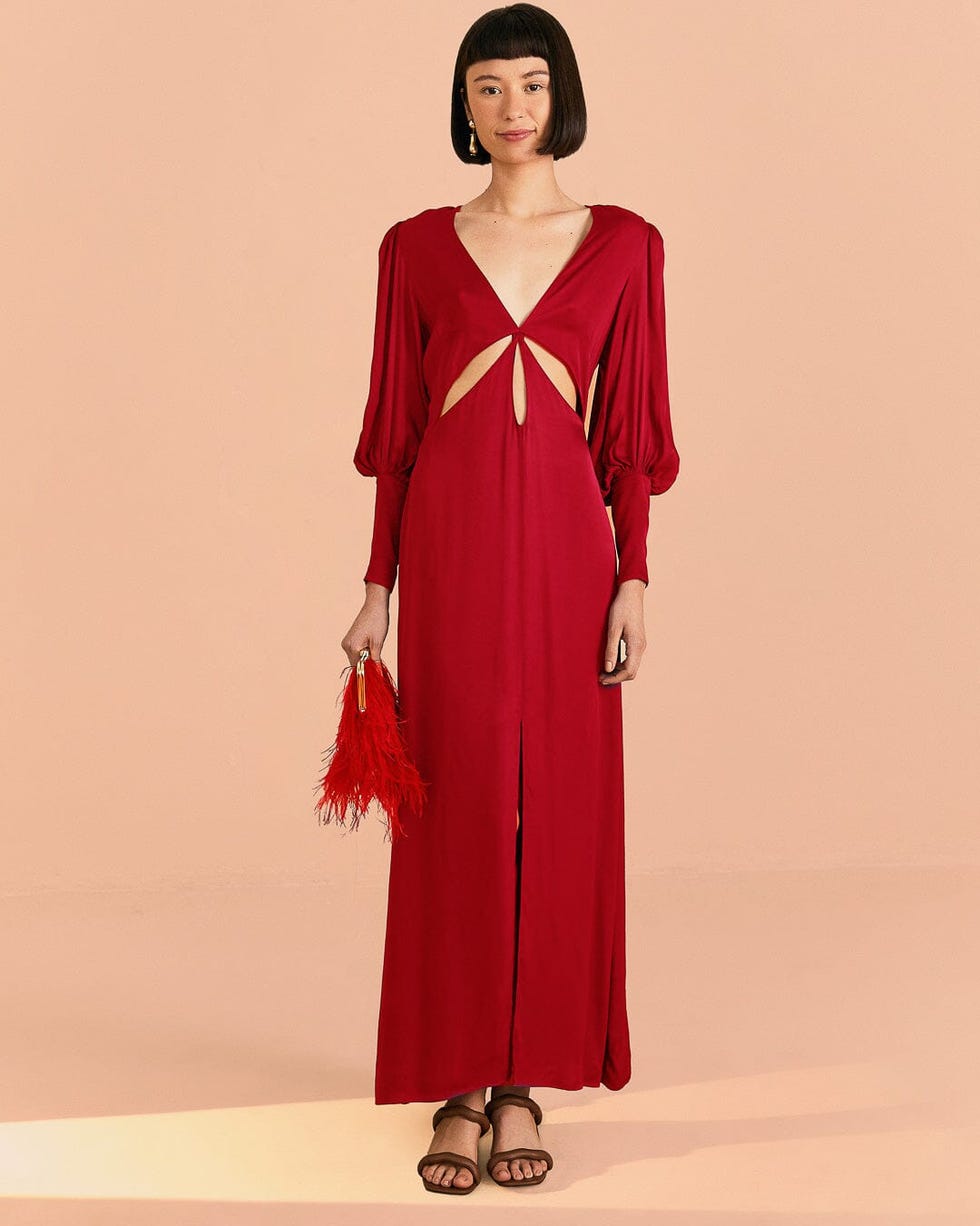 THE FIERY WEDDING GUEST DRESS
Farm Rio Red Cut Out Long Sleeve Maxi Dress
I have three weddings to attend this fall and several in autumn 2024. For anyone else in the same boat, I recommend this sustainably knit Farm Rio maxi. The unexpected combination of long sleeves and a plunging, cutout bodice can go from city civil ceremonies to beachside outdoor weddings and back.
Sizes: XXS–XL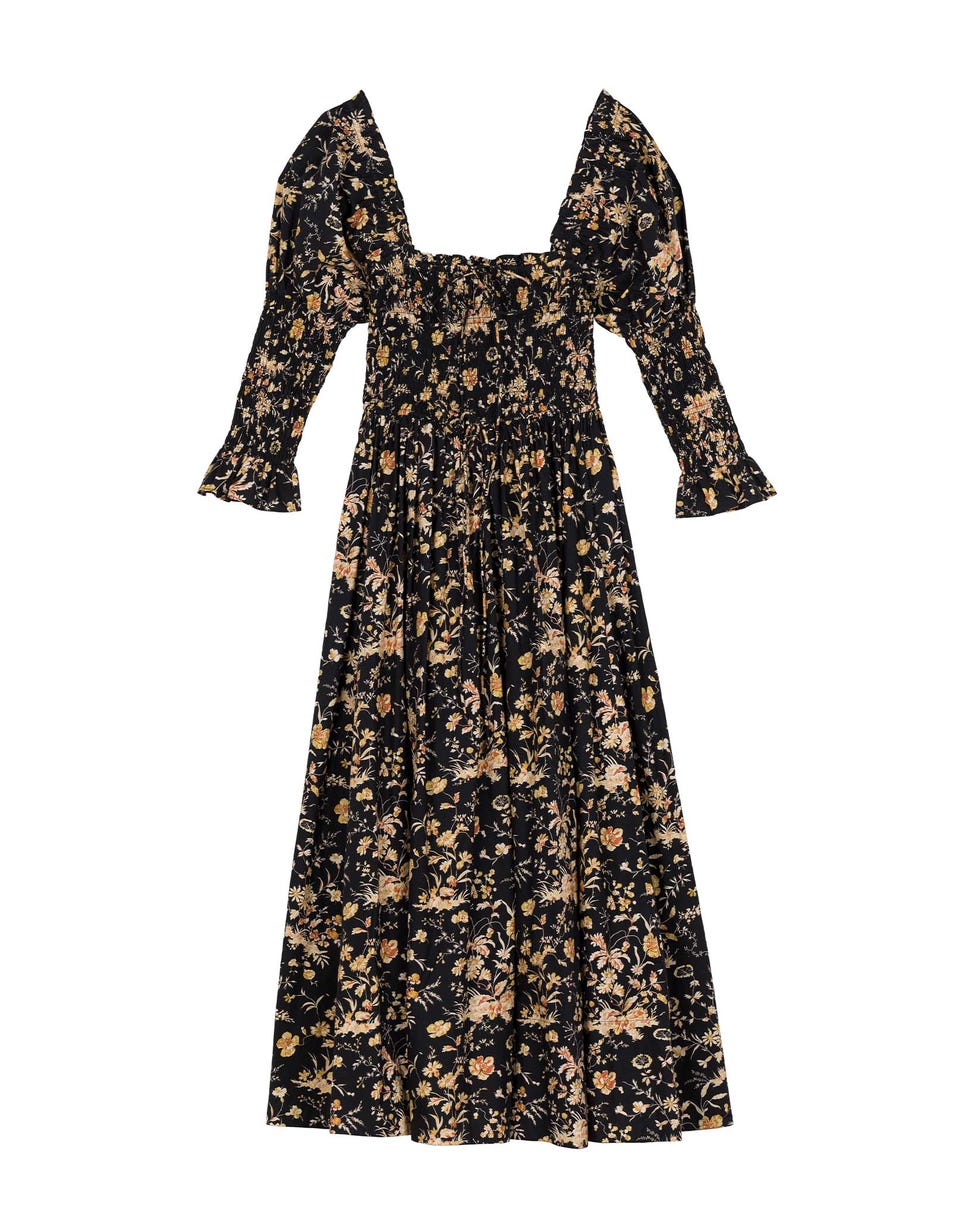 THE FALL FLORAL DRESS
Dôen Bijou Dress
When I wore this dress to work on a recent August morning, I was stopped three times between my apartment and my office by strangers complimenting it. I have to agree it's one of Dôen's absolute best. The brand updates this square-neck midi with a smocked bodice each season with new fabrics, and each variation embodies bohemian elegance. (Plus, it's unbelievably comfortable). I plan to layer a brown leather blazer over the top when fall really kicks in.
Sizes: XXS–XXL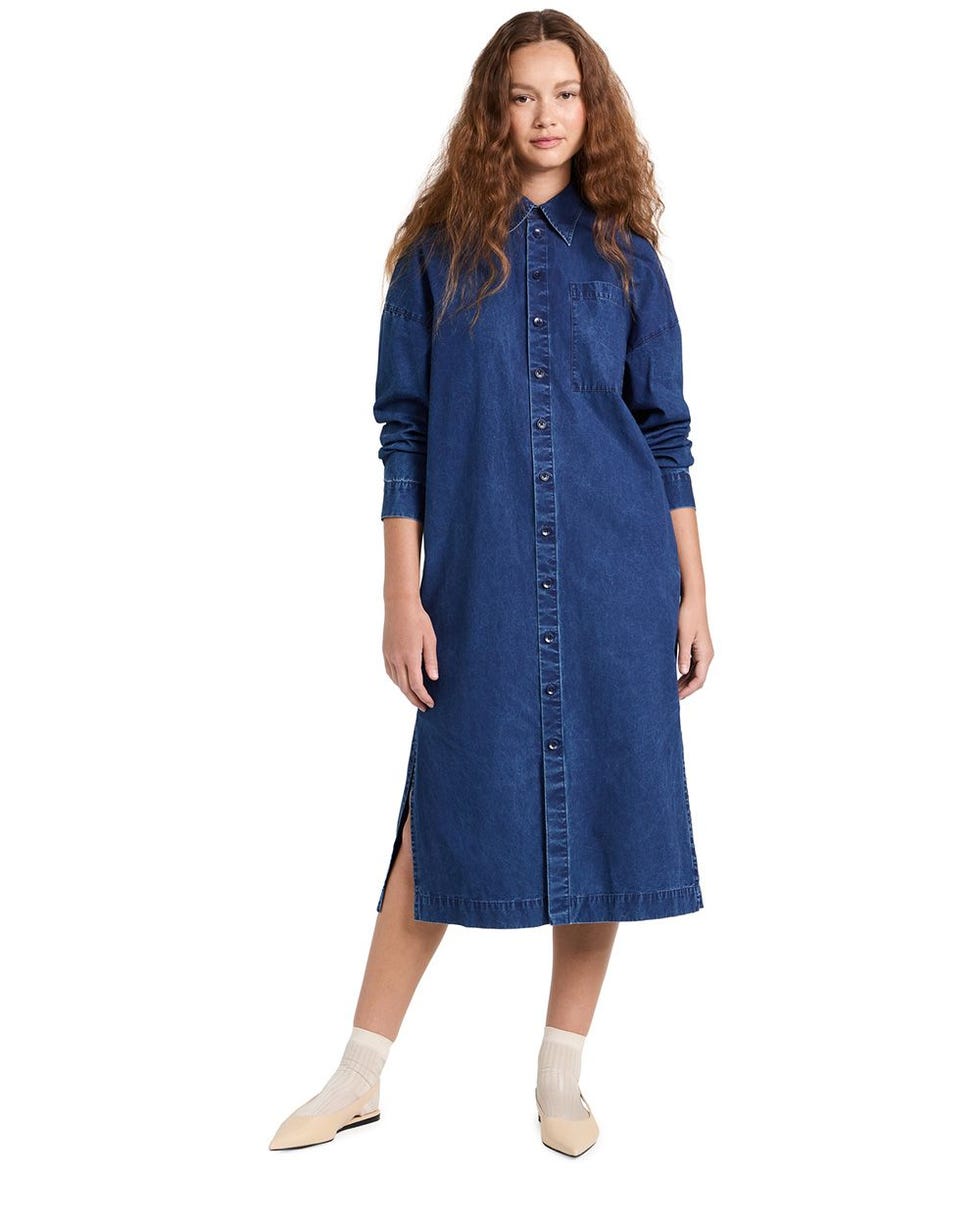 THE OFF-DUTY DENIM DRESS
Tibi Tencel Cotton Shirtdress
I tend to wear shirt dresses regardless of the season. Still, I'll admit that all-over poplin doesn't quite feel like fall on its own. For a seasonal swap that also has year-round potential, I'm eyeing this denim shirt dress from Tibi. It has all the structure I'm looking for, with a length that can complement boots, mesh flats, and loafers.
Sizes: XXS–XL
Colours: Blue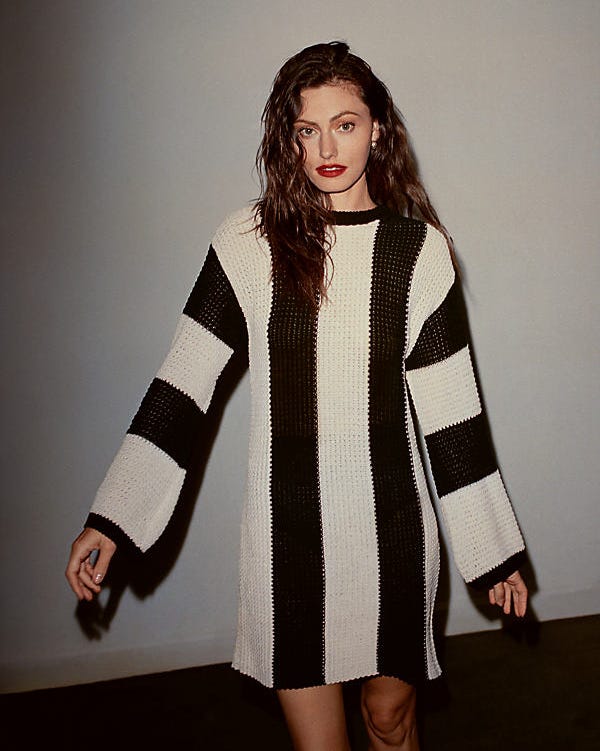 THE BOLD STRIPED DRESS
4SI3NNA Long-Sleeve Striped Sweater Mini Dress
Chunky gold jewellery, a knee-high boot, and a bold red lip are all this size-inclusive striped sweater dress needs to feel ready for the day.
Sizes: XXS–XL, 1X–3X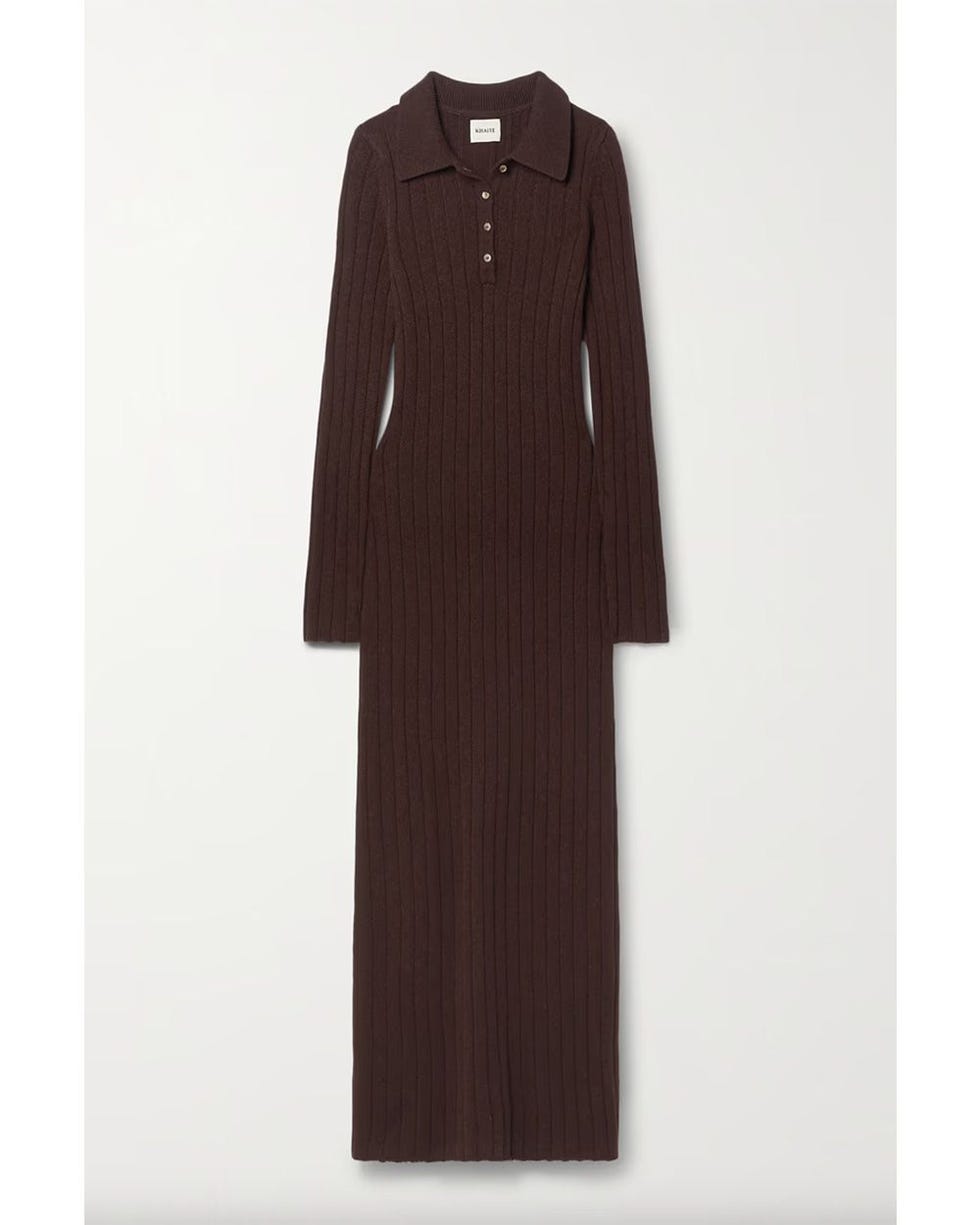 THE STATUS DRESS-IN-WAITING
Khaite Hans Ribbed-Knit Maxi Dress
Last year, Khaite designed a slightly oversize cardigan that became an unassuming It item. I predict history will repeat itself with this thick, ribbed-knit sweater dress. It has the same deliciously soft texture and limited edit of true neutral shades—oh, and some sizes are already selling out.
Sizes: XS–XL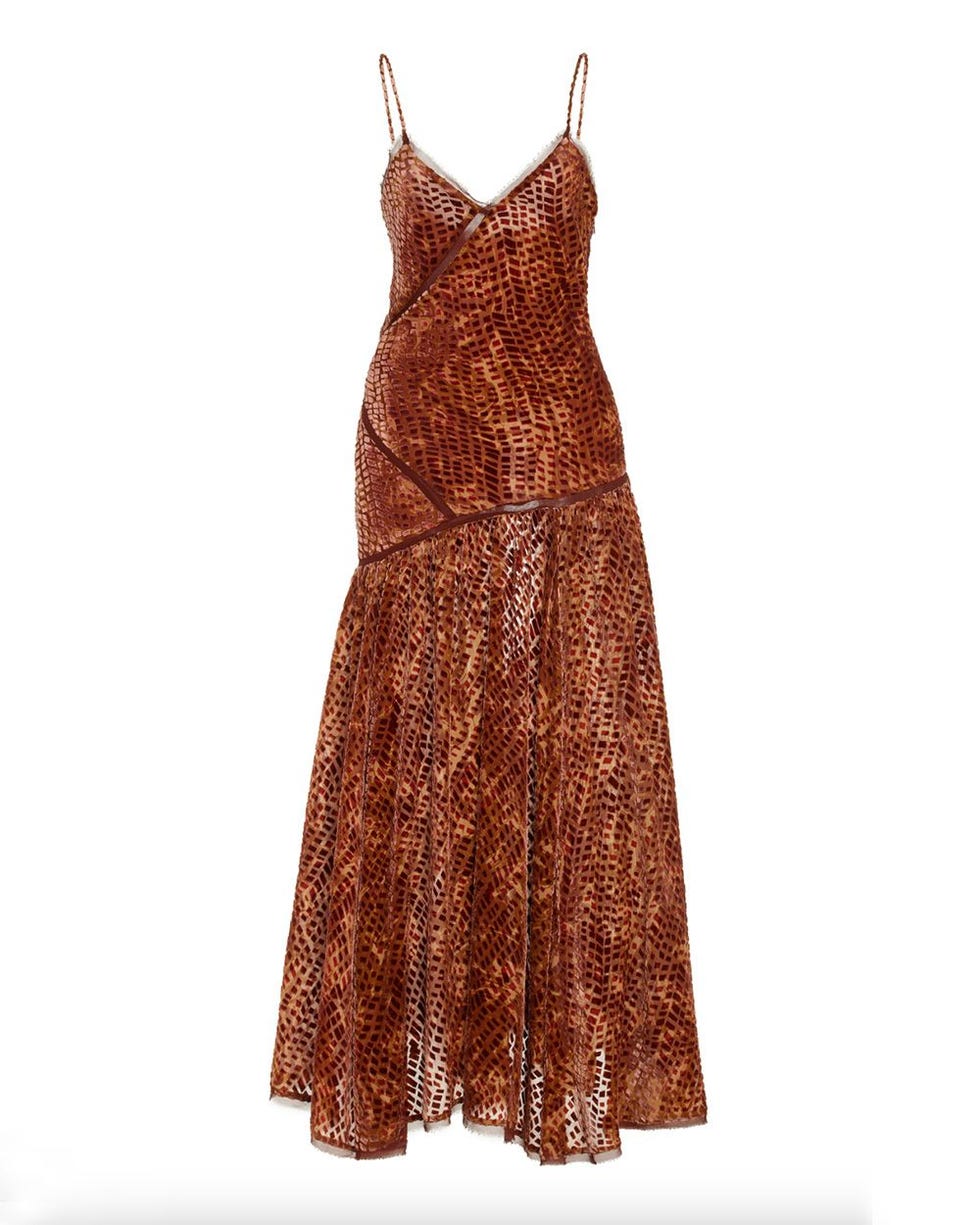 THE MODERN VELVET MAXI DRESS
Ulla Johnson Elodie Bias-Cut Burnout Velvet Maxi Dress
My love for this dress boils down to its rich texture. Sometimes I look at the crushed velvet and see falling leaves; sometimes it has the effect of a subtle animal print. Either way, I can envision a fall full of evening work events, weekend dinners, and the occasional gala, all while wearing this single piece.
Sizes: 0–10
Colours: Orange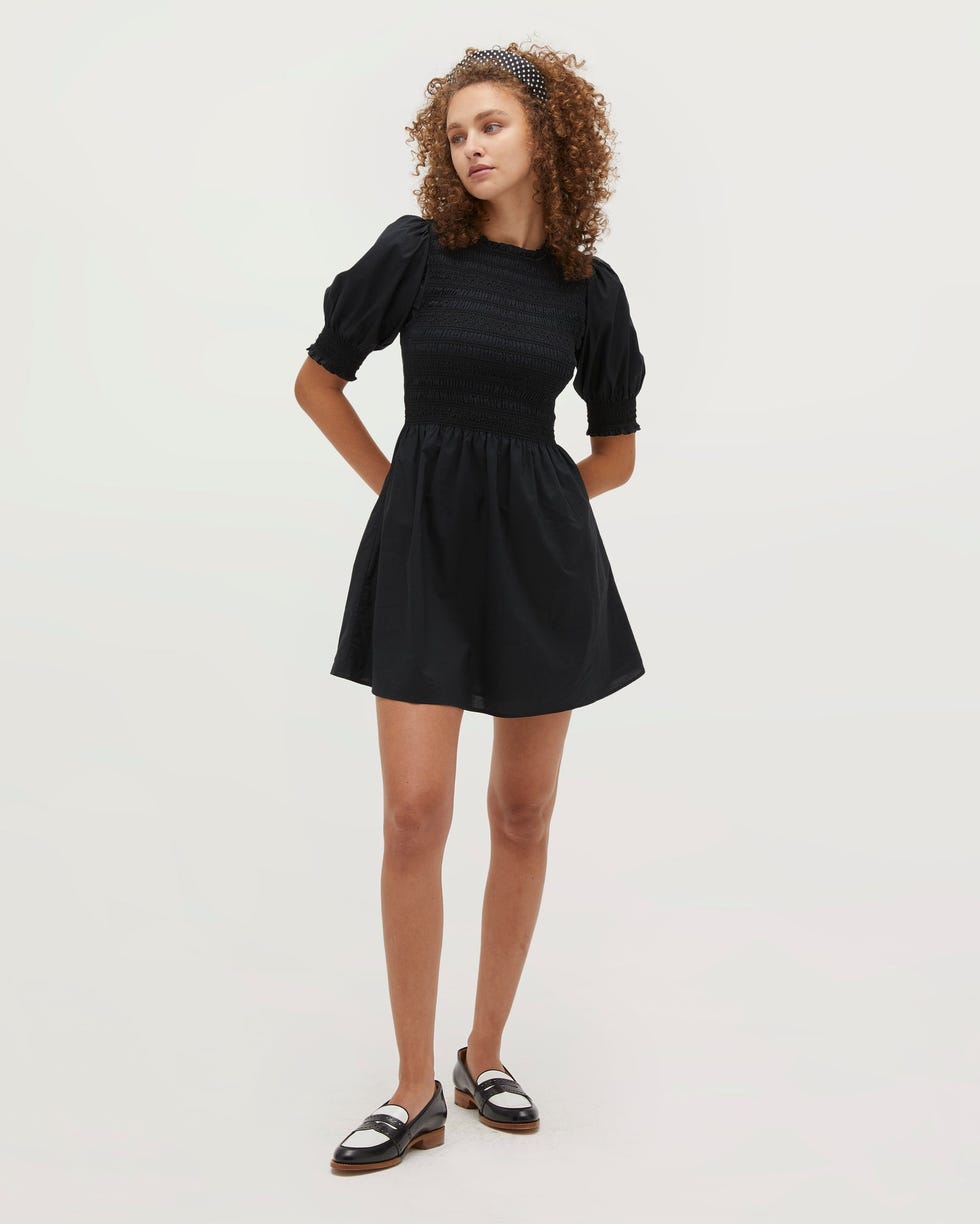 THE UPDATED FALL LBD
Hill House Home The Vivi Nap Dress
It's a truth universally acknowledged that every fall wardrobe requires a little black dress, and runways were newly obsessed with LBDs for fall 2023. Hill House Home brings the forever staple into daytime with puff sleeves, a smocked bodice, and a higher neckline.
Sizes: XXS–XXL
Colours: Black, leaf green, berry
What reviewers are saying: "I love this dress and it is by far my favourite from this drop! I typically wear a medium Ellie and ordered this in a medium and it fit good but a large probably would fit good as well. I'm 5'4″ and the dress is a bit above my knee but not too short like some of the other shorter styles. The smocking is very flattering and gorgeous!"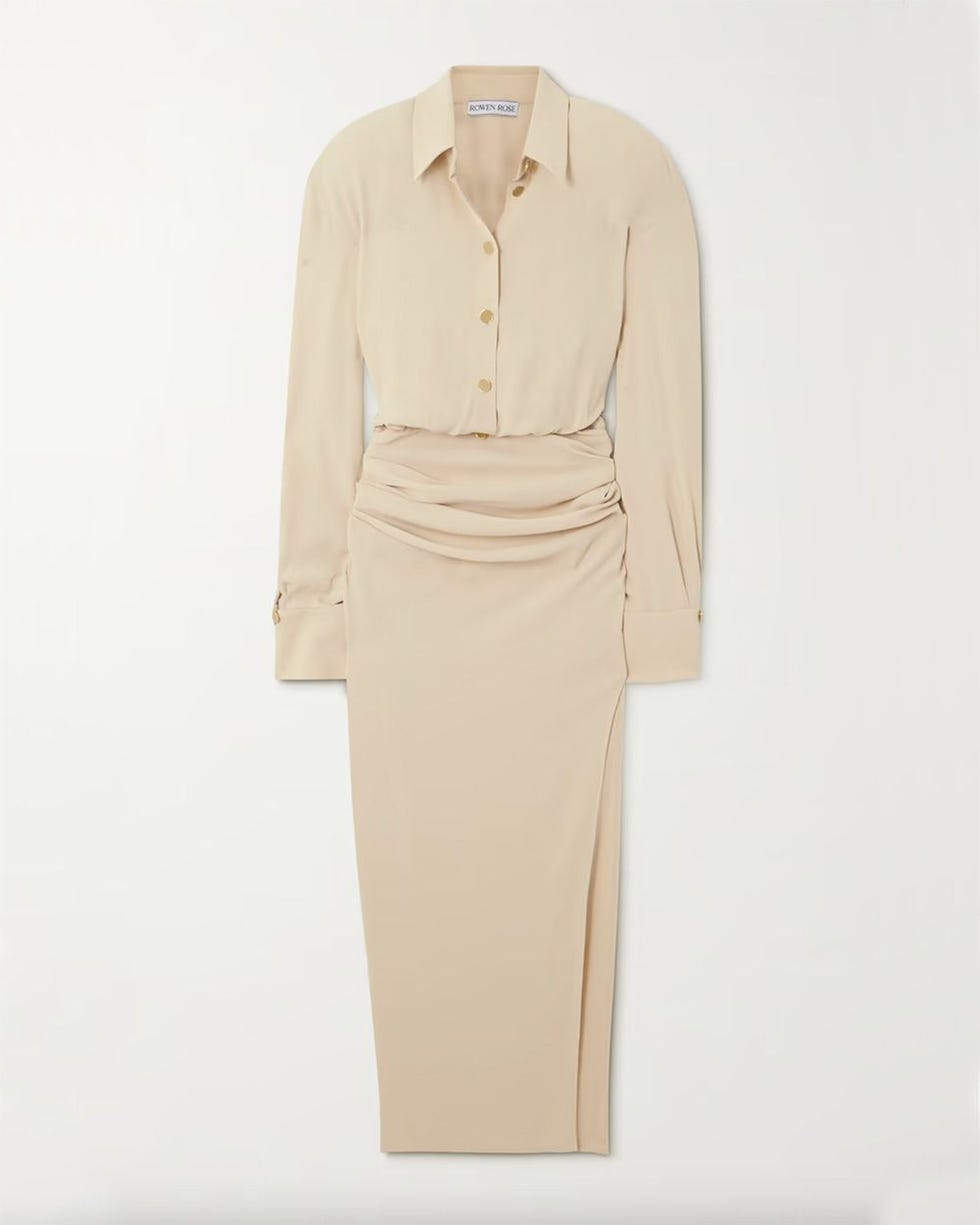 THE SILK SEPARATES DRESS
Rowen Rose Draped Silk Maxi Dress
This fall work dress is so much more than meets the eye. It drew me in with its layered illusion of a shirt tucked into a pencil skirt, and earned my "Add to Cart" with its lustrous silk.
Sizes: 34–44 FR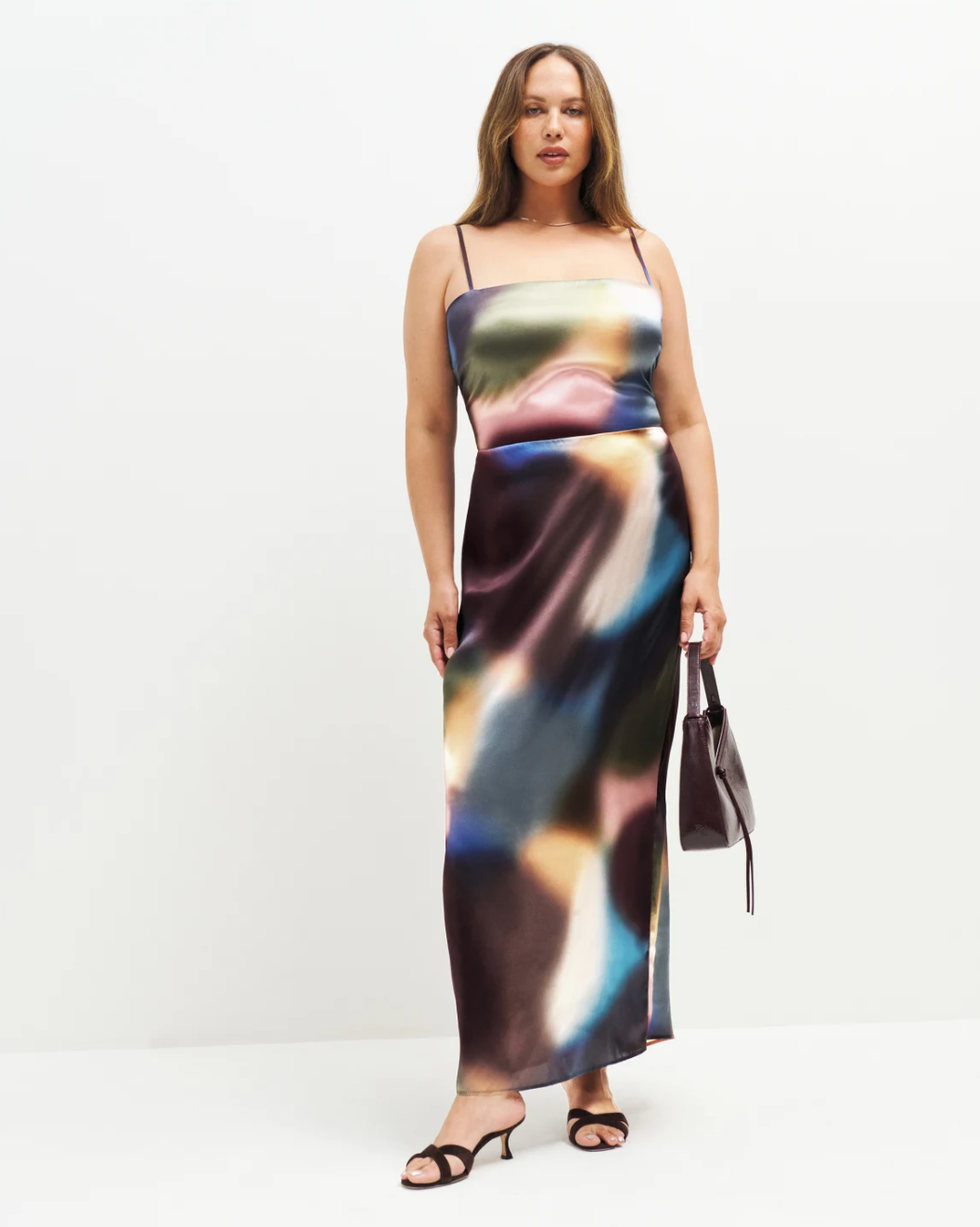 THE SWIRLY SLIP DRESS
Reformation Frankie Silk Dress
I know Reformation's Frankie dress has comfortable smocking along the back and an expertly placed leg slit. I also know now that it's a must for the fall wedding circuit in this abstract, hazy silk print.
Sizes: 14–24
Colours: Blur, tea garden, cafe, and more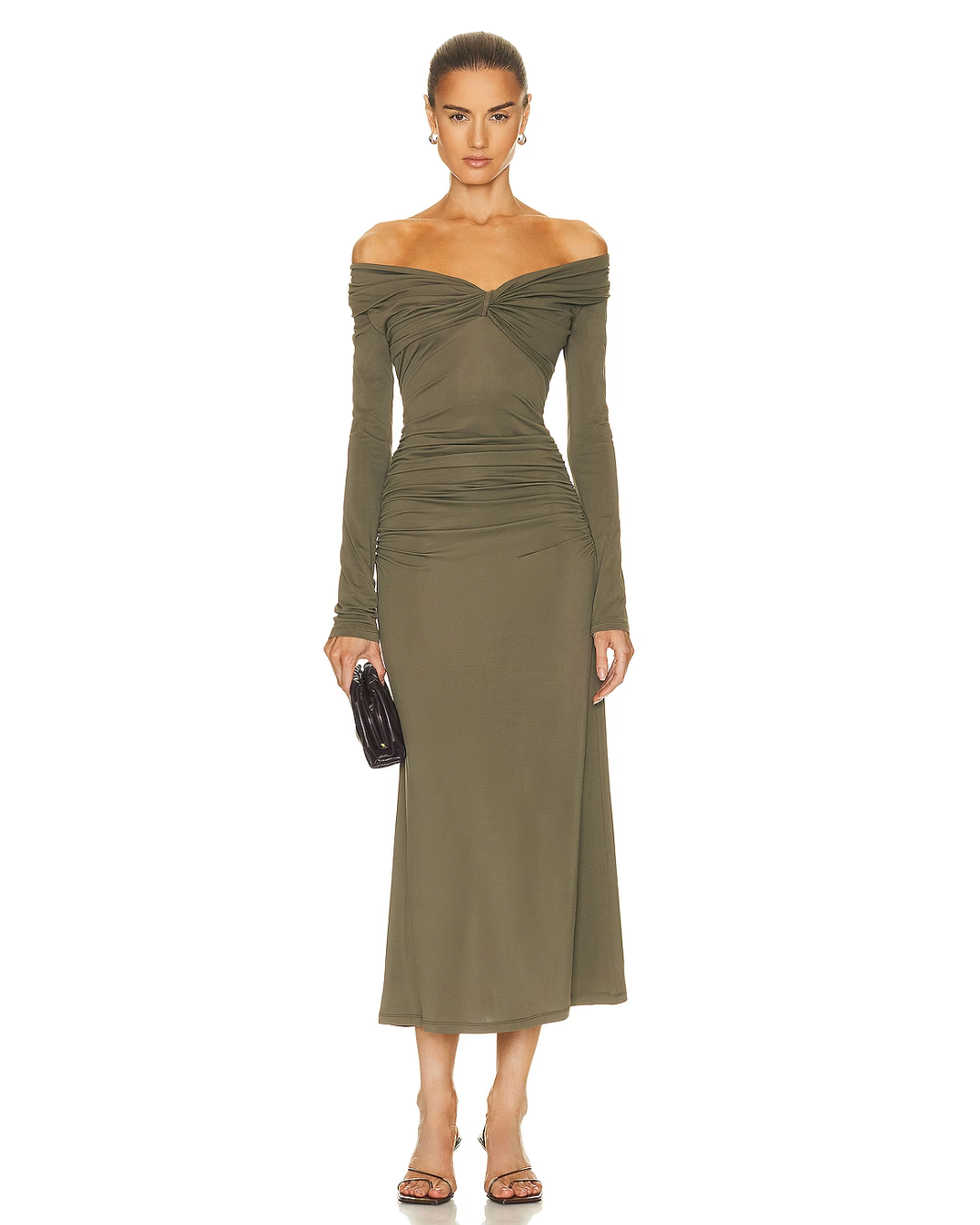 THE DATE NIGHT JERSEY DRESS
Tove Gina Dress
Candlelit dinners and nights at the theatre have met their new match for fall. Tove is one of my favourite minimalist brands, and the label has found yet another way to elevate its soft, stretchy, and comfortable jersey fabric through this off-the-shoulder evening dress.
Sizes: 2–10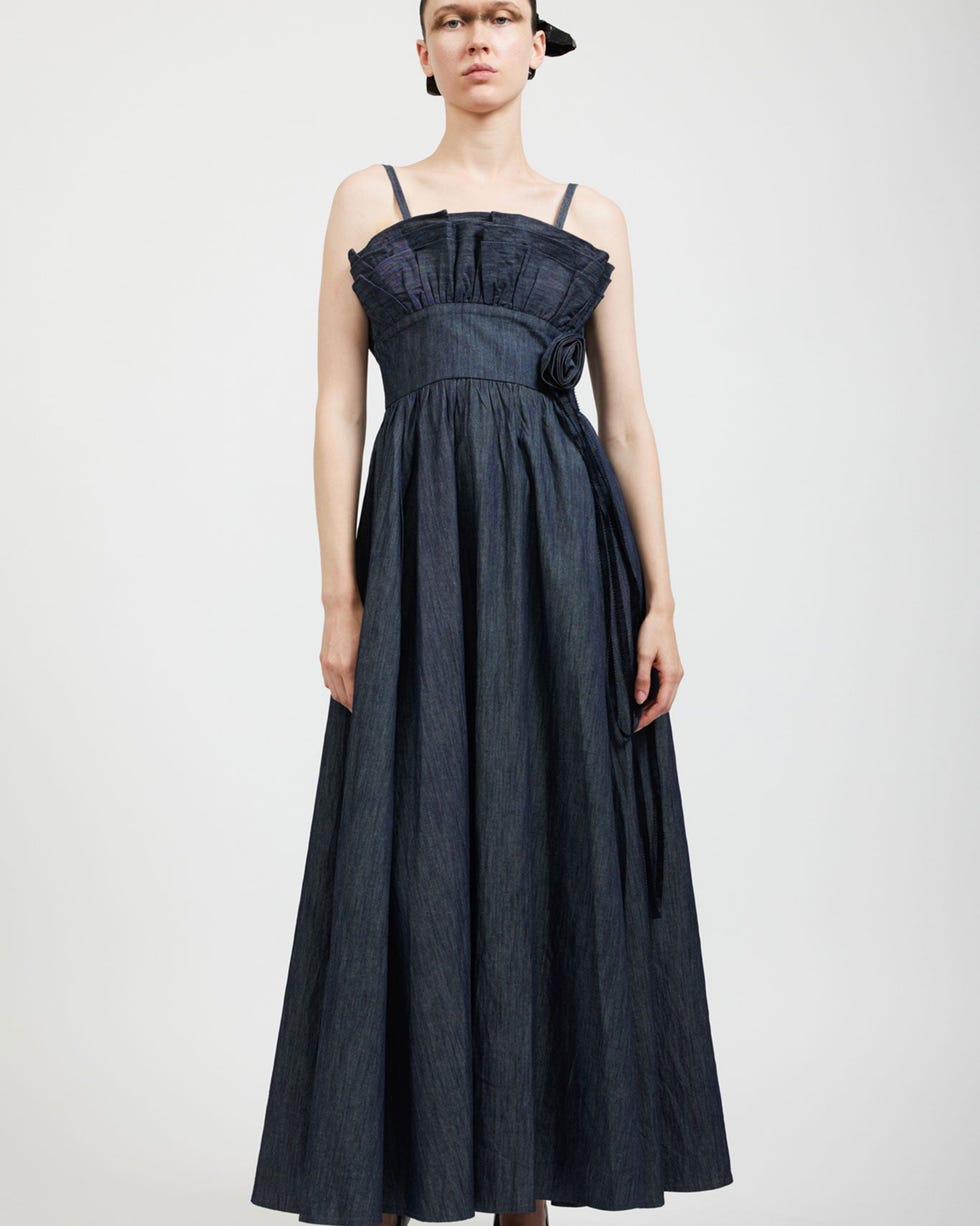 THE ELEVATED DENIM DRESS
Batsheva Amara Dress
It seems I've been underestimating fall denim; I didn't know the fabric could turn into something like this Batsheva midi dress. The ruffled bodice, the rosette waist embellishment, and the folds of the skirt are just so elegant—which is not a word I use often for jeans. Still, Batsheva brought the fabric's utilitarian roots into this graceful dress form: It includes adjustable straps and pockets hidden in the skirt.
Sizes: 0–20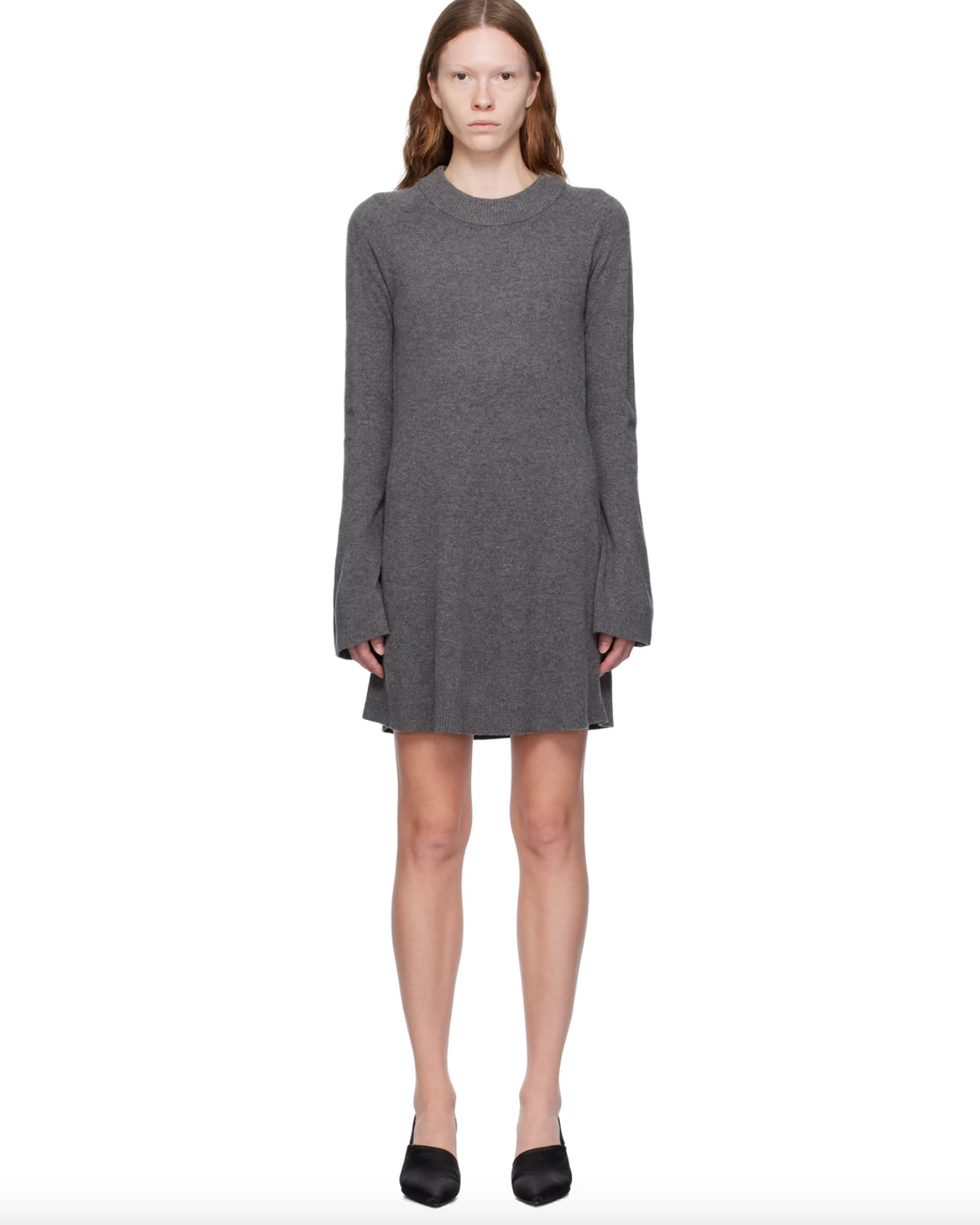 THE MINI SWEATER DRESS
The Garment Grey Como Minidress
Now that I'm acquainted with the Garment, it's at the top of my list for enduring fall staples. This sweater mini has several small details I love, like the thicker crewneck collar and bell sleeves. Its simplicity makes it a canvas for all sorts of creative layering; personally, I'm starting with sheer Swiss-dot tights, an ankle sock, and double-strap metallic Mary Jane pumps.
Sizes: XS–L
Colours: Grey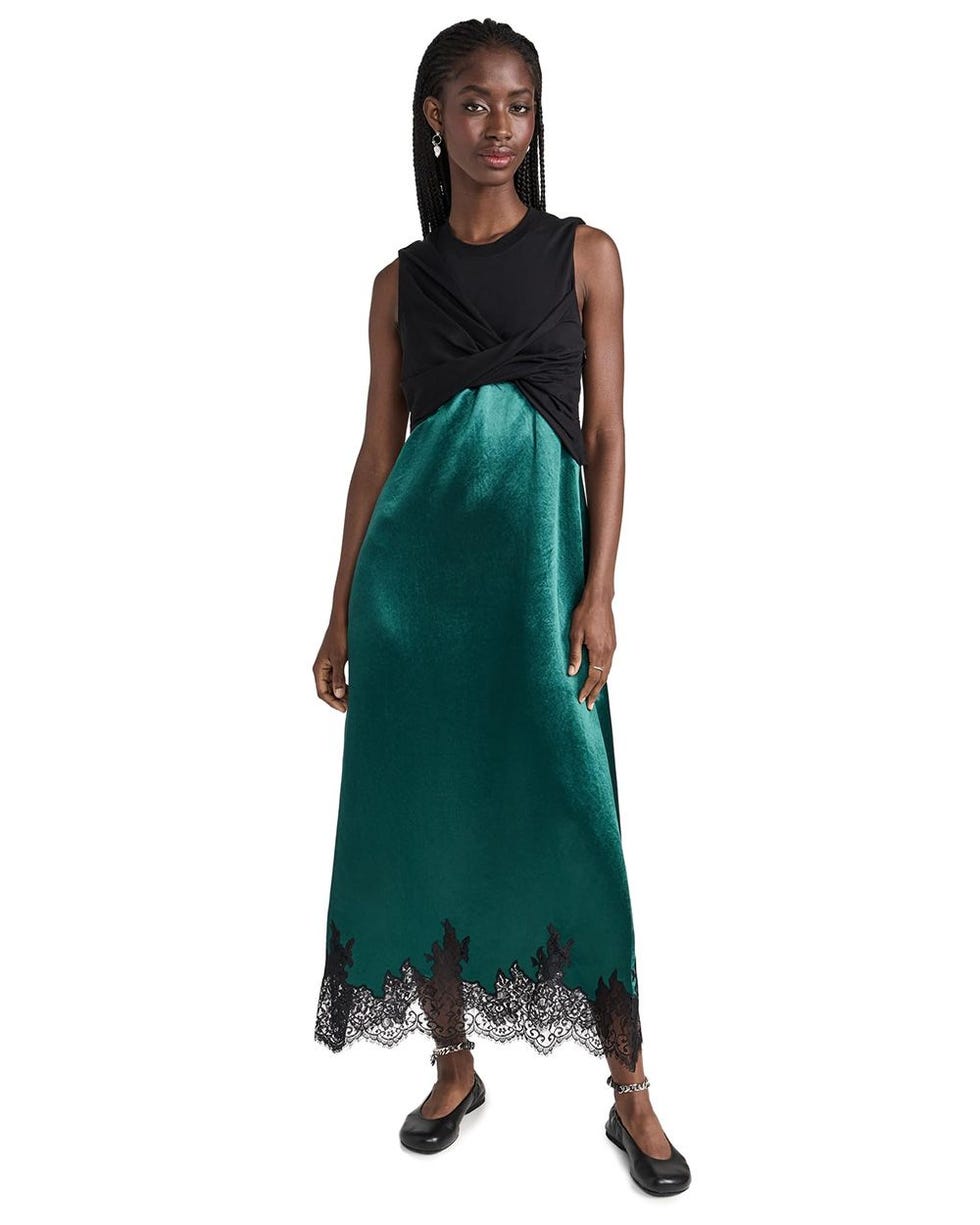 THE TWISTED SLIP DRESS
3.1 Phillip Lim Twist Tank Slip Combo Maxi Dress
I've shopped my fair share of slip dresses (and skirts) over the years. I'm tempted to make room for another, now that I've found this 3.1 Phillip Lim number. It makes the long-recirculating slip feel new again with the layered, twisted T-shirt bodice and ridges of gothic lace along the hem. (And that deep emerald silk is just a dream.)
Sizes: XS–L
Colours: Black/emerald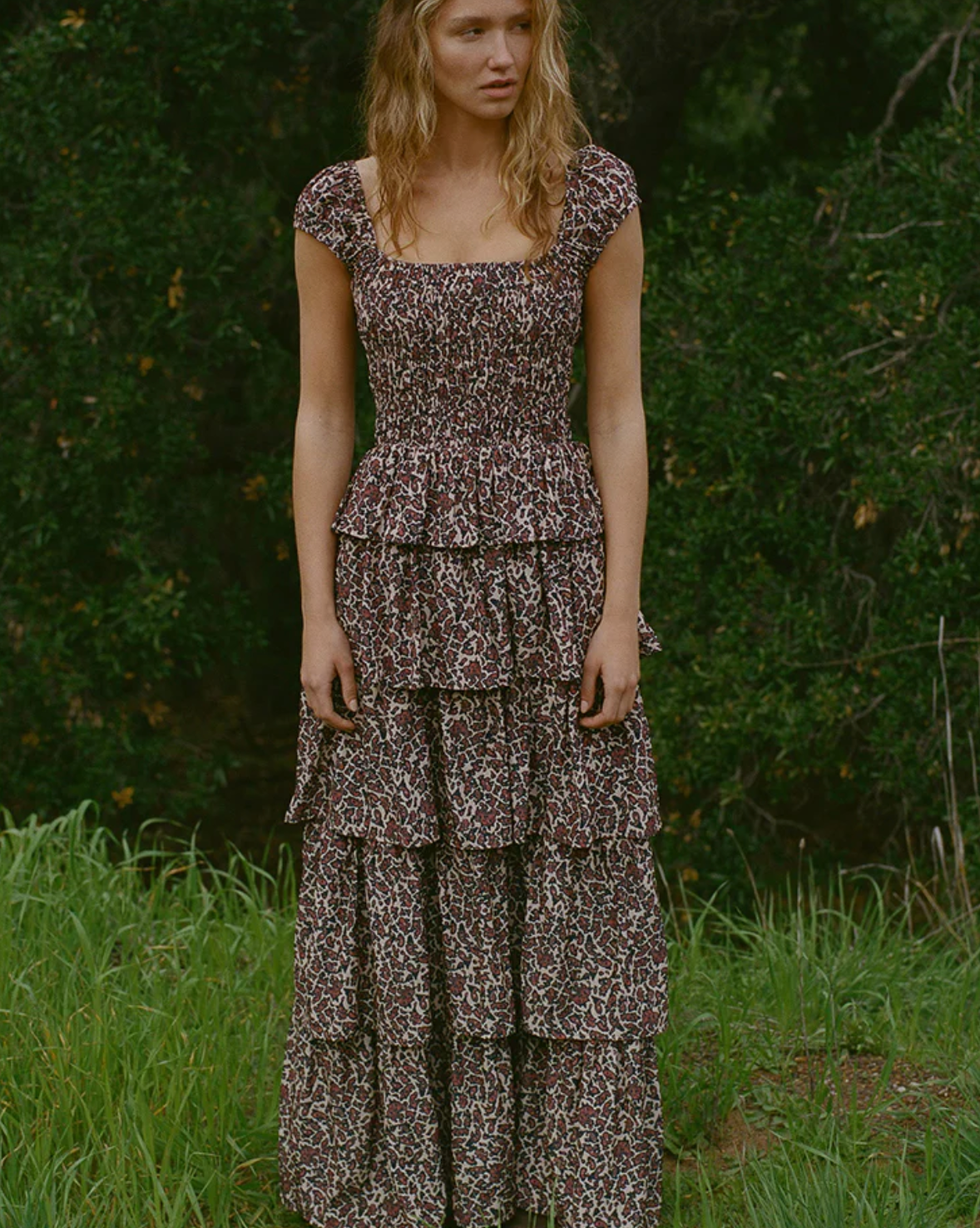 THE TIERED PAISLEY DRESS
Ciao Lucia Catalina Dress Paisley
Ciao Lucia is another of my favourite brands for dresses that can be worn year-round. This maxi dress's paisley print and ruffled tiers can go with a slouchy suede boot and longline coat in the fall, then a flat lace-up sandal and straw bag in the spring.
Sizes: XXS–XL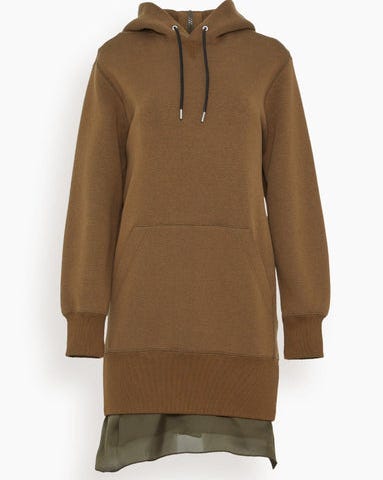 THE SPORTY LAYERED DRESS
Sacai Sponge Sweat Hoodie Dress
This Sacai dress is genius from all angles. First, because it elevates the sweatshirt dress with a flutter of chiffon along the hem. Second, because the back features a zip-up detail that can expose more or less of the wispy layer with each wear.
Sizes: XS–XL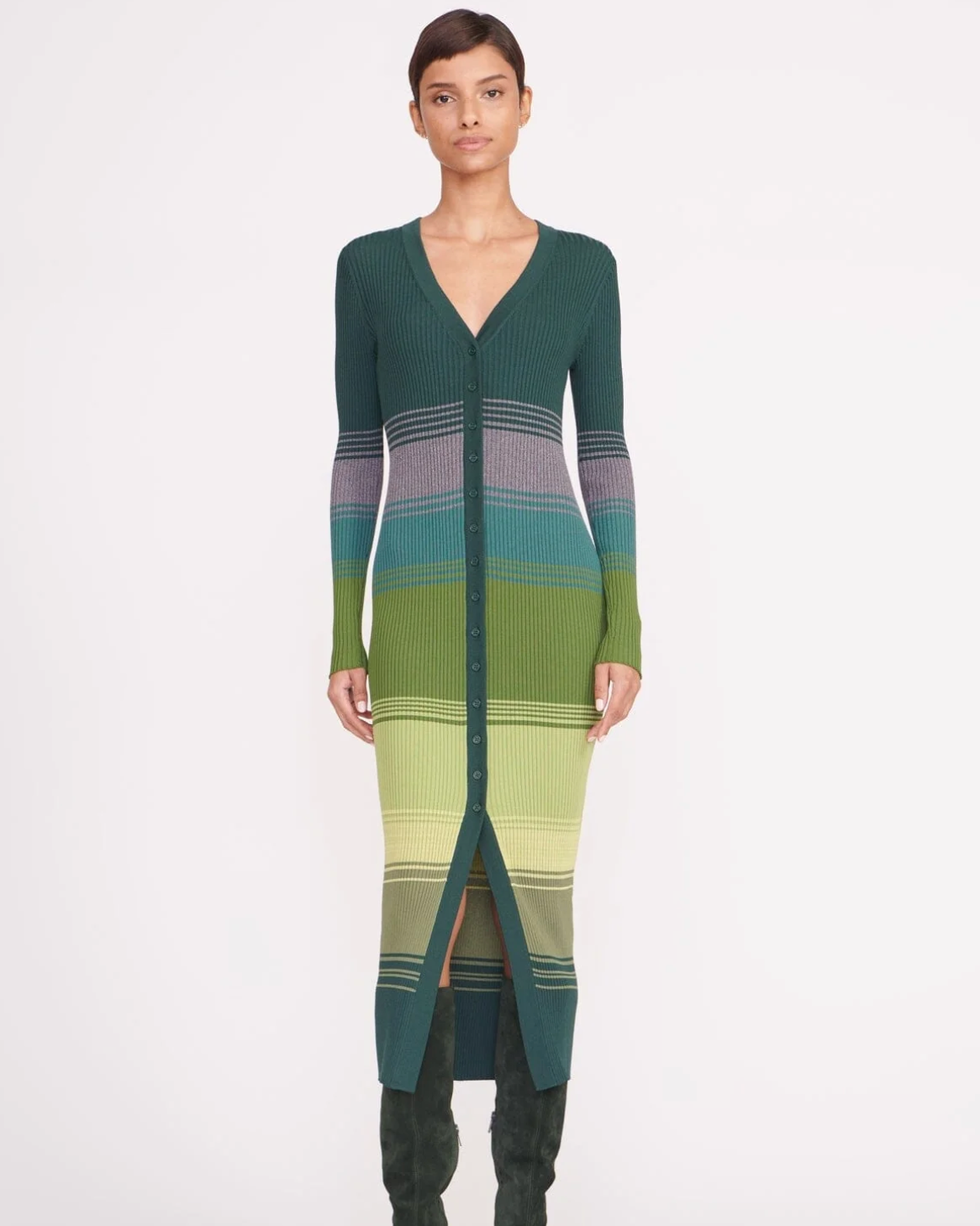 THE FOREST STRIPED DRESS
Staud Shoko Sweater Dress
Staud's Shoko dress is a piece I always look forward to bringing out of storage at the end of summer. It's one of the most versatile dresses on this list: I wear mine as a dress with knee-high suede boots or ballet flats, and as an open cardigan over straight-leg jeans with a sneaker. The fabric has an accordion quality with plenty of stretch; after two years of owning mine, it still holds its shape.
Sizes: XS–XL
Colours: Pine forest, avocado, black, cobalt, and more
What reviewers are saying: "Love the color block dresses from Staud. Colors are vibrant. Ordered in my regular size small for a looser but not big fit. If you want a tighter fit then can size down. Material has stretch to it so order accordingly. I've ordered several of these dresses because I love the look and feel of them. Can also substitute as a lightweight cardigan."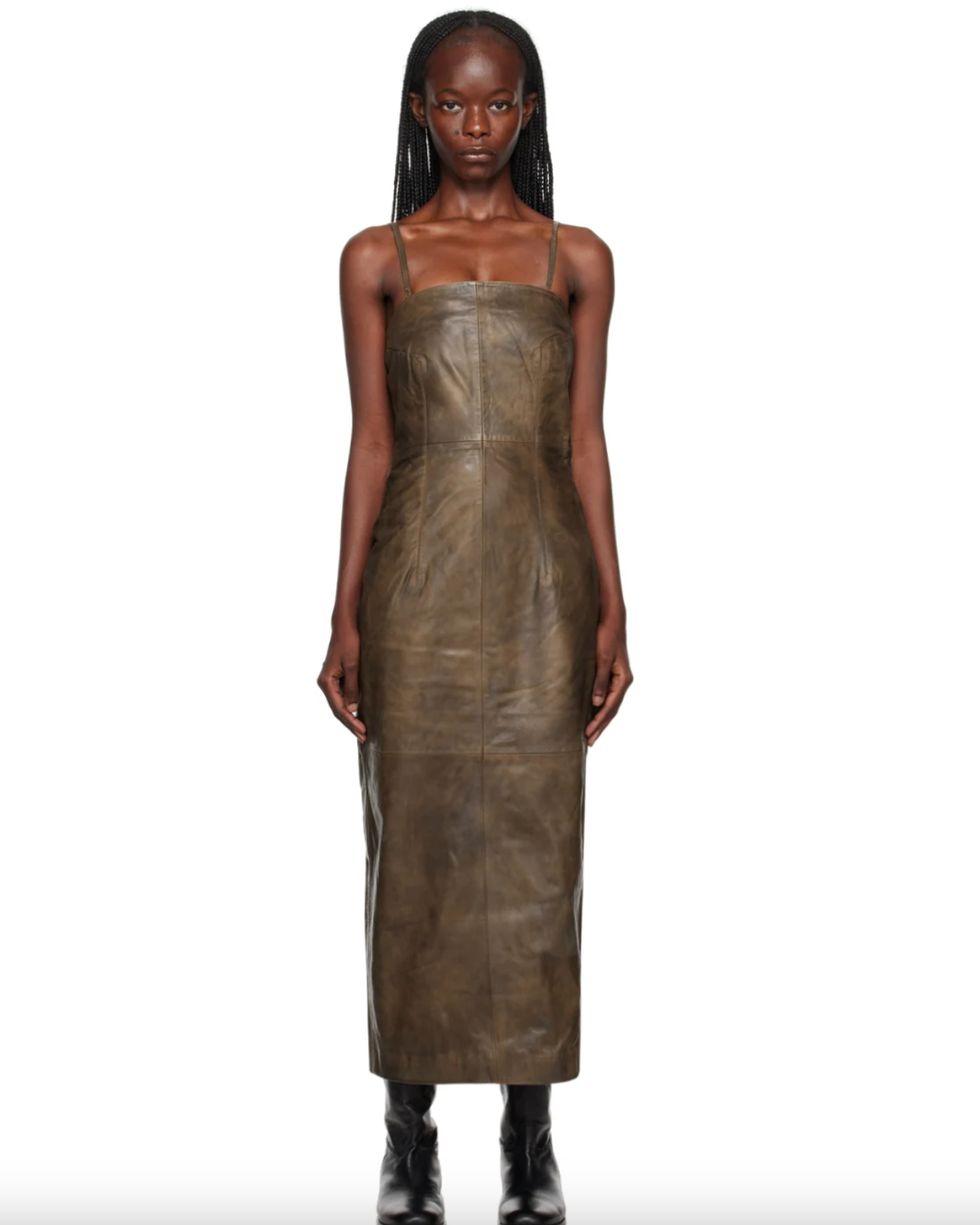 THE LEATHER APRON DRESS
Remain Birger Christensen Brown Darted Midi Dress
Remain is one of my favourite designers out of Copenhagen Fashion Week, and this leather dress exemplifies why. The material is so rich—it has the patina of a vintage bag swinging off the arm of an Olsen twin. The slimmer fit and just-above-the-ankle hemline are also unparalleled for accentuating a leather ankle boot in a contrasting shade. It's a dress that's tough, but approachable—and on some fall days, I want my dresses to feel like armour.
Sizes: XXS–XL
Colours: Brown
Why trust Harper's Bazaar?

For more than 150 years, Harper's Bazaar has been the preeminent fashion, beauty, and lifestyle resource for women at every age. We cover what's new and what's next in fashion by working with the world's leading authorities in ready-to-wear, footwear, accessories, and more. Every story we publish has been thoroughly researched and vetted by our team of editors and industry experts.
This article originally appeared in Harper's BAZAAR US.