The latest style taking over social media is the split top. Just like its name suggests, the split top is most often held together by a singular fastening at the front, leaving the rest of the midriff entirely bare. But what exactly about these tops makes them so coveted?

As co-founder and creative director of Vrg Grl, Natalia Suesskow considers paying attention to the buzziest trends on social media a major part of her design job. "Split tops are certainly having their moment this summer! The smock-style top is popular due to its effortlessly cool, versatile, and relaxed fit," she tells Bazaar. "Perfect for holiday dressing, a split top is the ultimate travel piece, as it can be worn on its own or styled over bikinis."

Unsure about how to wear it? Follow Suesskow's biggest styling tip: "Don't be afraid to show a little skin and wear it on its own, styled over your favourite high-waisted skirt or a pair of shorts!" Doing so means you can draw more attention to the collarbones and tie-front detail of this signature silhouette. If you want to be more modest, just pair it with a lace bralette or over a slip dress and add layers of beaded necklaces. It exposes less skin, but still offers a cool and creative take on the look.

Below, discover a dozen different split tops—from artist collaborations and sheer creations to knit must-haves—you'll want to shop immediately.
Related article: The Most Impactful Fashion Trends Of The 2010s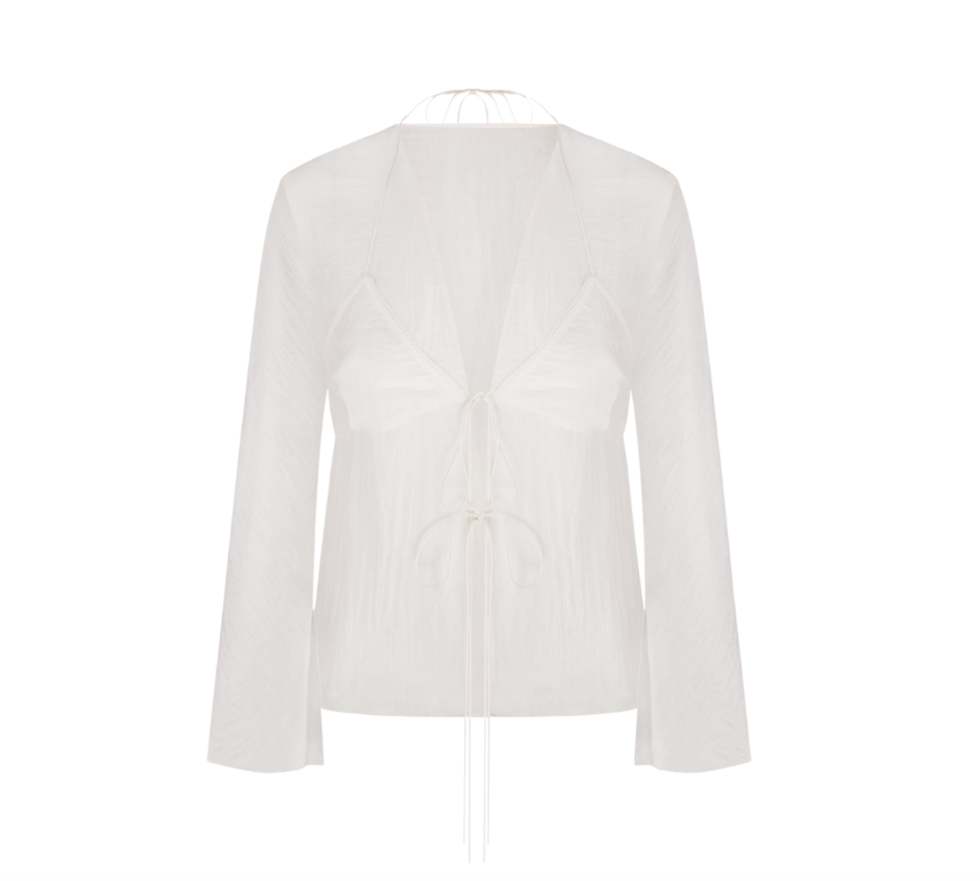 1
Anna October Innocence Tie-Front Blouse
If you're dipping your toe into this trend and are unsure about how to style it, this Anna October blouse is the perfect piece to get you started. Designed with a built-in bra, you don't have to worry about layering anything underneath. And the extra-long ties mean you can secure it as tightly or as loosely as you'd like, adjusting for the exact amount of coverage you feel most comfortable with.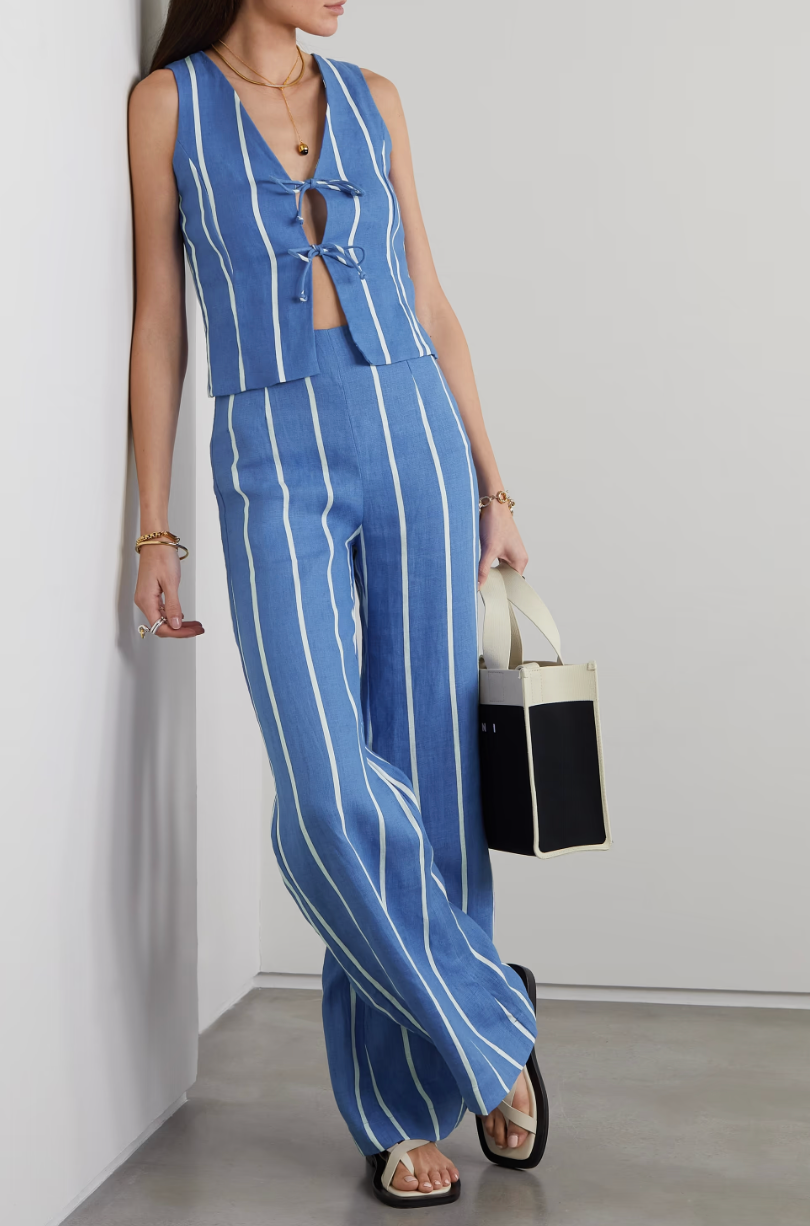 2
Faithfull the Brand Elfie Striped Tie-Front Linen Top
This top is the manifestation of our remaining summer dreams of European getaways and nautical adventures. Made from a breezy linen fabric, it'll make it easy for you to stay cool, even in the hottest conditions. The only thing better than the top is the top worn with the matching pants—buying both almost feels like a nonnegotiable.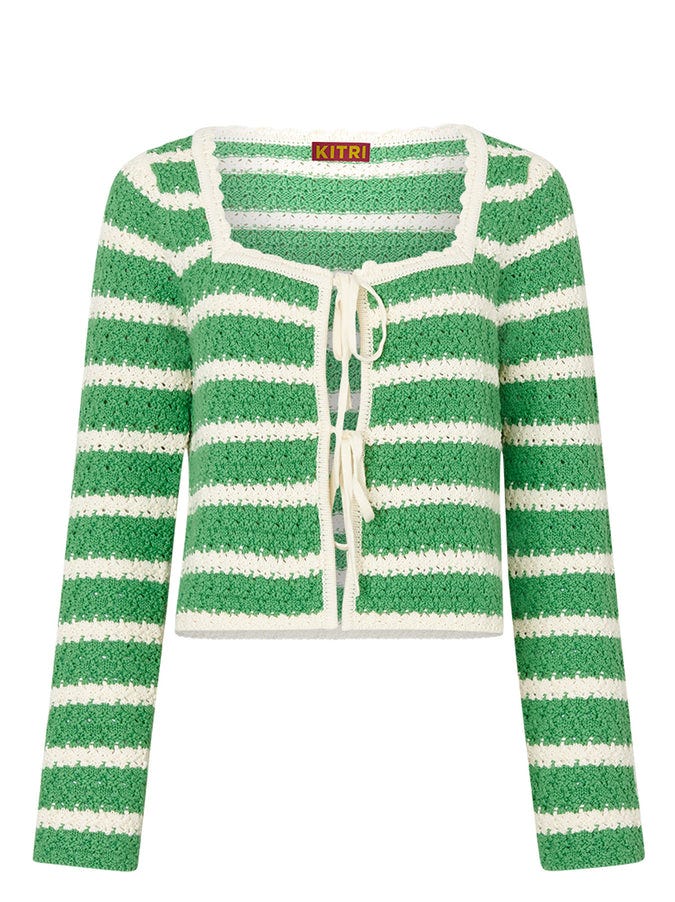 3
Kitri Dionne Green Stripe Knit Cardigan
For those who always shop for the next season in advance, knitwear is likely the first must-buy item on the list. This crochet piece from Kitri can be worn on its own as a top with its flattering square neckline, or as a true cardigan over T-shirts, tanks, and other layers, once temperatures start to drop.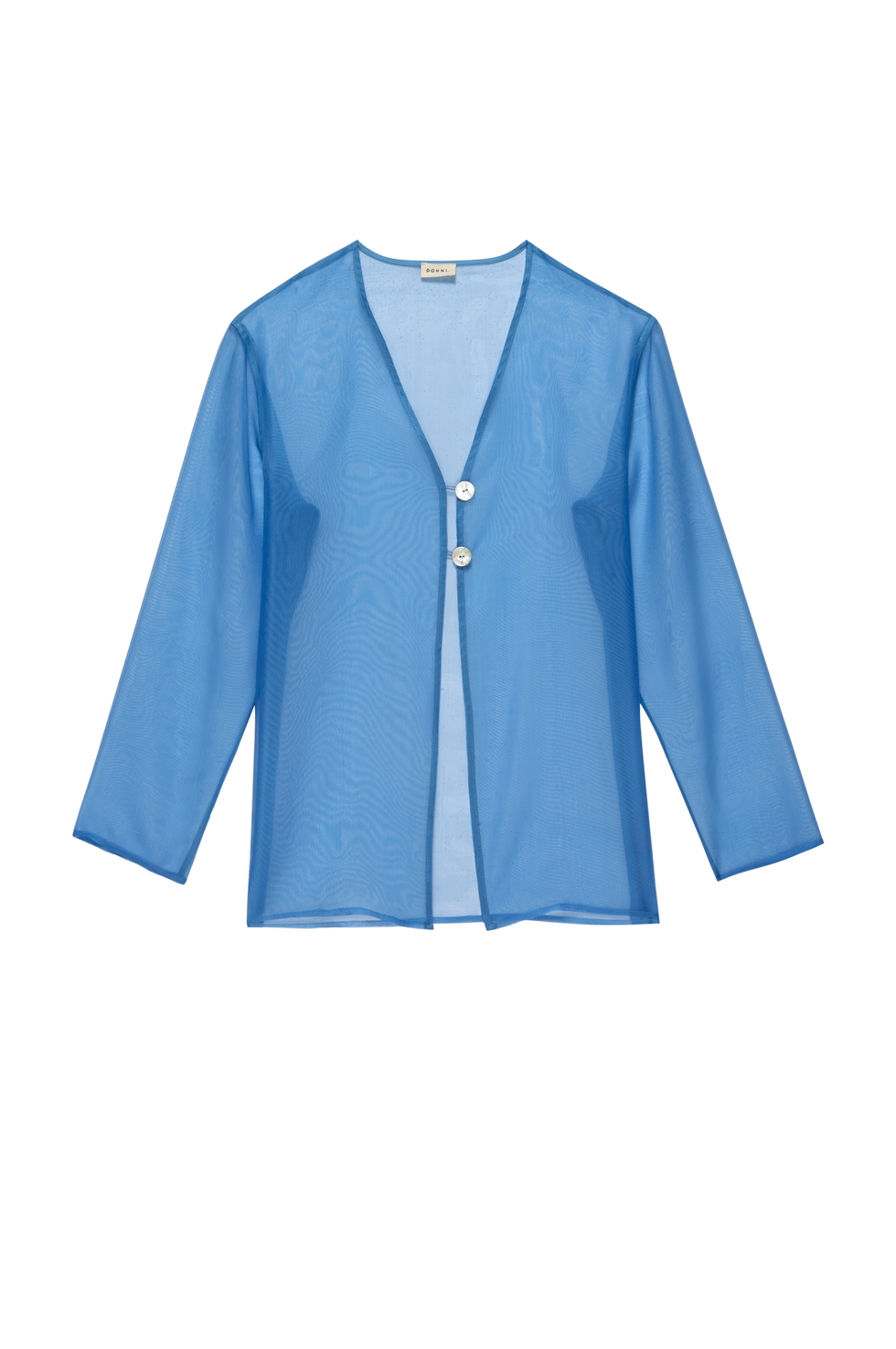 4
Donni Organza Split Shirt
Donni's ethereal sheer take on the split top is like something from a modern fairy tale. Crafted from 100 percent silk organza and featuring the brand's signature mother of pearl buttons, this light-as-air creation will become one of the most cherished items in your closet. Wear it with jeans or over slip dresses—its versatility is unmatched. It even comes with coordinating bottoms and a matching bralette.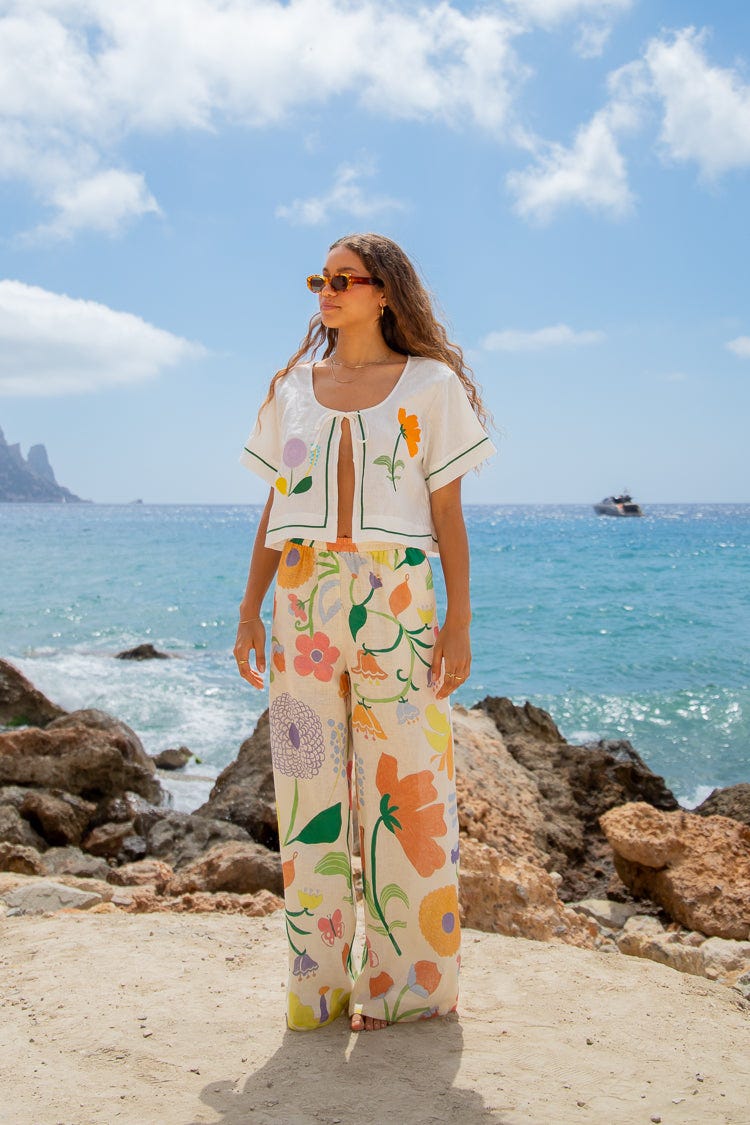 5
Vrg Grl Fleuriste Linen Smock Top
"Our Fleuriste linen smock top is such a special piece, as it was designed in collaboration with Swedish artist Astrid Wilson. It's crafted from 100 percent breathable linen and embellished with an exclusive floral embroidery," Suesskow says. "The botanical prints featured on the Smock Top—and the entire collection—were created exclusively for us at Vrg Grl by the artist herself."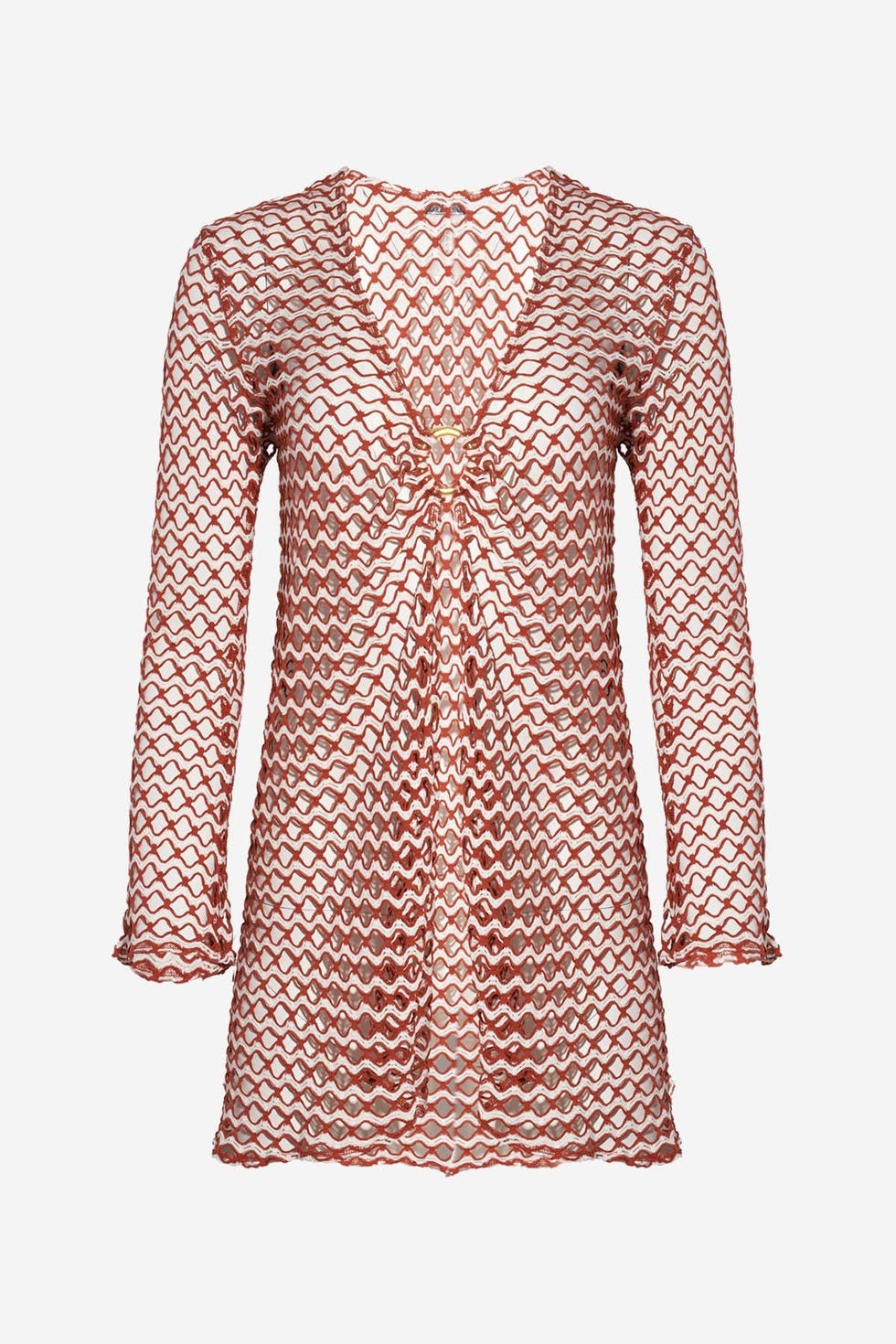 6
Sara Cristina Nerea Mini Cover-Up With Gold Ring
Sara Cristina's open-weave cover-up has a gold ring at the bust, adding a luxe finish that's made for going from the beach to the streets. Throw it on over bikinis, maillots, lingerie, or tank tops—this is a packing essential you'll get multiple wears out of.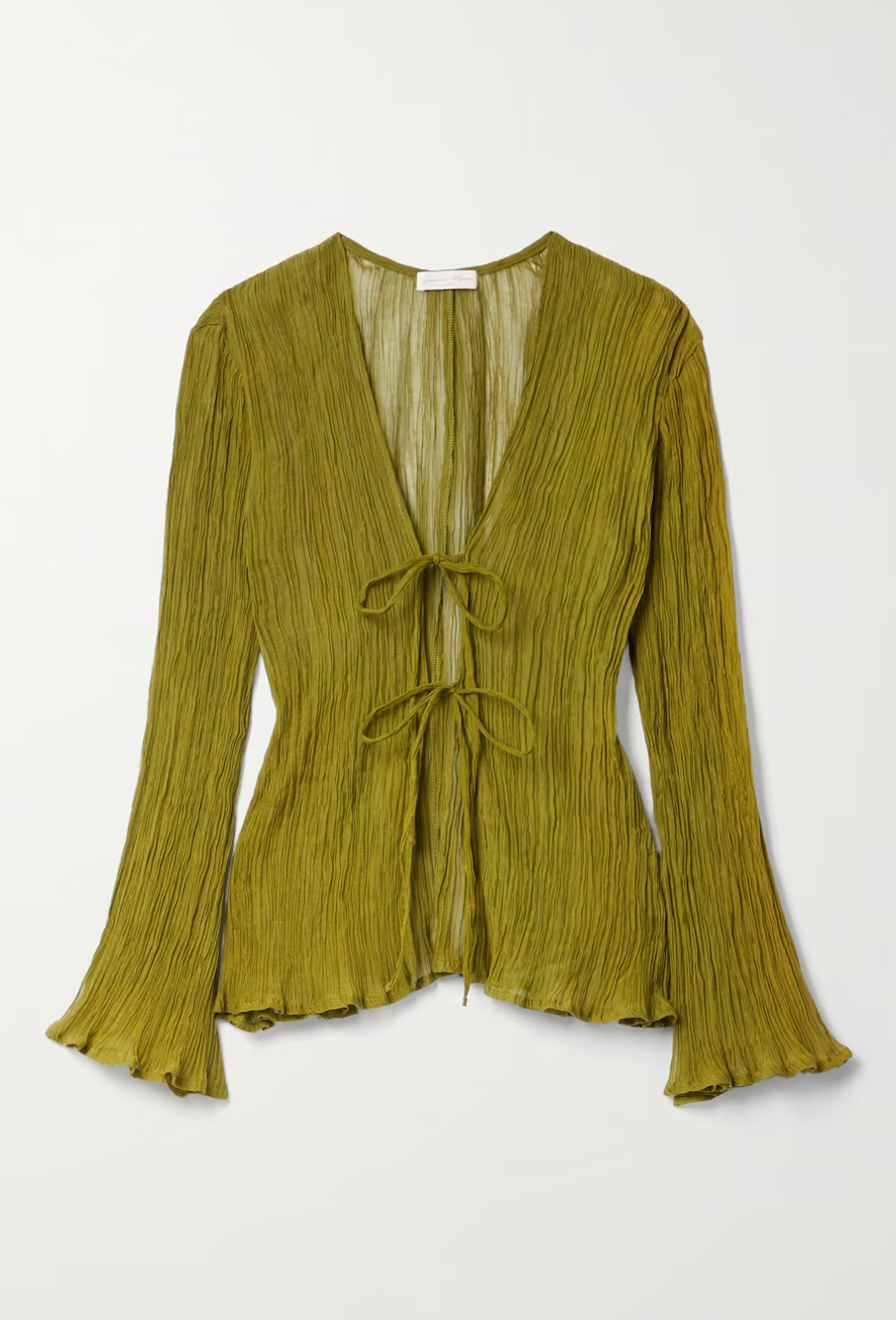 7
Savannah Morrow the Label Amalfi Crinkled Peace Silk Top
Consider this an upgrade to your "going-out top." Beautiful styled with miniskirts, maxi slips, and tailored trousers, this crinkle silk blouse shows just the right amount of skin. The bows and flared sleeves make elegant finishing touches.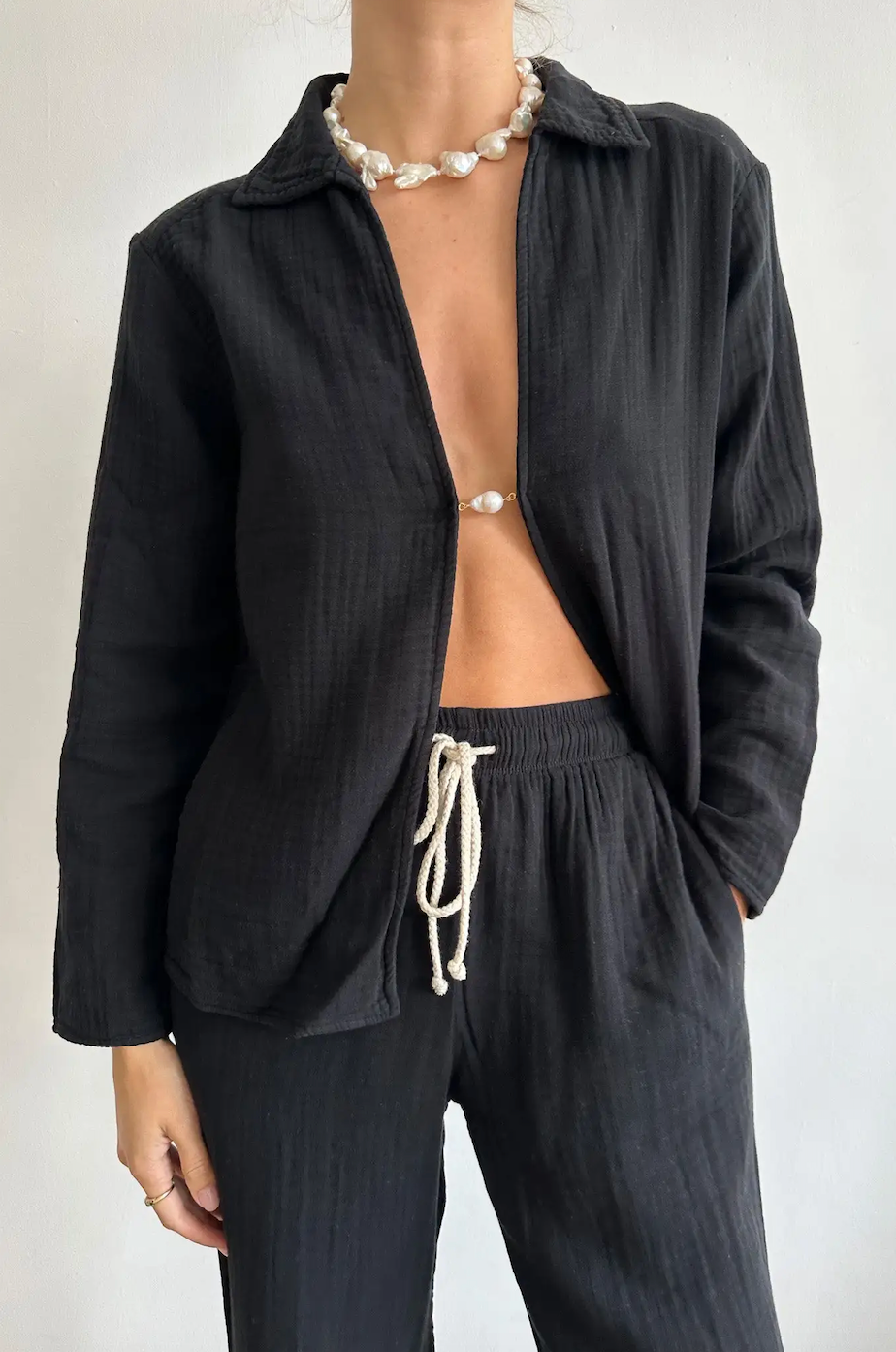 8
Donni Bubble Baroque Pearl Top
Using real baroque pearls at the center fastening, each of Donni's baroque pearl tops is one of a kind. Made from 100 percent cotton with a gauzy textured finish, this top is ready-to-go right out of the suitcase, no steaming required. Chic for a day look and even more exceptionally chic for a night affair, this bejeweled top is too special to pass up.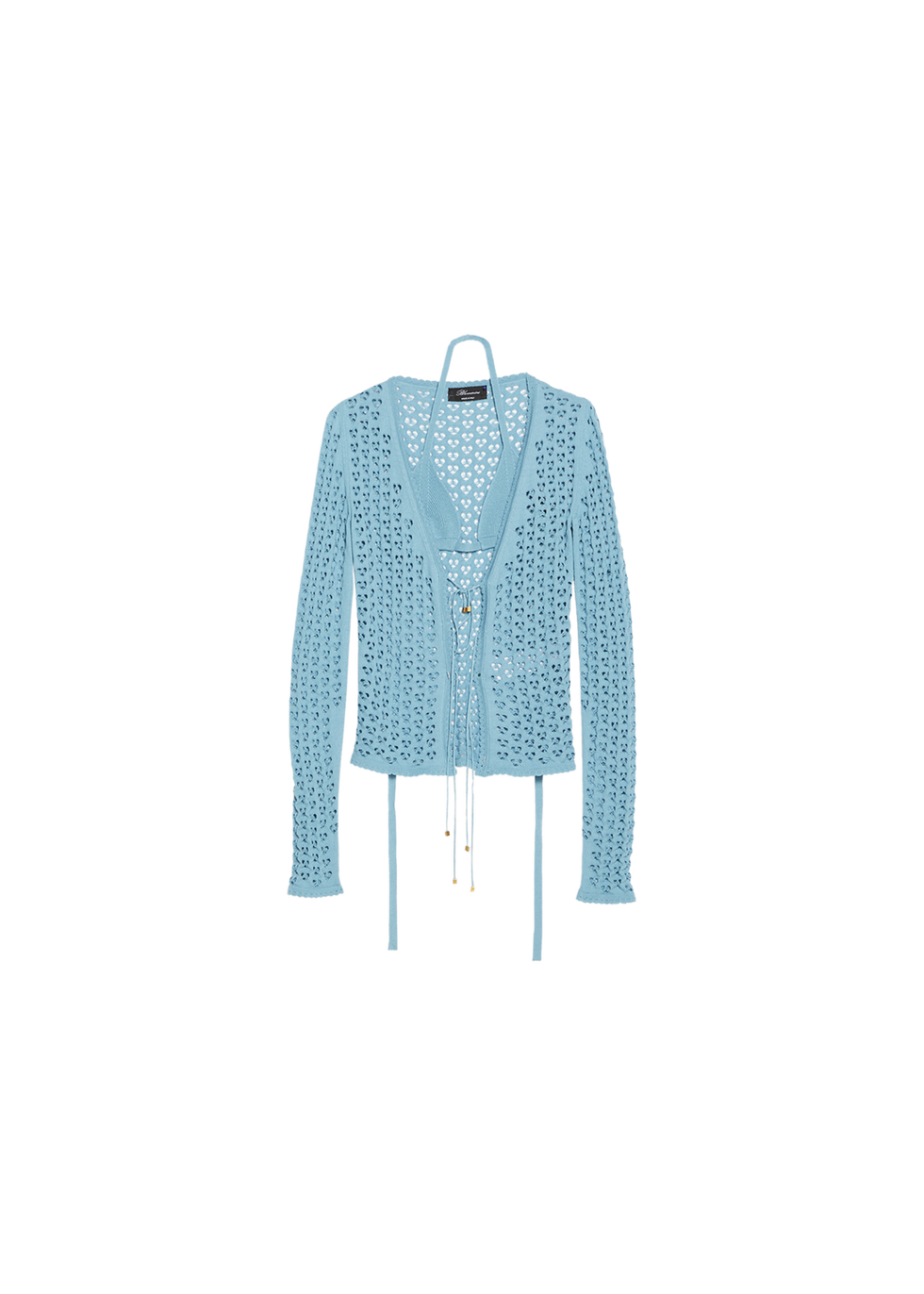 9
Blumarine Blumarine Knit Cardigan Set
Who doesn't love a two-for-one combo? This cardigan set from Blumarine comes with a bra and cardi, so you can easily wear them together or separate. The split-top cardigan features long ties with gold hardware for a subtle metallic shine.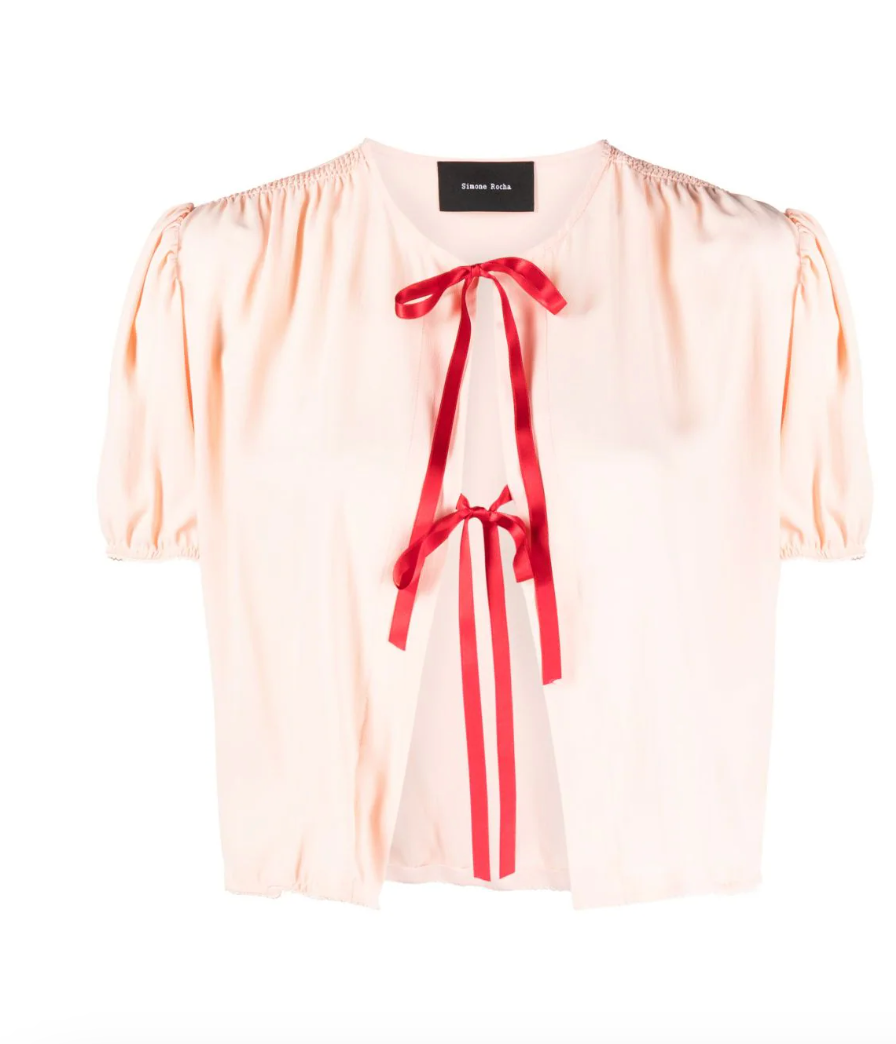 10
Simone Rocha Tie-Fastening Cropped Blouse
Simone Rocha always delivers with her feminine details that are always romantic, cute, and pretty. The contrasting red ribbon ties instantly draw the eye, and the short puff sleeves add some playfulness. Since it's cropped, we'd suggest wearing it with high-waisted jeans or skirts.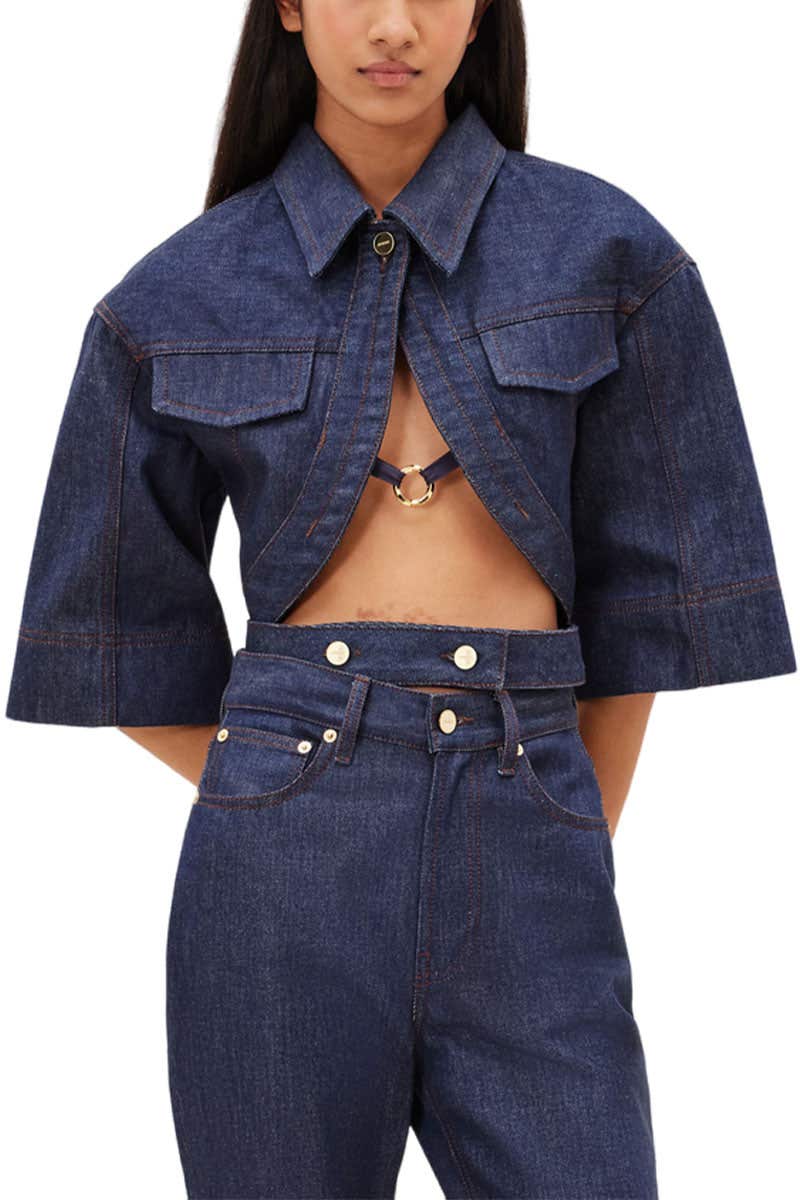 11
Jacquemus Le Haut De Nimes Denim Cutout Top
No one does je ne sais quoi like Jacquemus. This denim cutout top has a button at the collar that then slopes down to bare the midriff with a metal hardware charm, and an unexpected waist strap. You'll look good from every angle, especially with the additional cutout on the back.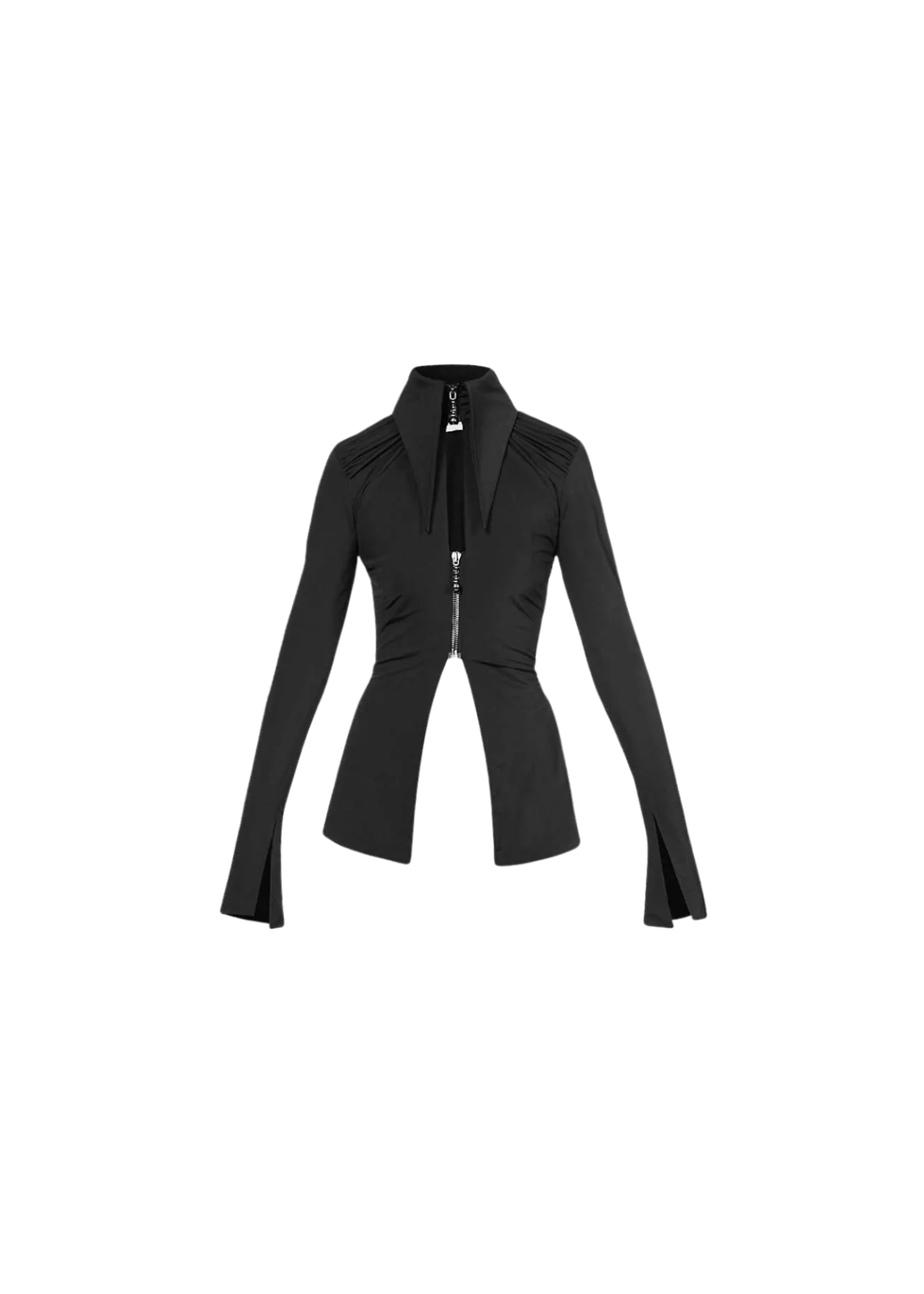 No bows, buttons, ties, or pearls here—just your trusty zipper. Designed to be strategically fitted at the bodice and flared at the hips, this top gives the wearer an hourglass effect. And thanks to the exaggerated collar, slit cuffs, and ruching throughout, you have a bold look no matter what you style it with.
This article originally appeared in Harper's BAZAAR US.