In the lead-up to another season of The Kardashians, Kendall Jenner appeared on the Jay Shetty Podcast last September for a wide-ranging chat about her childhood and mental health. She sat in the recording studio wearing a slate blue, long-sleeve T-shirt by Intimissimi, silver and quartz earrings by Agmes, and a long black skirt. It was the sort of casual-aspirational outfit that's made Jenner's street style a constant fixation, even when she's only wearing a semi-sheer T-shirt and denim. The pieces aren't complex or too fashion-y, and they're inspiring enough to shop—even months after she wears them.
Six months have passed since that outfit was uploaded to YouTube, but Jenner's understated, $49 interview top is suddenly all over TikTok. The hashtag "Intimissimi top" currently has 72,500 views on the platform, with the highest-viewed videos arriving over the past month. Anecdotally, I've counted seven different videos by seven different creators hawking the shirt on my 'For You' page—in a single day. There's a sense that the shirt, often worn in a minimal fashion like Jenner last fall, is being re-discovered by women who also love Polène bags and Laneige lip masks—things that feel luxurious without a four-figure price.
As one creator says, "The niche luxury hot girls love this top, and I feel like they've been gatekeeping it."
Related article: Kendall Jenner Shares Steamy Topless Video And Poses in Lingerie
Kendall Jenner has worn all sorts of basics—just this week, she wore Leset's T-shirt for a casual outing—but this Intimissimi shirt is a step above a plain T-shirt in several ways. It's made from a modal-cashmere blend with some elastane, which is the clothing tag way of saying it's soft with a juicy amount of stretch and clinginess. It's also $49 without any sort of coupon, which doesn't need extra translation. The bateau cut, a neckline Meghan Markle often wears, conveys elegance without any extra embellishments.
The Intimissimi boat neck top is also, crucially, a little see-through. On TikTok, this is one of its most praised features. There's nothing really naughty about the top with a skin-tone bra underneath. Venture out from nudes into brighter colours, and you have a body-embracing statement. The top's wispy material is the everyday woman's connection to the spring/summer 2023 runways, where Tory Burch, Tibi, and Maryam Nassir Zadeh invited women to let it all out in revealing layers (each tweaked to their brand's visual codes).
Shop Intimissimi's Viral Boat Neck Top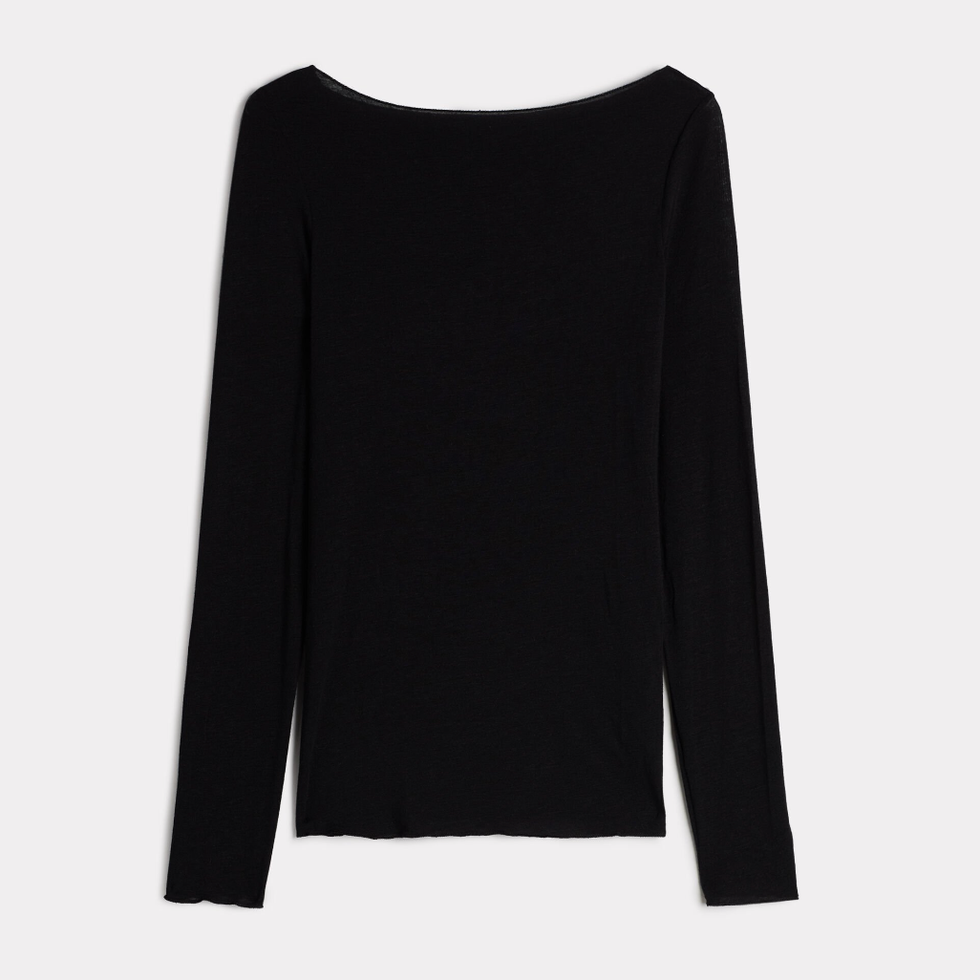 Intimissimi Black Boat Neck Modal Cashmere Ultralight Top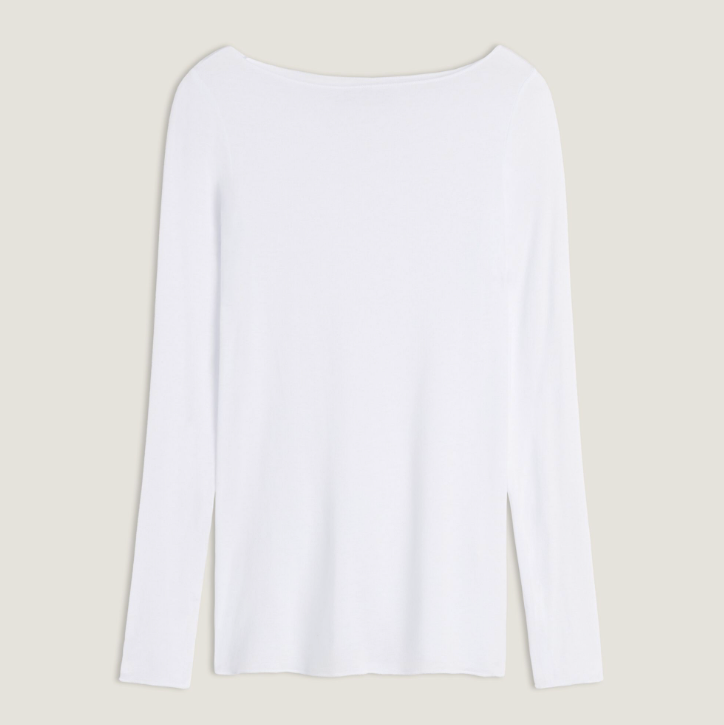 Intimissimi White Boat Neck Modal Cashmere Ultralight Top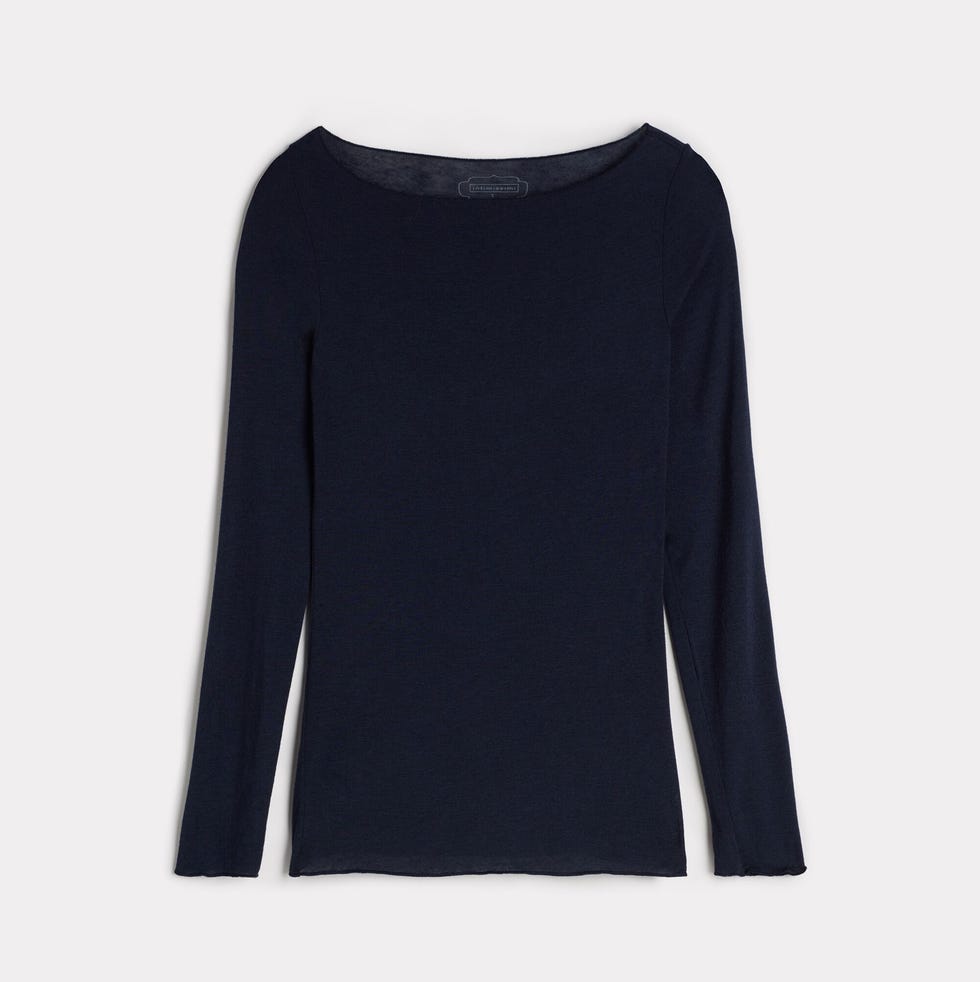 Intimissimi Navy Boat Neck Modal Cashmere Ultralight Top
Those runway collections are only now arriving in stores; the Intimissmi shirt has been available for months, and made its way from Kendall Jenner into the hands of way more women in the meantime. Jenner's exact shade is long gone, but several classic shades (black, white, and navy) are still in stock. Above, shop the hot luxury layer your spring clothing lineup deserves.
This article originally appeared in Harper's BAZAAR US.