I have never been much of a purse girl, despite the fact that my mom is what you might call, in no loose terms, a purse fanatic. Throughout my life, I've witnessed her slowly build up a collection worthy of her lofty taste: Fendi, Louis Vuitton, Chanel. She's always been enamored with fashion, and bags, pointedly, were her thing.
For me, the idea of shelling out hundreds if not thousands of dollars on a purse made me yawn. Chalk it up to the feminine urge to rebel against everything your mother stands for when you're an angsty teen, or perhaps to a lack of necessity for such expensive items at that age. "You'll understand one day," my mom often chided me, while I'd very maturely roll my eyes at her collection hidden away in pristine dust bags.
Of course, she was right, as moms so often are. Some years and a cross-country move from the San Fernando Valley to New York City later, I soon found myself noticing, observing, and coveting the accessory I once spurned—on the street, on Instagram, on my friends. Any seasoned New York transplant might wax poetic on the ubiquity of the trusted canvas tote bag (New Yorker or Trader Joe's, take your pick) for everyday life, but as a newly hired fellow at the legacy fashion magazine I'm now writing this story for, I craved something more intentional to hang from my shoulder. More specifically, I wanted an everyday bag—decidedly, not a canvas tote bag—that would not only assimilate to the outfits I could assemble from my current wardrobe, but also elevate them.
My change of heart happened to coincide with the inescapable resurgence of Prada's nylon bags. In 2019, the house launched its Re-Nylon campaign, a reissue of styles first introduced in the early aughts—except now, these were made from recycled plastic waste like fishing nets and textile fibers. The Re-Edition nylon bags boasted minimalist silhouettes, utilitarian materials, and brand-new sumptuous colorways.
Related articles: Prada And Adidas Come Together Again For A Brand New Collaboration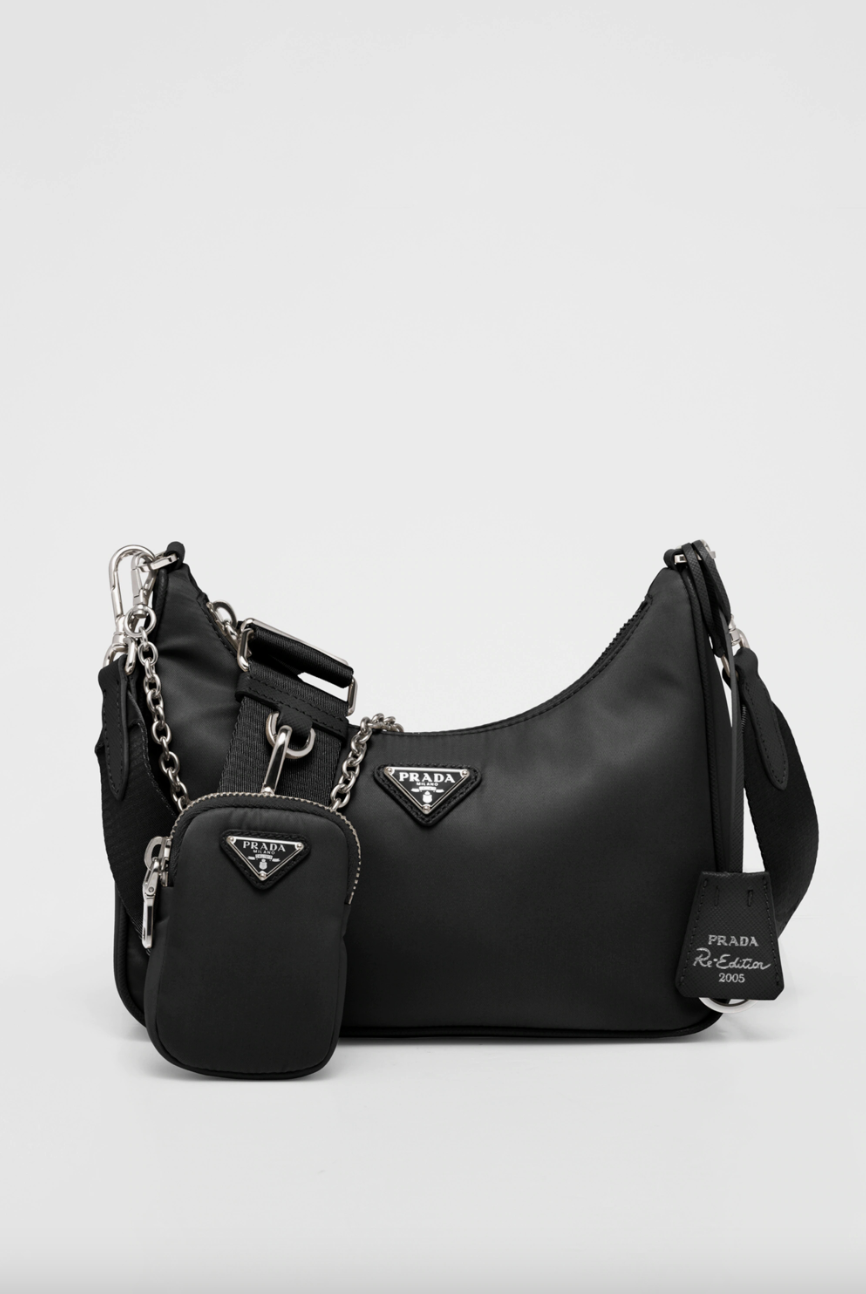 Prada Re-Edition 2005 Re-Nylon bag
It's no secret that Prada upended the luxury market when it debuted a nylon sack, the now iconic Vela backpack, in 1984. It championed the tactile fabric's innovation and ability; it became a mainstay in the brand's lineup. Re-Nylon seemed to only amplify the purses' effect: Bella Hadid, Kendall Jenner, and Dua Lipa were among the early proponents of their revival. I offhandedly mentioned Prada's nylon renaissance to my mom a few years ago, during one of my indiscriminate annual visits home. "What? Really?" she said, nearing incredulity. Of course, she had a nylon Prada bag.
It was still as good as new, even if it had gone through the wear and tear of your average everyday bag, the designated function it served her for years after she first bought it in … 2001? Maybe 2005? Her memory of the purchase oscillates from anywhere between 2000 and 2010, but a listing of the exact bag on The RealReal dates the style (apparently the Tessuto Hobo) from the late '90s to the early 2000s. No matter. It was one of the first designer bags she ever bought for herself, as a young mom looking for a purse that could endure both the passing of trends and the mess of her children. And now, it was mine.
The pass-off of Prada from mother to daughter felt like some sacred rite of passage, a symbol that conferred my transformation from girl to woman. It, too, became my first-ever name-brand anything in my closet.
It came (and still comes) with me everywhere: grocery stores, the Laundromat, dinner parties, awkward first Tinder dates. I've traveled on numerous occasions with it, from the sun-drenched alleyways of Santorini to the quaint and perpetually gray neighborhoods of coastal Oregon. I've carried the bag while wearing amorphous, boxy layers that swallowed me whole, and also styled it with ultra-feminine looks composed of flouncy skirts and form-fitting corsets. I like it best when I wear it with just jeans, a tank top, and loafers, as if I were Zoë Kravitz getting papped in Williamsburg.
The popularity of Prada's nylon bags has yet to wane. A recent luxury resale report found that the black Re-Edition shoulder bag reigned as the most purchased bag of 2022, beating out other viral vintage revivals like Fendi's Baguette or Dior's Saddle Bag.
I think of it now as a kind of family heirloom, one I might pass on to my own kid one day. On the phone with my mom recently, I asked her what she thinks when she sees me wearing the bag now, all these years later. She answered, "That was me!"
This article originally appeared in Harper's BAZAAR US.