When people complain that red carpets have lost their pizazz, you can be nearly certain they're never talking about Cannes. The film festival's parade of dresses is notoriously the most glamorous of the season. Idyllically located along the French Riviera with enough space to accommodate swanning in billowing gowns, it recalls an era of bygone glitz and glamor.
The carpet also has a strict set of unspoken rules. No shorts. High heels only. Short skirts not preferred. Some of the most iconic looks in Cannes history have broken them, like Madonna stripping down to a a Jean Paul Gaultier cone bra or Kristen Stewart taking off her Christian Louboutin stilettos to walk the carpet barefoot. Whereas others, like Princess Diana's icy blue Catherine Walker draped gown or Rihanna's strapless taffeta Dior couture, have perfectly encapsulated what people imagine when they think of unadultered elegance.
The 16 best looks according to Bazaar's fashion team run the gamut from risk-taking to perfectly poised. But what they all have in common is a unapologetic air of opulence. See every single one, below.
Related article: Cannes Film Festival 2019: All The Fashion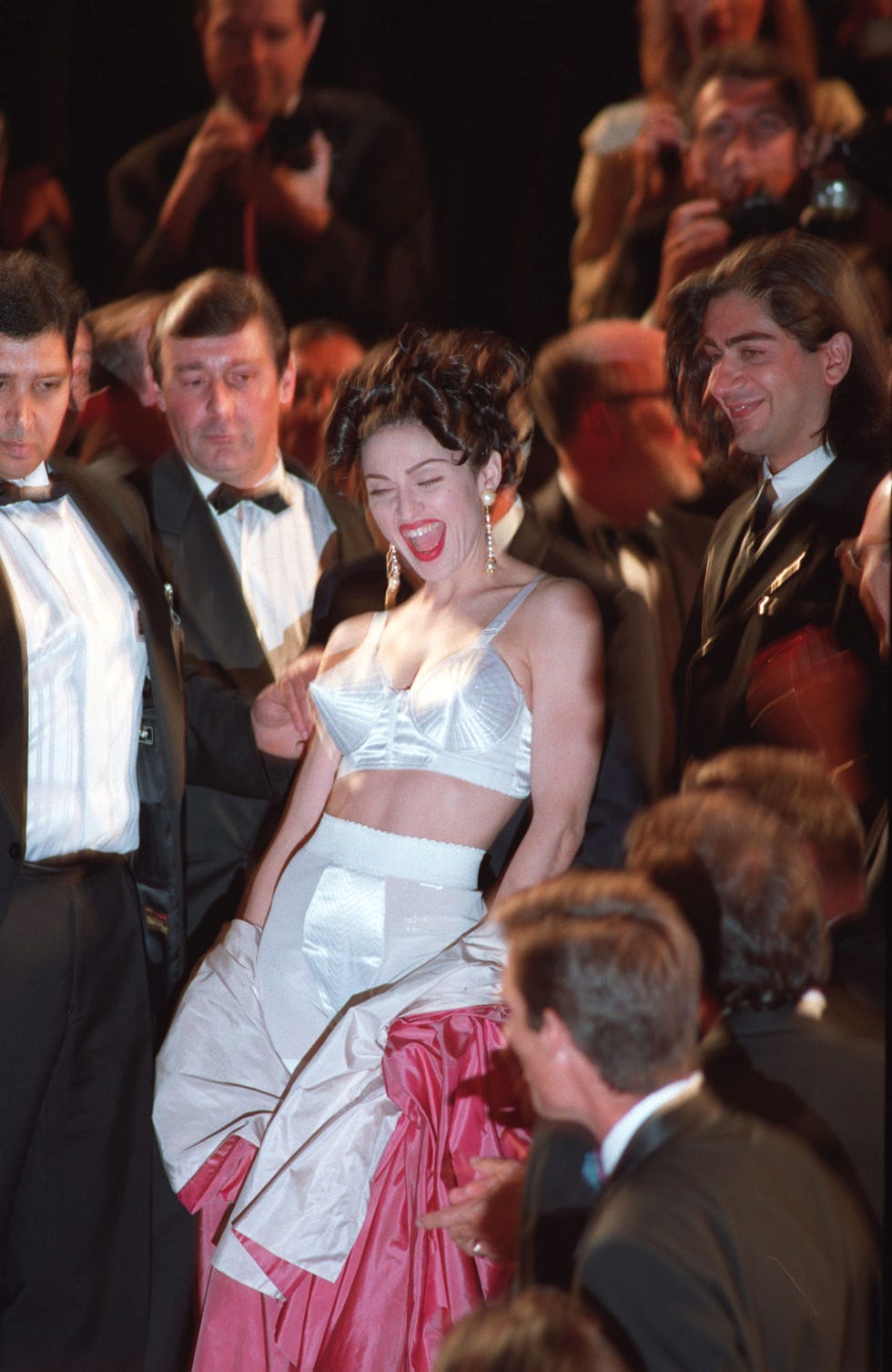 01
Madonna in Jean Paul Gaultier, 1991
"During her Blond Ambition tour in the 90s, Madonna shed her pinstripe suit on stage to reveal her Jean Paul Gaultier cone bra underneath, while performing "Express Yourself." When she went to Cannes in 1991 to promote "Madonna: Truth or Dare," the film which documented the controversial tour, she recreated this moment in a sea of black tuxedos and adoring fans.
She entered wearing a voluminous pink taffeta jacket by Gaultier, her hands visibly clutching it closed, only to quickly remove it two minutes later and reveal a white satin cone bra, high-waisted knickers, and garter belt. The Cannes red carpet has a strict set of rules—it's recommended you don't even wear a short skirt—but Madonna didn't make her name following the rules. I love watching the b-roll from this moment; you can clearly see her trying to hide her red-lipped smirk, knowing what's to come, the entire time she's swanning down the carpet. This look further cemented Madonna as a true superstar, unafraid to…well…express herself."—Tara Gonzalez, Senior Fashion Editor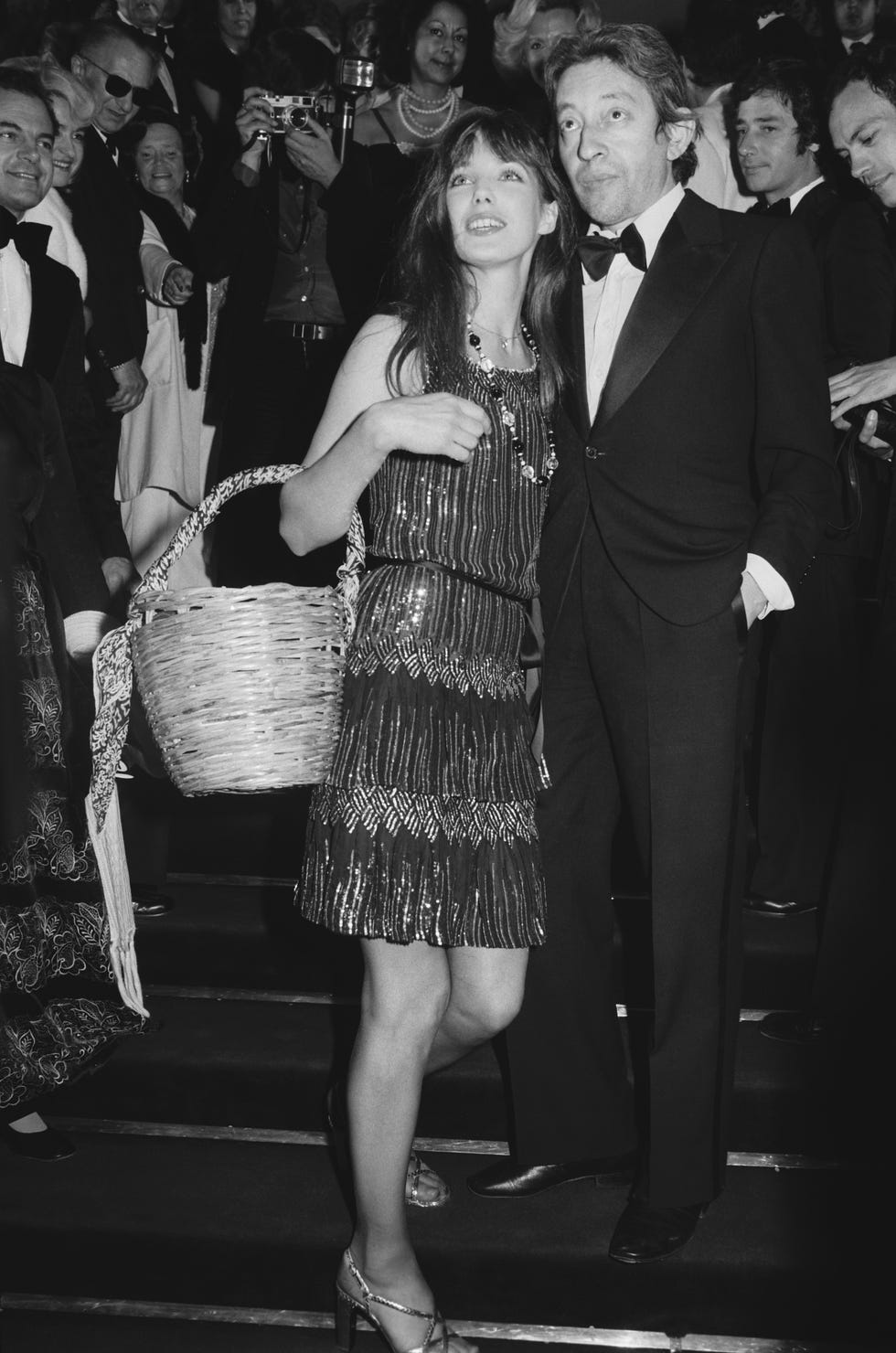 02
Jane Birkin,1974
"I think I speak for a lot of fashion people when I say Jane Birkin is a perpetual source of style inspiration. This look from the 1974 Cannes red carpet is so instructive, even without an invite to the 2023 event in my mailbox. (Esteemed organisers: There's still time!) I sometimes feel like I don't really dress like myself at formal events; I dilute or suppress what feels like me in service of a stuffy dress code. Jane Birkin, on the other hand, sauntered into Cannes carrying her signature wicker basket bag with a beaded, flapper-adjacent mini dress and semi-sheer tights under metallic sandals. She also carried the same bag for another Cannes event that year, with a pink crushed velvet mini and platform heels. She knew what was expected at Cannes (formality!) and she also knew what felt like her (that romantic, albeit casual, basket bag). I don't know if there's anything more glam that 100% committing to your personal style in the way she did."—Halie LeSavage, fashion commerce editor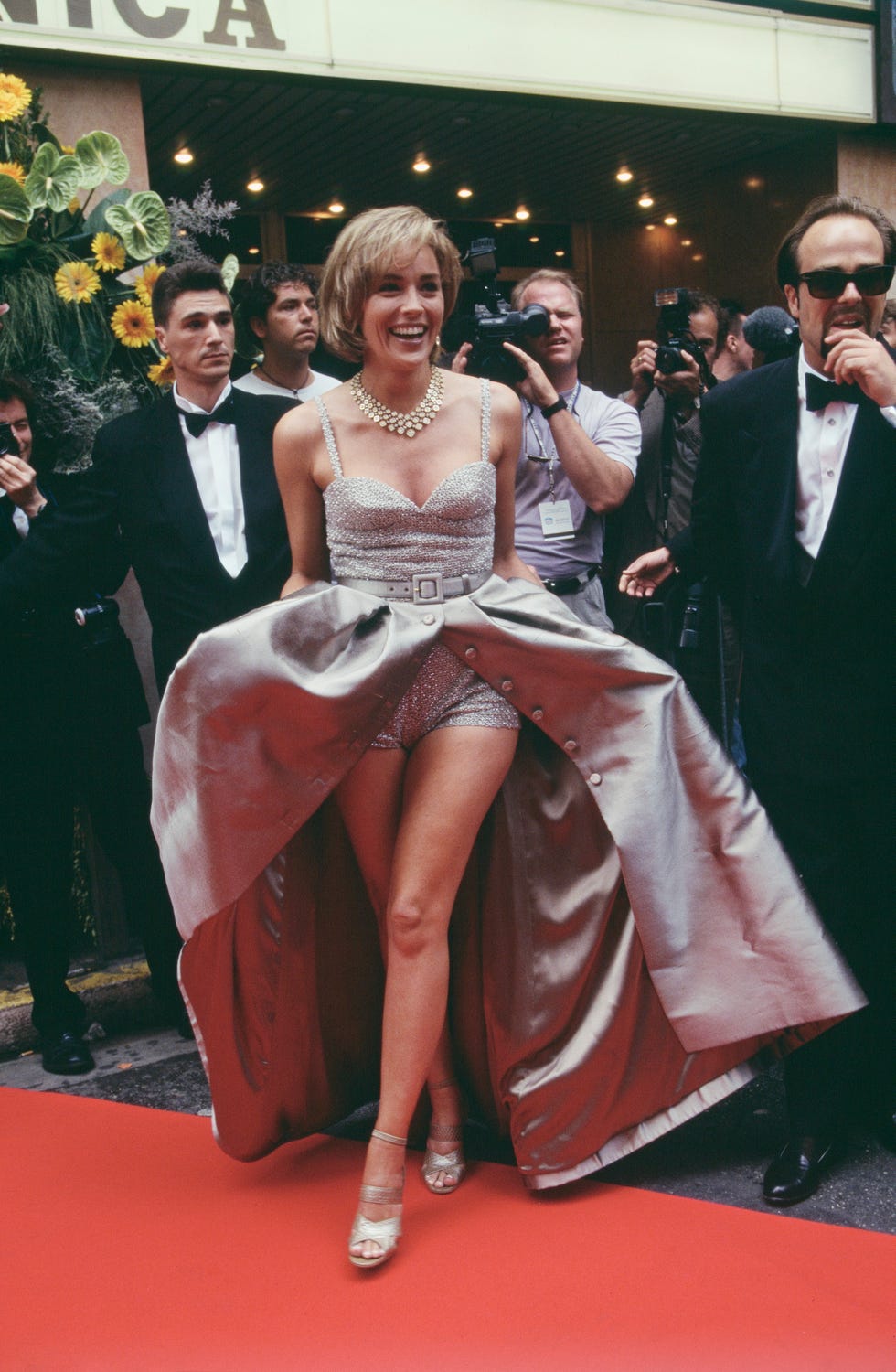 03
Sharon Stone in Valentino, 1995
"Four years after Madonna, Sharon Stone also took a risk on the Cannes red carpet, in an unbuttoned look for the premiere of "Unzipped." Her silver Valentino skirt was buttoned only once, revealing a pair of hand beaded hot pants underneath. While still considered moderately scandalous, it was not nearly as contentious. Still, it set a new precedent on the red carpet, proving that Cannes looks don't have to be entirely serious to still ooze the glamour the red carpet is famous for."—Tara Gonzalez, Senior Fashion Editor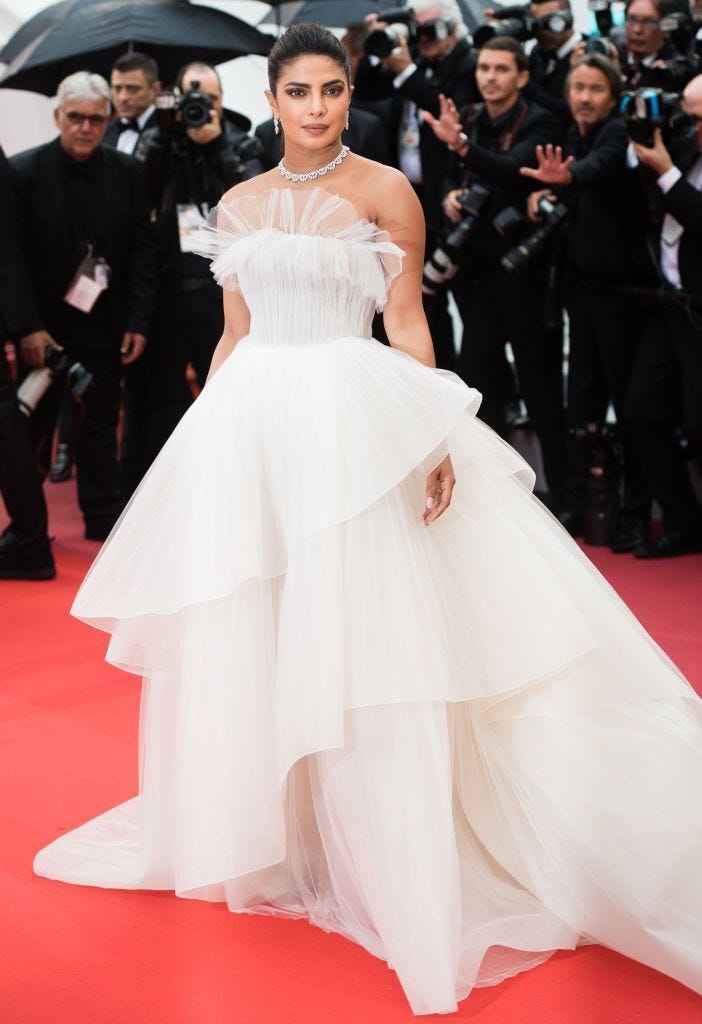 04
Priyanka Chopra in Georges Hobeika, 2019
"Cinderella vision came to life when Chopra wore a Georges Hobeika gown at the 2019 Cannes Film festival. From the slickback hair-do, to the perfect diamond additions; I thought she look flawless."—Alicia Banilivy, Fashion and Retail Credits Editor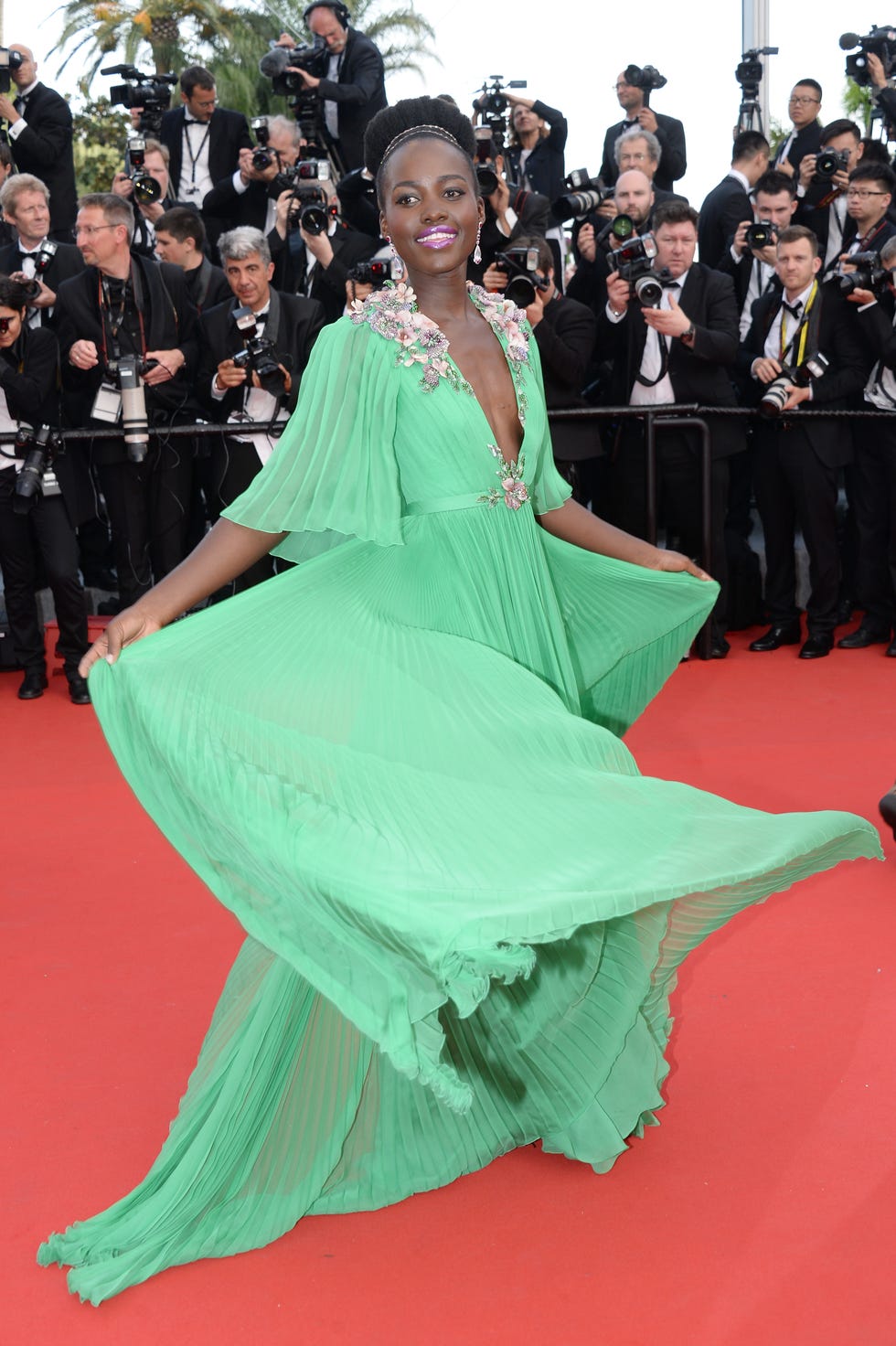 05
Lupita Nyong'o in Gucci, 2015
"What makes the Cannes red carpet so different than any other is that its idyllic location allows for the carpet itself to be huge, perfect to accommodate dresses that take up space. It also means that you can really see the movement of each gown, and Lupita Nyong'o's Gucci dress from 2015 proves it. Alessandro Michele had just recently taken over at Gucci, and this was one of his first big Hollywood red carpet moments. Nyong'o personified the celestial energy his looks would later become known for, twirling down the carpet like an otherworldly fairy in chiffon."—Tara Gonzalez, Senior Fashion Editor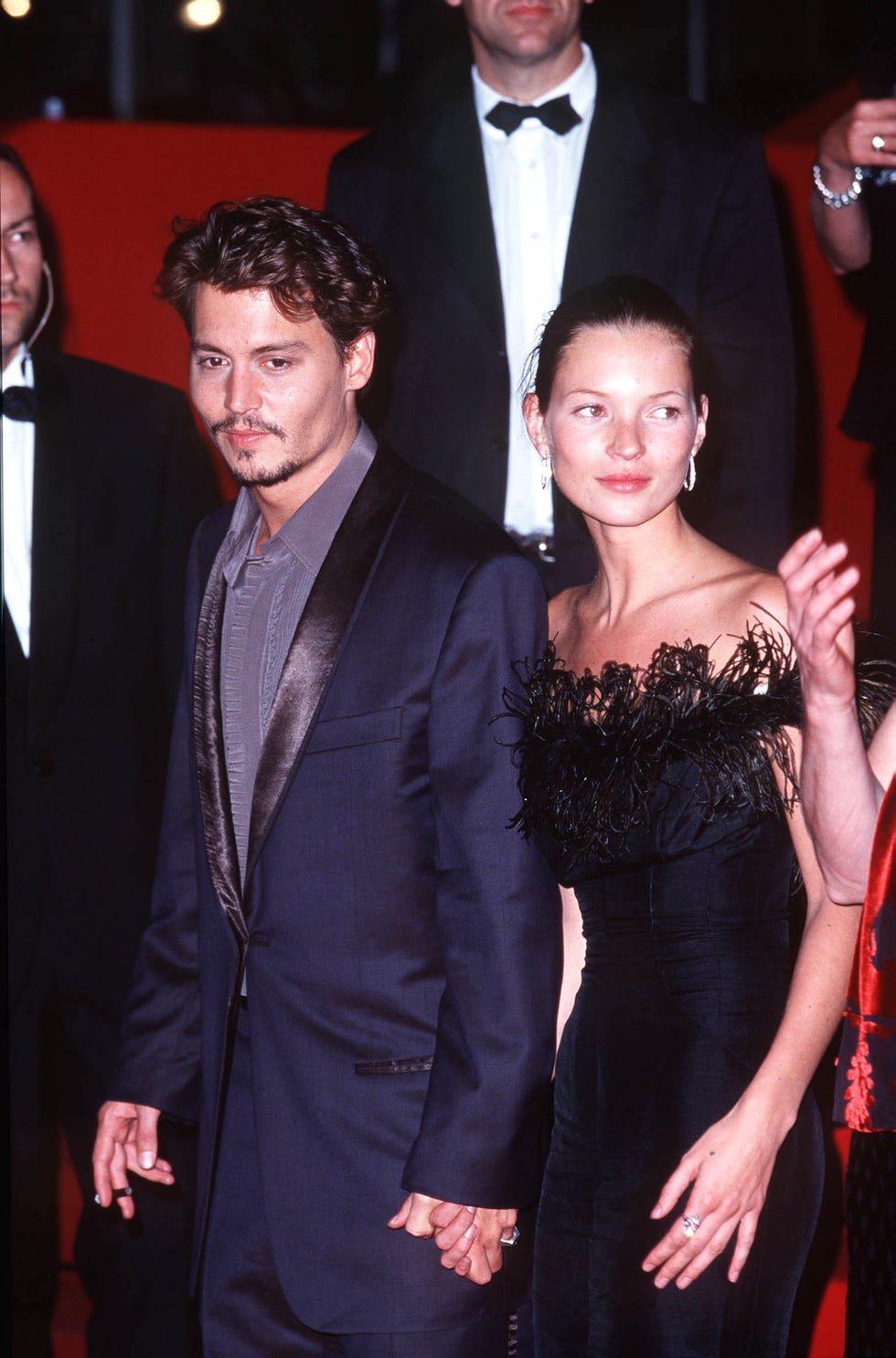 06
Kate Moss in Jean Dessès, 1998
"Vintage fashion queen Kate Moss looked amazing in a black feathered 1950s Jean Dessès dress she wore to Cannes in 1998—long before wearing archival dresses on the red carpet was popular."—Nicole Fritton, Executive Fashion Director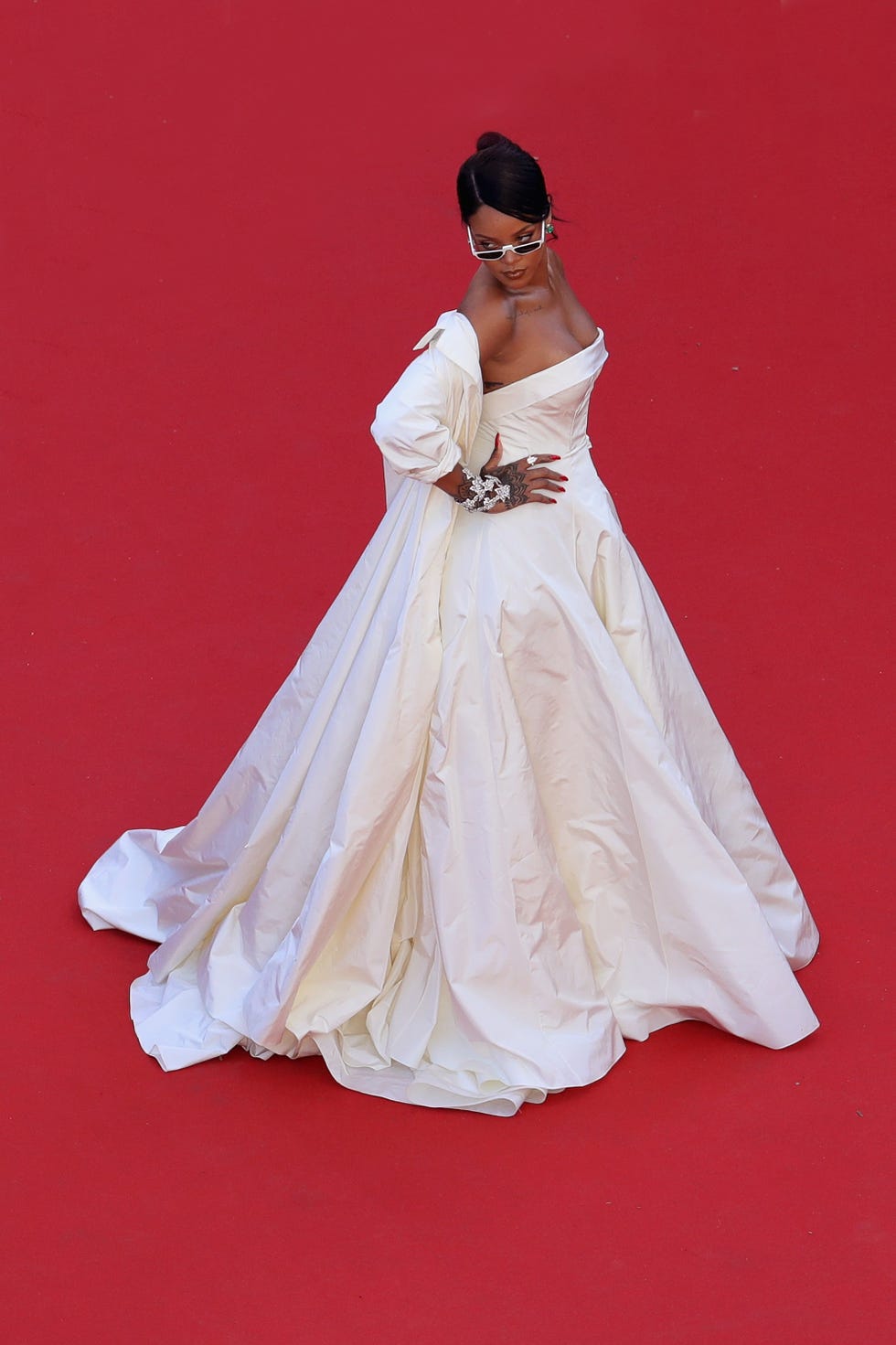 07
Rihanna in Dior, 2017
"White gowns on the red carpet can feel a little too bridal for my taste. Rihanna's 2017 Cannes debut in Dior Haute Couture is the best exception I can think of, thanks to the teeny Andy Wolf sunglasses perched on her nose and the billowing overcoat draped over her strapless taffeta gown. Was she the last person who walked that carpet? I'm not sure, but it doesn't matter: In my mind, she was the definitive look from that year. And if I'd had the funds for the Chopard jewellery collaboration she was promoting at Cannes that year, the exquisite layering of her emerald earrings and stacks of rings would have sold me in an instant."—Halie LeSavage, fashion commerce editor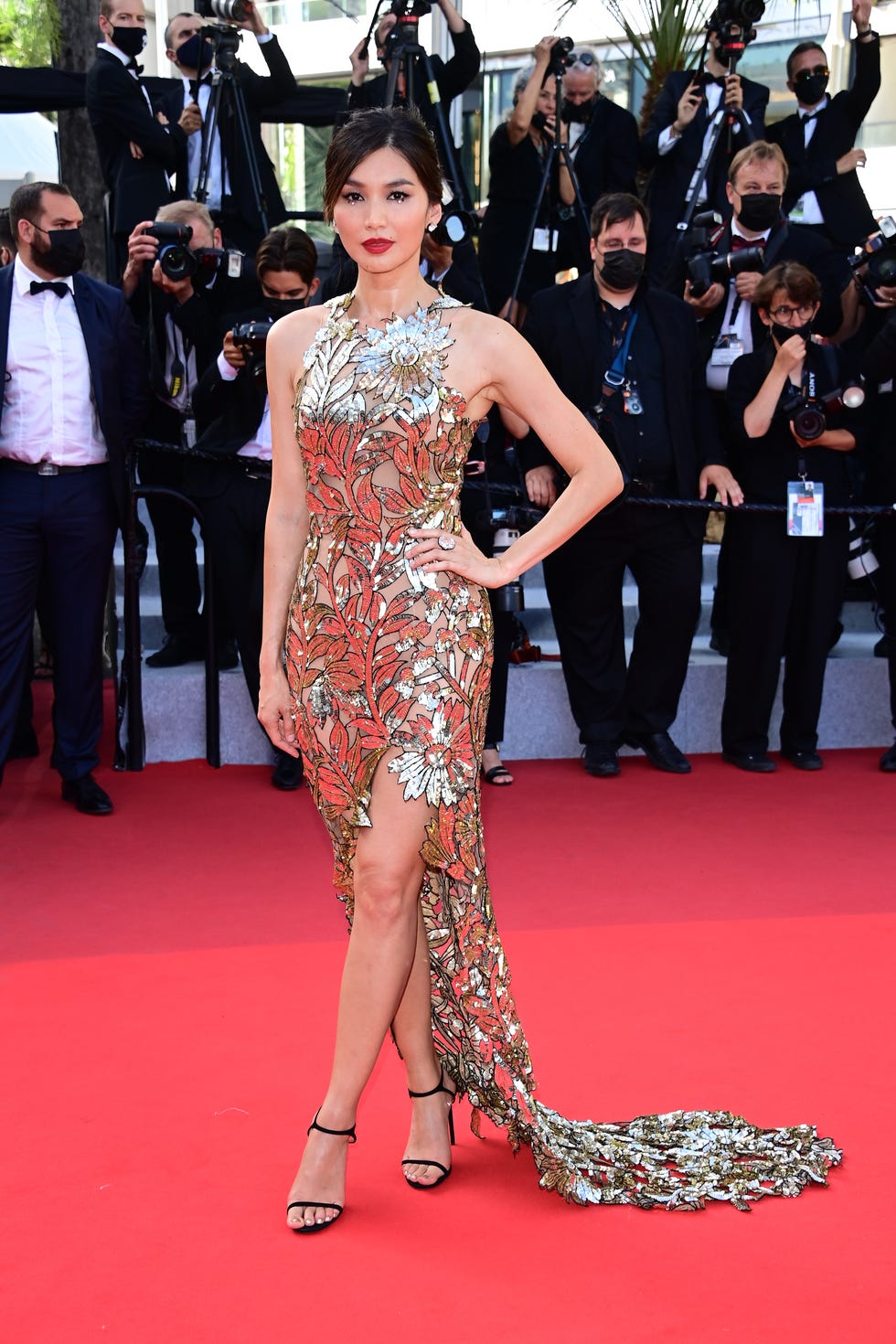 08
Gemma Chan in Oscar de la Renta, 2021
"I was absolutely gobsmacked when I saw Gemma Chan in this custom Oscar de la Renta dress at Cannes in 2021. It just does such cool things to the idea of the red carpet "naked" dress. I love the interplay of the gold flowers and the cut-out parts, especially the giant bloom by her neck, and it fits her like a dream."—Izzy Grinspan, Digital Deputy Editor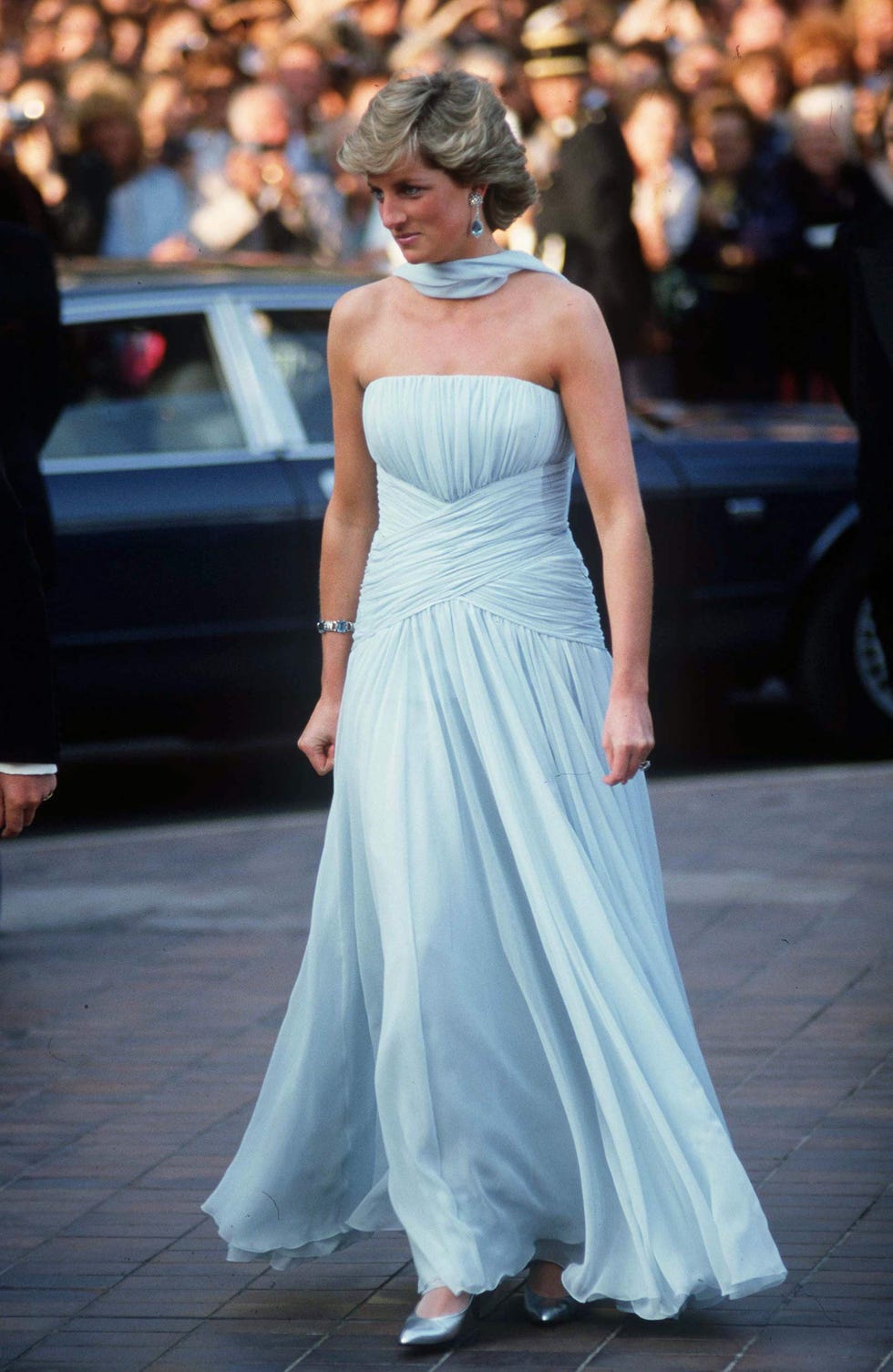 09
Princess Diana in Catherine Walker, 1987
"In a homage to another fashionably glamorous princess, Her Royal Highness Diana's 1987 custom Catherine Walker icy blue, draped gown was inspired by the one worn by Grace Kelly in To Catch a Thief."—Miguel Enamorado, Accessories Director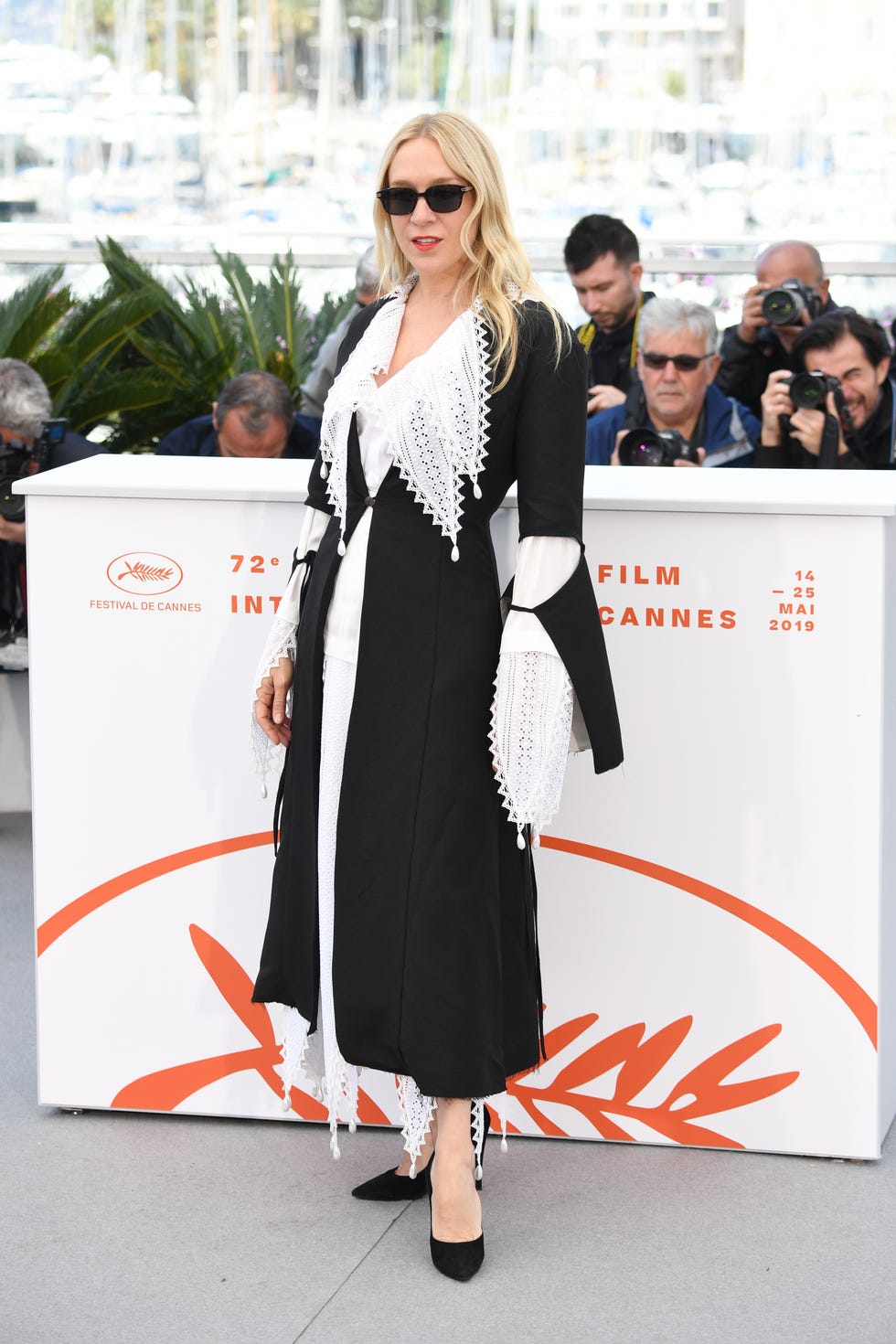 10
Chloë Sevigny in Loewe, 2019
"The Cannes red carpet isn't effortless. It is painstakingly considered. The amount of work that goes into each look is impossible to ignore. And yet, somehow, without fail, every time, Chloë Sevigny always looks like she just threw something amazing on and happened to stumble into a movie premiere.
I love all of her Cannes looks, but this Loewe wool coat with the oversized scalloped collar from the fall 2019 collection will forever be stuck in my brain. I think it has to do with the sunglasses. They make this look so cool and so Chloë in a way no one else can pull off. While some celebrities look like a fabulous fish out of water at Cannes, Sevigny always looks exactly like herself."—Tara Gonzalez, Senior Fashion Editor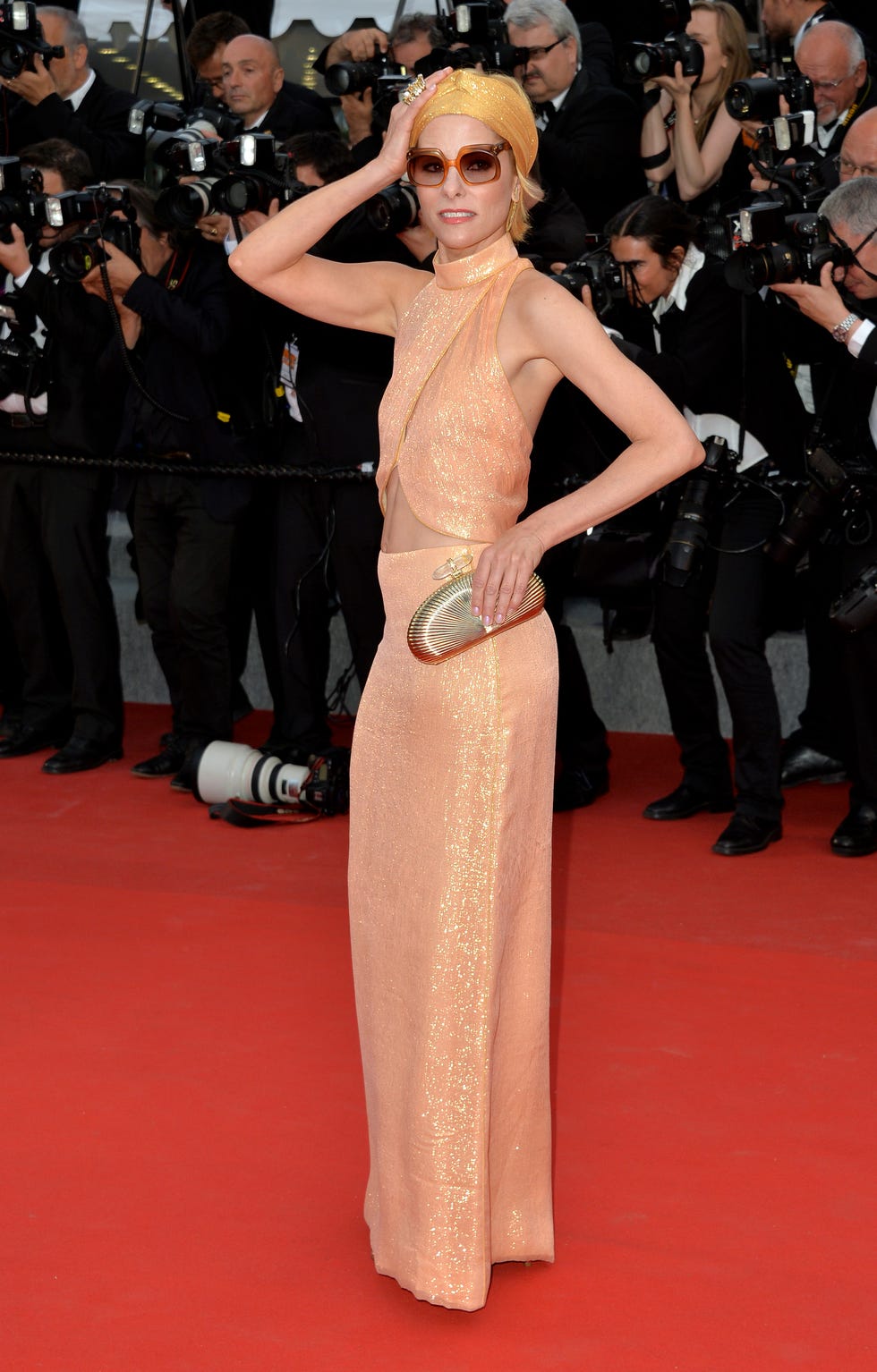 11
Parker Posey, 2015
"I've always been a Parker Posey super fan – she brings that kind of "what's she going to do next" energy to everything she touches and this Cannes look is no exception. I still remember when these photos came out and I'm just as charmed today by how fully committed she is to the look—from the sequins to the turban to the shades—to the posing. She is a constant delight!"—Leah Chernikoff, Executive Editor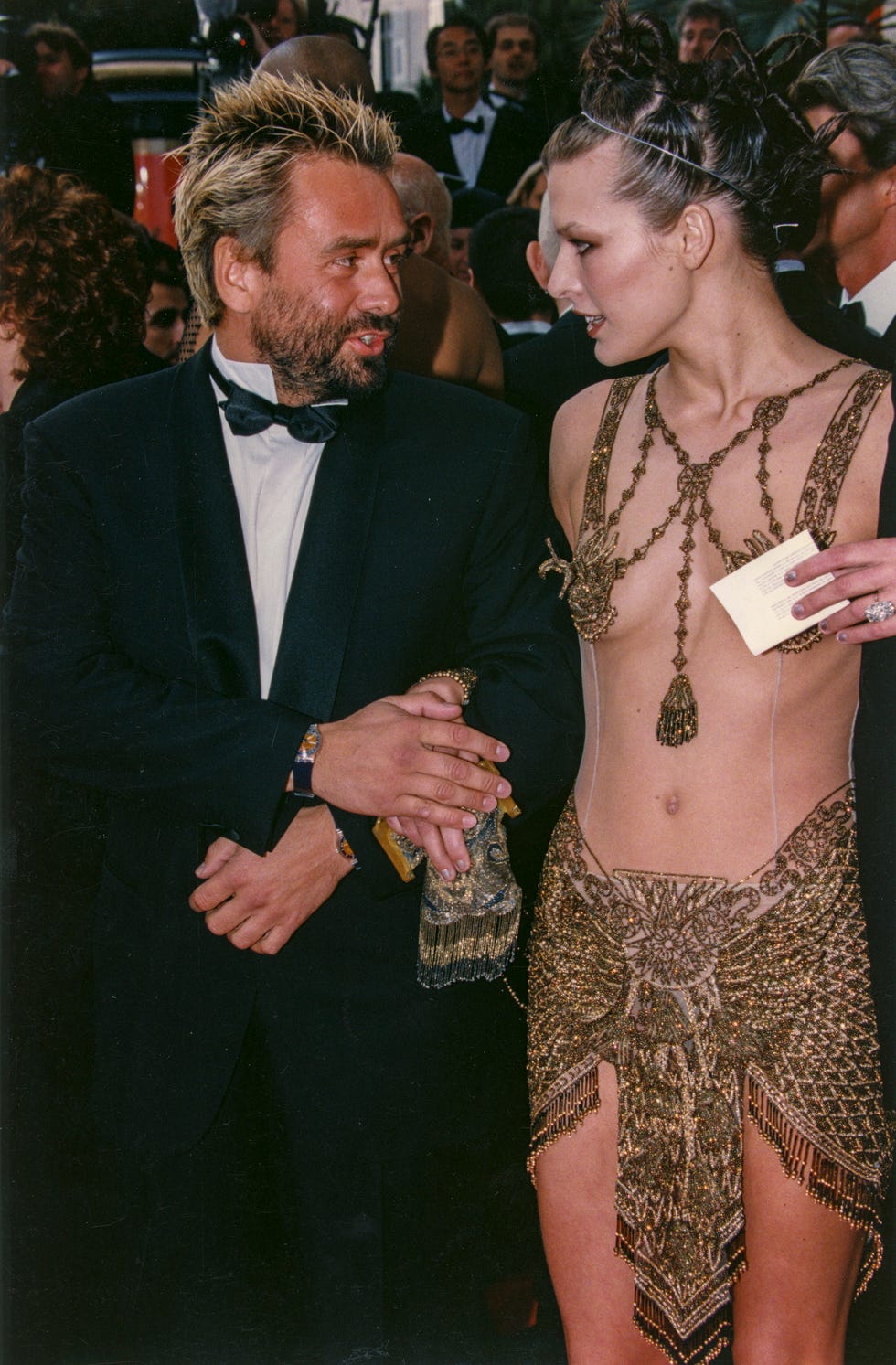 12
Milla Jovovitch in John Galliano, 1997
"Milla Jovovich wore the only beaded loinscloth ever in the carpet's history—at least to my knowledge. And the look by John Galliano puts every single "naked" dress out there to shame. The intricate embellishments make this entirely different than the famous white cut-out bodysuit she wore in the film, designed by John Galliano. But there's still a clear synergy with that look and nothing feels more cinematic than her bringing the punk aesthetic of her character to the carpet."—Tara Gonzalez, Senior Fashion Editor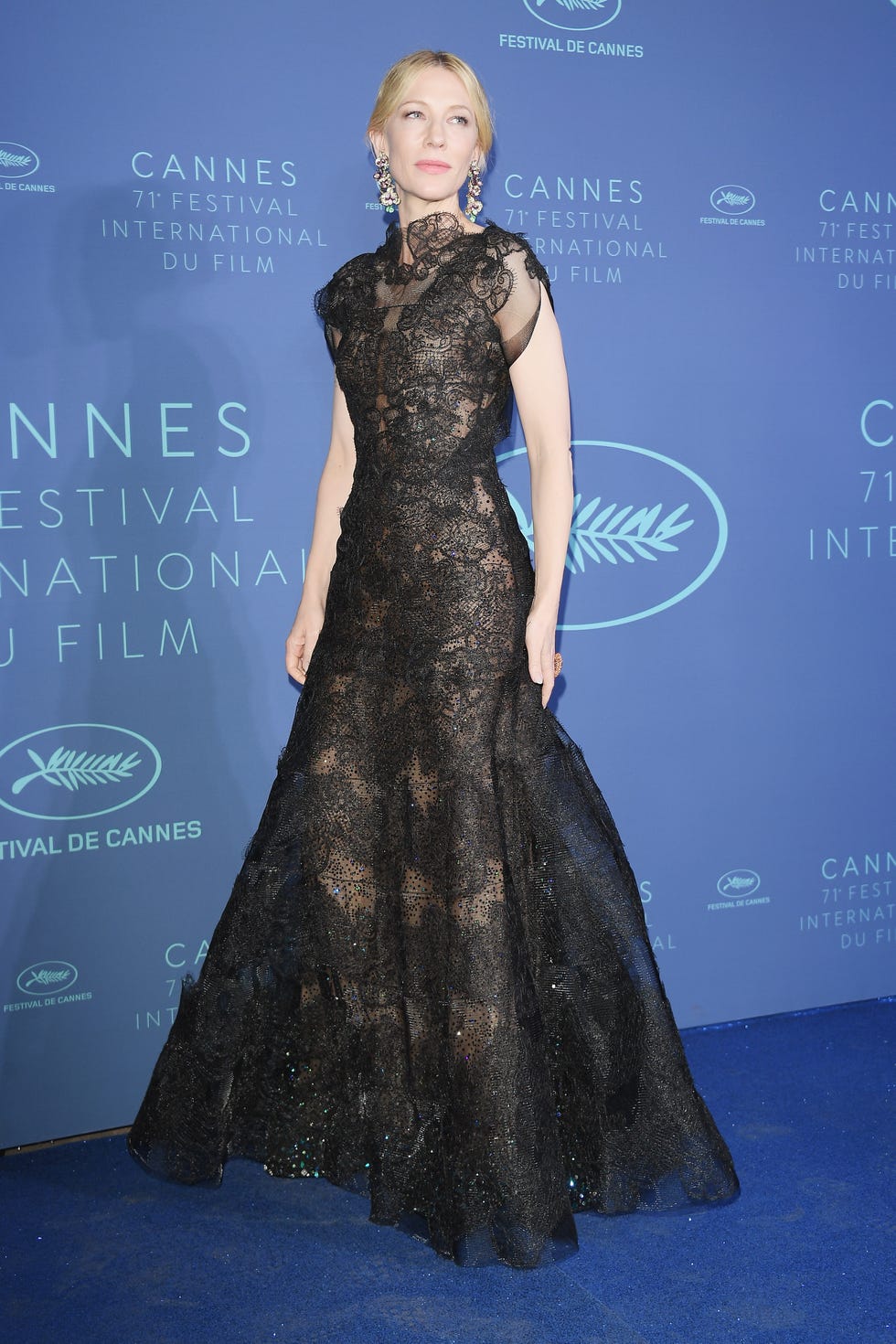 13
Cate Blanchett in Armani Privé, 2018
"Cate Blanchett looked lovely in 2018 in a black lace Armani Privé "rewear" she had previously donned for the Golden Globes four years prior. Love the message that sends about allowing beautifully crafted pieces to shine for more than a single moment."—Alison Cohn, Deputy Fashion News Editor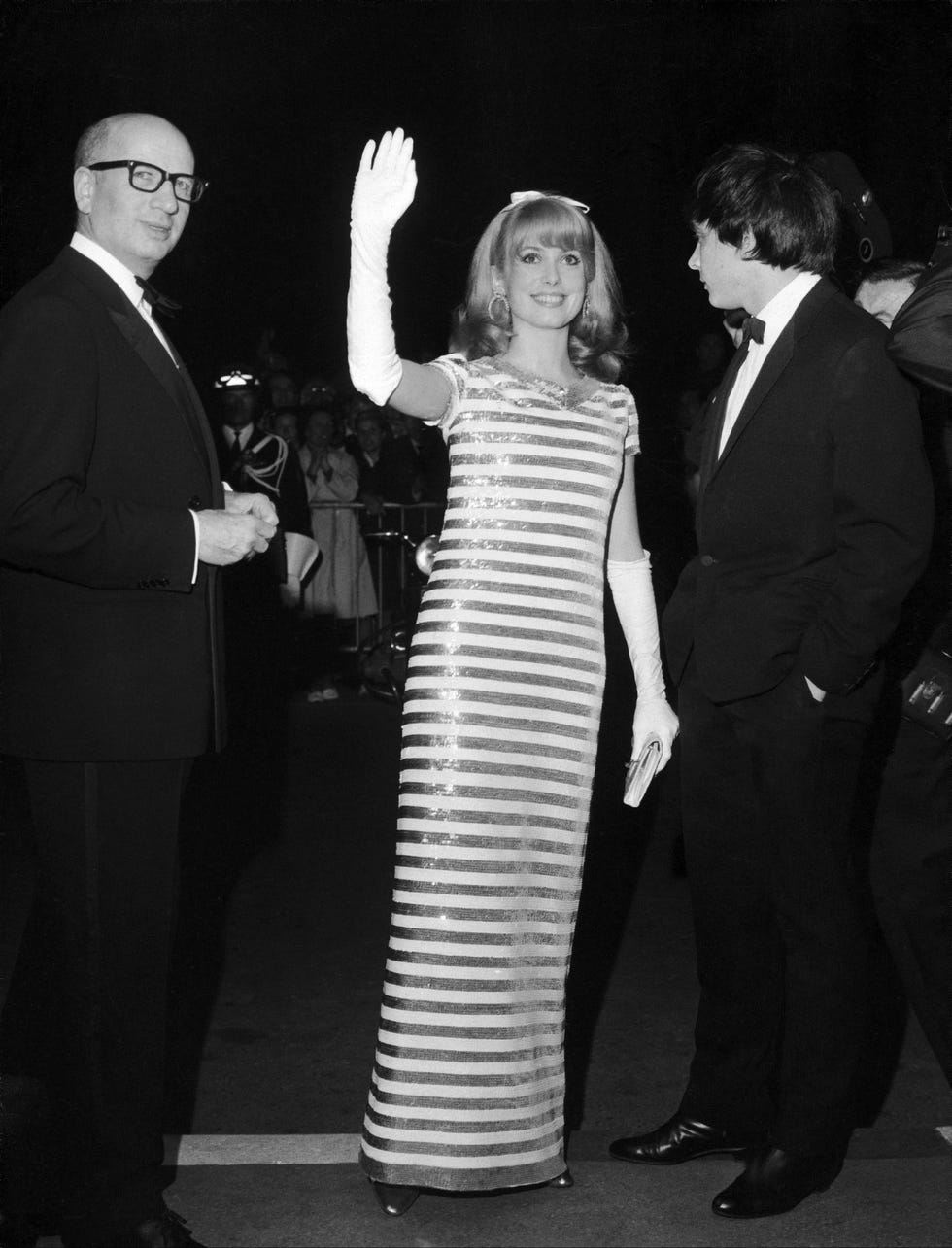 14
Catherine Deneuve in Yves Saint Laurent, 1966
"A fashion muse, and actual one to designer Yves Saint Laurent, Catherine Deneuve may as well have written the handbook on how to wear a classic wardrobe staple (t-shirt) but make it glamorous: looking ever so elegant her sparkling YSL short sleeved dress on the 1966 carpet."—Jaclyn Cohen, Senior Fashion and Accessories Editor
15
Naomi Campbell in Roberto Cavalli, 2010
"This custom Roberto Cavalli chainmail dress worn by Naomi Campbell is the epitome of elegance and glamour to me. She always looks statuesque but this look make her even more so, as if she had been dipped in shimmering gold for all of us to admire."—Tara Gonzalez, Senior Fashion Editor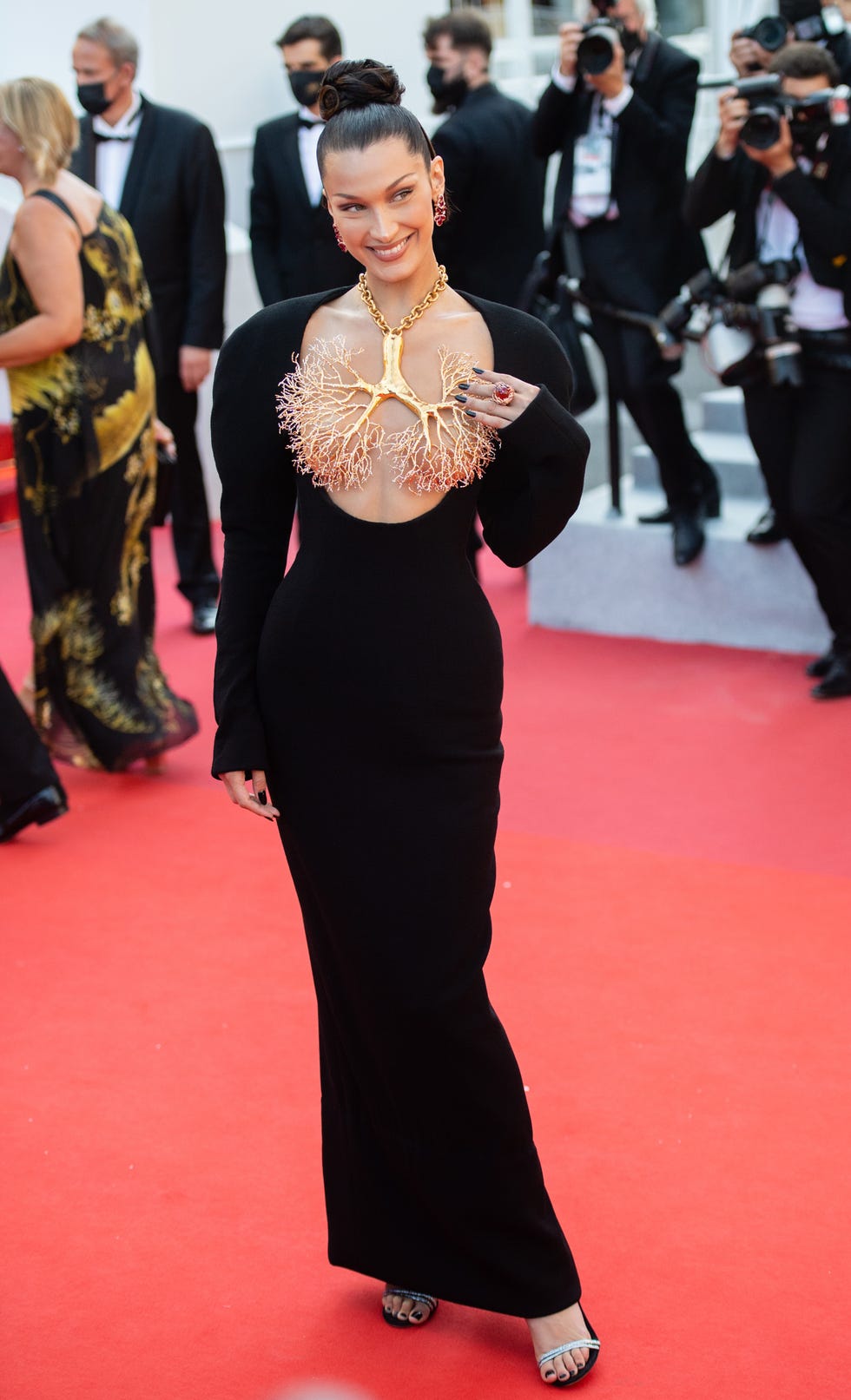 16
Bella Hadid in Schiaparelli, 2021
"I remember where I was when I saw photos of this Bella Hadid Schiaparelli look. Daniel Roseberry's artful gown made Bella Hadid look like she was breathing with lungs made of gold. It's one of those red carpet moments that makes waves outside of the fashion community—I had non-fashion friends asking me about this look for weeks after. And it's not hard to understand why. The surrealism of Schiaparelli is a perfect fit for something as mythical as the Cannes red carpet. "—Tara Gonzalez, Senior Fashion Editor
This article originally appeared in Harper's BAZAAR US.