On any given day at the BAZAAR office, editors are tackling designer interviews and refining major spring 2023 trend guides while wearing the best midi dresses. Midi dresses possess the same work-friendly polish as the best black blazers and a fluid suit set pant, with unique cuts, lengths, and patterns that give each one extra personality. No two editors own the exact same midi dresses, but they all share the same elevated attitude.
To me, a fashion editor and midi dress connoisseur, Dôen, Tove, and Staud are a few of the many labels designing the best midi dresses right now. What sets my most worn dresses apart can be hard to put into words. I know my favourites on a style-by-style basis: one hits at the exact height for accentuating a tall leather boot, another has a swishy skirt that turns a walk down the hallway into a strut. Aside from midi lengths that inspire big feelings, I asked Alison Cohn, deputy fashion news editor and a fellow midi dress expert, to define the essential qualities of the best versions worth shopping. She told me, "The perfect midi dress balances structure and softness, with a flowy skirt and a more fitted bodice. I particularly love shirt dress styles."
Related article: The Best Black Blazers To Buy For Any Occasion
Many of the best midi dresses feel brand-new after a few wears simply by exchanging your footwear, Cohn added. "I style them with knee-high boots for an easy approach to transitional dressing and flat or block heel sandals once it's warm outside," she said. Experimenting with layers—like a tissue-thin bodysuit under a sleeveless style, or a half-tucked sweater over a dress with a full skirt—also extends their longevity.
Whether you're after a tailored work dress or laid-back florals, the best midi dresses will become true wardrobe heroes. Ahead, shop 28 midi dresses with the same year-round wearability as BAZAAR editors' favourites.
Related article: Up Your Summer Style With These Chic Printed Dresses
---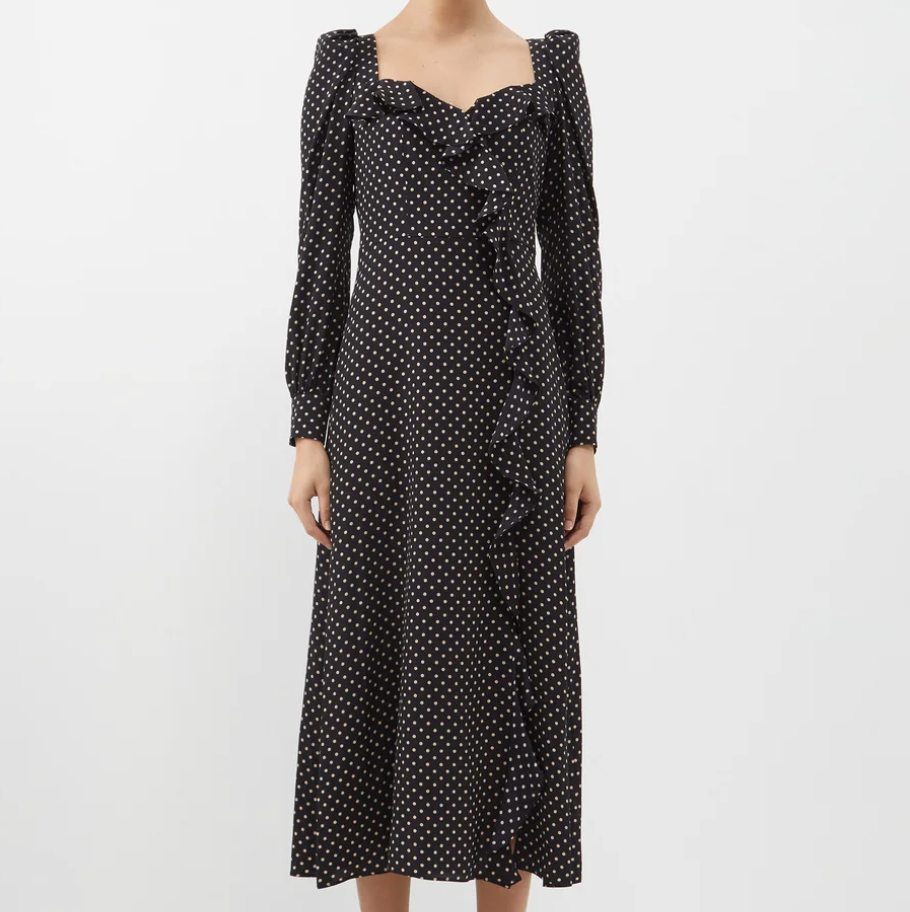 THIS RUFFLED MIDI DRESS
Alessandra Rich Ruffled Polka Dot Midi Dress
Have you ever seen a stranger wearing a piece that's so good, you're compelled to walk right up and ask where they bought it? That's more or less the backstory for how I first laid eyes on this Alessandra Rich dress. A visitor to my office was wearing this polka dot midi with layered necklaces and a bright kitten heel, and the rest is shopping history. Pay special attention to the shoulders: The slight volume comes from bows laid flat across the shoulder.
| | |
| --- | --- |
| Sizes | 36IT–46IT |
| Colour | Black/Cream Print |
| Materials | 100% Silk |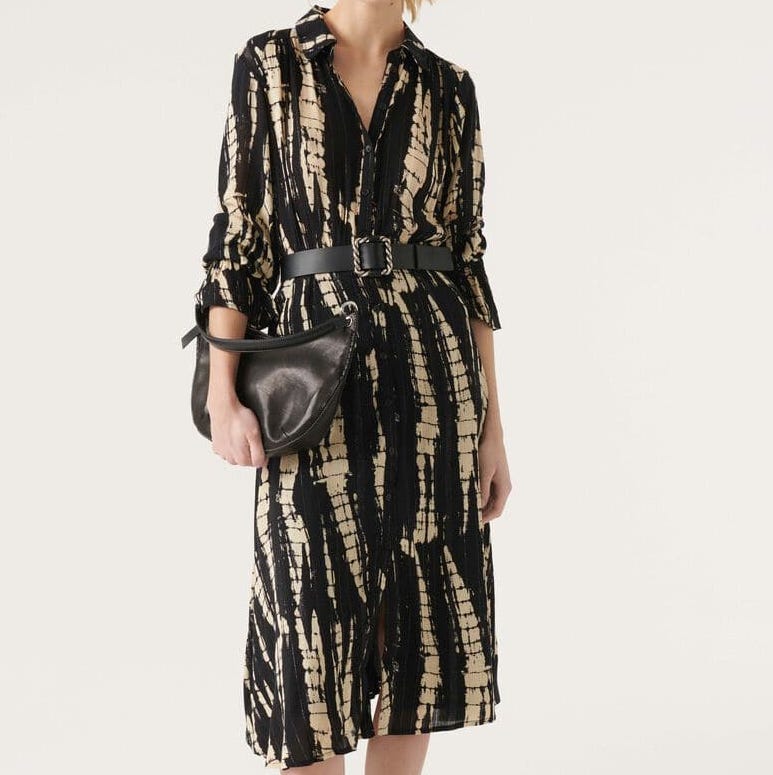 THIS TIE-DYE SHIRT DRESS
ba&sh Klore Dress
There's no shortage of button-down shirt dresses to shop for spring. But instead of a classic white poplin or chambray blue, I'm drawn to ba&sh's moody tie-dye print. Cinched with a belt and paired with a directional sandal heel, it's both classic and cool.
| | |
| --- | --- |
| Sizes | XS–L |
| Colours | Black/Cream |
| Materials | 97% Viscose, 3% Metallic Fibers |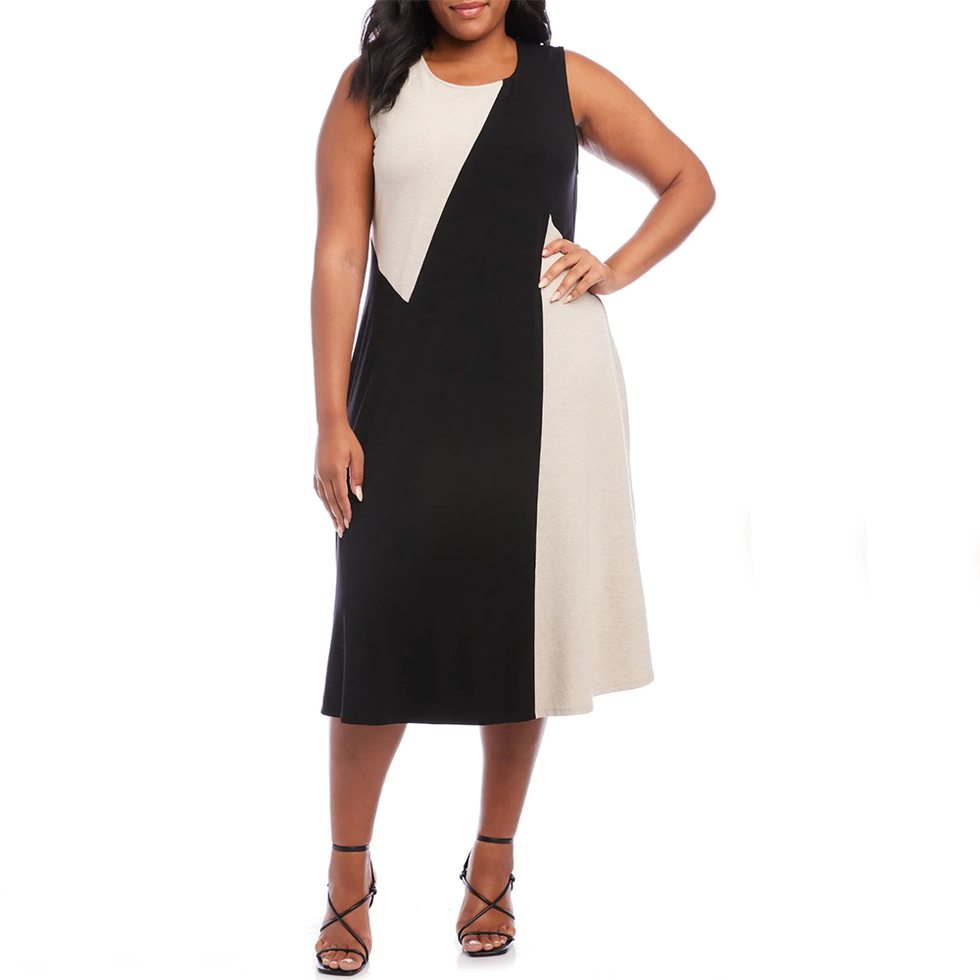 THIS MODERN MIDI DRESS
Karen Kane Colourblock Midi Dress
When it's your day to commute and you're not in the mood for a suit set, this Karen Kane dress is the answer. It has a conservative length and neckline for the office, but the contemporary colorblocking feels unexpected.
| | |
| --- | --- |
| Sizes | 1X–2X |
| Colors | Black Colorblock |
| Materials | 90% Rayon, 10% Spandex |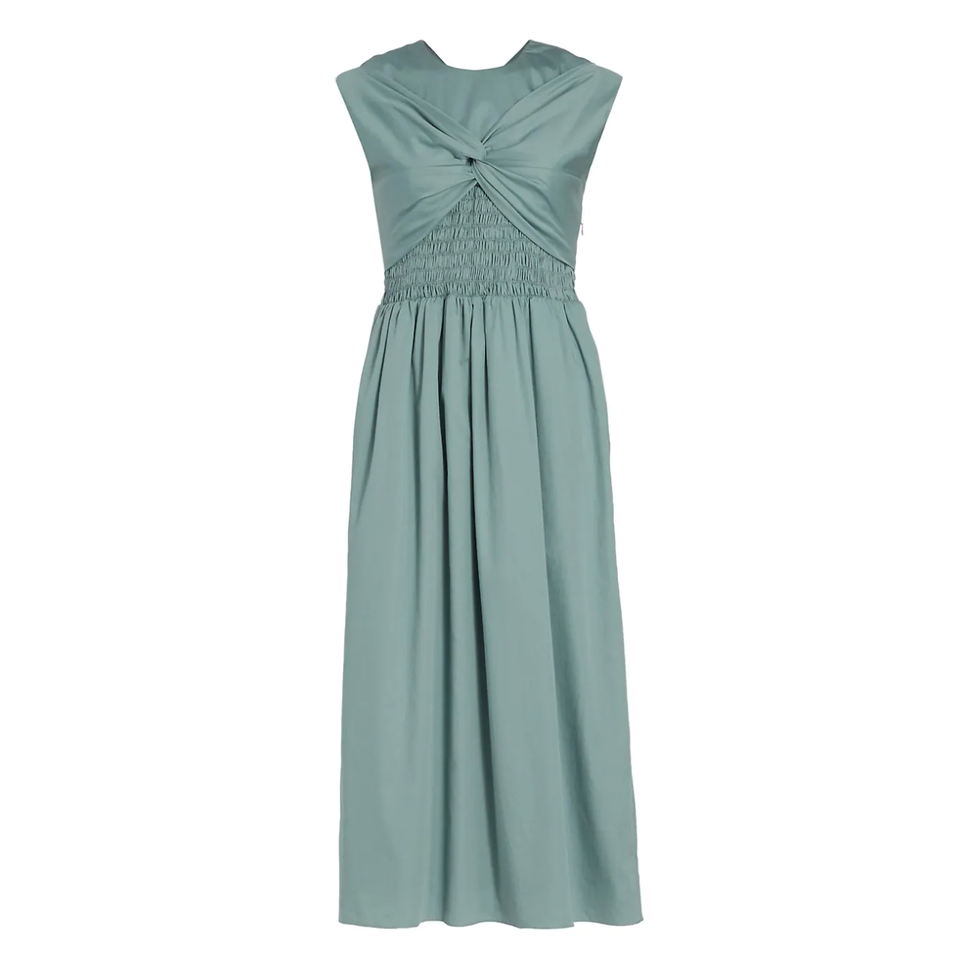 THIS TWISTED DRESS
TOVE Iona Twisted Smocked Midi-Dress
Dresses with a smart knot at the center and a flowing skirt are some of Tove's best pieces. They're understated from a colour or pattern perspective, allowing the structure to really shine. I always get the most questions about what I'm wearing in a Tove dress—particularly, "Do you know if it's still available?"
| | |
| --- | --- |
| Sizes | 2–10 |
| Colour | Sea Green |
| Material | 100% Organic Cotton |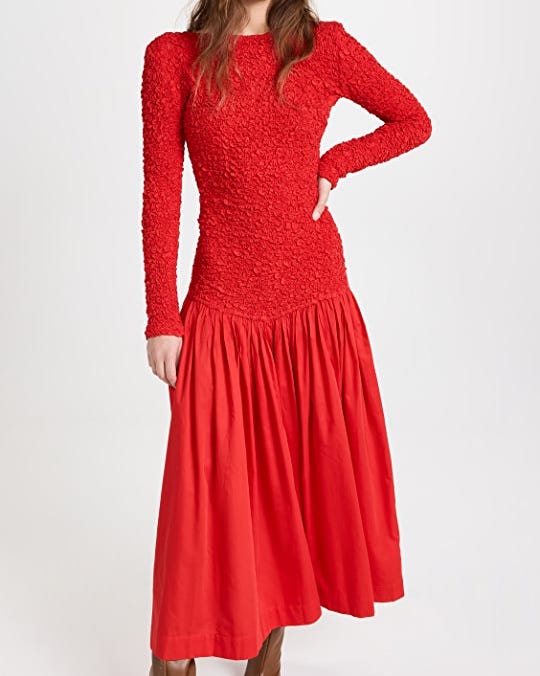 THIS BODY-HUGGING DRESS
Mara Hoffman Mereba Dress
Mara Hoffman dresses have a special ability to make whoever's wearing them feel a little more confident. Her designs embrace bodies, more than simply covering them up, especially where her signature popcorn fabric is involved. This new arrival elevates the clingy material from simple tank dresses to an evening drop-skirt dress with a stunning open back.
| | |
| --- | --- |
| Sizes | XXS–2X |
| Colour | Red |
| Material | 100% Cotton |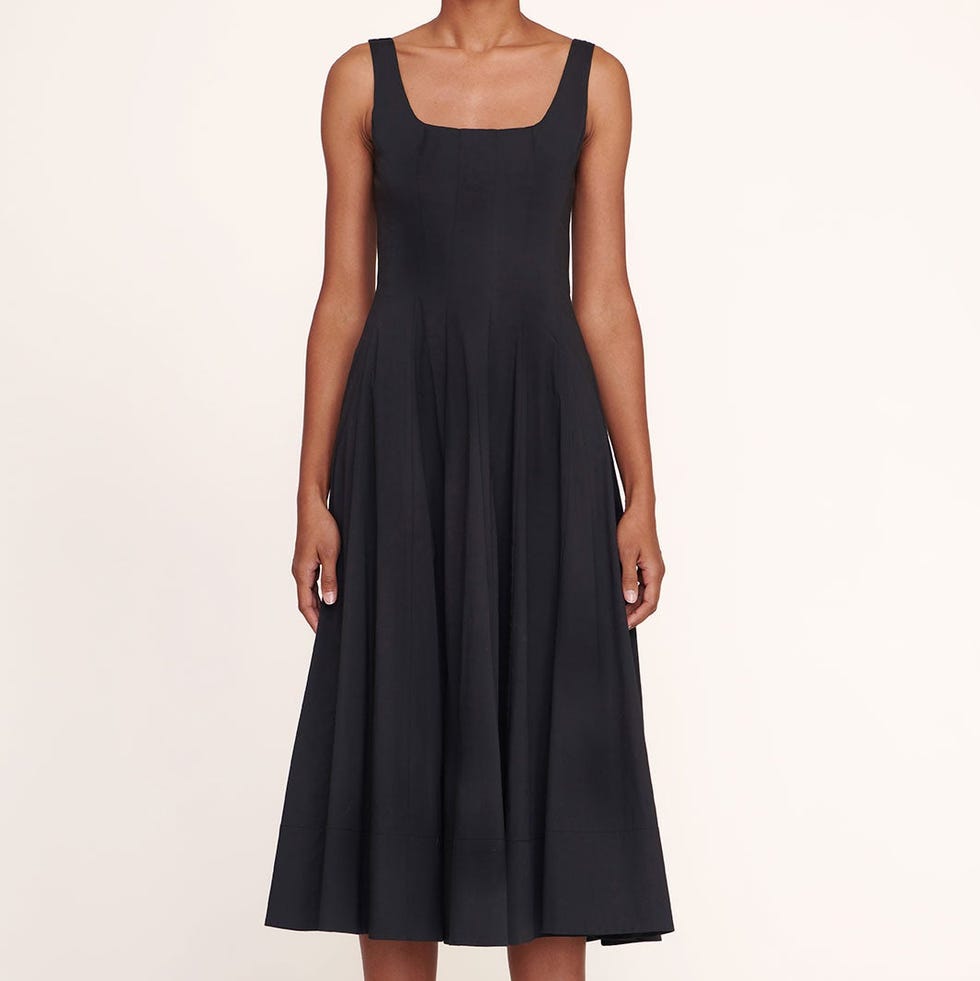 THIS FLOWING TANK DRESS
Staud Wells Dress
I've worn this Staud dress more times than I can count since ordering it last summer. It made its maiden voyage at New York Fashion Week, where some of my harder-to-impress fashion friends gave it a ton of compliments. The skirt has substantial shape and movement, but it doesn't feel heavy, and the square neckline is universally flattering.
| | |
| --- | --- |
| Sizes | 00–16 |
| Colours | Black, Navy, White, Tan, Lilac, Begonia, and more |
| Materials | 95% Cotton, 5% Spandex |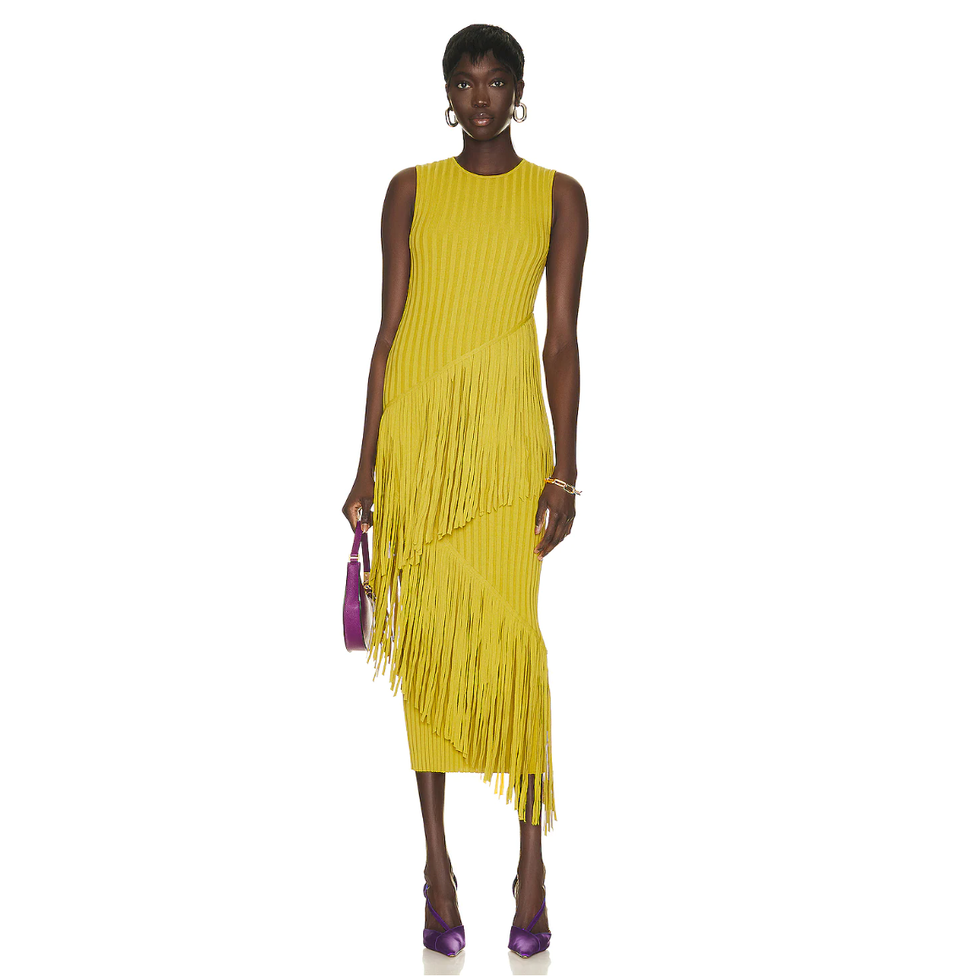 THIS ZIG-ZAG FRINGE DRESS
Simon Miller Spiral Dress
The details that give party dresses their oomph—taffeta skirts, dramatic cutouts, anything with sequins—lean on the impractical side. But this fringed midi has a simple knitted sheath as its base, which strikes me as the ideal mix of comfortable and party dress code approved.
| | |
| --- | --- |
| Sizes | XS–L |
| Colour | Kiwi |
| Materials | 65% Viscose, 35% Nylon |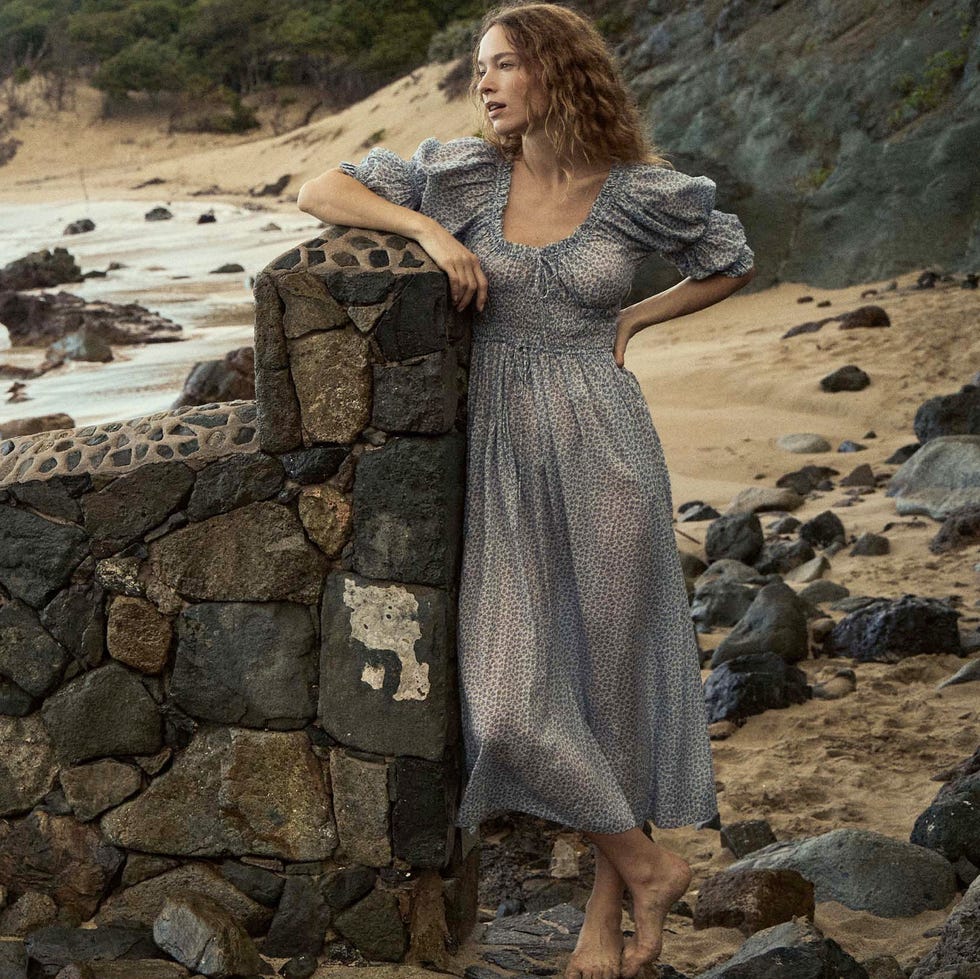 THIS WHIMSICAL FLORAL DRESS
Dôen Ischia Dress
If there's a casual midi dress worth ordering in multiples, it's Dôen's Ischia dress. I have it in two separate floral prints and am eyeing this blue for spring. These have the ethereal, dreamy quality I love in all of Dôen's pieces, plus an added comfort factor in the adjustable neckline and waistline. It's weekend farmer's market material with a low leather sandal, but with a slip underneath and an oversized blazer on top, I also wear this dress style to the BAZAAR office—and often.
| | |
| --- | --- |
| Sizes | XXS–XXL |
| Colours | Blue Floral, Pink Floral |
| Materials | 100% Cotton Voile |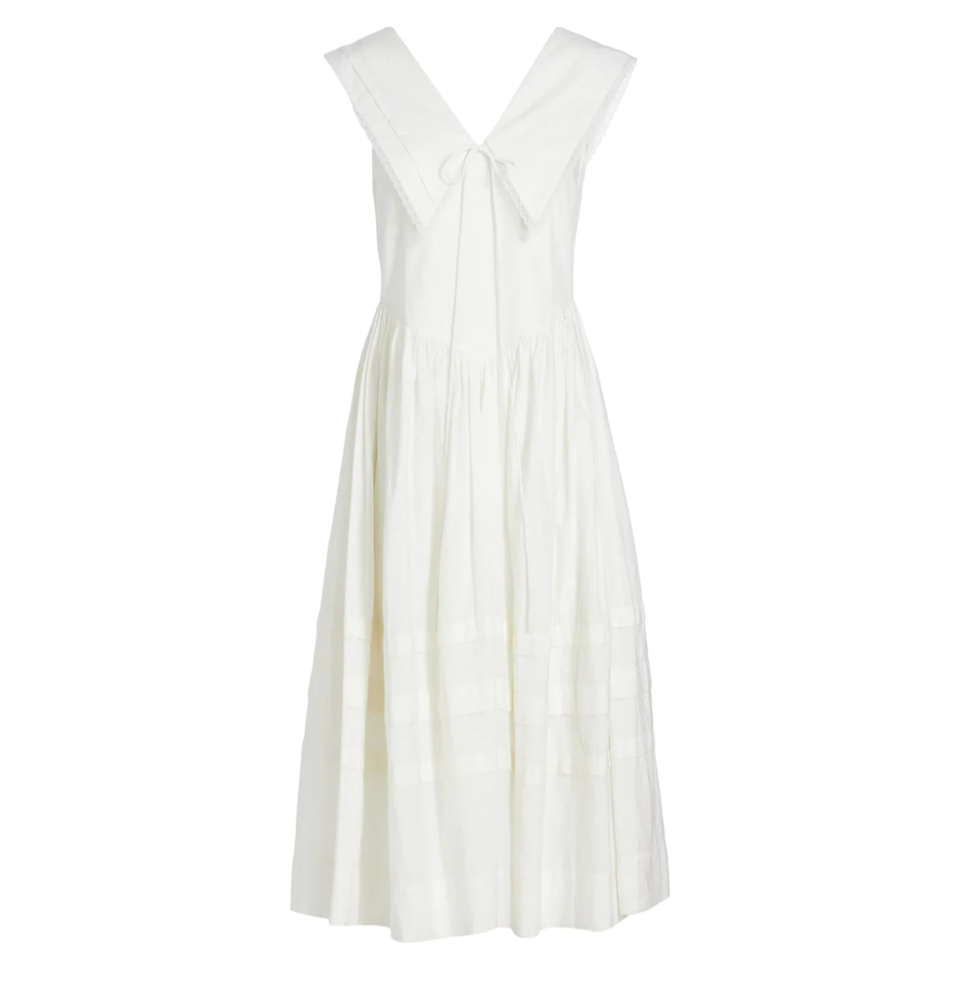 THIS WIDE-COLLAR MIDI DRESS
Sandy Liang Opa Poplin Sailor Midi-Dress
Sandy Liang's downtown uniform and the many women wearing it were some of my favourite sightings throughout fashion month. A midi dress with a giant nautical collar and nipped-in waist is definitely a specific look. But after taking styling notes from Liang's biggest fans, I can image this with everything from a fluffy fleece jacket and her hard-to-find Mary Janes to flat sandals and a straw bag.
| | |
| --- | --- |
| Sizes | 0–12 |
| Colour | White |
| Materials | 100% Cotton |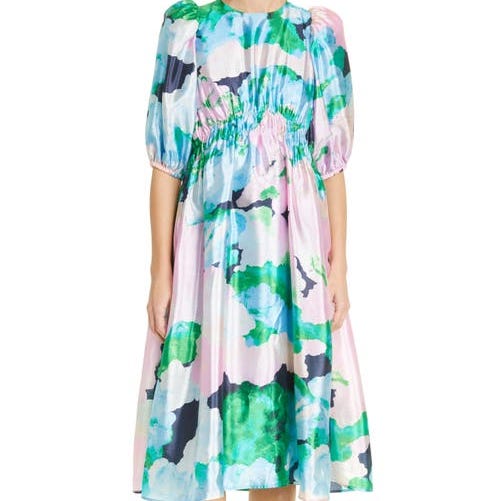 THIS WATERCOLOUR DRESS
Stine Goya Elizabeth Satin Dress
Moms-to-be in my circle have been saying maternity dresses that fit their usual style are hard to find. According to reviewers like the one below, Stine Goya's bright lineup also works through the second and third trimester. Bump-friendly details include a higher smocked waist that can adjust with a changing body.
Shopper review: "Such a fun dress!! I am pregnant and this dress works great. I bought my pre pregnancy size and it's very comfortable."
| | |
| --- | --- |
| Sizes | XXS–XL |
| Colours | Blue Print |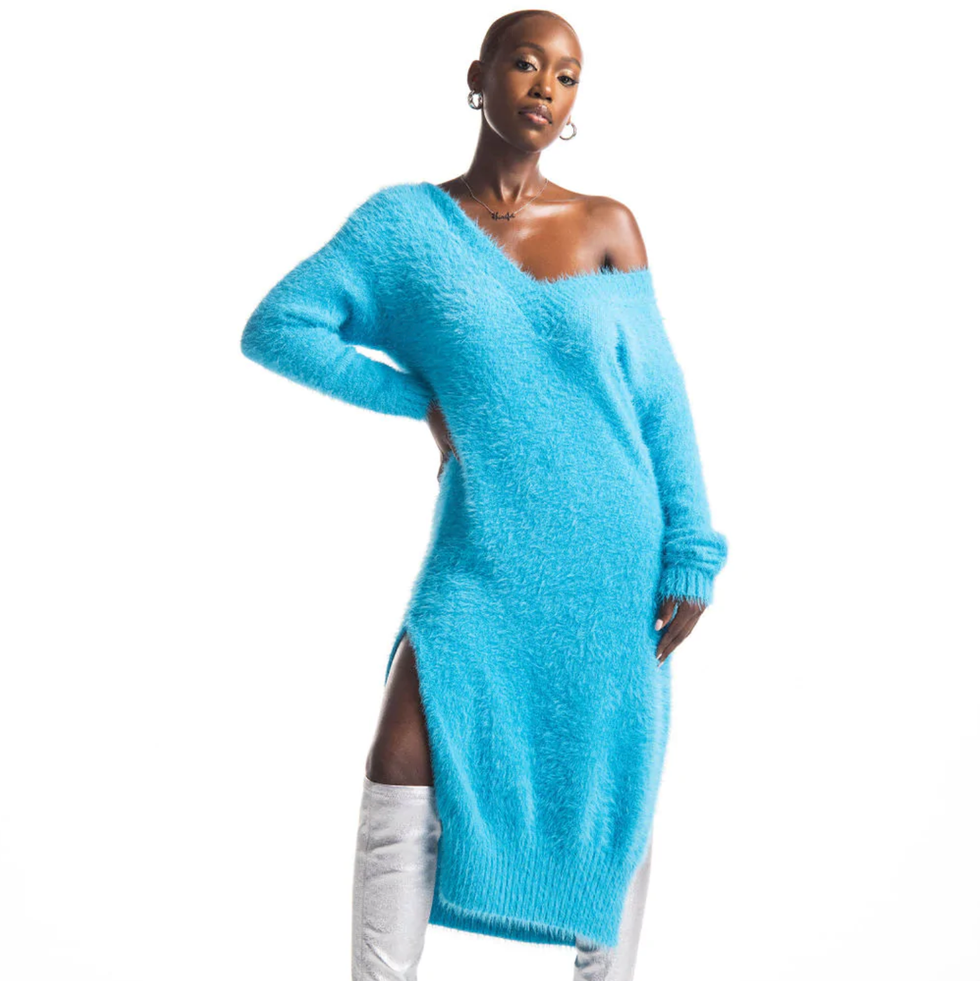 THIS ELECTRIC KNIT DRESS
Hanifa Laia Knit Dress
Sweater dress season always starts earlier and ends later than I expect. This Hanifa midi dress brings the spring energy even when it's still below freezing. (Plus, the exaggerated neckline and leg-slits make this knit so much sexier than your usual blanket sweater.)
| | |
| --- | --- |
| Sizes | XS–3XL |
| Colour | Blue |
| Material | Nylon/Viscose Blend |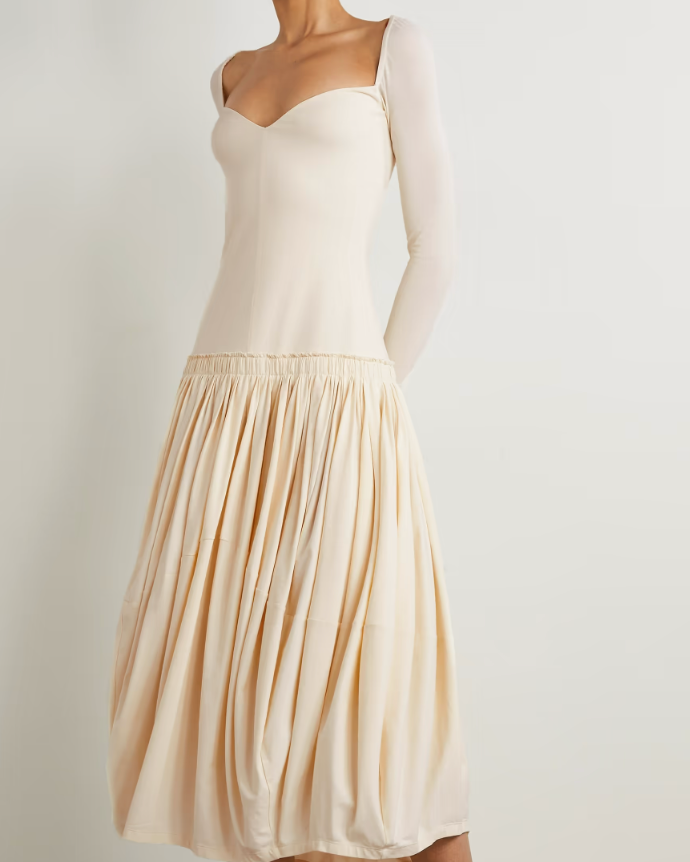 THIS BUBBLY DROP WAIST DRESS
Khaite Marsden Dress
Bubble hems are back, baby, and Khaite's is the most elegant take I've bookmarked so far. The skirt deserves all the attention, so keep accessories minimal with a low strappy sandal and a little top-handle bag like Savette's symmetry pouch.
| | |
| --- | --- |
| Sizes | XS–XL |
| Colour | Cream |
| Materials | 98% Cotton, 2% Elastane |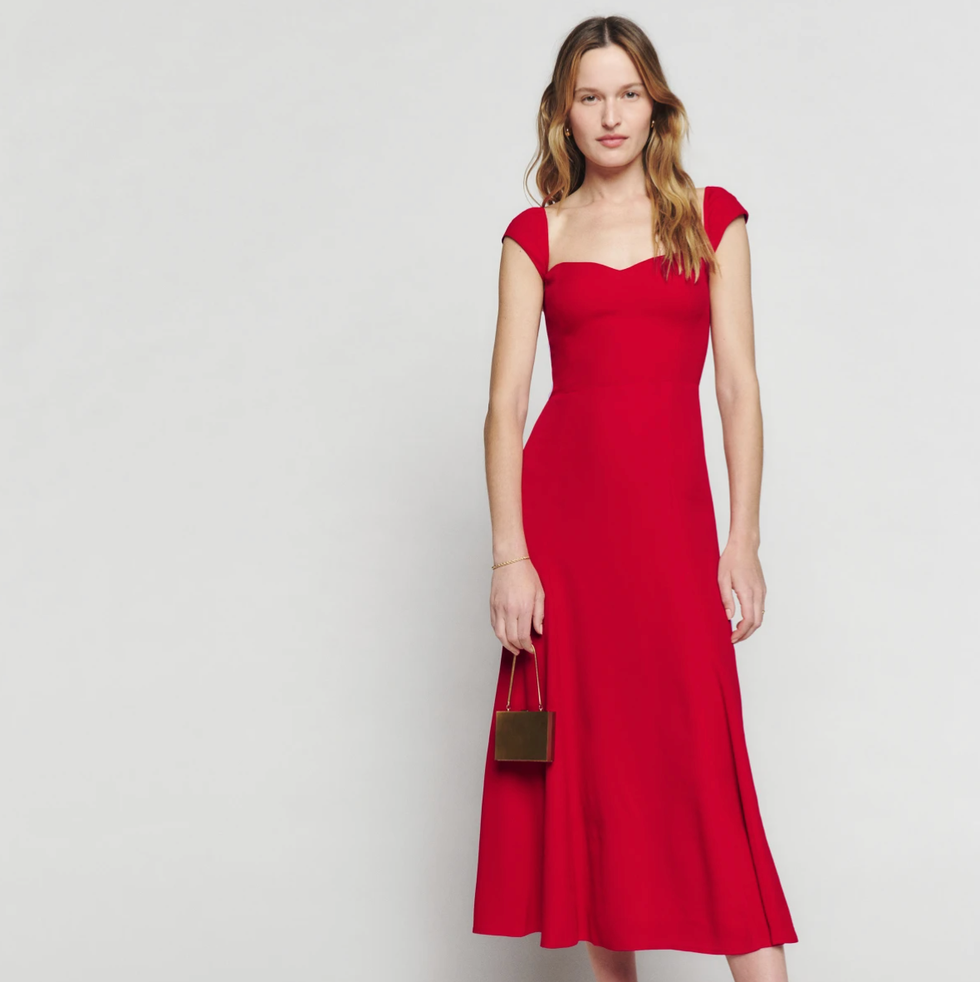 THIS CHERRY RED DRESS
Reformation Bryson Dress
No single garment puts me in a happier mood more quickly than this Reformation dress. The sweetheart neckline and little cap sleeves frame dainty necklaces to perfection. And the colour? It's even better person—usually when I'm heading out the door for dinner.
| | |
| --- | --- |
| Sizes | 0–12 |
| Colours | Red, Black Polka Dot |
| Materials | 53% Viscose, 47% Rayon |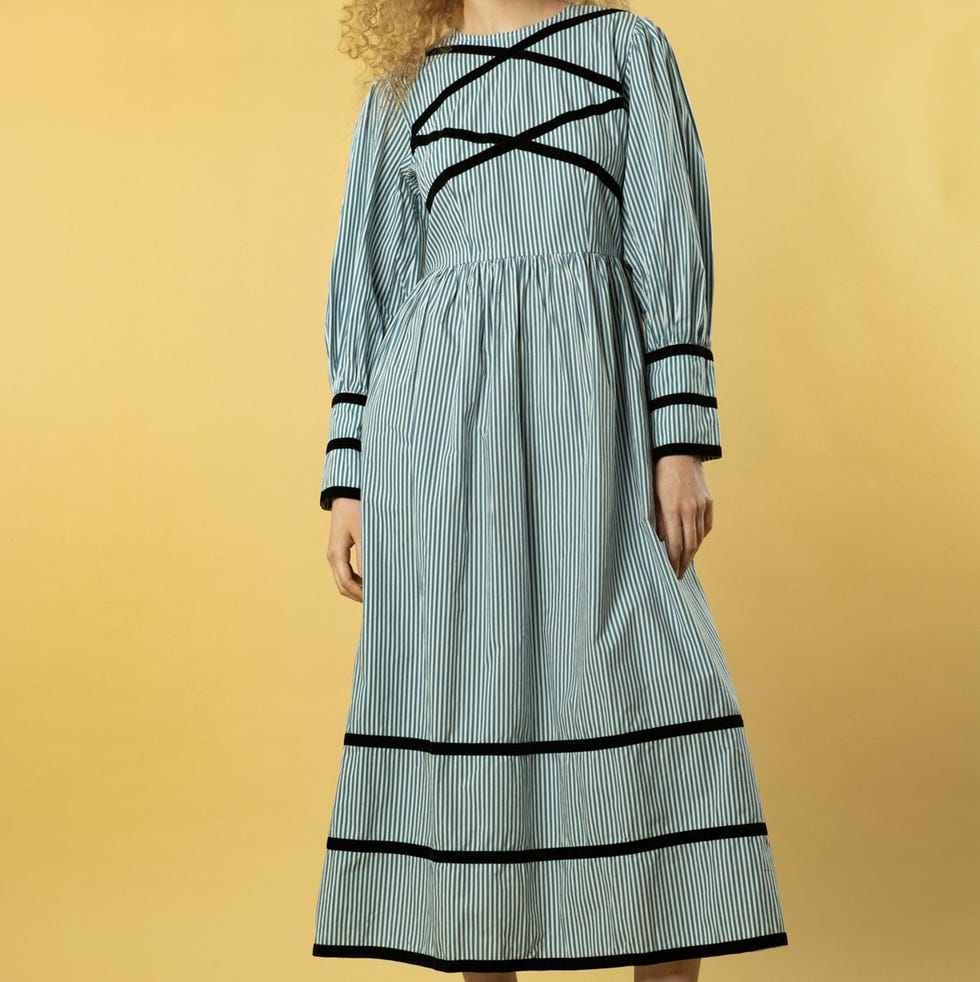 THIS VELVET-TRIMMED DRESS
Batsheva Clemmie Dress in Blue Stripe
Striped cotton midi dresses are in heavy supply as soon as the temperature rises above 65 degrees. While I always love an uncomplicated midi, I'm drawn to the unexpected edge of this Batsheva take, with its crisscrossing velvet ribbons on the chest and sleeves. It feels a little daring because it's covered up, and that attitude will only be amplified with a big, bad, chunky loafer. For a heavier, fall-appropriate take, the Clemmie dress also comes in denim.
| | |
| --- | --- |
| Sizes | 0–20 |
| Colour | Blue |
| Material | 100% Cotton |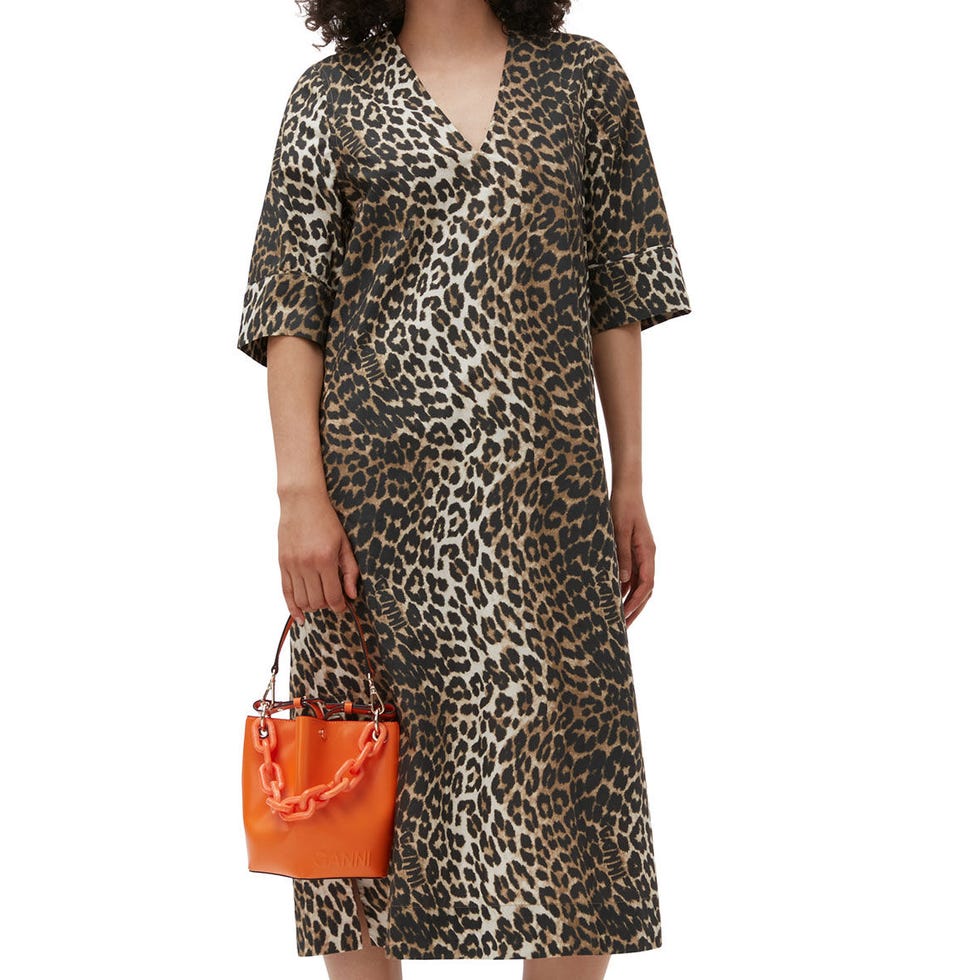 THIS WILD PRINTED DRESS
Ganni Leopard Wide Midi Dress
With its fall 2023 collection, Scandi brand Ganni is unveiling a new look that's heavy on suiting separates and structured dresses. But the label is still keeping its playful energy in the dress department, in the form of this wavy leopard print midi. It's a canvas for patent leather accessories in bright tones to really stand out.
| | |
| --- | --- |
| Sizes | 0–22 |
| Colours | Big Leopard Print |
| Materials | Organic Cotton |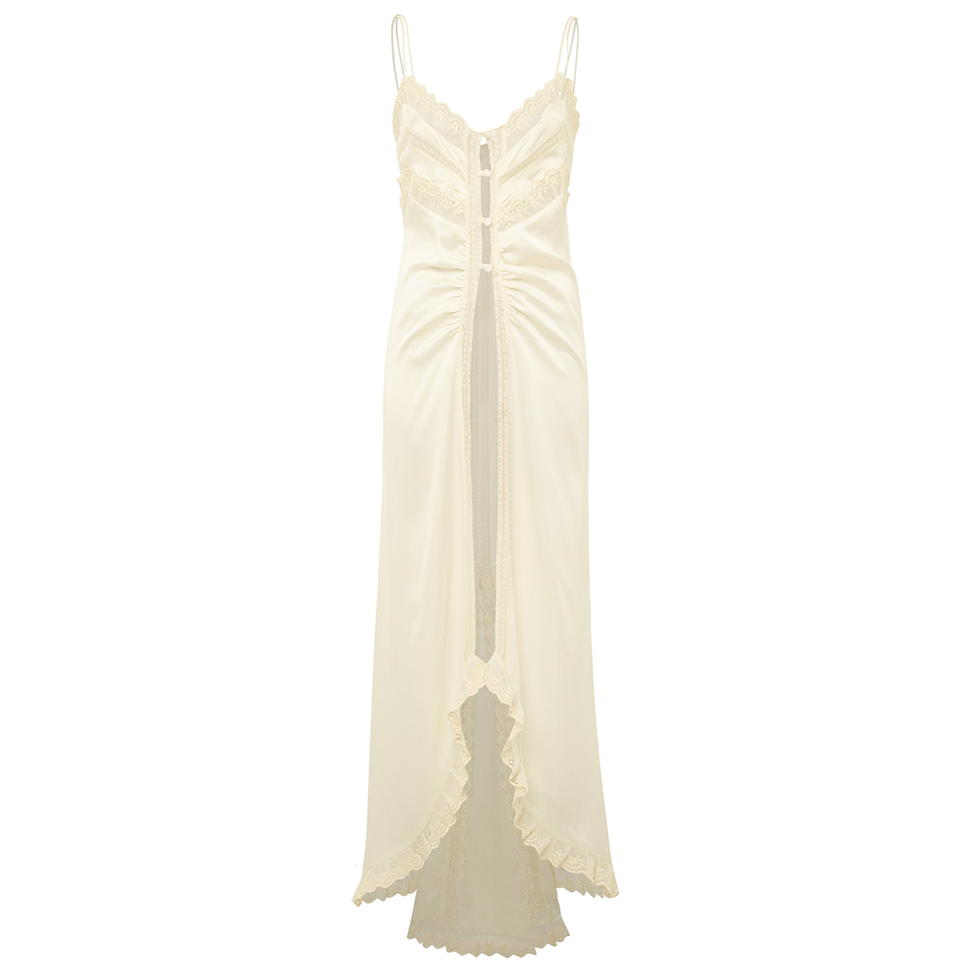 THIS CAMI-DRESS HYBRID
Siedres Paige Lace Cami Dress
Siedres has been high on my dress shopping radar ever since Shopbop fashion director Caroline Maguire flagged it as one of her favourite emerging labels last year. Fast forward to the present, and the brand has delivered a slinky, open-front dress I'm dying to layer over another satin slip or with—gasp!—jeans and a little bra top.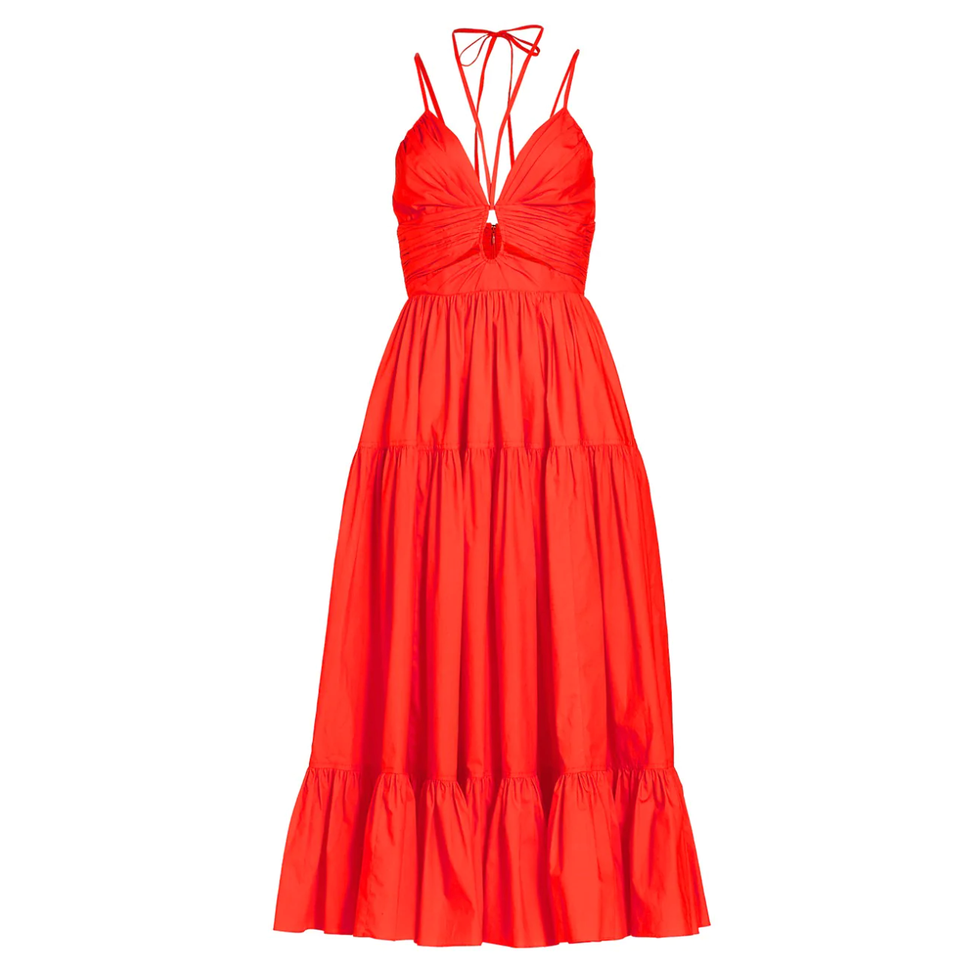 THIS STRAPPY GOWN
Ulla Johnson Phoebe Strappy Tiered Midi-Dress
A friend recently asked me for help choosing a dress for her birthday outfit. I sent her this one, along with a few others from the list you're reading now. From the vibrant coral colour to the keyhole bodice detail and all those little shoulder straps, it's a midi dress for when you want to be the center of attention.
| | |
| --- | --- |
| Sizes | 00–16 |
| Colour | Coral |
| Materials | 100% Cotton |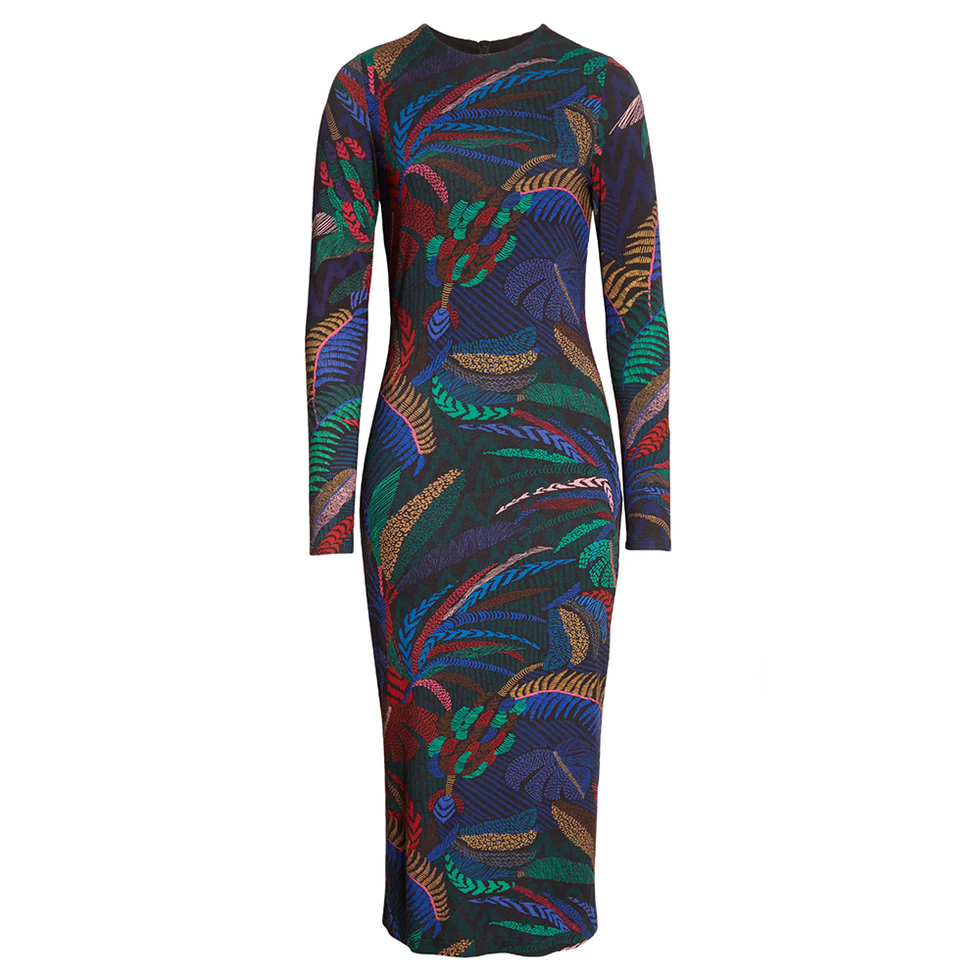 THIS TROPICAL BODYCON DRESS
FARM Rio Amazonia Night Long Sleeve Midi Sheath Dress
I'm admittedly not much of a bodycon girl, but this dress from Farm Rio has made me do a one-eighty on clingy dresses. First, because the print is such a fun, slightly mysterious take on summer botanicals. Second, because reviewers like the one below say it's comfortable enough to wear for hours on end.
Shopper review: "Wore for a company dinner, and received compliments all night. Fabric is stretchy/breathable, but doesn't lose its shape. "
| | |
| --- | --- |
| Sizes | XS–XL |
| Colour | Print |
| Materials | 95% Viscose, 5% Elastane |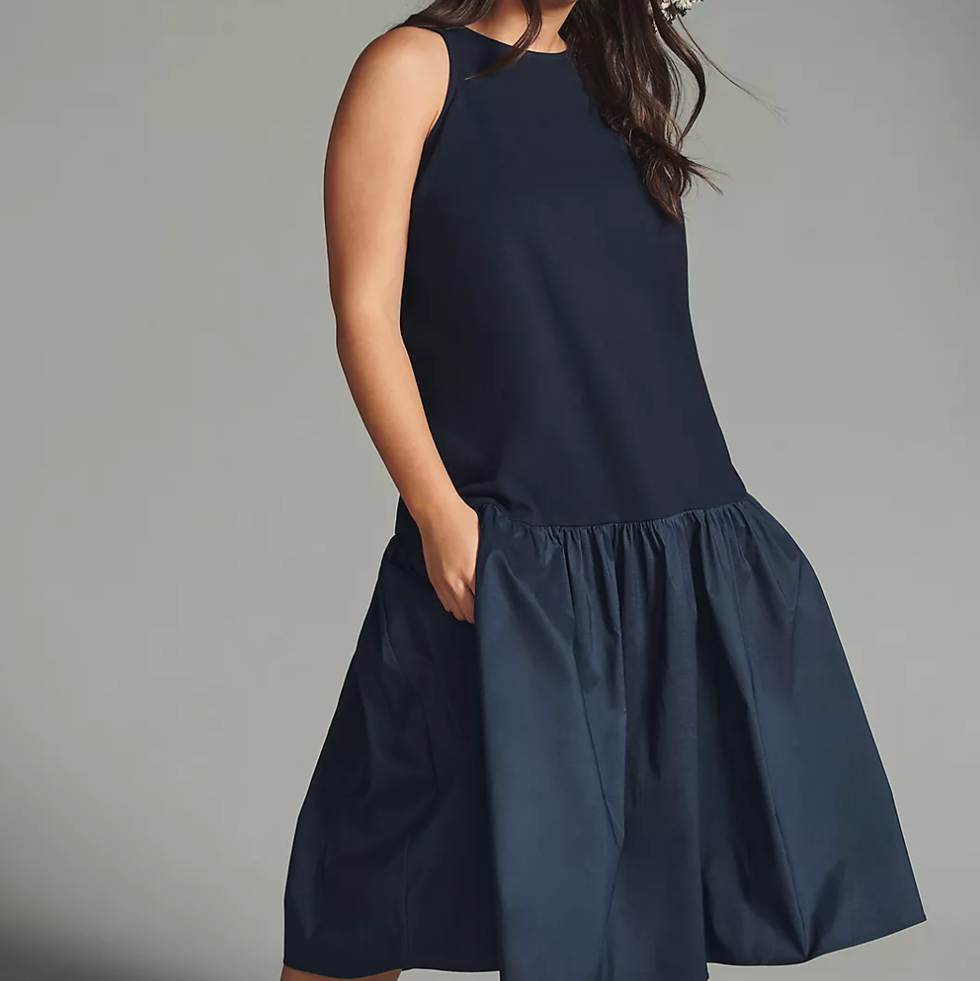 THIS DROP-WAIST DRESS
Maeve Maeve Sleeveless Flounce Dress
Some of the best midi dresses are the most simple, like this size-inclusive tank dress with a drop-waist, classic colour, and pockets. When you want a dress that looks effortlessly polished and feels like your favourite T-shirt, this is it.
Shopper review: "I'm happy I went for this dress. It feels amazing on, the color is a great!"
| | |
| --- | --- |
| Sizes | XXS–XL, 1X–3X |
| Colours | Navy, Yellow |
| Materials | Cotton; nylon, polyester, elastane woven bottom |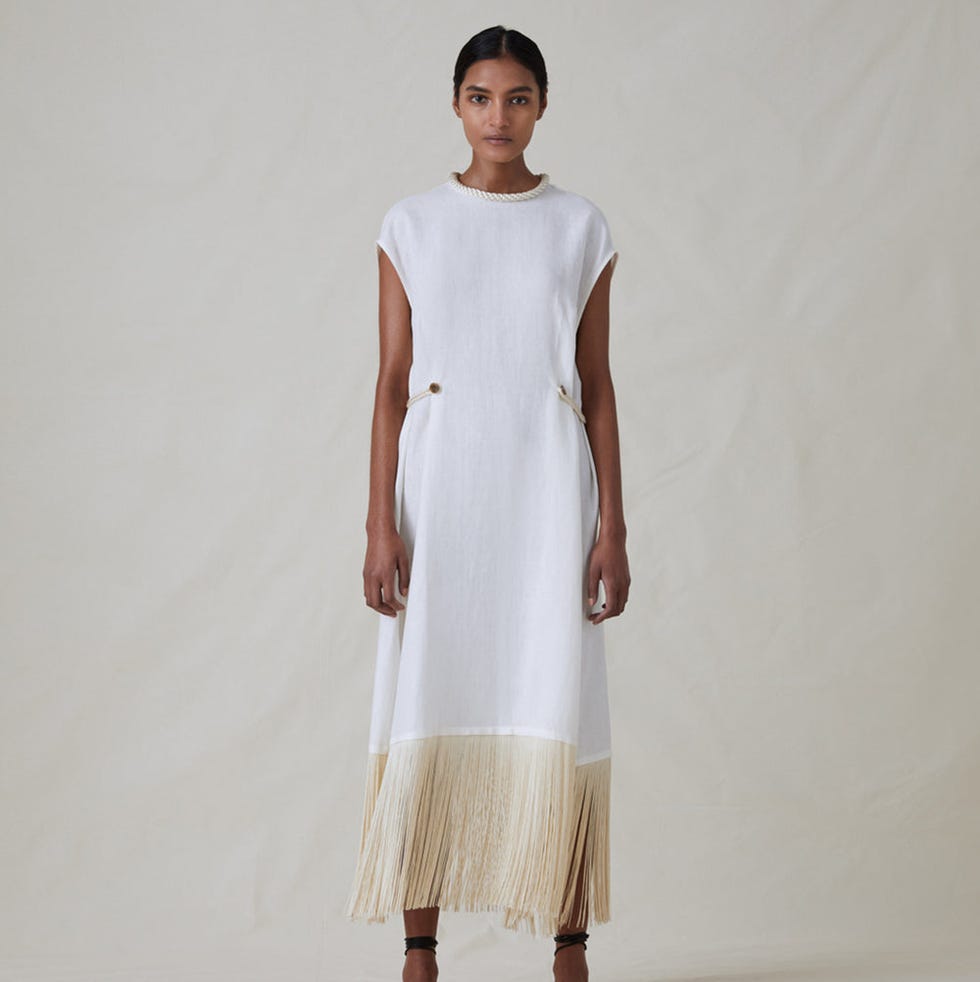 THIS MIDI FOR MOVEMENT
Attersee The Fringe Dress
I've noticed a bit of a trend among the most stylish women I follow on Instagram: Whether they're fashion directors at a luxury retailer or designers in their own right, they're all wearing emerging label Attersee when they're really dressing up. I can imagine them (or myself!) swishing to a summer gala in this fringe-hemmed linen midi.
| | |
| --- | --- |
| Sizes | XS—L |
| Colours | Black, White |
| Materials | 100% Linen |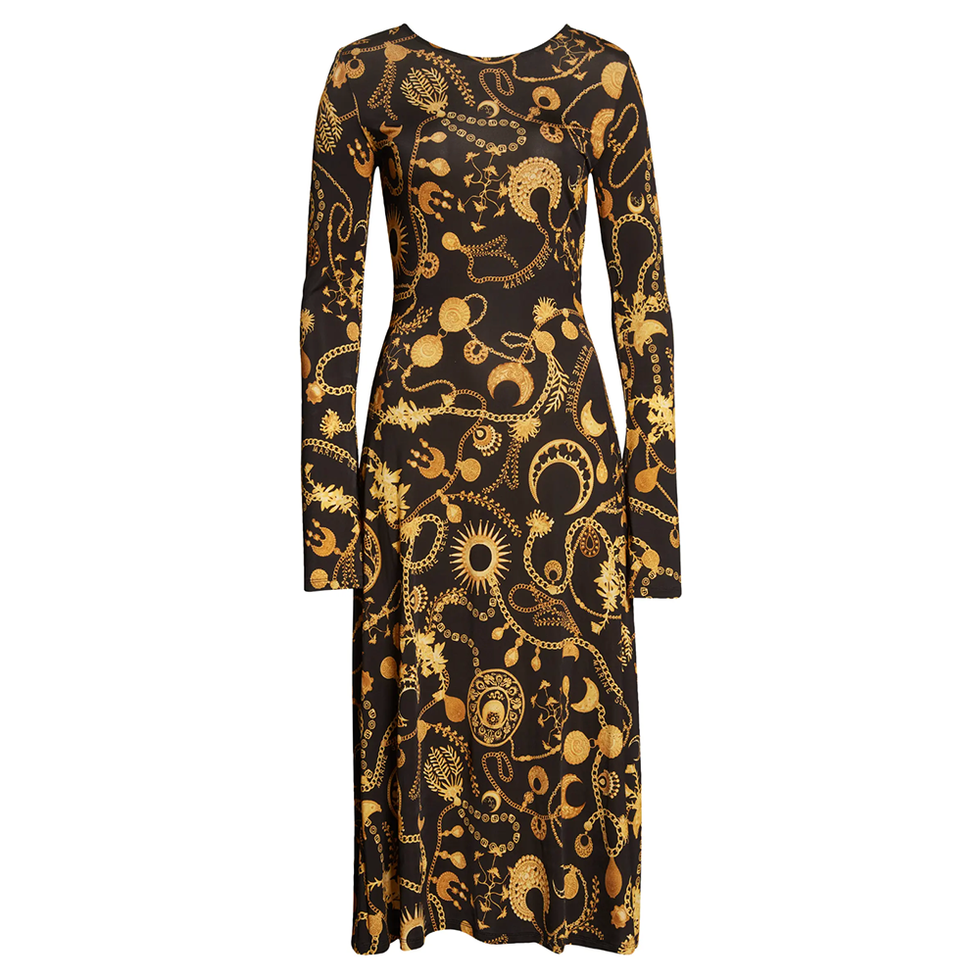 THIS CELESTIAL PRINTED MIDI
Marine Serre Fluid Drawstring Long Sleeve Midi Dress
There's something a little otherworldly about this dress—like if you put it on, you'd know the secrets of the universe. It might have something to do with the eclectic print of tangled celestial necklaces. There's also magic in the structure: This dress has ruching down the back's middle seam that creates a waist-hugging effect in the front. So forget star gazing—you'll be too busy checking yourself out in this Marine Serre standout.
| | |
| --- | --- |
| Sizes | 2–8 |
| Colour | Jewelry Print |
| Materials | 93% Viscose, 7% Elastane |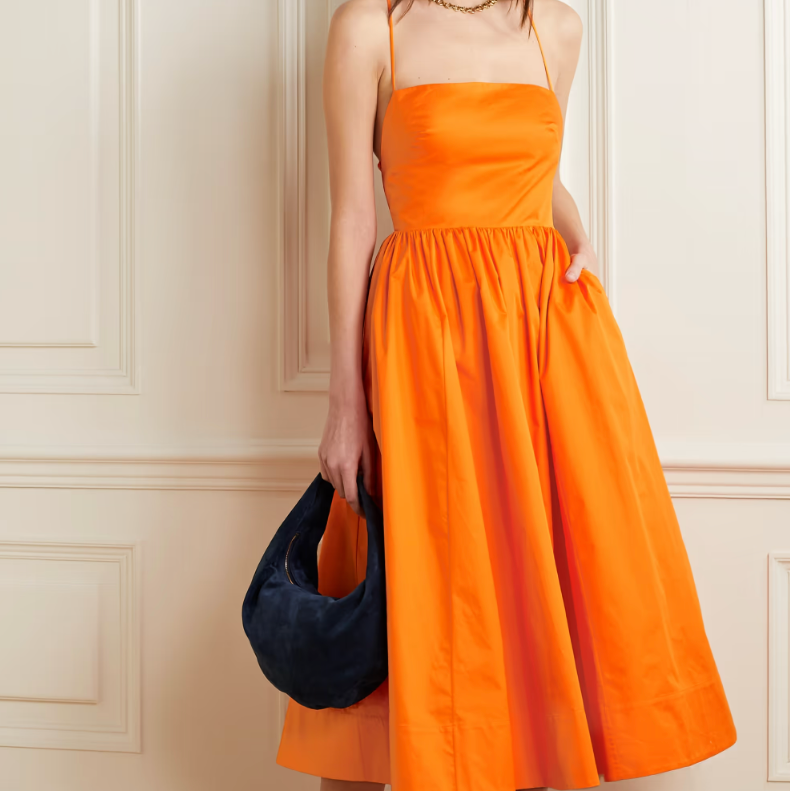 THIS TANGERINE TIED DRESS
Jason Wu Tie-Back Midi Dress
Itching to try more monochrome outfits this spring? Same. I'd like to embrace the zest of this open-back midi with strappy sandals and acrylic sunglasses in an equally bright shade.
| | |
| --- | --- |
| Sizes | 0–12 |
| Colour | Orange |
| Materials | 100% Cotton |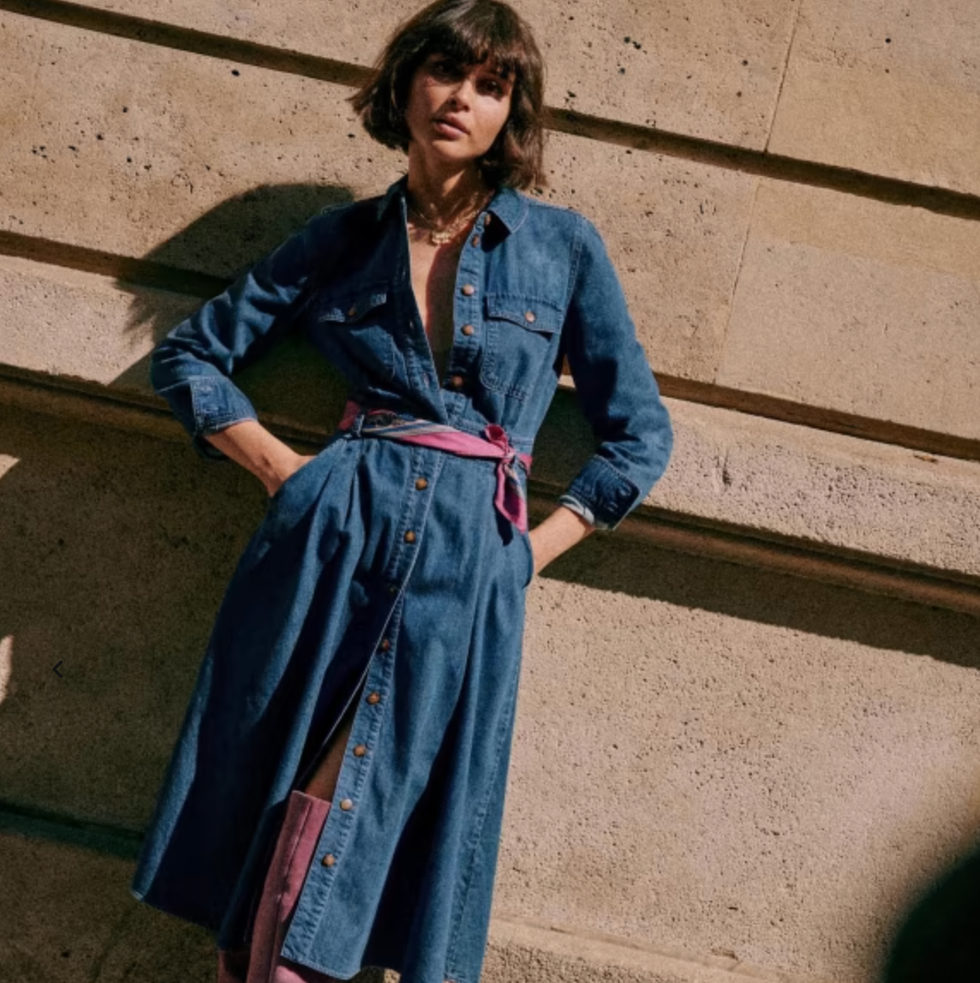 THIS DENIM SHIRT DRESS
Sézane Gwen Dress
There are three things Sézane does better than almost anyone else: cardigans (I own three of the Gaspard style), accessible-yet-elevated leather bags, and midi dresses. For spring, I love the idea of this denim midi worn like a dress over tall suede boots or all the way unbuttoned as a duster coat with denim trousers and a T-shirt.
| | |
| --- | --- |
| Sizes | 0–14 |
| Colour | Blue |
| Material | Denim |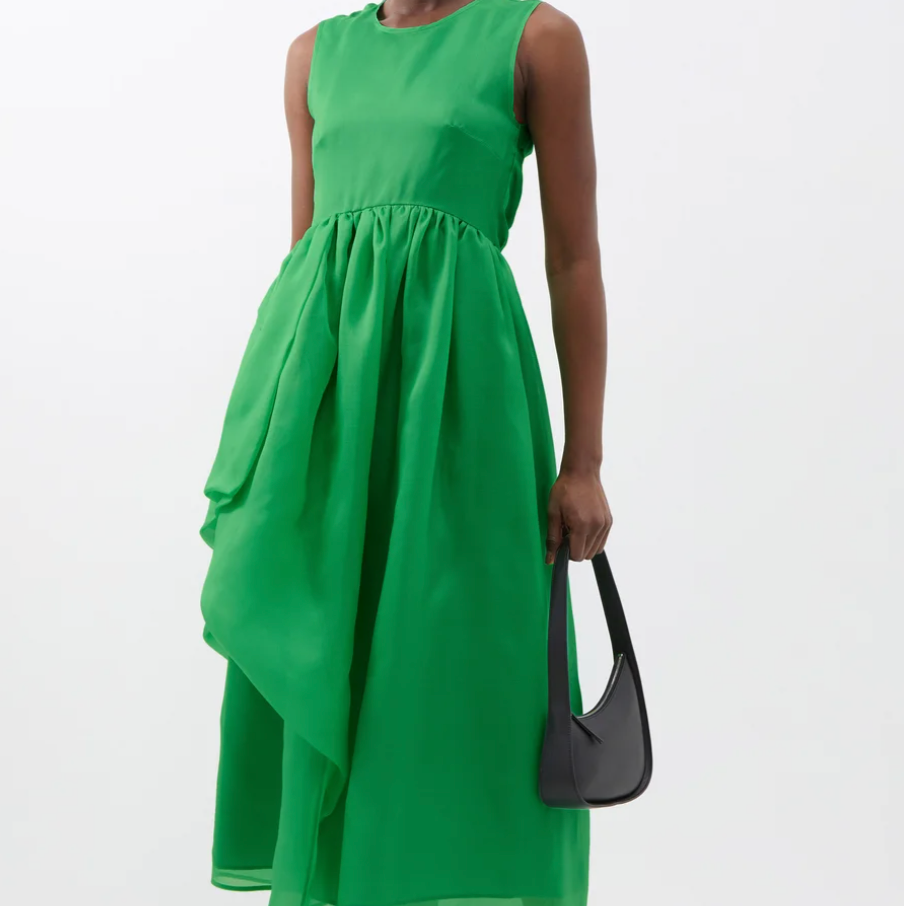 THIS DREAMY ORGANZA DRESS
Cecilie Bahnsen Fang Tundra Dress
Cecilie Bahnsen's dresses balloon and float like tiny cumulus clouds. When I wear her pieces, I feel like an airier, more charming version of myself. This organza dress has the same flouncy skirts Bahnsen has perfected, but the top is ever-so-slightly more structured. It's a winner for outdoor spring weddings or work parties.
| | |
| --- | --- |
| Sizes | 6UK–14UK |
| Colour | Green |
| Material | 100% Silk |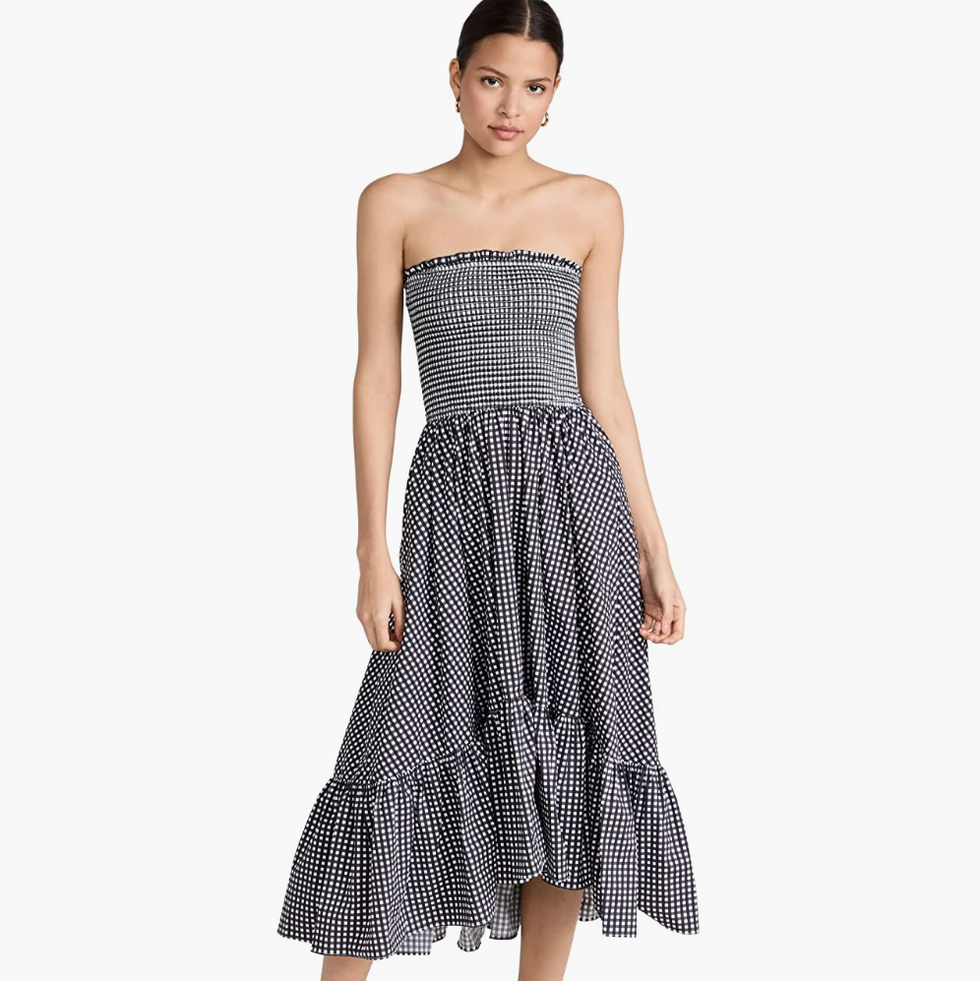 THIS FLOUNCY AMAZON FIND
Caroline Constas Emmy Dress
Pulling on a Caroline Constas dress feels like setting an OOO notice and jetting off to the Mediterranean. The Greek designer knows how to craft a midi dress that's flowy, free-spirited, and more refreshing than an Aperol spritz, like this delightful gingham midi.
| | |
| --- | --- |
| Sizes | XXS–XL |
| Colour | Black Gingham |
| Materials | 70% Cotton, 28% Polyester, 2% Elastane |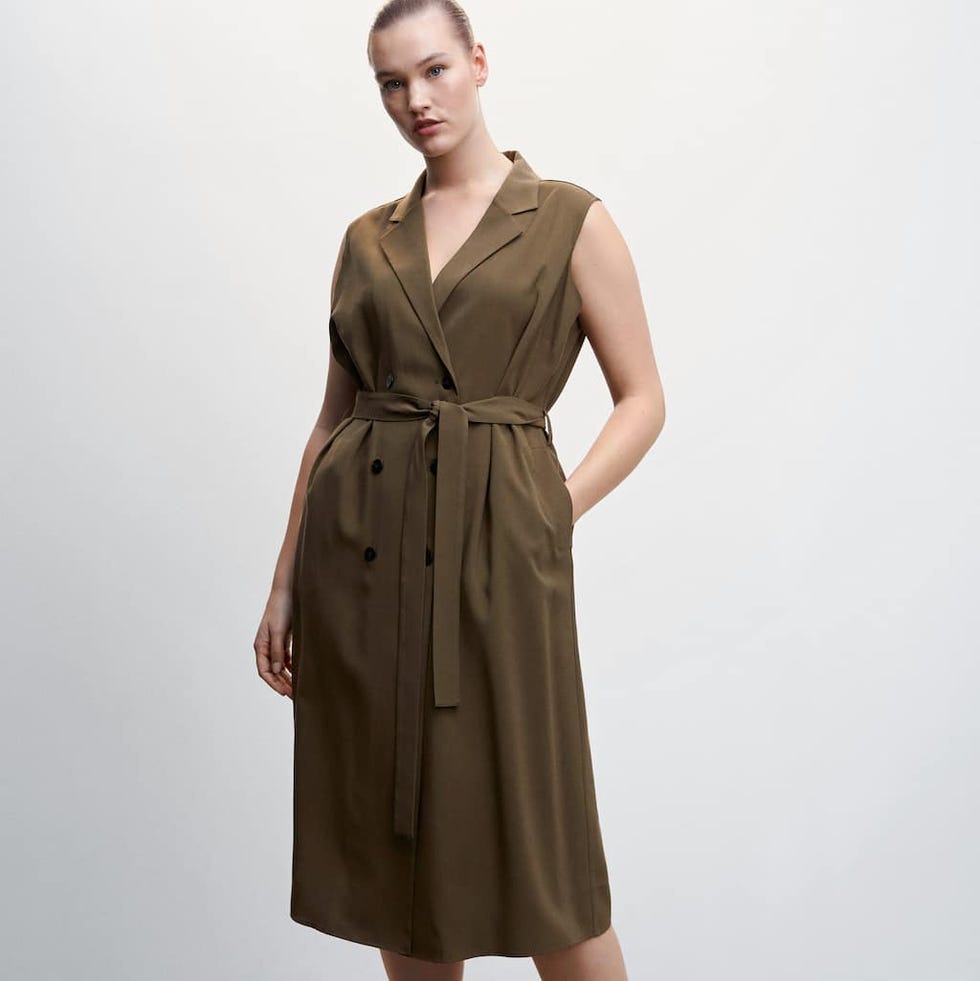 THIS UNDER-$100 TRENCH DRESS
Mango Midi Vest Dress
I consider Meghan Markle the blueprint for modern, classic, unfussy style. Some of her best outfits have involved sleeveless trench dresses, and this Mango option achieves the same tailored look as hers for less than $100.
| | |
| --- | --- |
| Sizes | 0–20 |
| Colour | Khaki |
| Material | 93% Viscose, 7% Polyester |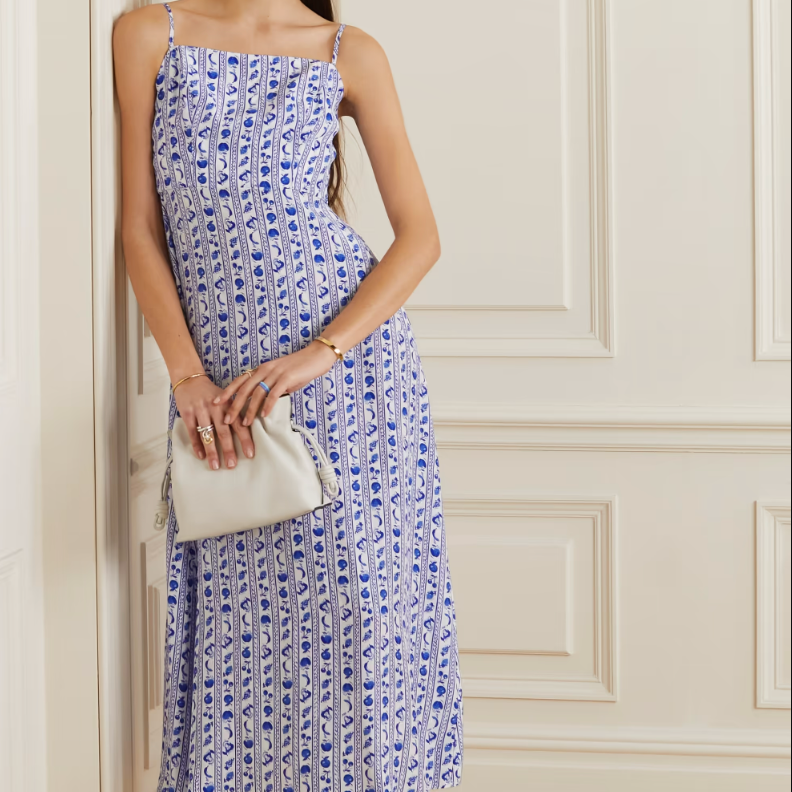 THIS AMALFI COAST MIDI
HVN Nora Printed Silk Midi Dress
You have a ticket to Italy booked and the best vacation swimwear packed. Now all you need is a little dress for dinners al fresco. This new arrival from HVN has the most charming fruit illustrations along the stripes—an update to summer florals worthy of a first-class ticket to Positano, if you ask me.
| | |
| --- | --- |
| Sizes | 0–12 |
| Colour | Blue Print |
| Materials | 100% Silk |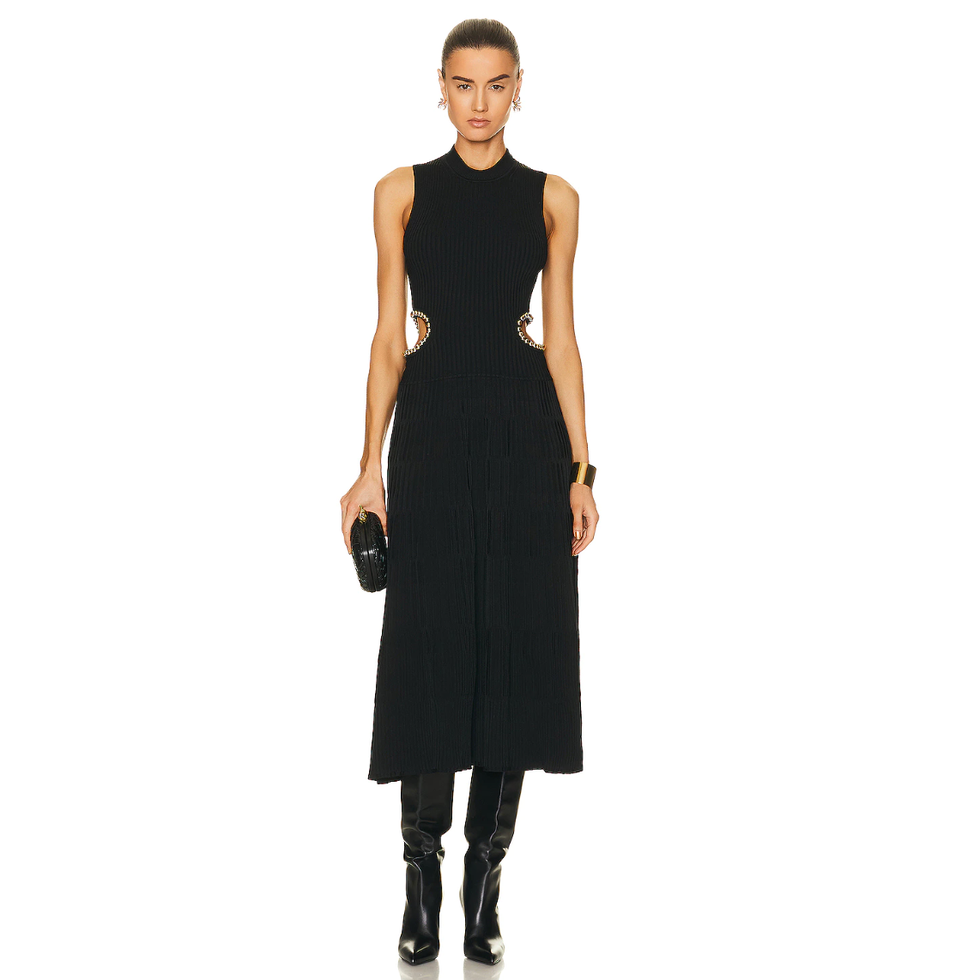 THIS GROWN-UP CUTOUT DRESS
Simkhai Tommi Cut Out Mockneck Dress
Here's another dress that's sexy without trying too hard. All it needs to attract a second look are those hardware embellishments along the waist cutouts—the otherwise minimal silhouette and fabric make relatively small flashes of skin pop. It's the sort of dress I can imagine wearing to a rehearsal dinner with slingback heels or making the center of a New York Fashion Week outfit with tall boots and a smart bag.
| | |
| --- | --- |
| Sizes | XS–L |
| Colour | Black |
| Materials | 72% Rayon, 27% Nylon, 1% Spandex |
This article originally appeared in Harper's BAZAAR US.