Like so many jean pieces from jorts to wide-leg jeans, the best long denim skirt has nearly endless subcategories. All the better to try the look without sacrificing your particular style DNA.
We saw this phenomenon firsthand during the opening stretch of fashion month. This February, every day of New York Fashion Week street style included fashion insiders in their best long denim skirts. With each outfit put together for the front row, they proved there really is a denim maxi or midi skirt for everyone. A bit on the boho side? Go all in on a Ganni fit-and-flare take. More minimal? Keep it sleek with raw fitted denim. A bit edgy and looking for something to pair with your new moto jacket? Make it black and lightly distressed. Or take a note from Khaite's fall runway if you're drawn to a tailored vibe and style yours belted with an oversized blazer.
The most important part? All the best long denim skirts pair magically with a white T-shirt and your go-to shoes, whether they're boots or cool sneakers. That's the thing with a not-so-basic basic: It actually makes getting dressed more simple.
Related article: The Denim Brands Every Fashion Girl Should Know (And Shop)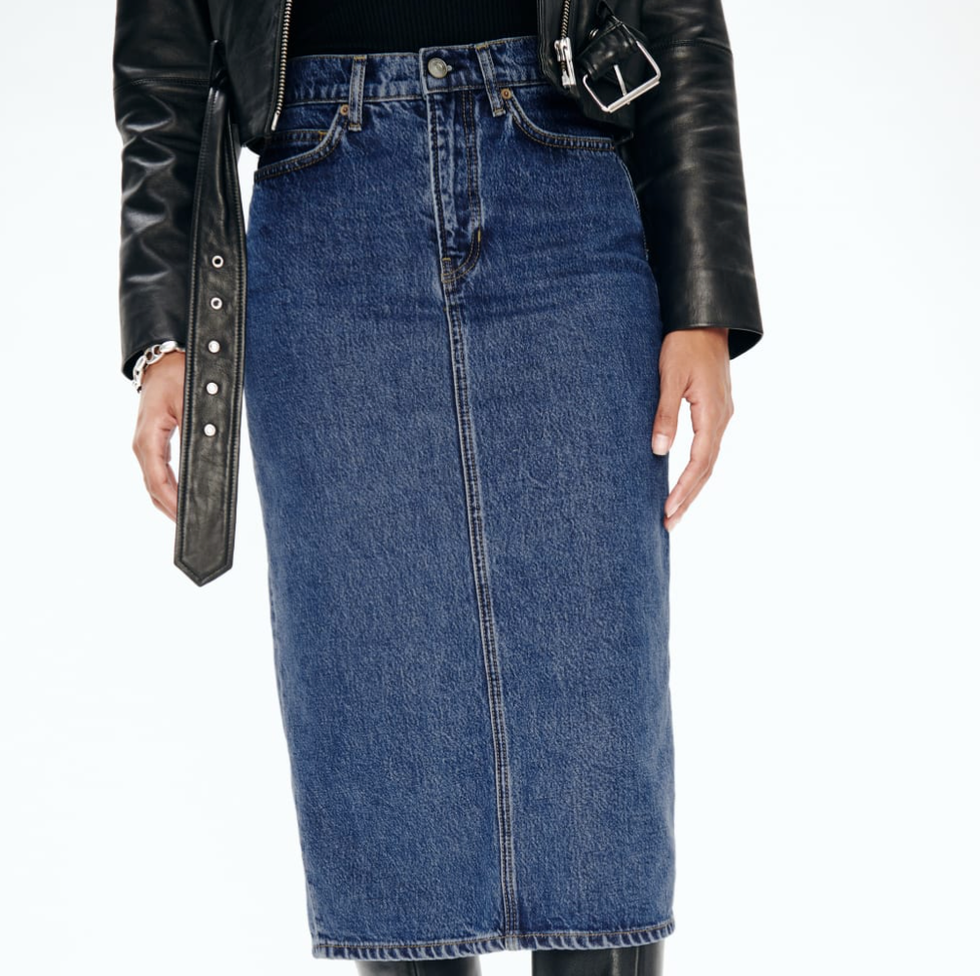 BEST SLIM-FIT DENIM MIDI SKIRT
Reformation Jayden High Rise Denim Midi Skirt
While some of us prefer a roomier fit, others may want to accentuate their shape. Enter: This curve-hugging denim midi skirt with a slit in the back and fitted waist. Try this one with a white button-down and a tall leather boot for a fresh take on one of your go-to work outfits.
Sizes: 23–31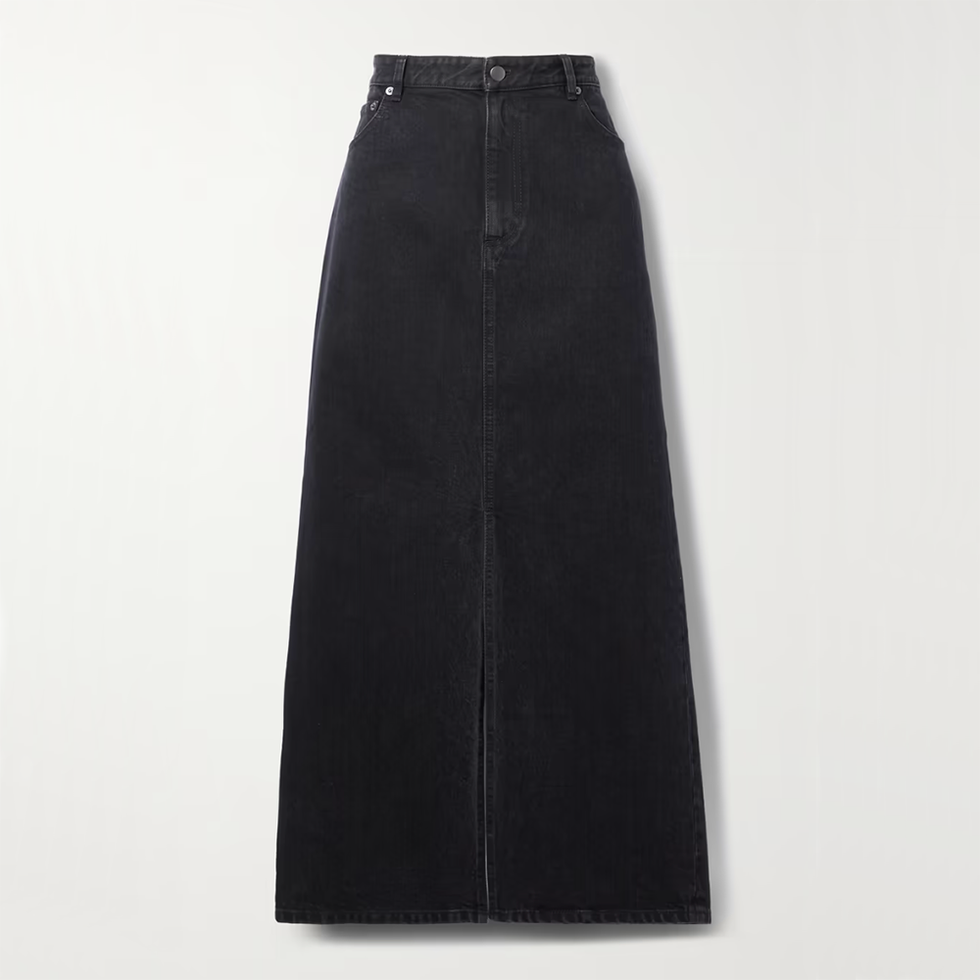 BEST BLACK DENIM MAXI SKIRT
Tibi Stretch-Denim Maxi Skirt
A black skirt with a hint of stretch is just the right amount of edgy. It would look just as good with a blazer now as with a ribbed tank later. And, this style comes with an extra layer of approval: BAZAAR senior digital director Nikki Ogunnaike wore it in one of her New York Fashion Week outfits.
Sizes: 25–31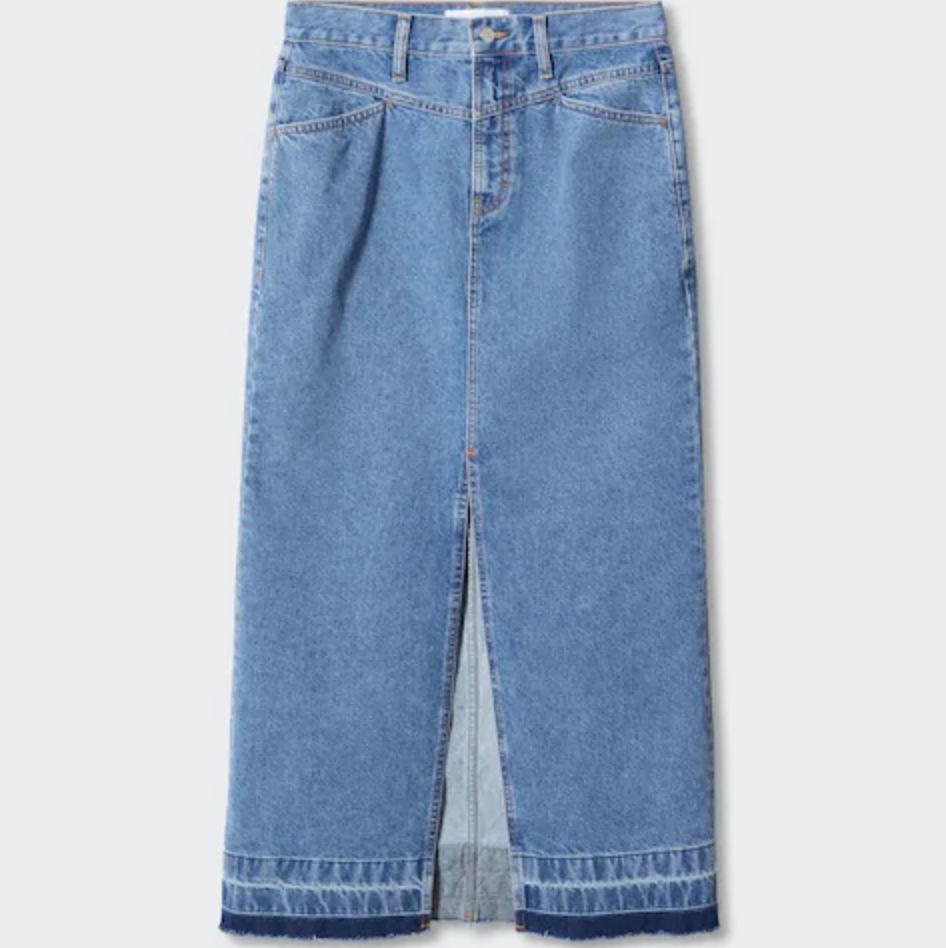 BEST DENIM MAXI SKIRT UNDER $100
Mango Denim Long Skirt
Get in on the look for a little less without sacrificing cool factor. This version has inventive decorative seams near the waistband and a dip-dyed detail along the hem. Plus, it's made from a recycled cotton blend.
Sizes: XXS–XXL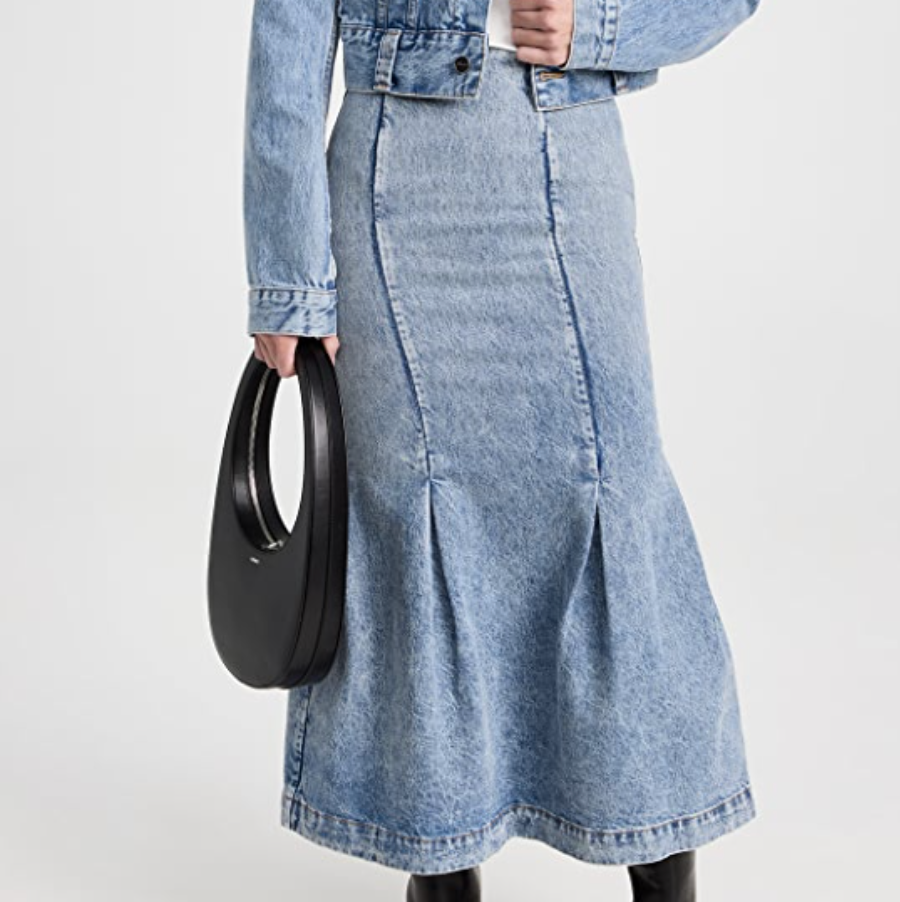 BEST FLARE DENIM MIDI SKIRT
Khaite Levine Denim Skirt
Tailored through the waist and flared at the knees, this skirt is really the best of two styles in one. We can see it styled with a coordinated cropped jacket or a tight-fitting bodysuit underneath.
Sizes: 24–32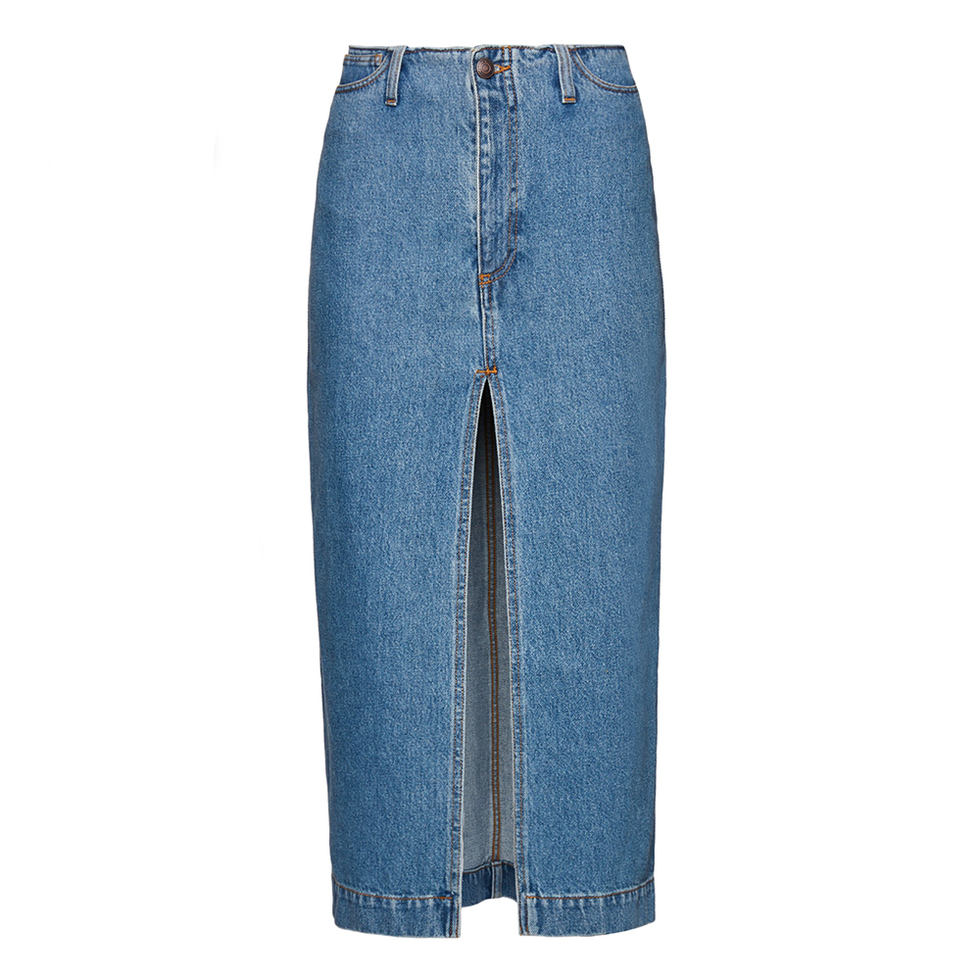 BEST MID-RISE DENIM MIDI SKIRT
Magda Butrym Bandless Denim Midi Skirt
New from Magda Butrym, this skirt removes the usual waistband for a raw-edge hem. It has the effect of a low-rise jean without actually being a low-rise.
Sizes: 2–10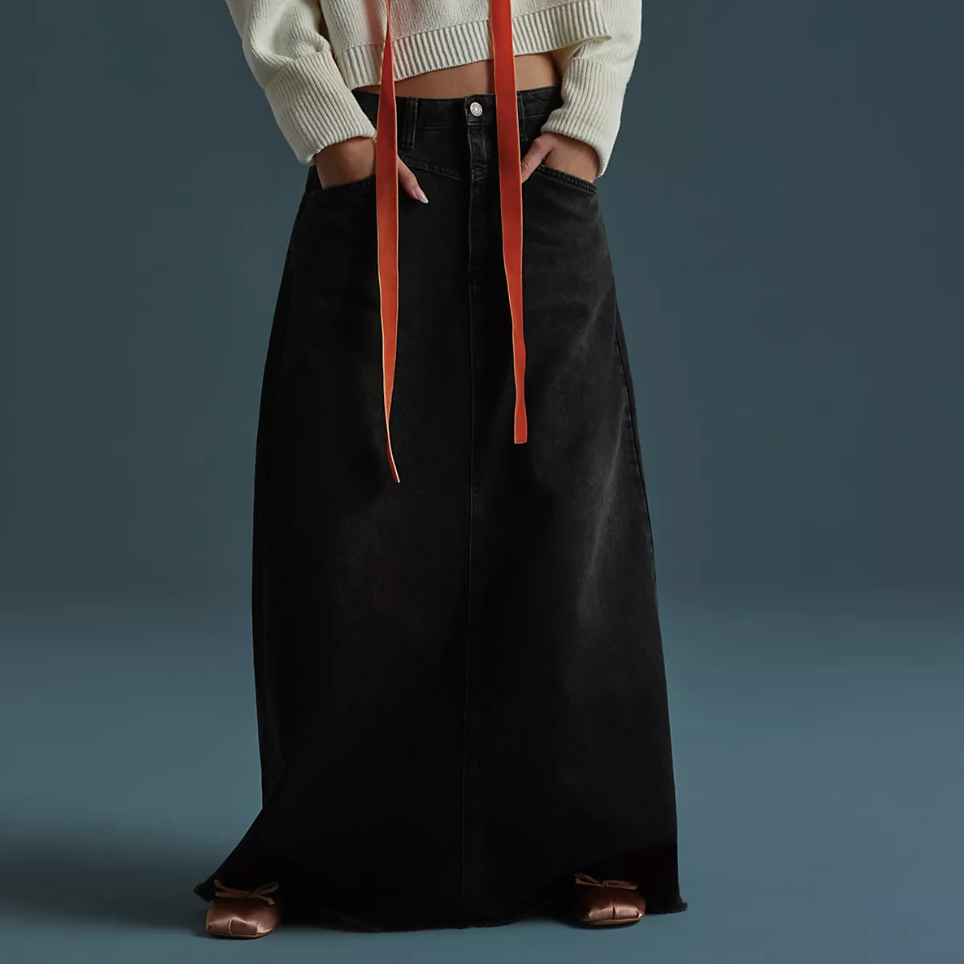 BEST EXTRA-LONG DENIM MAXI SKIRT
We the Free Come As You Are Denim Maxi Skirt
Slouchy, sidewalk-grazing denim skirts were as present outside New York Fashion Week's shows as and street style photographers. They've inspired us to try this version, which comes in five washes from deep black to acid-washed blue.
Sizes: 0–14
BEST WESTERN DENIM MAXI SKIRT
Ganni High-Rise Denim Maxi Skirt
A little bit Western, a little bit boho, this skirt is a statement ready to be made. Think of how free you'll feel sashaying down the sidewalk with that pleated hem rustling about.
Sizes: 0–12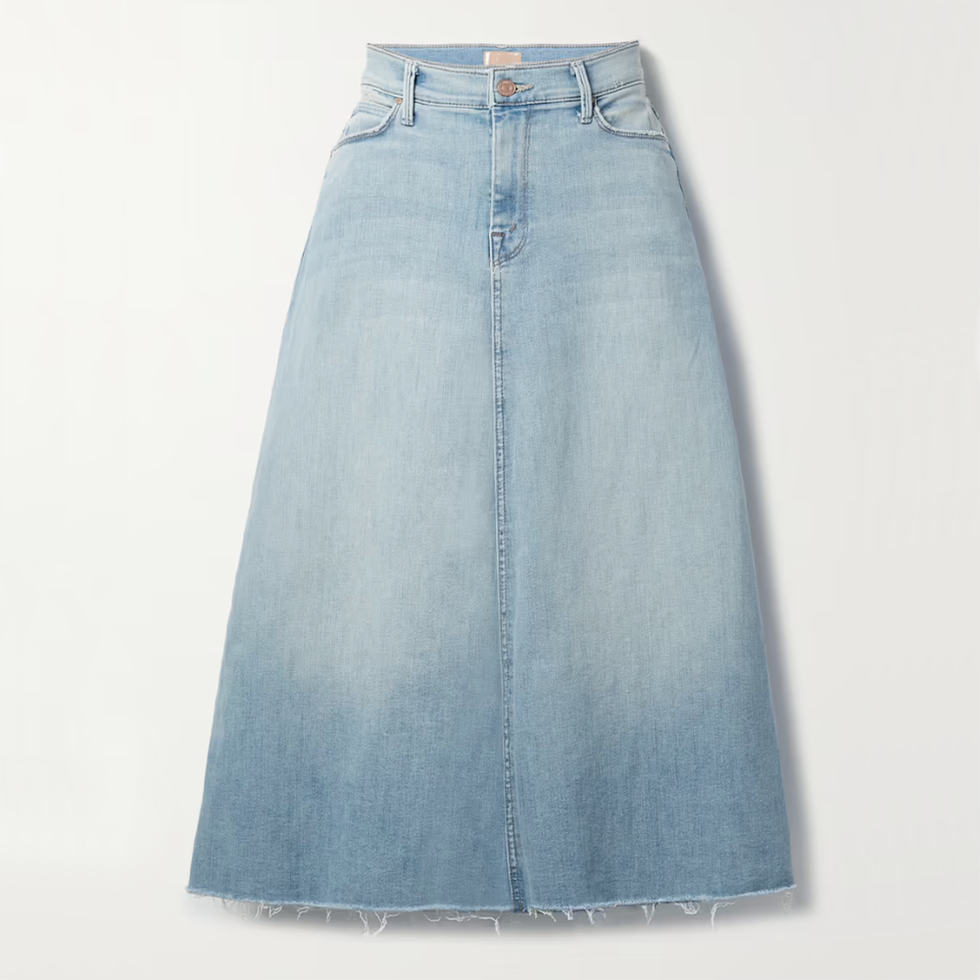 BEST LIGHT WASH DENIM MIDI SKIRT
Mother Circle Frayed Denim Midi Skirt
Lighter washes may feel summery, but they're perfectly suited to black cashmere sweaters and chunky boots. Then when it finally warms up again? You can keep on wearing them with a little white tank and a sandal like The Row's Ginza.
Sizes: 23–32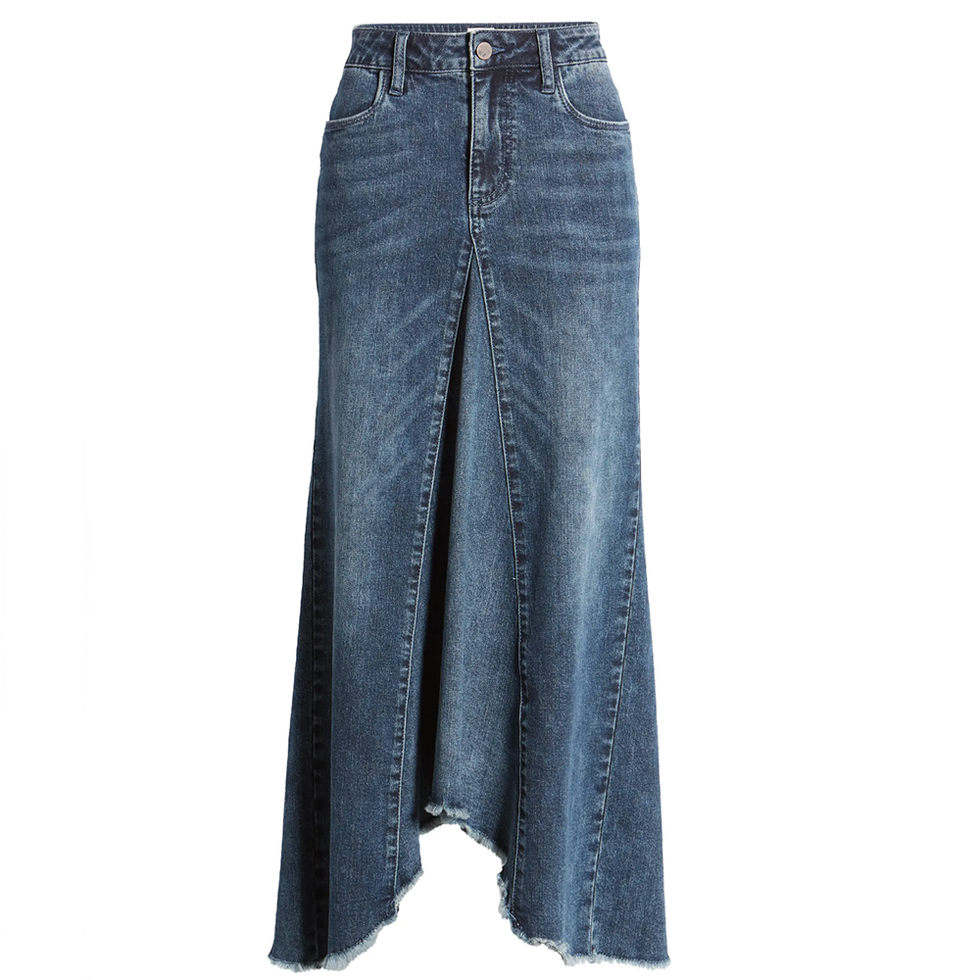 BEST ASYMMETRIC HEM DENIM MAXI SKIRT
Wash Lab Denim Long Jean Skirt
Here's a skirt with a flowy, asymmetric hem and a looser fit, for outfits with the same done-but-undone vibe of our favorite street style.
Sizes: 25–34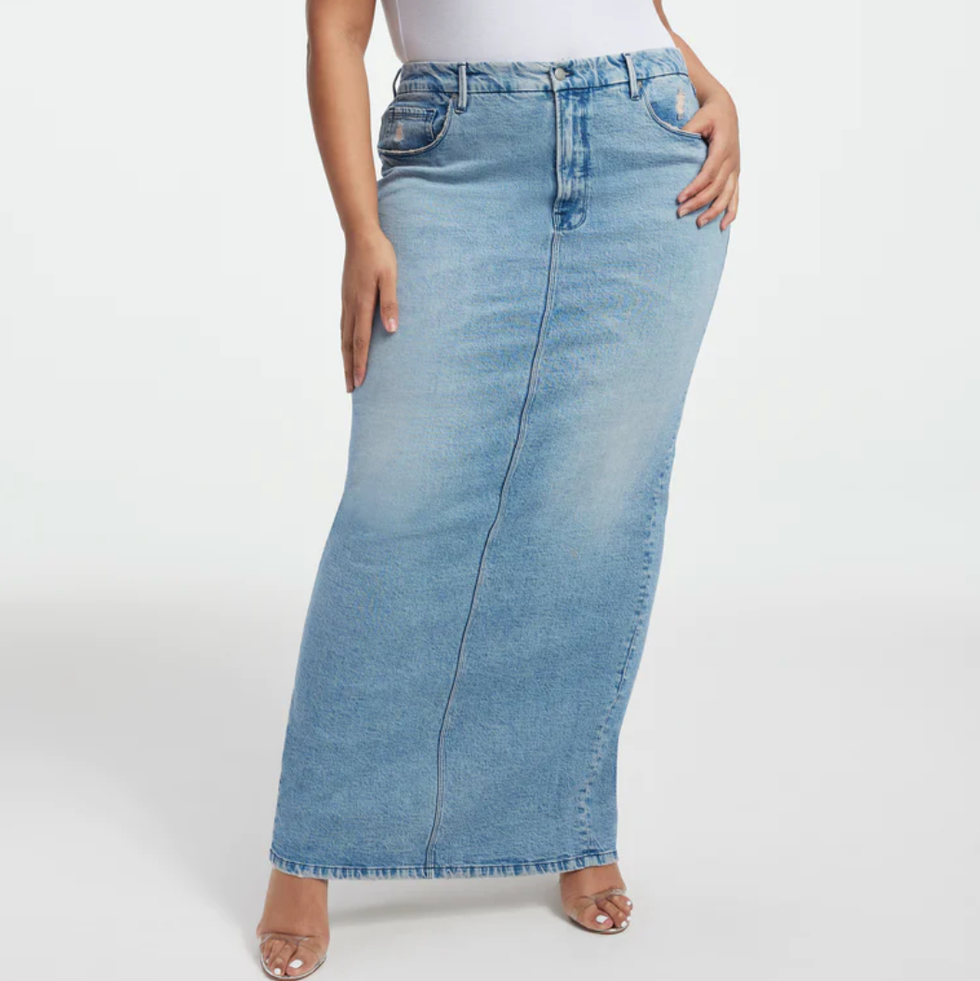 BEST EXTENDED-SIZE DENIM MAXI SKIRT
Good American Maxi Denim Skirt
This maxi calls to mind '90s versions. One of the best details you'll have to click to see: It has a zipper in the back to create an adjustable slit. Try it with cowboy boots and a white tee.
Sizes: 00–30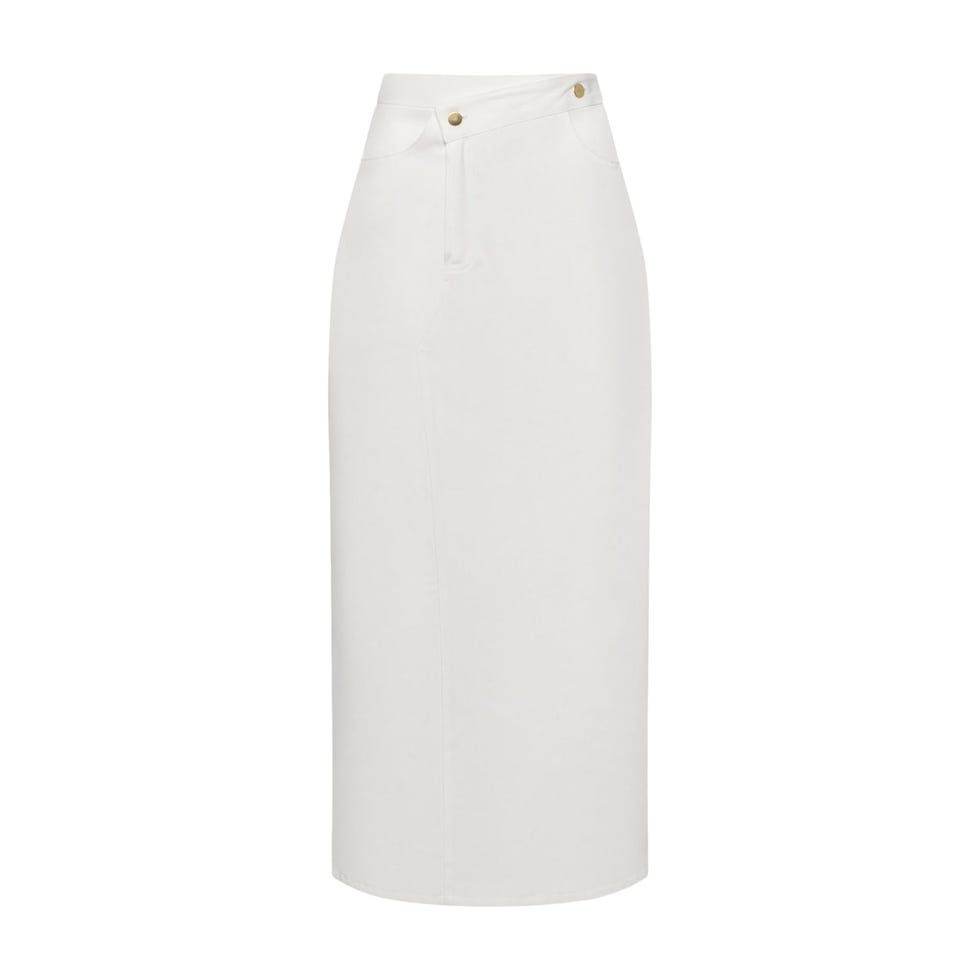 BEST WHITE DENIM MAXI SKIRT
Ameera Mariah Denim Maxi Skirt
We don't think there's anything better than a cream cable-knit sweater paired with this skirt and suede boots. Emphasise the asymmetric waistband by tucking in the front of your chosen knit.
Sizes: XS–XL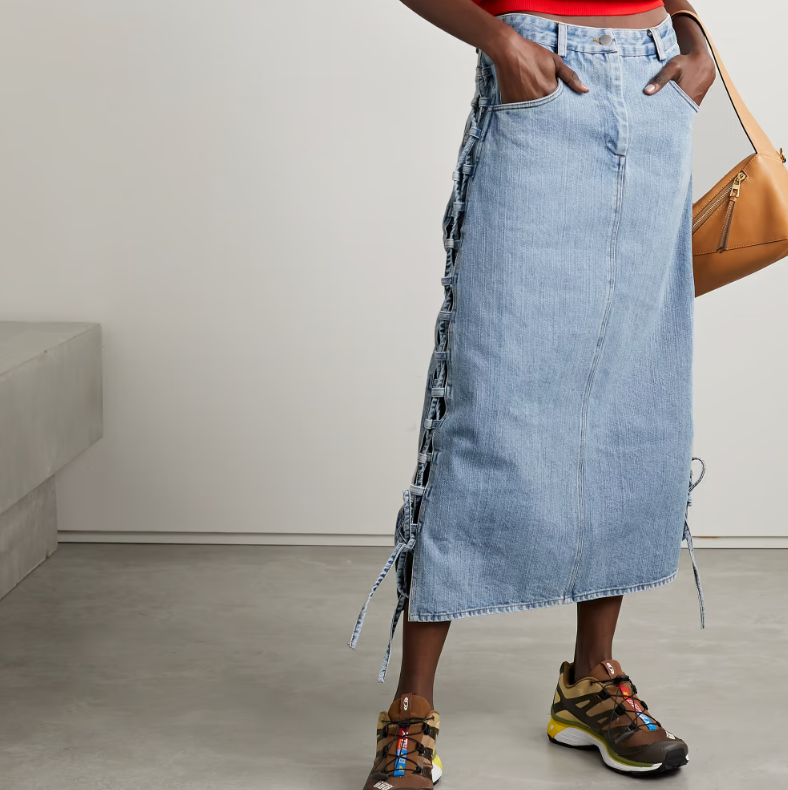 BEST TIE-DETAIL DENIM MAXI SKIRT
Sea Flyn Lace-Up Denim Maxi Skirt
Sea's denim maxi skirt starts classic, with an A-line shape and five pockets. Then it throws convention out the window with a side-lace detail that shows a little bit of skin.
Sizes: XXS–XL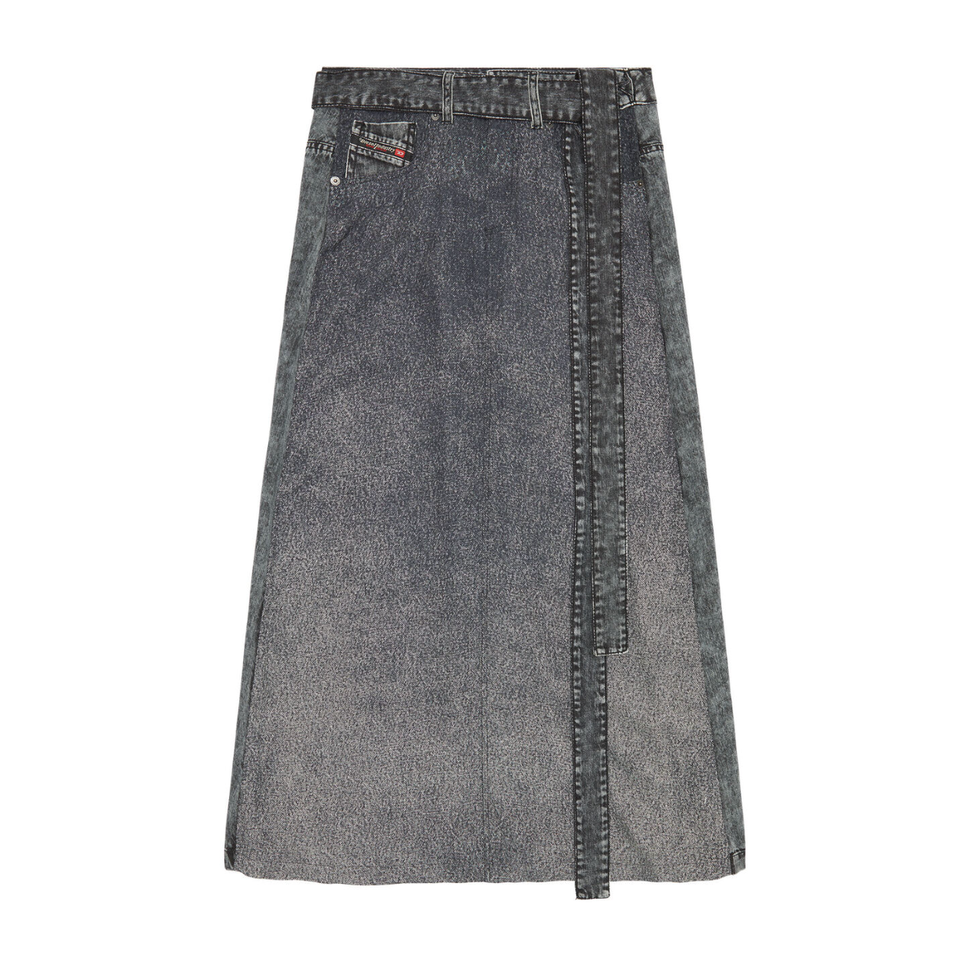 BEST NON-DENIM DENIM SKIRT
Diesel O-Tina Skirt
This skirt is both an optical illusion and an entry point for street style's favorite skirt. Instead of actual denim, it's a twill and viscose blend screenprinted with a trompe l'oeil denim effect. Who doesn't love a fashion magic trick?
Sizes: 0–10
This article originally appeared in Harper's BAZAAR US.