After six years, and six seasons, the girls and boys of Girls will be on our screens for one last time this coming Monday (Sunday night in the US). Whether you loved it, hated it, or hated loving it, there's no denying that Lena Dunham's HBO series was one of the most divisive, thinkpiece-d and controversial story of our times.
We bid adieu to Hannah, Marnie, Jessa and Shoshanna with a celebration of the show's most memorable sartorial moments across six seasons before the curtains go down in a few days.
Related article: 'The Crown' Reigns Over BAFTA TV Nominations
Season 1 Episode 3: All Adventurous Women Do
When Hannah went goth
https://giphy.com/gifs/hbo-lT4nXBQ678eZi
Season 1 Episode 7: Welcome to Bushwick
When Jessa channelled her inner Maleficent
Related article: Here's What The Oscars Looked Like The Year You Were Born
Season 1 Episode 8: Weirdos Need Girlfriends Too
When Hannah showed you how to borrow from the boys #twinning
Season 1 Episode 10: She Did
When Marnie made questionable hair choices and Shosh wore white to Jessa's surprise wedding
Season 2 Episode 2: I Get Ideas
When Hannah was a glow worm
Related article: 5 Iconic TV Series Revivals To Look Forward To In 2017
Season 2 Episode 3: Bad Friend
When Hannah took on the dancefloor in a neon yellow mesh top …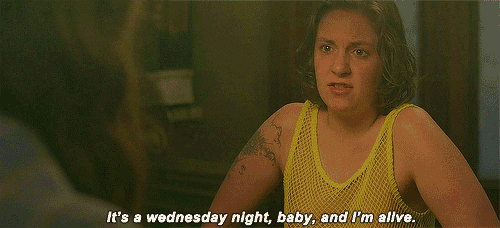 … and Shosh made doughnuts a hair accessory
https://giphy.com/gifs/girls-hbo-qU5lOsNQIorQY
Season 2 Episode 7: Video Games
When Jessa ugly-cried with perfect hair
Season 3 Episode 1: Females Only
When Marnie failed to find her pot of gold
https://giphy.com/gifs/girls-hbo-HzIfVC1qMokPm
Season 5 Episode 3: Japan
When Shosh took on Japan
Season 5 Episode 6: The Panic in Central Park
When Marnie was a real-life "Bob Mackie Barbie doll"
Season 6 Episode 7: The Bounce
When Hannah reassured us that, in the end, everything's gonna be alright
Catch season six of Girls on HBO.
By Annabelle Fernandez