As the circuit breaker continues, we're constantly looking for new ways to occupy our minds and distract ourselves from current events. If you're seeking mental stimulation away from Netflix and Amazon Prime, then we've rounded up our favourite online talks to watch for free, featuring some of the world's greatest minds talking about a range of fascinating subjects. From Alain de Botton's argument against romantic ideals to an uplifting hour with Michelle Obama, expand your thinking with one of these 10 talks.
1/ 

Alain de Botton: Why Romantics are Ruining Love
Revered philosopher Alain de Botton explains how romanticism has ruined true love, dispelling the ideas of soul mates and that earth-shattering sex will last forever. Instead, he says, what we need is pragmatism, empathy and patience in order to help one another develop and to be truly happy. It might not sound like a romcom ending, but contentment never looked like it did on-screen anyway.
2/ 

Stephen Fry and Jordan Peterson: Political Correctness
Munk Debates take place three times a year to big audiences in Canada. The panels are always of high quality, but Stephen Fry and controversial psychologist Jordan Peterson make for a particularly interesting debate as they discuss political correctness. Although the two come different sides of the political spectrum, they agree on the idea that avoiding words that do not offend is a bad idea based on the fact that doing so is "po-faced, sanctimonious, self-righteous" and ineffective.
3/ Sally Rooney: Exploring Normal People
In 2019, London Review Bookshop hosted a talk between Sally Rooney and Picador Books editor Kishani Widyaratna, in which the former talks us through her best-selling novel Normal People. The BBC adaptation, which Rooney also worked on, has made us even more fanatical about the relationship between Marianne and Connell, so it's time to revisit this fascinating delve into the characters' minds.
4/ 

Robert Waldinger: What Makes A Good Life
In this short 12-minute Ted Talk, psychiatrist Robert Waldinger uncovers the lessons he's learnt on human happiness. He was part of a 75-year-old study on adult development that sought to ascertain what it takes to lead a good life. The results produced three key ways – and they have nothing to do with fame or money.
5/ 

Grayson Perry: Finding Creative Inspiration
The Sarabande Foundation, originally established by Alexander McQueen, hosts regular talks and discussions with leading creative figureheads that are usually reserved for industry insiders. Since lockdown, the organisation has made these sessions available to watch online for free, featuring Nick Knight, Jake Chapman and Maggi Hambling. They are all insightful, but Grayson Perry's 45-minute talk on finding your creative voice is both engaging and entertaining.
6/ 

Dr Tristram Hunt: How the Pandemic Will Revolutionise

Culture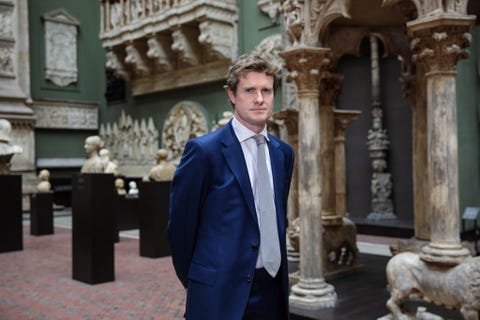 Photo: GettyLAPADA Leaders is a new webinar series featuring its CEO, Freya Simms, in conversation with captains of culture. First up on 21 May is V&A director Dr Tristram Hunt who will discuss how the crisis can revolutionise and democratise cultural experiences and what cultural organisations can learn from the pandemic lockdown.
7/ 

Brené Brown: The Power Of Vulnerability
Brené Brown has made a career out of studying human connection, with multiple best-selling books that have helped and enlightened millions. Her Ted Talk on the importance of embracing vulnerability went viral as she discusses shame, empathy and having the courage to be imperfect.
8/ 

Stella McCartney in conversation with David Adjaye
As part of the Design Museum's #DesignDespatches series, join Stella McCartney and leading architect David Adjaye as they discuss their respective careers and the link between fashion and architecture. Hear them talk about the importance of collaboration, vision and how lockdown has changed the way they work both positively and negatively.
9/ 

Gloria Steinem in conversation with Cheryl Strayed
Powerhouses Gloria Steinem and Cheryl Strayed come together at Seattle's Benaroya Hall for an inspiring and uplifting conversation focusing on Steinem's impressive career. Together they discuss the joy and benefits of travel, the importance of abortion rights and why we must keep fighting for feminism.
10/ 

Michelle Obama: Education and Self-Belief
We will never tire of hearing the wise words of Michelle Obama and this hour-long discussion with Penguin Talks, hosted at a London school, is a treat. She shares her insights on self-belief, feeling marginalised and imposter syndrome.
This article originally appeared on Harper's BAZAAR UK.
Related articles:
8 Travel Films That Will Take You On A Virtual Vacation
The Best Online Platforms To Learn A New Skill