Kim Kardashian seems to spend more time defending herself on social media these days than sharing naked selfies, and that just makes the world feel sad.
So why not celebrate Kim's gloriously controversial moments instead?
Here are eleven of them below:
1. Losing her marbles
When you're all glammed up (but trying not to look all glammed up) and using Snapchat's most alluring filter, but all anyone points out is the marbling effect on the table in the background. Because apparently it looks like two lines of cocaine.
Just a marble table ??? pic.twitter.com/5GA14ptvqy

— Kim Kardashian West (@KimKardashian) July 12, 2017
Kim K was able to see the funny side eventually…
2. Corset-gate
I would never put my daughter in a corset!It's a dress I bought that is a cotton fabric that laces up & looks like a corset! Just decoration pic.twitter.com/hZzZLs04sM

— Kim Kardashian West (@KimKardashian) July 13, 2017
Kim Kardashian had to tell her followers (and the Mail Online) that four-year-old North West was absolutely not wearing a corset after receiving backlash earlier this week. It was just a design that was made to look like a corset. Which is a big difference. We think.
Related article: Why Kim Kardashian Stopped Working With Stylist Monica Rose
3. Anyone for a vampire blood facial?
Despite Kim's brave smile, we think we'll pass, ta.
4. The nakedest naked selfie
https://www.instagram.com/p/BCpQBQROS5l/
Kim Kardashian received criticism from Piers Morgan (yawn), Hollywood actress Chloe Grace Moretz, and Bette Midler after posting that censored naked bathroom selfie.
And good lord, Sharon Osbourne even recreated it.
@kimkardashian you inspired me! #liberated #thetalk pic.twitter.com/R02CdqiCqO

— Sharon Osbourne (@MrsSOsbourne) March 9, 2016
But Kim took the backlash in her stride, and responded with a simple yet sassy tweet: "Sorry I'm late to the party guys I was busy cashing my 80million video game check & transferring 53million into our joint account."
Or it could have been Kanye…
5. How to divorce a guy in 72 days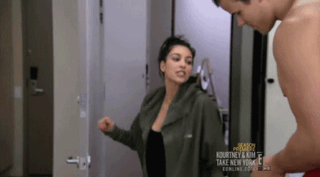 Kim filed for a divorce from Kris Humphries after just 72 days following their extravagant and star-studded wedding in 2011. But they reportedly raked in a cool $18million from their big day, so swings and roundabouts.
5. North's not happy
Kim learned the hard way that taking a toddler on the front row at fashion week – even if their dad is the designer – could end in tantrums. And not just from Nicki Minaj…
6. Bum deal
https://www.instagram.com/p/BJYKzEAhVjt/
When untouched photos of Kim in a retro Gucci bikini on the beach emerged earlier this year, some of her followers reacted very angrily, and suggested she had been lying to them all along by posting airbrushed photos of her bum on social media.
Despite maintaining that the images had been photoshopped to "look way worse", Kim lost over 100,000 followers over it.
But considering she has 9.8million followers, she may not have noticed.
Related article: How Much is Kim Kardashian Actually Worth?
7. Facing the wrath of Taylor's squad
It's probably safe to say that it will be a cold day in Hell before Kim and Taylor make friends again.
After months of teasing that she had video evidence of Taylor allegedly giving Kanye Wet her permission to reference her in Famous, Kim went ahead and dropped it on Instagram. Bish, bash, bosh, done.
8. The glamour!
Remember the time Kim was the face of Charmin bog roll and unveiled the opening of some loo cubicles in a New York shopping centre? You're welcome!
9. Real or fake?
Haha! The things my sisters have me do! Proof baby! RT @KhloeKardashian: Kim got a butt X-Ray… http://t.co/rK7l7tx See, it's REAL!!! LOL

— Kim Kardashian West (@KimKardashian) June 23, 2011
So fed up with all of the haters and non-believers (and following a dare from younger sister Khloe), Kim went and had her bum x-rayed to prove it's 100% legit back in 2011. Although whether it's real or fake, it will probably remain one of life's most pondered questions, and the most searched thing on Google.
10. Bottoms up!
Kim didn't actually break the internet, but she did manage to balance a champagne glass on her bum in her infamous shoot for Paper magazine.
Related article: Kim and Kanye Are Dropping Customisable Yeezys For Kids
11. That sex tape
And then of course there was that little thing of a sex tape with Ray J. But the less said about that the better…
From: Harper's BAZAAR US