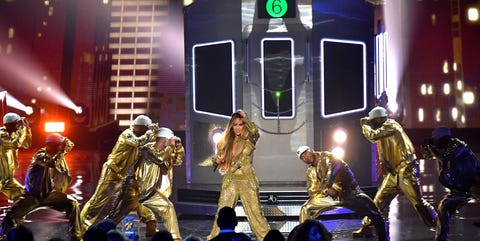 Every year, the MTV Video Music Awards are pretty reliably wild. Unlike with the Emmys, Oscars, or even the Grammys, the VMAs are a time for the biggest names in music to get weird as hell. Whether it's an outright shock, like when Kanye told Taylor Swift he was going to let her finish, or just surreal optics, like when Miley twerked on Robin Thicke, it's the one awards show where surprises can really happen.
Related article: All The Best Red Carpet Looks From The 2018 MTV VMAs
But with the VMAs on at a new Monday time slot, some of us were concerned: Are we still going to get the same hijinks at the start of the week that we did when the VMAs happened during the weekend?
The answer: Kind of? Honestly, it was considerably more subdued than VMAs past. And while Nicki Minaj, Cardi B, Madonna, and Ariana Grande were representing, it lacked many of their fellow show-stopping megastars that the awards used to have in droves. Where was Gaga? Beyoncé? Taylor Swift? It also meant that, rather than the bring-the-house-down tribute to Aretha Franklin that the late Queen of Soul deserved, we got a tangentially-related personal anecdote from Madonna, who didn't even perform. She was a great get for the late notice, but it just felt a bit thrown-together.
All in all, there was a lot riding on the shoulders of the attendees to make the party happen. Read on to see some of the night's biggest moments.
1
CARDI BROUGHT HER "BABY" ONSTAGE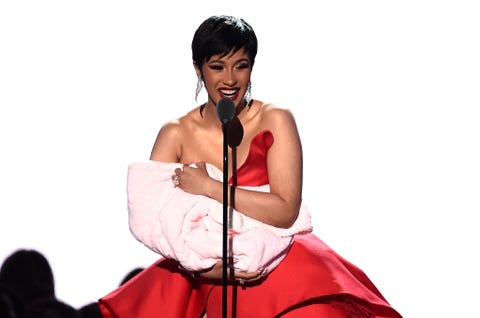 I think Cardi B should be the presenter for all things, and also the first moment of every live televised event, so it was a wonderful surprise to have Cardi, swaddling "baby Kulture," as the first star of the night. My first thought was, "Did she bring a baby onstage at the VMAs?!" But, remembering that Cardi is an excellent mom, of course it turned out that she was actually just lovingly cradling a Moon Person. Nice one, Cardi.
2
LOGIC SHARED THE STAGE TO DELIVER A BIG SOCIAL MESSAGE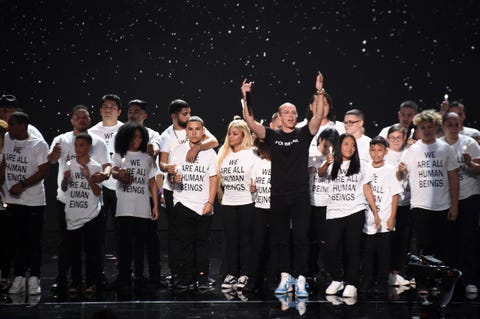 For their performance, socially-conscious rapper Logic and singer Ryan Tedder did a stirring rendition of their track "One Day." Always one to shine a light on the activist issues of the day, he was also joined onstage by a slew of kids in T-shirts that read "We Are All Human," because all of them had been negatively impacted by Trump's cruel immigration policies in various ways. It was a really stirring moment.
3
NICKI MINAJ GAVE A POWERHOUSE PERFORMANCE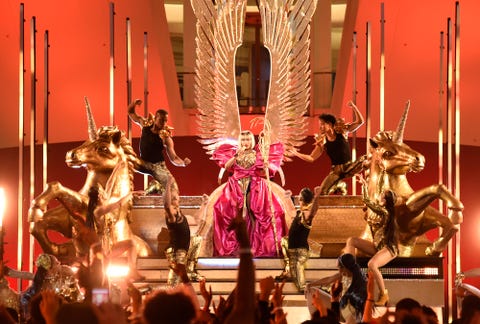 She apparently took a helicopter from accepting her Best Hip Hop Award at Radio City in order to to perform an utterly mind-blowing medley of "Barbie Dreams" and "Fefe" (which normally—and controversially—features 6ix9ine, who was not onstage with her) all the way downtown in New York, on an elaborate stage inside the Oculus. Especially bold that she played "Barbie Dreams," which hilariously name-drops several people actually present at the VMAs, including Quavo, Karrueche Tran, and DJ Khaled (also, like, 20 other people). Queen of the VMAs.
4
JENNIFER LOPEZ EARNED HER DAMN VIDEO VANGUARD AWARD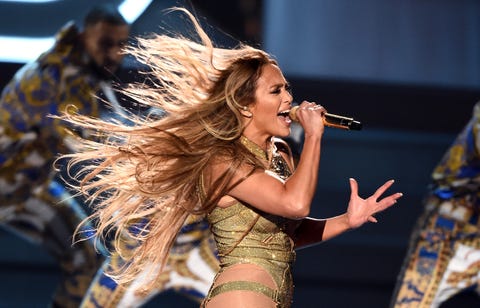 Jennifer Lopez accepted her Video Vanguard Award—making her the first Latin artist ever to do so—by playing a mind-blowing medley of a ton of her hits, including "Jenny From the Block" (on an extremely cool subway train stage piece), "Dinero," and "I'm Real," featuring none other than her legendary early-aughts collaborator Ja Rule. With impressive choreography, clearly live singing that was super on-point, and a really thoughtful, humble acceptance speech, It was the kind of hit-after-hit performance that really put in perspective just what an amazing, two-decade career she's had. She's the kind of icon that this award is intended to honor.
5
ARIANA GRANDE CELEBRATED WOMANKIND DURING HER PERFORMANCE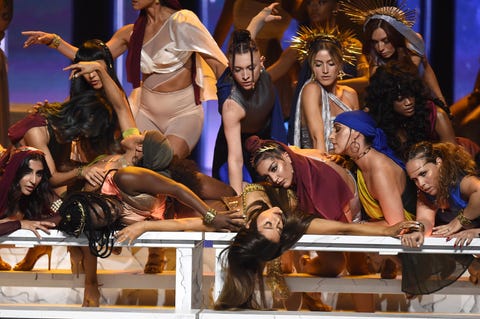 Singing her Sweetener hit "God is a woman," Ariana Grande sat among a diverse group of woman of all different body types, races, and backgrounds, adding an empowering message to what was already a gorgeous song. At the end, she even brought out her family members, as fiancé Pete Davidson cheered her on from the audience.
Related article: All Of The Most Unforgettable Fashion Moments At The VMAs
6
CAMILA CABELLO WON ARTIST OF THE YEAR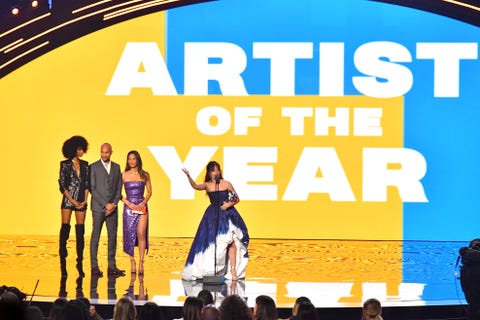 In a stacked category in which she was up against the likes of super established artists like Drake, Ariana Grande, Bruno Mars and Nicki Minaj, Camila Cabello was named Artist of the Year. Her gracious, poised acceptance speech gave lots of love to her fans and made sure to praise the other female nominees in her category. She had already won the important but unofficial Marie Claire Favorite Audience Member Award, so this is really just the icing on the cake.
7
MADONNA GAVE A SOLEMN TRIBUTE TO ARETHA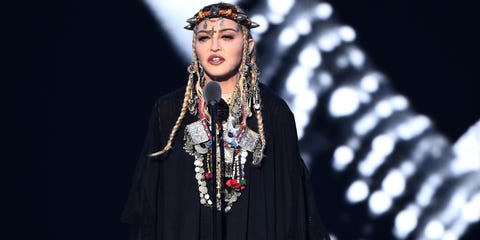 Telling the story of how she was constantly rejected in her early days trying to make it as a singer, Madonna—there to present the award for Video of the Year—explained how she panicked at a would-be-doomed audition and, devoid of sheet music, sang "(You Make Me Feel Like) A Natural Woman." It led to her big break and, she explained, started her on the road to becoming theMadonna. "I want to thank you, Aretha, for empowering all of us. R-E-S-P-E-C-T. Long live the Queen."
8
AEROSMITH JOINED POST MALONE ONSTAGE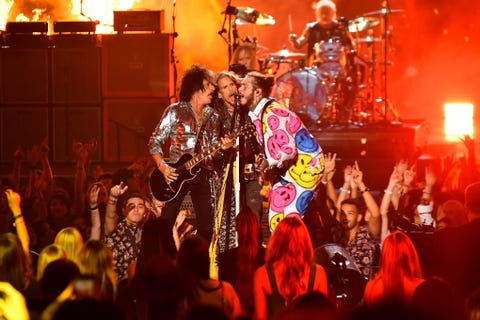 After playing his hit "rockstar" featuring 21 Savage, Post Malone was joined by surprise guests Aerosmith, who played "Dream On," and then played with Malone (who'd grabbed a guitar by this point) on a truly rousing rendition of "Toys in the Attic." It raged surprisingly hard! Steven Tyler's still got it.
Related article: The Best Looks from the MTV EMAs 2017
This article originally appeared on Marie Claire US