The day has come: Ariana Grande's "Thank U, Next" music video has finally arrived. After teasing the project on social media for weeks, the pop star debuted the visuals for her post-breakup bop, featuring tributes to some of our favorite 2000s films—Mean Girls, Legally Blonde, 13 Going on 30, and Bring It On.
In just five minutes and thirty seconds, Grande delivered a wild ride of chick flick heaven—recreating some of the greatest early aughts movie scenes and surprising us with the most epic Kris Jenner cameo of all time (as Regina George's mom).
Related article: Ariana Grande Breaks Silence On Split From Pete Davidson
But in the midst of all that, she also recreated some of the most iconic cinematic fashion moments of the early 2000s—from Elle Woods' Harvard application video outfit in Legally Blonde to Regina George's Mean Girls looks and even the cheerleader uniforms from Bring It On. Just in case you missed any of the outfit references while completely fangirling during you first watch, we broke down every single look Grande wore in the video.
The Mean Girls Looks
Ari opened the "thank u, next" video wearing Regina George's signature initial necklace, diamond earrings, and a pink tank top layered over a black cami. Oh, and she accessorized with her own version of the Burn Book, of course.
She then recreated all the looks from the iconic mall scene—complete with the real Aaron Samuels.
The original for reference, just in case it somehow isn't burned in your memory for life:
And last but not least, the "Jingle Bell Rock" scene complete with patent over-the-knee boots and mini Santa outfits.
Let's not forget Kris Jenner as Regina George's mom in a pink Juicy Couture tracksuit:
---
The Bring It On Homage
Reviving everyone's favorite cheerleader rivalry film starring Kirsten Dunst and Gabrielle Union, Grande wore two outfits from the 2000 movie. The first was the iconic tooth brushing scene, in which Ari wore a similar floral tank top to Kirsten Dunst's spotted cami:
Related article: Kirsten Dunst Confirms Her Pregnancy In Rodarte's Fall 2018 Lookbook
And the second, of course, was the Rancho Carne High and East Compton Clovers cheer uniforms:
---
The 13 Going On 30 Interlude
A quick moment from Jennifer Garner's 13 Going On 30 served as the segue from the Bring It On to Legally Blonde scenes. The pop singer only wore one look from this movie—a red blouse whilst she carried Jenna's dream doll house.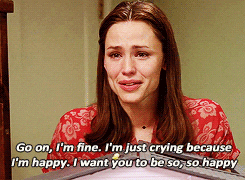 ---
The Legally Blonde Finale
Rounding out the girl power video, Grande recreated some of the best scenes from Reese Witherspoon's Legally Blonde.
First, there was the incredible pink patent leather outfit Elle arrived to Harvard wearing with her chihuahua Bruiser (Grande used her own dog for the video).
Related article: "Legally Blonde 3" Is Officially Happening
Compared with the original…
And the unforgettable video application Elle submitted with her application to Harvard:
But the real wig-snatching moment was Jennifer Coolidge joining to reprise her role as Paulette—and wearing the same exact bedazzled denim outfit for the occasion:
Naturally, it wouldn't be complete without a makeover of the Bend and Snap scene. For this, Ariana decided to wear a pink feathered top that wasn't worn in the original scene (but honestly should have been).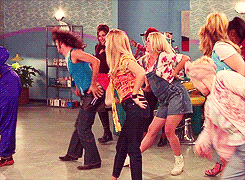 To sum it all up in the wise words of Ariana Grande, "H2GKMO!!!!!"
---
This article originally appeared on Harper's Bazaar US.