This is not a drill: Reese Witherspoon herself has made the announcement that Legally Blonde is making a comeback with its third instalment, Legally Blonde 3.
As we speak, the film's currently in the works under Witherspoon's production house Hello Sunshine and honestly, we couldn't be more thrilled to have our beloved fictional legal attorney and fashion maven, Elle Woods back on the silver screen. Besides the fact that Reese Witherspoon's reprising her role as the aspirational Elle Woods, she's also joined forces with Parks and Recreation writer and Brooklyn Nine-Nine creator Dan Goor who will be writing the script alongside fellow co-writer that's none other than, Mindy Kaling!
Related article: Female Film-Makers Who Have Brought Oscar-Winning Fashion To The Big Screen
While this isn't Reese and Mindy's first collaboration (previously working together in Wrinkle In Time), we're absolutely stoked to see what Kaling will bring to this upcoming film. Especially knowing the success of her work on The Office and more recently, her teen-comedy series on Netflix, Never Have I Ever, which follows the story of a first-generation Indian-American high schooler.
Related article: The 2021 Oscars Could Be Delayed Due To The Pandemic
Though, we have yet to find out when this film is set to be released and what Elle Woods has been up to… We're hopeful that it will be filled with fabulous moments, girl power and a whole lot of pink. In the meantime, we're sure plenty of fans will be tuning into the Legally Blonde films tonight, without forgetting to 'bend and snap' in joy.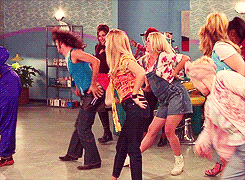 Related article: The Female Stars Of Hollywood Takeover Social Media With A Fist-Off