Zoë Kravitz, Hailey Bieber, and Adwoa Aboah are three It girls with meticulously curated earring assortments. Their ears are enviously decked out in multiple piercings, with hoops and huggies that feel as representative of their personal styles as the clothing they wear. Jewellery has the ability to elevate a look, but a really good ear stack feels particularly transformative.

Jennifer Meyer, founder and designer of her eponymous fine jewellery brand, tells Bazaar that styling ear stacks is just as personal as putting together an outfit. "In my opinion, the perfect outfit is one that is comfortable, makes you feel confident and like yourself. An ear stack is similar to what I consider to be a great, balanced outfit," she says. "I like to pair a dressy top with jeans, or a simple T-shirt with a fun shoe or bag. I do the same with my earrings—a simple hoop paired with a diamond, or colorful studs stacked with gold huggies."
As for her go-to approach to putting together a chic "earscape," Meyer says, "I wish I could say that I change out my jewellery like I do my outfits, but I really like to create a base of huggies and studs that I want to wear daily for several weeks. Then I swap out the first earring depending on my mood or activity—often it's a big hoop or hammered earring, other days it's another huggie! For me, it tends to be an 'anything goes' approach. I love to wear two of the same earrings in a row and mismatch my ears."
Meyer suggests thinking about your go-to earrings as you would any wardrobe essential. Find some that are perfect to wear every day, and then style them with one or two more bold styles, to make them look fresh with every outfit. She recommends picking one or two earrings as the "heroes" and then "layering in some complementary studs or huggies up the ear."
From delicate gold huggies to mixed-metal statement earrings, find the 18 most stackable earrings below.
Related article: Must Have: Drop Earrings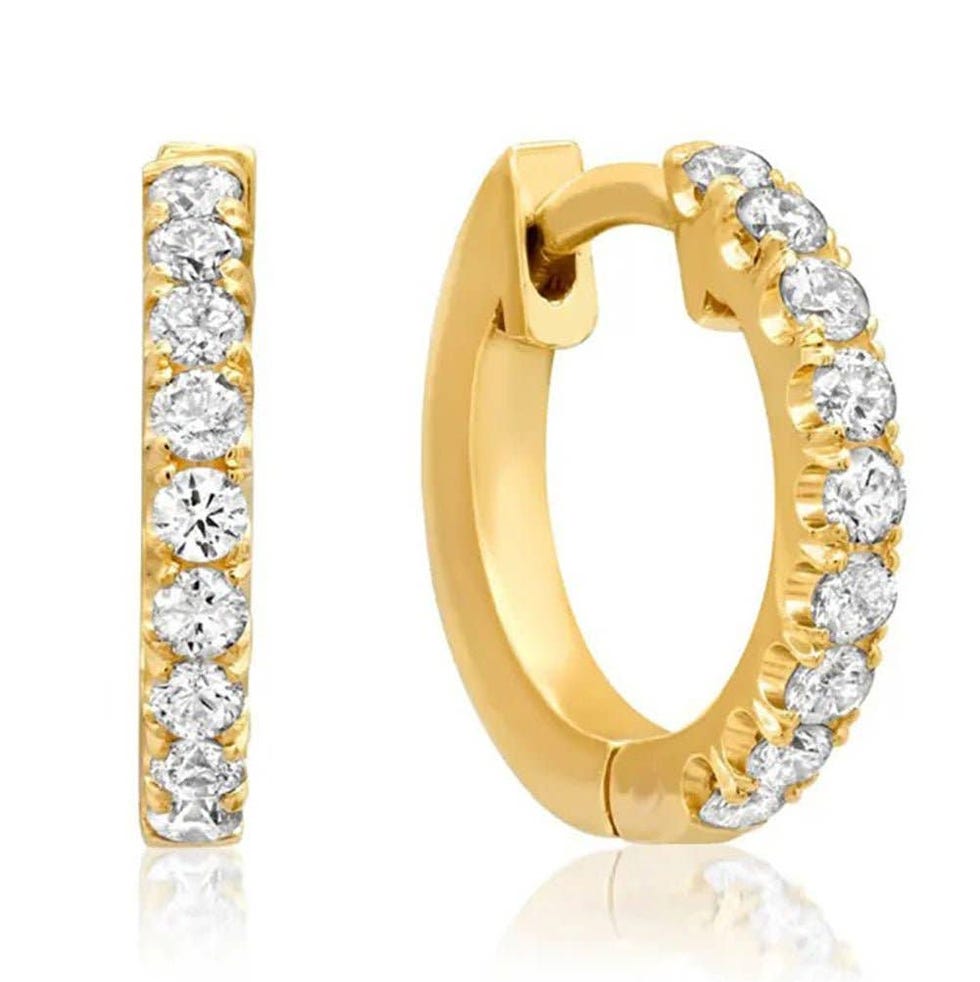 THE TIMELESS DIAMOND HUGGIES
Jennifer Meyer Small Diamond Huggies
A must-have for any ear stack, these huggies are an effortless never-take-off addition. While they look great on their own, they also play well with basically any other earring style.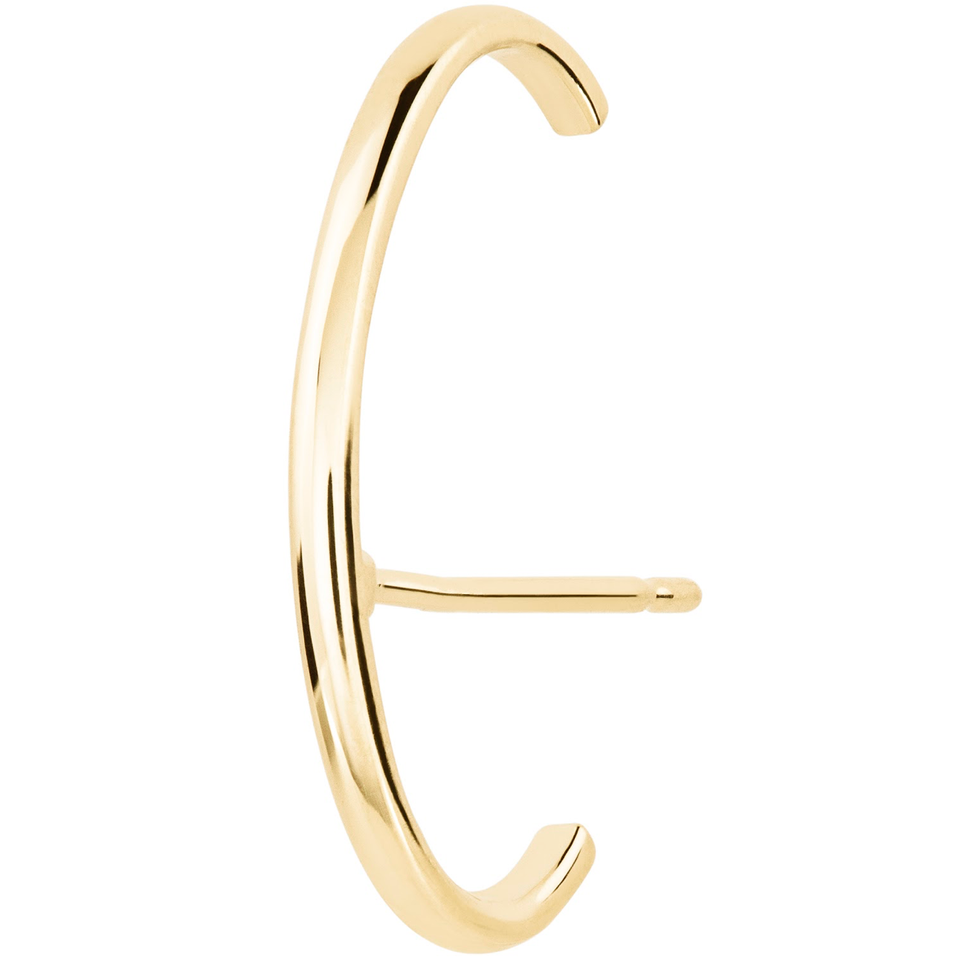 THE MINIMALIST EAR CUFF
Anita Somayaji Cuff Earring
The architectural shape of this cuff is a great way to add dimension to your ear stack, but it's still delicate enough to layer with multiple piercings. Best of all, it'll give you the illusion of having an inner ear piercing—minus the actual piercing.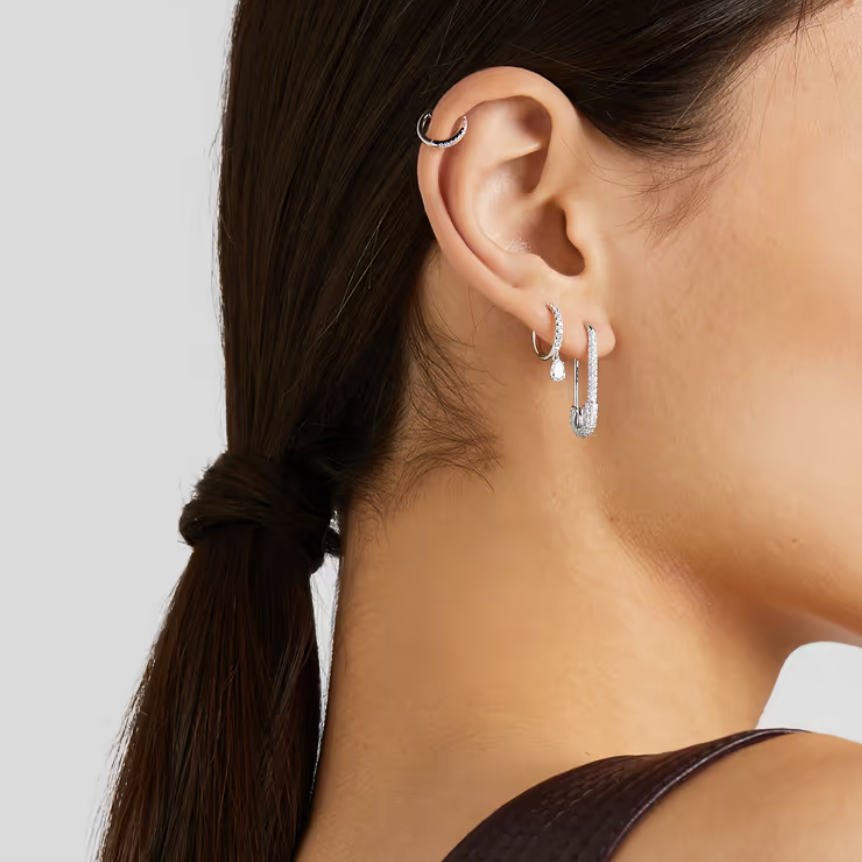 THE POLISHED PUNK PIECE
Anita Ko Safety Pin 18k White Gold Diamond Single Earring
The diamonds on this safety pin earring give it an '80s punk-era look that can easily add edge to any earscape. Safety-pin earrings are also a great option to buy in bulk—the only thing better than one safety-pin earring is two (or three or four or five).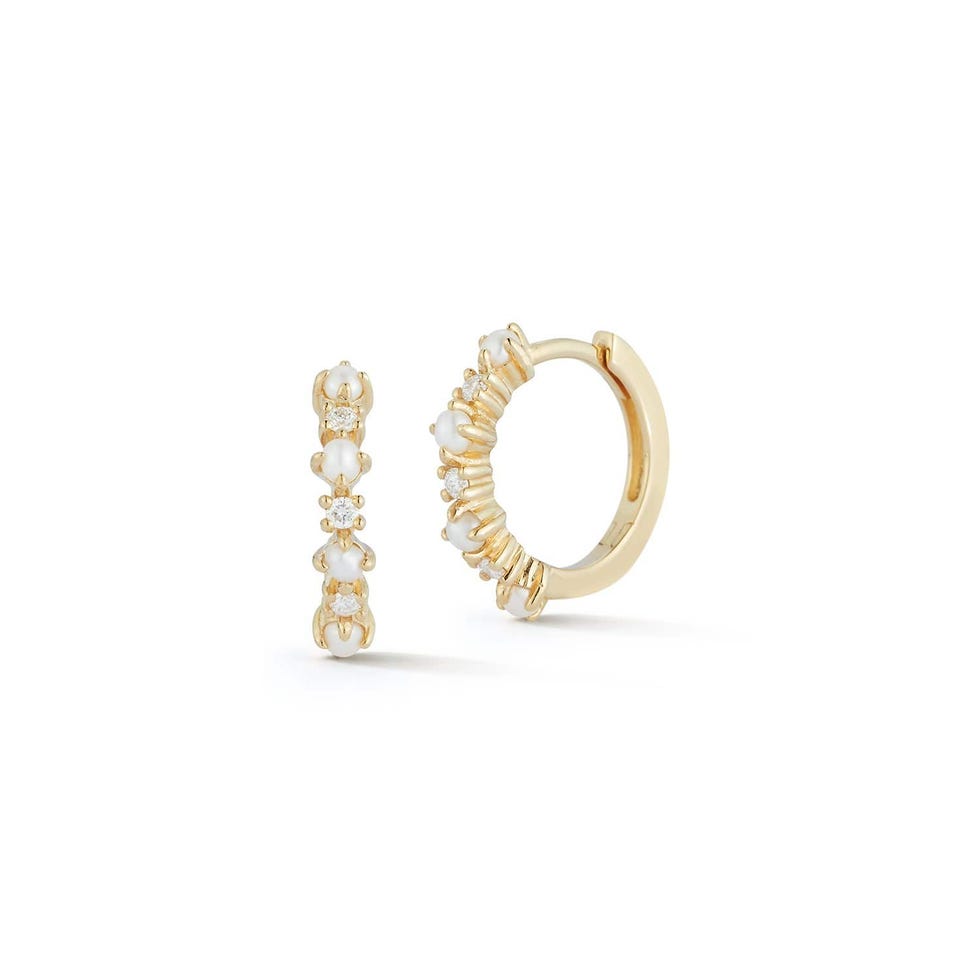 THE EVERYDAY DOUBLE-STONE HUGGIES
Mateo 14k The Little Things Pearls and Diamond Huggies
These pearl-and-diamond huggies are a great start to your core stack. They're a fresh update to the standard solid gold or silver huggie, but still classic enough to wear on a regular basis.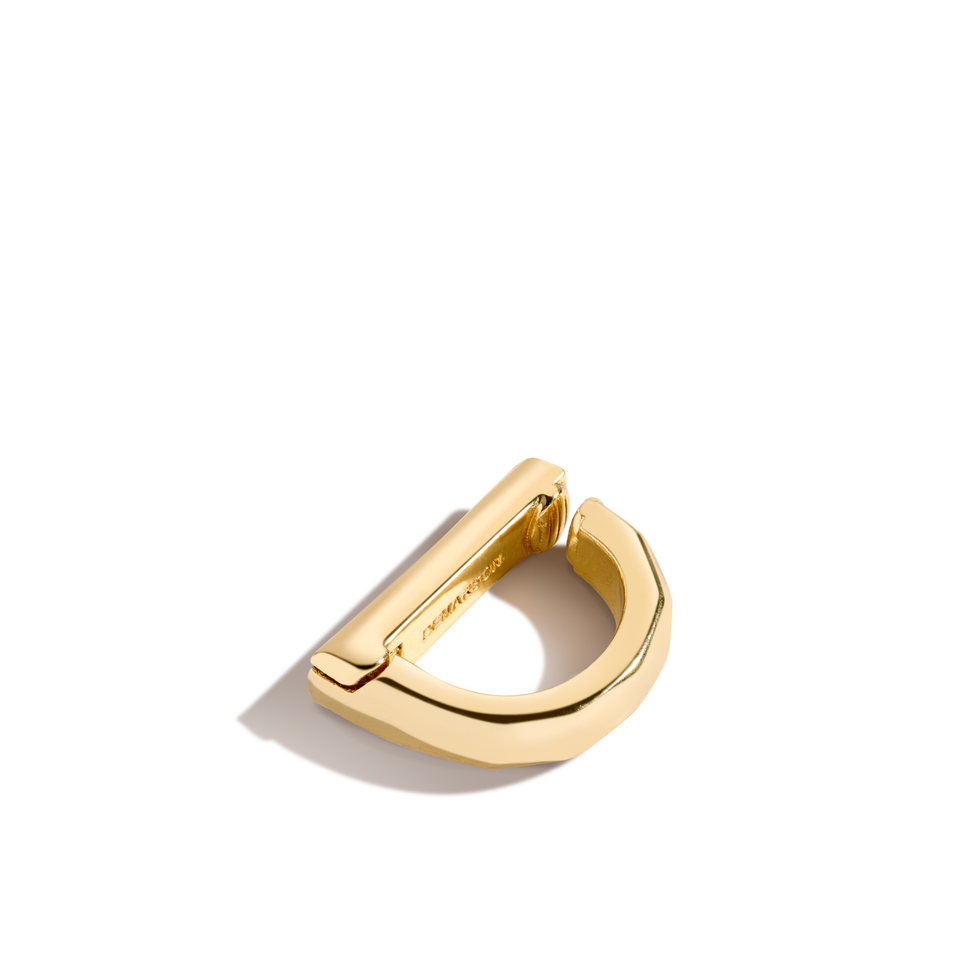 THE NO PIERCING, NO PROBLEM CUFF
Demarson Dara Ear Cuff
The D shape of this cuff makes it versatile—and you don't even need a piercing to wear it! It'll play into your ear stack differently depending on where you place it. Wear it lower on the earlobe or higher up near the cartilage to play with different looks.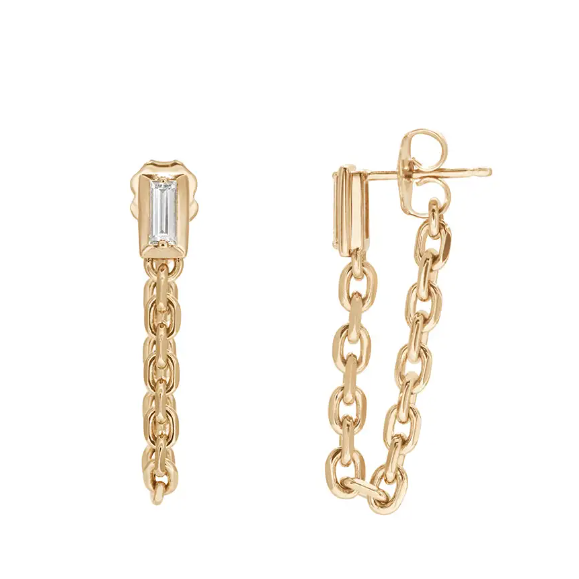 THE GLAMOROUS CHAIN EARRING
Anna Sheffield Attelage Harness Chain Earring
These 14k yellow gold diamond studs are a certified investment piece. Instead of wearing them in both ears, try stacking them alongside each other on one ear for a more unexpected look.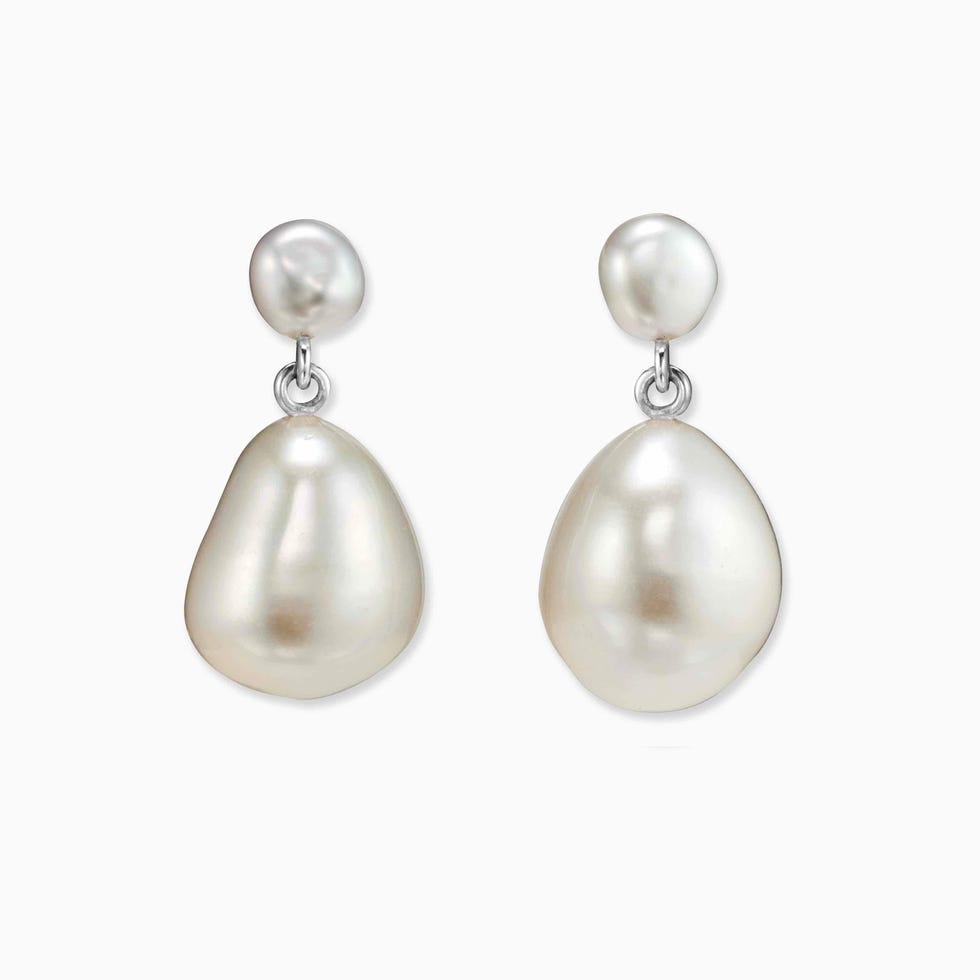 THE MODERN PEARLS
Agmes Amelie Earrings
Pearls are always in style, but Agmes's Amelie earrings feel both timeless and modern. The inherent cool-toned shimmer of the stone looks great stacked with silver pieces.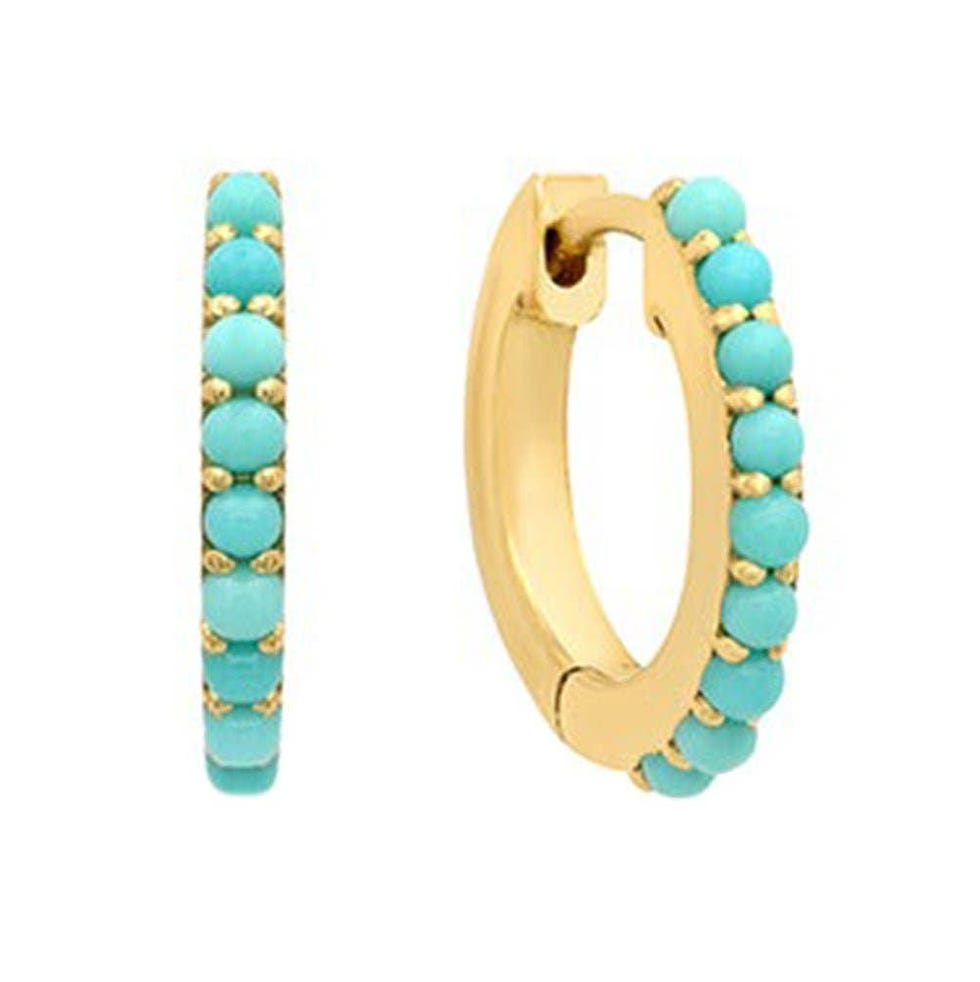 THE POP OF COLOR STACK
Jennifer Meyer Small Turquoise Huggie Earrings
Meyer believes there aren't any hard-and-fast rules for creating your ideal ear stack. "I like studs or huggies in the piercings higher up my ear because I find those to be more comfortable," she says. These turquoise huggies can be worn anywhere on the ear and are an easy way to incorporate a dash of color.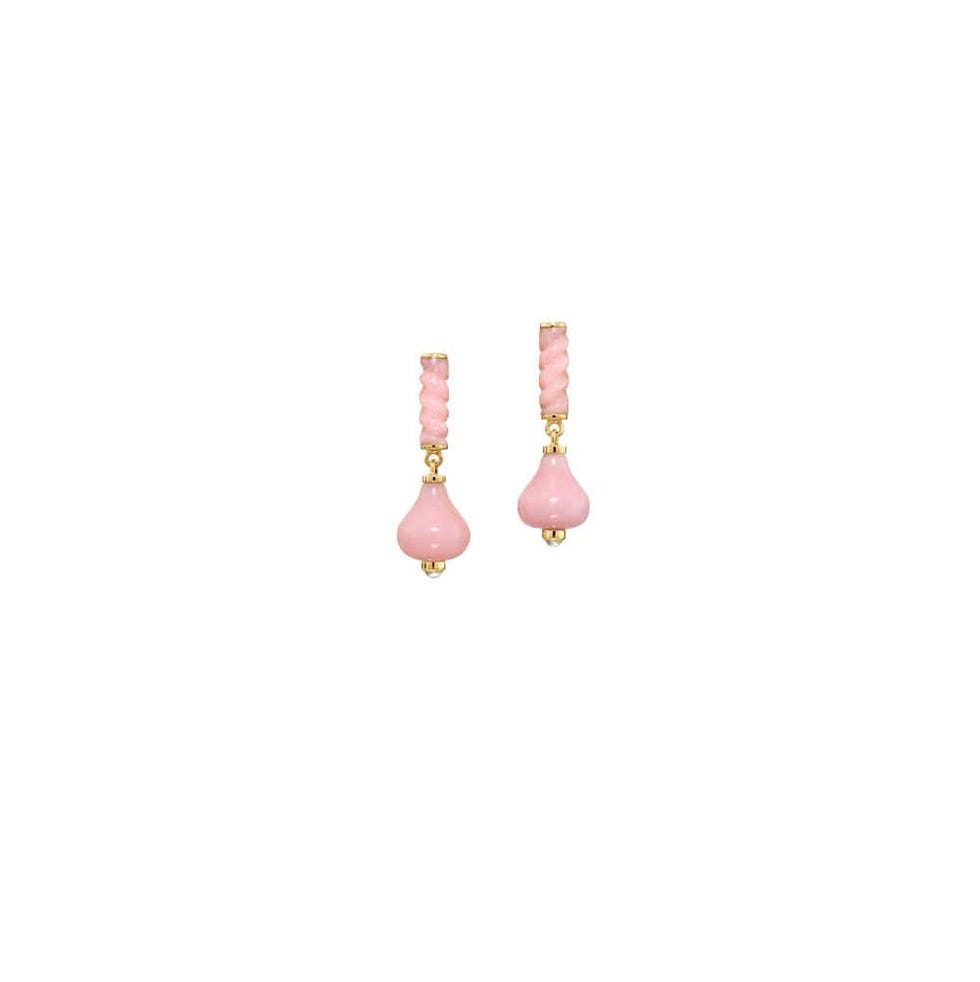 THE BARBIECORE UPDATE
Sauer Fabiana Earrings
If you're wanting a little hint of pink to add to your rotation, look no further than this delicate drop-style pair from Sauer. With pink opals and moonstones set in 18k gold, the Fabiana earring would look great in a second hole, alongside some gold hoops.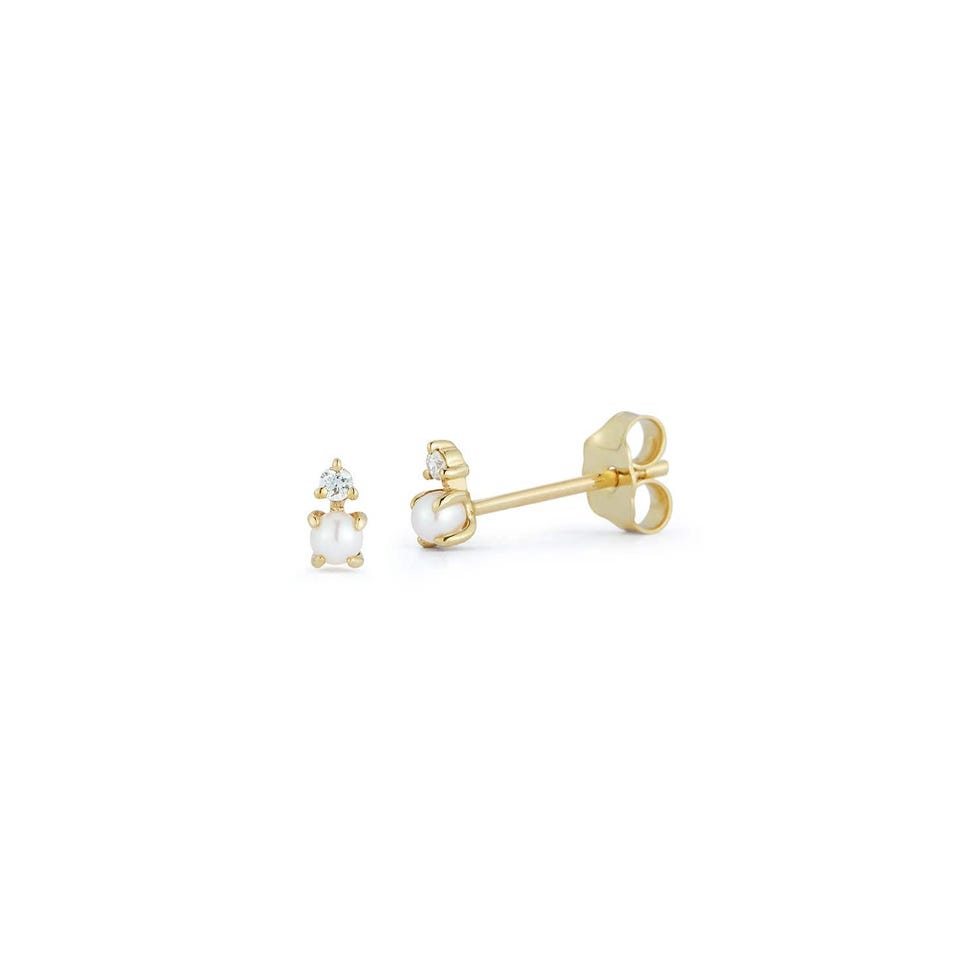 THE DELICATE STUDS
Mateo 14k The Little Things Uni Pearl and Diamond Studs
For lovers of barely-there jewellery, these studs are as dainty as it gets. If you want an ear stack that's pared back, consider buying a couple of pairs and dotting your ears with pearls and diamonds.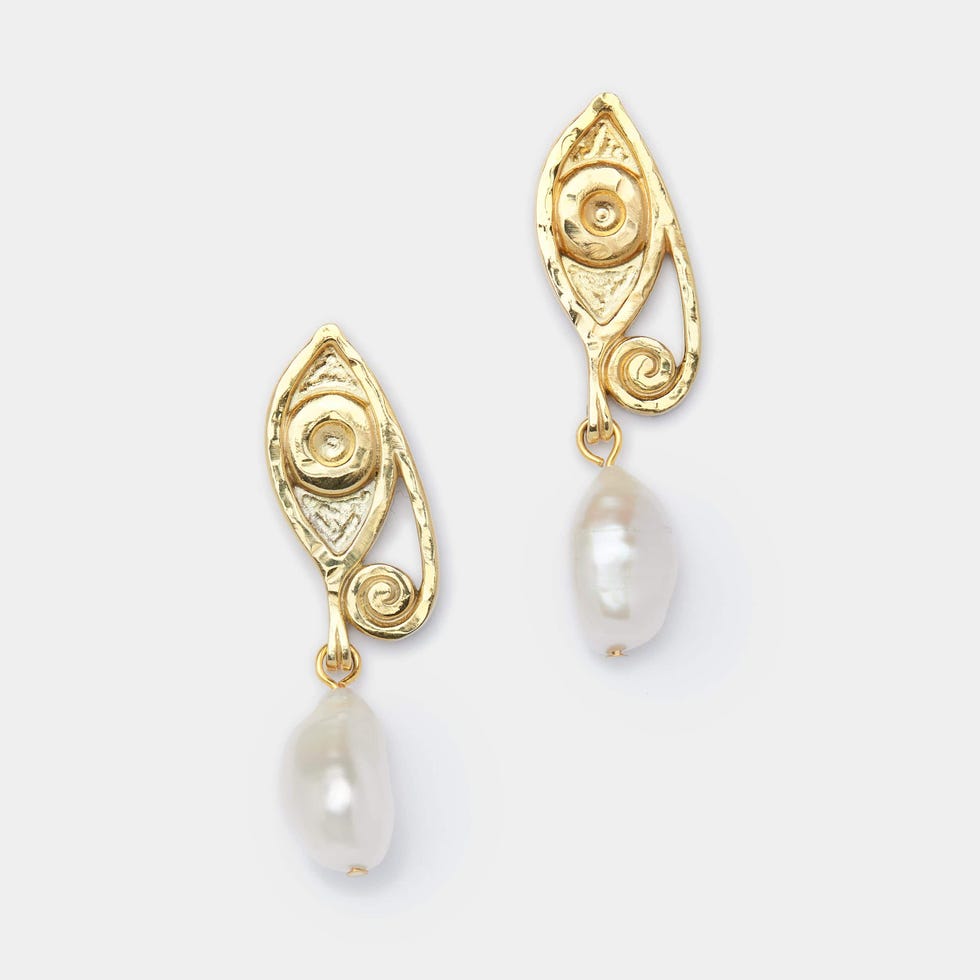 THE PLAYFUL STATEMENT DROP EARRING
Deux Lions Jewellery Golden Ayla Pearl Earrings
Deux Lions' Ayla pearl earrings are handcrafted in Montreal and made with sustainable materials. The gold vermeil will fade over time and slowly uncover sterling silver, meaning a new earring will basically reveal itself as time goes on.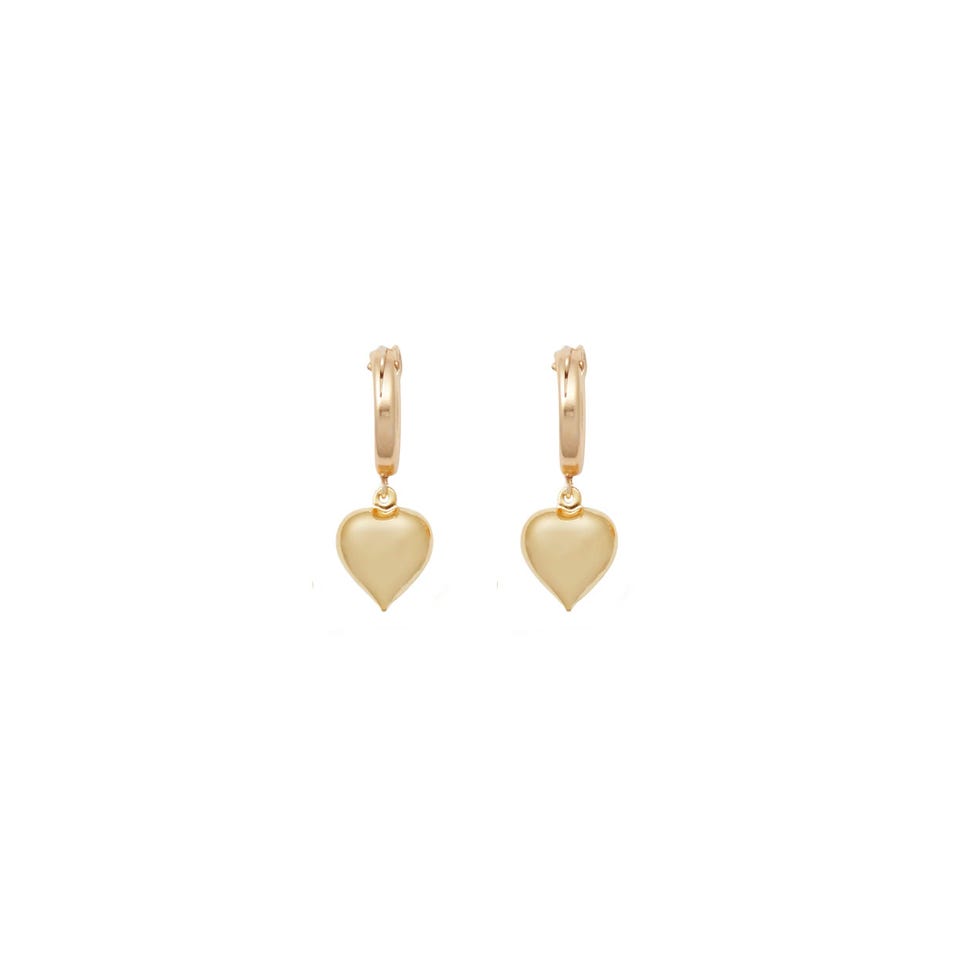 THE SWEETHEART HUGGIES
Brinker + Eliza Darling Huggies
Huggies with dangling charms are a layering hero. And who needs a charm bracelet or necklace when you can have a charming ear stack instead?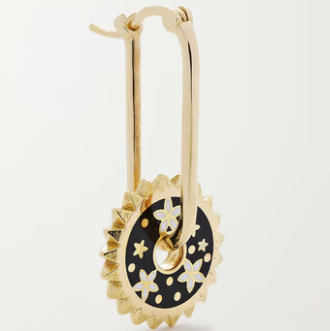 THE TALISMAN-INSPIRED EARRING
Foundrae Small Blossom 18k Gold and Enamel Single Earring
Foundrae earrings feel like modern heirlooms. This unique oval-hoop style has a serrated black enamel charm with blossom and thorn motifs that represent resilient energy. It's the special kind of piece everyone will want to ask you about.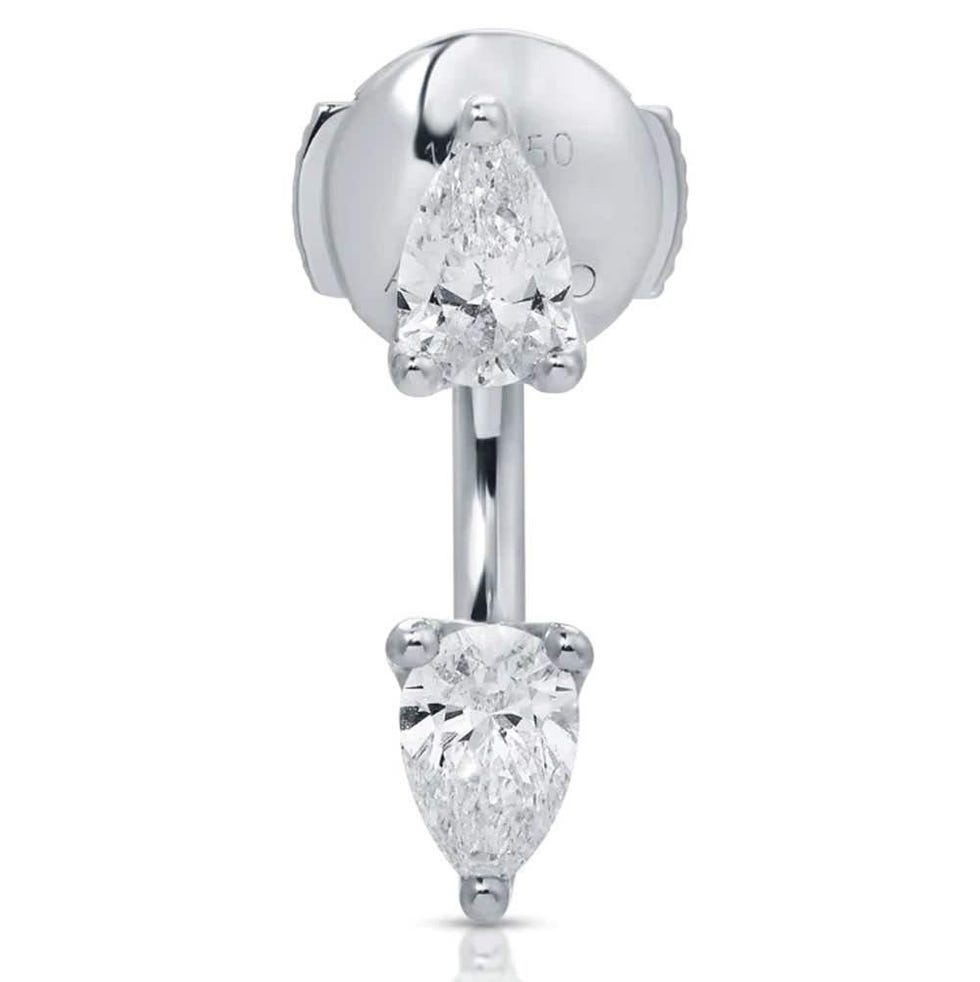 THE STYLISH STATEMENT DIAMOND
Anita Ko Single Medium Orbit Earring
This diamond orbit earring has a "floating" effect that makes it seem like diamond studs are levitating near your ears. This is a stacking powerhouse that can easily be dressed up or down.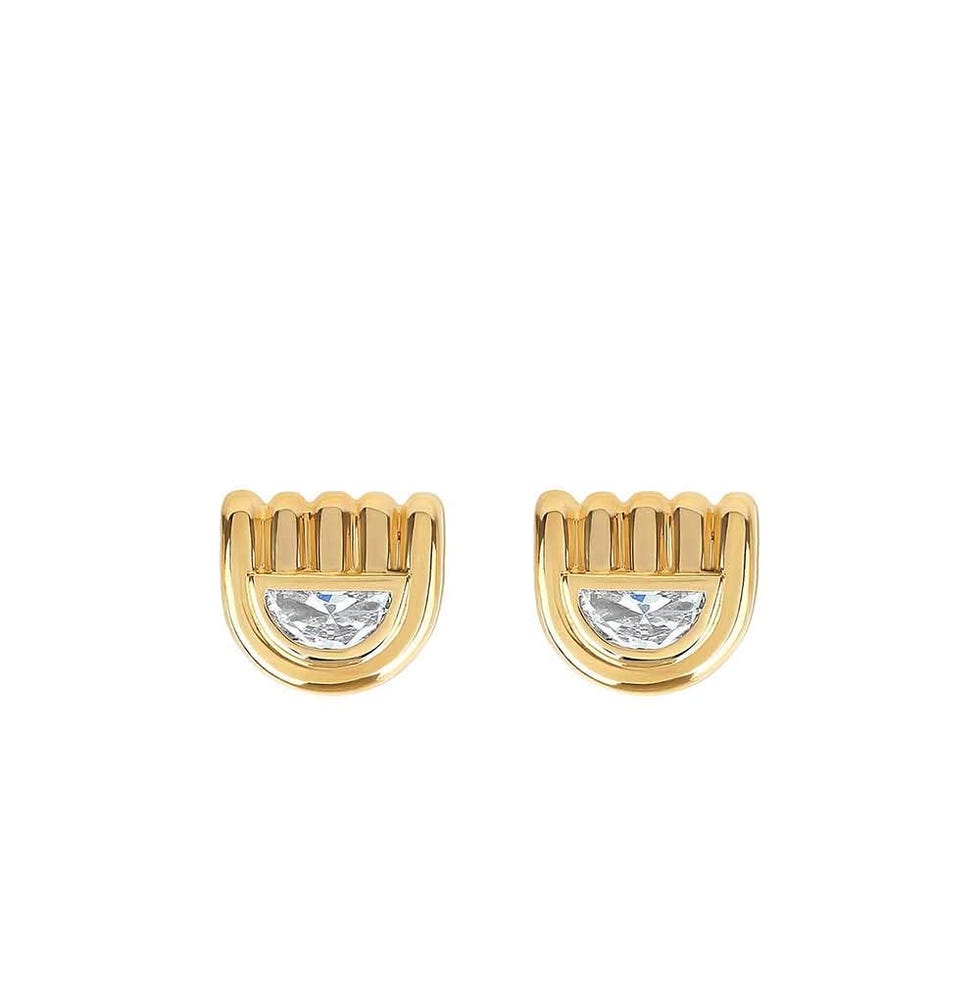 THE DESIGN-FORWARD STUDS
State Property Marmara Diamond Earrings
These 18k half-moon studs from buzzy jewellery brand State Property are a small but mighty pair. The Marmara silhouette was designed using solid pipes of gold frame that radiate from all angles, which makes this a sustainable and stylish pick.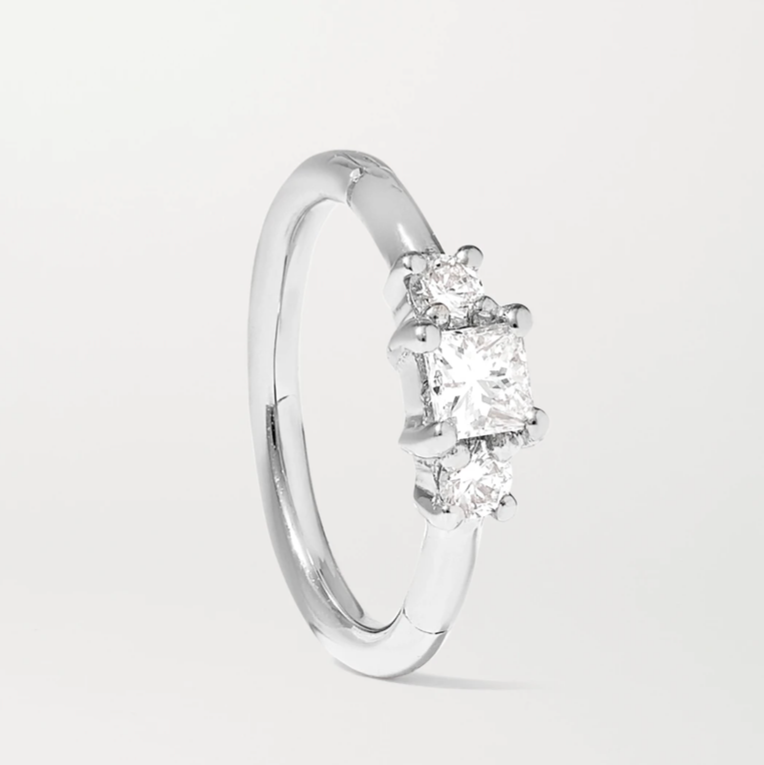 THE UNDERSTATED LUXE SINGLE HOOP
Maria Tash 8mm 18k White Gold Diamond Hoop Earring
This is an effortless huggie that provides a bright pop of sparkle. It's elegant and understated, making it a perfect hoop to wear every day.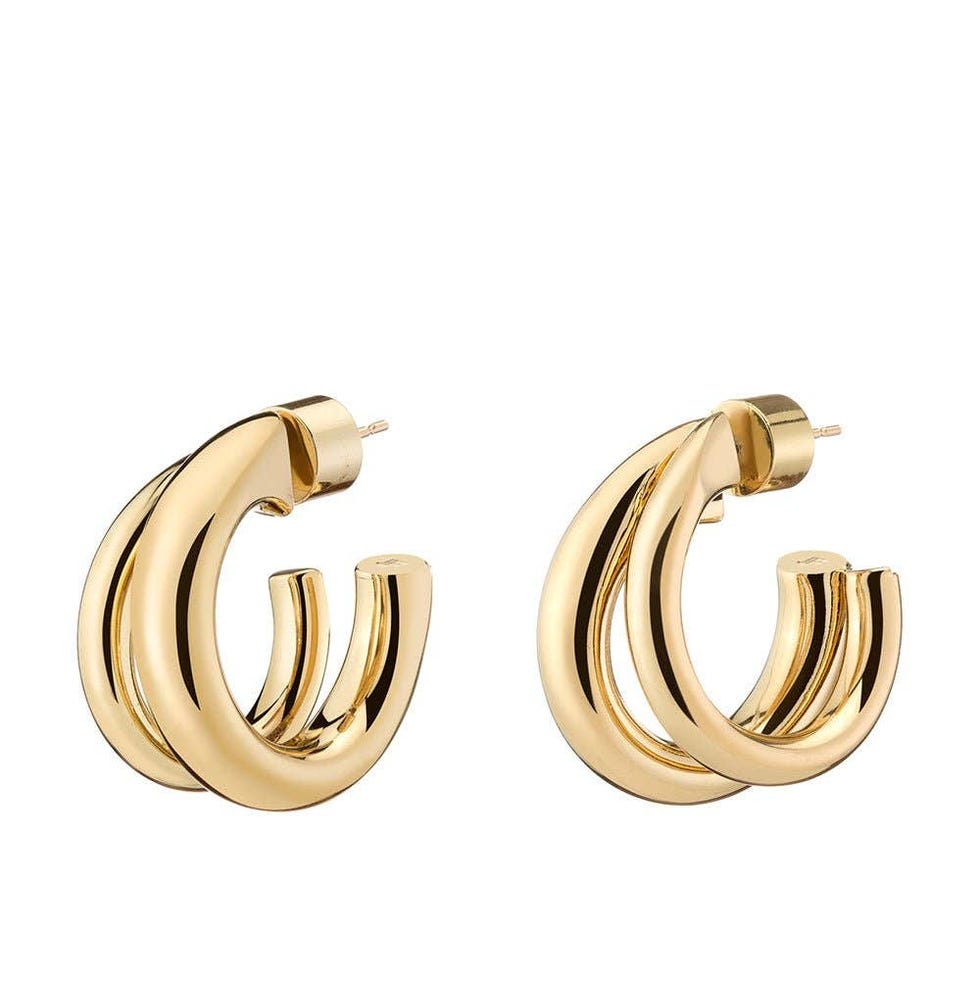 THE MODERN HOOPS
Jennifer Fisher Double Huggie Earrings
These double huggie-style hoops are great for wearing with a stack of huggies or studs up the ear. They're also lightweight enough for everyday wear. The double-stacked detail will give you a layered look, even if you choose to wear them on their own.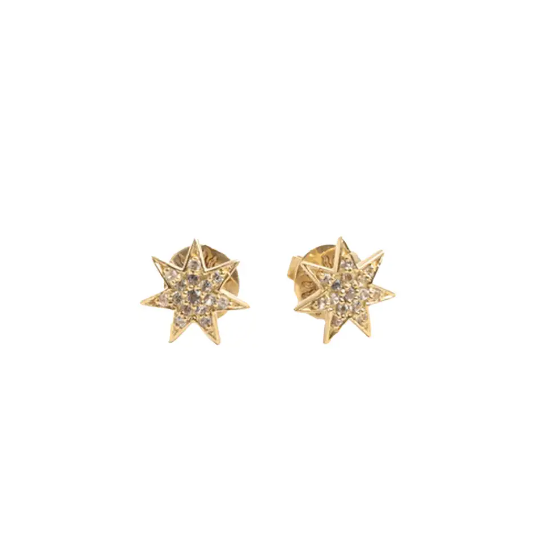 THE CELESTIAL-INSPIRED SPARKLE
Surya and the Moon Small Surya Star Earrings
These delicate earrings pack a punch. The starburst-style studs are great to wear with an array of studs to build out a stack that is highly personalized.
This article originally appeared in Harper's BAZAAR US.