Traveling with jewelry is always a bother. Necklace stacks easily become a tangled mess in security lines, or in the packing cubes of carry-on bags. It's hard to not only store your favorite earrings and rings but also secure them, so you don't lose your most prized possessions while away from home. The best way to insure that doesn't happen is simply to invest in a travel jewelry case—something you've probably told yourself you'd buy multiple times but just haven't gotten around to yet.

"Working across the jewelry industry, I've gotten used to being on the move with jewelry in tow," Abigail Donaldson, content and project manager at De Beers Group, tells Bazaar. "Whether it's hand-carrying one-of-a-kind pieces to a cover shoot, traveling with samples for a special project, or packing vintage finds from a trip abroad with loved ones, I've come to learn the importance of keeping jewelry safe in transit." Donaldson's solution? Travel jewelry cases.

"My mom always told me traveling with jewelry is safest when it's as close to you as possible, either on your body or in your carry-on," Donaldson says. "If you plan to bring multiple pieces on a trip, a good case is so important for keeping everything secure and intact."

If you haven't shopped for a case before or are simply looking to upgrade, she recommends a few key essentials to ensure the best fit. "The fundamentals are portable size, separate compartments to prevent tangling, a bright color which is easy to spot, hard case exterior in a durable material, soft protective interior to prevent scratches, and a good quality fastening to keep everything secure," she says. "Then, of course, creative details and a style which speaks to you make the purchase fun and personal."

The destination can also dictate the jewelry case you will be using. "For a short or weekend trip with a carry-on, I would recommend keeping your jewelry case in a zippered or otherwise secure handbag, like you do with a wallet or passport," Donaldson says. "Jewelry has huge sentimental value for many people, so to avoid heartbreak I wouldn't risk leaving it in checked baggage for the airline to lose!" And if you are traveling with fine jewelry, Donaldson recommends designs that are rectangular or box-shaped, which will stack well with other items in a small hotel safe.
Below, the 21 best travel jewelry cases to shop now—including some of Donaldson's personal favorites.
Related article: Jewellery Pieces To Buy Based On Your Birthstone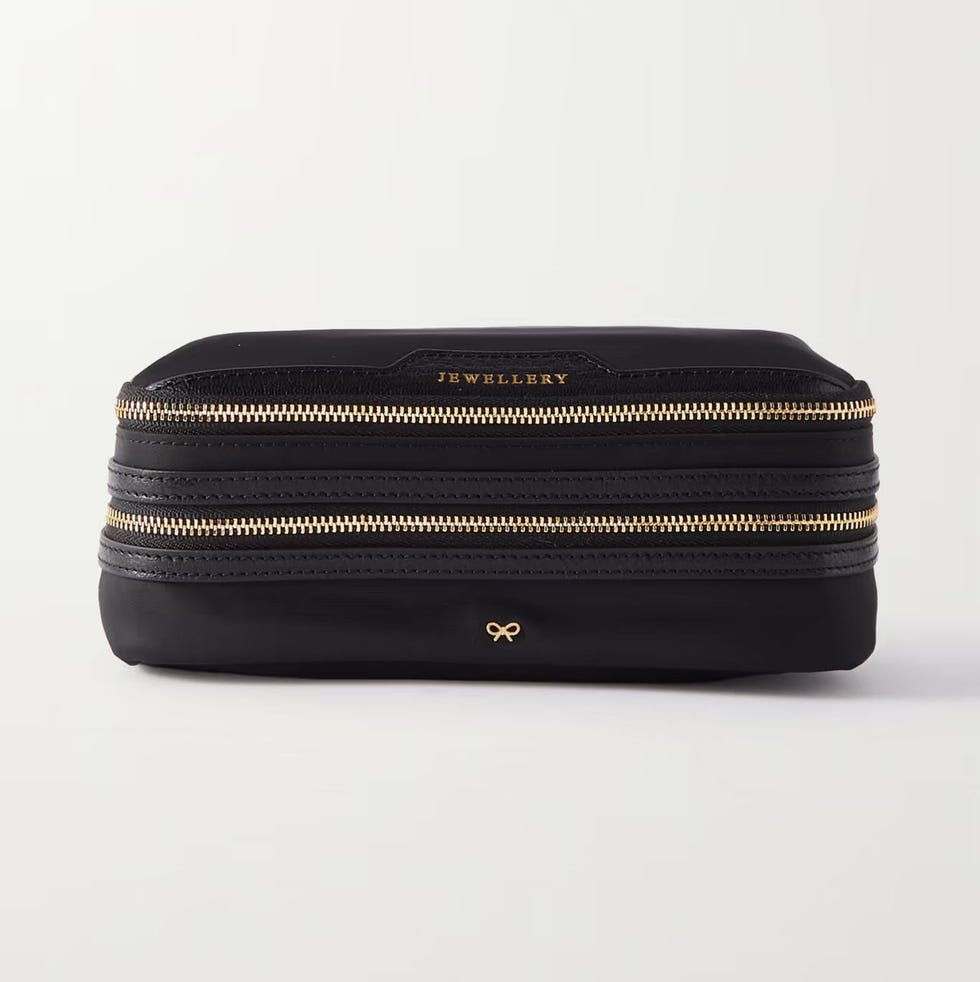 BEST OVERALL
Anya Hindmarch Leather-Trimmed Nylon Pouch
"No one does organization like Anya!" Donaldson says. "Her pieces have excellent hardware, and many feature witty labels and charming accents." Multiple zipped compartments make this one ideal for storage on the go. "The nylon in this case makes it light and practical, and I love the ample storage space for each jewelry category, especially the earring slots with room for multiple statement pairs."
Dimensions: 5.1″ H x 7.9″ W x 2.8″ D
Materials: Nylon, goat leather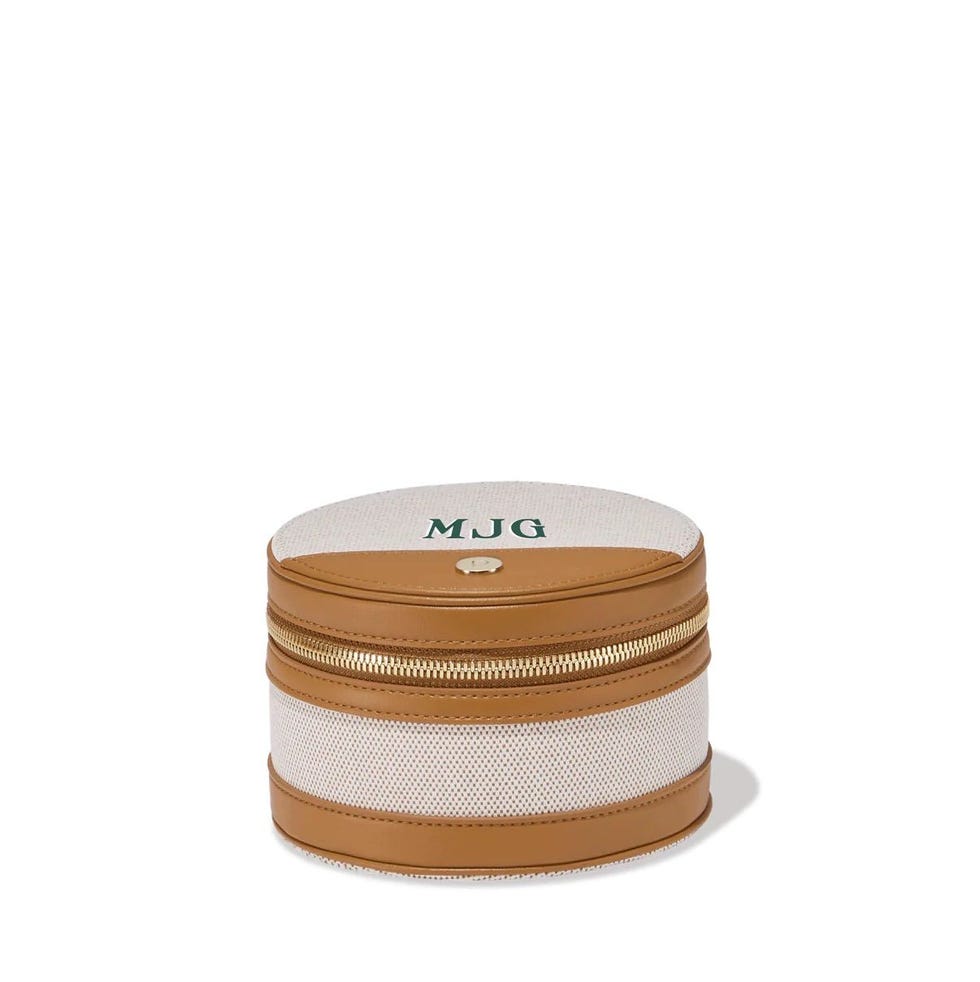 BEST SUSTAINABLE
Paravel Jewelry Case
"For the conscious traveler, Paravel's jewelry case features their signature Ecocraft Canvas, which is spill-proof and stain-repellent, not to mention made from eight recycled plastic bottles," Donaldson says. "The zippered hard exterior and internal drawstring pouch keep things extra secure." This case also has sizable internal pockets for larger items, plus a snap compartment for smaller things, like rings or earring studs.
Dimensions: 3.6″ H x 5.6″ D
Materials: Ecocraft Canvas
Colors: Scout tan, domino black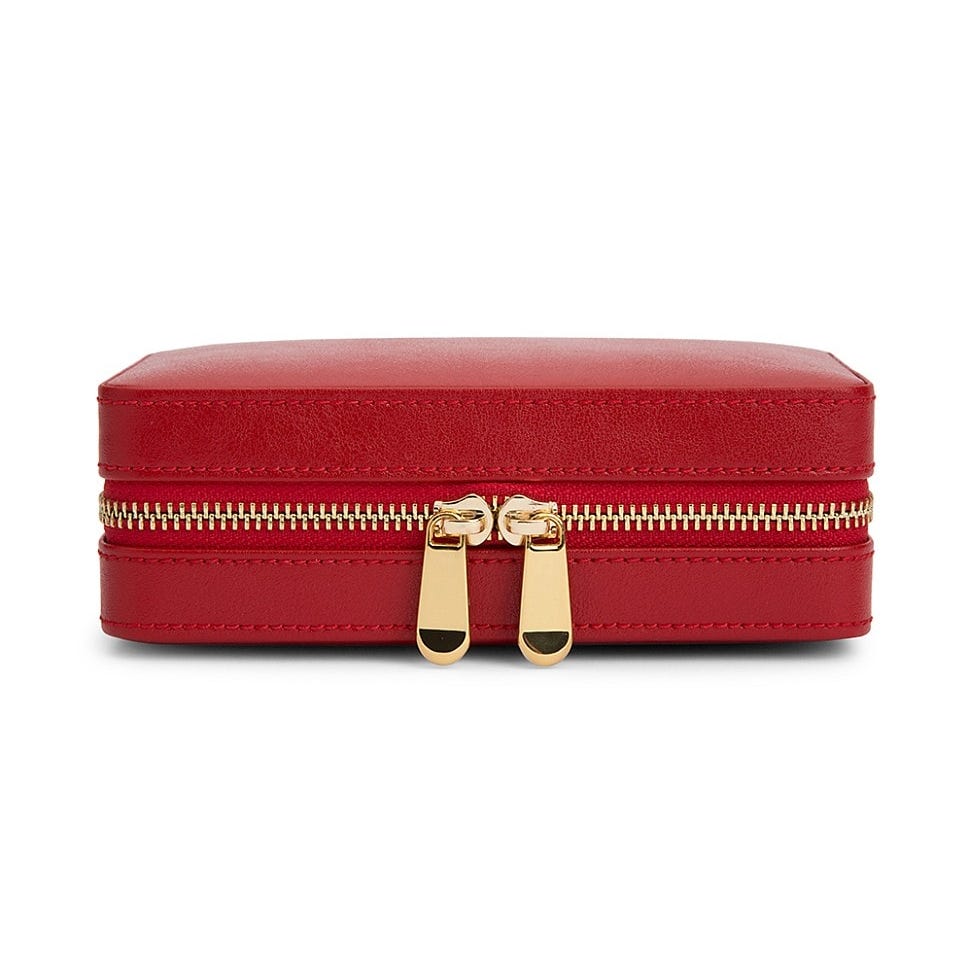 BEST ANTI-TARNISH
Wolf Palermo Zippered Jewelry Case
"With two separate levels and an anti-tarnish lining, this case is ideal for someone who loves to layer their look with lots of jewelry and can't travel without a full wardrobe of pieces," Donaldson says. The brand's LusterLoc technology absorbs hostile gases and prevents jewelry tarnishing for up to 35 years, The case also contains four ring rolls, one earring tab, four necklace hooks, three storage compartments, and under =-lid storage—for those longer Euro summer trips. There is also a mirror that is "convenient for on-the-go styling," Donaldson adds.
Dimensions: 2.25″ H x 6.5″ W x 4.25″ L
Materials: Leather
Colors: Red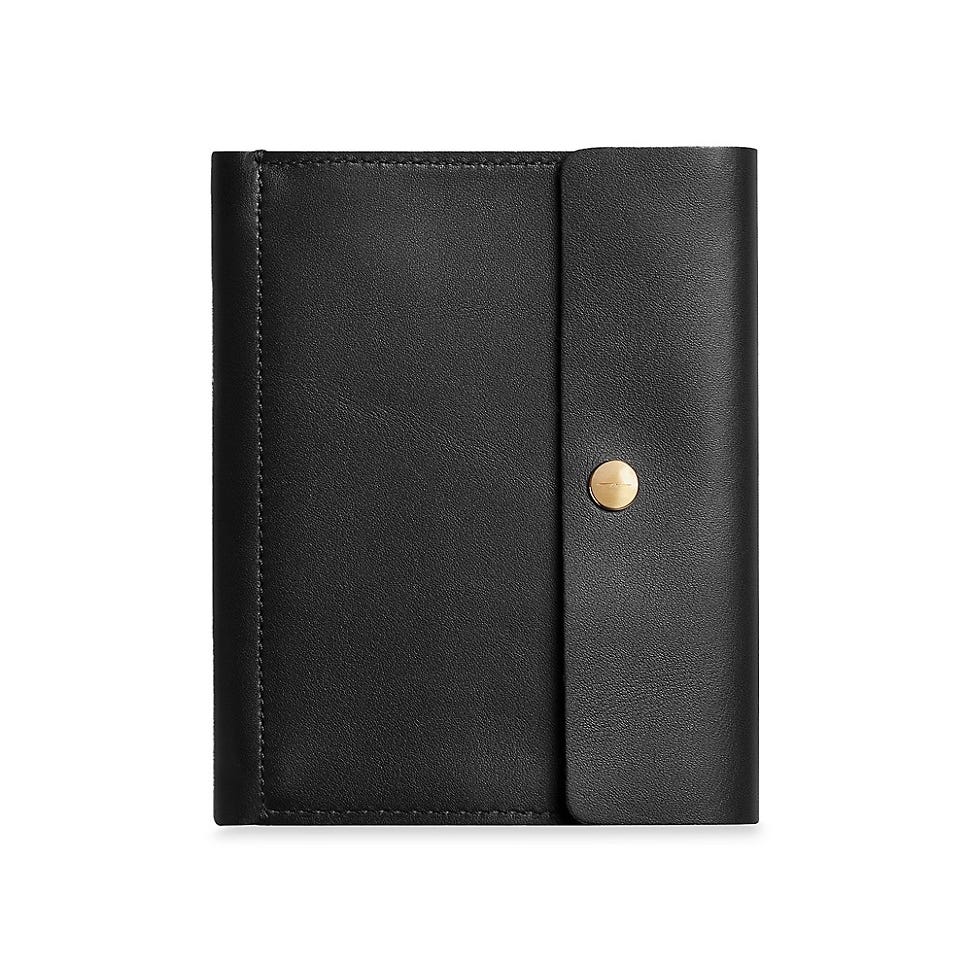 BEST WEEKENDER
Shinola Jewelry Traveler Case
This foldable jewelry case is compact, flat, and perfect for a weekend trip or a shorter excursion. Crafted from the brand's signature high-quality leather, this style will only look better with wear over the years. Snap open the exterior flap to reveal earring tabs that hold up to six sets, a snap necklace and ring tab, slip pocket for necklaces, and zippered pocket for bracelets, watches, or larger jewelry.
Dimensions: 6.5″ L x 5.75″ W x 0.25″ D
Materials: Leather
Colors: Black, tan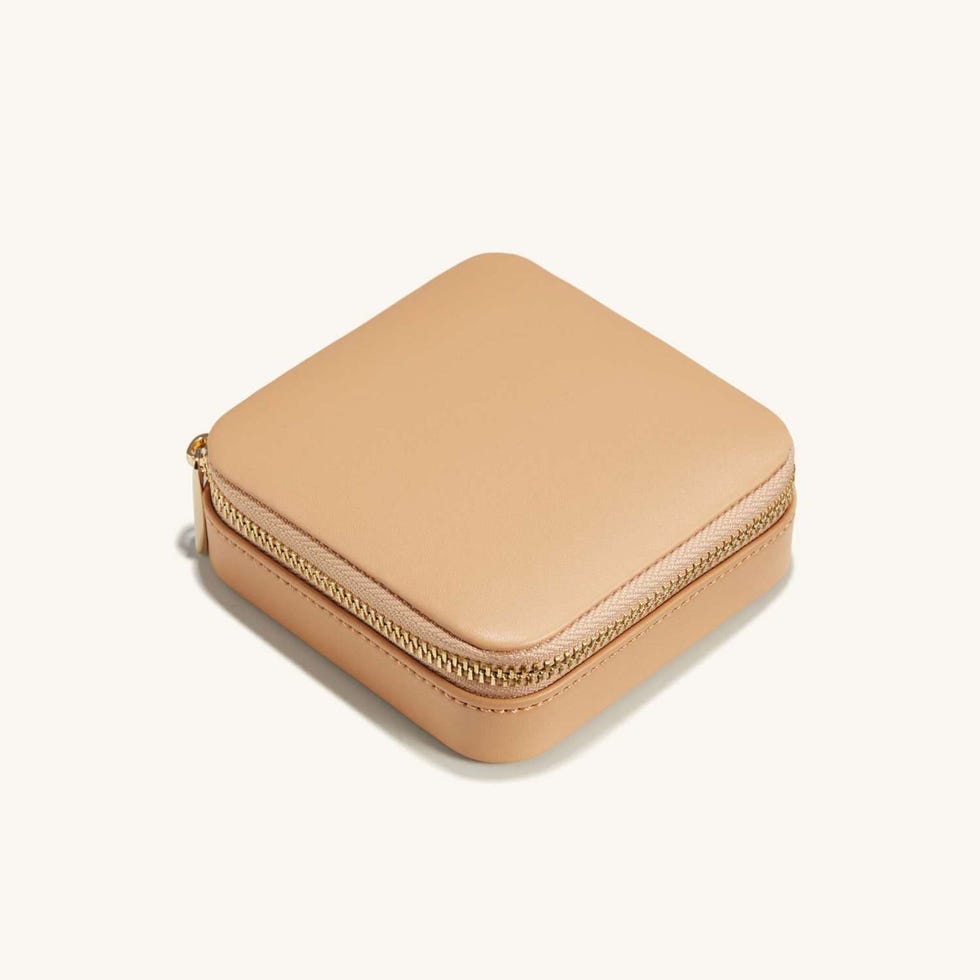 BEST GIFT
Mejuri Travel Case Beige
Simple and sweet, this square-shaped travel case by Mejuri has space for just the necessities. Four necklace hooks, six earring holes, and one long ring holder make up this easy, stow-and-go option. Small but mighty, it has been crafted with the same care you find in every Mejuri jewelry piece. The free custom monogramming option helps you make the case truly your own.
Dimensions: 4″ L x 4″ W x 1.4″ D
Materials: Grain leather, anti-tarnish microsuede
Colors: Beige, black
Related article: 18 Stackable Earrings You'll Want To Add To Your Jewellery Lineup Now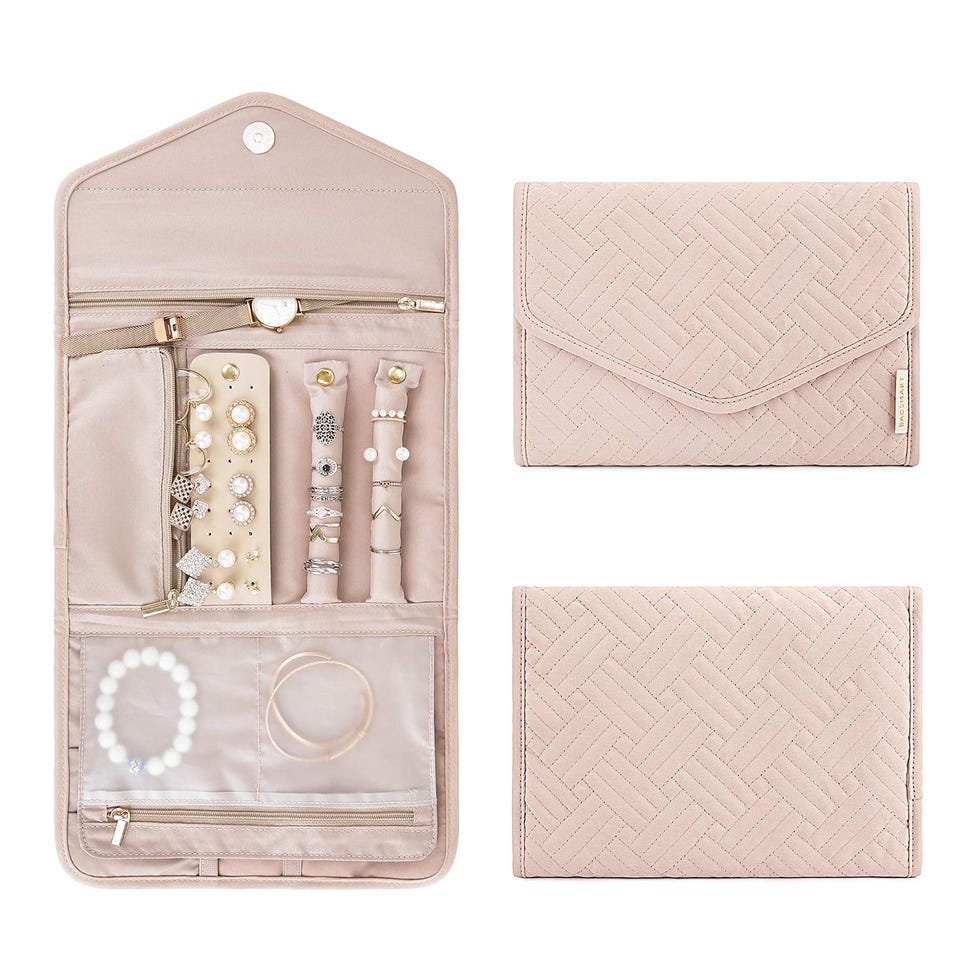 BEST ORGANIZER
Bagsmart Travel Jewelry Organizer
Tangle-free storage is the main goal of this foldable, envelope style. Keep everything from jewelry to hair accessories neatly organized, without the knotted mess that takes hours to entangle. Five large compartments offer buckle bands for rings and earrings, a necklace strap, an interlayer visible zip pouch, and a long zip pocket. From business trips to vacations, this travel organizer makes packing a breeze.
Dimensions: 9″ L x 6″ W x 0.6″ H
Materials: Cotton, polyester
Colors: Nine, including soft pink, black, teal, smokey blue, and rose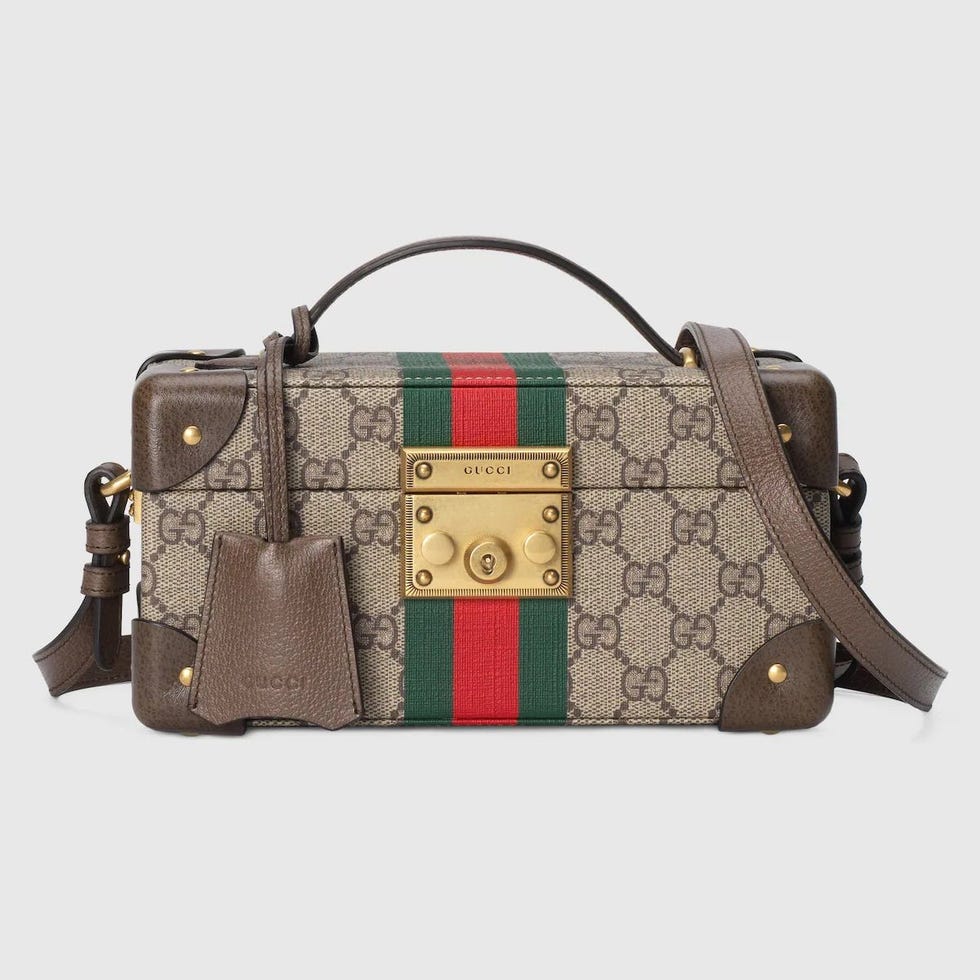 BEST SPLURGE
Gucci Gucci Savoy Jewelry Case
If you are looking for something with heirloom-quality appeal, Gucci's Savoy jewelry case is one that will stand the test of time. Worthy of being passed down for generations to come, this structured, boxy case feels as glam as Old World luggage sets. It has both a top handle and crossbody strap for easy carrying capabilities, while the padlock closure keeps things secure. Inside you will find ample compartments to carry everything you need, with a soft lining for all things precious.
Dimensions: 4.5″ H x 8.9″ W x 5″ D
Materials: Canvas, leather trim, palladium-toned hardware
Colors: Beige and ebony, black, beige and blue, dark blue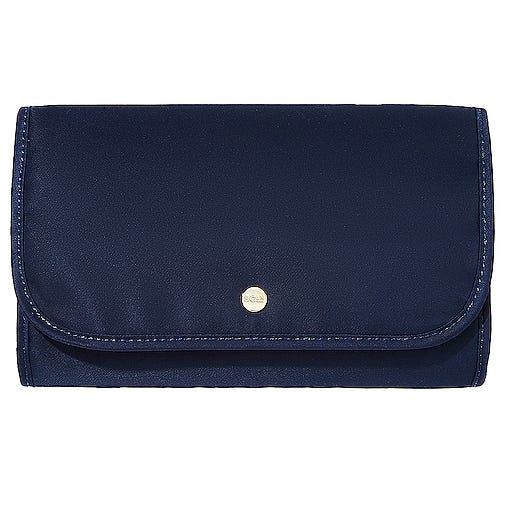 BEST ROLL
Stoney Clover Lane Classic Jewelry Roll
A jewelry roll is one of the best travel cases with ample storage in a small space. This one is made from nylon, so spills won't destroy the exterior. One ring holder, one earring panel, three necklace snaps, and one large, zippable pouch make up the spacious interior with room to spare. Your most delicate pieces will thank you.
Dimensions: 8.5″ W x 15″ L open (or 5″ L closed)
Materials: Nylon
Colors: Sapphire, white, flamingo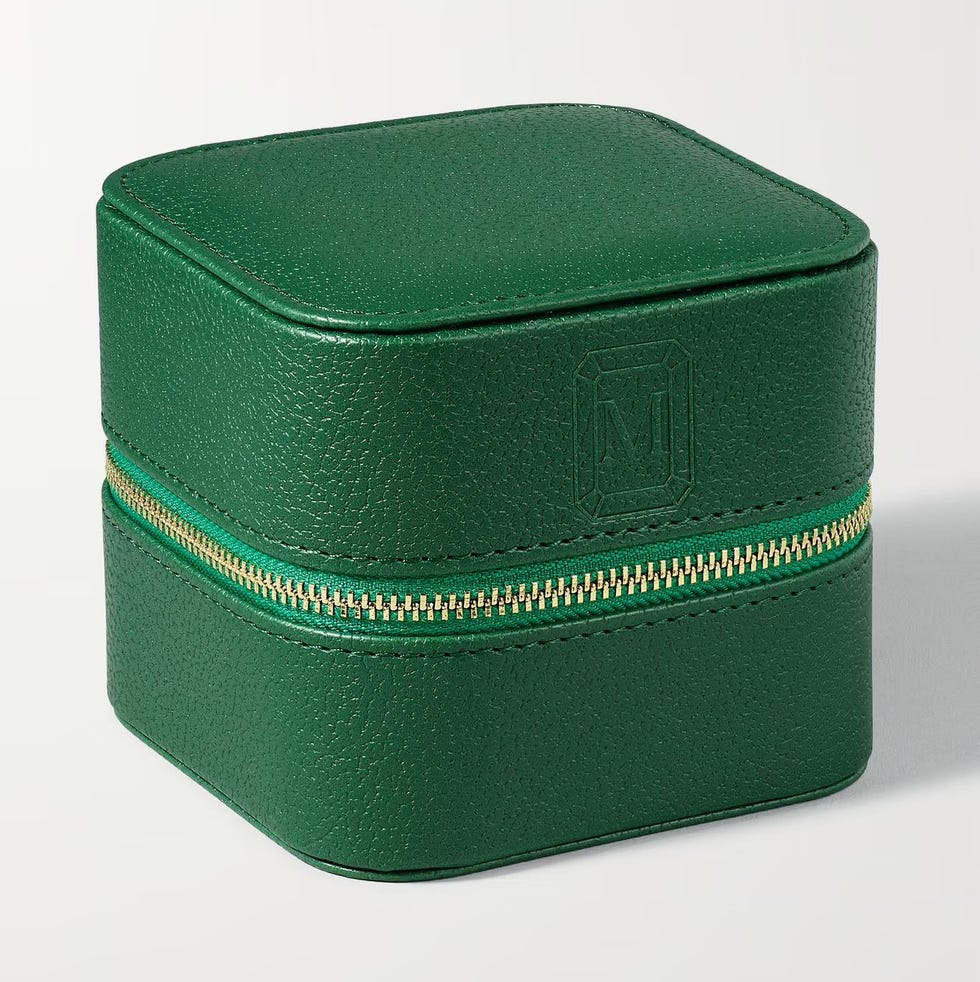 BEST BOX
Mateo Vegan Leather Jewelry Case
"Mateo is an incredible jewelry designer, so it's no surprise his cases are equally considered," Donaldson says. "The compact size makes this perfect for weekend getaways with minimal luggage space, and the emerald green, pebbled exterior won't show scratches." Made from vegan leather, this case has a suede interior that will hold everything from necklaces and rings to bracelets and watches, without any fuss.
Dimensions: 3.9″ H x 3.9″ W x 4.3″ D
Materialx: Vegan leather
Colors: Green, black, red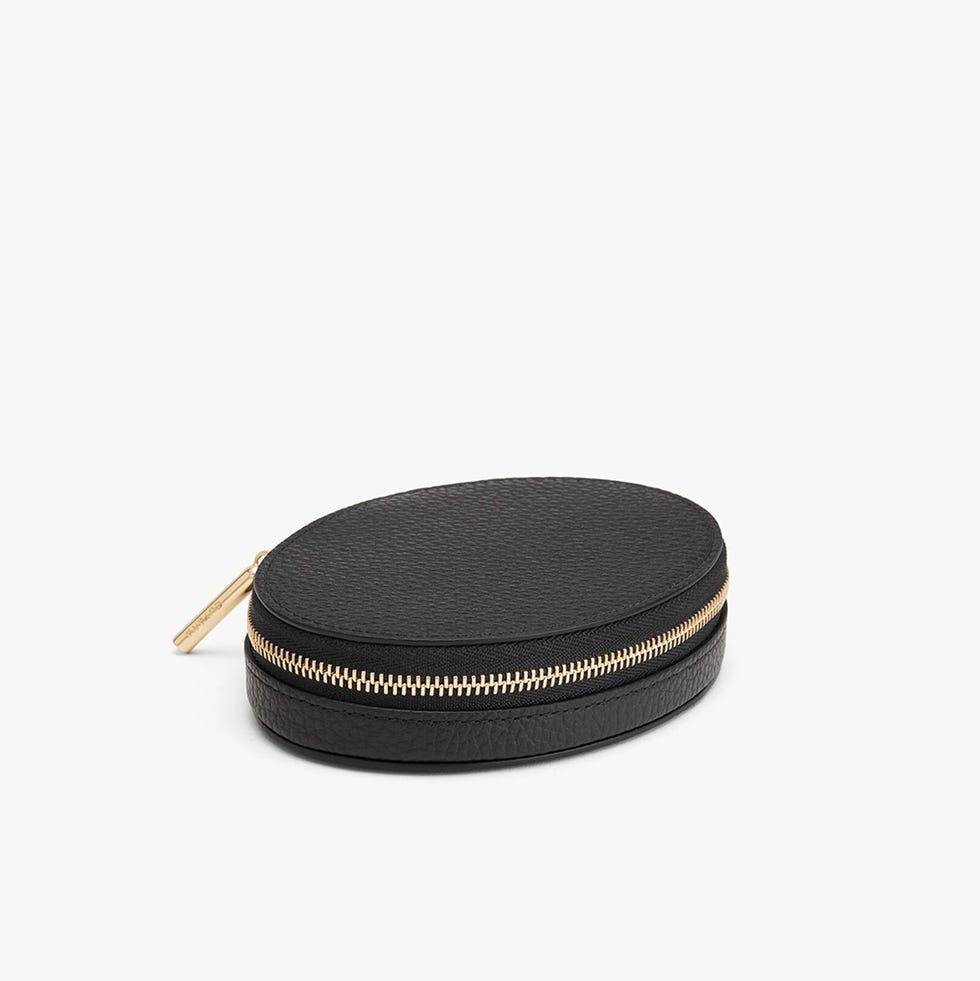 BEST MINIMALIST
Cuyana Travel Jewelry Case
Elegant and durable, the Cuyana travel jewelry case is anything but boring. The unique oval shape features interior bands for rings and earrings, plus two elastic pouches for the rest. True to the brand's core DNA, the luxurious leather is certified by the Leather Working Group, affirming that the material is tanned in an environmentally responsible way, while being traceable, produced in factories in Turkey that have equally sustainable standards.
Dimensions: 25″ H x 5″ W x 3.5″ D
Materials: Leather
Colors: Seven, including black, mango, cappuccino, ecru, and soft rose
Related article: The Latest And Most Talked About Jewellery Collections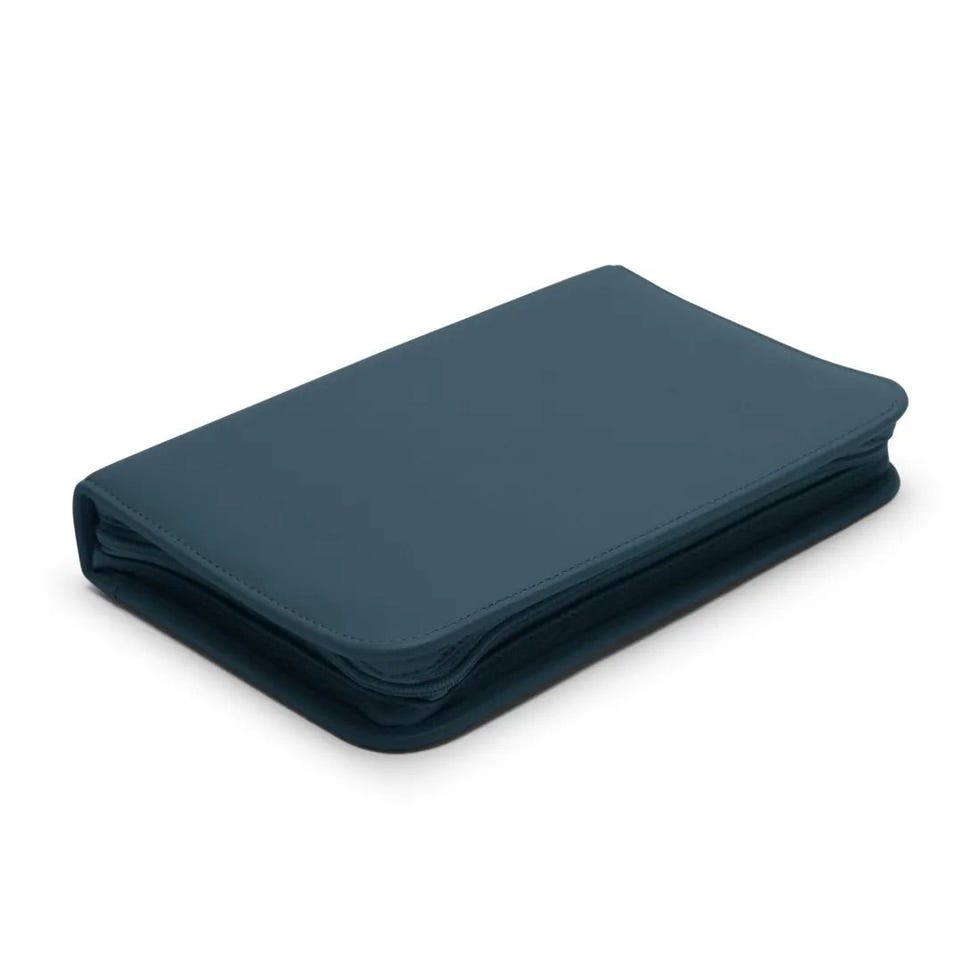 BEST COLOR OPTIONS
Leatherology Large Jewelry Case
Pack it all in with Leatherology's surprisingly roomy yet compact jewelry case. Zip around the rectangular pouch shape to reveal six snap tabs for necklaces, seven pairs of earring notches, two zippered pockets, and a snap-out ring bar. The brand suggests this case is for globetrotters who will be traveling a week or longer, or aficionados who like to layer and pile on the jewelry daily.
Dimensions: 8.5″ H x 5.75″ W x 1.75″ D
Materials: Full-grain leather
Colors: 11, including black onyx, bordeaux, navy blue, cognac, and camel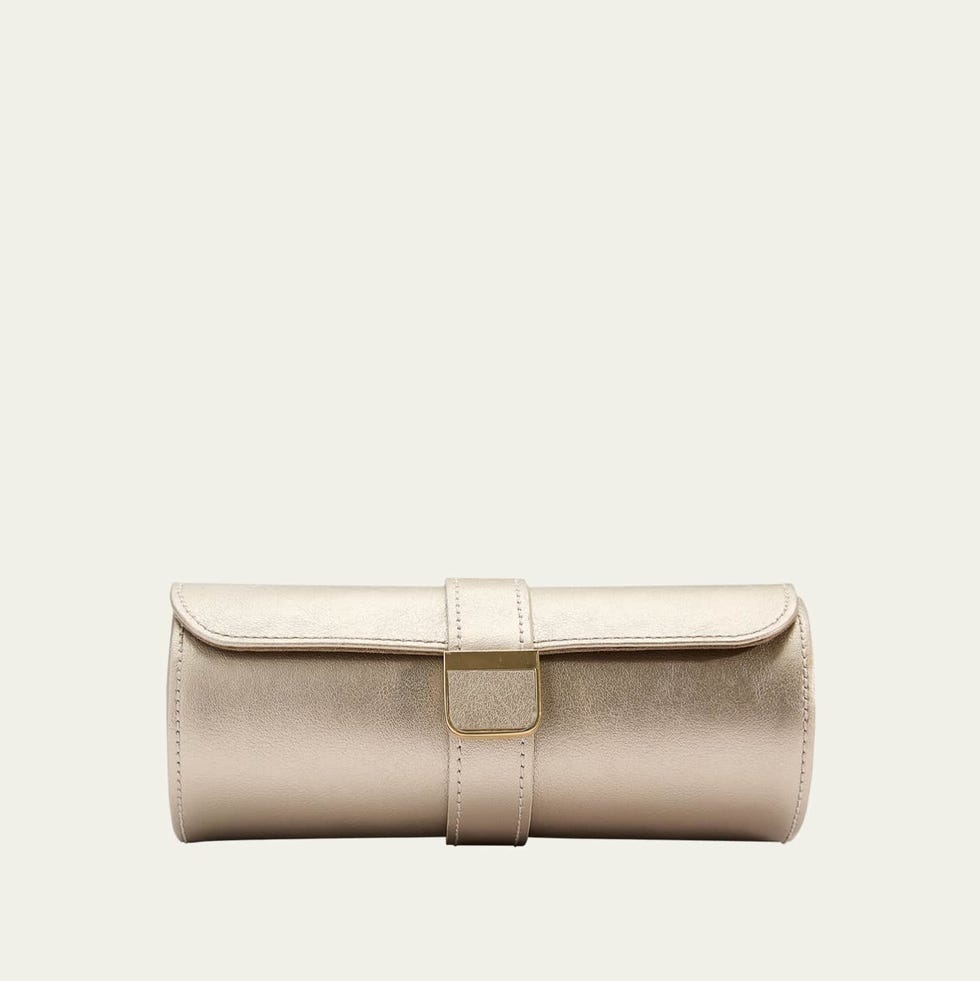 BEST MULTIPURPOSE
Wolf Palermo Double Watch Roll & Jewelry Pouch
Ensure your watch is kept safe along with your everyday bijoux rotation with this roll-style pouch. Featuring a watch guard dedicated for your trusty timepiece (which will fit two, if you're a collector), and a separate, second compartment reserved just for your jewels, this case keeps everything neatly wrapped in a folded exterior with buckle closure.
Dimensions: 7.75″ L x 3.3″ D
Materials: Leather
Colors: Gold, rose gold, black, red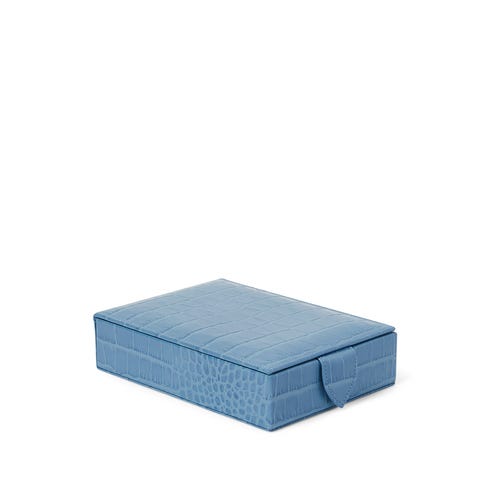 BEST TRAY STYLE
Smythson Travel Tray Jewelry Box
"Smythson is my go-to for impeccably crafted leather goods, especially travel accessories," Donaldson says. "Everything they make is of beautiful quality and will last for years to come, making the investment worth it." She personally uses a Smythson travel tray box herself. "This is a version of mine which comes everywhere with me, and I can't recommend it enough," she says. The well-organized interior has three compartments and seven ring holders, and closes neatly with a snap top. The tray box style also means it will sit nicely on any dresser or countertop, wherever your travels take you.
Dimensions: 1.6″ H x 4.7″ W x 6.5″ D
Materials: Crocodile-embossed calf leather
Colors: Nile blue, sandstone, navy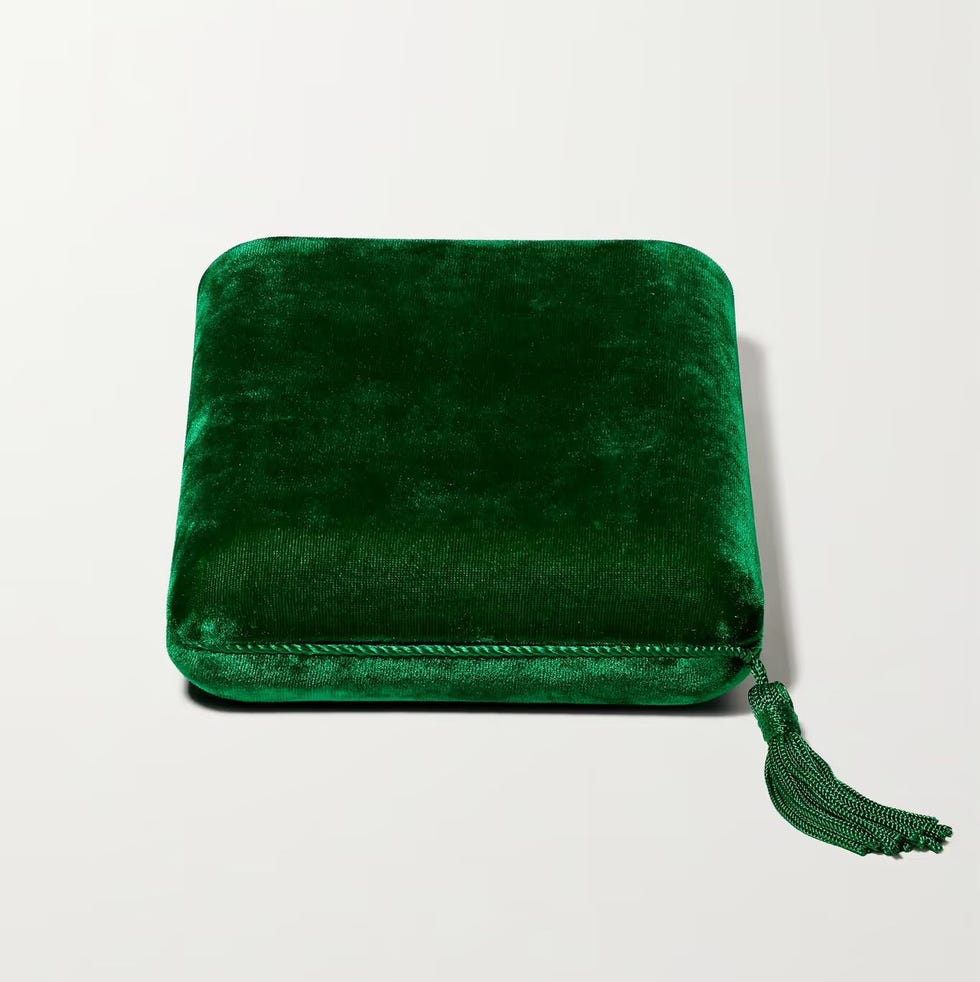 BEST LUXE
Sophie Bille Brahe Large Velvet Jewelry Box
Lean into a truly luxurious option for those fine baubles you want to keep extra safe, with this Sophie Bille Brahe jewelry box. The velvet exterior, satin interior, and delicate, hanging tassel trim make it the truly fashion-forward option. It'll look glamorous sitting on a bedside table, or packed nicely in any carry-on luggage.
Dimensions: 2″ H x 7.9″ W x 5.9″ L
Materials: Velvet, satin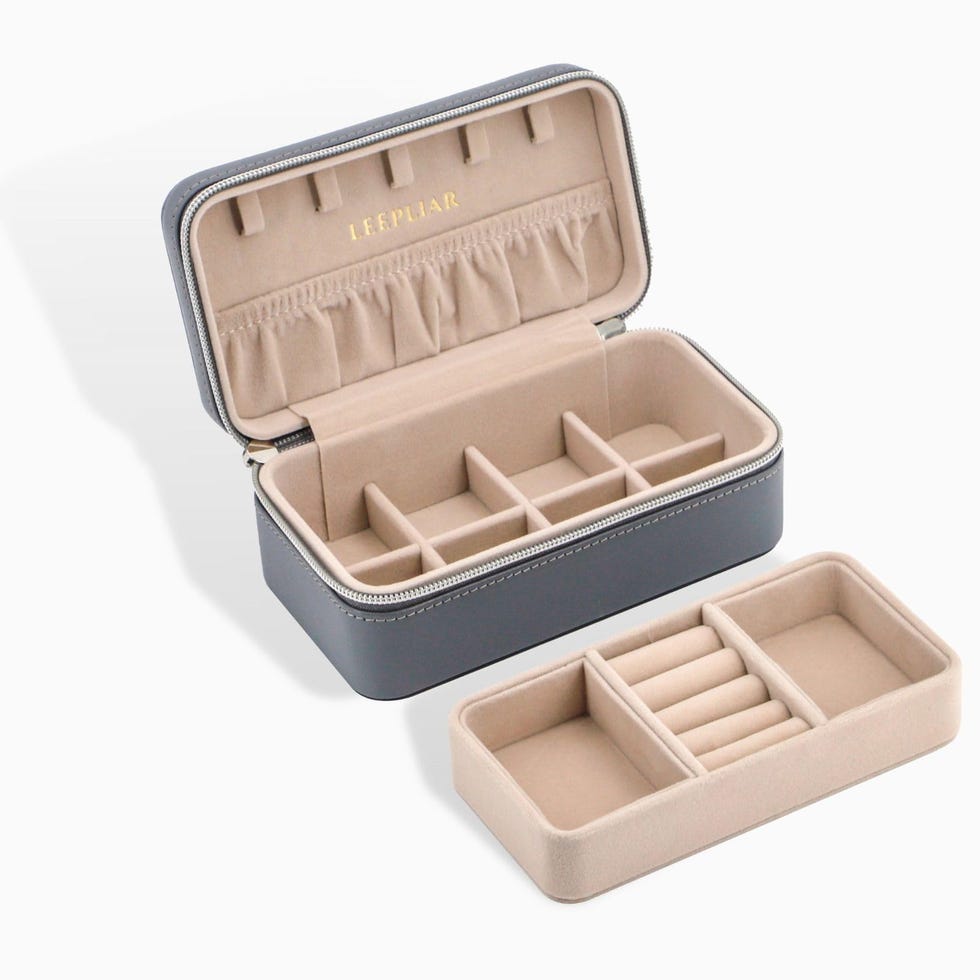 BEST LIGHTWEIGHT
Leepliar Travel Jewelry Case
This Leepliar double-layer box is sturdy and has all the compartments you could need for a week on the road. The bottom layer features eight subsections with removable dividers, and the top layer has five ring pockets, two large partitions for statement earrings or bracelets, and a top that securely fits five hooks for necklaces. The polyurethane material makes it extremely lightweight, so it won't bulk up your checked luggage either.
Dimensions: 2.85″ H x 3.95″ W x 7.17″ L
Materials: Polyurethane, velvet
Colors: Gray, black, pink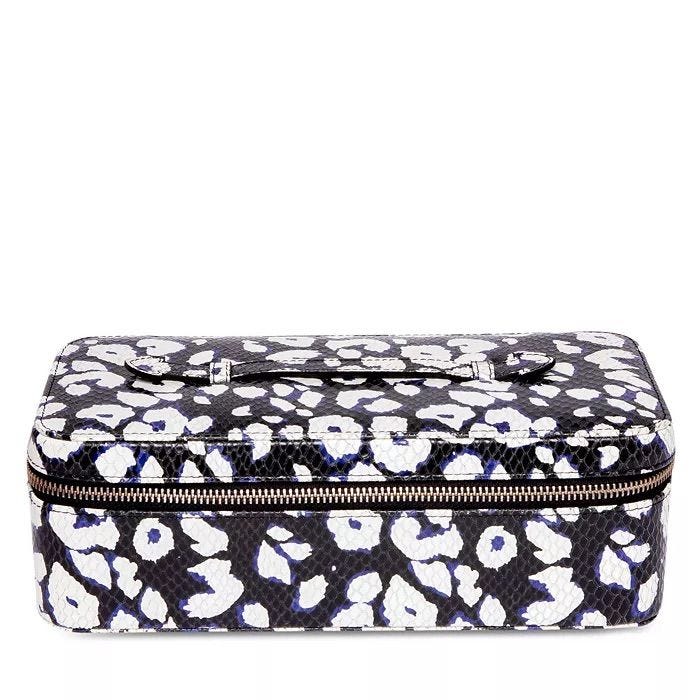 BEST PRINTED
Rapport London Sloane Jewelry Case
When choosing a case that will last, a leather exterior and suede interior is a good place to start. This larger case from Rapport London has all the compartments and space you could need, with ring holders, snap closure pockets, and trays broken up into compartments. The leopard print also means this case will stand out in a crowd and add a whimsical touch to your travel necessities.
Dimensions: 6.69″ H x 10.6″ W x 3.54″ D
Materials: Leather, suede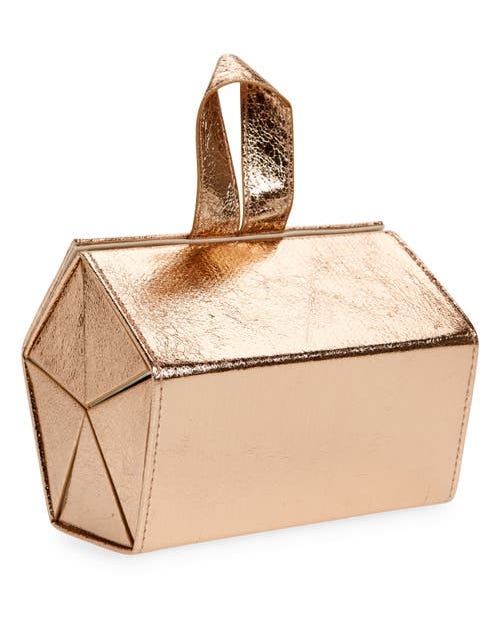 BEST HANGABLE
Nordstrom Hexagon Fold-Up Travel Jewelry Case
Who hasn't arrived to a hotel room that is most definitely smaller than what was shown online? This hexagon-shaped travel case solves the problem of limited counter space, with a sturdy, hangable loop. The unique, geometric shape unfolds into a long, cascading ribbon with nooks for your jewelry and can even be hung from a door or closet hook.
Dimensions: 6½" H x 3″ W x 5″ D
Materials: Greyboard, PVC, viscose, polyester, glass
Colors: Rose gold, black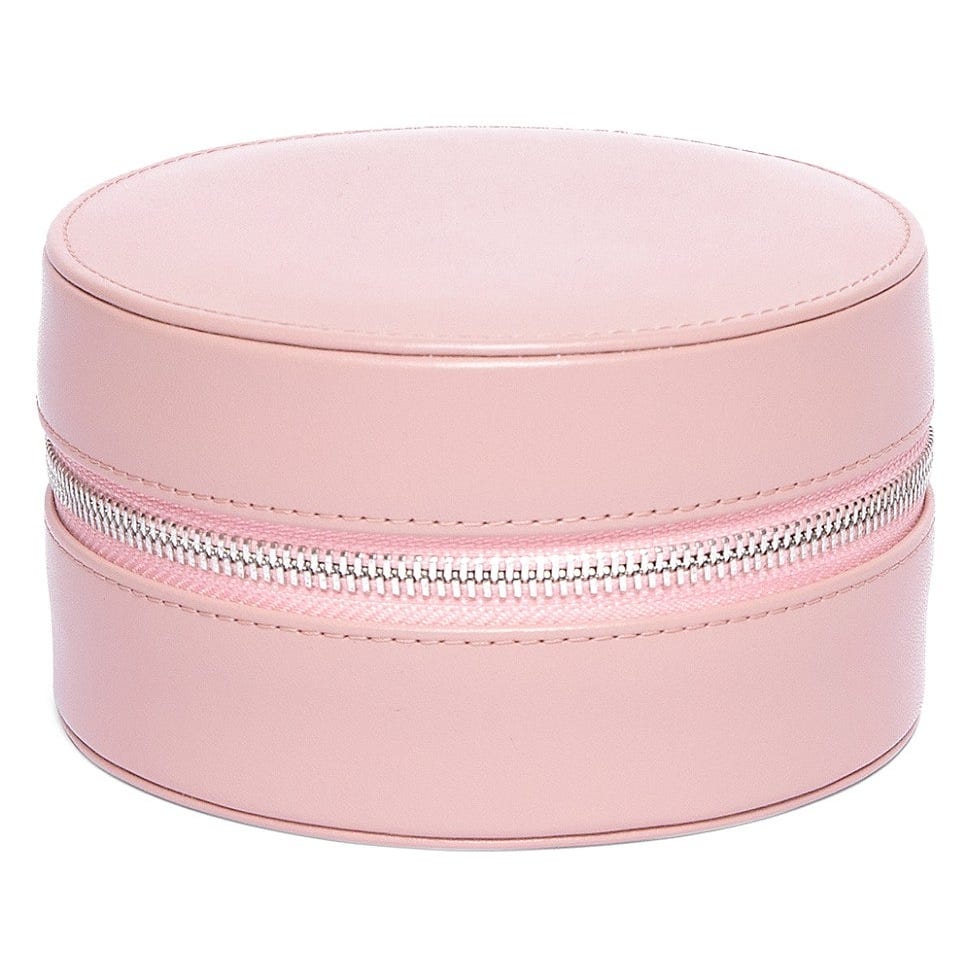 BEST LEATHER
Rapport London Travel Jewelery Case
This simple, circular case is crafted from smooth leather and a suede interior, to keep all of your personal jewels intact while traveling. Zip it open to reveal a place for rings, necklaces, and earrings, with its two larger compartments and two ring holders. This smaller size will fit in small purses and large tote bags, ensuring those impossible-to-replace pieces are never out of reach.
Dimensions: 5″ W x 1″ D
Materials: Leather
Colors: Blush, beige, turquoise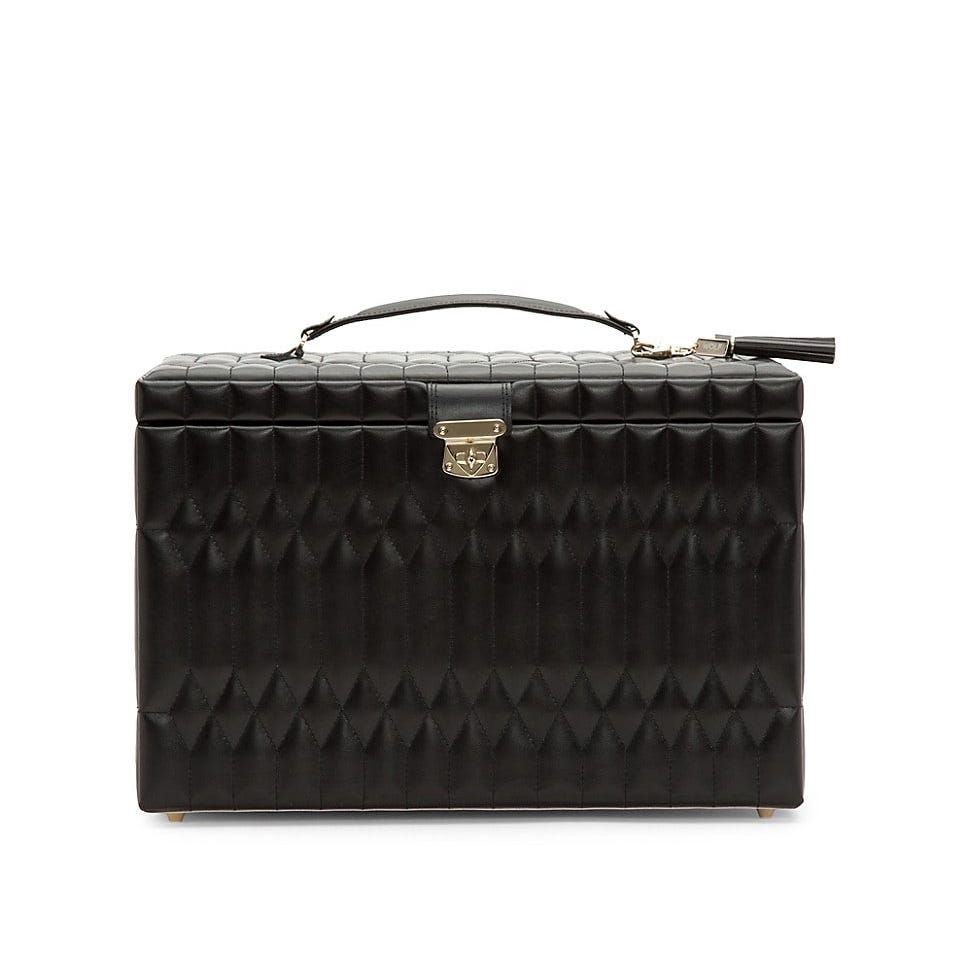 BEST EXTRA LARGE
Wolf Caroline Extra Large Jewelry Case
The magnum of travel jewelry cases, this option by Wolf is made for the true bijoux connoisseur. Designed with a whopping 43 jewelry compartments, it really fits everything a maximalist could imagine. Everything is neatly organized into a 1950s-inspired, hardcover box shape with top handle, harking back to a time when travel looks were a little more glamorous.
Dimensions: 10.5″ H x 16.25″ W x 11″ D
Materials: Leather
Colors: Black, ivory, rose quartz, red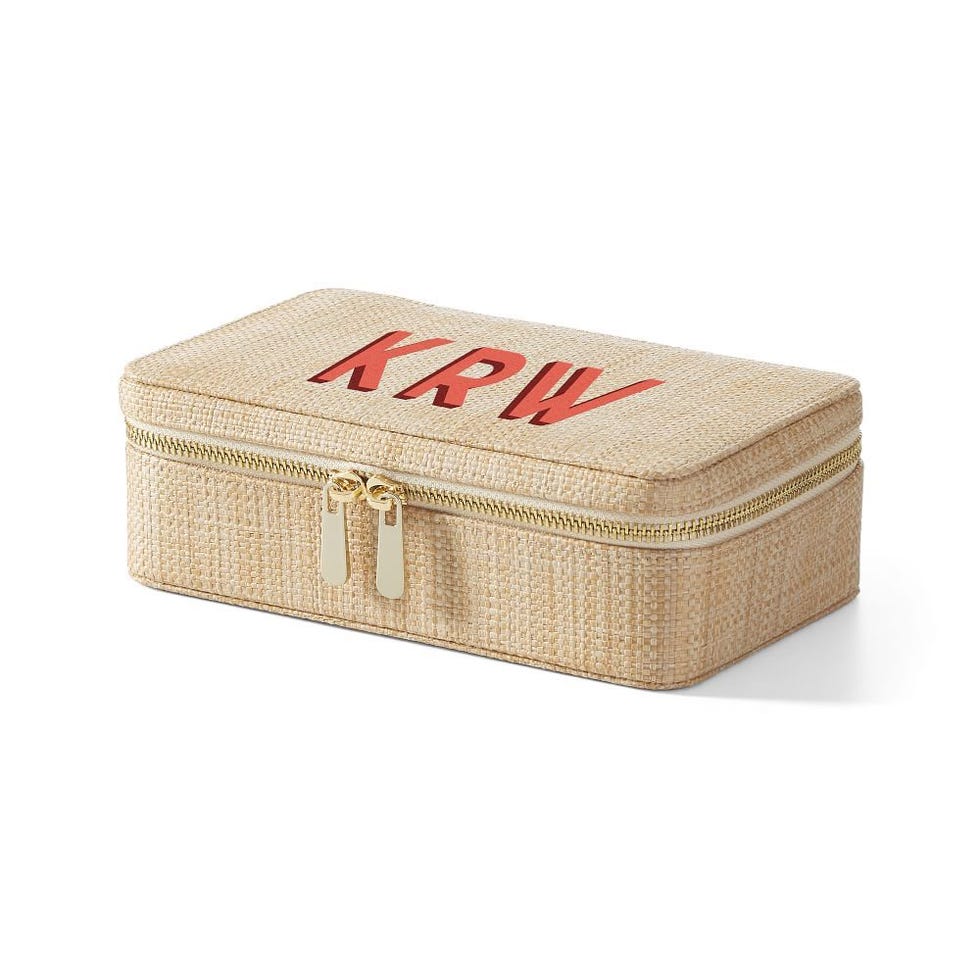 BEST TEXTURED
Mark & Graham Medium Raffia Travel Jewelry Case
Look to Mark & Graham's raffia case for a fresh take on jewelry travel organization. The natural, raffia finish feels summery, like your favorite straw bag, and makes for a nice display on your dresser or nightstand, when not in use for transit. The medium-size box is situated with one ring roll, one strap with earring holes, one zipper pocket, three necklace holders with pockets, and one removable pouch. This style can also be monogrammed with the brand's signature bold, shadowed block letters.
Dimensions: 2.5″ H x 8.25″ W x 4.75″ D
Materials: Faux raffia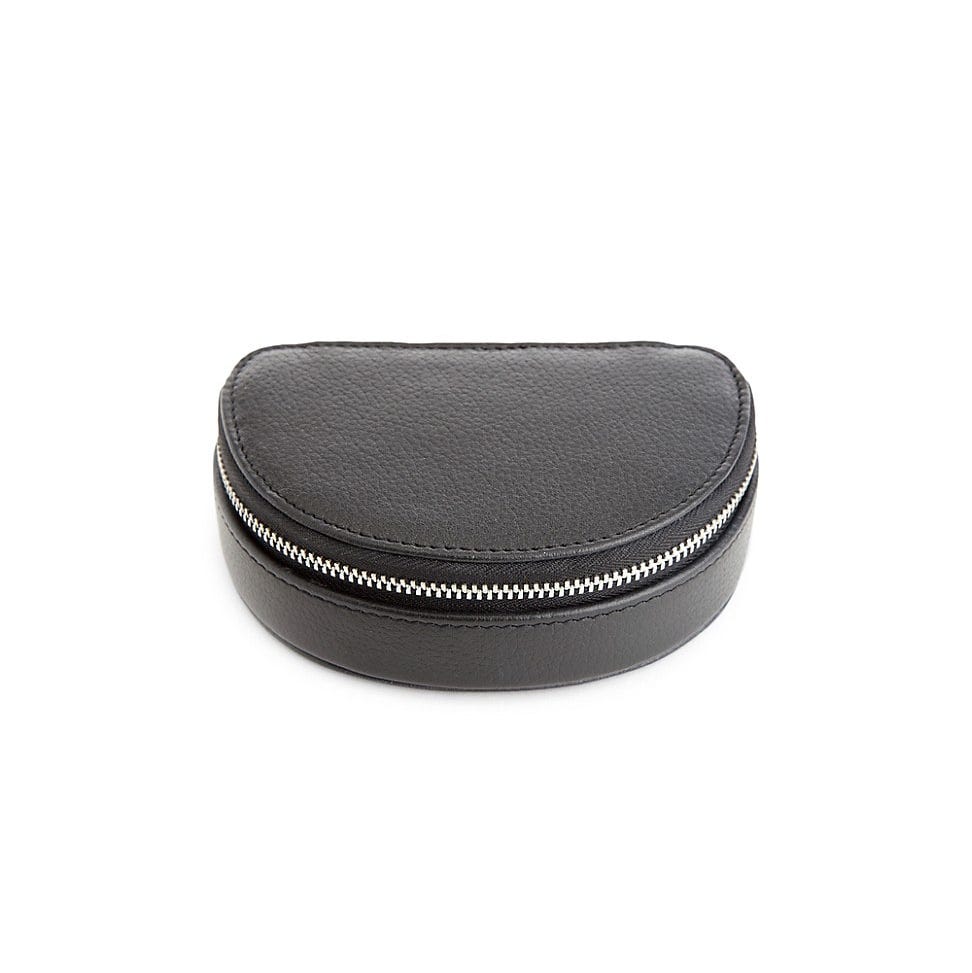 BEST COMPACT
Royce New York Compact Jewelry Case
When mini is all you need, reach for Royce New York's compact option. The small, half moon shapes fits just the essentials—like your favorite hoop earrings, a chain necklace, and rings. Conveniently designed to fit in any purse, backpack, or luggage pocket, this case will keep things from getting tangled without taking up much space.
Dimensions: 5.5″ H x 3.5″ W x 1″ D
Materials: Leather
Colors: Black
This article originally appeared in Harper's BAZAAR US.